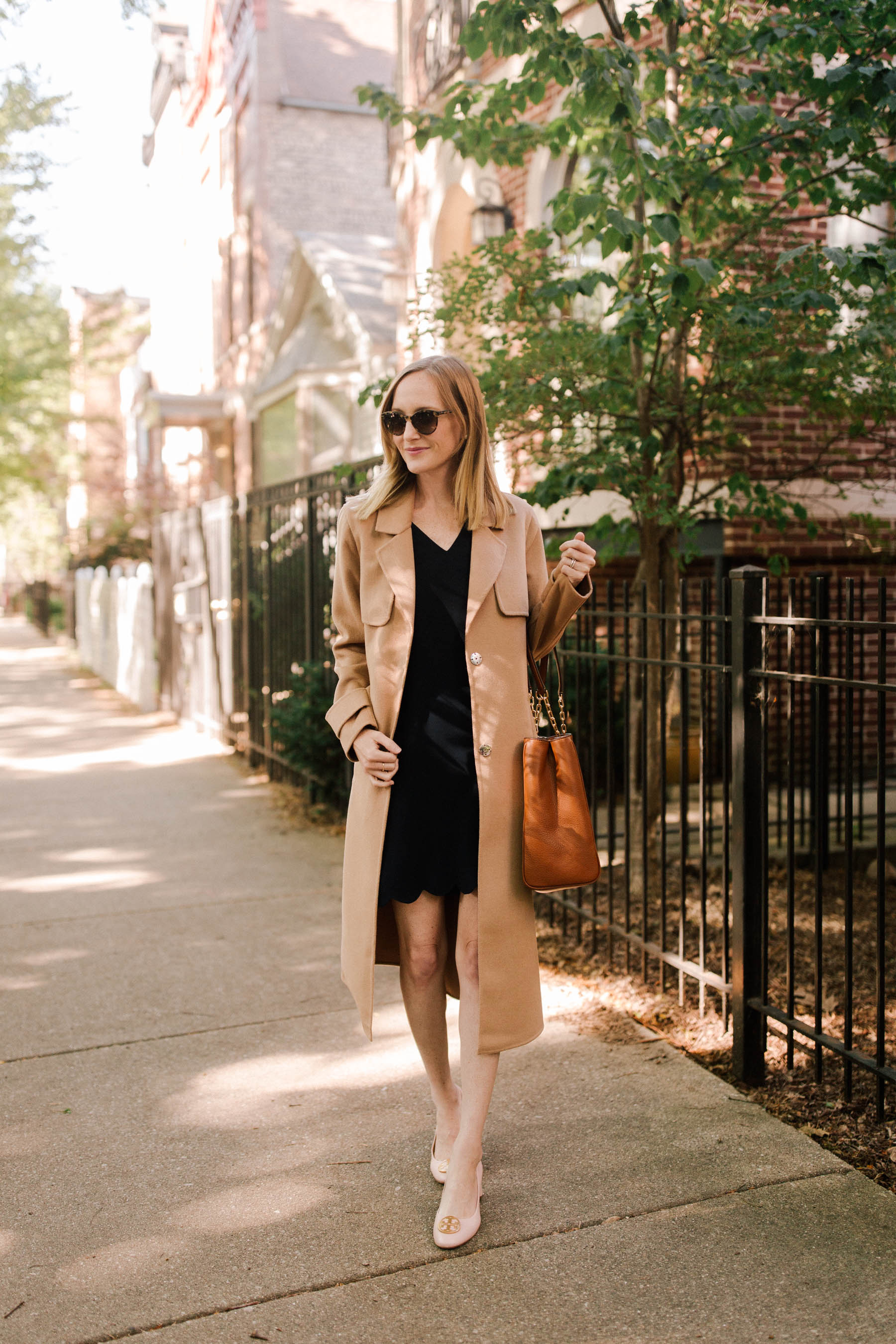 Kenneth Cole Wool Long Camel Coat (This slightly different version is fully in stock, and also on sale.) / CeCe Navy Scalloped Dress / Tory Burch Benton Pump (Sold out of your size? This is basically the same pump, and it's available for pre-order. Same fit, just a slightly lower heel! Tory Burch Benton Ballet Flats here.) / Tory Burch Marsden Pebbled Leather Tote
*Today's Question of the Day is in red at the end of this post. Answer to be entered to win $50 to shop the Nordstrom Anniversary Sale!*
While these photos were taken in Chicago, I'm comin' at you live from New York right now! (Hehe. Actually, it's 9:00 p.m. as I type this, because we have a single hotel room and Emma's asleep in a Pack n' Play in the corner like two feet away from us. 😉)
I'm happy I didn't hit "publish" on that post about our experience in Washington, D.C. yet. Because while getting stuck in Reagan International Airport with a toddler for three days is an outrageous story, I have so much more to add to that tale! 😂
Since then, we had a missed flight to the Jersey Shore, a canceled flight to Arkansas, and a missed connection to Martha's Vineyard due to several delays. And though I was definitely on the verge of tears today as our little family stood on the tarmac at JFK begging for our stroller so we could run to the next plane–ultimately deciding to forget about the stroller and just sprint–I'm really seeing the humor behind it now. (We didn't make it, as I'm sure you've gathered.) I mean, four different airlines and totally different circumstances every time. Needless to say, the post is going to be a whole lot more entertaining than it originally was, haha. (And don't worry! We eventually got the stroller back.)
Anyway, we actually had a lovely evening. As much fun as it would have been to stay in Manhattan, Emma's been skipping a lot of naps and I haven't been getting much sleep lately on account of all the travel disasters. (Anyone else experience anxiety and insomnia the night before flights?! This has always happened to me, and it's horrible. Nothing like traveling on zero hours of sleep.) So we decided that in the name of Health to stay near the airport. JetBlue put us up in a hotel in Queens that was a quick cab ride away, and they were incredibly sweet about it. Every nearby hotel seemed to be booked solid for night, but so many JetBlue employees came together to not only put us up but also retrieve our bags that had been–surprise, surprise–misplaced when we missed the connection. (I should also note that the four delays that lead to the missed connection happened due to weather, and airlines don't normally provide accommodations for weather-related delays, cancellations and missed flights. So very kind!)
Across the street from the hotel was this tiny diner that looked pretty terrifying at first glance, but Mitch ran in to check it out since there wasn't much else besides fast food within sight. He came out and said that it actually seemed right up our alley… and while I normally would have voiced my skepticism and suggested eating vending machine candy for dinner instead, I was exhausted and hungry and Emma was crabby. So we went in.
SO CUTE. It was honestly something out of a movie. The patrons were all in their 50s and 60s, and everyone knew everyone. (But us, I suppose.) They were all done up and had thick New York accents–which, of course, I loved–and lady after lady came to meet Emma and tell us how sweet she was. At the end of the dinner, after most people had left, the staff insisted on bringing her birthday cake and singing to her, even though we'd told them that her birthday was in a couple of weeks. Emma was super awkward about it, which was adorably hilarious. (You can see it here on Instagram Stories!) And it was one of those moments like when the Tanner family got stuck in an airport on Christmas Eve. (LOVE these photos that popped up during a quick Google search, btw.)
Okay! Let's pull the breaks on this little digression from the intended subject matter: the CeCe Navy Scalloped dress! Which Mitch loves because of #swimmingscallops. (Anyone? Anyone?) I talked about it briefly in my guide on what to buy during Nordstrom's "Public Access" to the Anniversary Sale, but I thought I'd highlight it again since the sizes are starting to go.
It's made out of polyester so it doesn't wrinkle easily, and it comes in three colors, which is lovely. (I'm wearing the navy in these pics.) As for sizing, I'd say it's generous. I'm wearing a 0 here, which is what I'd normally choose, and it's on the looser side. So depending on how you like your dresses, either order your usual size or go down one.
Super comfy and a piece I think you'd be able to wear year-round!
I don't know why every company doesn't put out a bunch of camel coats every year, as they're insanely functional and popular. I feel like they sell out so quickly every year, and then they're so hard to find!
LOVED this one from the sale, and here's a slightly different version that's fully in stock. It's not a winter coat; it's more lightweight than your traditional wool coat. But this would be great for the fall/spring, or for winter for someone who doesn't live in Chicago. ;) If you live in the south, it's perfect for you! Ha.
Sizing: It runs on the larger side. I'm wearing an XS and it's generous. (Though I don't feel like it's swallowing me.) I'd recommend order your regular size or one size down.
LOVE. For the purposes of reviewing it and featuring it during the sale, I bought it in both the light pink and the brown colors. The brown is sadly sold out, but the pink and black versions are still in stock!
It's a great tote. I'm a huge fan of how many pockets it has. There's a large zippered pocket that runs across the middle dividing it into two parts, and then there's a zippered pocket on one side and a couple of open pockets on the other. I also love the length of the straps. As you can see, I can get it over my shoulder–even when I'm wearing a jacket–without an issue. And when I pick Emma up, it doesn't slide around and hit her in the face. (Added bonus. 😉) If you need a bag that'll bring you from day to night (especially during the work week), this is a GREAT and very affordable option. Here's the mini version of the Tory Burch tote.
VERY comfy; made of buttery soft leather, but inventory is dwindling. This version, however, is nearly identical and available for pre-order in all sizes. And here are the Benton flats.
I always worry when ordering pumps because sometimes my feet will slide down in the heel and mess with my "correct sizing." With these pumps, though, I took my normal 7.5… and no sliding! Again, very soft, and the block heel provides comfort and the ability to wear the shoes for long periods of time. :)
Shop this post:
Kenneth Cole Wool Long Camel Coat (This slightly different version is fully in stock, and also on sale.) / CeCe Navy Scalloped Dress / Tory Burch Benton Pump (Sold out of your size? This is basically the same pump, and it's available for pre-order. Same fit, just a slightly lower heel! Tory Burch Benton Ballet Flats here.) / Tory Burch Marsden Pebbled Leather Tote
Answer the Question of the Day to be entered to win $50 to shop the Nordstrom Anniversary Sale: Tell us about the first moment that comes to mind, and why it sticks out to you. Again, this is open-ended! It can be positive or negative; big or little; recent or not. Keep in mind that mine was about an impromptu birthday celebration with strangers in a diner, haha.
Remember to leave your e-mail address in the following non-spammy format: kelly [at] kellyinthecity [dot] com.
Congrats to the winners thus far:
Lauren V.
Maggie P.
Kaitlin M.
Grace M.
Jeanne C.
Cindy G.
Nicole N.