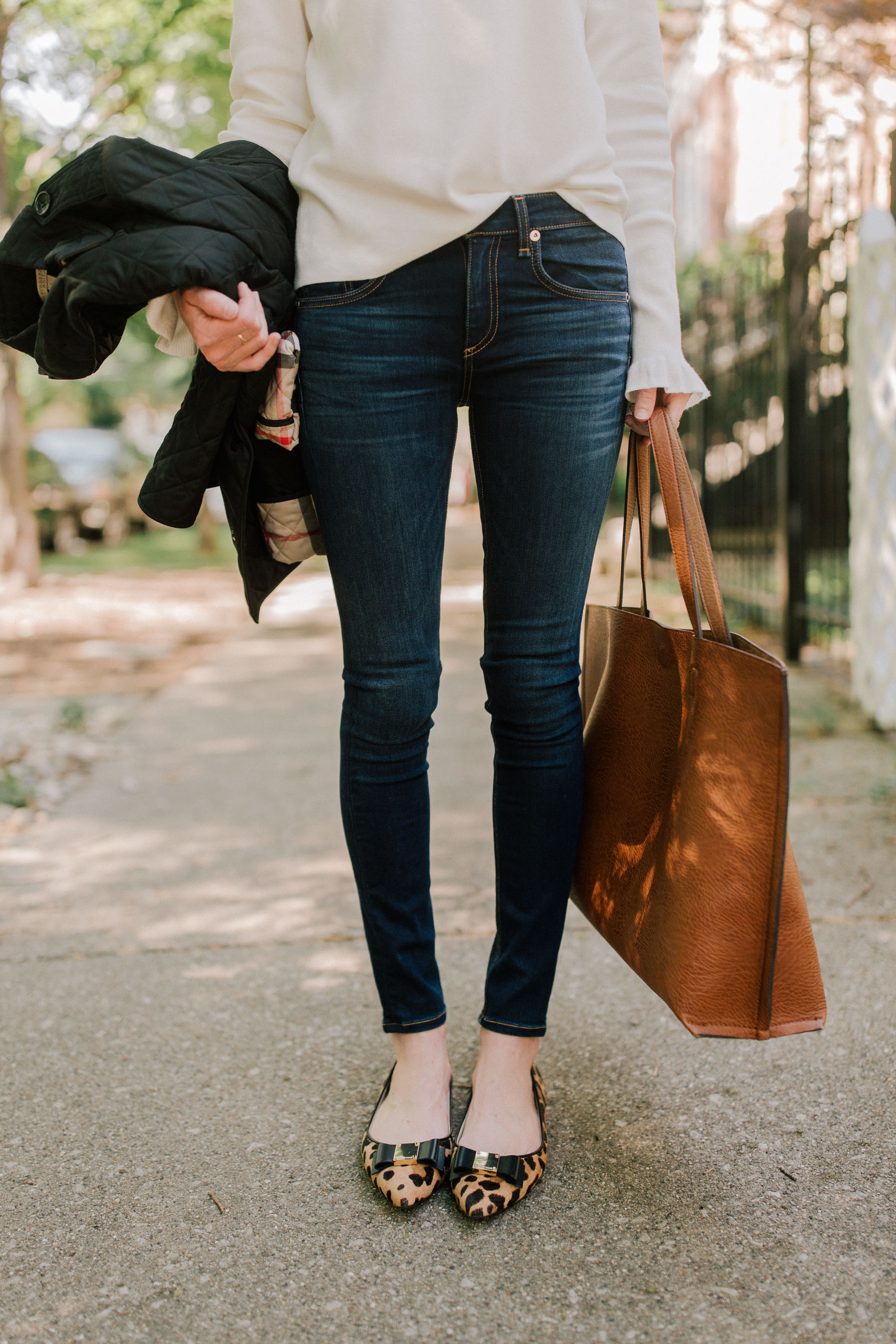 Cole Haan Tali Skimmer Flats (They come in a solid version, too. And here are the pumps!) / Rag & Bone Skinny Jeans / Tote (Sale Tory Burch version here, and here's a super affordable Nordstrom Anniversary Sale brown tote. Doesn't it look just like the Madewell one?!) / Halogen Scalloped Neck Sweater (Here's the other scalloped option.) / Burberry Jacket (On sale, too!)
*Today's Question of the Day is in red at the end of this post. Answer to be entered to win $50 to shop the Nordstrom Anniversary Sale!*
Guys, thanks so much for bearing with me over this past week! We're headed home to Chicago on Tuesday, so you can expect more varied content to appear in a few days. In the meantime, though, I'm just over here remixing favorite sale pieces to create different fall outfits. :) Here's today's classic look:
Hello, cuteness. Every girl needs a great pair of leopard flats for the fall, as leopard is essentially a neutral. ;) Any other Jenna Lyons fans out there?!
Anyway, I love these shoes. They're padded on the inside, which provides extra comfort, and they fit wonderfully. Walked a mile in them this past week and they were great! They also fit TTS. I always wear a 7.5 in flats, and I took a 7.5 in these as well.
They come in a solid version, too. And here are the pumps!
My favorite jeans from the sale. I don't love high-rise jeans, but low-rise jeans give me trouble at the playground. ;) These are the perfect compromise! They are incredibly soft, they fit like a glove, and I didn't have to get them hemmed. As you can see, they are just right for my height. (I'm between 5'4 and 5'5.) Another bonus is that they don't bother me at the waist, as most jeans do.
It's still on sale. This is a big deal because it rarely happens, and it's timeless, so you really can't feel much regret over purchasing it. I've had mine (in both navy and black) for several years now and they just never go out of style. Also love the red. Sizing: I highly recommend going up one size in this jacket. It runs small. I almost always wear an XS/0 in jackets, and I went up to a small in this one. Hope that helps! (Also, it's definitely a fall and/or spring jacket. Or summer if you live in Chicago. 🙄)
I LOVE that Nordstrom usually comes out with a scalloped sweater during the sale. This is last year's, which I still have and adore… and I was excited to try this version! Also, I should let you know that I could only find a size medium in my local store, so that's what you see here. And it's clearly a little big. Honestly, I think I would have gone with the size small had it been available, but really love the oversized look so not that big of a deal! (I just tuck one side in for a more polished appearance.) That said, my analysis is that it runs true to size. Order your usual size or one size up if you like your sweaters on the looser side.
In terms of quality, it's soft and well-made. You can see the scallops around the neckline, and the ruffled sleeves give it a feminine touch!
This isn't part of the sale either, but had to highlight it since it's incredible and a fall staple. First of all, it's so affordable. Secondly, it's held up amazingly well for me over the last couple of years. Third, it's crazy soft. I also love that I don't have to worry about it so much with Emma, since it's not real leather. If she drags it around, no big deal! (Sale Tory Burch version here, and here's a super affordable Nordstrom Anniversary Sale brown tote. Doesn't it look just like the Madewell one?!)
Shop Fall Essentials on Sale:
Cole Haan Tali Skimmer Flats (They come in a solid version, too. And here are the pumps!) / Rag & Bone Skinny Jeans / Tote (Sale Tory Burch version here, and here's a super affordable Nordstrom Anniversary Sale brown tote. Doesn't it look just like the Madewell one?!) / Halogen Scalloped Neck Sweater (Here's the other scalloped option.) / Burberry Jacket (On sale, too!)
Answer the Question of the Day to be entered to win $50 to shop the Nordstrom Anniversary Sale: What was your favorite childhood toy? I'm sitting with Emma on my lap as I type this, and she's clutching her beloved bunny… so that's the inspiration behind today's question, haha. As a kid, mine was actually also a stuffed bunny, named "Hop." And then there was my Cabbage Patch Kids doll, "Bee," which we accidentally left in the airport. My dad drove all over the state of California looking for an identical replacement… and when he finally found one, I apparently accepted her, but skeptically told him that the doll's eye color was different. 😂
Remember to leave your e-mail address in the following non-spammy format: kelly [at] kellyinthecity [dot] com.
Congrats to the winners thus far:
Lauren V.
Maggie P.
Kaitlin M.
Grace M.
Jeanne C.
Cindy G.
Nicole N.
Sophia K.
Alexandra N.
Grace L.
Holly S.
Diana C.