Mitch here!
Being a father of two has given me some perspective on just how easy my life used to be. I now actively look for ways to simplify things in the hopes of carving out a few extra minutes of Private Mitch Time. And I need my Private Mitch Time!
Which is why I'm such a fan of Walmart+. For the uninitiated, Walmart+ is a new membership that annihilates every hassle associated with shopping. With it, you get both free delivery from your store on orders of $35+ (restrictions apply) and Walmart+ free shipping with no order minimums on items from Walmart.com (excludes oversized/freight & Marketplace items)—which is just insane. You can get same-day delivery on lots of items from your store, and items from Walmart.com can be shipped with next-day or two-day shipping. (Perfect when you're really in a rush… which I totally am right now.) The app is super simple to use, and it even offers free returns. I now use Walmart+ for so much of what we need throughout the day, from toothpaste to toddler gear and toys.
In addition to those delivery and shipping benefits, Walmart+ members also receive member prices on fuel at Walmart, Sam's Club, and Murphy fuel stations… and this is the best part: Walmart+ members can check out on their phone as they shop in-store for a contactless checkout experience. I've done it and I'm telling you that it saves an incredible amount of time!
Walmart+ costs just $12.95 per month or $98 per year, and there's a 15-day trial membership which is a no-brainer for all you last-minute shoppers out there. Signing up for Walmart+ takes about two minutes, and the process couldn't be simpler. Are you catching my drift? Walmart+ is dope.
Last-Minute Gift Guide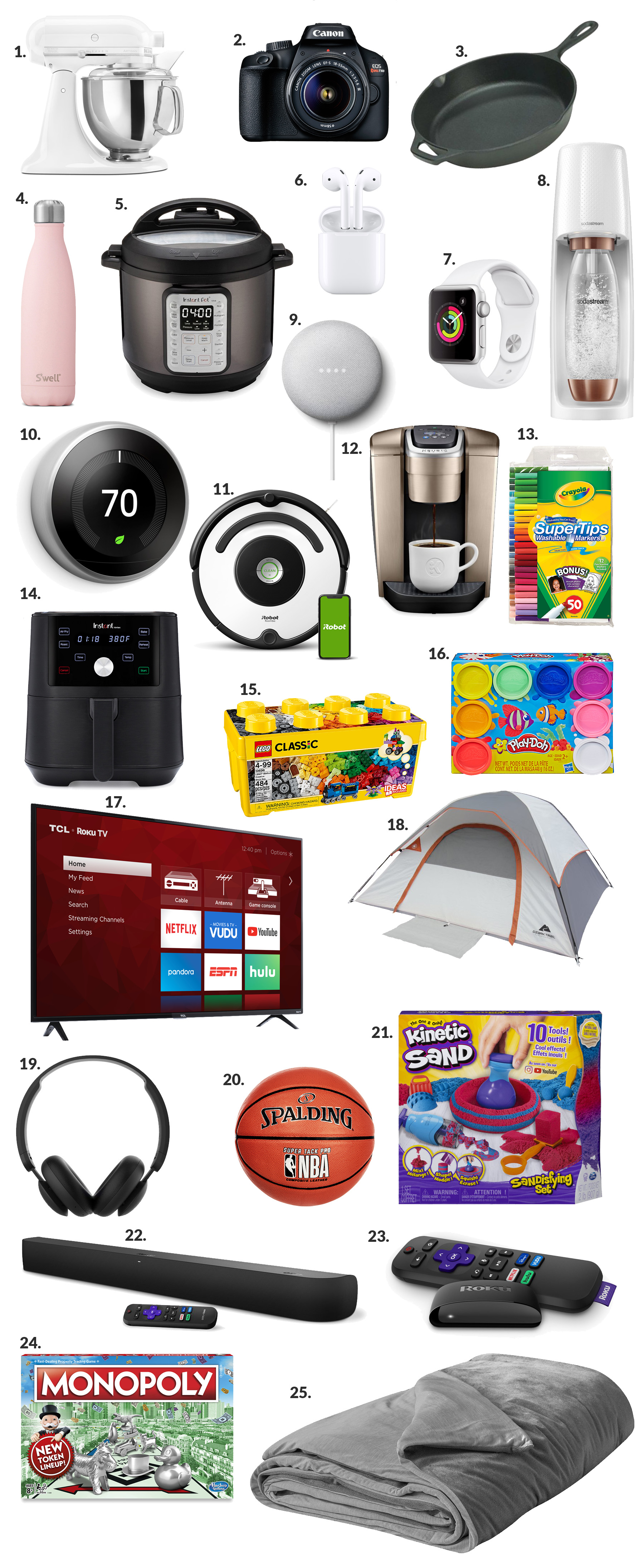 One / Two / Three / Four / Five / Six / Seven / Eight / Nine / Ten / Eleven / Twelve / Thirteen / Fourteen / Fifteen / Sixteen / Seventeen / Eighteen / Nineteen / Twenty / Twenty-One / Twenty-Two / Twenty-Three / Twenty-Four / Twenty-Five
As the 2020 shopping season finish line approaches, I've collected the best last-minute gifts I could find. Happy shopping!
1. KitchenAid Stand Mixer: The king daddy of all kitchen gadgets, these stand mixers are tough to find this time of year. Walmart+ will have you stand-mixing in no time.
3. Cast Iron Skillet: There are two kinds of people in the world: Those who appreciate a cast iron skillet, and their spouses who put it in the dishwasher. Which side are you on?
4. Swell Bottle: It's no coincidence that Swell Bottles are perfectly shaped for stuffing stockings.
8. SodaStream: I'm a passionate fizzy water drinker—I have three on my desk as we speak—so this SodaStream speaks to me.
11. Roomba: The best gift in the bunch, our Roomba cleans our floors every night while we sleep. That is if I can remember to turn it on.
15. Giant Box of Legos: When I was a kid, the thought of cleaning up legos stressed me out so much I refused to play with them. True story. Luckily, my kids are more mature than I ever was/am.
17. Affordable TV: Gifting someone a giant TV would be quite the flex.
18. Four Person Tent: My wife hates camping so this four person tent is the top of my list. She'll come around.
21. Kinetic Sand: Kids these days have it made. On-demand streaming TV, tablets for FaceTiming their friends, and Kinetic Sand instead of Play-Doh. Life isn't fair.
25. Weighted Blanket: I'm not a member of the weighted blanket club, but if my wife is still reading this post maybe I will be soon. Fingers crossed!
Mitch. OUT!
This post is sponsored by Walmart. As always, thank you so, so much for supporting the partnerships that keep Kelly in the City up and running!