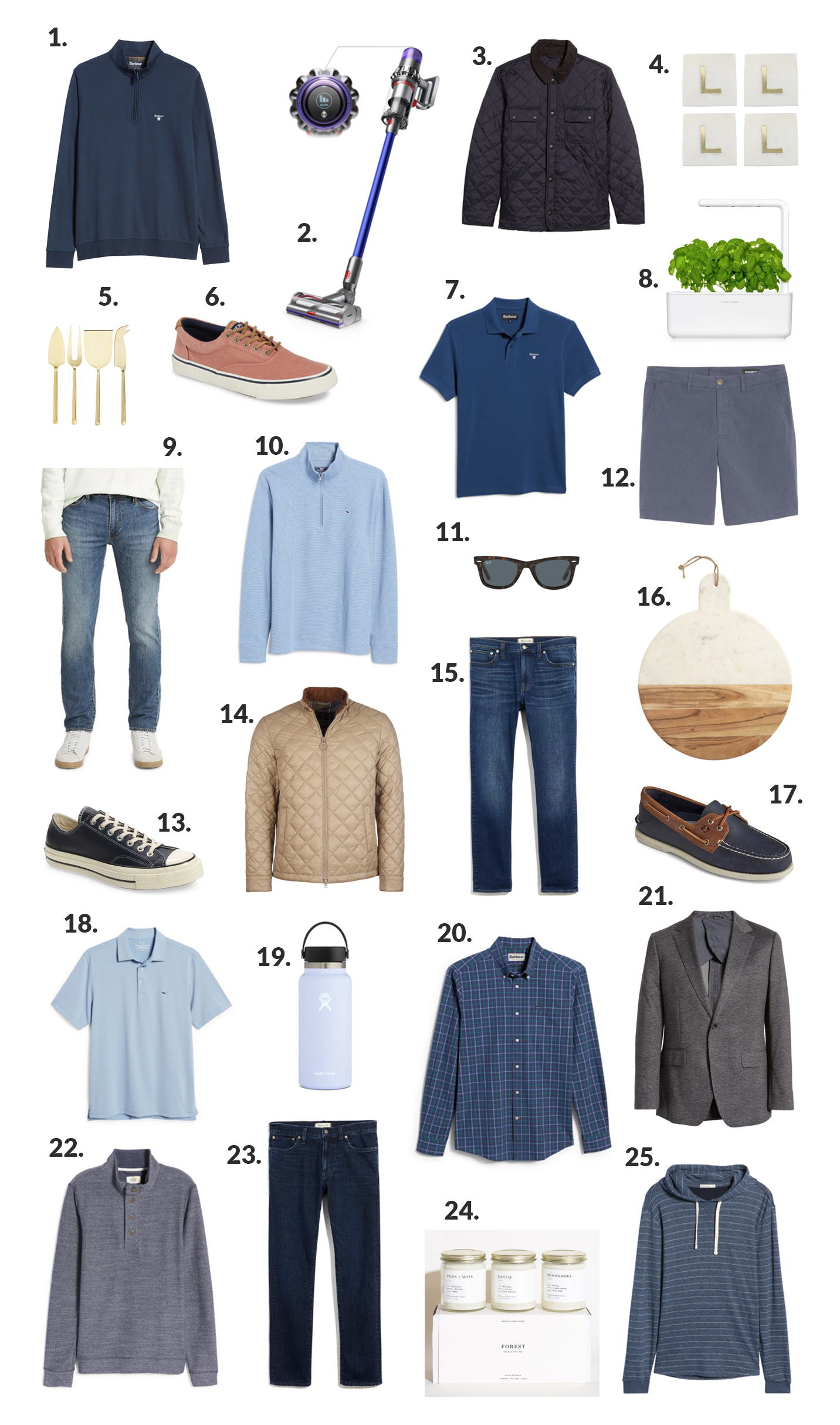 One / Two / Three / Four / Five / Six / Seven / Eight / Nine / Ten / Eleven / Twelve / Thirteen / Fourteen / Fifteen / Sixteen / Seventeen / Eighteen / Nineteen / Twenty / Twenty-One / Twenty-Two / Twenty-Three / Twenty-Four / Twenty-Five
Mitch here!
It's Nordstrom Anniversary Sale sale season, and today I'm sharing my favorites… because men's is a category often forgotten. ;)
What sets the Nordstrom Anniversary Sale apart from other sales is that the included products are either new for fall 2021 or they're classics that brands carry and bring back year after year. At the moment, the sale is in its Early Access phase. That means that shoppers must be cardholders, and they're "let in" on various dates depending on how much they spend at Nordstrom throughout the year. If you're not a cardholder, though, have no fear! The sale will be open to the public on July 28th. The sale ends on August 9th at 3 a.m. ET/12 a.m. PT, and that's when you'll see prices go back up.
Mitch's picks
1. Barbour Quarter Zip Pullover: If an artist tried to embody my essence in an article of clothing, it would look exactly like this Barbour Half-Zip Pullover in Navy.
2. Dyson V11 Vacuum: Nothing infuriates Kelly more than an inefficient vacuum. And this Dyson is, apparently, the best vacuum in history. It sucks so hard… in all the right ways.
3. Barbour Quilted Jacket: $130 for a quilted Barbour is the best deal in the whole sale. That's it. That's the caption.
4. Brass and Marble Coasters: Until I found this set, I refused to use coasters. My thinking is that if a table was too fragile to hold my cold drink, it belonged in the garbage. But these little square marble and brass coasters changed my ways.
5. Fancy Cheese Knives: I'm from the Midwest, and have been successfully eating a phenomenal amount of cheese my entire life without specialty cheese knives. Is this a trick?
6. Sperry Sneakers: I'm a big Sperry fan and everything, but the real reason I want these sneakers is so I can yell out "RED SHOES" in my best Elvis Costello impression.
7. Barbour Polo: I know what you're thinking. Mitch, you couldn't possibly need another navy polo. Are you running a private navy polo museum or are you cornering the navy polo market to drive up prices? Listen, I don't need to explain myself to you. I'm my own man.
8. Smart Garden: Both my father and brother are farmers and my mother is a master gardener. I planted artificial plants in my garden and need a robot to help me grow houseplants.
9. Levi's 511 Flex Slim Jeans: Levi's has been making jeans since 1853, so I guess you could say they know a thing or two about blue pants. Their 511s are my personal favorite, and at $60, the purchase is a no-brainer.
10. Vineyard Vines Quarter-Zip: Another day, another quarter-zip pullover. Is it wrong if it feels oh-so right? Nearly every 30- to 70-year-old man can't be wrong. Quarter-zip pullovers are here to stay.
11. Wayfarer Sunglasses: I bought two fancy pairs of sunglasses earlier this summer and promptly lost them both. Not really sure what to do about that.
12. Bonobos Shorts: Each and every word here is like music to my ears. Stretch (ooh!) Washed (yes!) Chino (go on!) 7-inch (the perfect length!) Shorts (my favorite!)
13. Chuck Taylors: Where are we on the Chuck Taylor ironic to played out scale? Regardless, I should probably buy  these so I can be ready when they become cool again.
14. Barbour Biddel Jacket: In the middle of the summer, it's easy to forget just how valuable a great jacket is for the colder months. Barbour is the best jacket maker in the game, and this Biddel is $90 off during the sale.
15. Madewell Jeans: Madewell low-key sells super secret men's jeans. They just don't sell them in their stores and nobody knows about them. But I do. I know about them and now you do too.
16. Marble & Acacia Serving Board: At what point is a serving board too fancy to use? The key is finding one that is fancy but inexpensive enough to put meat, cheese and little folded salamis on. And I think this board is just the one.
17. Sperry Boat Shoe: I buy two pairs of boat shoes during the Anniversary Sale each year and then proceed to totally destroy them over the course of the proceeding year. It's time for a re-up.
18. Vineyard Vines Polo: If you're like me, stretchy polo shirts from Vineyard Vines are what dreams are made of. This one has stripes, sleeves and a collar all for one low price. It has a hole for your neck, two holes for your arms and a larger hole for your hips. It also has ample material to cover both your belly and your back. They've really thought of everything with this shirt.
19. Hydro Flask: We're all desperately dehydrated and probably going to die if we don't cary around this half gallon metal jug full of lukewarm tap water from here on out. (According to my wife.)
20. Barbour Button-Down: Barbour doesn't play around when it comes to tailor-fit tattersall oxfords. And though it pains me to buy a shirt like this in the middle of the summer, $40 off is hard to ignore.
21. Bonobos Blazer: There's a two-week window in late October when a blazer is a totally practical article of clothing. If you buy this stretchy Bonobos blazer, you won't get caught flat-footed this year!
22. Marine Layer Pullover: This is the best piece of clothing I've bought in the last five years. I wear it every day. On laundry day, I pull it out of the machine and wear it wet. I bought it twice just in case it goes out of stock. I considered selfishly leaving it out of this guide so I can have more of them for myself but then reconsidered. I'm sorry.
23. Madewell Dark Jeans: I buy a pair of dark jeans once every year. I wear them once and try to convince myself that I'm into it. I then leave them in the wash for a few cycles to try to lighten them up and then I donate them to charity. Actually, don't buy these.
24. Brooklyn Candle Set: I've spent a lot of time in Brooklyn and I'm not sure how great of an idea it is to recreate the Brooklyn smell in candle form, but I'll give it a shot!
25. Marine Layer Hoodie: The rumors are all true. Marine Layer has some kind of super secret recipe to make their clothes extra soft, and this hoodie is no exception. If you like soft stuff and hoodies, then I just made your whole day.