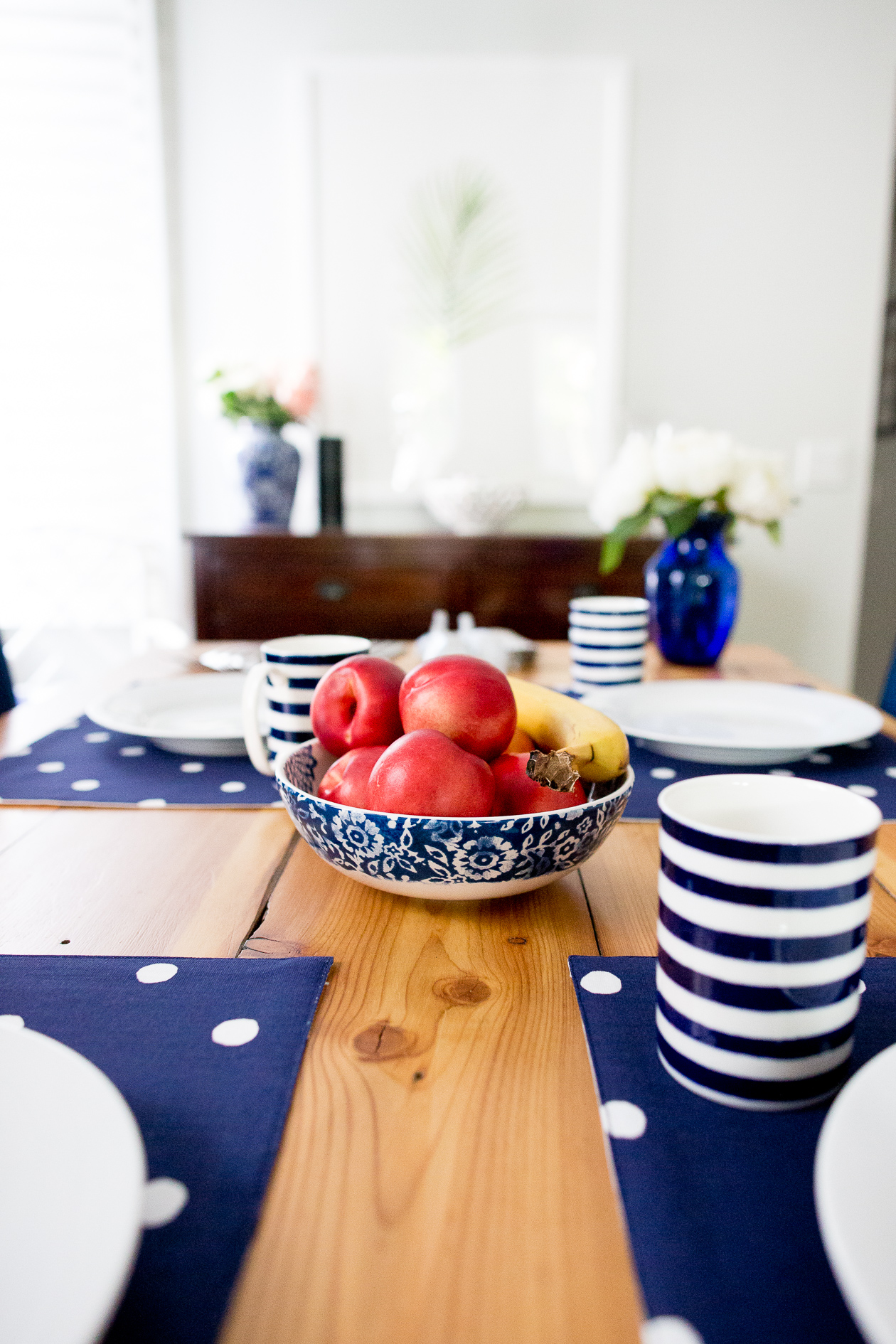 Entertaining at home is a great way to save money while hosting houseguests! These photos were taken right before a brunch with the parents.
Last month was a crazy time for us. Yes, we were about to have a baby and we were simultaneously finishing up some massive home renovations, but we also had five sets of guests come to stay with us in quick succession. Before we jump all over the guests, though, please know that I wanted them to come. Yes, in hindsight, running a mini bed & breakfast in my last month of pregnancy probably added a bit to the stress and the never-ending to-do lists… and perhaps I should have asked everyone to push their trips back a few months. But every single guest asked multiple times whether I was sure I was okay with them coming, and I told every single one "yes." :)
Because here's the thing: I don't get to see my friends from home very often. Some of them I only see once per year because of distance, jobs, life and other realities. And I love my friends. Part of the moving-to-Chicago deal was that these very special people would always be welcome, and I try really hard to make any and all trips–which typically come up during the warmer months–work. (Understandably, most people don't want to visit Chicago in the winter. Whomp, whomp.) Heck, this was a big reason we purchased our house last year! Friends (and obviously family) will always be a priority.
And can I tell you? We had an amazing time with our guests. We were finally able to spend quality time with some of our favorite people in the world, and we told stories and caught up and just laughed. Never have I felt luckier to have such a fabulous circle of friends and family. (Except maybe during our wedding or when Emma was born. So much love!)
That said, I think Mitch and I learned a lot about hosting and entertaining that month. There's the "oh-my-goodness-I-just-spent-my-budget-for-the-entire-summer" way to do it, the "I-think-I'm-going-to-have-a-mental-breakdown-because-I-can't handle-guests-and-work" way to do it, and then there's the smarter way to do it. ;) So today, I'm going to share some of our best tips for hosting and entertaining guests this season without breaking the bank! (Or your spirit, haha.)
Be open and honest
One of the most challenging parts of having guests can be unrealistic expectations. First, there are the costs associated with hosting and entertaining. And then there are jobs, which you typically can't quit just because you have friends in town. Mitch and I have found–both from our time in New York and from our time in Chicago–that most of our friends and family treat trips to the city as vacations. Understandably, they want to go to restaurants, shows, bars and events, all of which are incredibly fun but also very expensive and time-consuming when you when you have people rolling in on a regular basis and when you're juggling work at the same time. Our best advice is to tell guests when you can't do everything with them. They'll understand, I swear! The first time I was open and honest about this, I was beyond nervous. Will they think I'm a bad friend? Will they think I'm cheap? Will they think I don't want them visiting? But I simply explained that I wasn't in the position to attend everything, both financially and time-wise, and they completely understood. Honestly, I think they enjoyed having some alone time with their significant others anyway!
Use a credit card with rewards
While you probably won't attend everything active guests want to do, you'll likely want to go to a handful of activities. ;) I mean, come on. Your friends are in town! Be smart about how you make your purchases, though. Mitch and I use our American Express Blue Cash Everyday Card to pay for nearly everything as we get three percent back at U.S. supermarkets, up to $6,000 per year in purchases, two percent cash back at U.S. gas stations, two percent cash back at select U.S. department stores, and one percent cash back on other purchases. (Cash back is received in the form of reward dollars which can be redeemed as statement credit.) There's also no annual fee! While these percentages might seem small, they add up very quickly. Who doesn't like being rewarded for spending money?!
Also, being an American Express Card Member gives you pre-sale access to amazing music, theater and sporting events when you purchase tickets with your card through the Membership Experiences website. Definitely something to keep in mind especially when you have out-of-town guests to entertain!
Offer up alternative options
So often, guests end up at pricey restaurants and bars because they're well-known and easy. But remember that you're the expert about your city, town or neighborhood. If your guests are interested in getting seafood, for example, Oyster Bah > Shaw's Crab House. (And don't forget to use that American Express Blue Cash Everyday Card!) Likewise, have a list of free local activities on hand. For instance, I love walking my guests down Armitage, the busiest street in our neighborhood, because there's so much to see and so many shops to roam in and out of. I also love visiting parks and the lake, having picnics, going on walking tours, and attending free street festivals. And who doesn't enjoy taking Noodle to the beach to watch her swim?! It's all about options, and there are so many in the summer. I don't know about you, but Mitch and I almost always opt for the cheaper option while traveling, simply so we can do more and stress about our wallets less.
Entertain at home
Whenever Mitch and I have guests, we try really hard to cook dinner or have a little party at least once during the visit, and to host as many "happy hours" at the house as possible. (Complete with appetizers!) If you're smart about where you shop, and use that American Express Blue Cash Everyday Card, this can be much less costly than a full night out on the town! (Whenever I use it, I get three percent back at U.S. supermarkets!) We also try to cook breakfast and serve lunch on a few occasions. Our favorite places to buy inexpensive yet yummy groceries in the city are Trader Joe's and Aldi.
Mitch and I highly recommend preparing meals in advance, too. Frozen lasagnas, pizzas, hamburger patties and breakfast casseroles make for fun, easy and cheap meals! And some easy recipes are always helpful. Here's a great one for meatball dippers!
Entertaining at home is also the perfect excuse to use your cute tableware. It's not every day that you break out your best–Mitch and I typically use our day-to-day stuff when it's just us–so take advantage of the opportunity. The photos in this post were actually taken right before a little BLT brunch we had with our parents recently!
Stock up on "guest essentials" in advance
This goes without saying, but buy those towels, sheets, pillows, coffee, basic toiletries and drinks before guests' arrival, or else you'll be forced to run out to the nearest (and usually the most expensive) convenience store at the last minute. The same goes for breakfast food. If there's nothing in the house, you'll likely be getting breakfast out every morning, and that's gets pricey very quickly. Mitch and I are big fans of Amazon and Target, but as I mentioned before, Trader Joe's and Aldi are clutch, too. (And not just for groceries!) We also keep an eye out for sales and specials in the weeks and days before guests' arrivals. For these essentials, and we always use our American Express Blue Cash Everyday Card. Again, we get three percent back at U.S. supermarkets, two percent cash back at select U.S. department stores, and one percent cash back on other purchases!
Create a city/town guide
Mitch actually came up with this idea when we were living in New York, and it's still a lifesaver. On account of jobs and life, we can't accompany our guests everywhere, but with our guide in hand, they usually have a lot of fun when they're on their own. :) The guide is constantly evolving, but it includes lists of our favorite restaurants, sights, and budget-friendly activities. Once, we even made a little "Mitch and Kelly's Perfect NYC Day" insert for a couple of guests who were visiting during a busy workweek. They followed it to a T, and loved it! For Chicago, I plan on making a "Choose Your Own Adventure" insert. How adorable would that be?!
Make them feel at home
This is so important, and typically doesn't cost very much. Make sure clean sheets are on the beds, and clean towels are laid out. Put a little card in their room with the wifi password on it. Let them know they're welcome to use the computer. Give 'em a rundown on what's in the fridge and show them where the water glasses are–and tell them they have free reign of the kitchen! Set out coffee and the coffee maker. Make them aware of your schedule in advance so they're not left hanging. If you can, pick them up and drop them off at the airport. Oh, and when they arrive and leave, hug 'em and tell them how happy you are/were to see them. :)
Do you have any suggestions for hosting and entertaining guests during the summer without breaking the bank?
This post was sponsored by American Express, though all opinions are my own. As always, thank you so much for supporting the partnerships that keep Kelly in the City up and running!
Room details:
Kate Spade Charlotte Street Collection (Also available here, here and here) / Pier 1 Buffet c/o / First Ginger Jar Print c/o Laura Dro Designs (Win it here.) / Second Ginger Jar Print / Pier 1 Navy Velvet Dining Chairs c/o / Farmhouse Table (Mitch made it! Here's the tutorial.) / Pier 1 Ikat Rug c/o / Chippendale Chair (Original inspiration here and here) and Cushion / Pier 1 Garden Stool c/o / Pier 1 Vase (Try Design Darling.) / Minted Striped Vase Print c/o