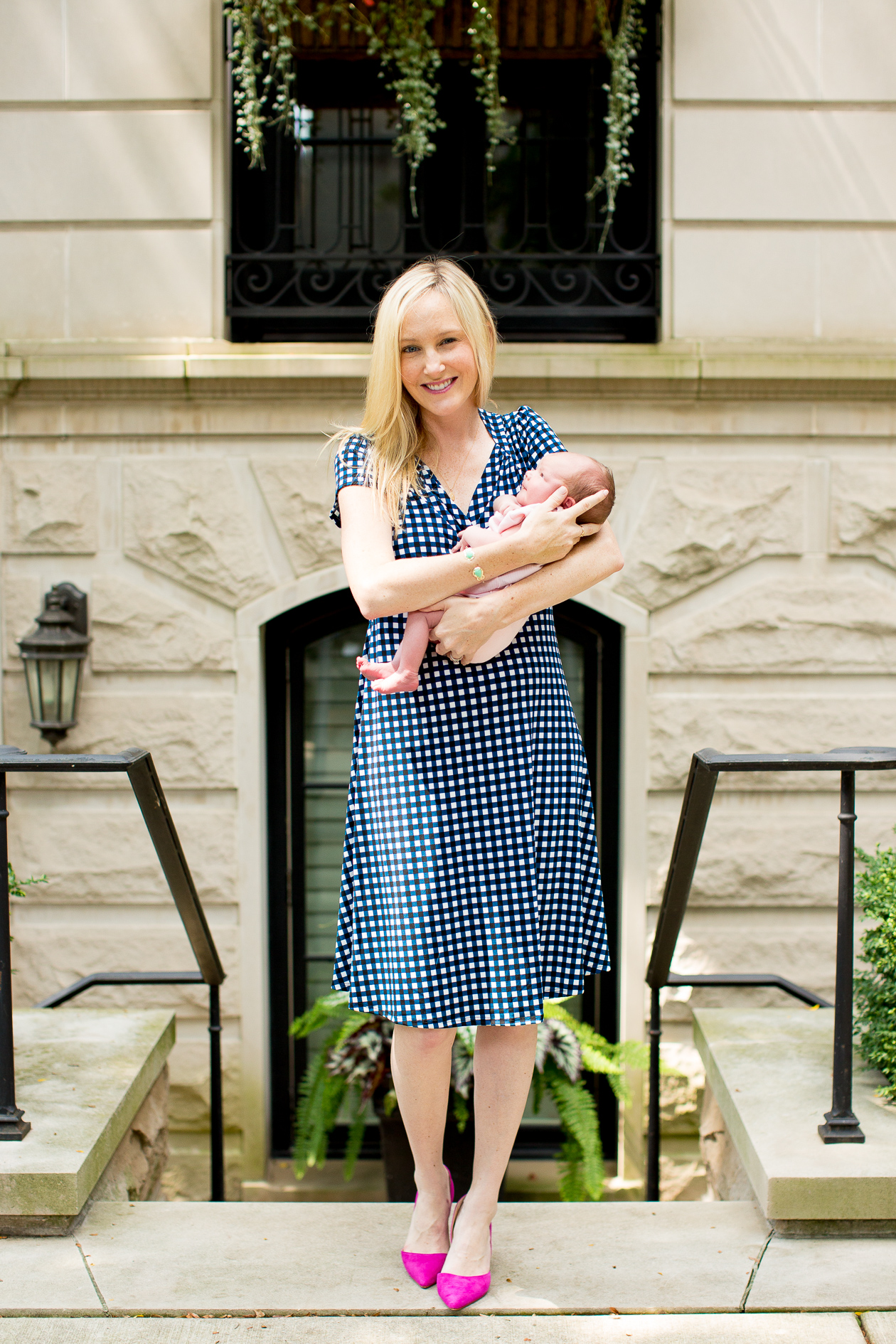 Leota Dress c/o (Also available here) / Sole Society Pumps c/o / GiGi New York Bag c/o / Kendra Scott Bracelet c/o (Other colors here) / Helen Ficalora Necklace c/o (Similar here, here and here)
First of all, I can't thank you guys enough for your kind messages regarding Tuesday's personal post. :) I received a few requests for a "part two" post about recovery, and I hope to publish that sometime next week. So stay tuned! Until then, though, I'll say this: over the last two weeks, I've learned the importance of patience. My body did something absolutely amazing over the last nine months, and it's a bit unreasonable to expect it to immediately return to its original state.
Part of me hoped I'd be back to the "old me" by the two-week marker, which was yesterday. But clearly, I am not. ;) Yet I don't care. Before having Emma, I'm not sure I appreciated just how incredible the human body is. Now, though, I'm in awe of it, from my stomach that still lingers to my larger chest that supports life.
Yes, I kind of wish that I could fit into my old clothing. But that's such a teeny desire at this point. Besides, most of my old stuff wouldn't be all that helpful at this point, as I'm breastfeeding.
Not sure why I never gave this much thought, but while nursing, you really need "easy access" clothing. Up until this week, I was rotating between three Lilly Pulitzer t-shirt dresses and tops. They were great, but I have to admit that they weren't the dressiest, and I was definitely wishing for something a tad nicer for evenings out on the town. And then this adorable dress from Leota arrived, and I feel like a new person!
The dress functions as both a maternity dress and a nursing dress, which means that you get a TON of wear out of it over the course of your pregnancy as well as the months that follow. The sweetheart neckline also allows for that easy access for breastfeeding, making life so much easier. It's also extremely flattering, and hides bumps while you're recovering. Finally, it's super comfy and soft.
I may have worn it both Tuesday night for dinner in Wicker Park and last night for happy hour downtown with girlfriends (and Mitch and Neal). But only Jess, Neal and Mitch saw the repeat… so whatever. ;) Though maybe I need the dress in a few different colors?! There are so many other great ones, too: I love this one, this one and this one. Thank goodness for Leota!
Sizing advice: Before pregnancy, I wore a size XS in Leota dresses. Keeping in mind that this is a maternity dress, I'm wearing a size small two weeks after having Emma. My best advice would be to go up one size from your pre-pregnancy size if you plan on wearing it as a nursing dress.
Outfit details:
Leota Dress c/o (Also available here) / Sole Society Pumps c/o / GiGi New York Bag c/o / Kendra Scott Bracelet c/o (Other colors here) / Helen Ficalora Necklace c/o (Similar here, here and here)