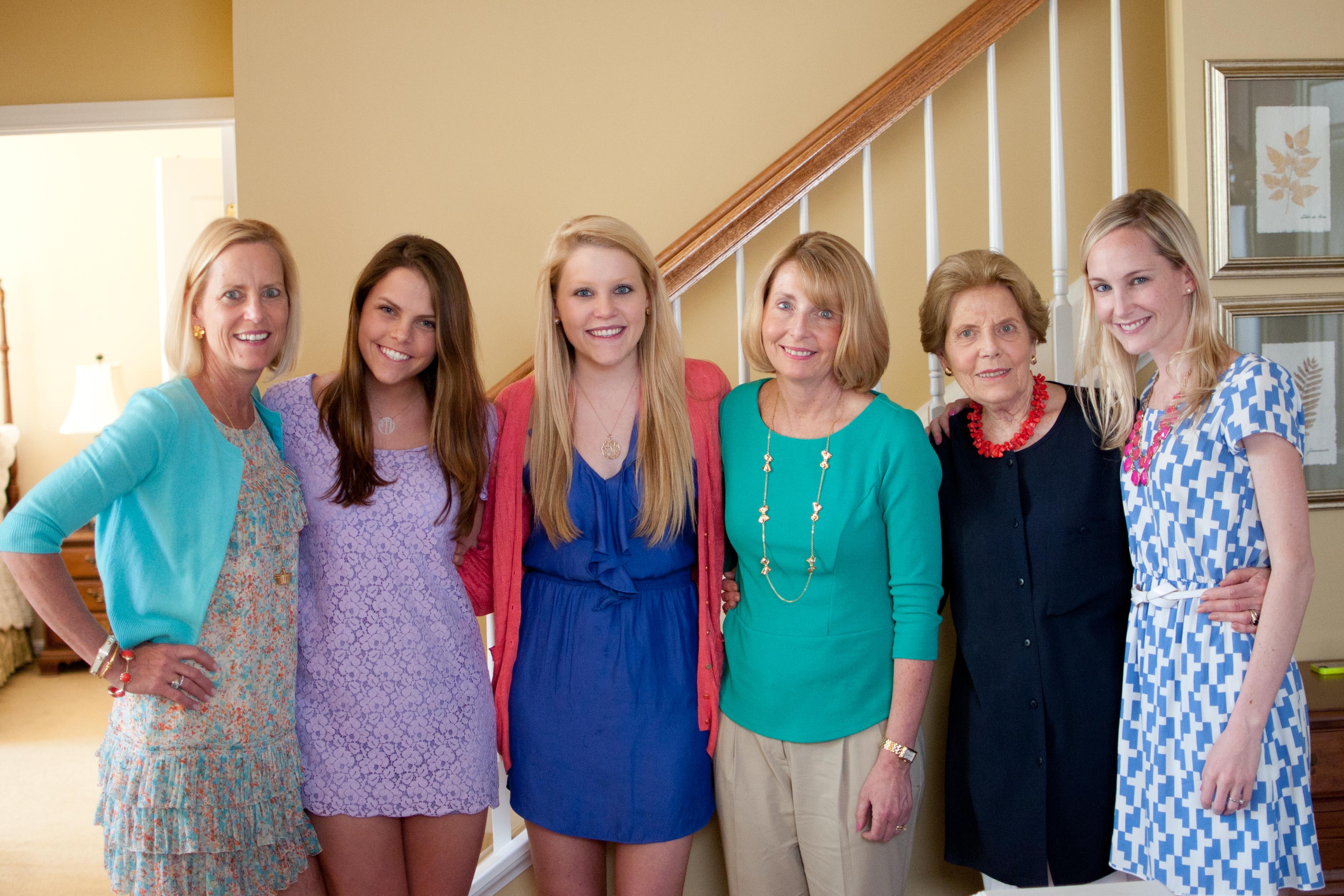 My family always teasing me for "talking in extremes," but, seriously. Sunday's Mother's Day celebration was the best. I love my family so much. I am the luckiest girl. Whenever we get together, it's just one giant party. Tons of laughter, lots of hugs, and occasionally some tears of happiness. (Though, guys. We've been crying a lot lately, huh? ;))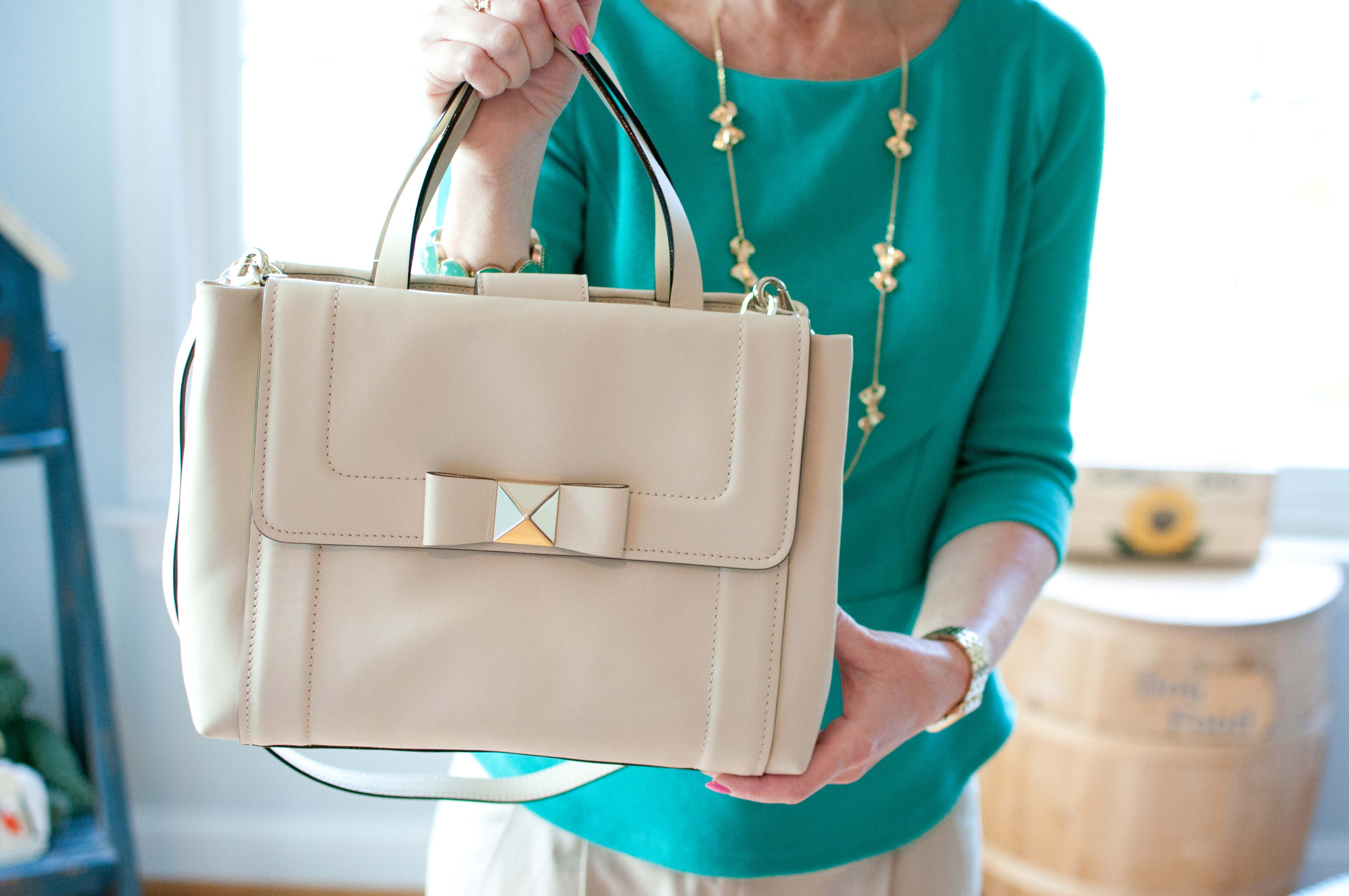 Before I go on, though:
Blue dress on Kelly: Townhouse / Clear monogrammed necklace on Paige: BaubleBar / Gold monogrammed necklace on Sammy: Paradise, similar here / White bow bag (Dad's Mother's Day present for Mom! Adorbs.): Kate Spade / Kelly's pumps: Kenneth Cole, similar here by Franco Sarto, here by Madden Girl (Save!), here by Cole Haan (Splurge, but so worth it. Super comfortable, and comfort matters!), here again by Cole Haan (More affordable and just as comfortable!) and here AGAIN by Cole Haan (Even better price, and again… So comfortable! Can you tell I love Cole Haan shoes?) / Mom's teal peplum shirt: Ann Taylor, similar here / Paige's purple dress: Aritzia, similar here and here / Sandals (on Sammy and Paige): Jack Rodgers / Mom's nude flats: TJMaxx, similar here / Grammie's red statement necklace: Unknown, similar here (Though a bit crazier!) / Sammy's stackable bracelets: Similar here / Kelly's pink statement necklace: Kate Spade, similar here / Kelly's hot pink bow watch: Kate Spade / Kelly's bow belt: Lilly Pulitzer, similar here, here and here / Auntie-M's flower earrings (Her Mother's Day present from her children! Adorbs.): Tory Burch / Auntie-M's basket necklace: Kate Spade / Auntie-M's bracelets: Henri Bendel (White bangle);Kate Spade (Sailor's knot), similar here (Three for a cheaper price!); and Lilly Pulitzer, similar here / Sammy's coral sweater: J.Crew, similar here (On sale!) / Mom's bow necklace: J.Crew, similar here and here (Sale!) / Mom's gold watch: Kate Spade, same watch here with glitz / Auntie-M's dress: J.Crew, similar here / Auntie-M's teal sweater: Lilly Pulitzer, similar here and here / Sammy's earrings: Kate Spade / Kelly's earrings: J.Crew / Sammy's blue dress: American Eagle, similar here (In lots of colors! Best dress ever. Seriously. My cousins have a ton of them! :)) / Auntie-M's sandals: DSW, similar here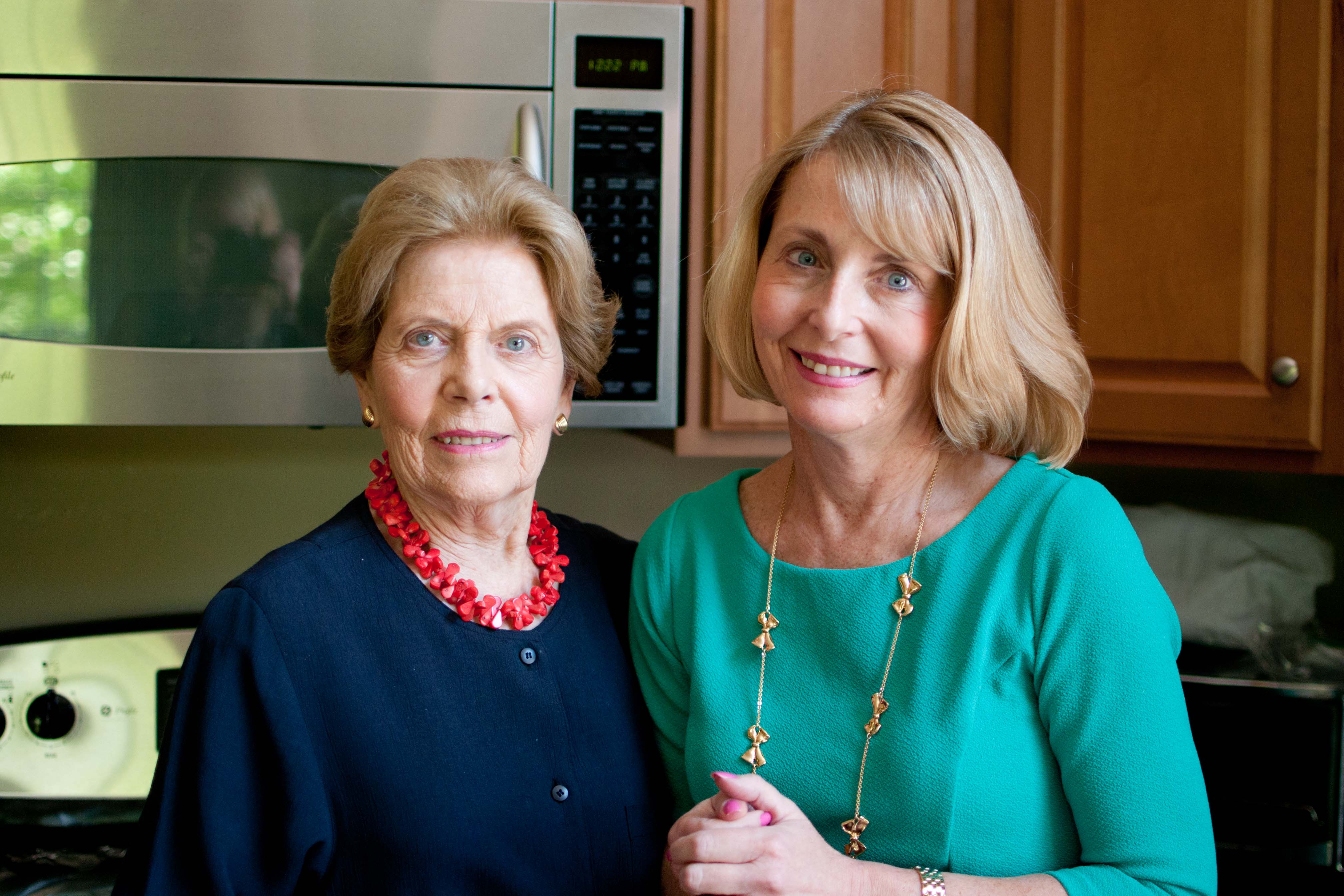 The celebration was held at Grammie's house in Bucks County, Pennsylvania. Very quaint. ;) There, we honored some pretty wonderful women: my mother, Auntie-M, Grammie, my cousins' Nanny, and Aunt Margie. Grammie's home was perfect for it, as it's incredibly warm and inviting. I absolutely love going there to spend time with her! It's also gorgeous. Gram has incredible taste! She put a lot of time and care into preparing for the get-together. It showed. The food was delicious, and the display was beautiful. She even put out caprese salad for me! (My favorite.) So sweet of her. Grammie is always doing little things for us to let us know that she loves us and is thinking about us. Grammie, you're the best. Thank you for always making our family gatherings so special. I don't know what we'd do without you! You're the glue! ;) Also, your outfit? Major cuteness. Fabulous statement necklace, girl.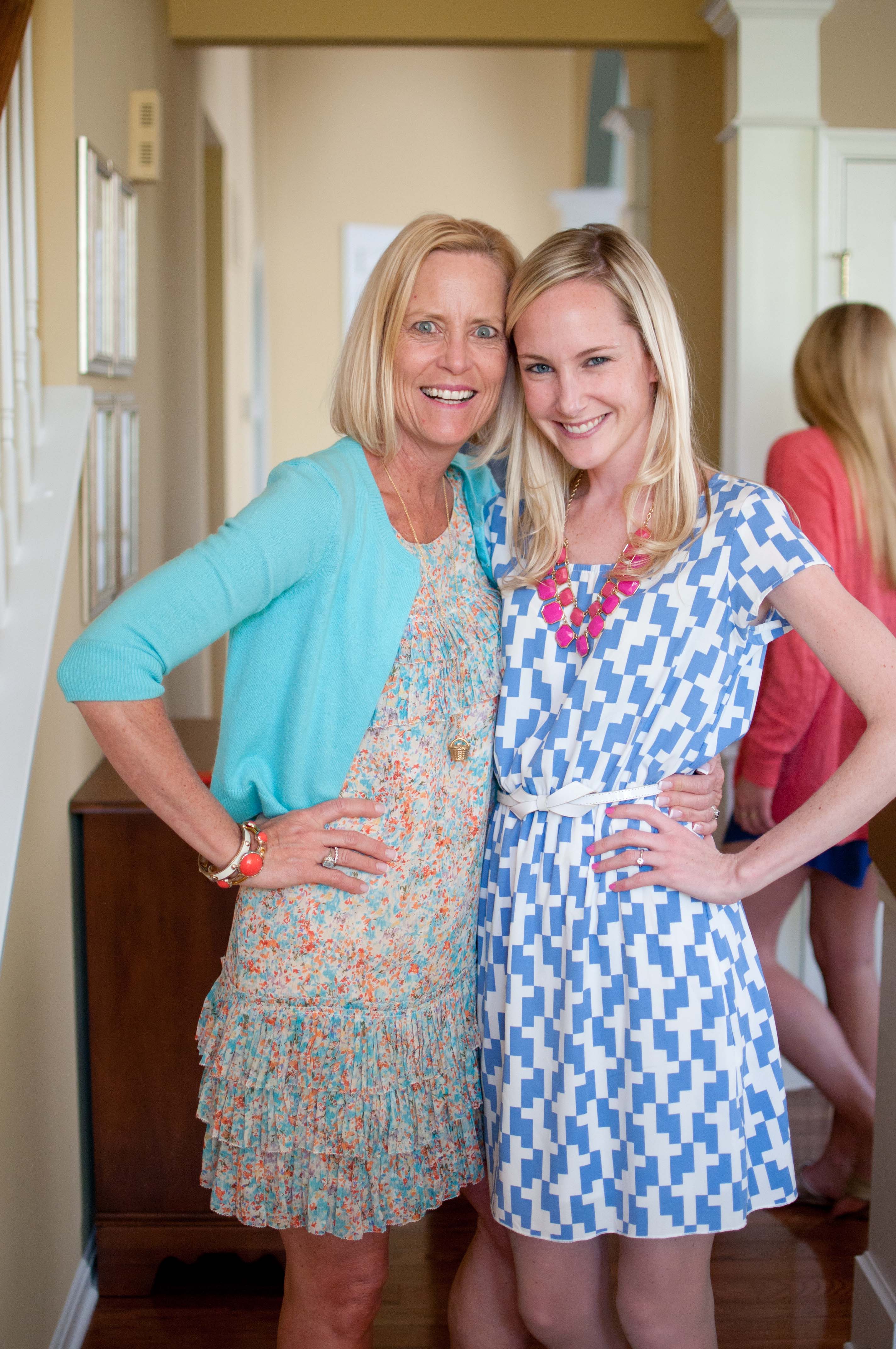 I also finally got my photograph with Auntie-M! For those of you who remember the posts (here and here) about my amazing bridal shower, Auntie-M was the ringleader of it. (So thoughtful and loving, right?!) I absolutely adore this woman. When I was little, and she lived in Chicago and we lived in New York, I used to count down the days on my kiddie calendar until I saw her again. I actually remember blowing out my birthday candles one year and wishing that she'd move back. She was just so fun. And she still is! She has always been like a second mother to me. She always makes me laugh, and gives the best hugs. I can't imagine life without her. And I'm finally getting my wish, about 20 years later. She's moving to Manhattan this year! I'm so incredibly excited about it. Auntie-M in my favorite city? Couldn't get much better than that. Also, please note her adorable outfit in these photos. She always looks perfect. It's amazing. Forget Olivia Palermo. Auntie-M really is my fashion icon!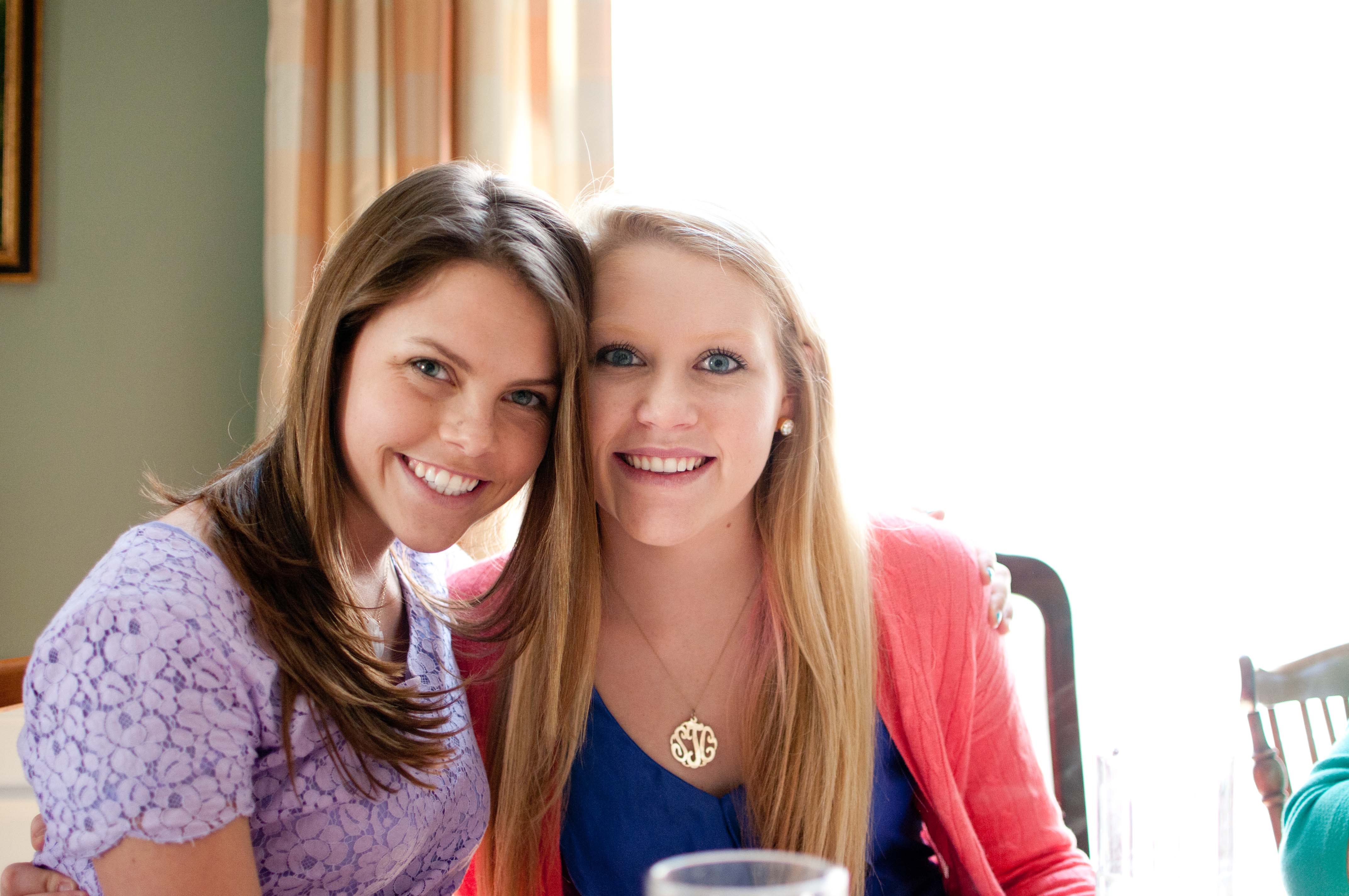 One of the best parts of the celebration was the fact that saw my cousin, Sammy! (She's the blonde beauty.) I hadn't seen her in forever. Well, since Christmas. But that's a long time to go without seeing the girl. Sammy just finished her sophomore year of college up in Rhode Island. I couldn't be prouder of her. First of all, she's incredibly hardworking. She is working on a double major right now, and one of her majors is Spanish. Spanish. I don't know about you, but foreign language was never my strong suit in school. And Sam is pretty much fluent! I've worked in the Bronx for six years now, and I still can't have a conversation with one of my student's parents without the parent rolling on the floor in laughter or shooting me weird looks. I'm so impressed with Sammy. Secondly, Sammy is the kindest and most sincere person you'll ever meet, next to my mom. ;) Sam would do anything for her friends and family, and I love that about her. Oh! And she's hilarious. Her little comments make me crack up. Also, Sammy is going to be a Eucharistic minister at our wedding! I am so, so excited about that. Sam, thank you! It means so much to us that you'll be a part of the big day. I love you!
The brunette beauty is Sammy's sister, Paige, who is just as fabulous. You've seen and heard about her before, in my posts about my recent bridal shower (here and here). She should be a model. You should see her prom pictures! Anyway, love Paige to pieces! I feel very lucky that I get to see her pretty often, as she's a senior in high school and still living at home. But I have to soak up my Paigie time, as she's headed off to her dream college in the fall! See you girls in Hoboken on Monday! (Birthday celebration for Paige, whose birthday is on Sunday!)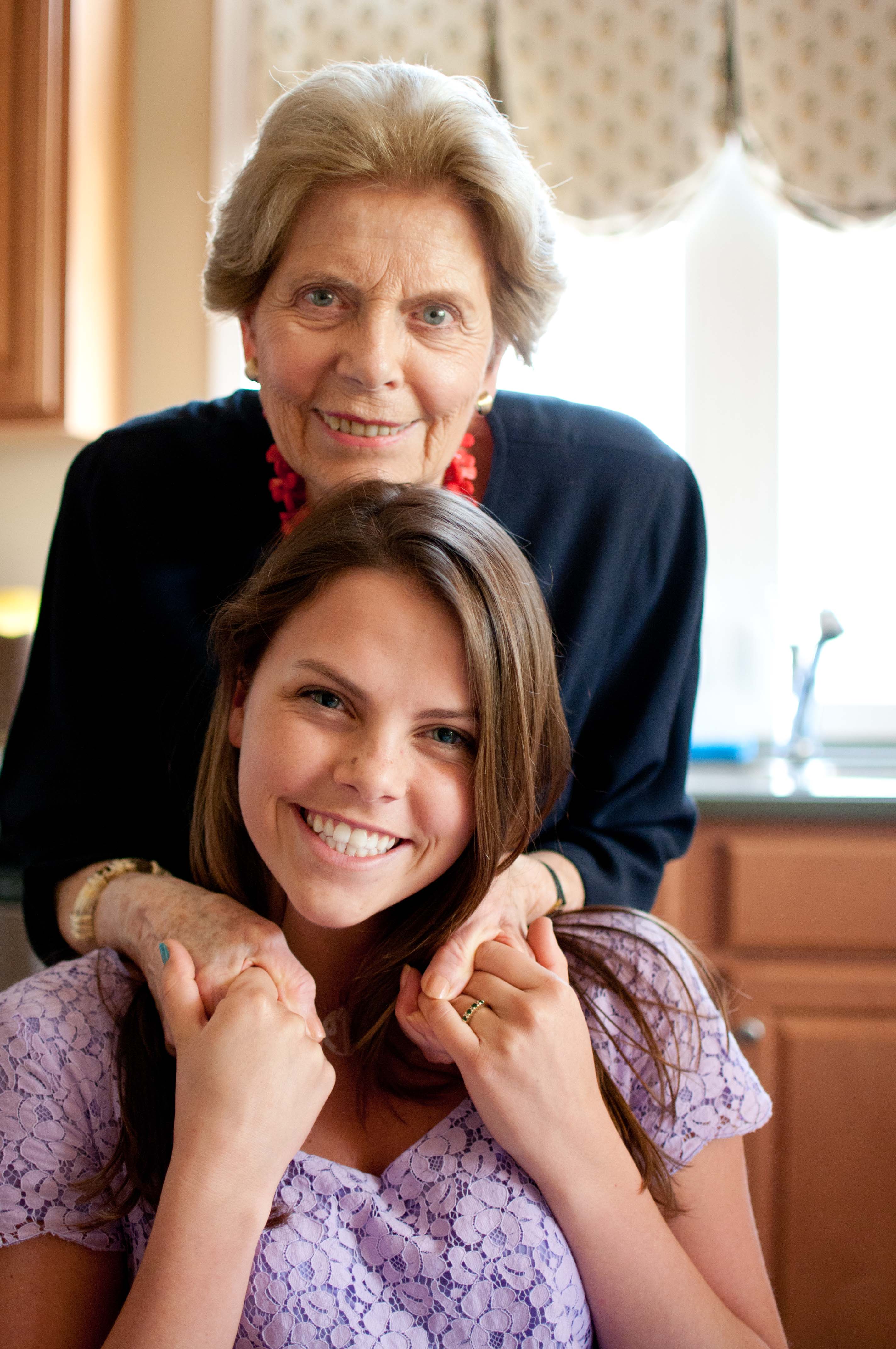 We were, however, sadly missing a few very special people on Sunday. Annie, my gorgeous Maid of Honor and cousin, was (and still is) off roaming around Europe (so jealous!), as she just graduated from Penn State. Chase, her older brother, lives in Washington, D.C., and my brothers were out in Milwaukee for a get-together. Normally, I would be pretty bummed that we were missing these amazing family members, as Mother's Day is usually the last big event that we all get together for before everyone goes their separate ways for summer. But this year is a bit different! I'll see Annie at my cousins' home in Nantucket for my bachelorette party in three weeks (Eeee!) and I'll see my brothers at home in a couple of weeks for a wedding. And Chase? I'm planning on going down to D.C. in the next month or so to see him! (Hopefully I can get my act together with all the wedding planning so that actually happens. But if not, I will definitely see him, as well as his adorable prepster of a girlfriend, on July 20th! ;))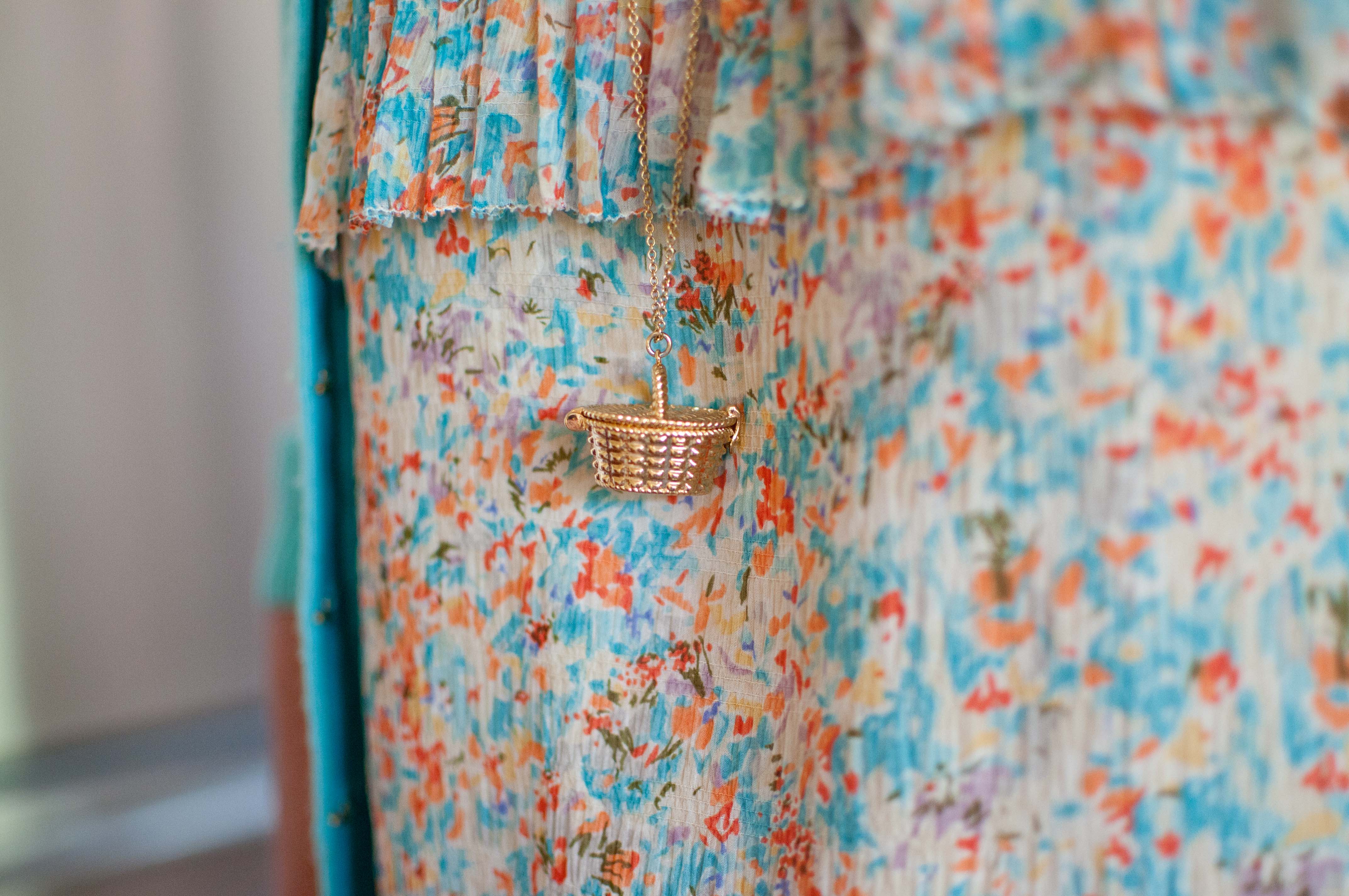 Anyway, I'll stop gushing about my fabulous family. Until I see them again. (Which I think is next week.) You've been warned. ;)