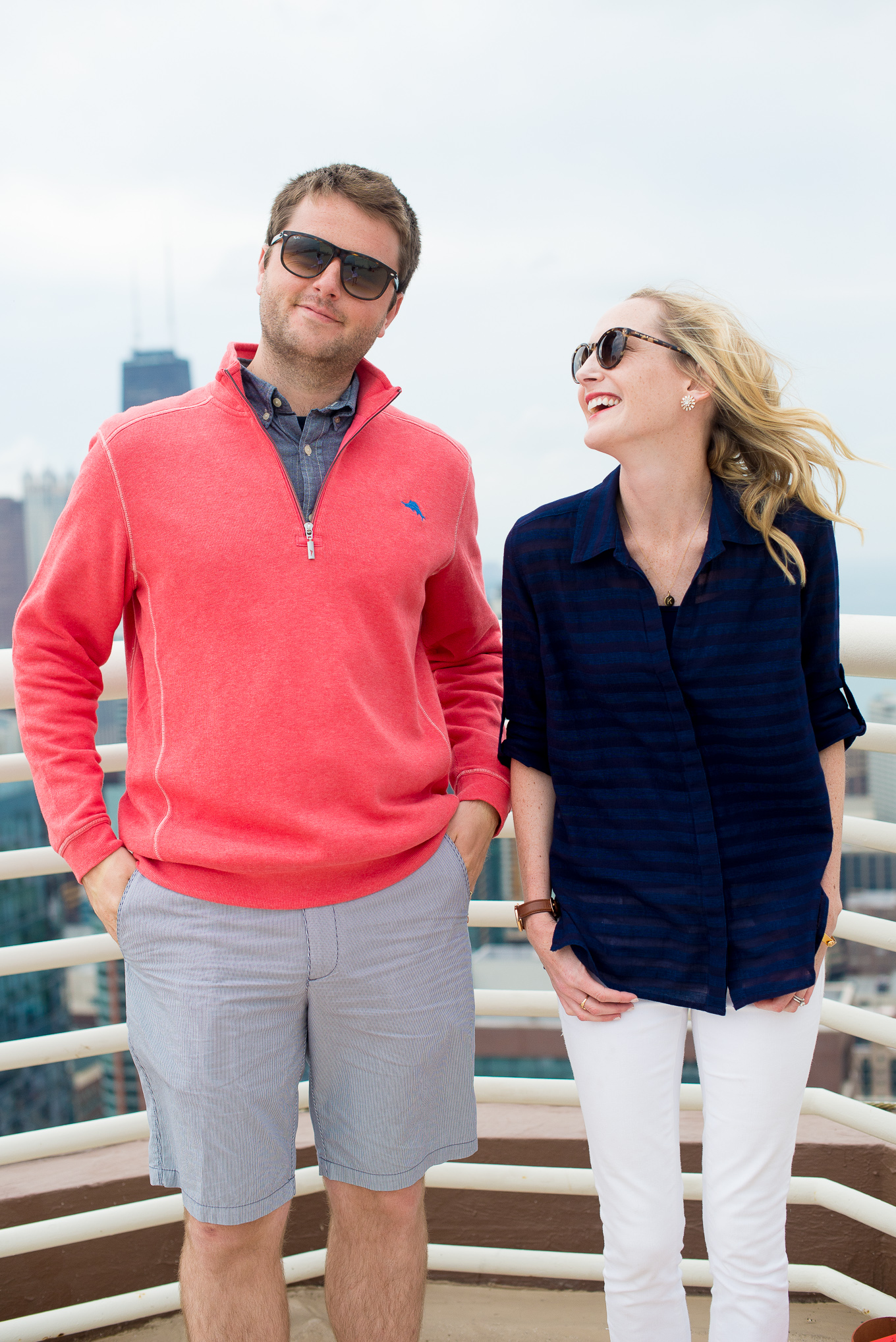 On Mitch:
Tommy Bahama Shorts and Sweatshirt c/o / L.L.Bean Shirt c/o / Original Penguin Sandals (Love this pair, too.) / Ray-Ban Sunglasses (Borrowed from Neal)
On Me:
Tommy Bahama Shirt and Sandals c/o / Kate Spade Sunglasses (Old, similar here and here) and Bracelet (Old, similar here) / Madewell Jeans (Also love J.Crew's white skinnies!) / J.Crew Tote (Borrowed from Jess) / Moon and Lola Earrings c/o Tuckernuck / Helen Ficalora Necklace c/o / Daniel Wellington Watch c/o
(See my full look here.)
First of all, a huge congratulations goes out to Mitch, who finished his eighth year of teaching (and first year of teaching in Chicago) yesterday. I'm so proud of him. Teaching in the inner city is an extremely demanding job on all fronts, and switching schools (and cities) is beyond stressful and emotionally taxing. While the year had its fair share of ups and downs, Mitch did an amazing job with his students. He helped them jump two grade levels and pass the state math exam–something they struggled with in years past. He also formed some amazing bonds with his kids, and made math fun.
Mitch, I love you. You're such a good person, and I'm so proud to call you my husband and best friend. :) I hope you know what a difference you make every day!
(Donate to Mitch's classroom here.)
Also, how cute do you look in Tommy Bahama?!
And I know I wrote about this yesterday, but this is just a reminder that I'm hosting an event at the Tommy Bahama Flagship Store in Chicago on Michigan Avenue (at Erie) next Wednesday, July 1st, from 6 to 8 p.m. with Shaheen, Jess, Johanna, Zahra and theWindy City Blogger Collective. :) There will be appetizers, signature cocktails and gift bags, and you can take $25 off your in-store purchase of $100 or more. RSVP here! We'd love to see you there!