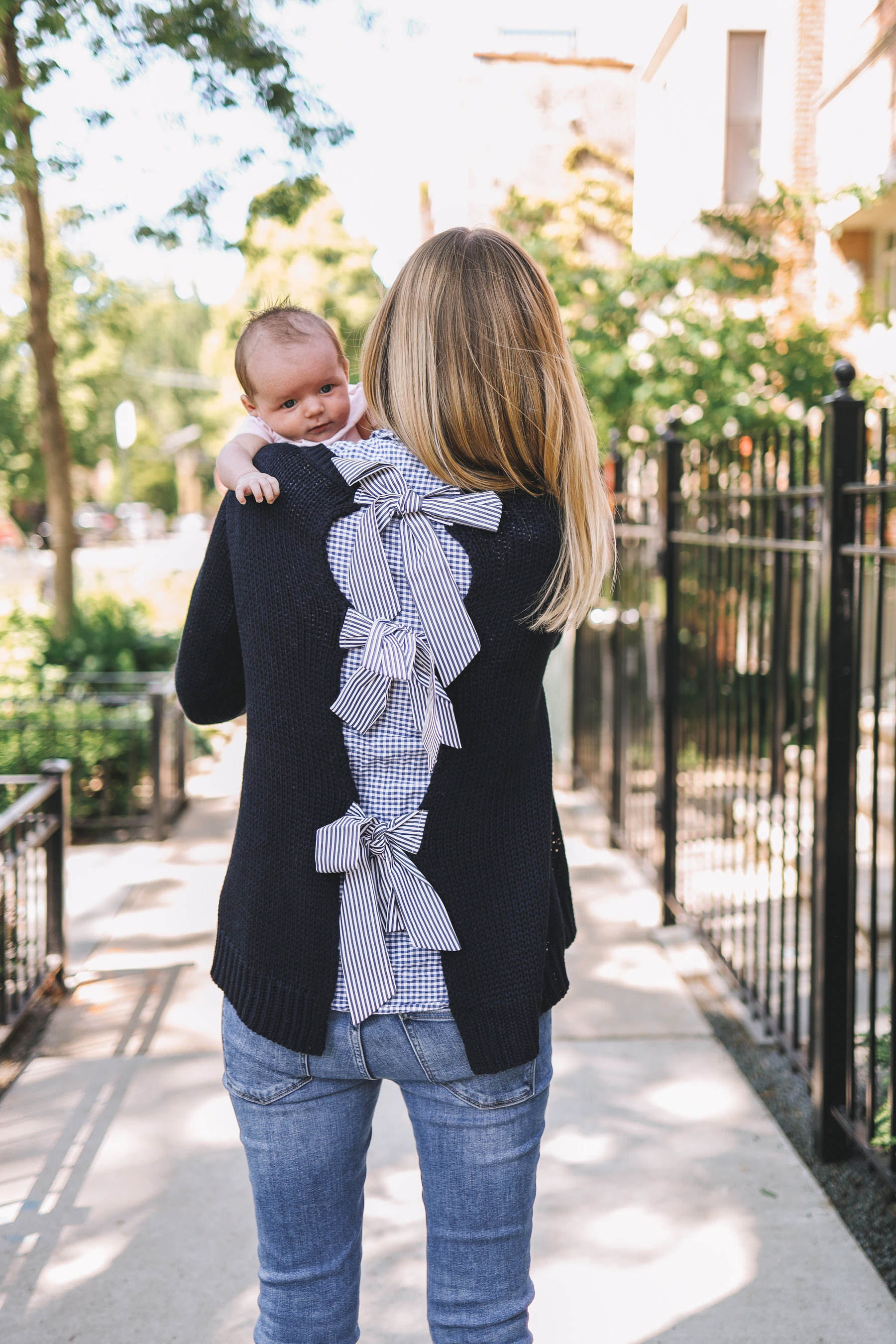 I'm wearing Maternity Jeans here, but I *highly* recommend this pair of Rag & Bone jeans, which look very similar–just a little tighter (and more flattering) around the ankle area! You can find them on Shopbop and Bloomingdale's. They run TTS. / Rothy's Washable Sneakers (Read my review on Rothy's here!) / Tuckernuck Bow Sweater (Sadly sold out. At one point, it was also available at Anthropologie.) / J.McLaughlin Gingham Button-Down / Louis Vuitton Neverfull GM (Read my review on the Neverfull here.) / Stamped Initial Necklace / Ray-Ban Sunglasses
Bah! You're not going to like me for this, but the bow sweater you see here is a few years old from Tuckernuck. (At one point, it was also available at Anthropologie.) I'm so sorry! I try really hard to mostly feature stuff on the blog that's currently in stock, but let's be serious: just getting showered and dressed these days is pretty challenging. 😂
Anyway, this is what I wore yesterday! We were running all over the neighborhood for about five hours, shooting several projects… and I wanted to be comfortable yet also feel a little polished. ;) This did the trick. I've linked everything above, but I really need to call out my Rothy's Washable Sneakers here. They've remained favorites for the longest time, and I can genuinely say that I wear them every day, whether all day or just to run out to the backyard. They're insanely comfortable, and since I literally throw them into the washing machine, I don't have to worry about them getting dirty or smelly. Heck, I don't even bother to wear socks with them! Really can't recommend 'em enough. (And, I mean, don't they look cute, too?!)
Okay. And since my Tuckernuck sweater is sold out, I think I'll take a moment to highlight 10 of the retailer's best (current) products:

10 Awesome Tuckernuck Finds
This is a great alternative to the bow sweater. ;) It's SUCH a sweet top, and something that can be dressed up or down. Ever since Mitch and I "Konmari-ed" our home, I've been very careful about what I bring into my closet… but blouses that are extremely versatile are always welcome. This one runs true to size, if not a bit on the larger side, so be sure to order your normal size! Here's the sleeveless version and here's the dress.
It's available in so many colors now! I have it in the navy stripe, and I can't tell you how many compliments and questions I get about it when I wear it. Because it falls straight down, it really does look flattering on everyone. Order before it sells out, because it always does!
You could just be wearing a white t-shirt and jeans with these earrings, and you'd look FANTASTIC. Love statement jewelry that makes a whole outfit.
Have any weddings to attend this summer? This clutch is a MUST. Cute gold bags are so hard to find, yet they're so necessary for wedding guest attire. Love this one!
Scrunch it up; accidentally crush it while traveling… it doesn't matter! This is the best travel hat around. It's adorable, too.
I've been after red ballet flats for the longest time, and Tuckernuck recently sent me these. I'm so in love! The shoes are extremely flexible and made of super soft leather, which makes for happy feet. You'll be seeing them soon!
I have no words. Except for this top is perfect.
LOVE! I think I might have a few more months before I look okay in skirts, haha–for the time being, jeans and flowy tops honestly look best–but this one's on my list.
This is Tuckernuck's best-selling sweater, and I love it in white for the summer! It's extremely very reasonably priced and a must-have in your closet.
I'm so excited to feature this top on the blog soon! I love the rayon/polyester fabric because it travels well and doesn't wrinkle easily when I have a baby on my hip all day… and it's really flattering. I'm noticing that it's selling out in some sizes, so pounce now if you love it! Runs a little large because of the peplum style.
xoxo!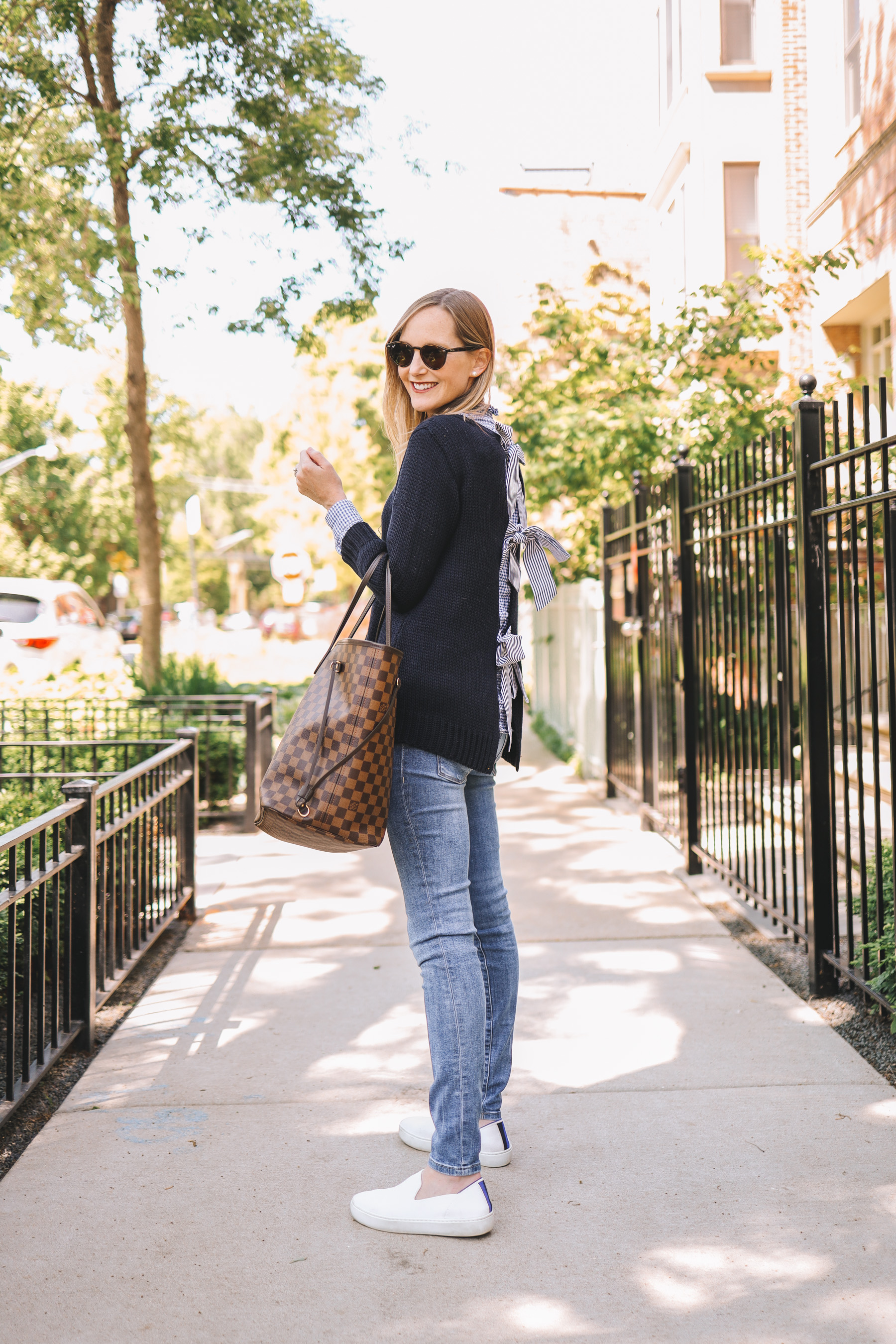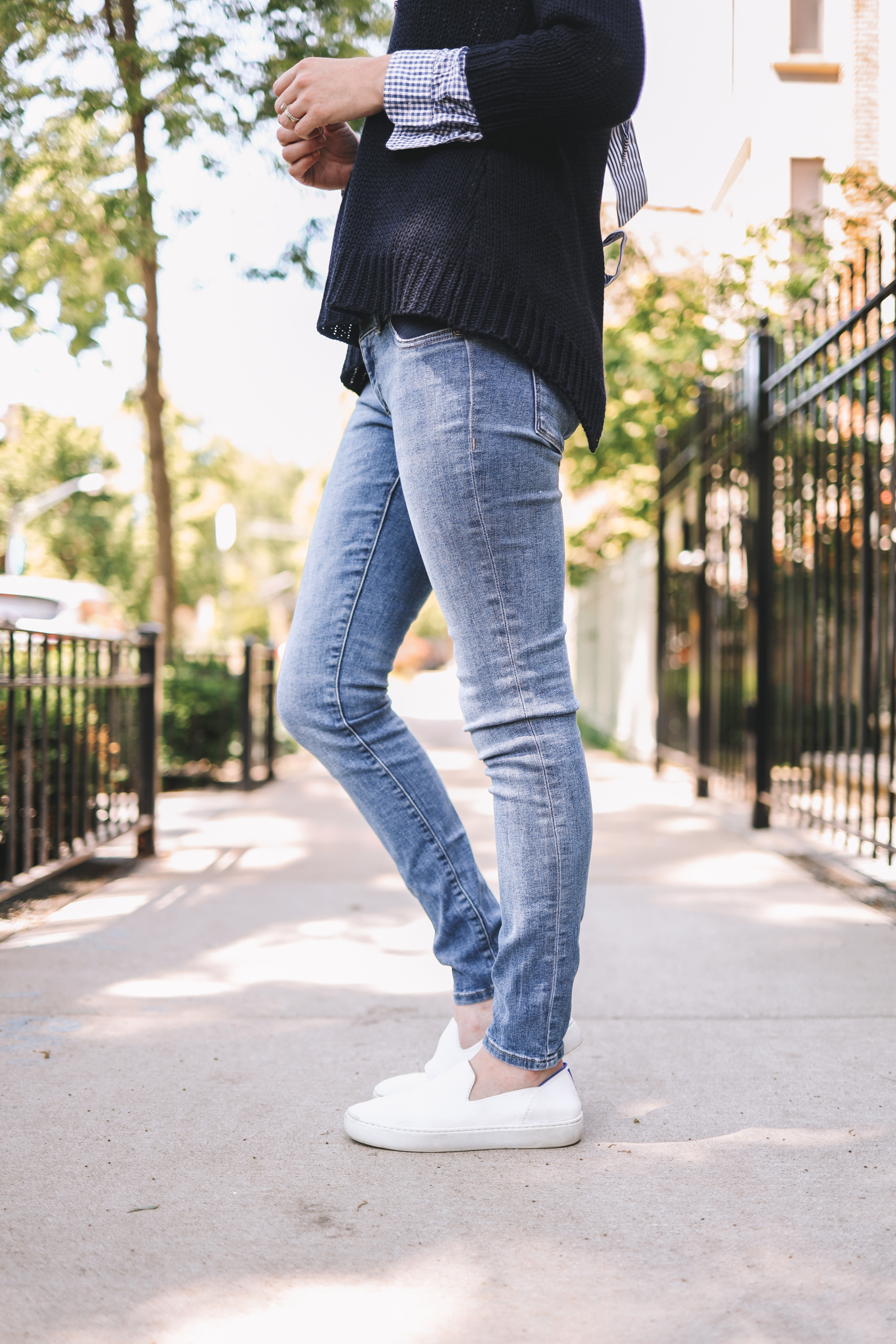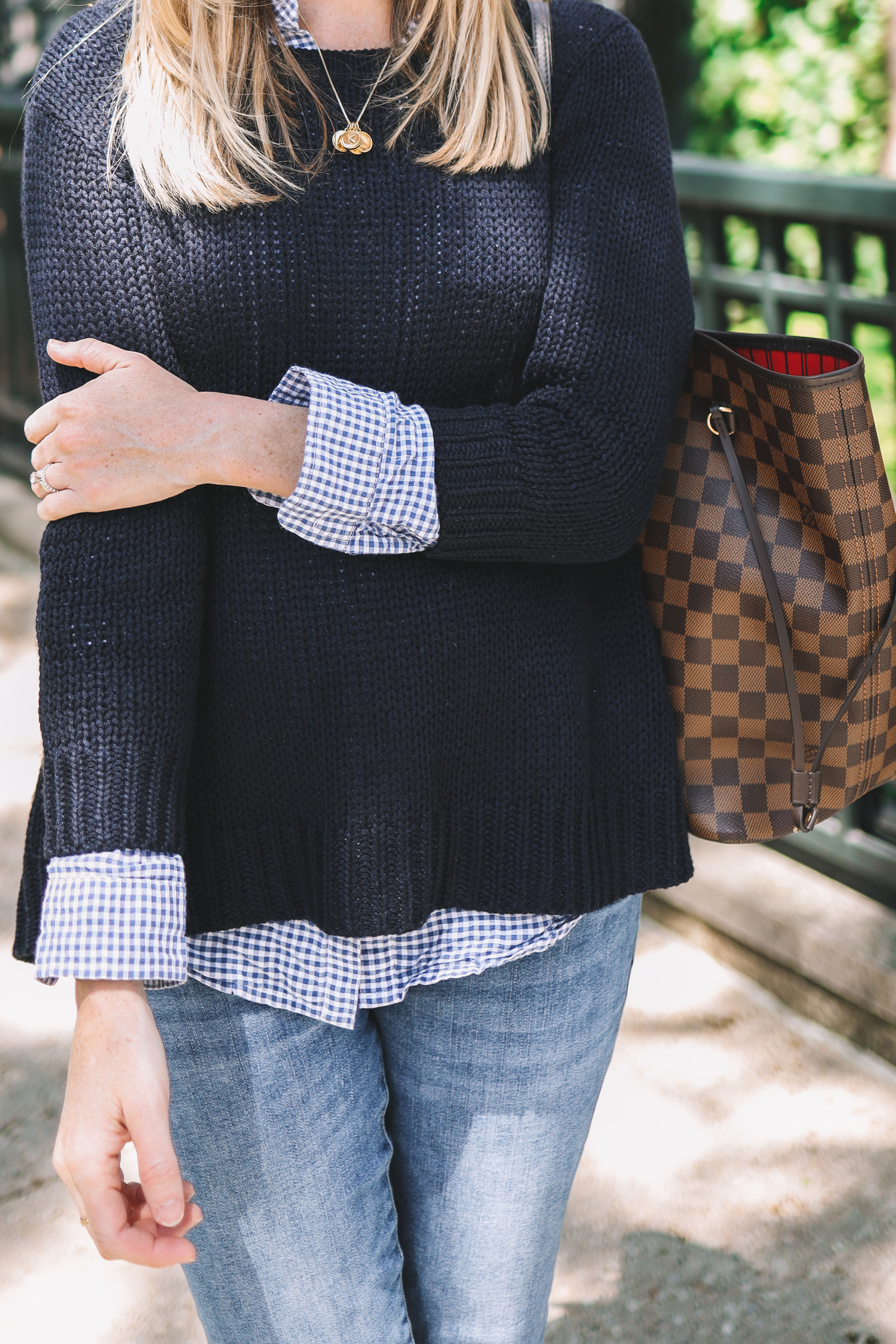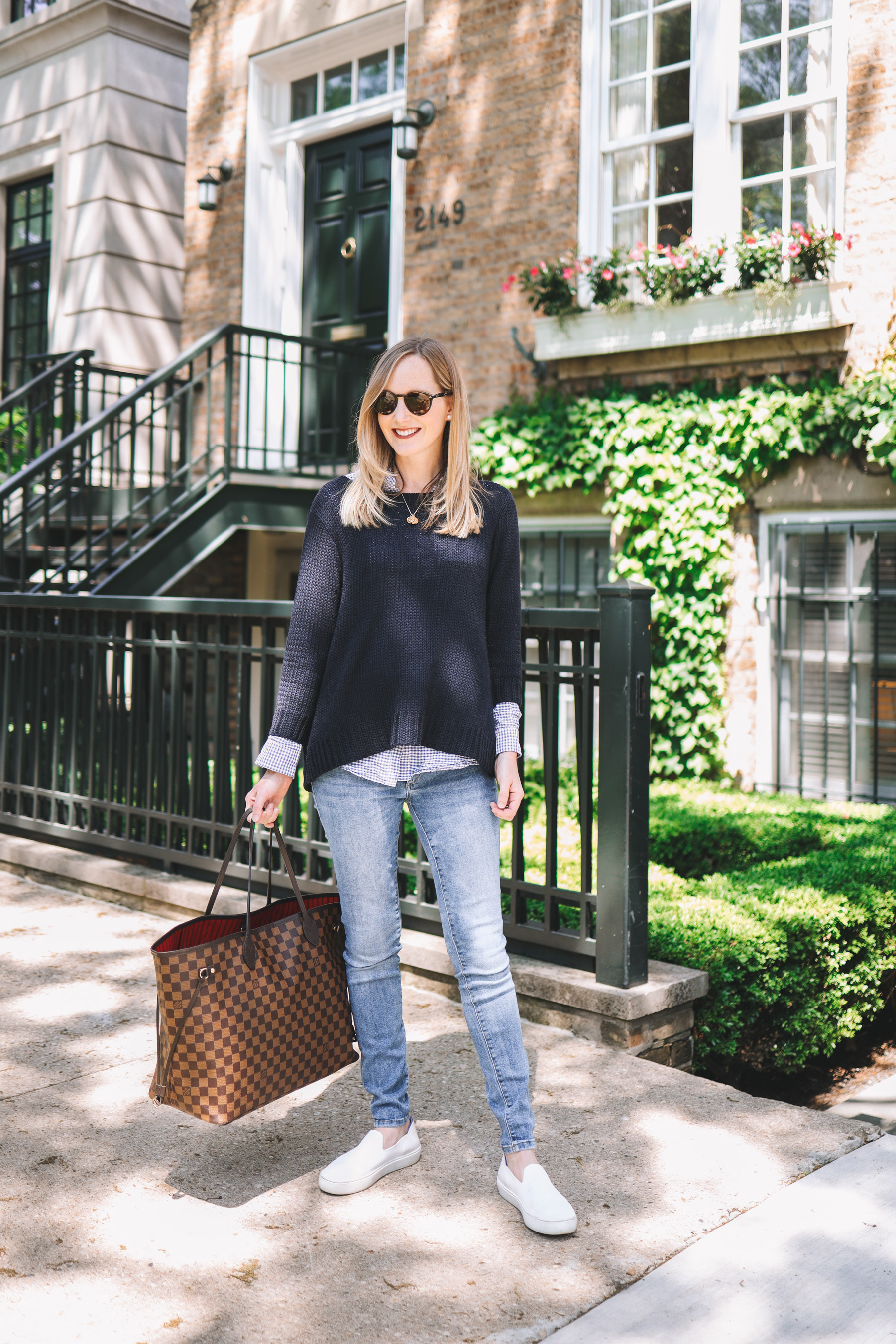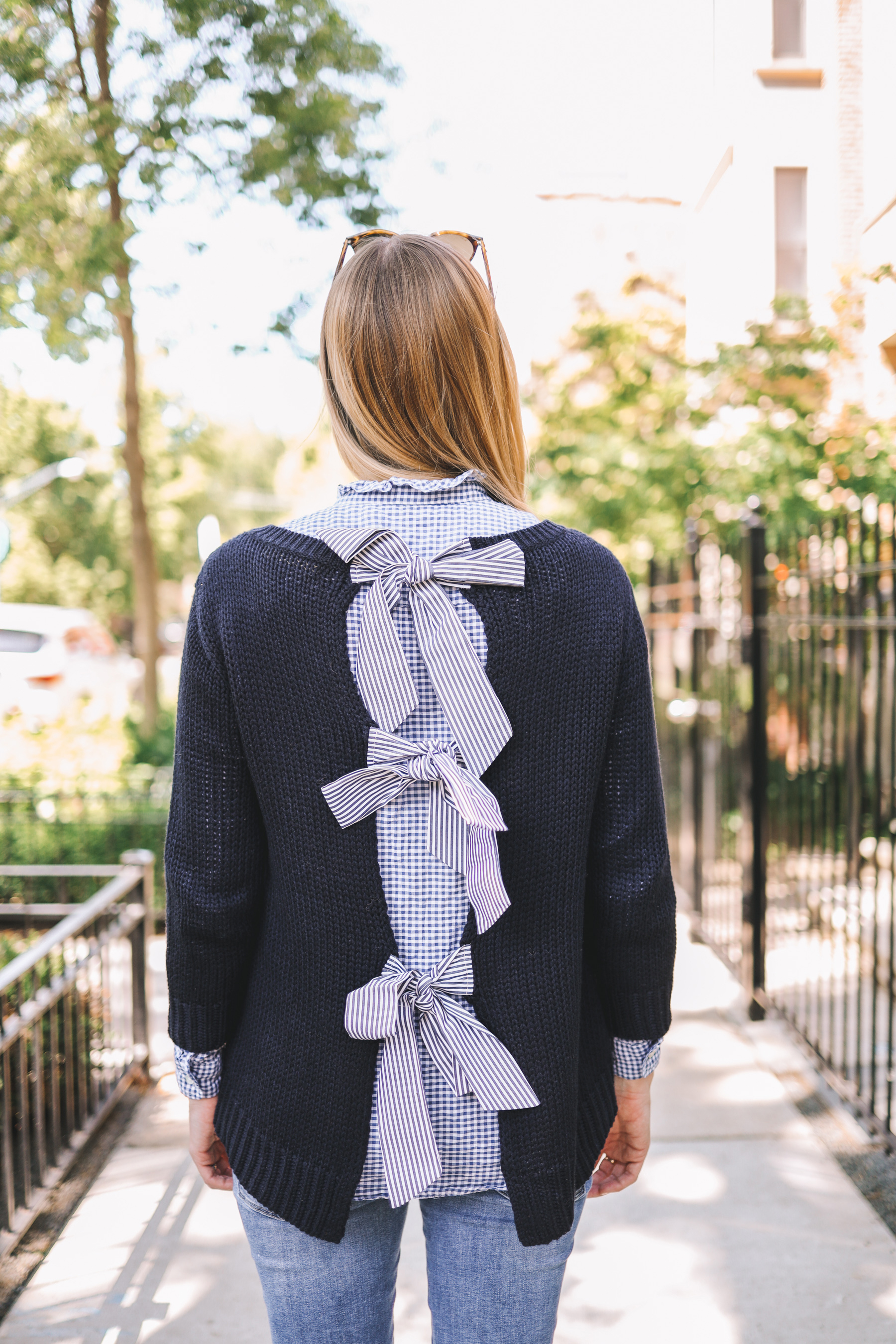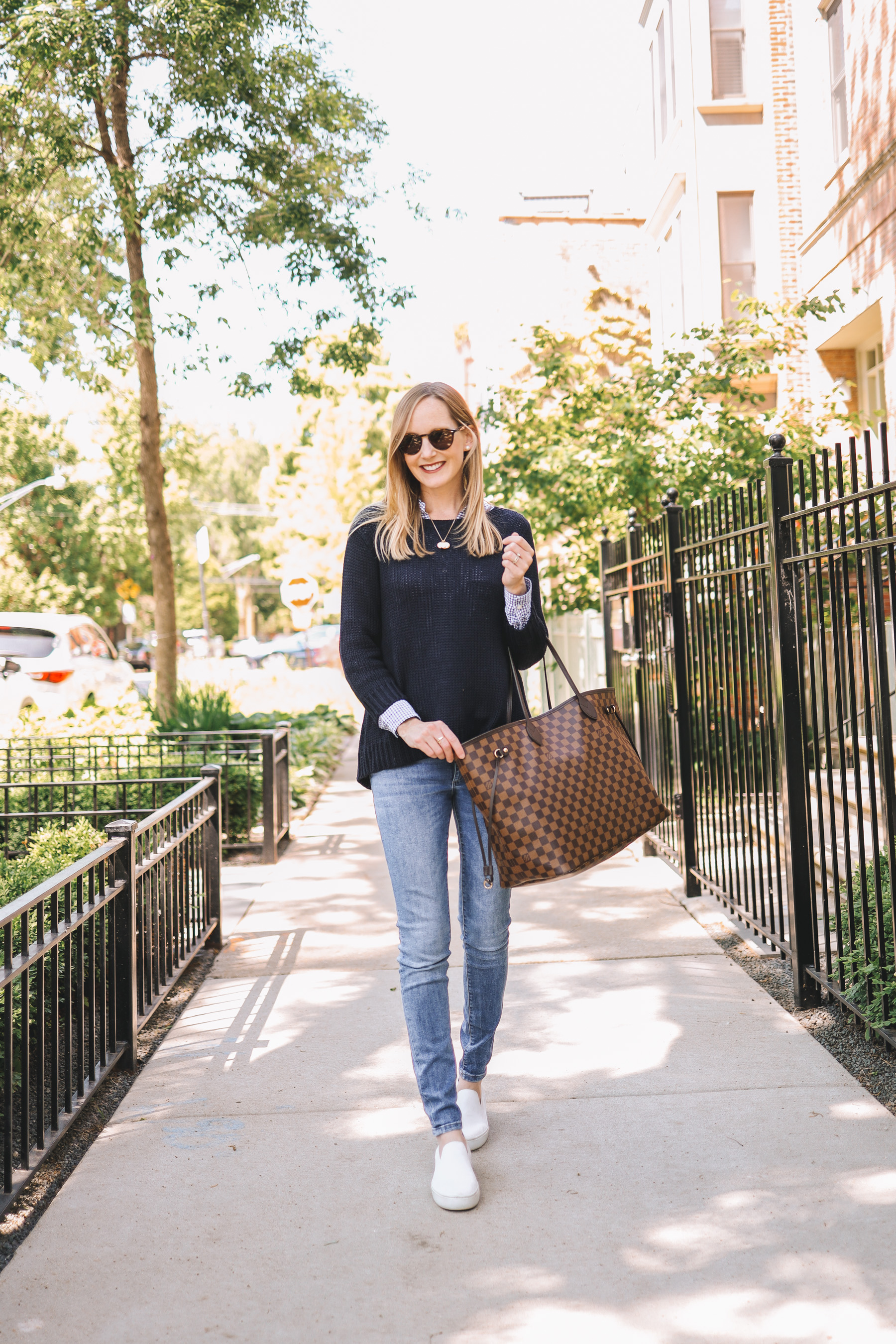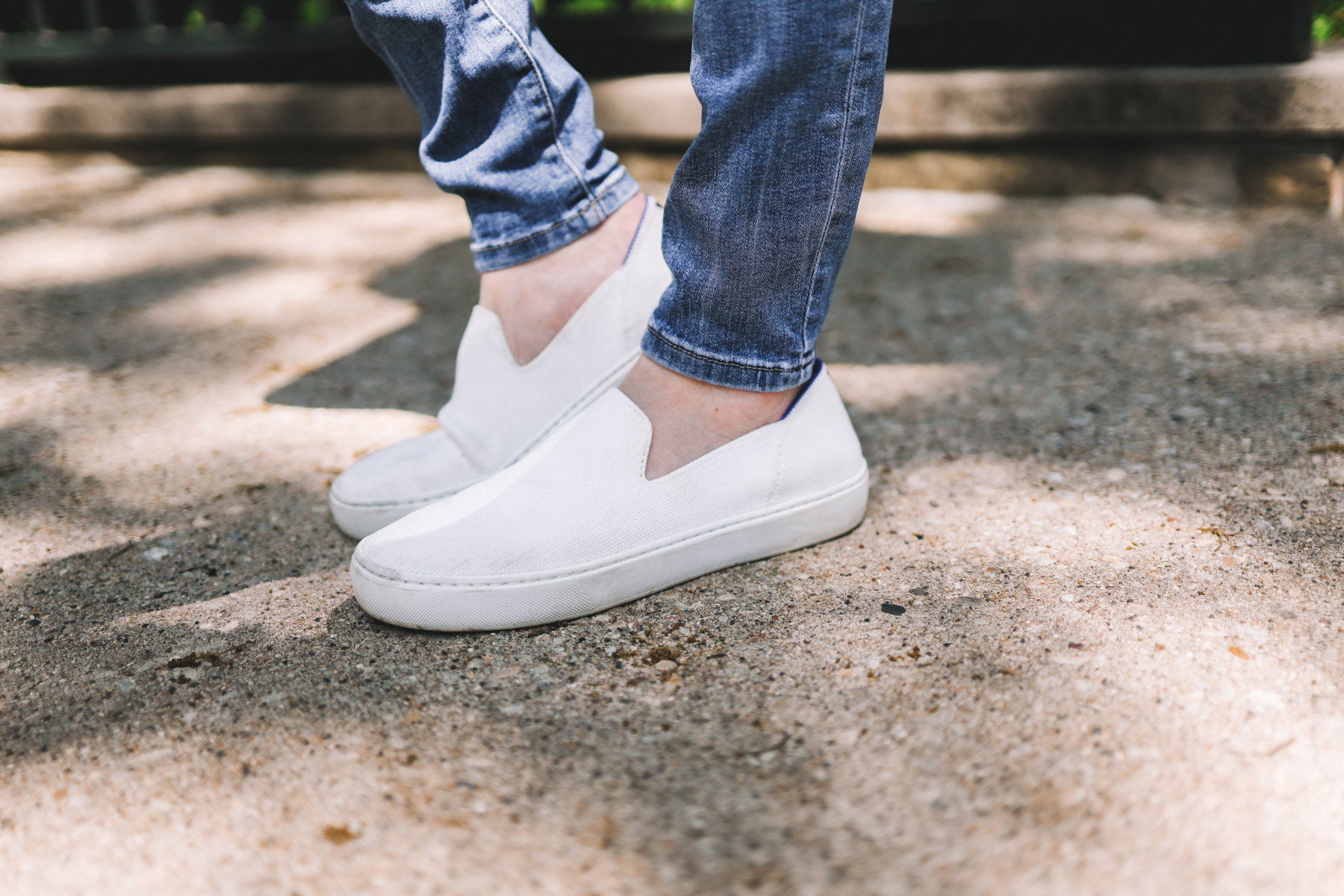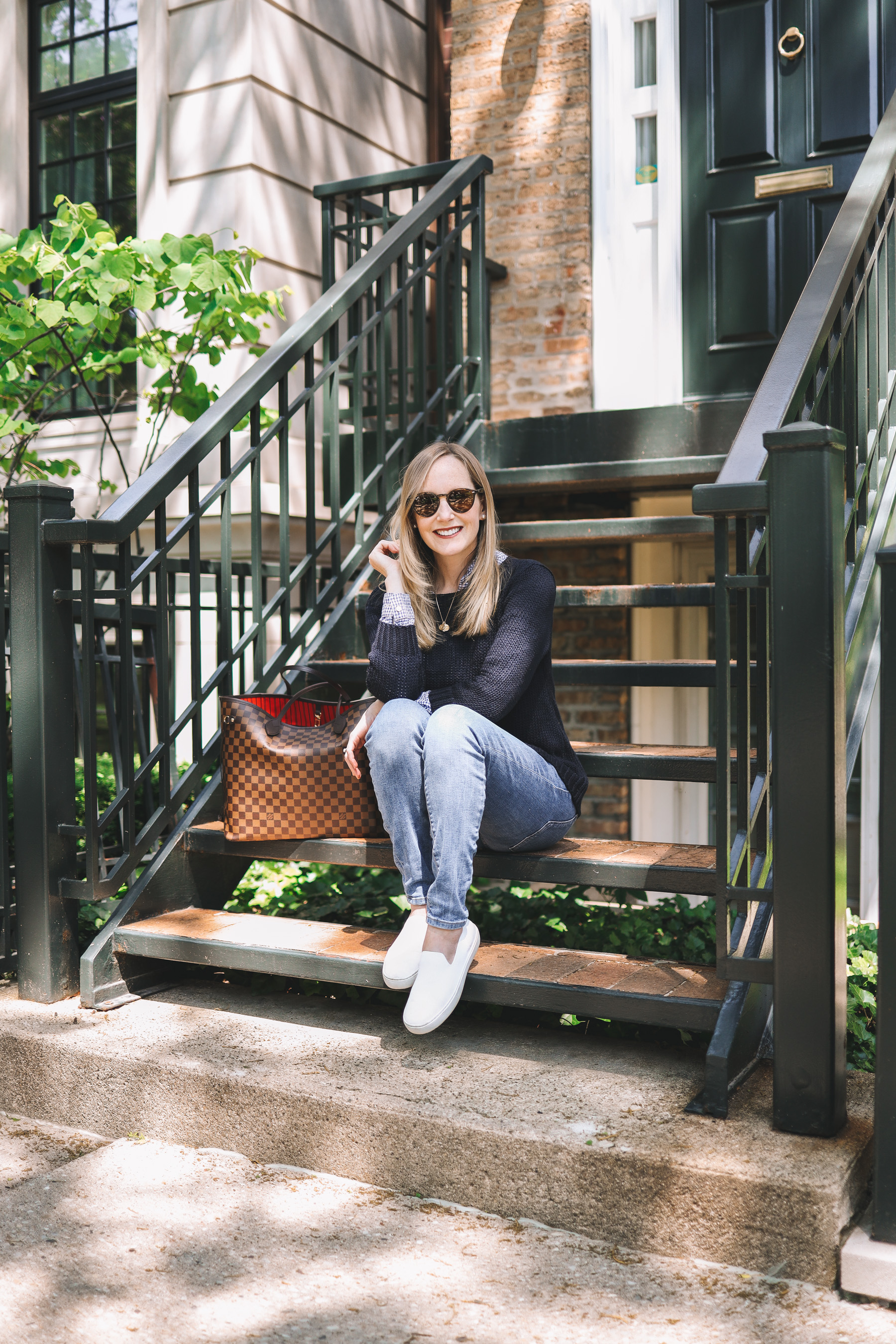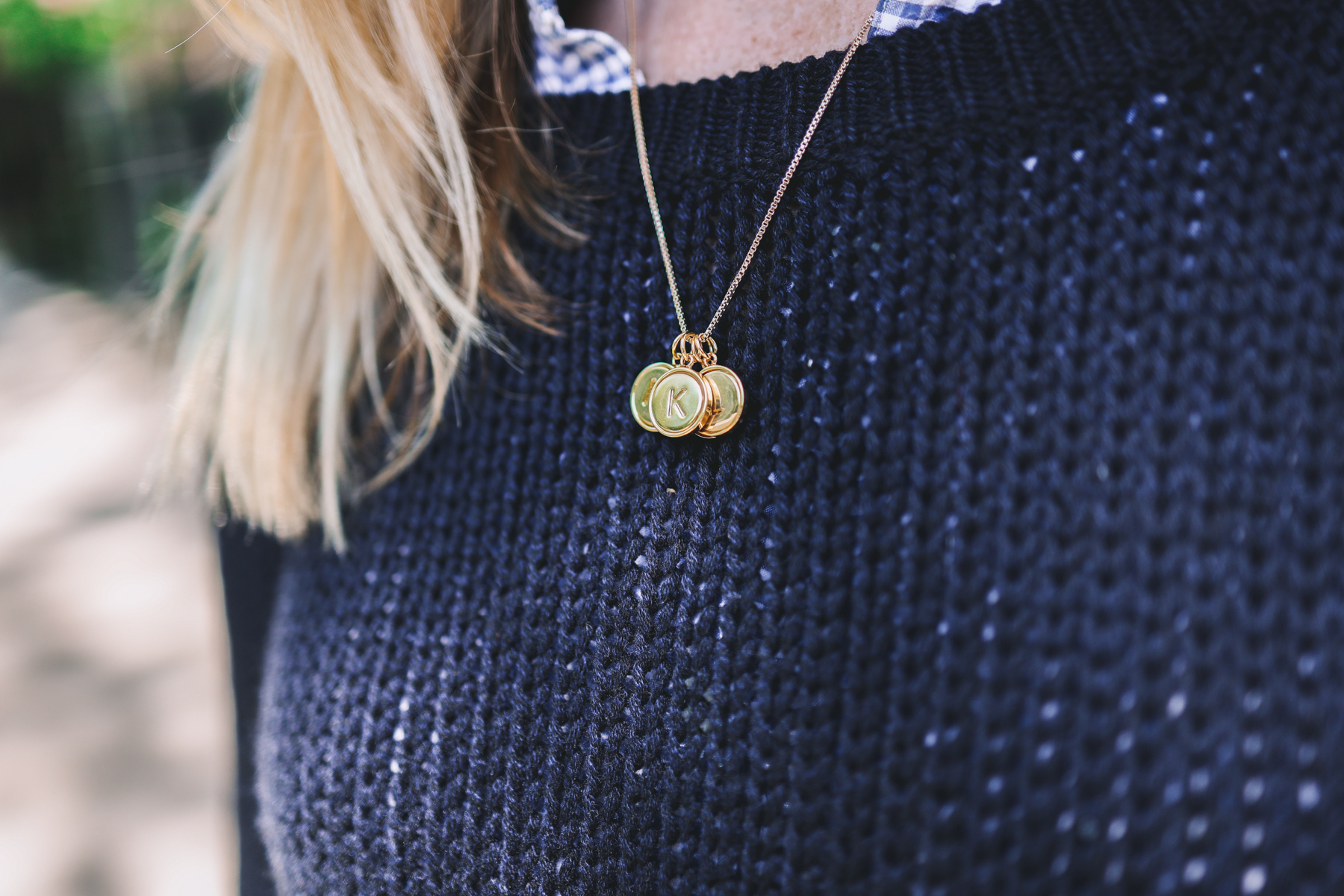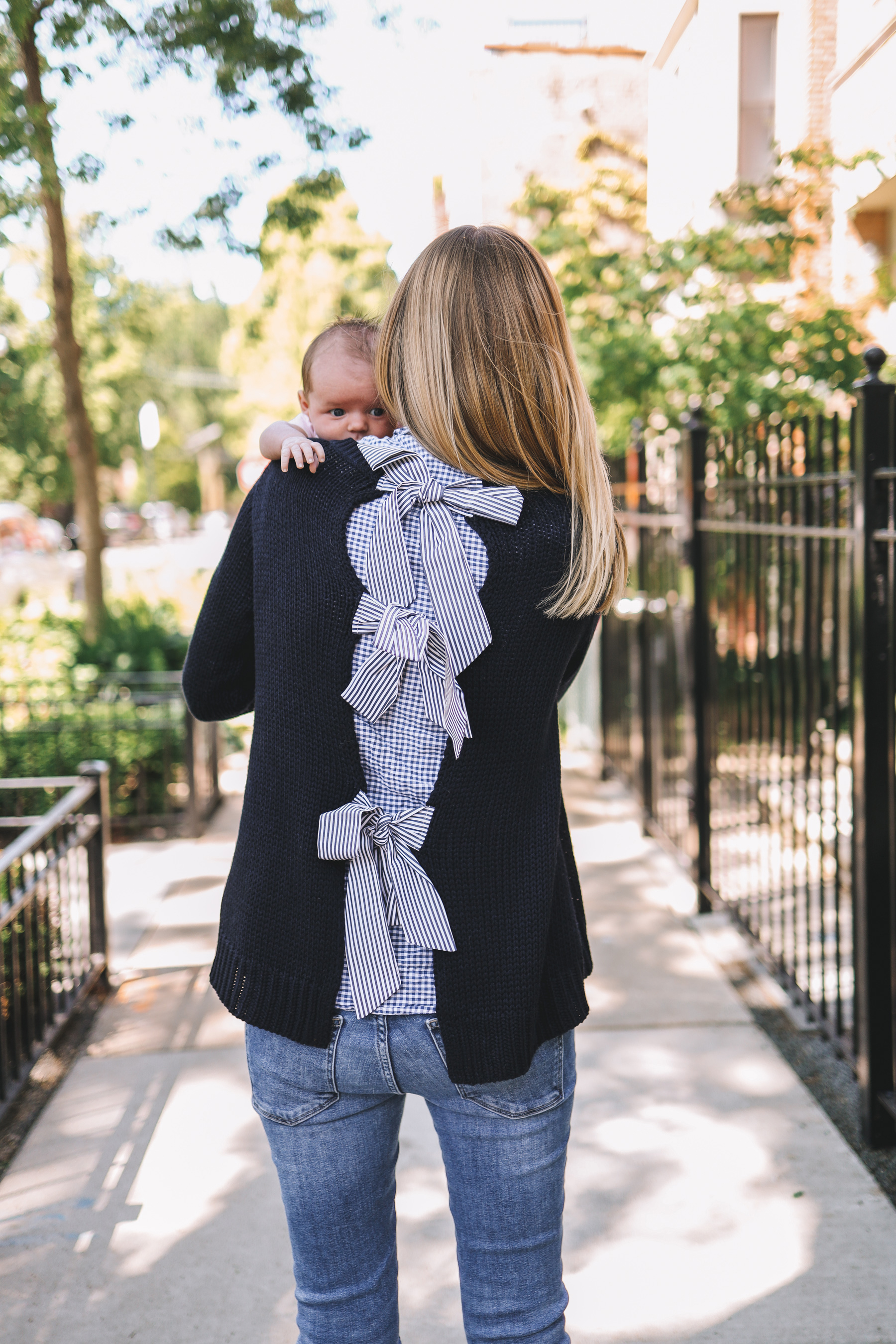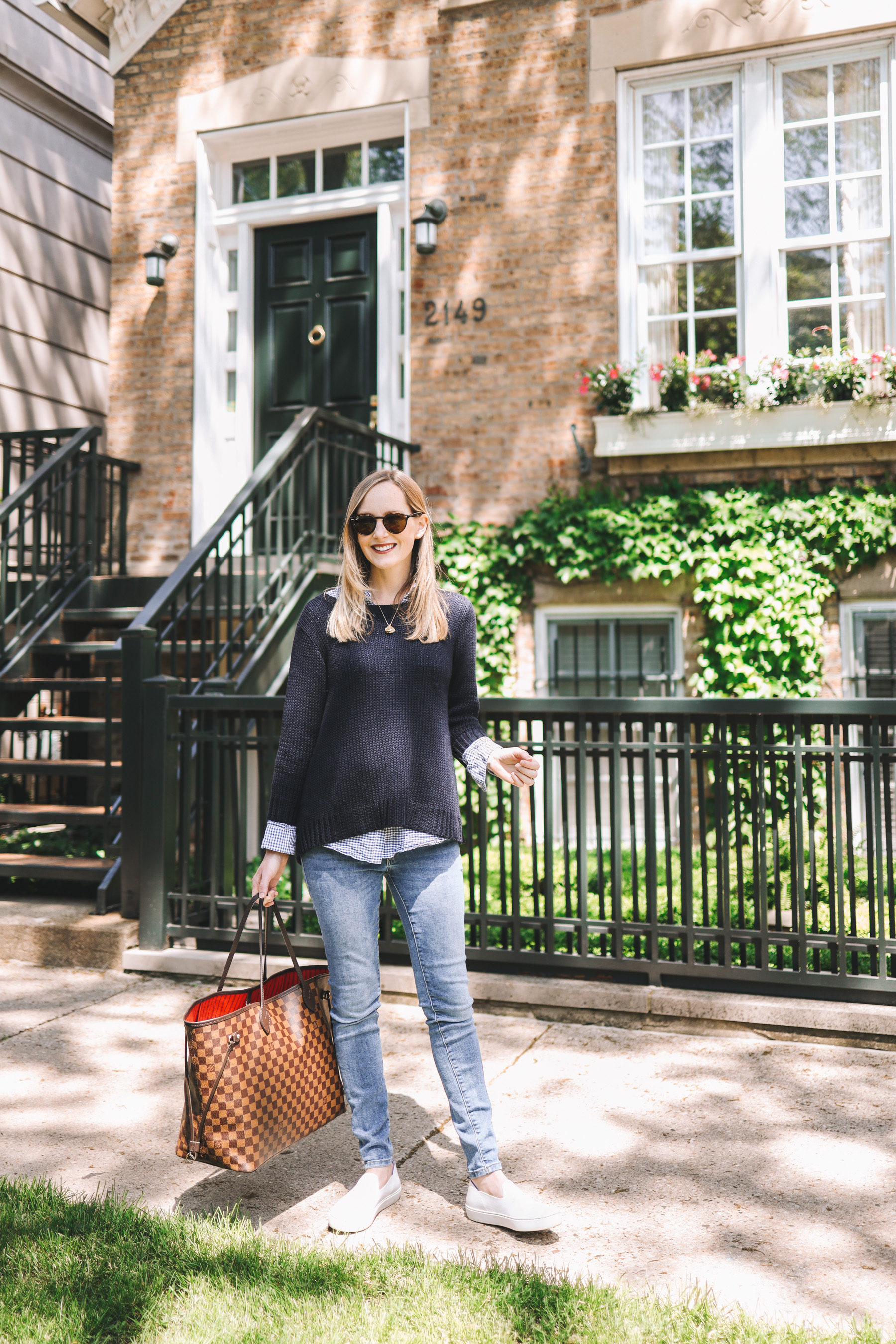 Shop the post:
I'm wearing Maternity Jeans here, but I *highly* recommend this pair of Rag & Bone jeans, which look very similar–just a little tighter (and more flattering) around the ankle area! You can find them on Shopbop and Bloomingdale's. They run TTS. / Rothy's Washable Sneakers (Read my review on Rothy's here!) / Tuckernuck Bow Sweater (Sadly sold out. At one point, it was also available at Anthropologie.) / J.McLaughlin Gingham Button-Down / Louis Vuitton Neverfull GM (Read my review on the Neverfull here.) / Stamped Initial Necklace / Ray-Ban Sunglasses