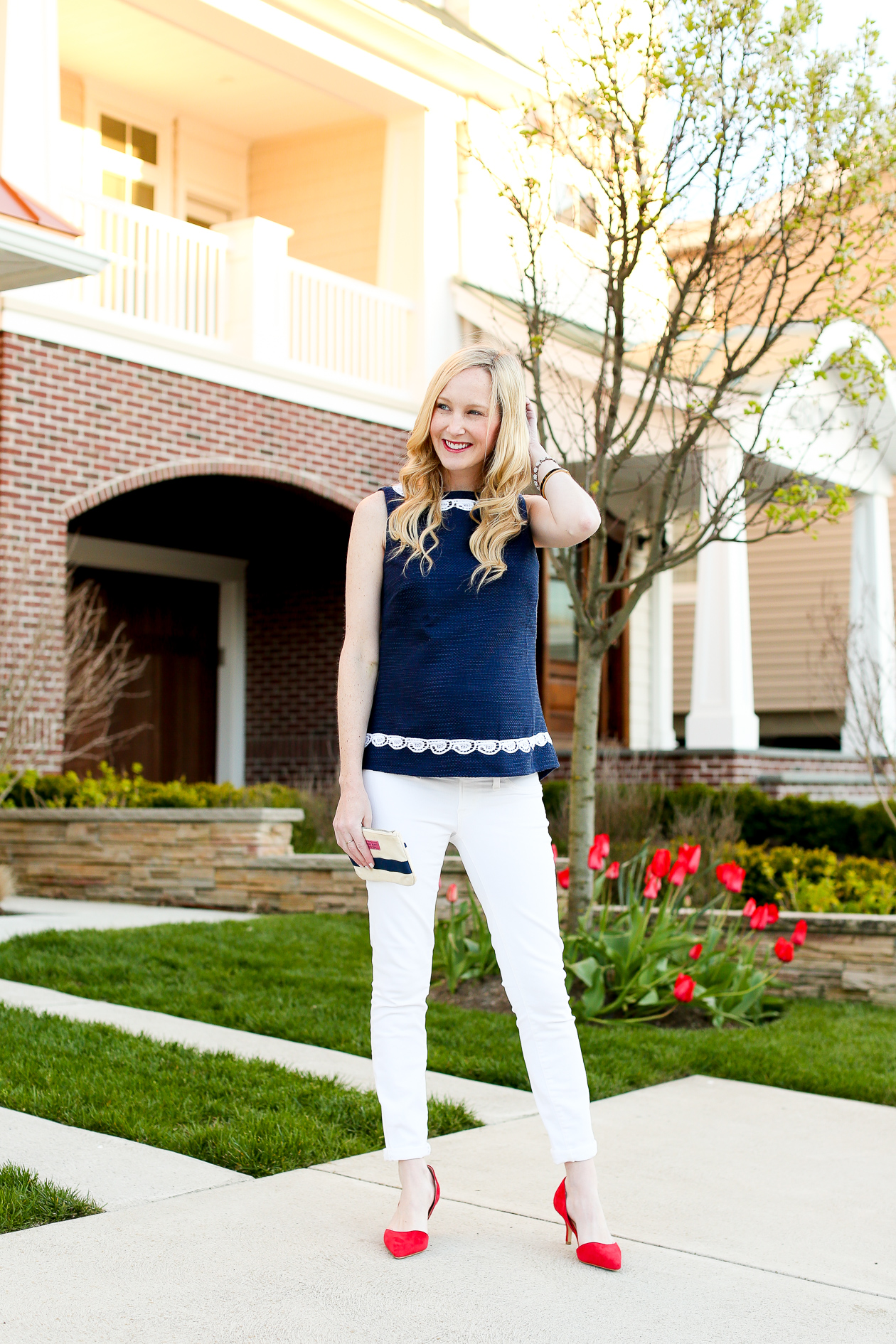 Sail to Sable Top c/o (Dress versions here and here, and LOVE this top and this dress!) / Burberry Jacket / J.Crew Jeans (Mine are the maternity version) and Bracelet (Thicker version here; link bracelet here) / Sole Society Pumps c/o / Vineyard Vines Clutch (SUPER old. But love this clutch and this clutch, too!)
There's some exciting news on the Sheehan front: my parents moved into a new Shore house! (Not the house in the background, but still in Ocean City.)
Over the last few years, we've added three new members to our family: Mitch, Kim and Noodle. And this summer, a very tiny member is joining us, too! Things were starting to get a little squishy at the old house, and my brother, Danny, was often volunteering to sleep on the floor when we were all there together. He swears he sleeps just as well on the floor as he does in a bed, but I think he's just a super selfless person and puts others before himself. ;) So this year, we're in a new house with an additional bedroom and bathroom, and a larger living area, deck and kitchen. It's so exciting!
I've never been too attached to houses, as my parents moved me 13 times by high school. That said, I was a little nervous about how I'd feel about unloading our first Ocean City home, as it's always been such a special place for my family. But you know what? I don't feel sad at all. Because the same people who made the old house filled with happy memories are currently filling the new house with new memories. And now, Danny's memories don't include sleeping on the floor on the reg. ;)
Something else that's really fun about the new space? Decorating it. My mom has been doing an AMAZING job, and I was able to hang a gallery wall and help make some decisions last month when I was visiting. The place is really coming together, and I'm hoping to share some photos next week! I adore what Mom has done with the living room: a huge navy wraparound couch, a parquet wood coffee table and navy striped pillows… and the bedrooms?! Don't even get me started!
Anyway, the weather has been absolutely wonderful down here, and I love the fact that I was totally fine in this gorgeous sleeveless top from Sail to Sable and a light jacket last night. Mom also loves the fact that I'm just about to grow out of the top, which means she gets it for our trip to Nantucket next month. ;) Have I mentioned I'm visiting family in Nantucket?! (And Jess is coming, too!) I'm so excited to get back on the island. (Here's a video from my bachelorette there.)
Hope everyone is having a great week! Be sure to check out my favorites from Sail to Sable below. Some are also available at Tuckernuck!

Sail to Sable via Tuckernuck:

Outfit details:
Sail to Sable Top c/o (Dress versions here and here, and LOVE this top and this dress!) / Burberry Jacket / J.Crew Jeans (Mine are the maternity version) and Bracelet (Thicker version here; link bracelet here) / Sole Society Pumps c/o / Vineyard Vines Clutch (SUPER old. But love this clutch and this clutch, too!)

Sail to Sable via Tuckernuck: