One of my most cherished friendships comes in the form of a small, oddly shaped canine. Noodle, my dachshund, has been a beloved member of our family for nearly a decade. Because of Noodle, I'm partial to small dogs. 
They're so sweet and playful, without all the muscle and weight of a large dog. Because small dogs like Noodle aren't as strong as medium- and large-sized dogs, they need different kinds of toys to play with. 
Getting toys that are specially designed for small dogs allows them to enjoy playtime. Here is a round-up of the best toys for small dogs, so you can spoil your pint-sized bestie.
And if you're interested in more than just toys, be sure to check out the cutest preppy dog products ever, here.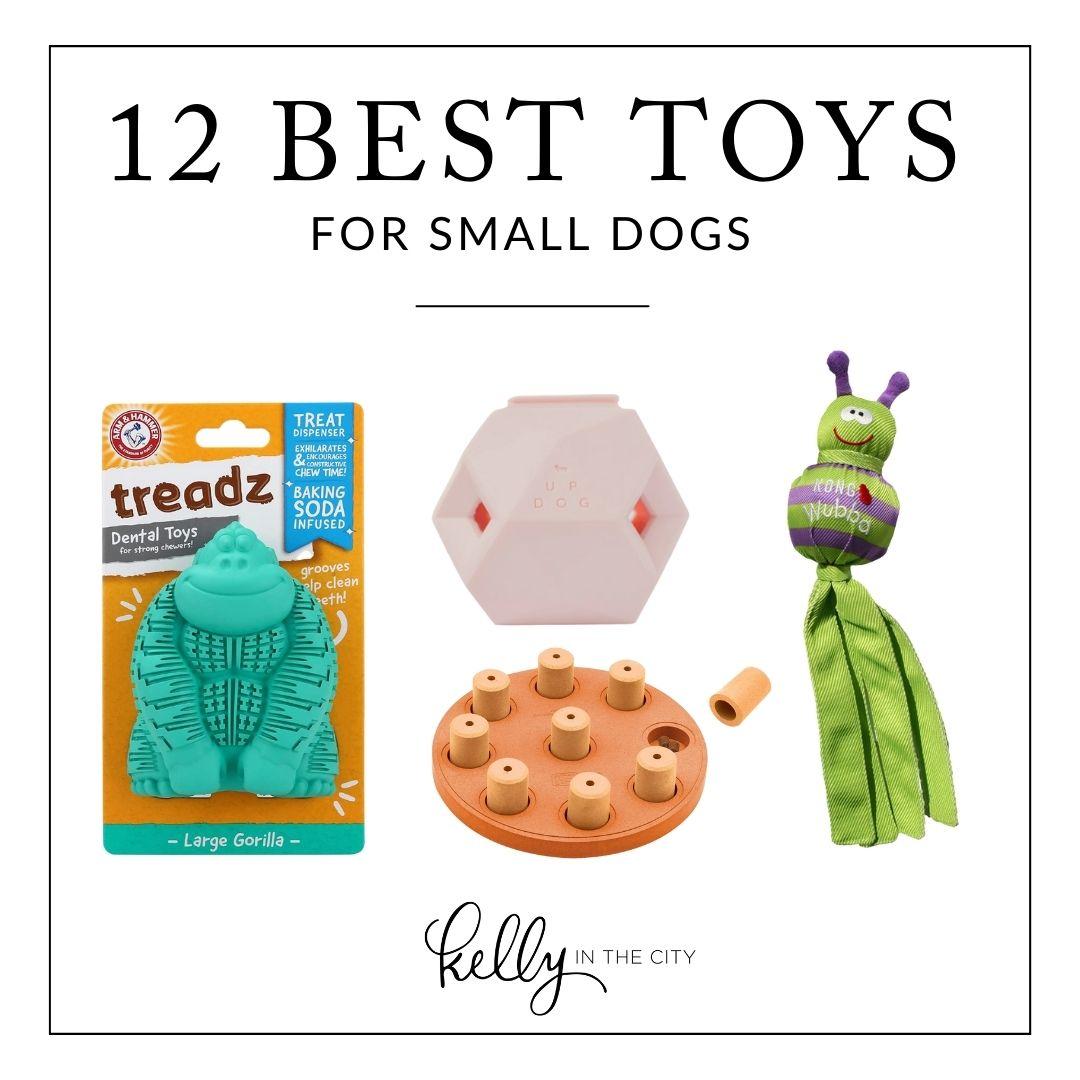 Outward Hound Smart Puzzle Dog Toy / iFetch Interactive Ball Launcher For Dogs / The Odin Toy / KONG Wubba / KONG Wild Knots / Hear Doggy Silent Squeaker Dog Toy
12 Best Toys For Small Dogs
This best-selling, interactive dog toy from Nina Ottosson by Outward Hound is a great way to introduce your dog to puzzles. It's made for beginners and is perfectly suited to small breeds. 
There are nine treat compartments hidden underneath pegs. Each of the nine pegs has a hole that will get your dog's attention. They will then have to knock over each peg to get the treats underneath. You can also use it during mealtime if your pup struggles with eating too fast.
This puzzle dog toy is made from a composite blend of wood and plastic so it's super easy to clean. 
Small dogs love to play fetch too! With the iFetch Interactive Ball Launcher, your four legged friend can stay entertained for hours. It'll take a bit of training to get your dog used to how this launcher works, but once he or she does, they can keep themselves entertained for hours. 
The iFetch Interactive Ball Launcher comes with three mini tennis balls (1.6-inch diameter) but you can use any balls of the same size. And the launch distance can be set to 10, 20 or 30 feet. The iFetch is suitable for small breeds. For large dogs, you'll want to get the iFetch Too.
The Odin Toy from Up Dog Toys is a modern interactive dog puzzle that entertains and rewards your dog. Place treats or kibble inside The Odin, then watch as the goodies are gradually dispensed as your dog chases, rolls, and jostles the toy. The larger the treats, the more difficult it is to dispense them. 
The Odin Toy is made of a rubber-like material that bounces right off of the floor and other hard objects without causing damage. It's also durable enough to withstand even the strongest small dog jaws. You can attach two or more together for even more treat dispensing fun!
Here's a heavy duty dog toy that can hold up to every bite, pull, shake, and toss you and your dog put it through. The KONG Wubba has floppy tails, two hidden balls, and a squeaker. It's also made of super durable, KONG Ballistic material that is practically indestructible.
There are many ways for your dog to enjoy the KONG Wubba. They can use it as a chew toy, chase after it in a game of fetch, or swing it around in an effort to entertain the person who matters most to them: you. 
Another KONG product that makes a great toy for your small dog is the KONG Wild Knots. The Wild Knots Bears look like cuddly plush toys from the outside, but on the inside is a knotted rope just waiting to be gnawed on. 
KONG Wild Knots have less stuffing, so there's less of a mess when your dog eventually chews through the plush body, and a squeaker to keep them entertained. 
A squeaky toy that doesn't squeak? Sounds too good to be true, right? The Hear Doggy Silent Squeaker Dog Toy is the perfect solution for pet parents who can't stand the squeaks and their doggy children who can't get enough of them.
When you squeeze the squeaker inside the Hear Doggy Silent Squeaker Toy, you won't hear a thing, but your dog definitely will. And as if the squeaker wasn't enough to keep them entertained, this toy is built to withstand the jaws of tough chewers. It's a chew toy, a squeaky toy, and a cuddle toy all in one!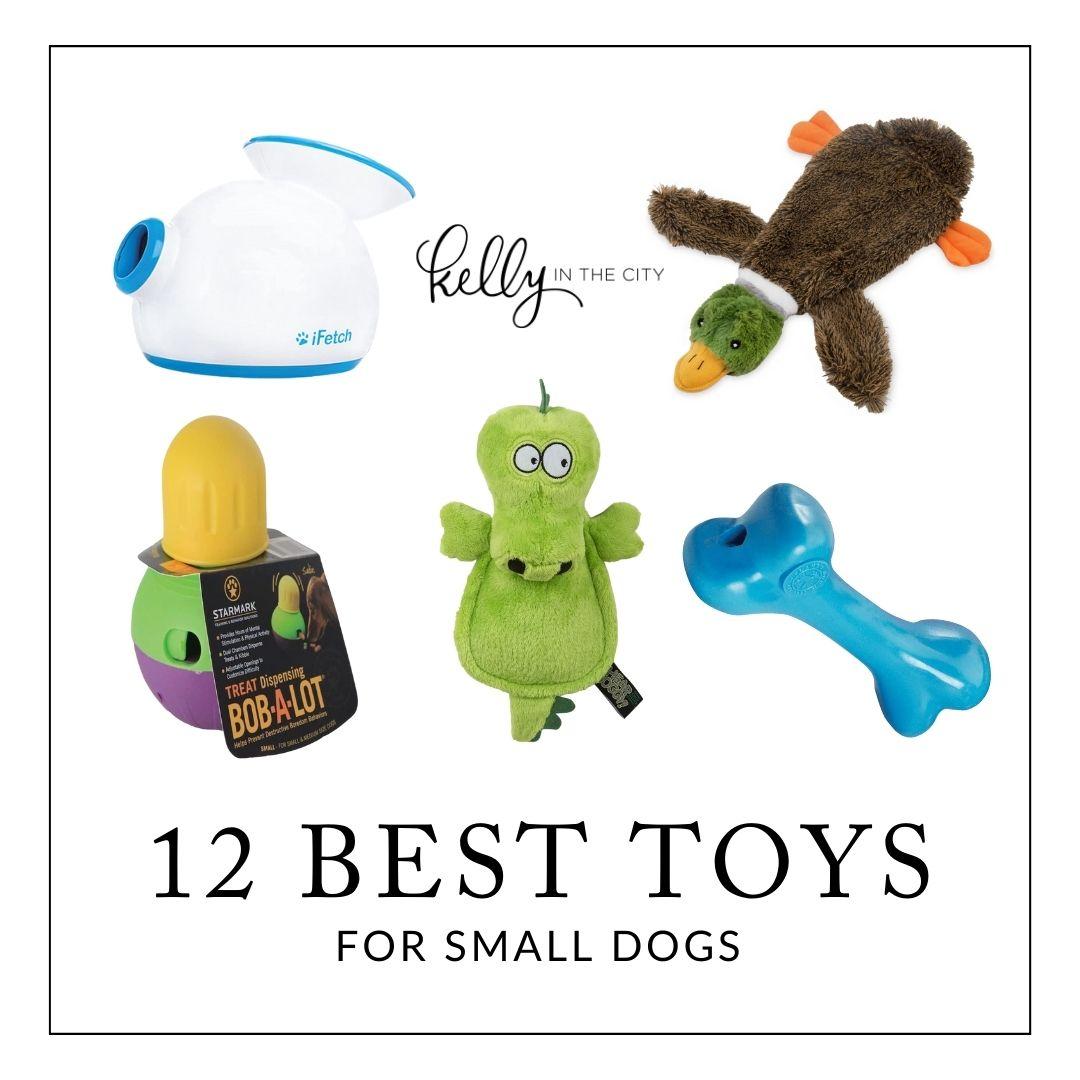 Outward Hound Hide A Squirrel Plush Dog Toy / Planet Dog Orbee-Tuff Bone Dog Chew Toy / Playology Squeaky Chew Ball Dog Toy / Starmark Treat Dispensing Bob-A-Lot Dog Toy / Arm & Hammer for Pets Super Treadz Gorilla Dental Chew Toy / Stuffless Squeaky Dog Toy
Dog owners go NUTS for the Outward Hound Hide A Squirrel Plush Dog Toy. Seriously, there are nearly 60,000 Amazon reviews for it! There are so many different ways your dog can play with this toy, it's no wonder that it's so popular among pet parents.
The plush toy tree trunk stuffed with squeaky toy squirrels is surprisingly entertaining for even the pickiest dogs. Plus, you'll have just as much fun watching your dog as they will playing with it. You can play along too, by grabbing the squeaky squirrels and stuffing them back inside the trunk every time your dog pulls them out. 
The Hide A Squirrel Plush Dog Toy from Outward Hound comes in four sizes. The small size is recommended for small breeds under 35 pounds.
The Planet Dog Orbee-Tuff Dog Chew Toy is a favorite among canines and dog owners alike. This fun bone-shaped chew toy bounces wildly on land and floats freely in the water. Whether you're at the beach or in your own backyard, this engaging toy is perfect for your small dog.
Your dog will love the chewy texture of this bone. For even more chewable entertainment, stuff some treats inside the bone and watch as your dog works tirelessly to get them out. Every Orbee-Tuff Bone chew toy is made in the USA from materials that are BPA, lead, and phthalate-free. They are also infused with natural mint oil to freshen your pup's breath.
The Squeaky Chew Ball Dog Toy from Playology is the culmination of every dog's favorite things: chew toys, balls, and mouth-watering smells. 
Each Squeaky Chew Ball Dog Toy has tiny scent particles embedded in them so that, while you can barely smell them, your dog is practically losing her mind over the smell of peanut butter, chicken, beef, or sweet potato. 
These toys are built to withstand even the most aggressive chewers and the scent lasts even after washing with warm water. The small size is suitable for dogs up to 10 pounds. 
The Treat Dispensing Bob-a-Lot Dog Toy from Starmark is another favorite among pet parents. With nearly 30,000 Amazon reviews, you can feel confident that it will be a hit with your small dog. 
The Bob-A-Lot toy can also be used to encourage your dog to slow down during meal time. It has a large chamber that can fit your dog's entire meal of kibble. The weighted bottom wobbles and releases kibble independently, meaning your dog is forced to slow down but is also kept entertained. 
You probably recognize the household name Arm & Hammer, but did you know they ventured into dog toys? They sure did, but this is not your average dog toy. 
The Super Treadz Gorilla Dental Chew Toy from Arm & Hammer for Pets is perfect for tough chewers and small dogs with the jaws of a breed three times their size. 
What really sets this chew toy apart from the rest, however, is that it doubles as a dental toy. The tire-like treads effectively remove some of the tartar and plaque that has accumulated on your dog's teeth. And, of course, it's infused with Arm & Hammer baking soda to help keep your dog's mouth clean. 
The Super Treadz Gorilla Dental Chew Toy is designed for small dogs up to 35 pounds. 
If you're the proud owner of a rambunctious tiny terror of a dog that acts like they're four times as big as they are, there's a good chance you've learned to accept that no toy can withstand their constant gnawing. In that case, this Stuffless Squeaky Dog Toy is perfect. 
It's inexpensive, so you can buy a ton of them and replace them as needed without feeling guilty. And since there's no stuffing, there's less mess for you to clean up. Oh, and your dog will love it too! Sounds like a win-win to me!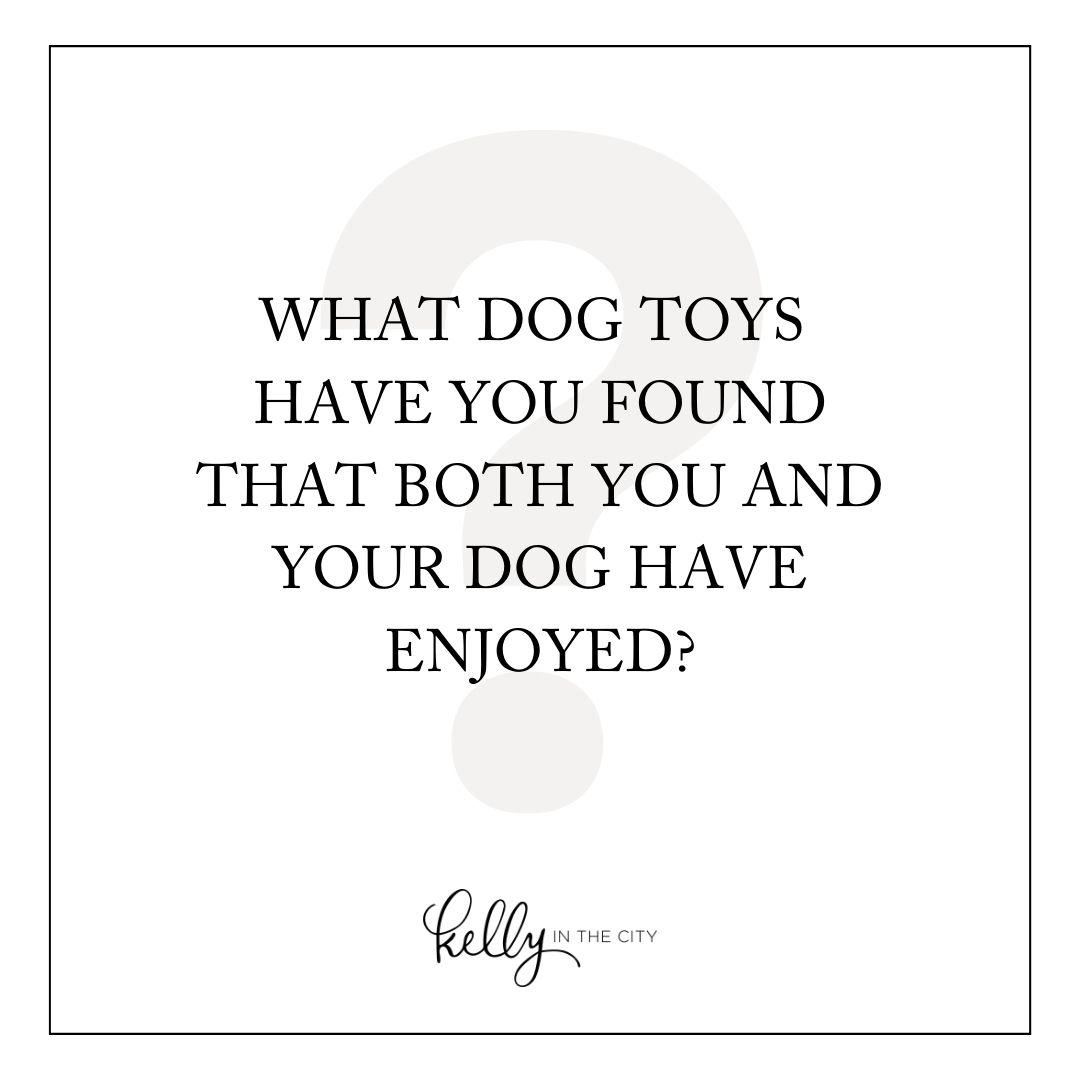 What dog toys have you found that both you and your dog have enjoyed?
I love hearing about new ways I can spoil my buddy Noodle. If you have a favorite dog toy that wasn't included on this list, tell me about it! If you have bought something mentioned above, how did it work for you? Did your dog love it as much as you hoped they would? 
To read more about Noodle, my family, and all of our favorite things, head over to the blog.