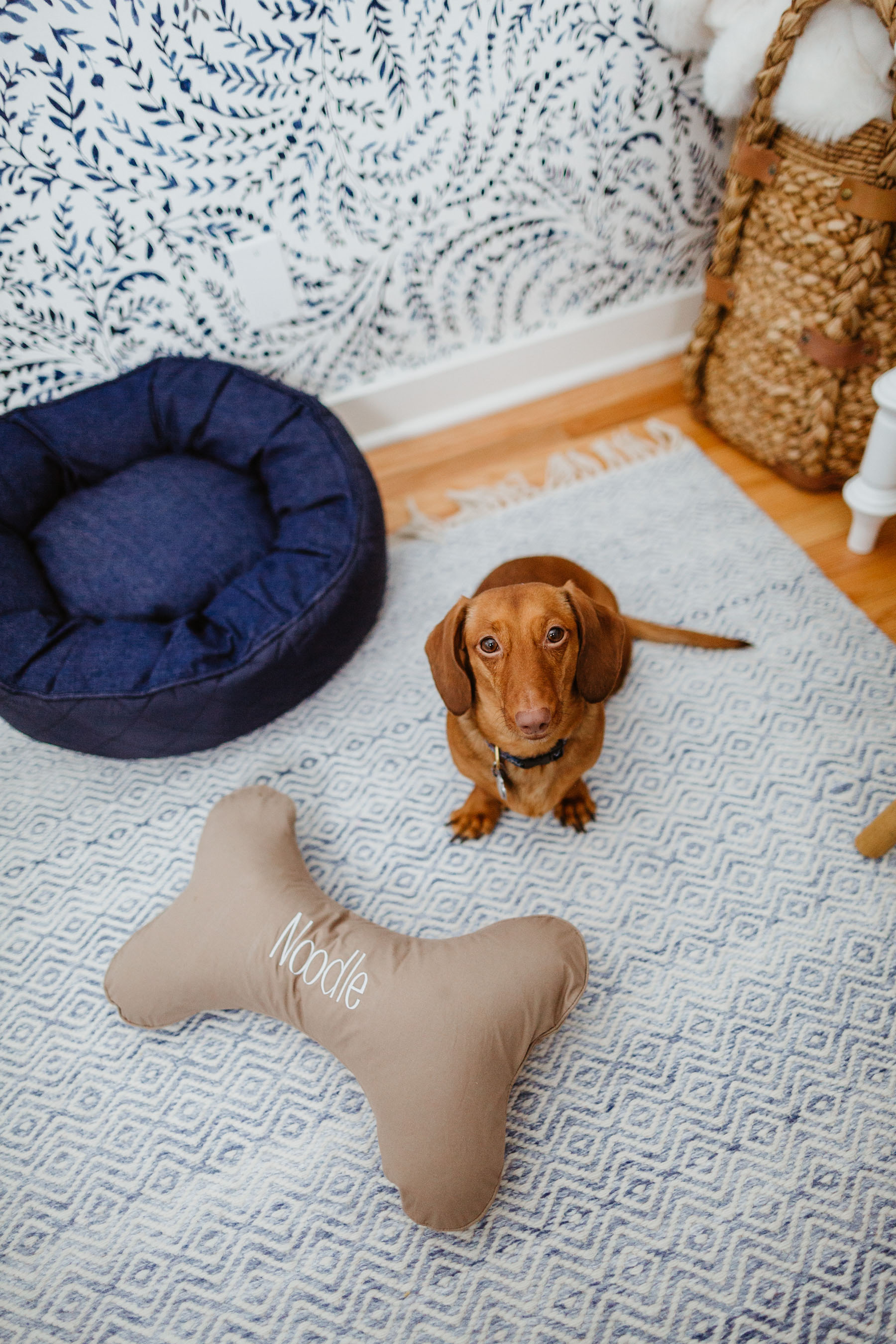 If you happened to catch my "behind the scenes" photo shoot with Noodle last week on Instagram or our recent "bedding basics" blog post, you know that we're partnering with The Company Store this year on a regular basis, and having so much fun with it! (We updated Emma's room last fall with the brand, too, which she LOVED.) This month's post is extra special, though, because the focus is on Noodle. 😉
The Company Store carries some of the cutest and most useful pet stuff, and today only, everything is up to 20 percent off. (Prices as marked.) Here are some of Noodle's favorites!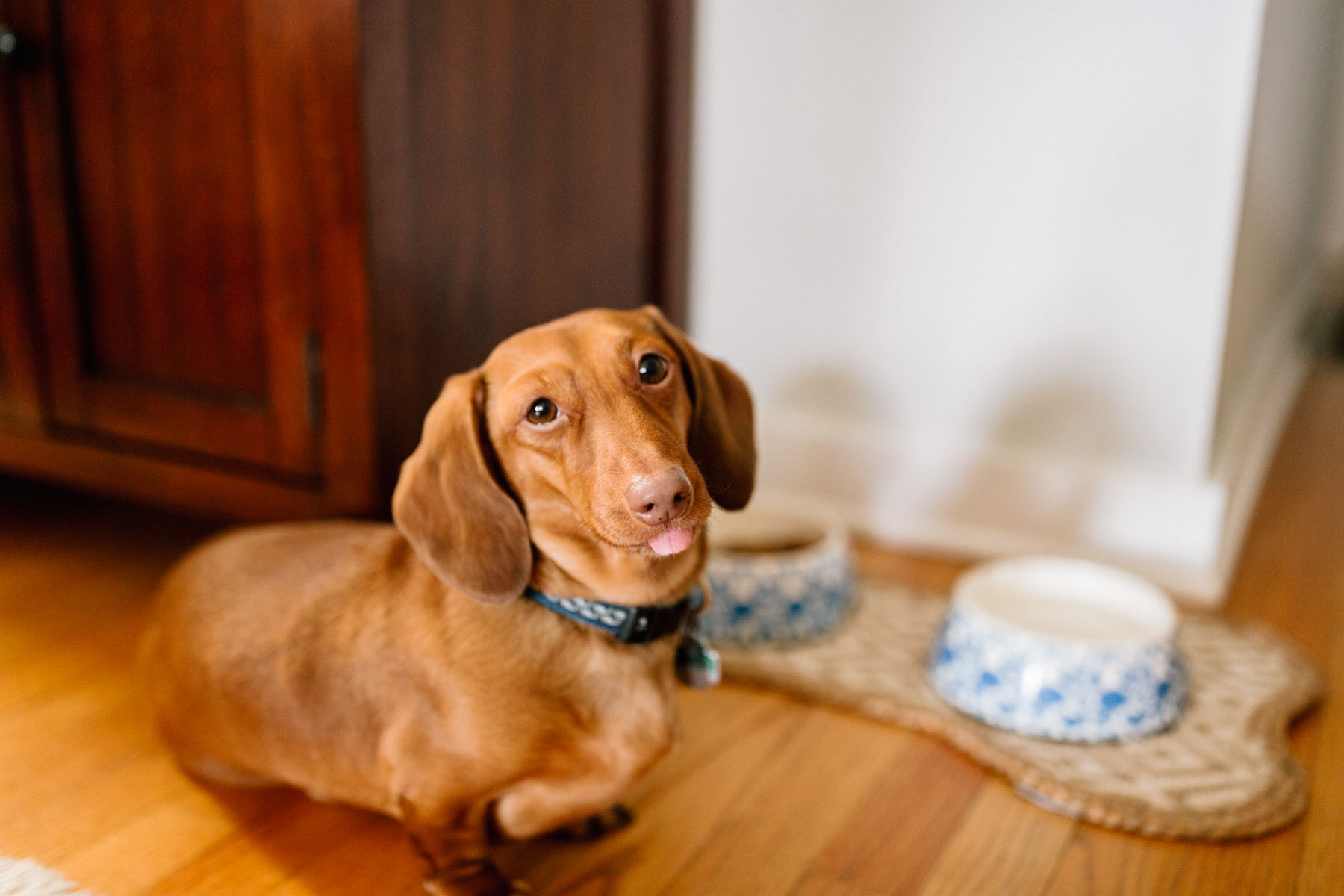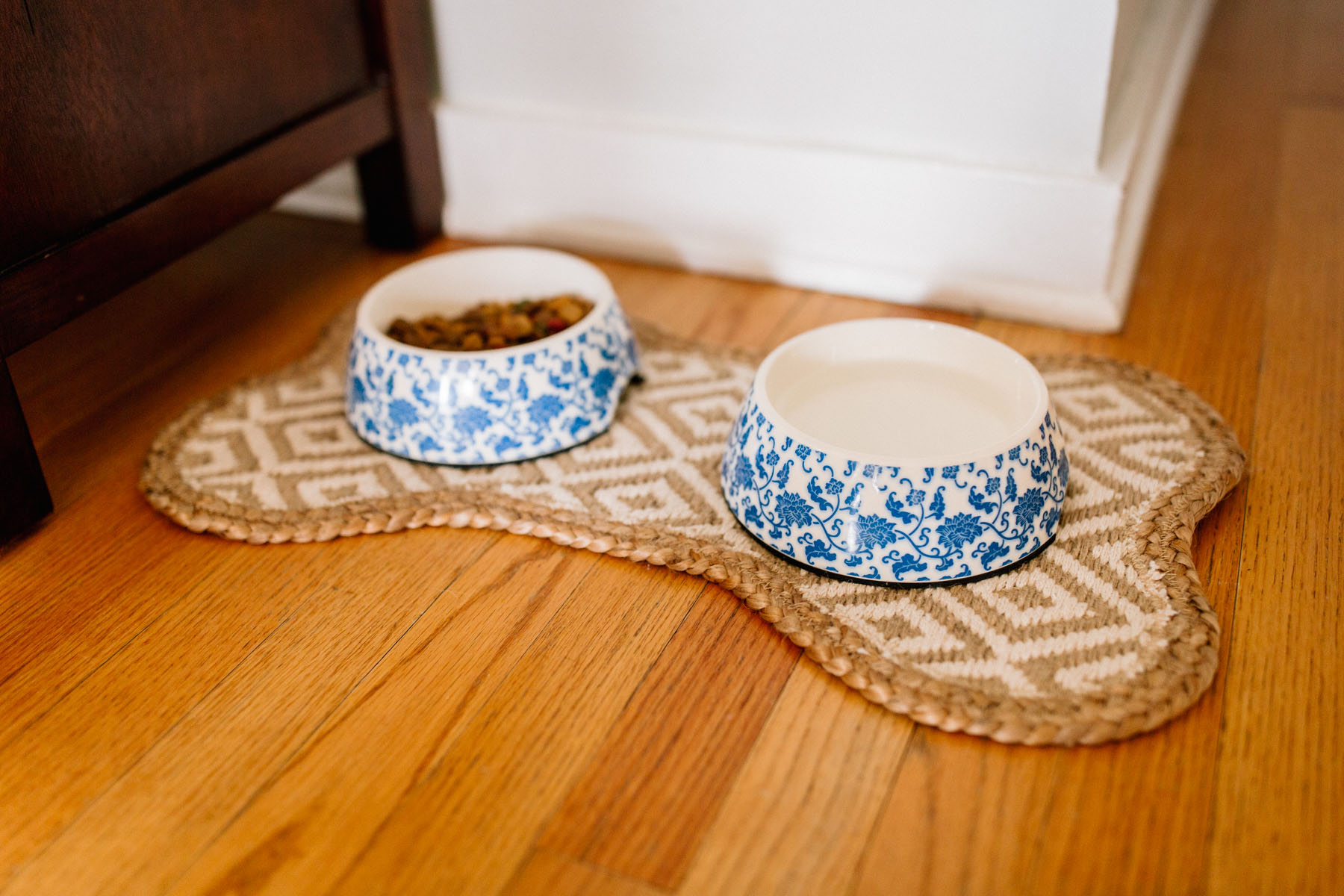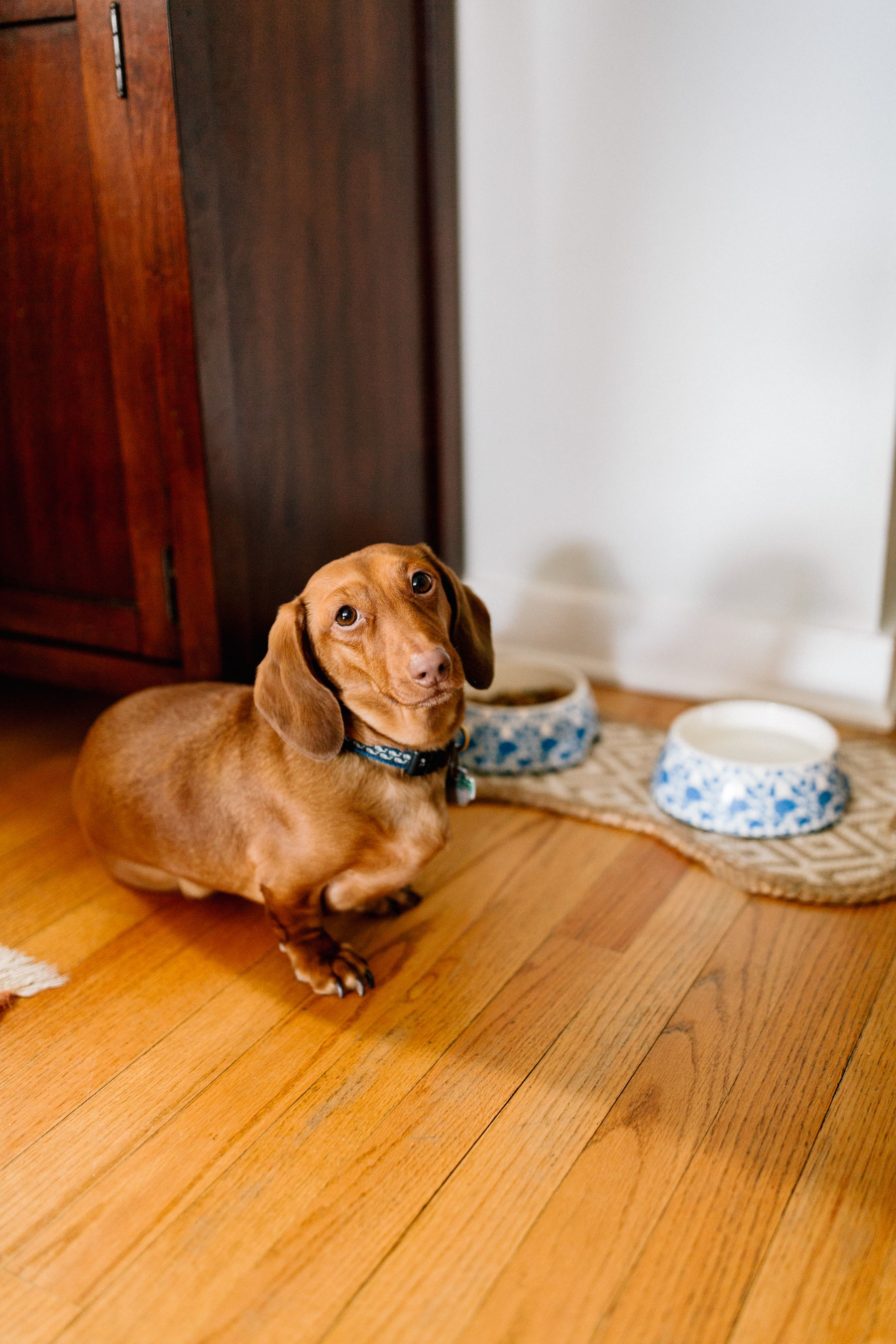 Up until recently, we just had Noodle's bowls on the floor, and it was kind of a disaster. For some reason, Noodle would shove her nose in the bowl and seemingly knock her food out on purpose. 😂 And while she didn't do that with the water, she (understandably) would drip some onto the floor, and the wood was starting to show signs of wear. But I love this jute feeding mat, because it protects the floor and looks adorable. Oh, and Noodle no longer spreads her food all over the place. Not sure why the mat has made her remember her manners, but it has, haha!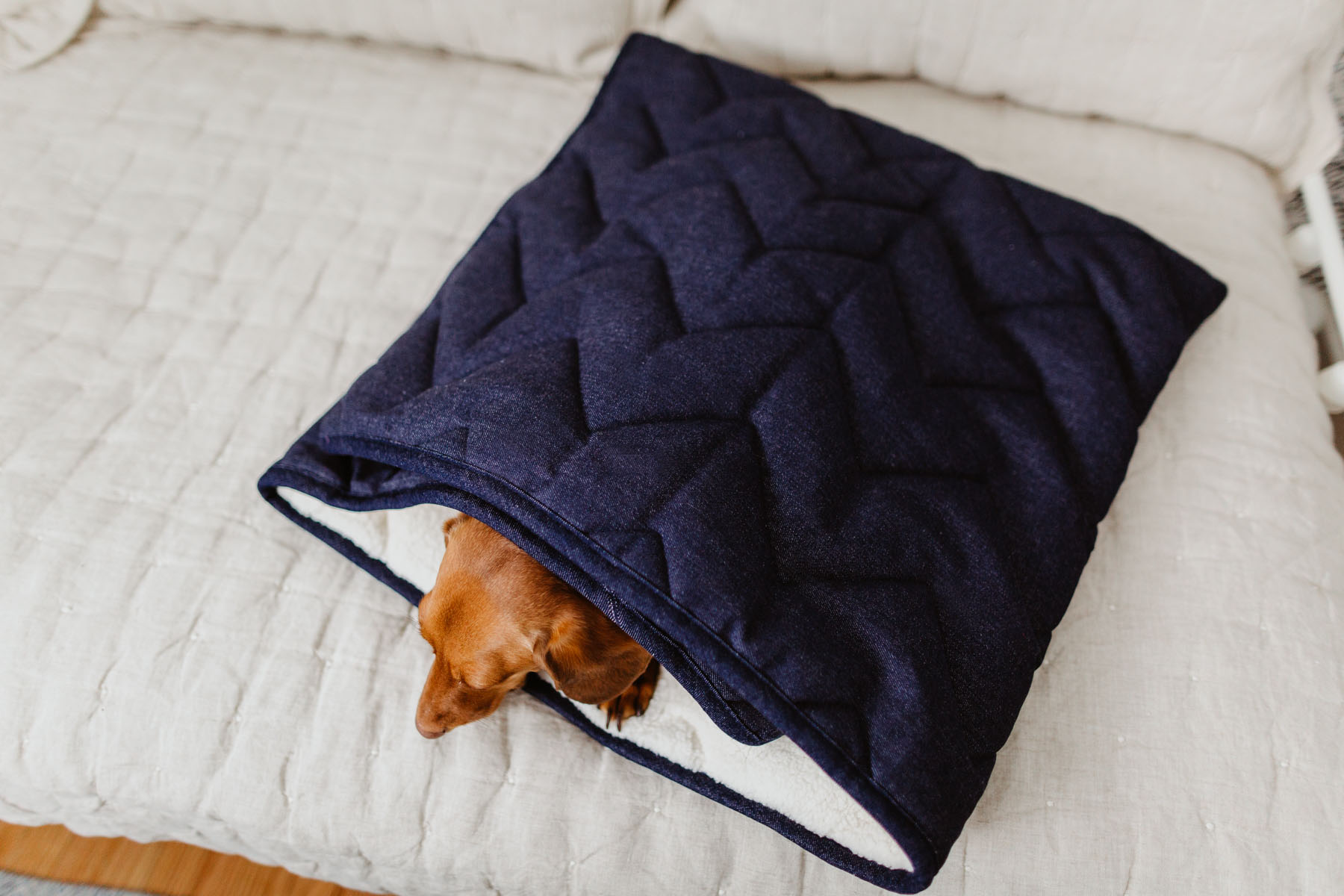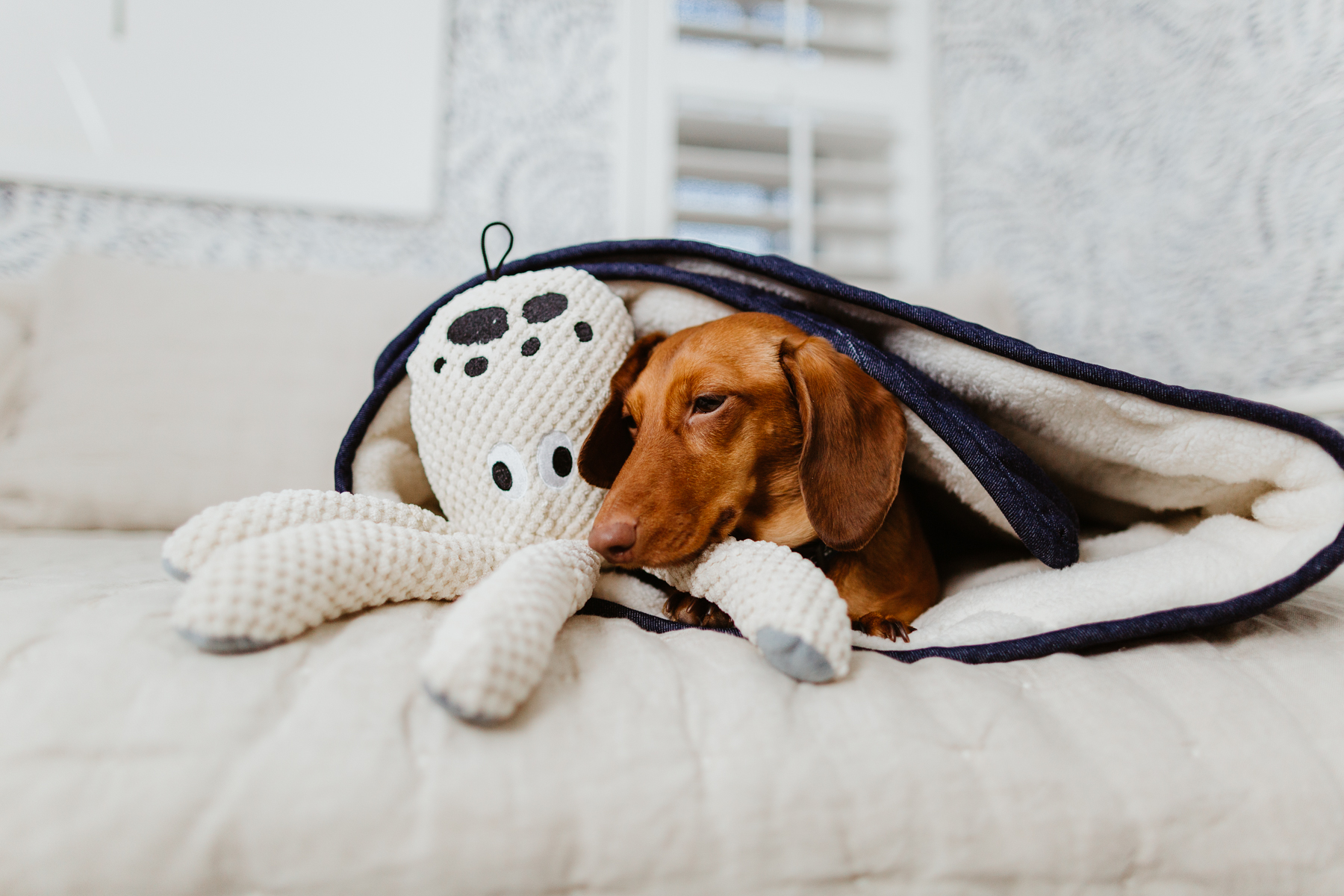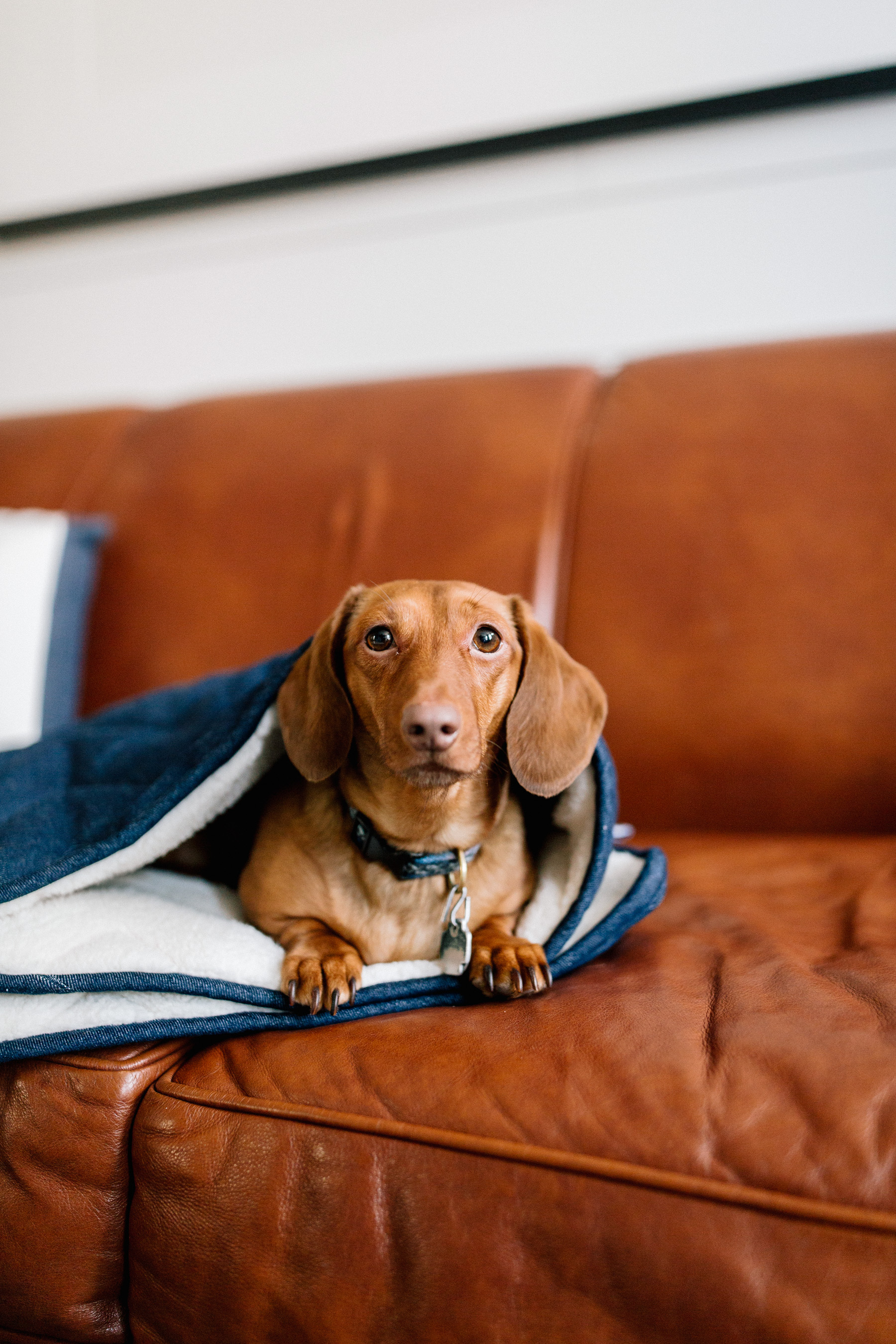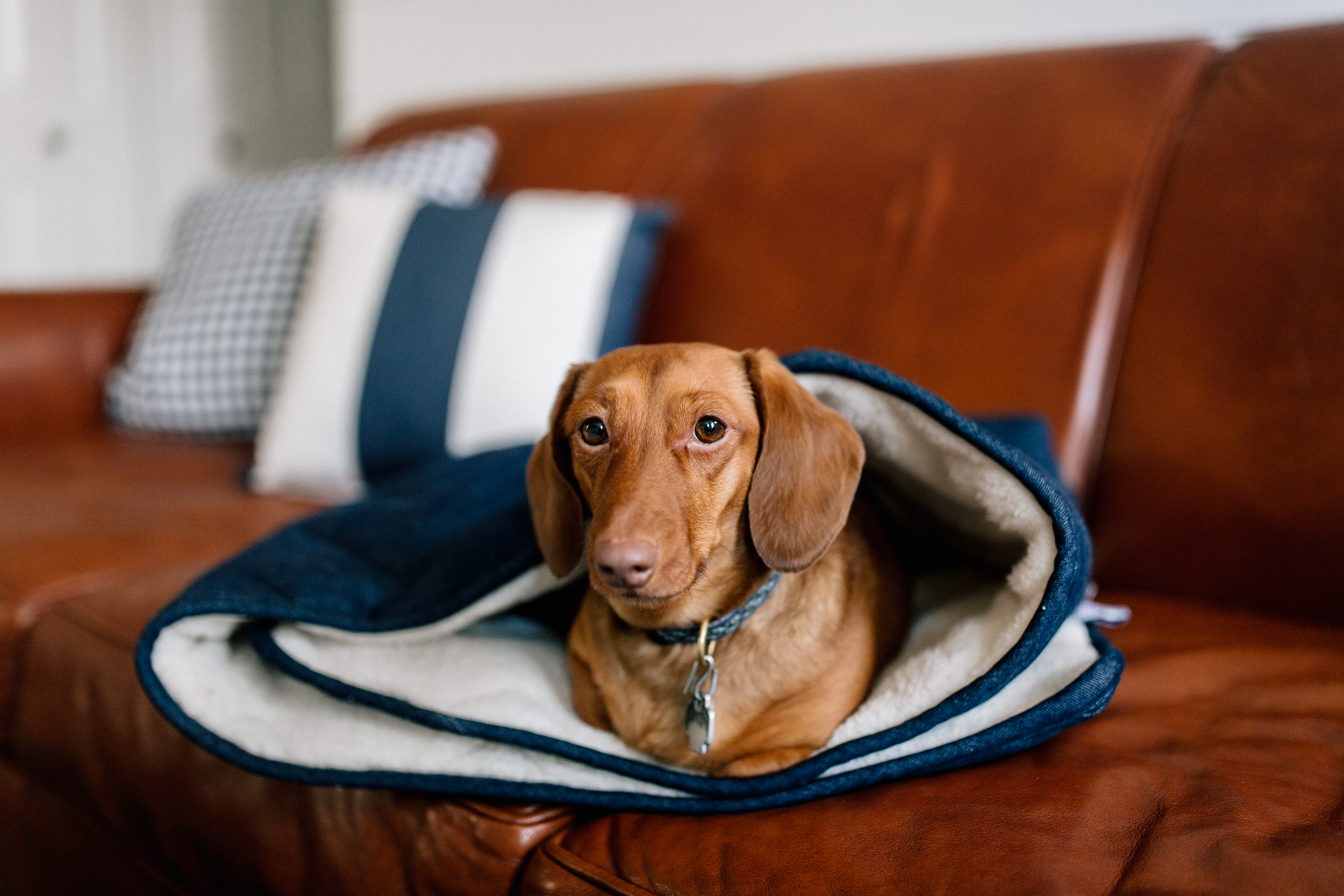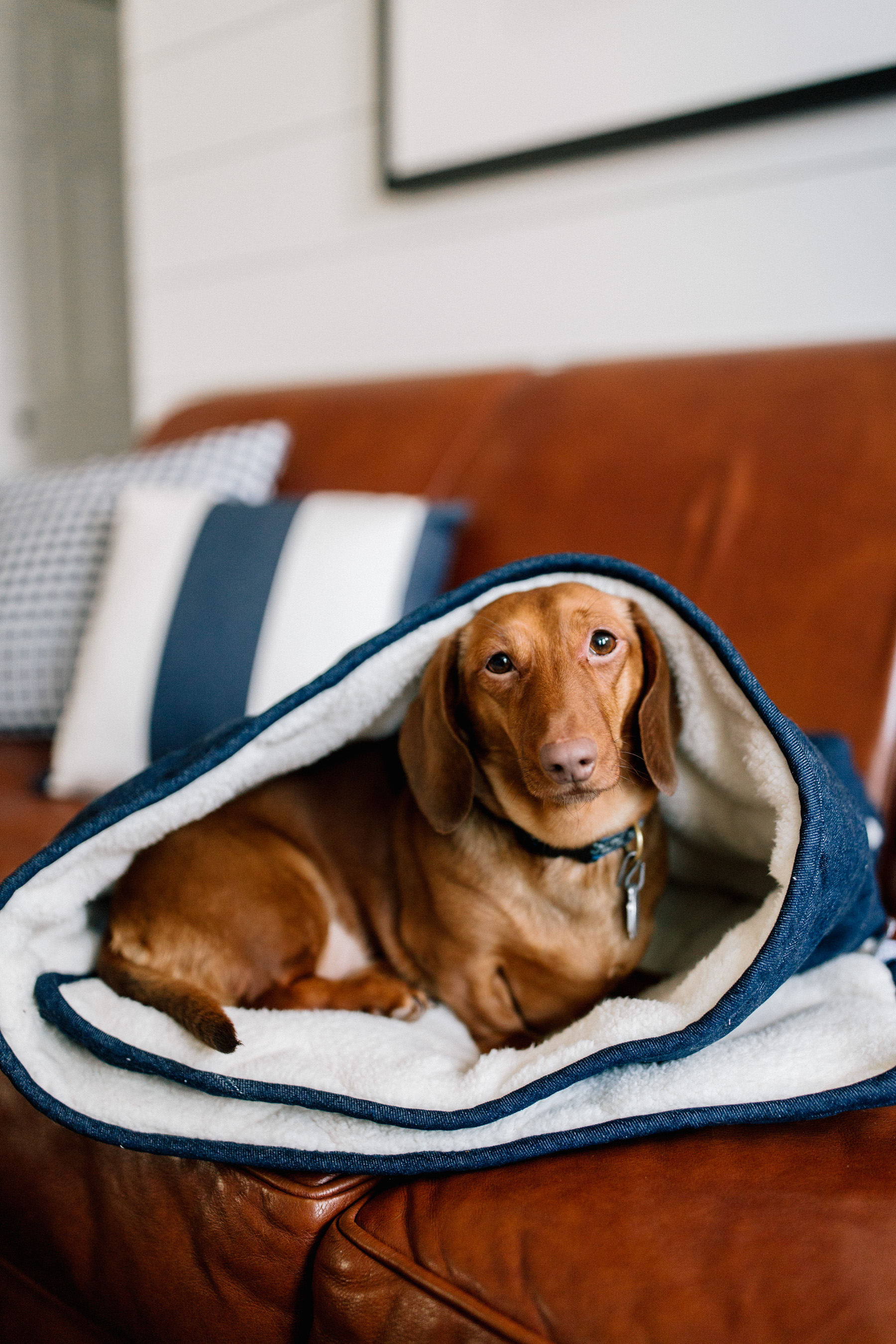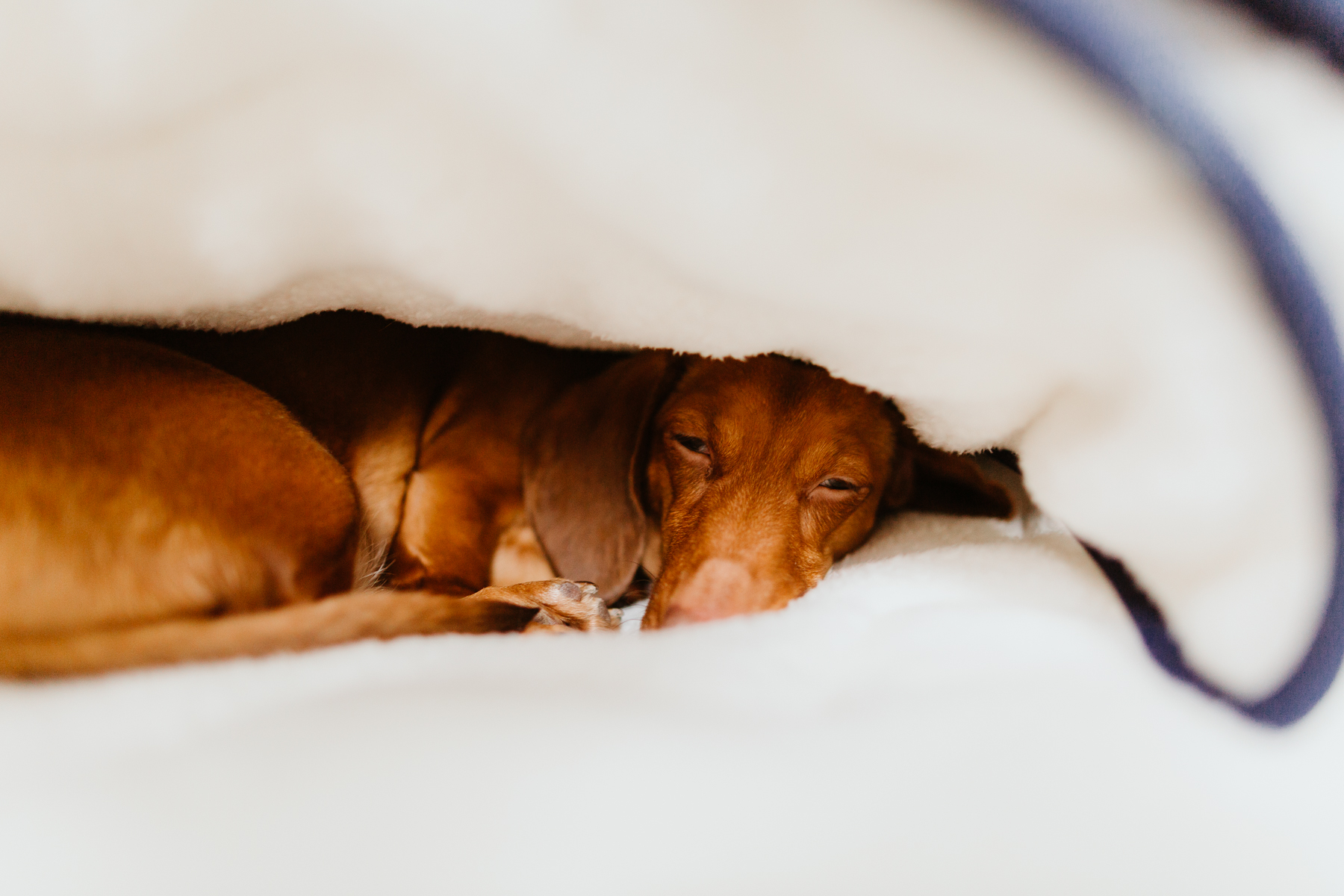 Fun fact: dachshunds were bred to dig deep holes and hunt weasels, which is why they're such fans of burrowing into blankets. Before the sleeping bag came into our lives, we had to keep tons of blankets on the couch, which Noodle would subsequently wreck with her burrowing habits. 🙈 The sleeping bag, though, has a durable denim shell, TCS Down-Free fill, and a faux sherpa lining… and it's machine-washable. It's also great for travel. The best part? Noodle MUCH prefers it to our family blankets, leaving those to the humans. :) I really can't recommend this more; it works for cats, too!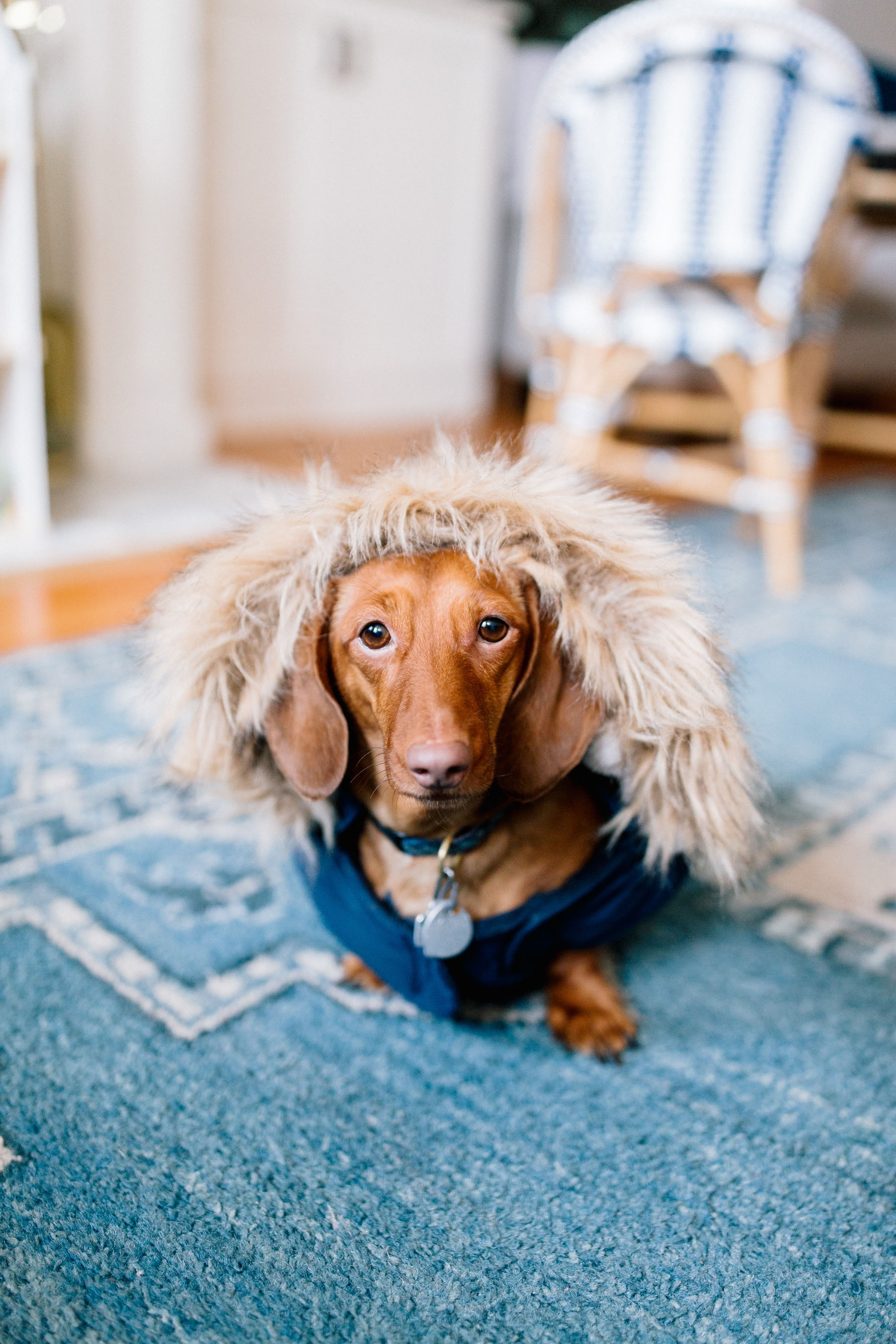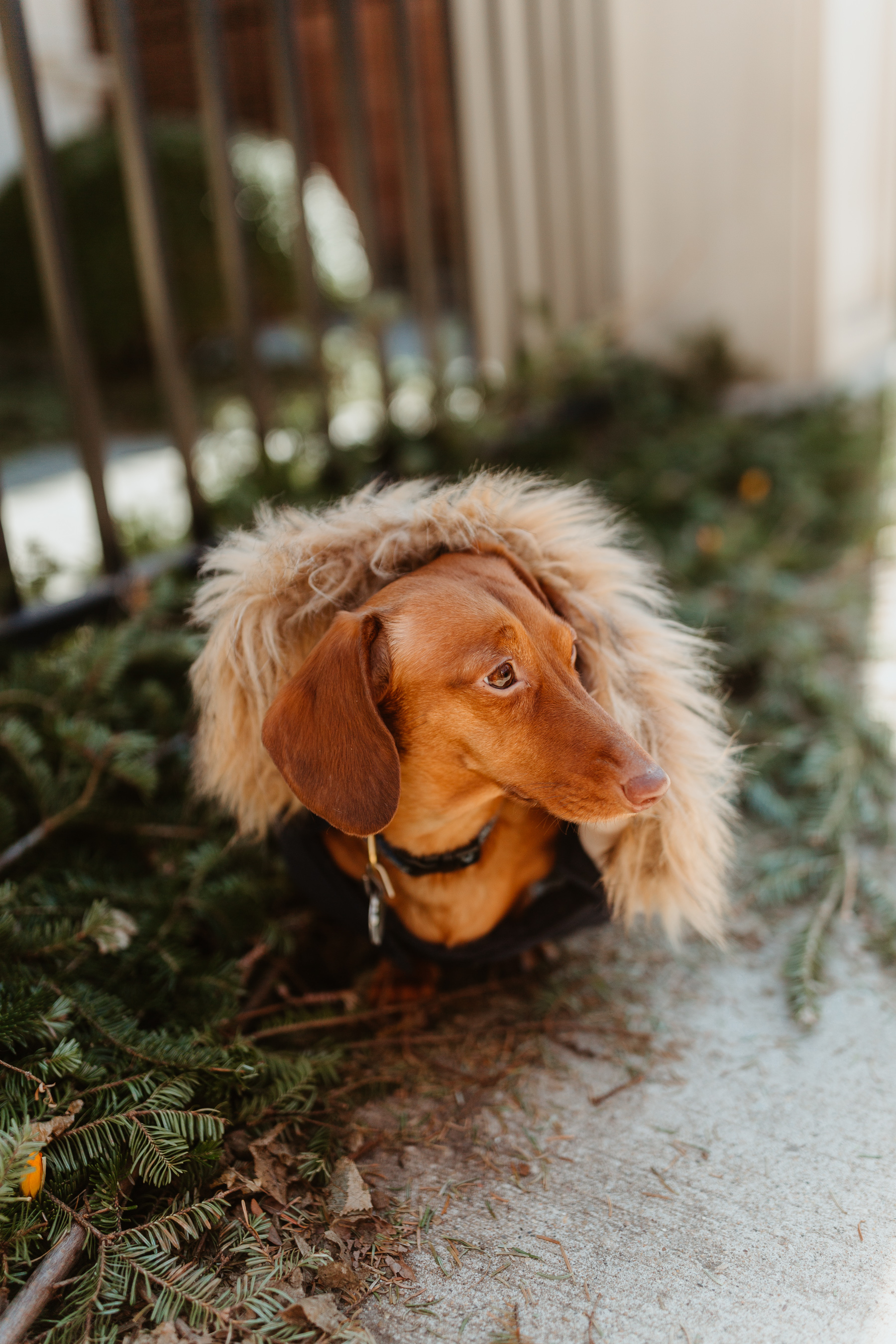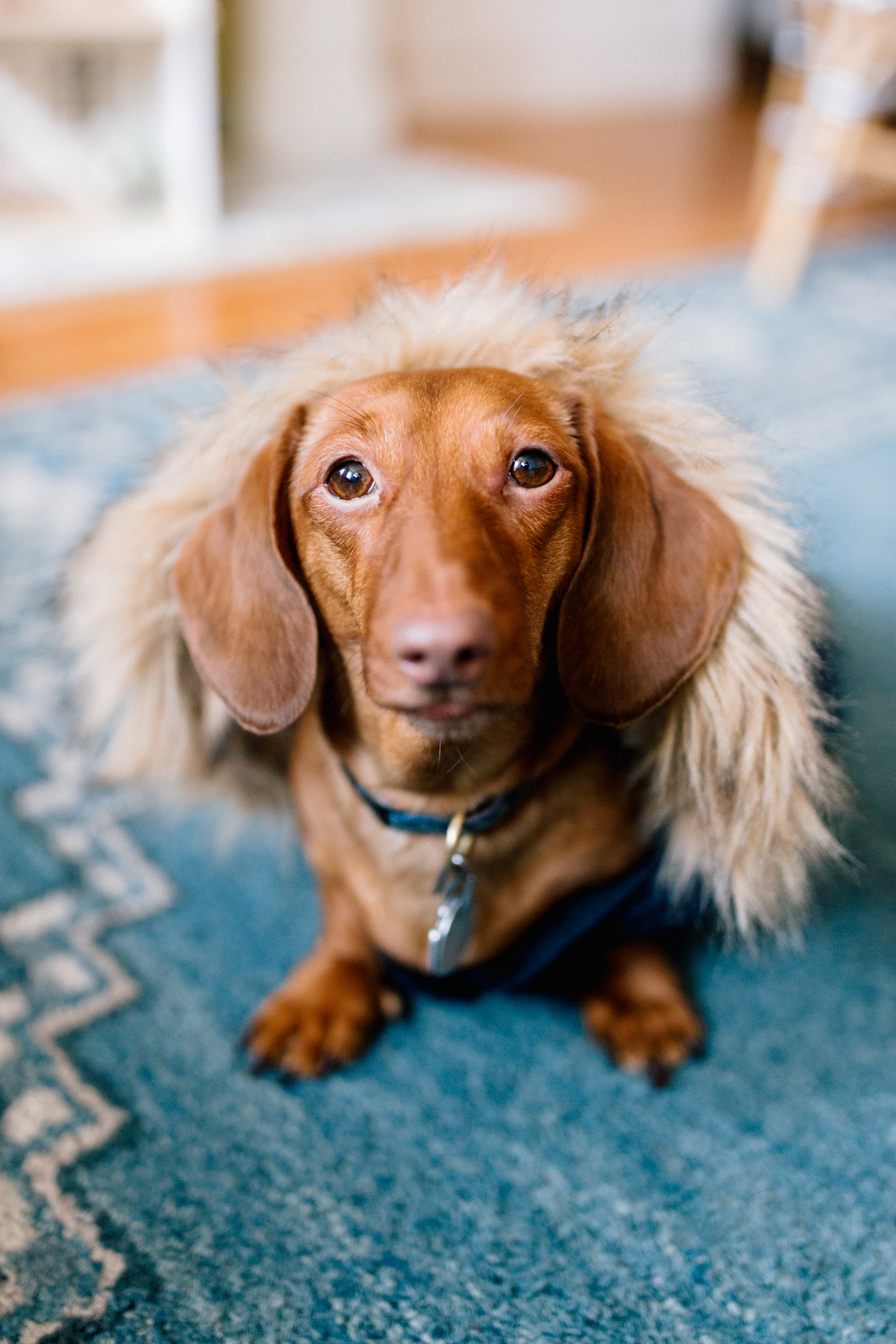 I couldn't help myself when I saw this. Sadly, Chicago still experiences some wildly cold days even in March, and Noodle will do everything in her power to get out of going outside–including slinking off to relieve herself in my office or in Emma's room. 🙄 The Snorkel Dog Jacket, though, keeps her warm even in freezing temps, and she can stay outside for far longer than she used to! It has a waterproof nylon shell–great for rain and snow–and it has pockets, in which we keep extra doggy bags just in case. And, I mean, does she not look hilariously adorable?! I can't. 😍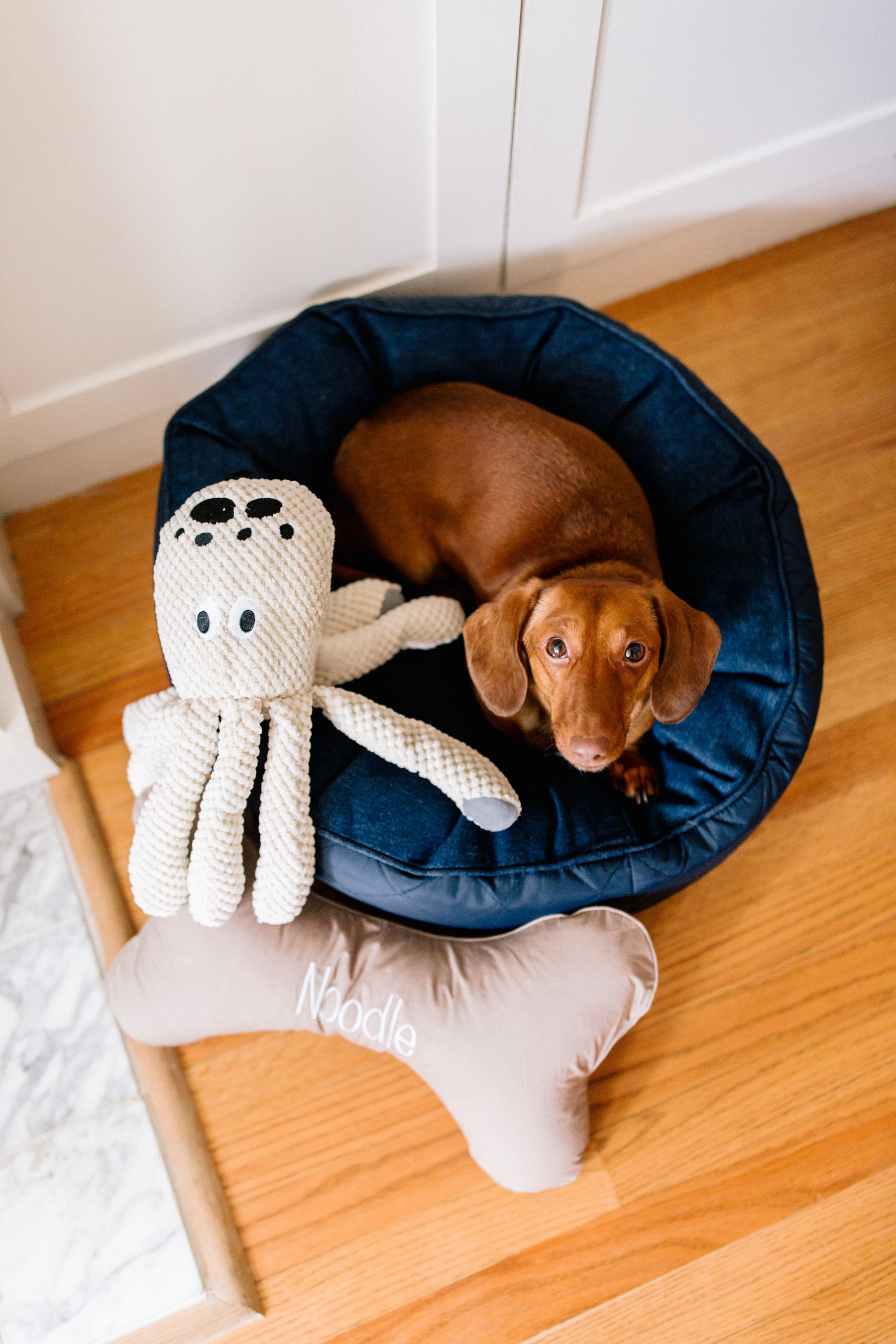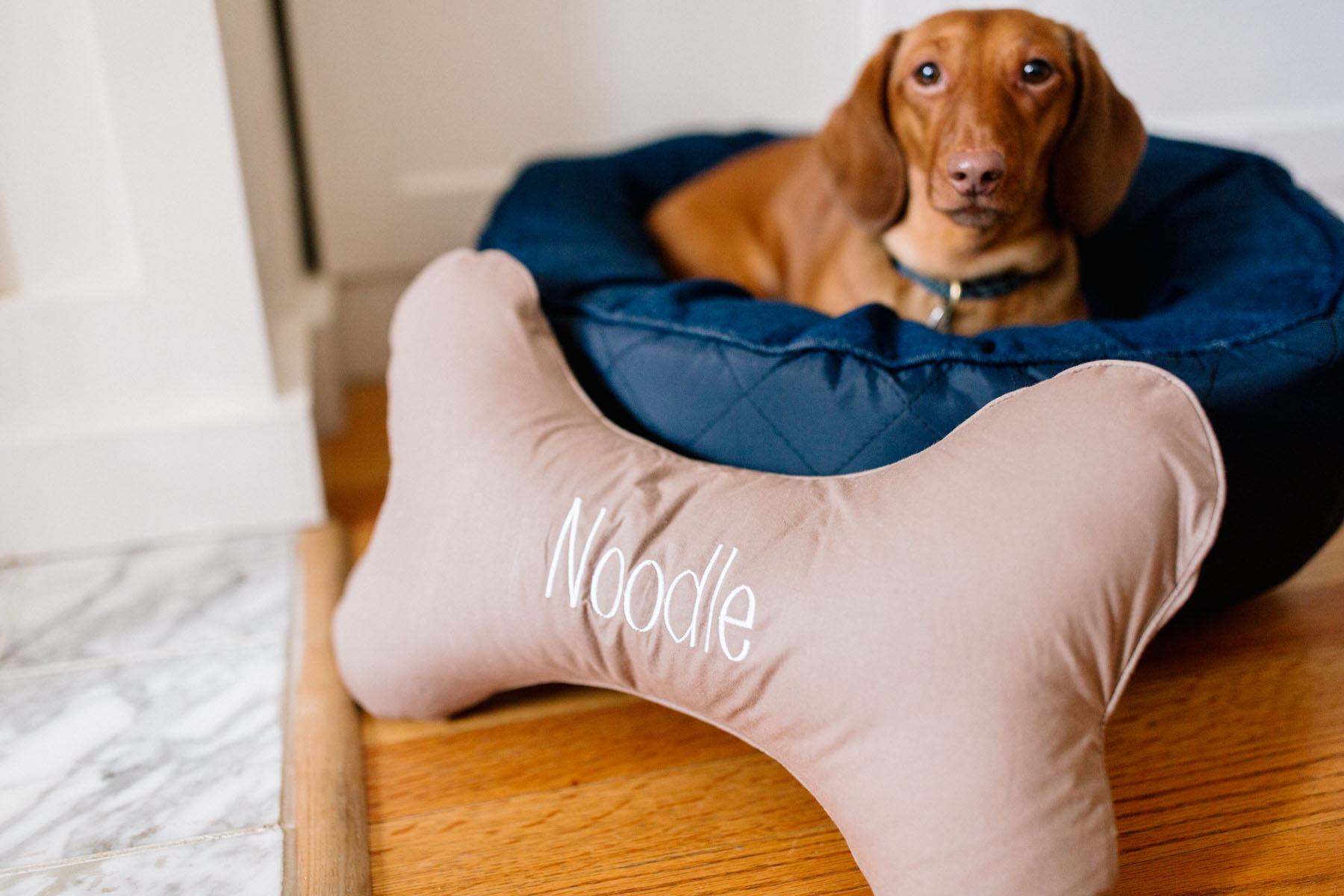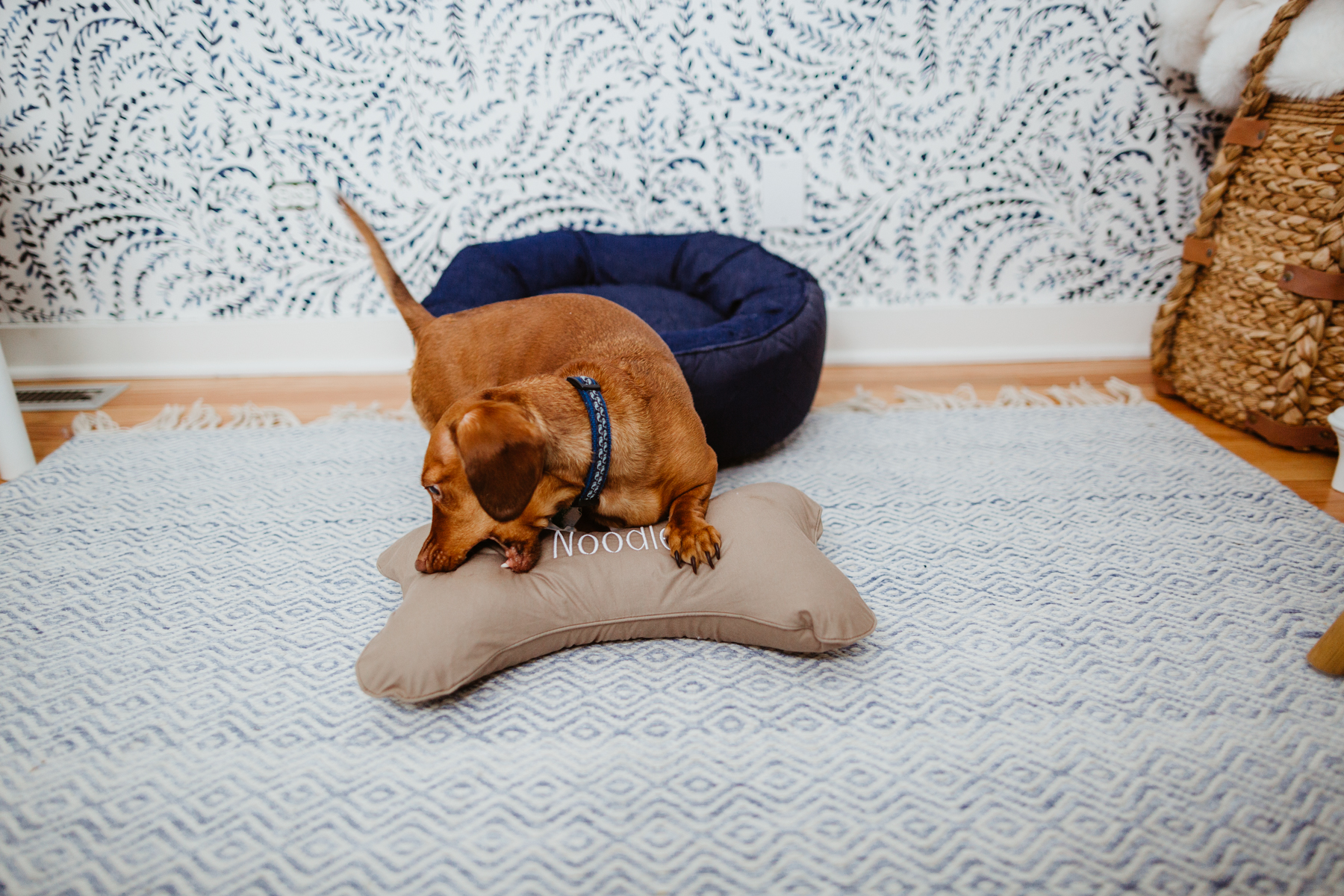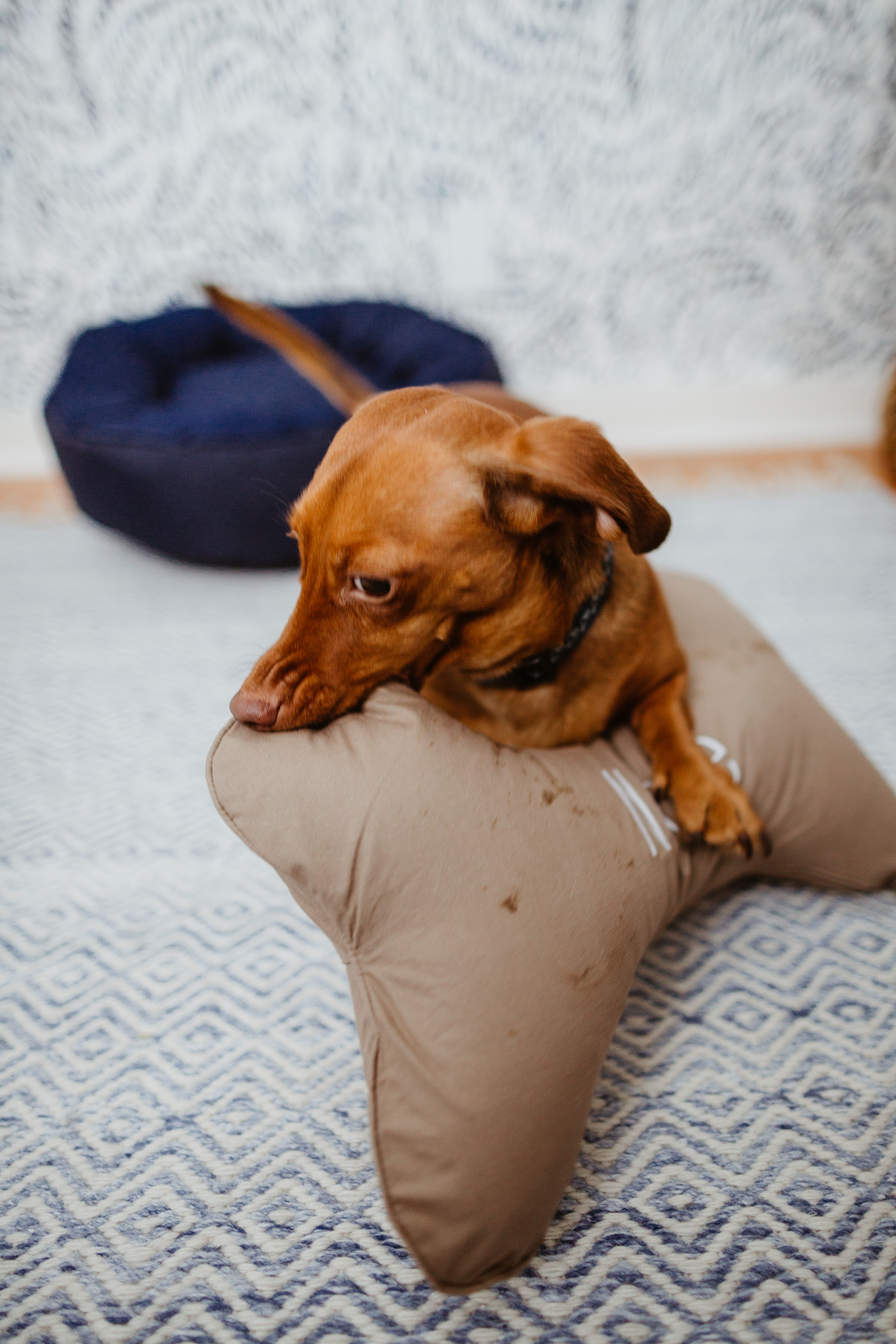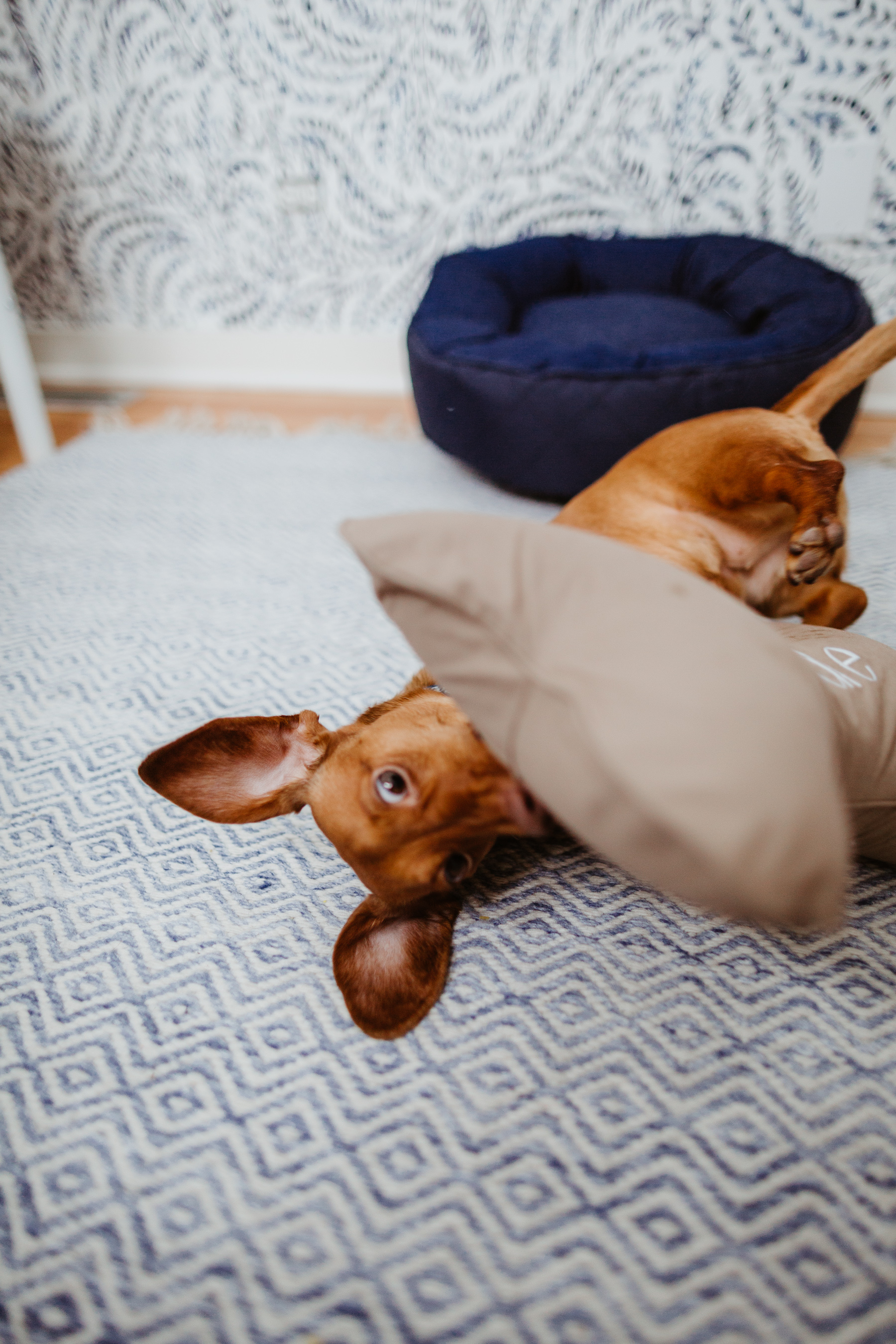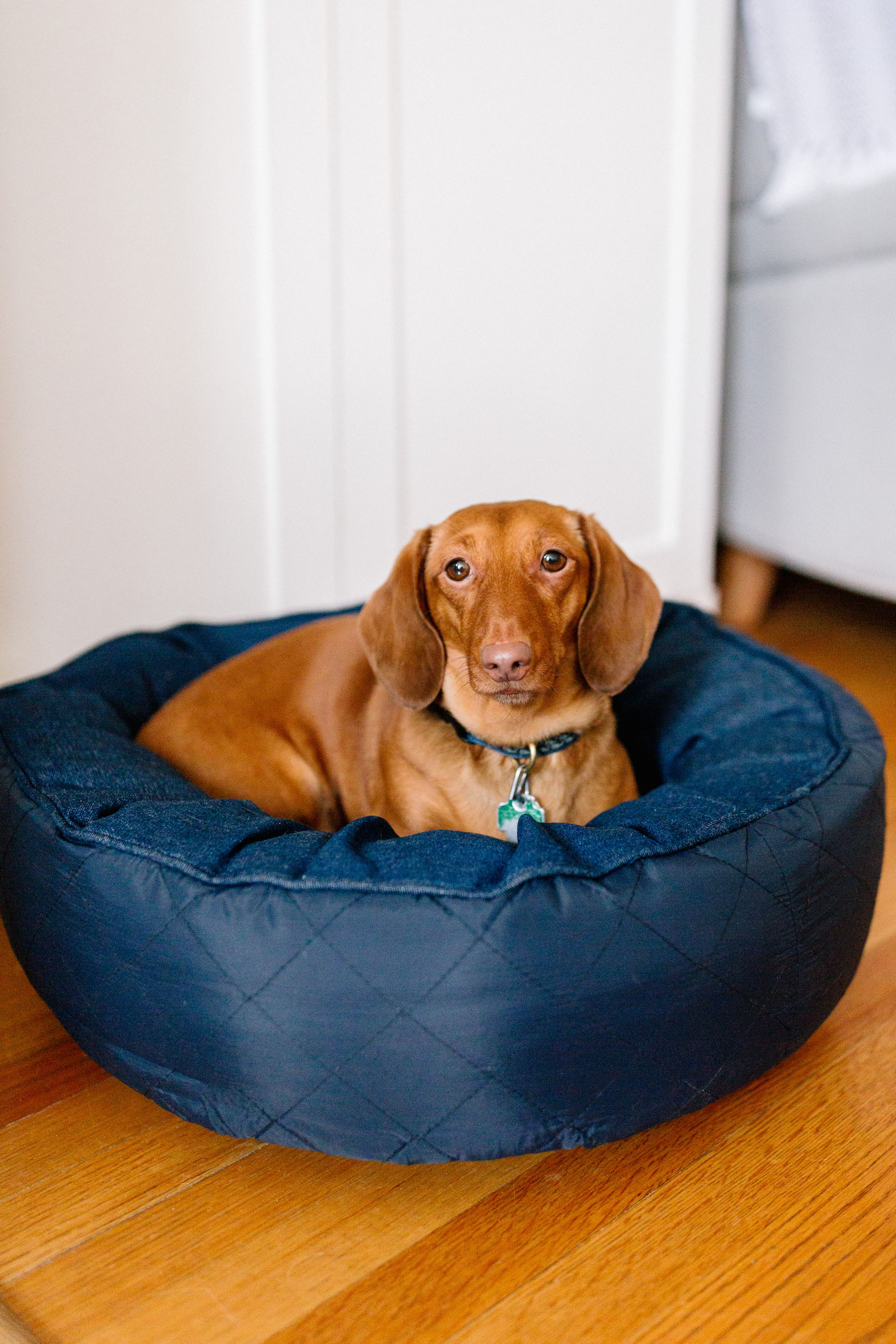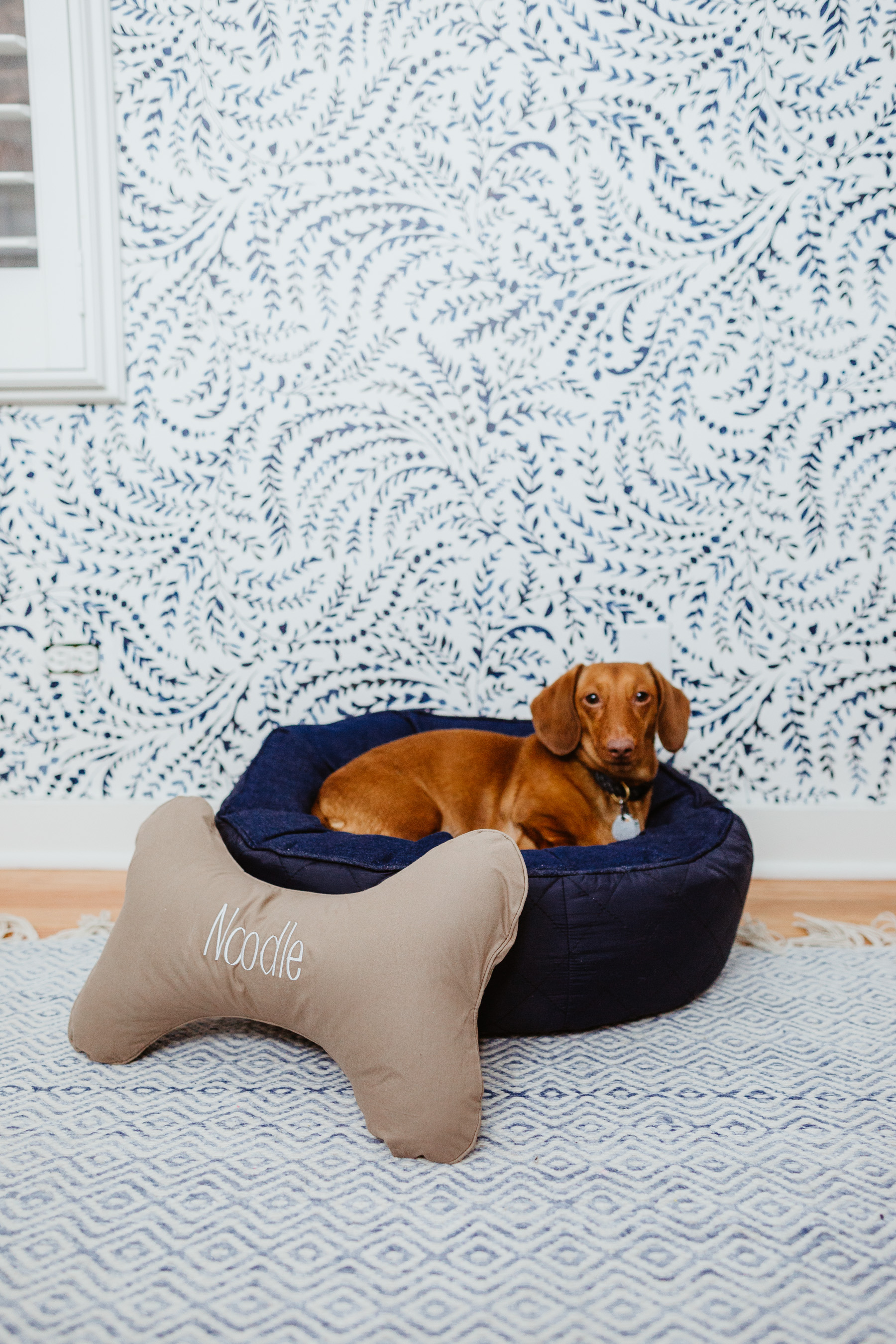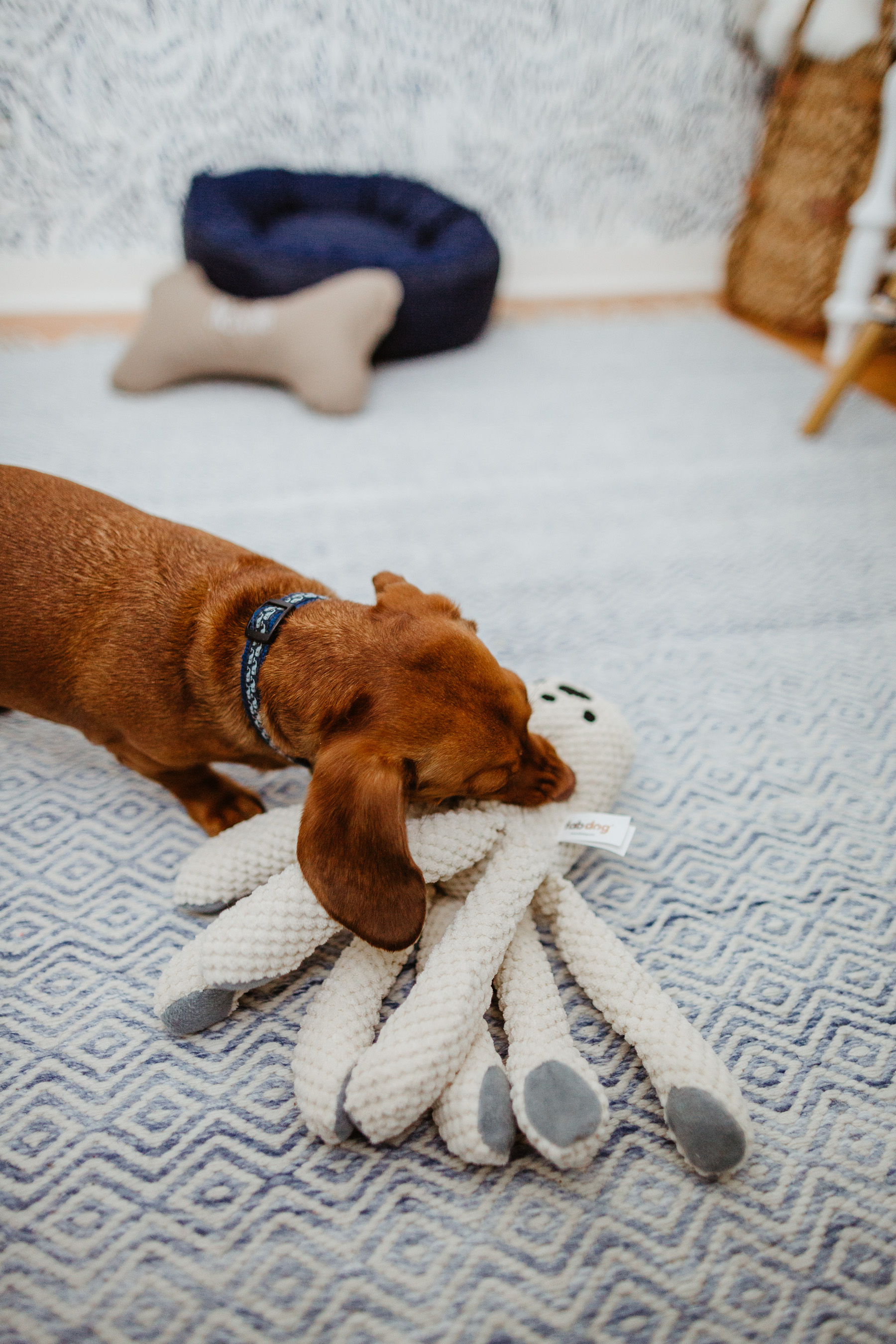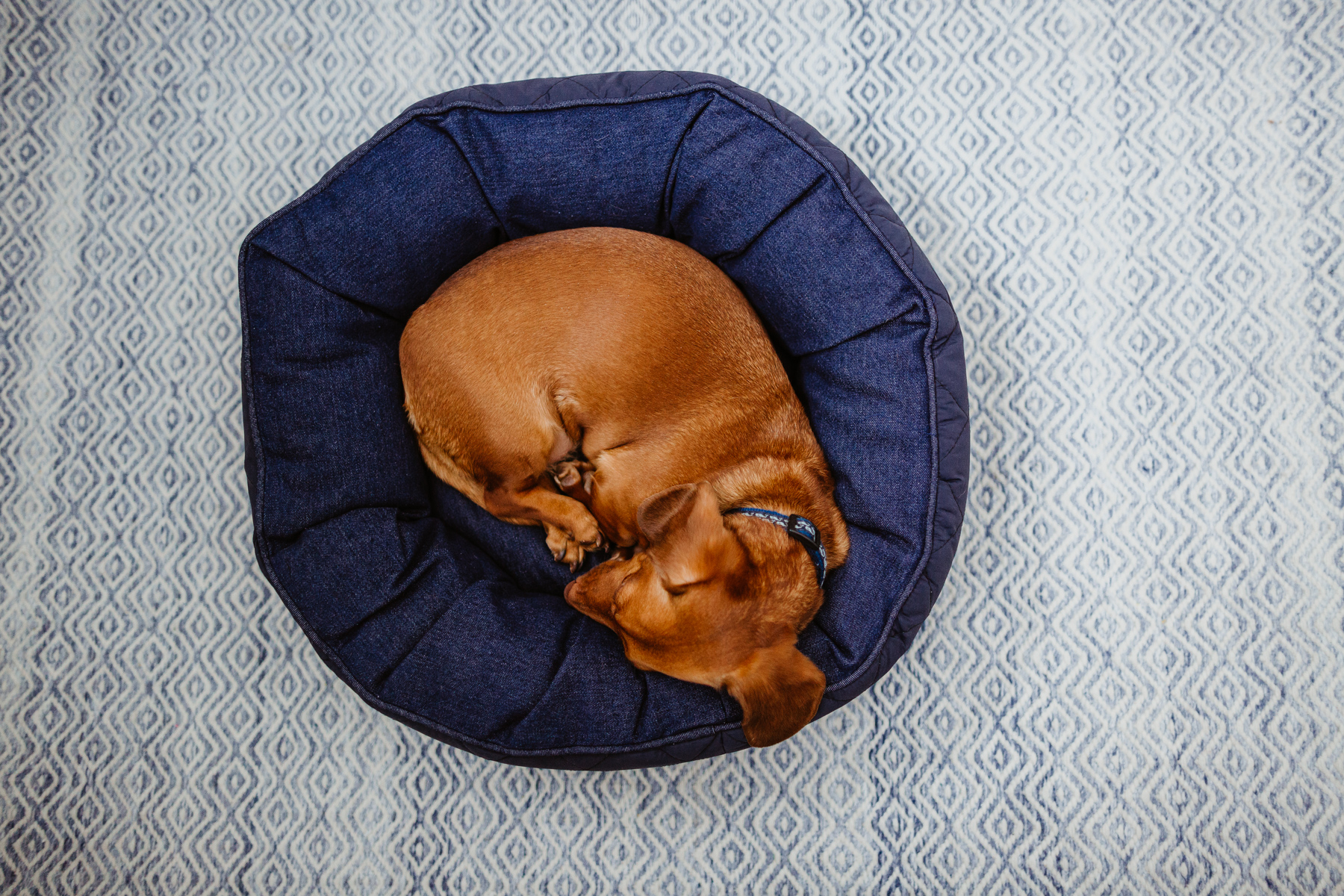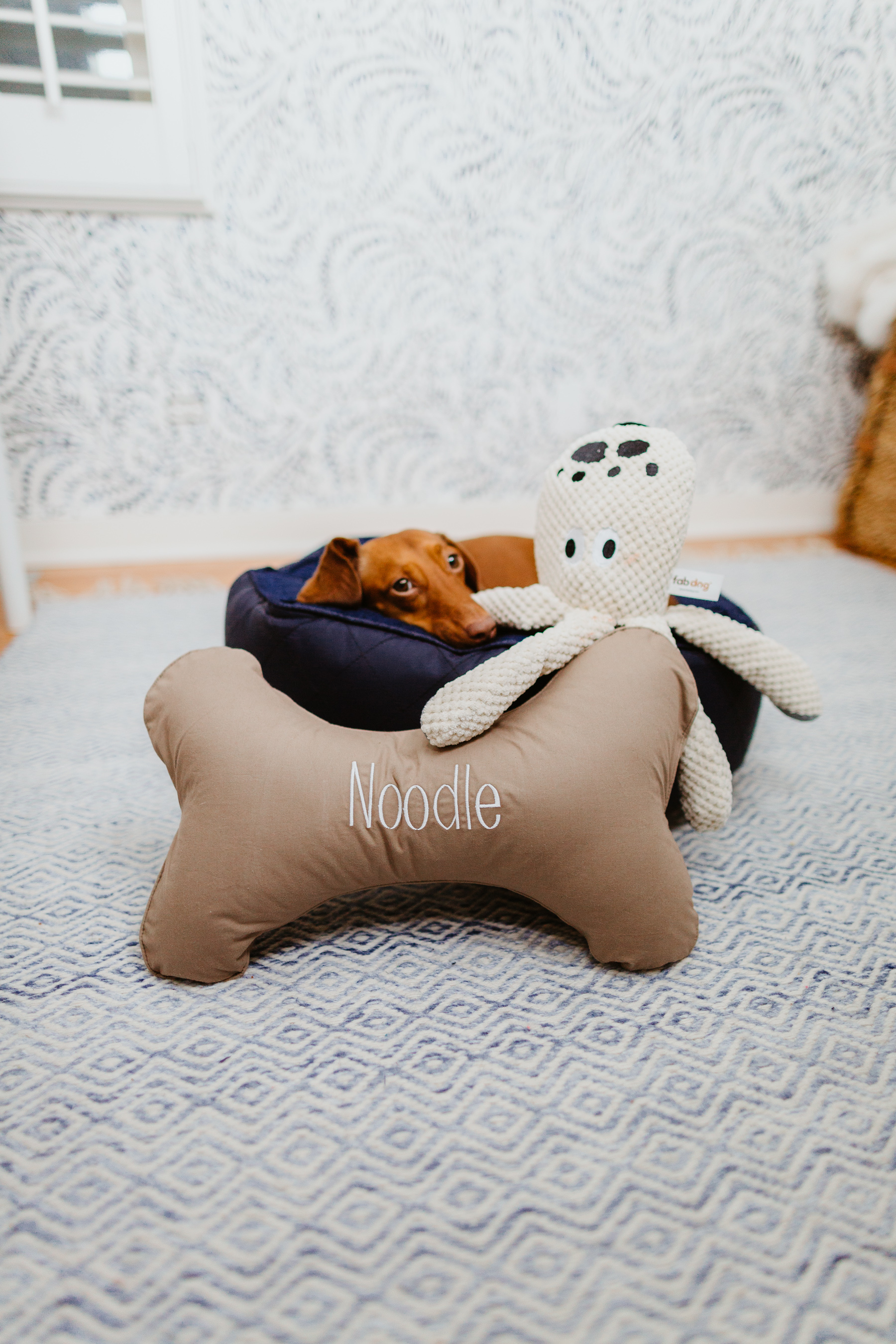 Dachshunds are known to sleep in the "doughnut formation." (See above.) So when we introduced this round dog bed–filled with fluffy microfiber–to Noodle, she was thrilled. It fits and hugs her little body perfectly, and she feels safe and comfortable when nestled in it. The bonus? Its cover is removable and machine-washable, which means that it'll always stay looking nice and clean.
I initially ordered this just because it was so cute and funny, but Noodle adores her octopus. While it squeaks and is perfect for tug-of-war games, it's also extremely well-made and has truly held up over the last month. (Whereas with most other toys, Noodle finds and removes the squeakers within a matter of hours. RIP Mr. Duck and Mr. Platypus.) We love the cream octopus so much that we might need to add the navy and gray ones to our collection so we have a little family… 😜
I fell in love with this one immediately; I mean, a toy with my dog's name monogrammed on it?! Adorable. ;) The bone pillow has a 250-thread count combed cotton shell that's machine-washable, free of harmful substances and meets Oeko-Tex standards… and the TCS Down-Free fill mimics the loft of down without the allergens. We love that Noodle cuddles with it but also plays with it like it's a toy. Anything that's multi-purpose is beloved in our tiny home!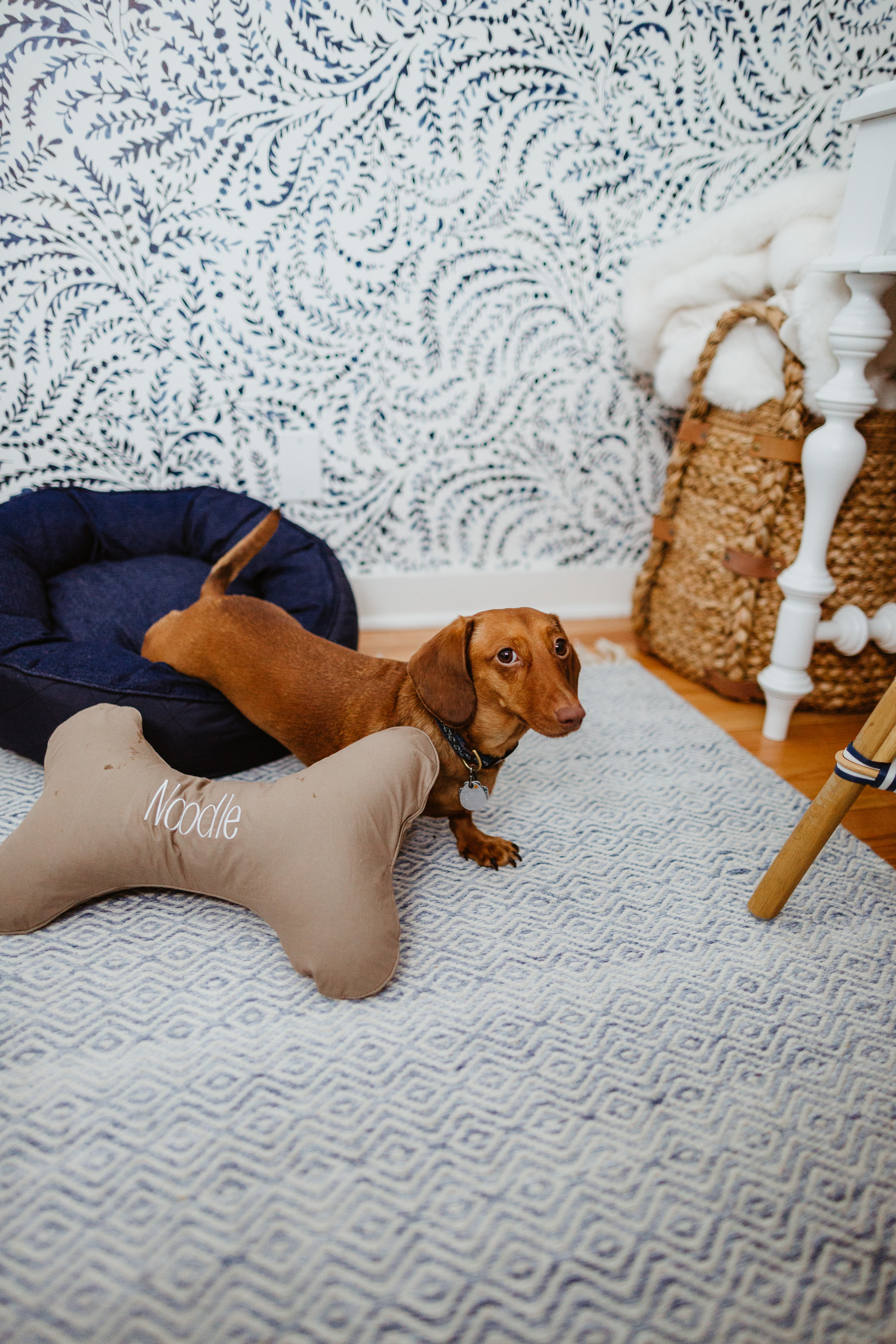 If you're in the market to upgrade your pet supplies, remember that today only, The Company Store's pet department is up to 20 percent off! It's a great time to get a deal on necessities and fun accessories. :)
This post is sponsored by The Company Store; all opinions are my own. As always, thank you so, so much for supporting the partnerships that keep Kelly in the City up and running!