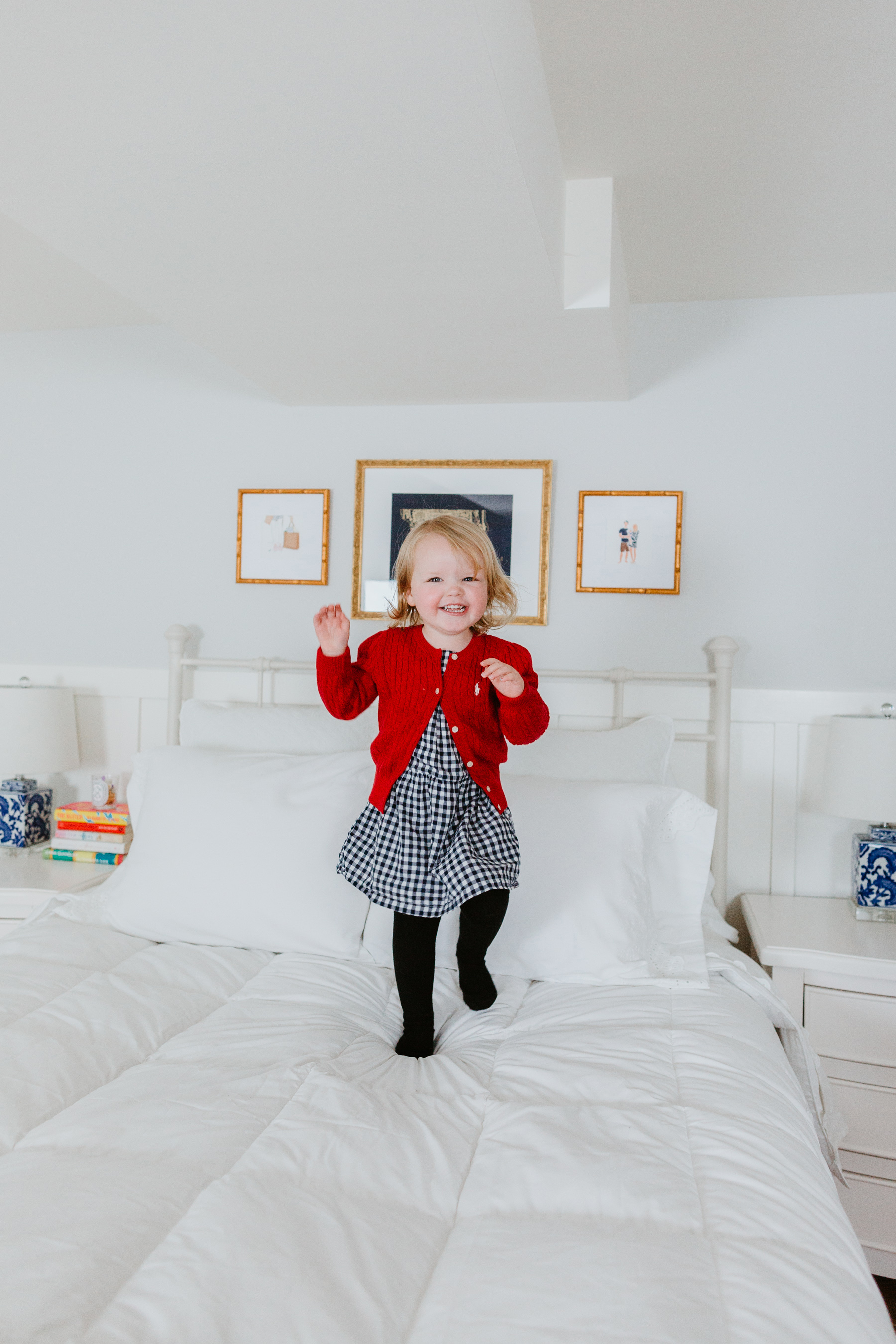 Oh my goodness. I'm really jazzed to share this post today because A) I can't stop swooning over (and laughing at) these photos of Noodle and Emma together, and B) When your bed at home feels like a hotel bed at the Ritz, you kind of want to shout the news from the rooftops. 😉
A couple of days ago, I wrote this post about wanting to spruce up our master bedroom. Thank you, by the way, for all the incredibly insightful suggestions! There are a bunch that I've started working on, and the room is already starting to come together and look better. And I'm now positive that I just needed some extra sets of eyes on it! You guys are the best. :)
The "final reveal" is still a while out, but the first step–which I'm sharing today–was updating our bedding basics with the help of The Company Store! (We did Emma's room with the brand last year, too.) I've mentioned this a few times on the blog now, but my mom outfitted all the bedrooms in my childhood home in The Company Store, so this is a very special partnership for me. I loved looking through the catalogues with her and dreaming up ways that we could revamp different spaces. Fun fact: I still have my beloved comforter from The Company Store in "Porcelain Blue," which matched my striped wallpaper! I've had it since I was 10 years old and still looks brand new!
OH! And guess what? The Company Store is currently having a huge "White Sale," during which you can take up to 25 percent off an awesome selection of products. There's also a Presidents' Day Weekend Sale going on! Simply use code "B19SAVINGS" to take an extra 20 percent off the White Sale as well as the rest of the site. You'll get free shipping on orders of $75+, too!
But let's jump in, shall we?! (Bed joke.)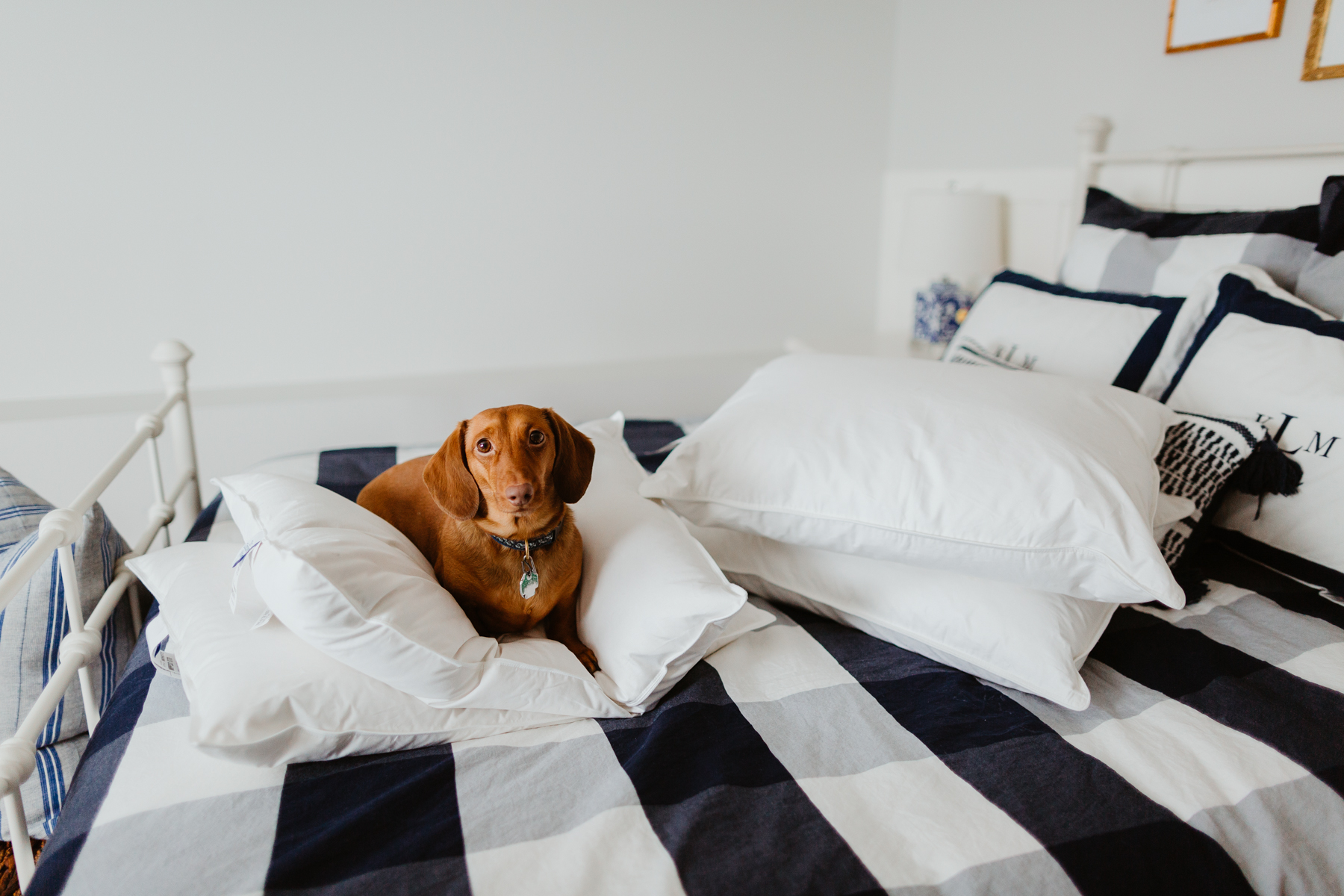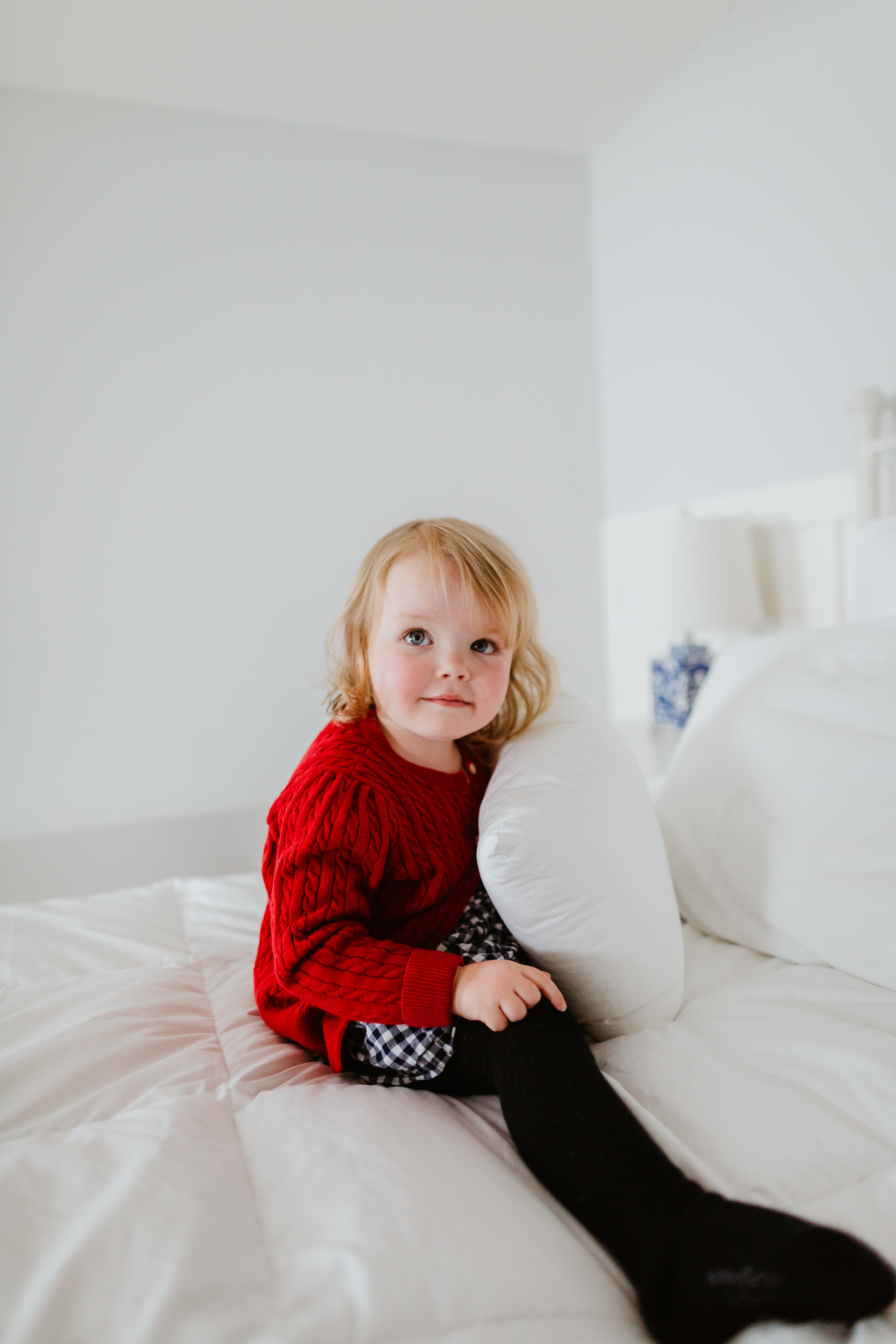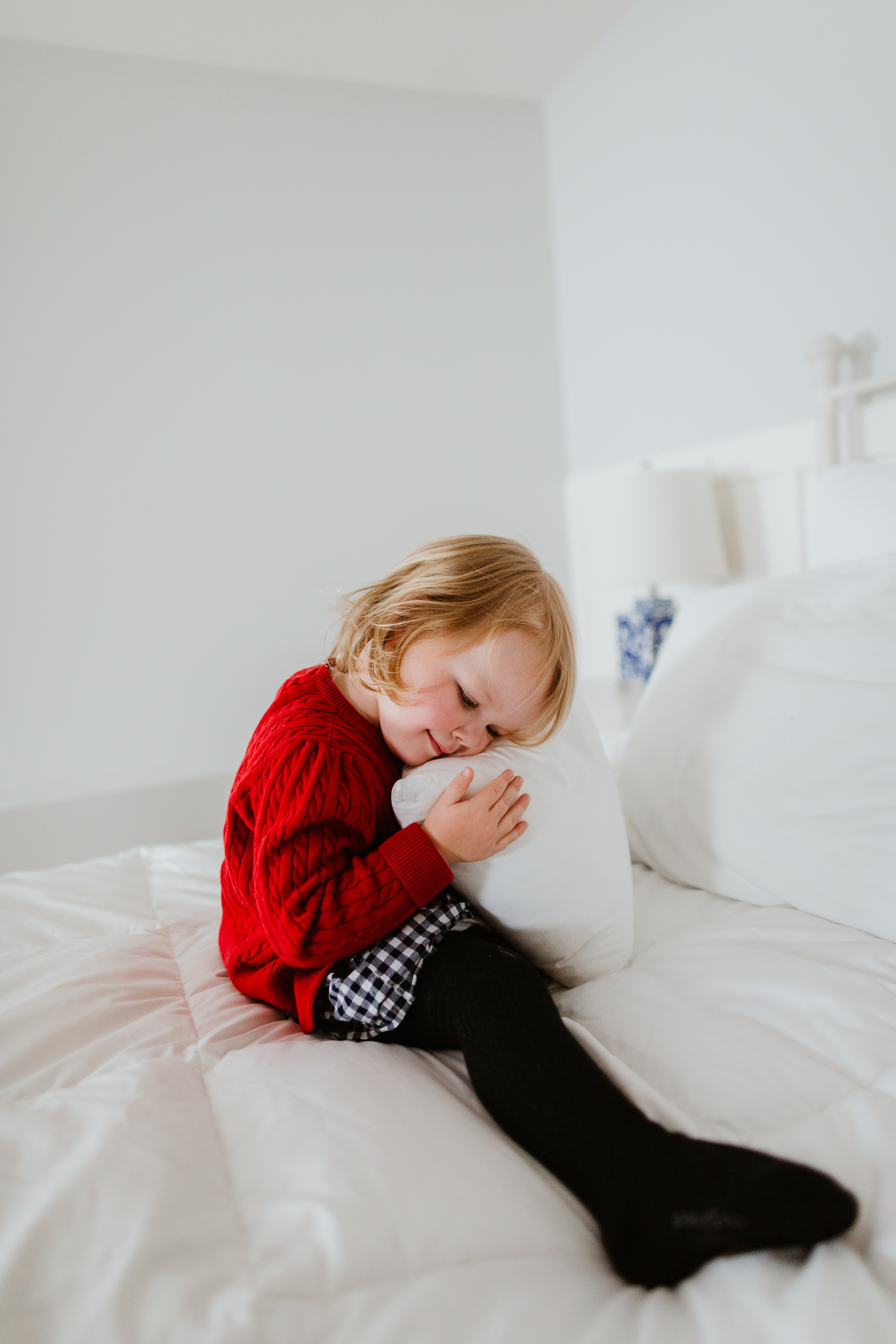 Must-Have Bedding Basics
The pillows
Confession: The pillows we previously owned were $2. Literally $2 on clearance. And, I mean, don't get me wrong: this was definitely one of my biggest savings feats of all time. But I'll admit that the quality was not there. 😂 They were pretty lumpy.
To be honest, though, I'd never really thought about investing in good pillows, mostly because they're hidden under pillow cases. However, I was wrong to not place importance on them. So very, very wrong. Sleeping with pillows that cater to your preferences and needs is EVERYTHING, guys.
One of the best parts about The Company Store is that there's a pillow for everyone. Here's what we settled on:
Best Down Pillow: I'm one of those people who sometimes doesn't sleep with a pillow at all. I'm a stomach sleeper, and when I'm not pregnant, I like to doze off completely flat, face down and with my arms up, Superman-style. It's ridiculous-looking, haha, but I love it. That said, it often results in a stiff neck. But lo! The Company Store's "Best Down Pillow" is completely customizable, so I obviously went for the softest pillow made for stomach sleepers, and then also the pillow made for side sleepers, as that's how I sleep when pregnant. Who knew such customizable pillows existed?! And let me tell you: it's heavenly. No more stiff neck. (Btw: it also comes in several versions for back and side sleepers.)
Firmest Pillow: Mitch is the total opposite and requires multiple pillows with lots of support. This was an obvious choice for him since he's a side-sleeper! (I should also note, Ladies, that these pillows have really helped with snoring. Food for thought if this is an issue in your bedroom, too!)
Mite-Proof Toddler Pillow and Pillow Protector: When I saw that The Company Store carried toddler pillows, I was thrilled. Before, Emma was sleeping on an adult pillow, and it was simply way too big for her crib. But this hypoallergenic pillow is the perfect size! It's also mite-proof and sewn from a tightly woven cotton that's so fine that even the smallest allergens can't permeate it. Helps everyone rest easy. :)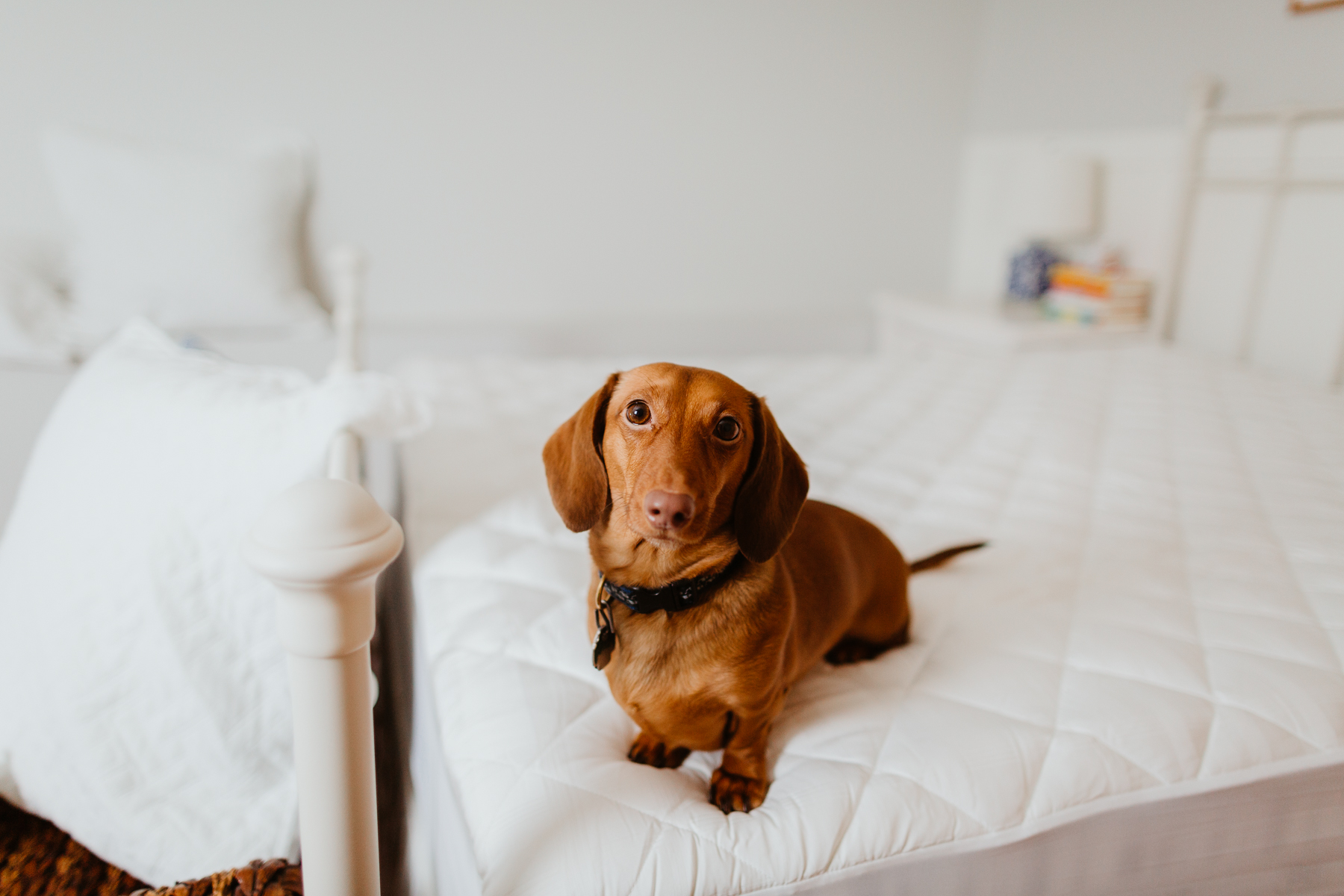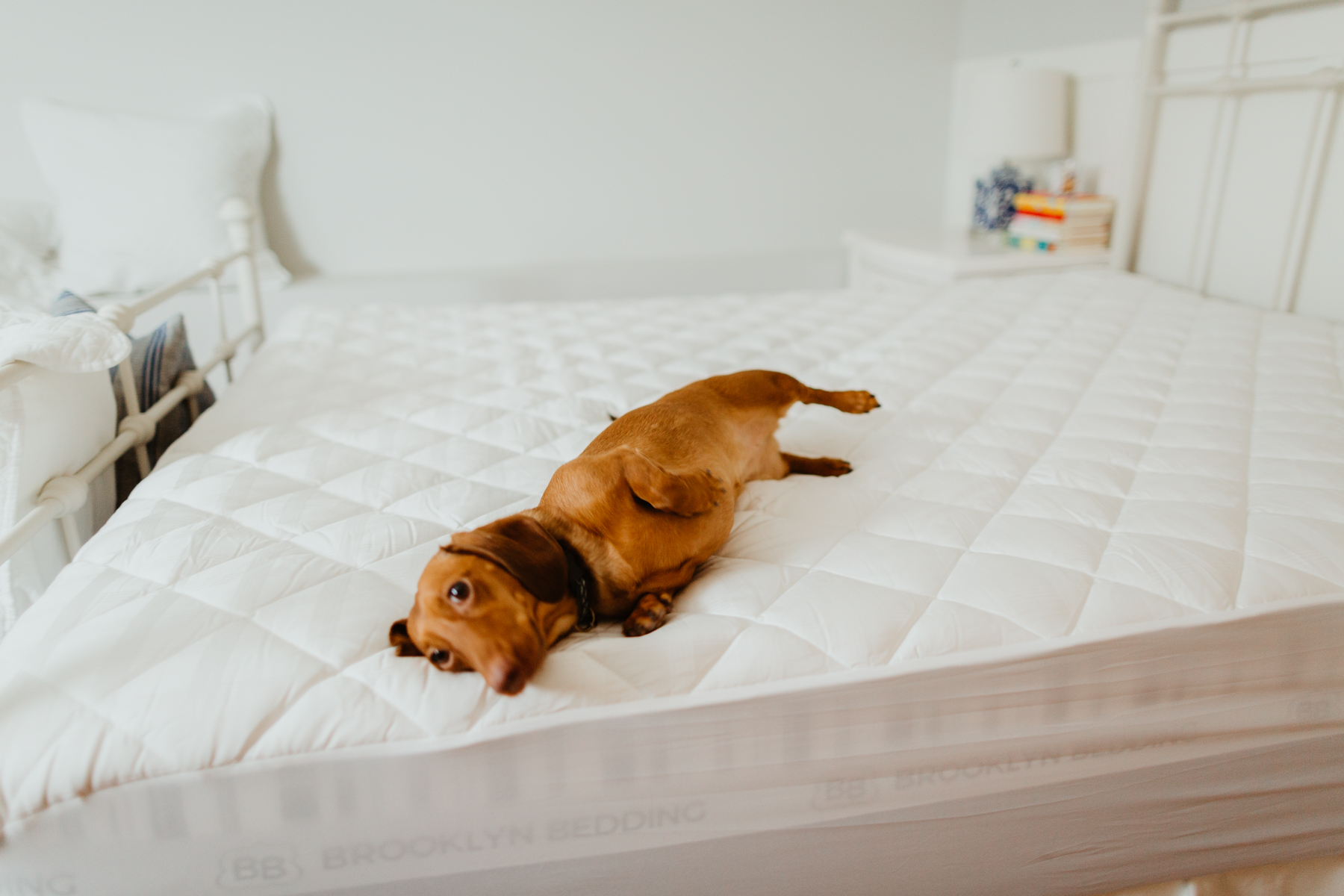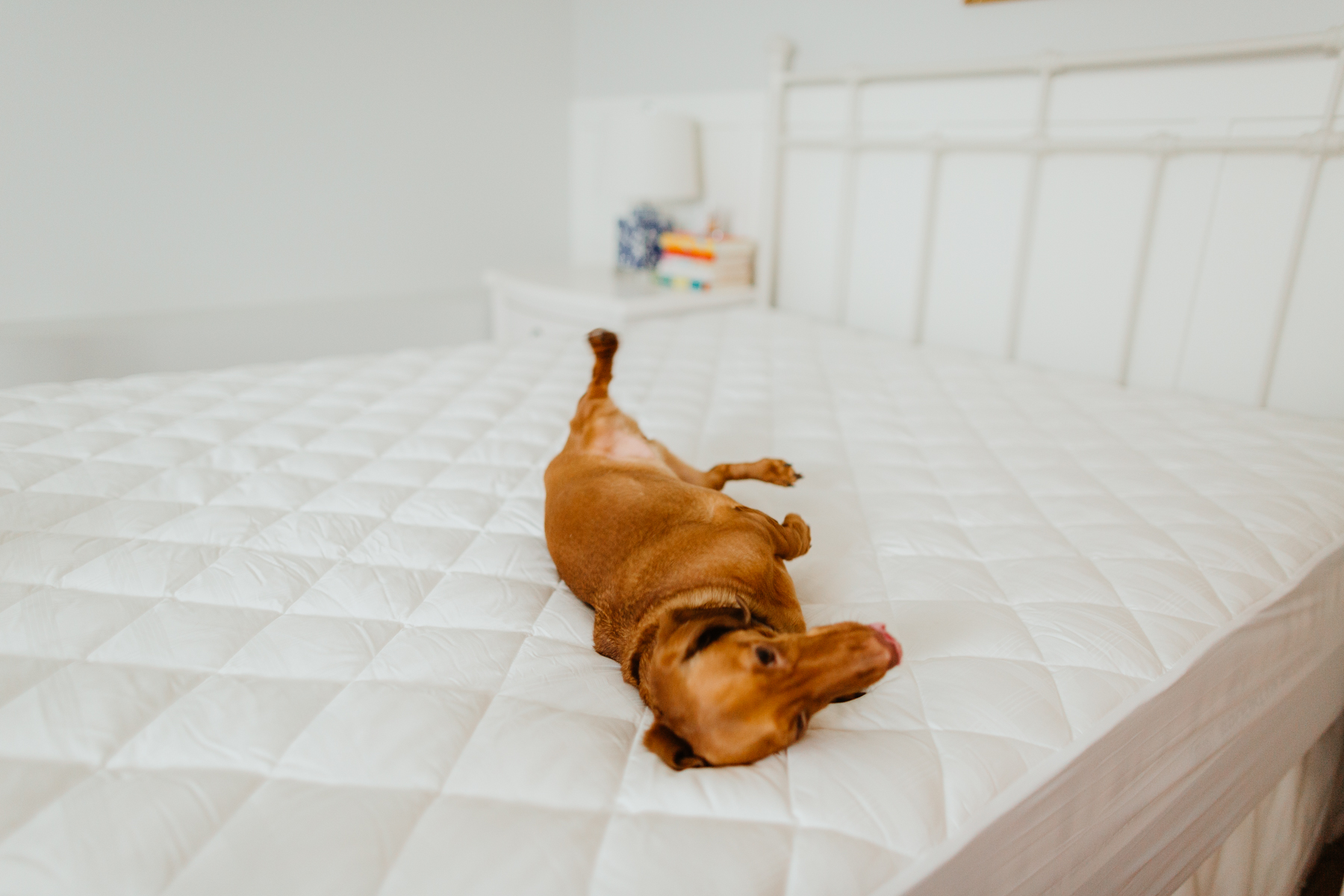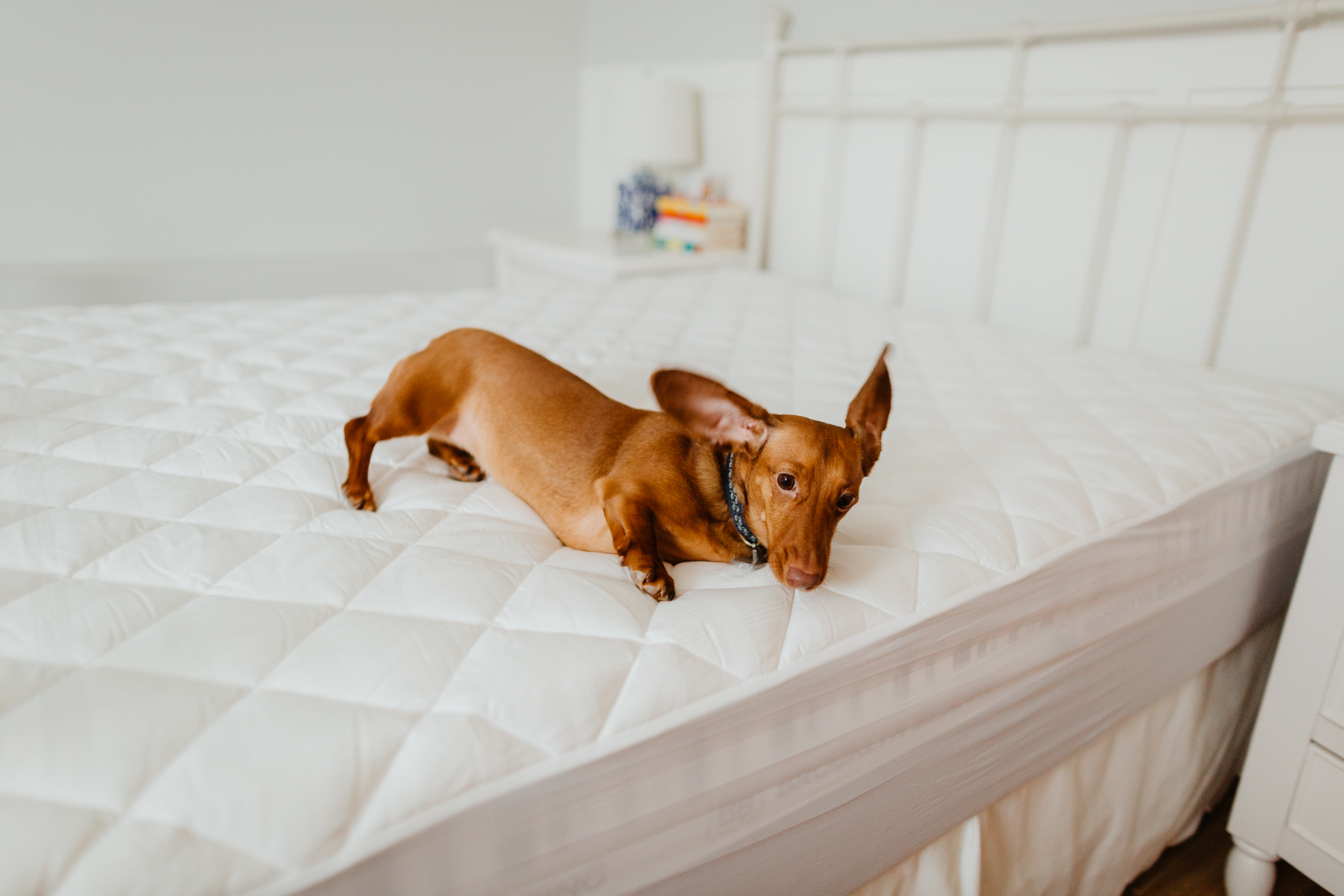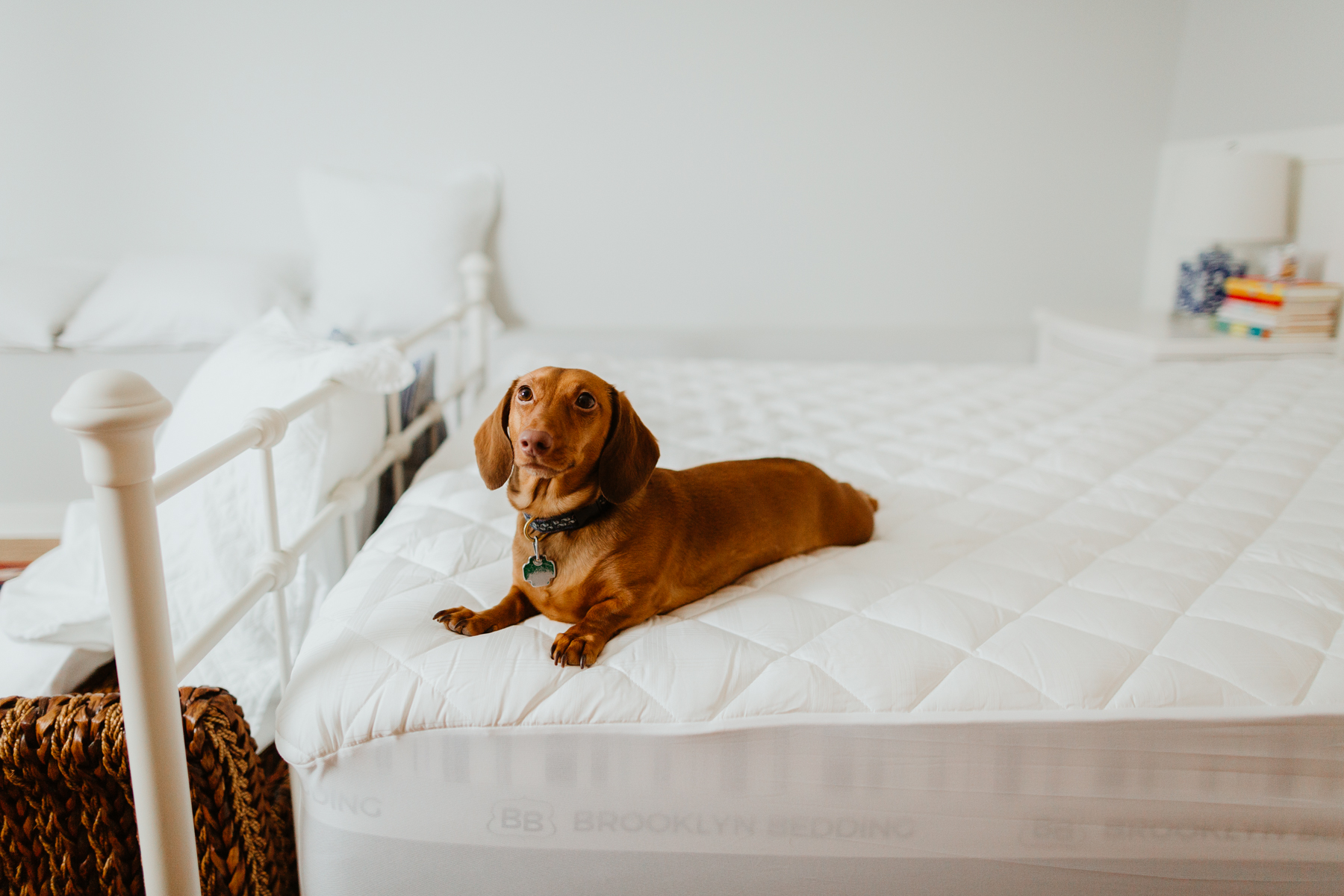 Up until now, we didn't have a mattress pad. I KNOW. So bad. But again, it was that whole "hidden" thing. It was in the back of my mind, but always an afterthought. I will say, however, that not having one has been somewhat stressful with a toddler and a miniature dachshund. We'll all climb into bed on the weekends together to cuddle and read books, for example, and Emma spills her water bottle nearly every time… and while it hasn't happened in a few years, I'm always nervous that Noodle's going to have an "accident." (Quotation marks because she definitely does it on purpose to avoid going outside. Ahhhh, dachshunds.)
We finally have one, though! We went with the 400-Thread Count Waterproof Cotton Top Mattress Pad, and we love it. It has a little bit of padding but not too much, and it's topped with waterproof protective fabric that doesn't crinkle or make any sounds whatsoever. I think this was my biggest reservation about getting a waterproof mattress pad; I assumed that it would sound like one of those floral grandma couches from the 1950s covered with plastic. But not even close. I don't notice it's there! It's certainly a winner. :)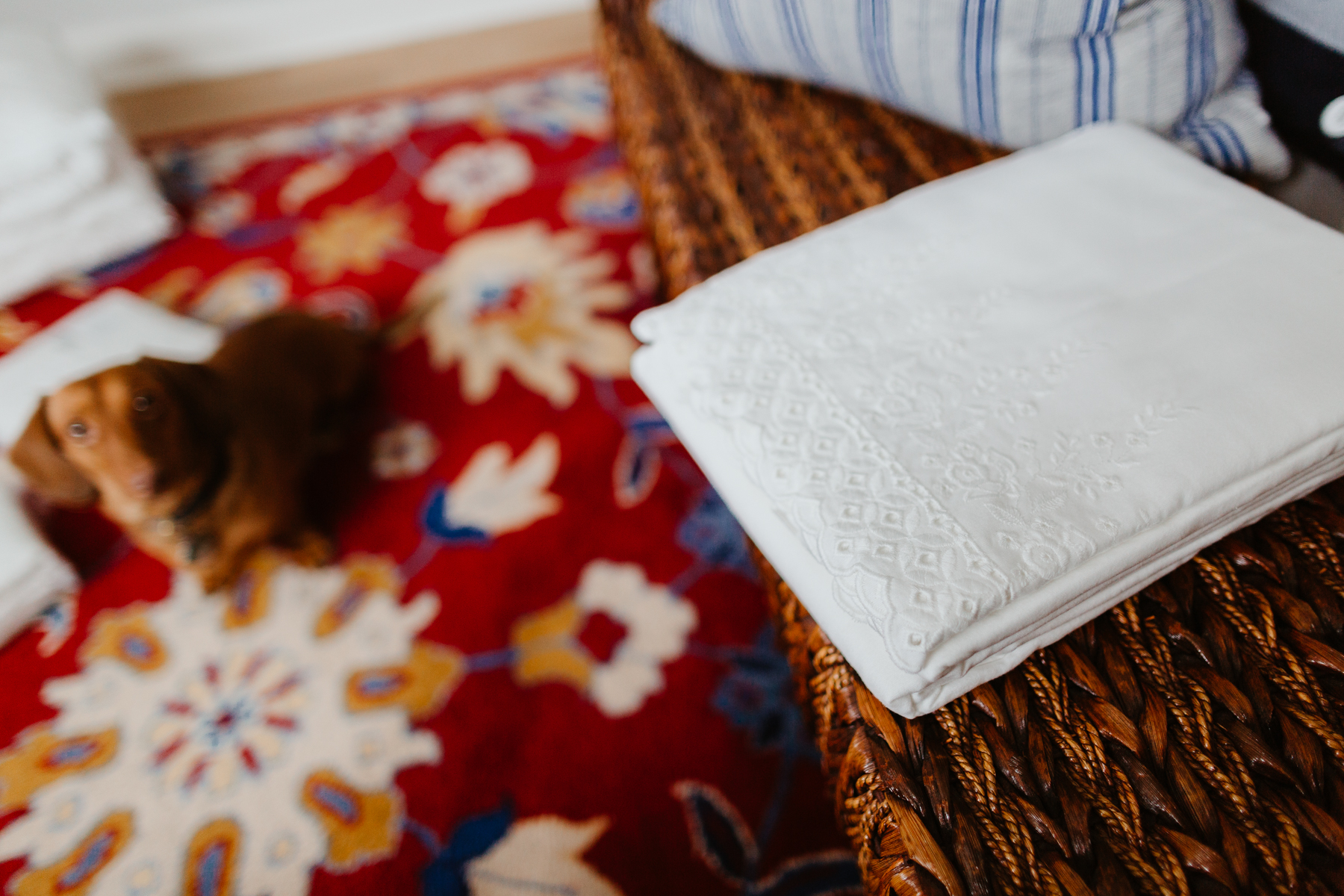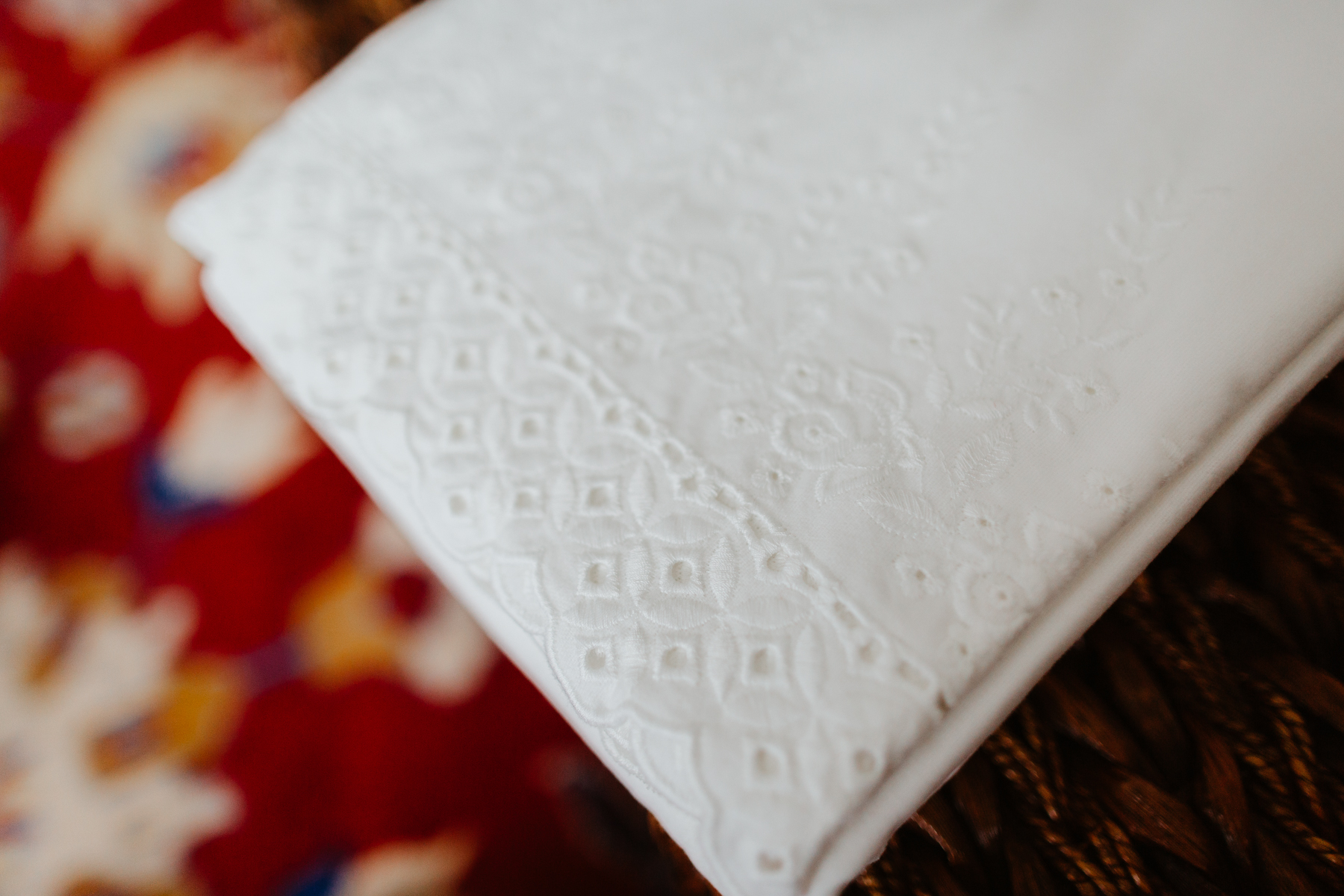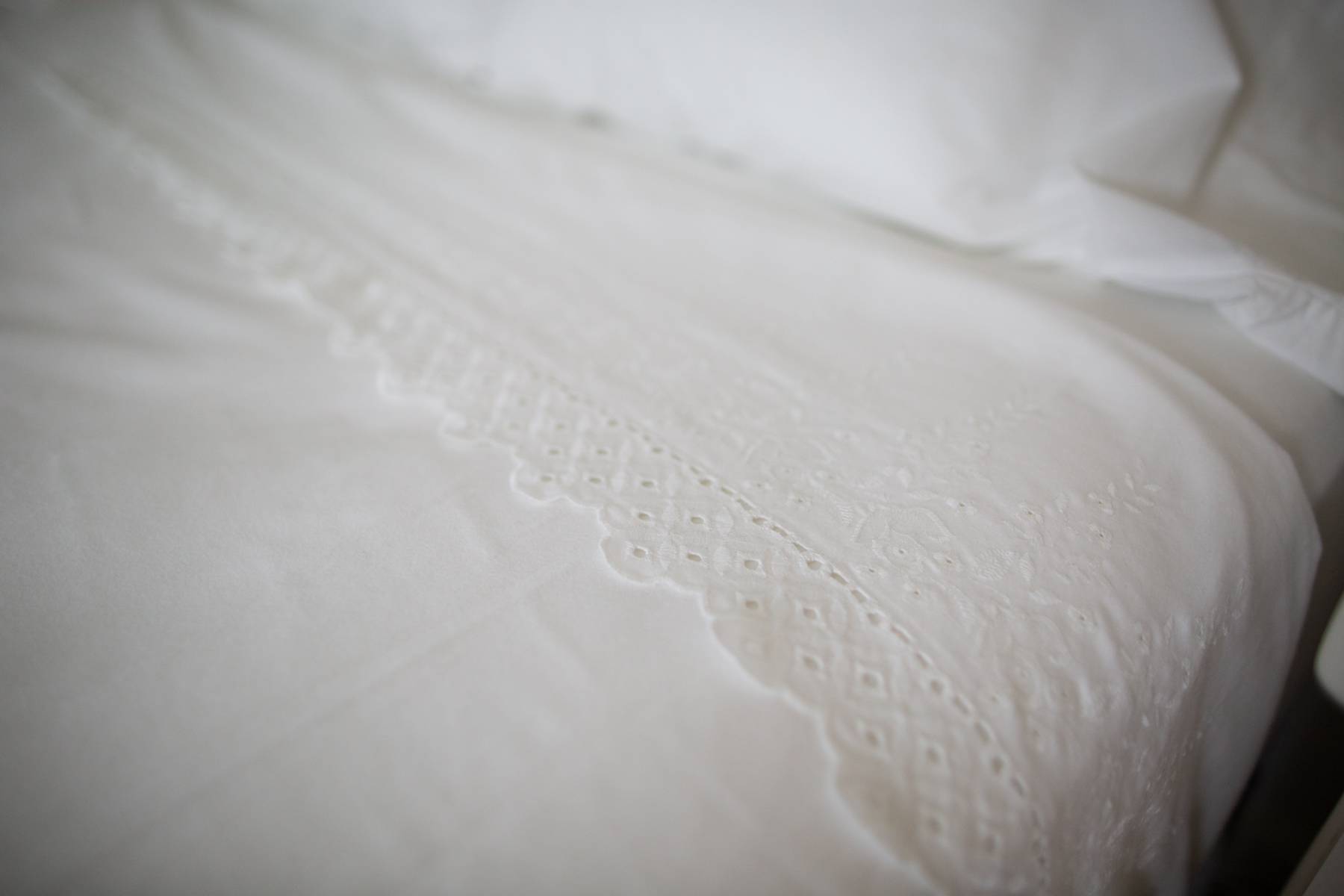 As most of the country knows, Chicago's been having a rough winter. And by "rough," I mean that the city has turned into a real-life Arendelle from "Frozen." (Emma's loving the concept, but the reality? Not so much. 🙈) Sadly, our little home was built in the 1880s and struggles with heat retention… and since our master is on the garden level, things have been rather chilly on those -10 degree days.
Enter these gorgeous flannel lace sheets. They're FABULOUS, and if you live in a colder climate, I can't recommend them more. I'm pretty much freezing year-round, yet these amazingly cozy sheets keep me toasty, even on the coldest Chicago nights. Heck, I don't even wear socks to bed anymore! 😂
I love the lace detailing on them–something I've never seen before with flannel–and the fact that they're brushed, and therefore unbelievably soft. Another added bonus is that they're resistant to pilling, which means you can wash without fear of wrecking them!
Oh, and I should mention that we also opted for these white basket-weaved Euro shams, which go with everything and help provide some height and depth to the pillow arrangement. If you don't already have Euro pillows, I highly recommend them, as they provide a "finished" look to the bed!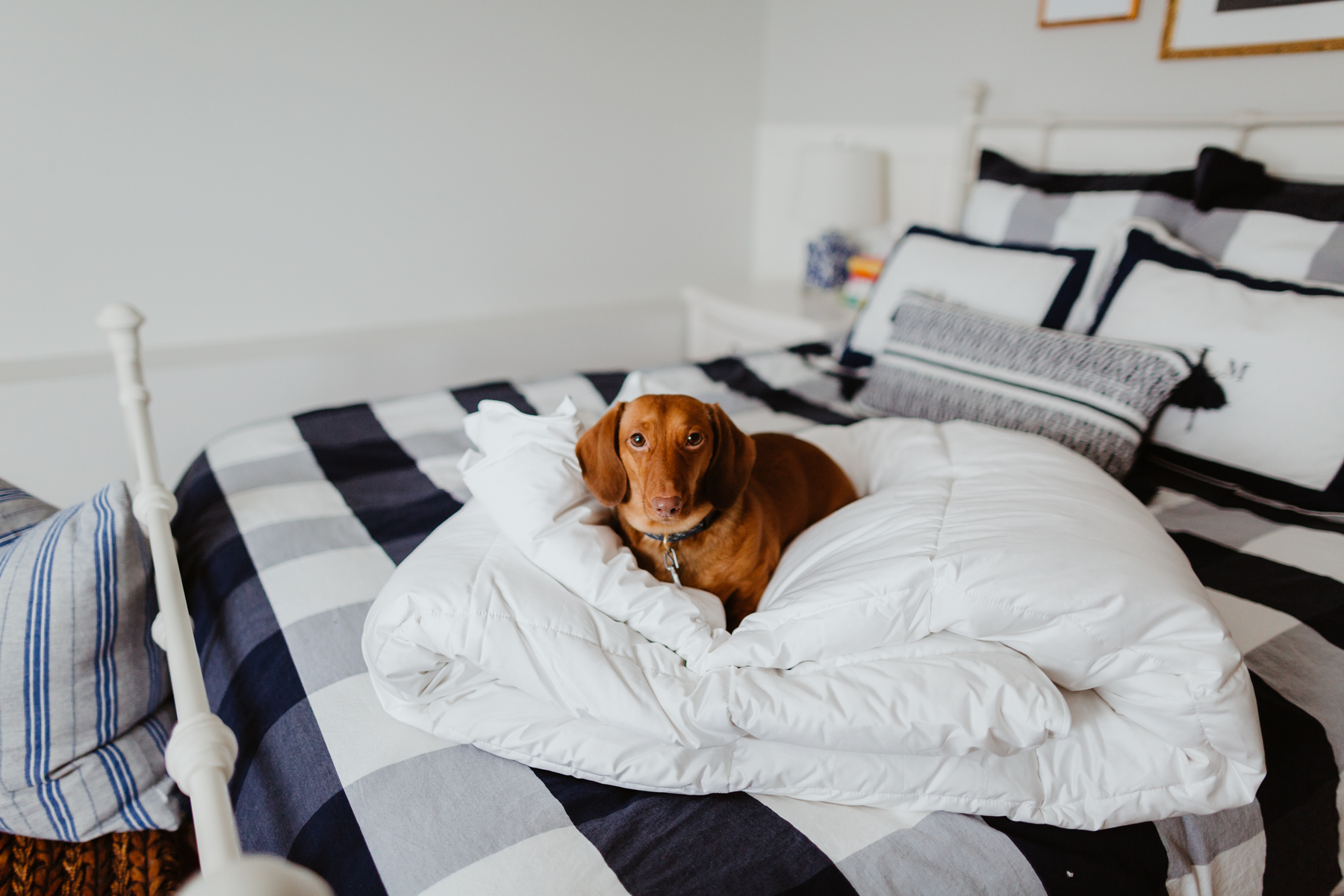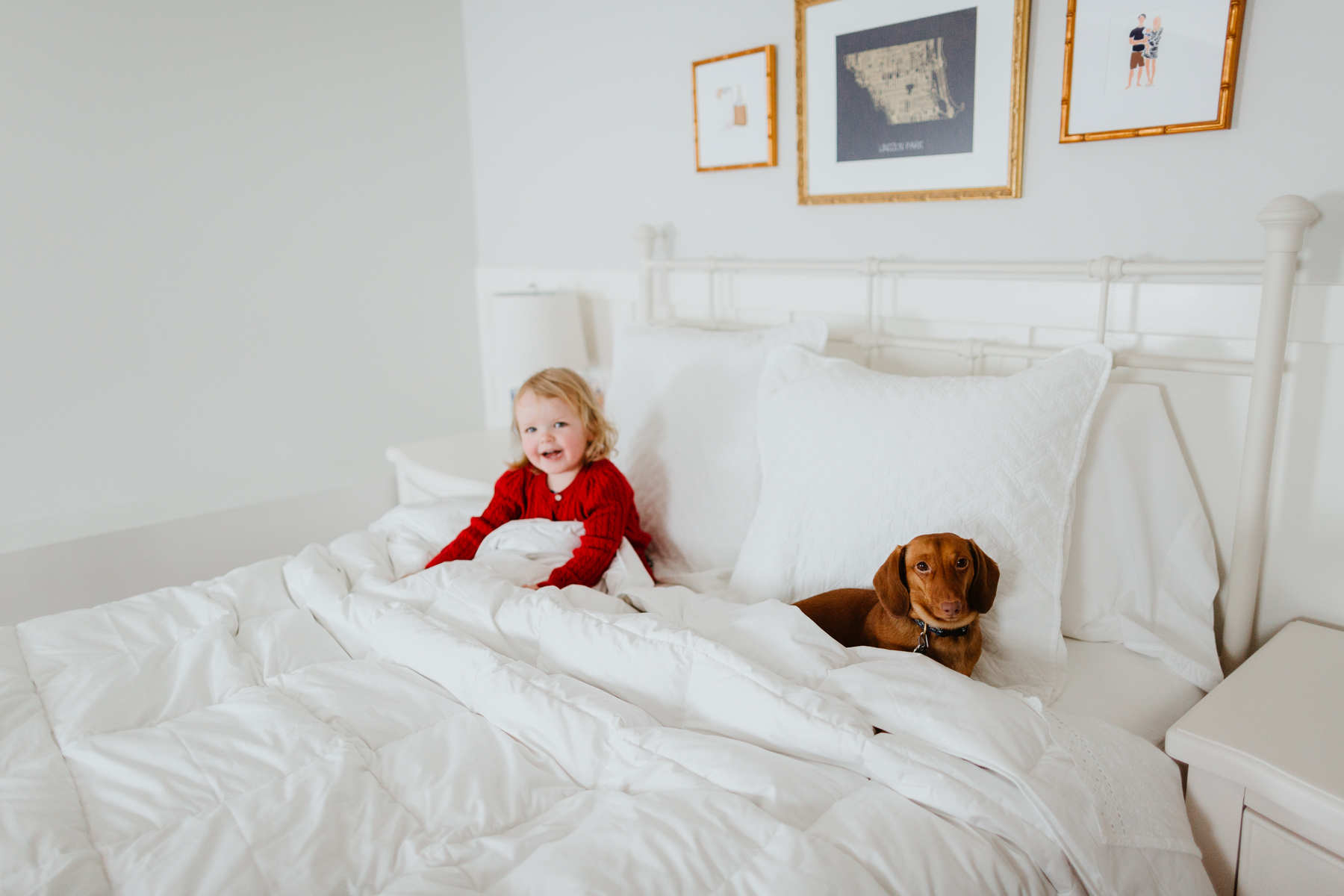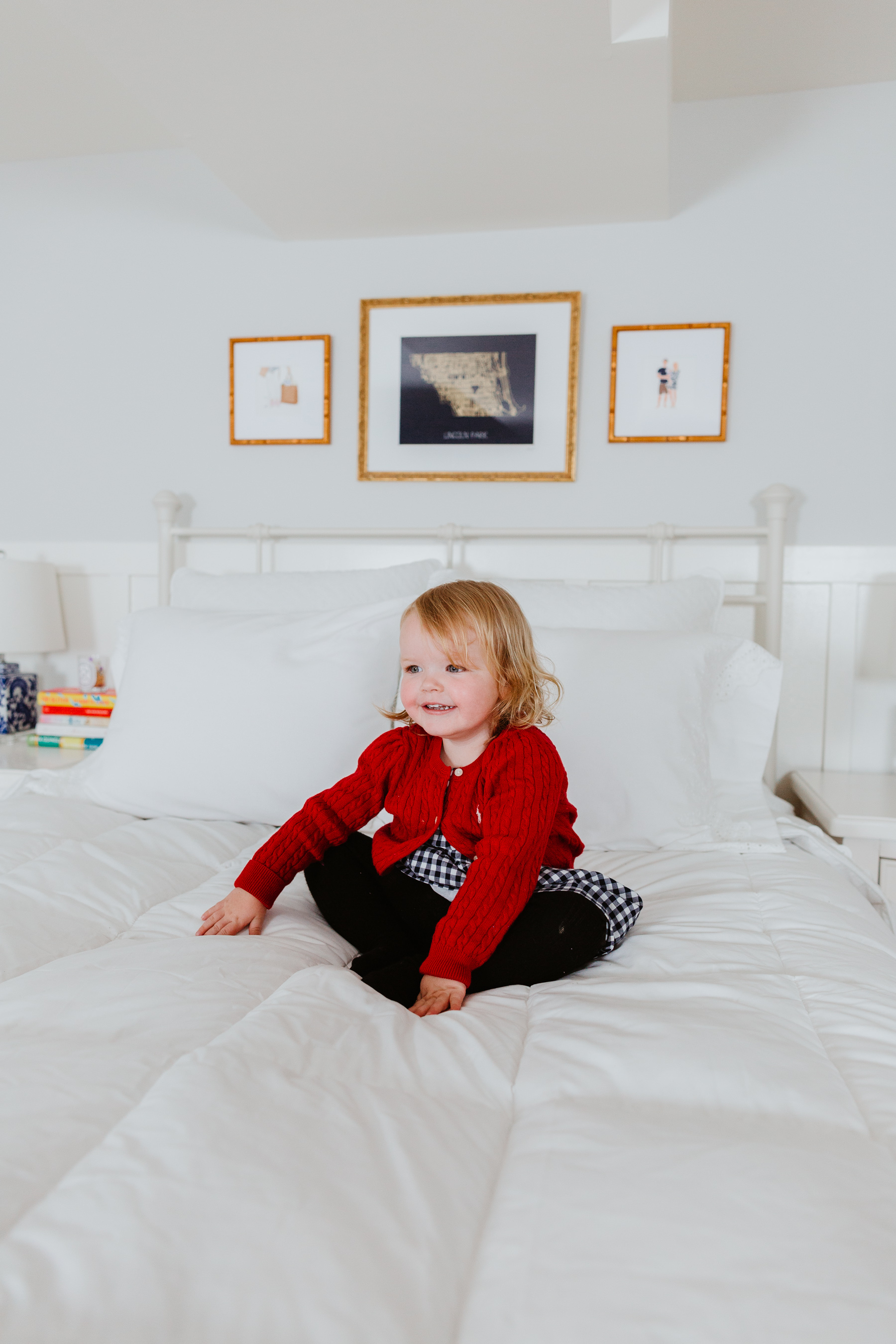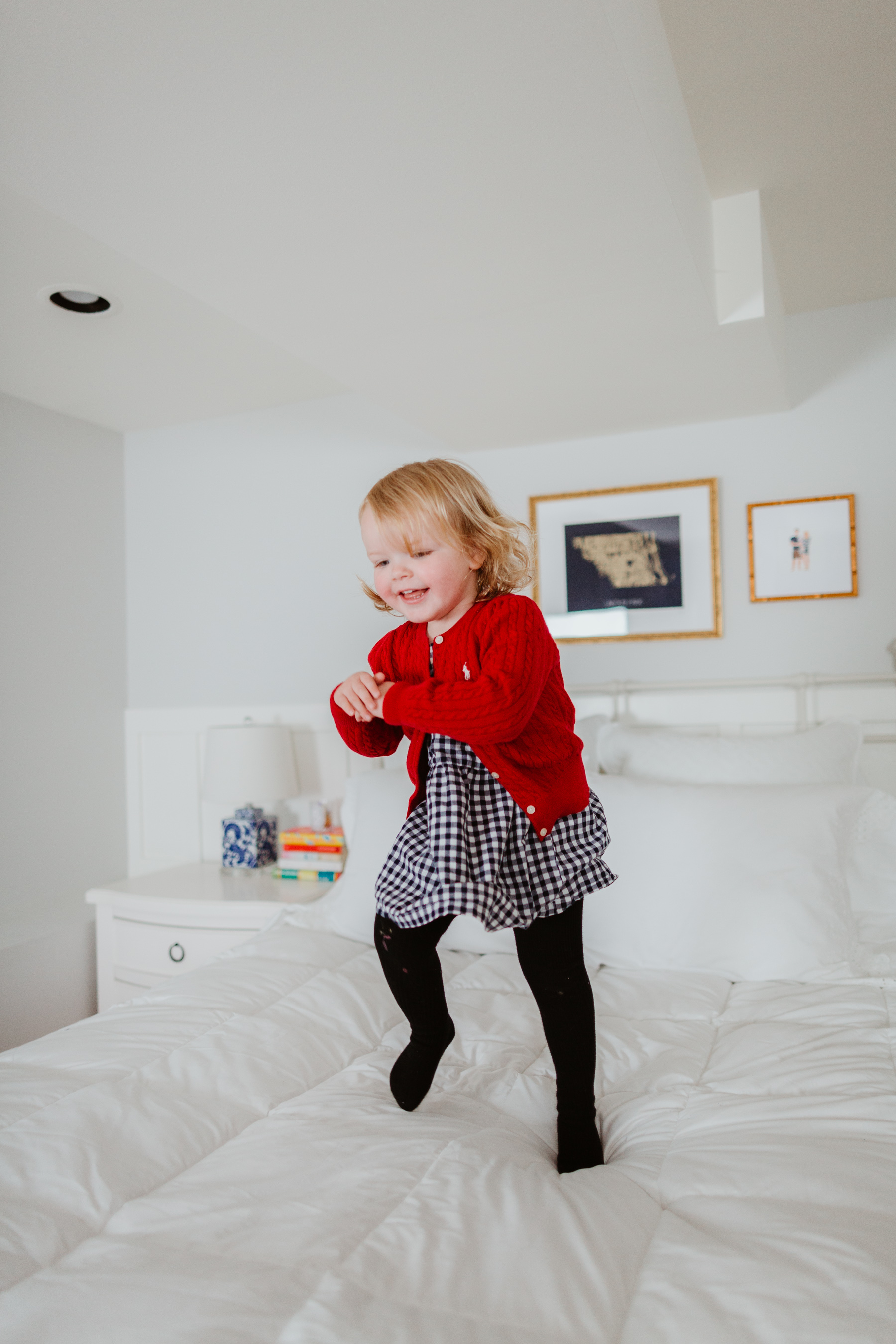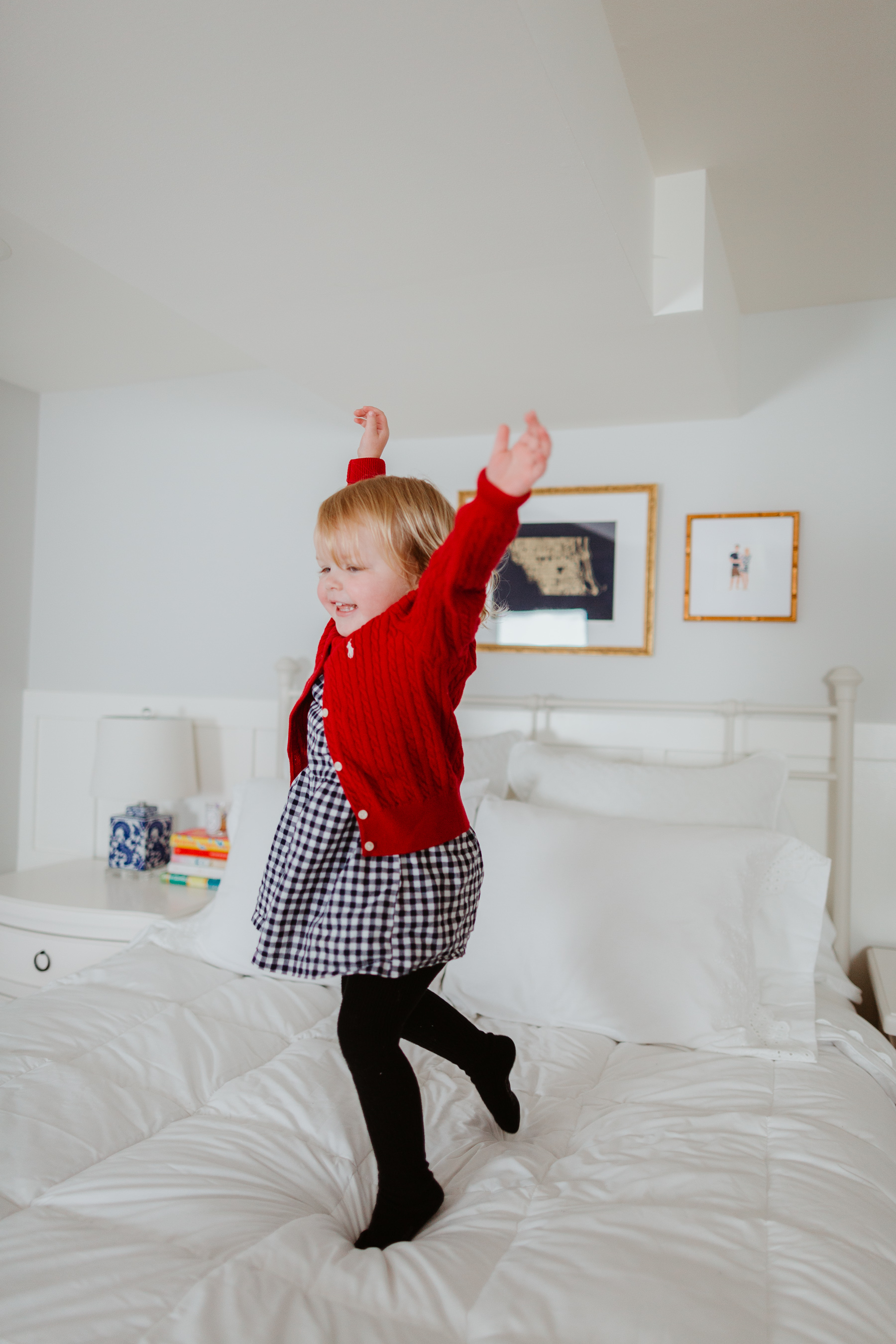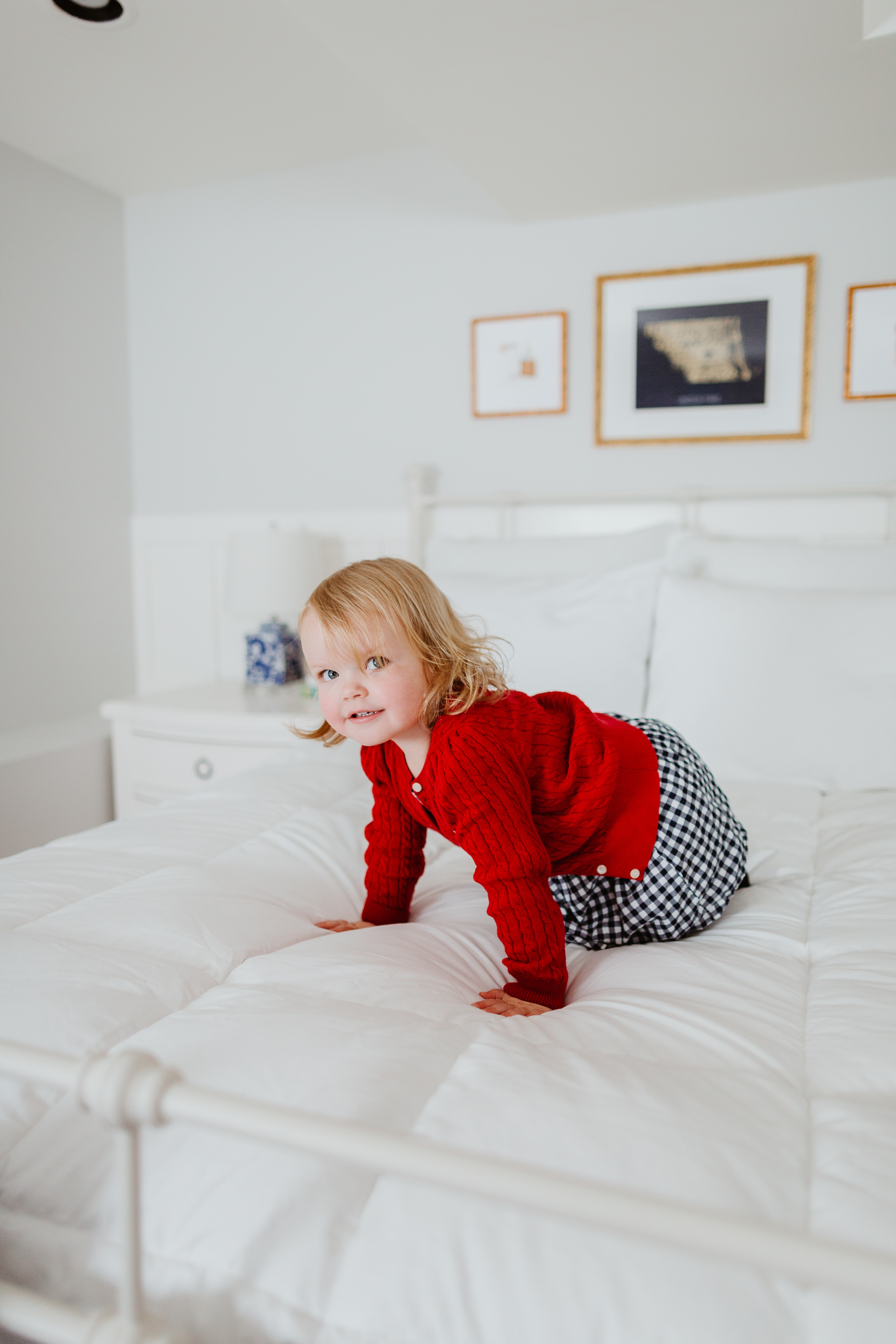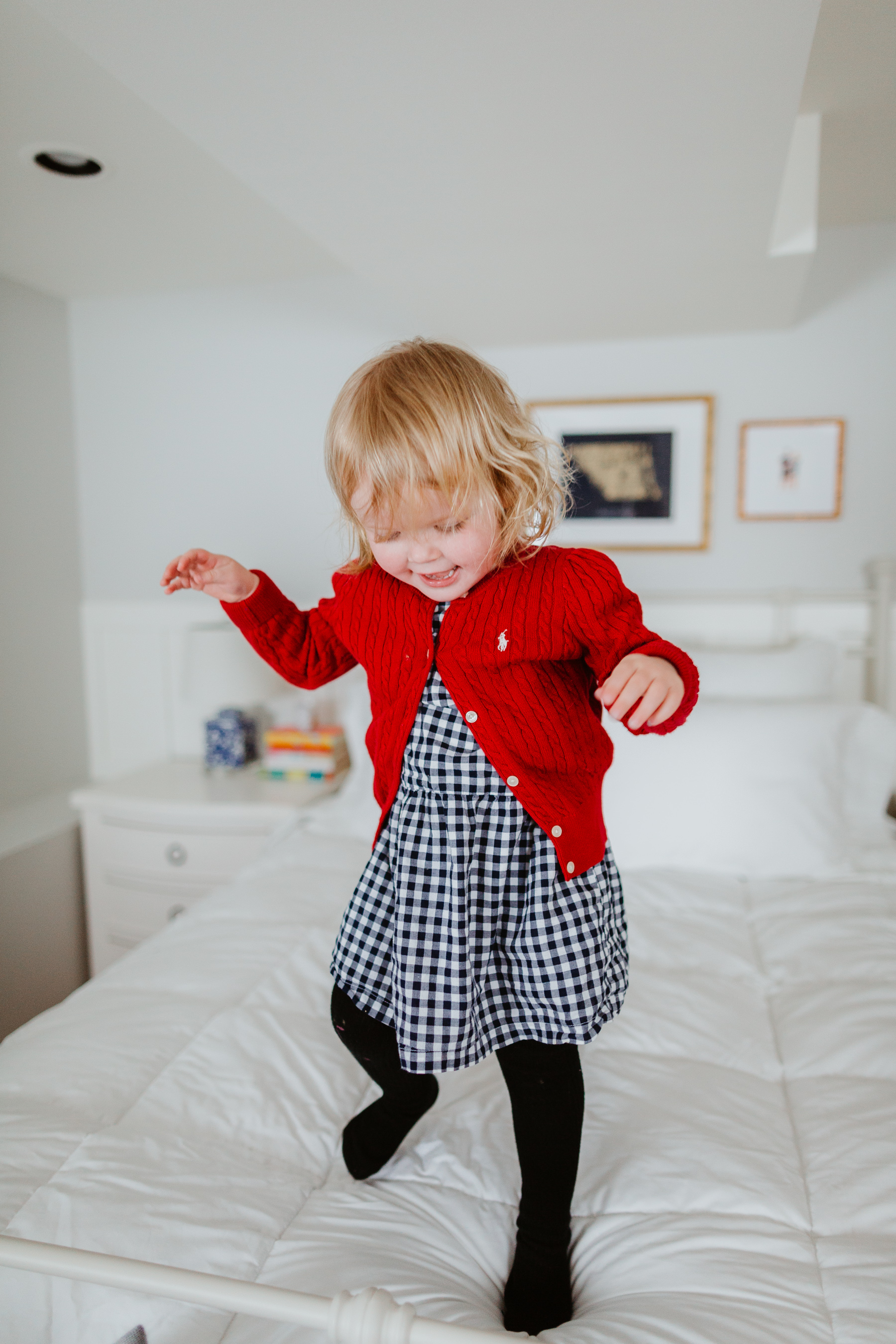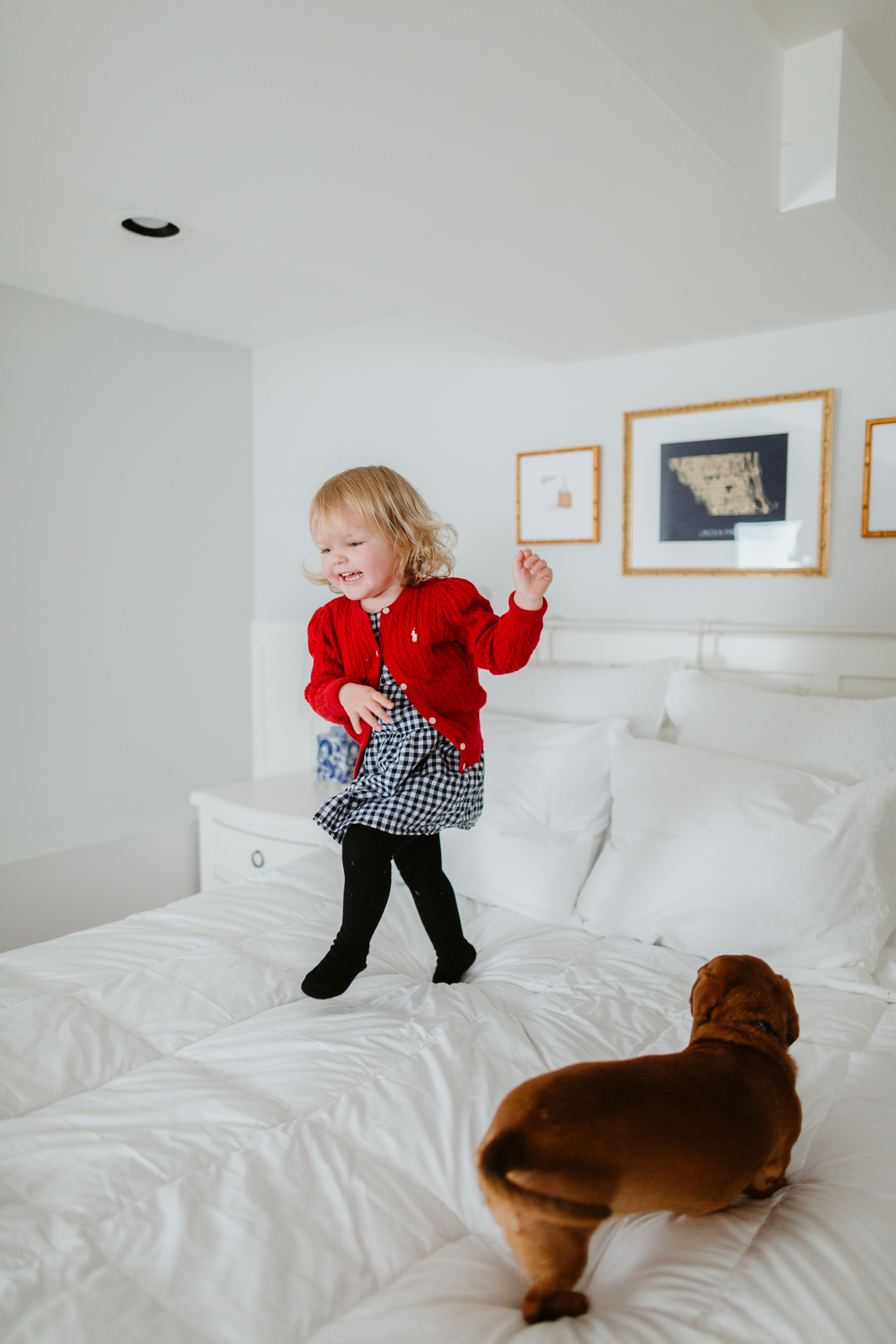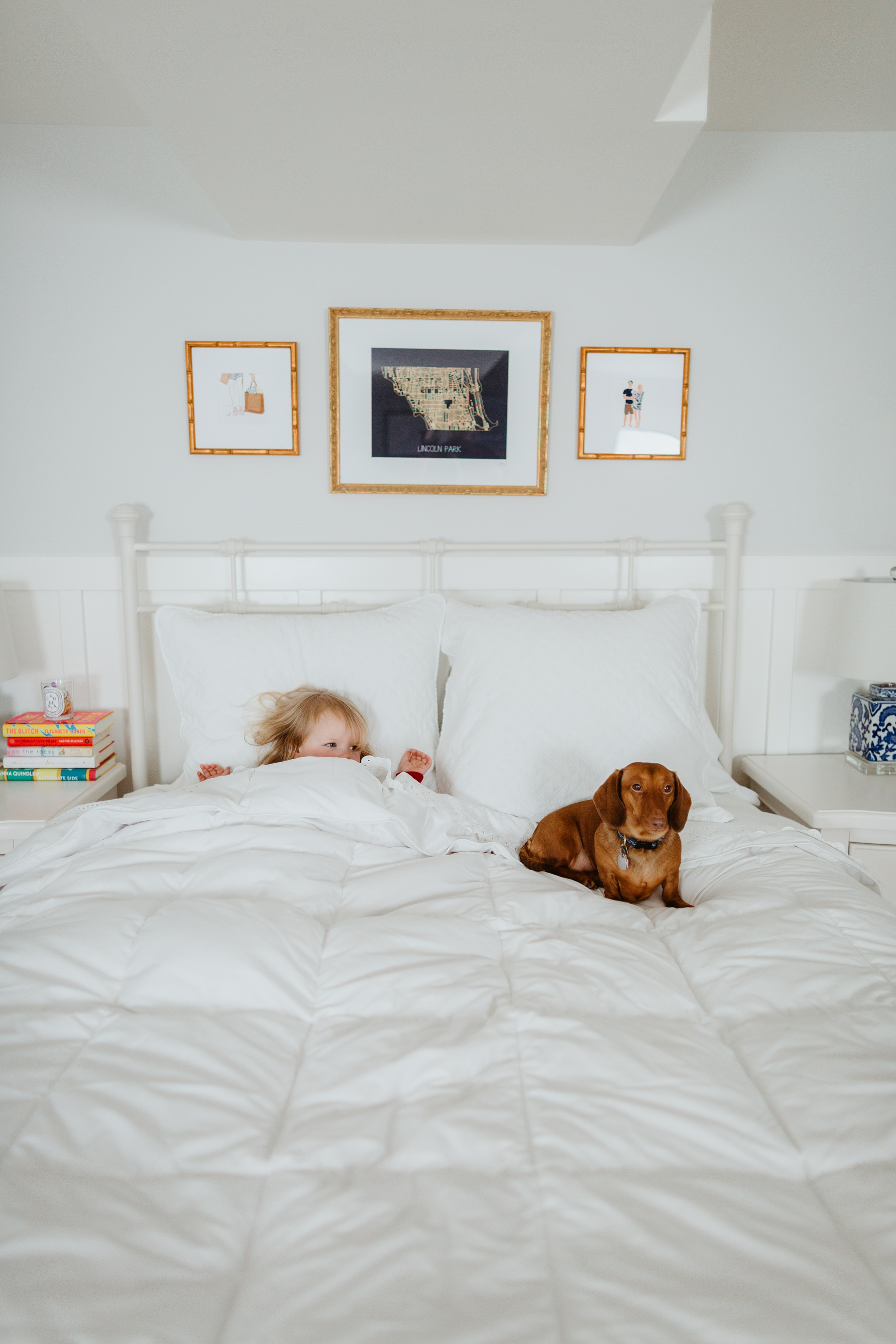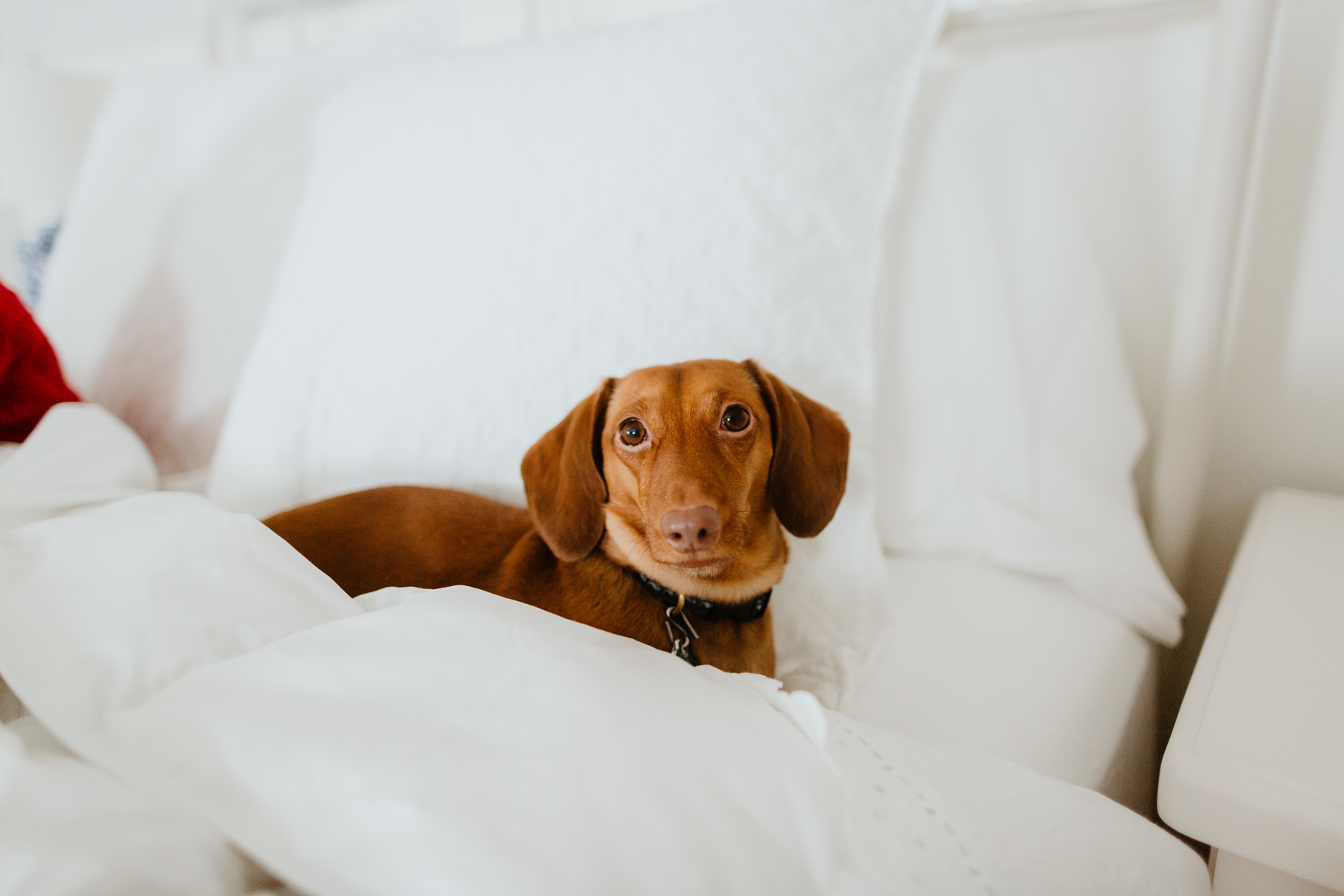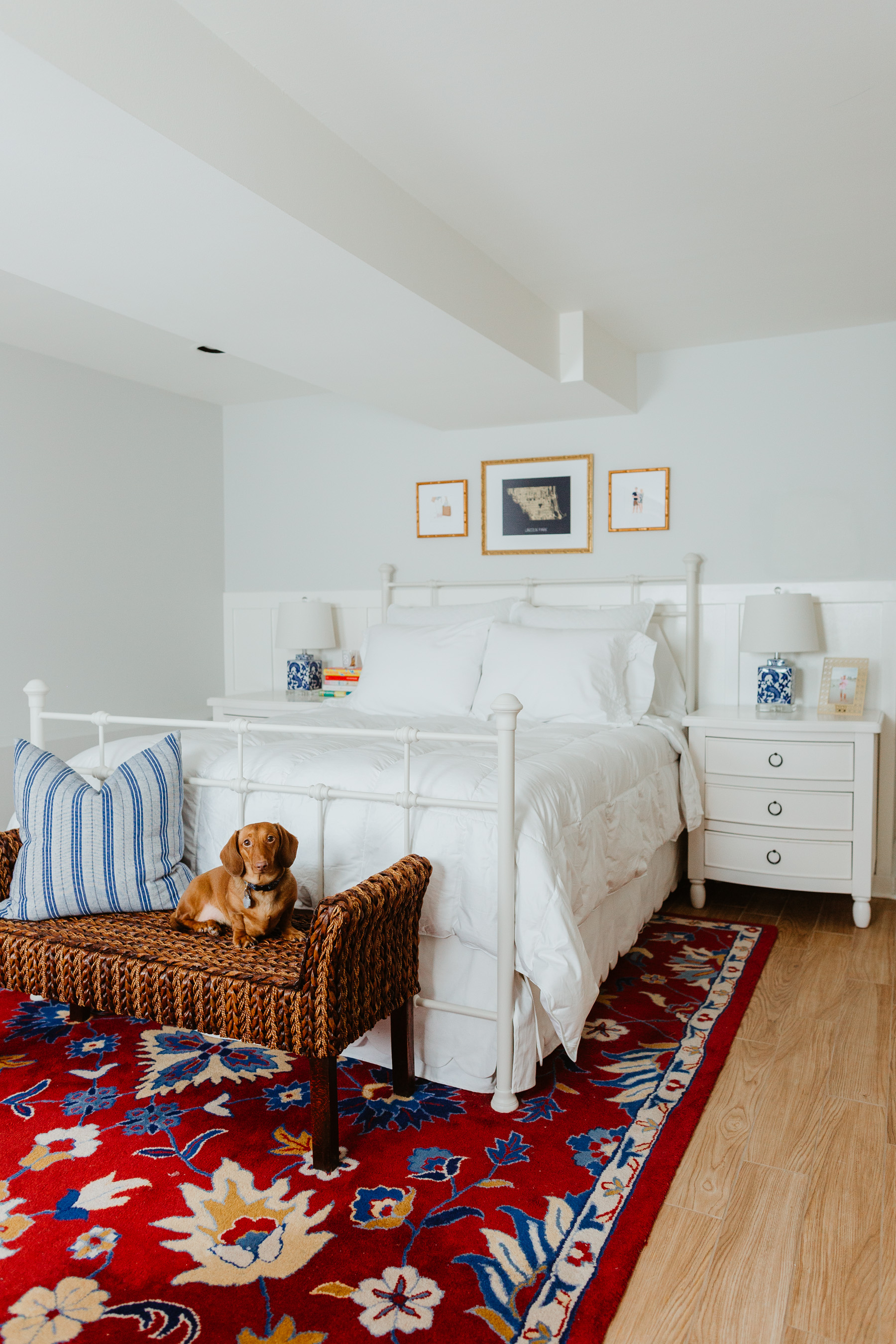 Don't worry. Mitch was just out of frame, spotting Emma while she danced on the bed!
Take a look at this machine-washable, hypoallergenic White Bay Down Comforter, with 600–650 fill power premium European white down, because you need it in your life. While it comes in a standard size, it also comes in "oversized," and it's magical. First, it's great if you ever plan on putting a duvet cover because it completely fills out the cover. (Anyone else get super annoyed that comforters rarely do this, leaving bedding looking sloppy?!) Second, it's a marriage-saver for those of us who tend to (UNKNOWINGLY) steal covers in the middle of the night. ;)
It also comes in a variety of warmth levels: "Super Light," "Light," "Medium," and "Extra." Any guesses as to which I went for? 😜 All jokes aside, it's the perfect size and I no longer wake up shivering. And because of its 300-thread count combed cotton sateen shell, it's crazy soft. Two thumbs up!
Stay tuned for the master bedroom "final reveal." Can't wait!
This post was sponsored by The Company Store, but all opinions are my own. As always, thank you so much for supporting the partnerships that keep Kelly in the City up and running!