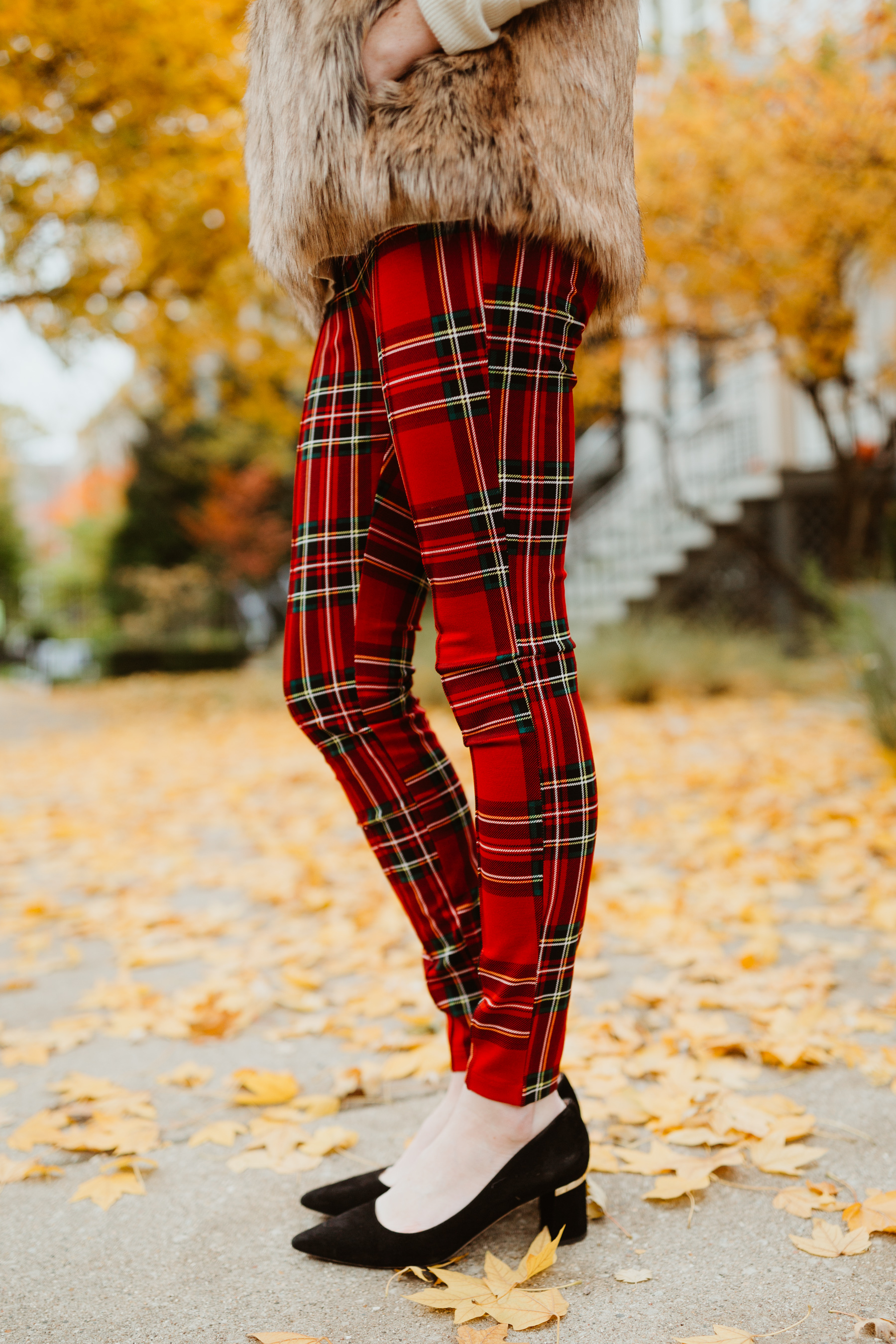 Old Navy Stevie Ponte Pants (The tartan version keeps selling out, but I'm a huge fan of the gray plaid, the suede which comes in several colors, the solid which comes in several colors as well, the black polka dots, and the black shimmer Stevie pants.) / Fur Vest (Runs large. I went down a size and it's still roomy.) / Cashmere Sweater (Sold out in white, but the v-neck version is still available. Have you seen my giant cozy sweater roundup?!) / Kate Spade Pumps (Mine are last year's version. Shopbop and Bloomingdales also carry a pair that look very similar!) / $48 Faux Leather Tote (A favorite.)
*This post is dedicated to my childhood best friend, Katie. ;) So excited for you and love you so much!
I know I just published an iPhone photo of the Old Navy Stevie Ponte Pants in Friday's Recent Finds, but they really deserve their own post. They're amazingly flattering, super comfortable and unbelievably affordable. (Usually between $29.99 and $39.99 full price, but Old Navy almost always has a sale going on.) I can't believe that I only discovered them this year, and that I've lived without them up until now. (Also, the brown suede version?! Whaaaaat?!)
But let's go a little more in depth about them. I'd say that they're halfway between pants and leggings. Pants because they're much thicker than leggings are, and because they feature a really nice seam down the middle that gives them a more formal look. (You can't really tell with the plaid since the pattern is a little loud… but on all the other pairs, the seam is more noticeable and kind of looks like a crisp pleat you'd see on dress pants.)
On the other hand, they have some great legging qualities, too. The waist band is stretchy, and doesn't feature the horrible hook-and-eye closure that I hate so much. (Anyone else find those terribly uncomfortable?! I own zero pairs because I dislike them so much, haha!) It's also a wider waist band, which slims you down and makes you feel fabulous. I also love how stretchy the Stevies are in general, and the fact that they don't sag throughout the day. I literally slept in them the other night because I forgot that they weren't PJs, and when I woke up, they looked just as amazing as they had the day before.
The best part, though, is that you can choose whether to make the Stevies look like leggings or pants. Order your normal size for the legging look; order one size up for the pants look. I'm very confused as to how Old Navy was able to pull this off, as this normally results in ill-fitting and sloppy-looking pants… or pants that fall off the waist. But somehow, they did it, and it's magic.
(Because I wanted to wear them with longer sweaters, I'm wearing my normal size in the tartan Stevies, which is why they look like leggings. But I also really liked the larger size looked! Again, more like pants.)
Shop my Old Navy Stevie Ponte Pants:

Unfortunately, it looks like the tartan version sold out again. (Crossing my fingers they come back again! Apparently we missed out on the black watch plaid + buffalo plaid last year, too. Devastation!) But I'm also a huge fan of the gray plaid, the suede ( !!! several colors), the solid (several colors as well), the black polka dots, and the black shimmer Stevie pants. <– Hello holiday/New Year's pants that feel like pajamas but look fancy!
Anyway, best pants ever… and I couldn't recommend them more. Hoping that Old Navy continues to release awesome new patterns, and that I'm able to find some tartan Stevies on eBay or Poshmark. ;)
Let me know if you have any questions!
xx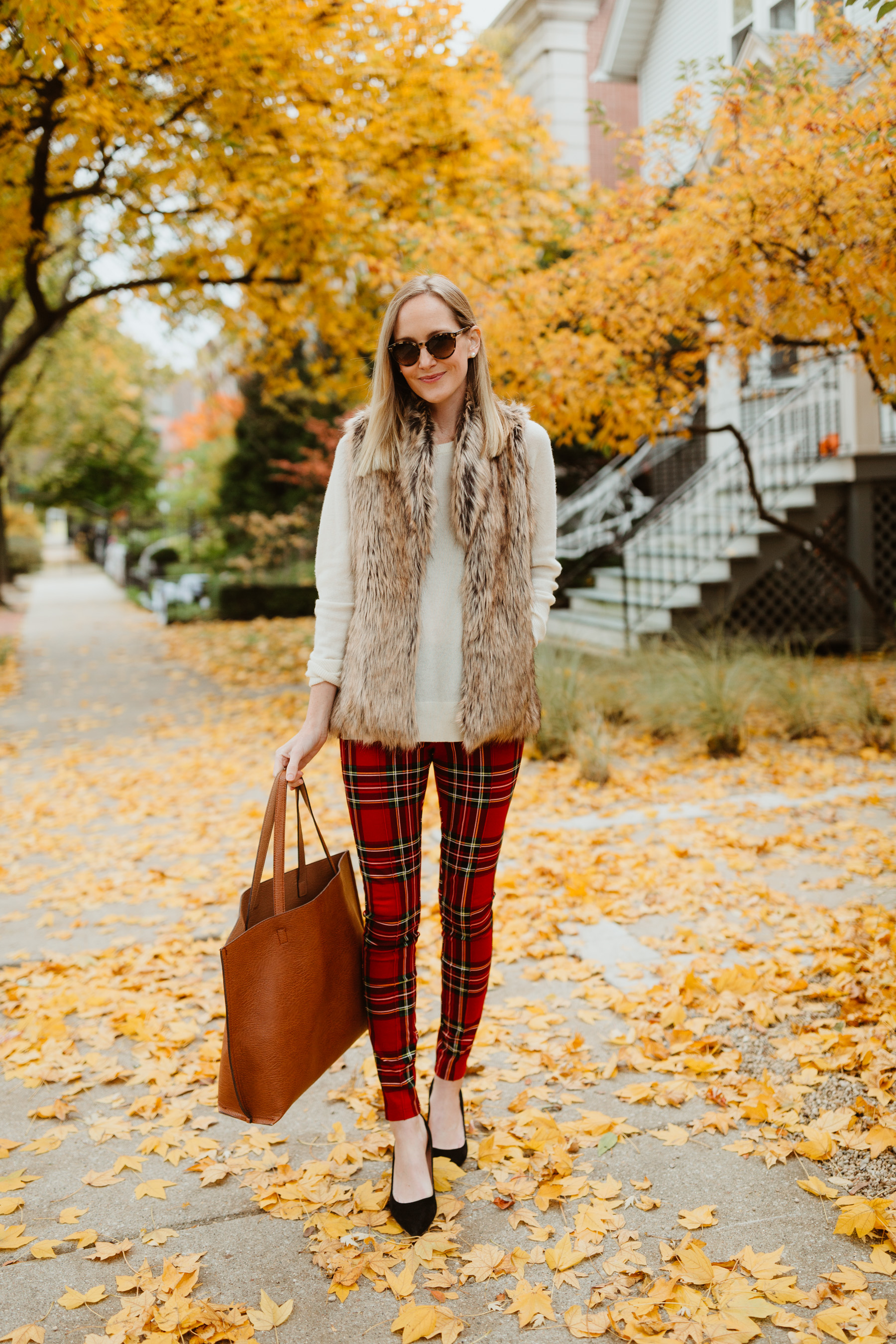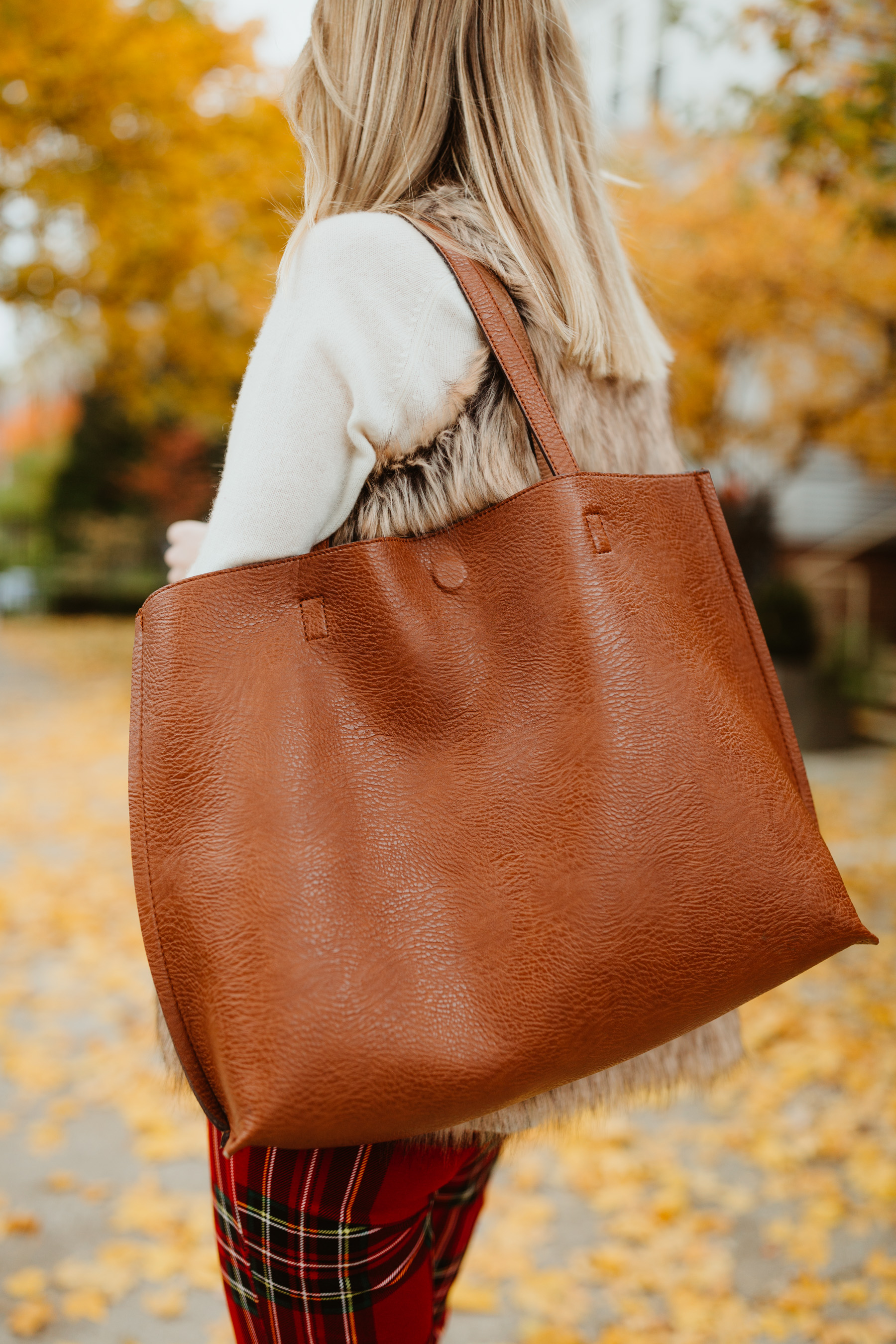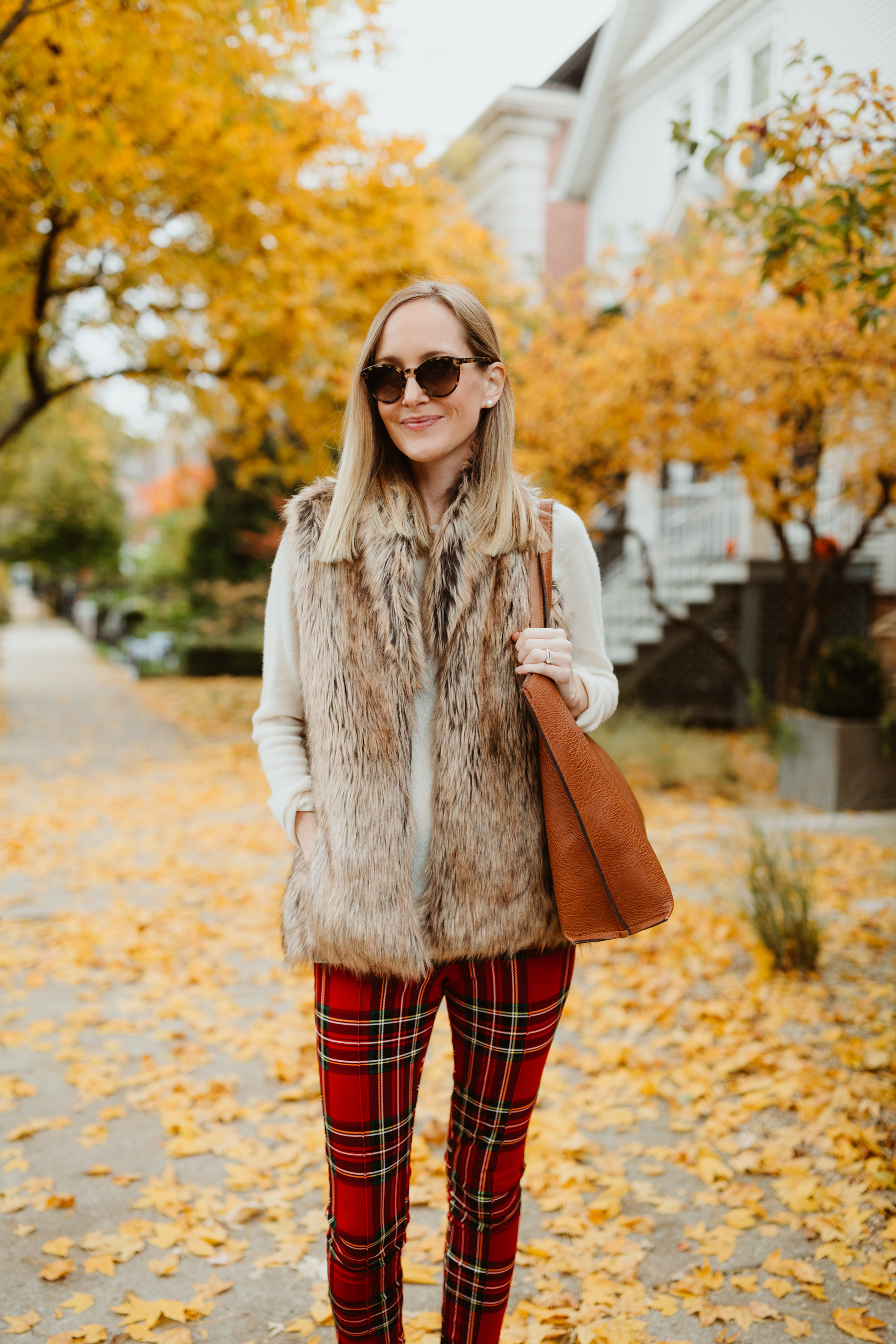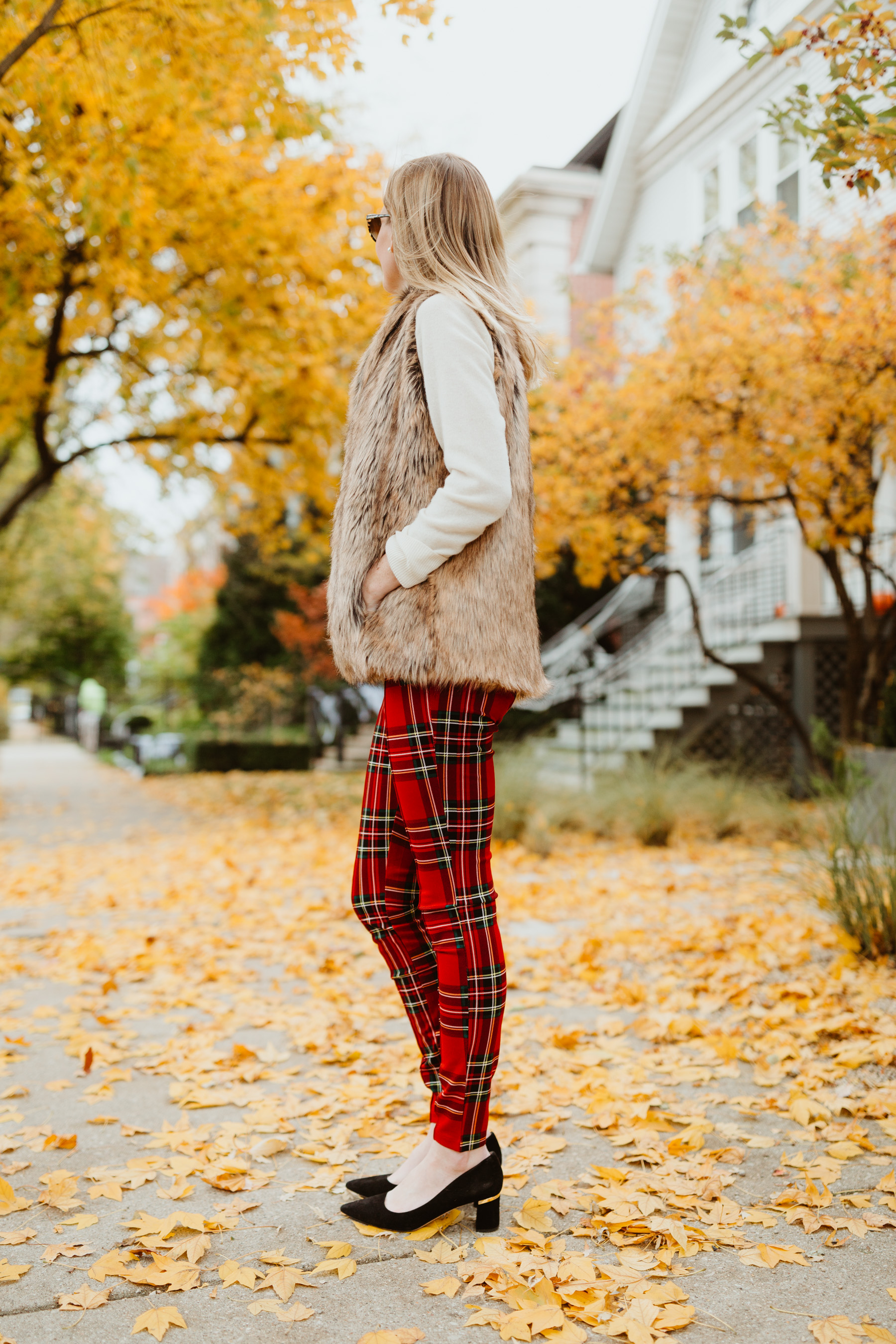 Shop the post:
Old Navy Stevie Ponte Pants (The tartan version keeps selling out, but I'm a huge fan of the gray plaid, the suede which comes in several colors, the solid which comes in several colors as well, the black polka dots, and the black shimmer Stevie pants.) / Fur Vest (Runs large. I went down a size and it's still roomy.) / Cashmere Sweater (Sold out in white, but the v-neck version is still available. Have you seen my giant cozy sweater roundup?!) / Kate Spade Pumps (Mine are last year's version. Shopbop and Bloomingdales also carry a pair that look very similar!) / $48 Faux Leather Tote (A favorite.)