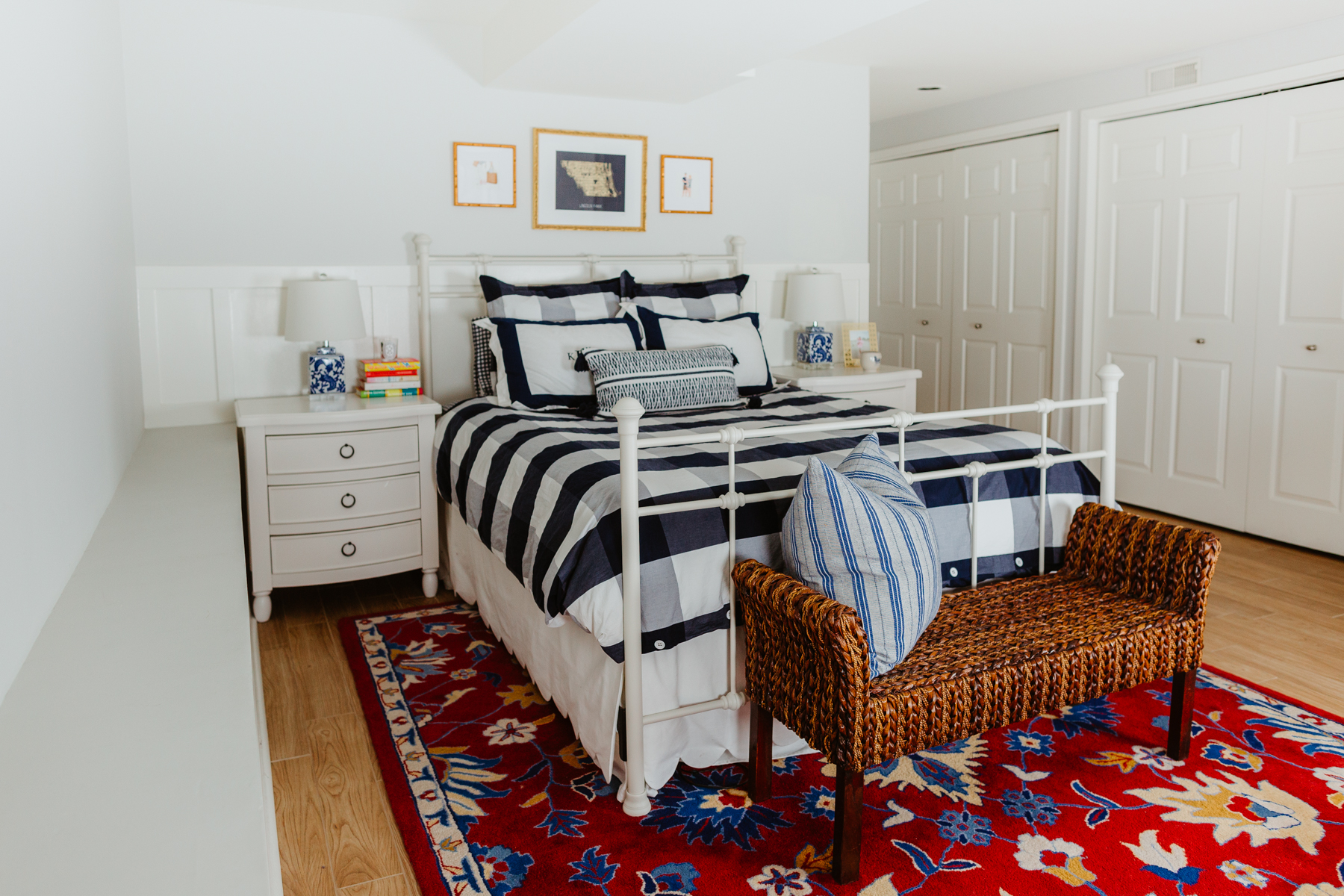 White Lakehouse Bed / Nightstands / Mitch's Dresser / Kelly's Dresser / Gingham Duvet Cover, Shams and Sheets / Monogrammed Shams (Similar here) / Red Rug / Blue Rug / Gold Floor Mirror / Woven Bench / Striped Pillow, Accent Pillow and Ginger Jar from HomeGoods / Old Chinoiserie Lamps but love these! / Laundry Baskets / Clothing Rack / Newer Version of my Jewelry Box / Britt Ford Lincoln Park Framed Map / Scalloped Bed Skirt / Tile that looks like wood! / Paint: Benjamin Moore "Gray Owl" diluted by 50 percent & Benjamin Moore "Simply White" / Plans include: Framebridge Frames / The Company Store Bedding Basics / Peel-and-Stick Grasscloth Wallpaper (Also available at Target.) / Jute Area Rug / Indoor/Outdoor Rug / Larger Lamps for Nightstands hopefully from HomeGoods
I'm looking for some advice today! As you know, we recently cleaned out our master bedroom using the KonMari Method. I'm SO much happier with the space, and I go into depth as to why in this post. But here's the funny thing: Now that all the clutter's gone, never have I been more aware of the fact that it looks unfinished.
The room is totally fine; it really is! And we're grateful for it. Back in New York, I could usually stand in the middle of my many bedrooms over the years and touch both walls. Run-and-jump-into-bed situations, if you will. ;) And even for Chicago standards, this is big! For a few reasons, though, I feel stuck with the decor. Things just don't seem complete.
You know when you've been staring at something for way too long, unable to see the problem? I'm hoping that's the case here. 😂 I'm also hoping that you guys have some suggestions as to how to warm up the area and make it a bit more inviting.  Are you up for the challenge? (Many thanks in advance if so. 😜)
Let's dive in!
Issues with the master
It's a garden level/basement bedroom. This isn't the worst thing in the world, but it only has two windows, and therefore doesn't get a ton of natural light. And the floors are a bit chilly since they're actually tile that have simply been made to look like wood. (Never a great idea to put real wood floors in a basement.) Finally, we just aren't down there often. We sleep and shower down there, of course, but because everything else in our home–including Emma!–is on the top level, we spend the vast majority of our time upstairs. Because of this, I think the room has become an afterthought.
It's oddly shaped. It's loooooong. We have a bed, two nightstands, a chest and a dresser… yet the room still feels kind of empty. I do not, however, want to add more furniture.
It has a foundational "half bench" that's around most of its perimeter, rendering most of the walls useless. Do you see it? It's behind my dresser as well as along the room's longest wall. The reason it exists is because a long time ago, someone decided to dig out the basement, but the foundation of the house–which is pre-Chicago fire, from the late 1800s–couldn't support it. And thus the half bench was born so the house didn't collapse in on itself! Ugh, haha. It's a strange height and isn't deep enough for someone to sit on, so there's that… and when you put furniture against it, it looks like said furniture is floating since it's not totally flush against the wall. I also can't have a mirror over my dresser because of it! A couple of years ago, we talked about doing built-ins above it, but we don't want to invest that kind of money into the house right now since we're hoping to move this year. (We'd really like to re-purpose most of the stuff in the bedroom, and use it in our eventual new home!)
Great things about the master
It's big. Again, I'm grateful!
It's very private. When we have guests, we can really give them the entire top floor of the house, which is nice for everyone! We have a large master bathroom right behind our bed, and we simply set up the pack 'n play for Emma in our room if our company needs both the guest room and the nursery. It's great!
It has a ton of closet space. We have an entire wall of closets, and then there's an additional one next to my dresser which I forgot to photograph.
Things I'm definitely doing
Things I need help with
The art above the bed. It looks busy. One longer frame instead? Four frames that are the same size? HAAAAALP.
Decorating my dresser. Right now, I have a jewelry box and a singular ginger jar I found at HomeGoods on it. #Winning. But yeah, it's hard because of the half bench wall. (I can't lean or hang a mirror or art!) But I am planning on putting the nightstand lamps over there. Maybe that'll help?
The placement of my dresser. The previous owners had the dresser on the longer half bench wall. Thoughts?
Getting rid of the floor mirror. I tried to give this away a few weeks ago, but we fell out of touch with the girl who said she'd come and get it. If you live in Lincoln Park or very close by and would like it, please e-mail Mitch: mitch@kellyinthecity.com. (Free of charge!) I think it's beautiful, but I don't use it and I think it makes the space look cluttered.
The art above Mitch's dresser. Does it look okay? Should I hang it instead of leaning it? Both are very special to us, but I'm definitely open to moving it, too!
LITERALLY EVERYTHING/ANYTHING ELSE. 😂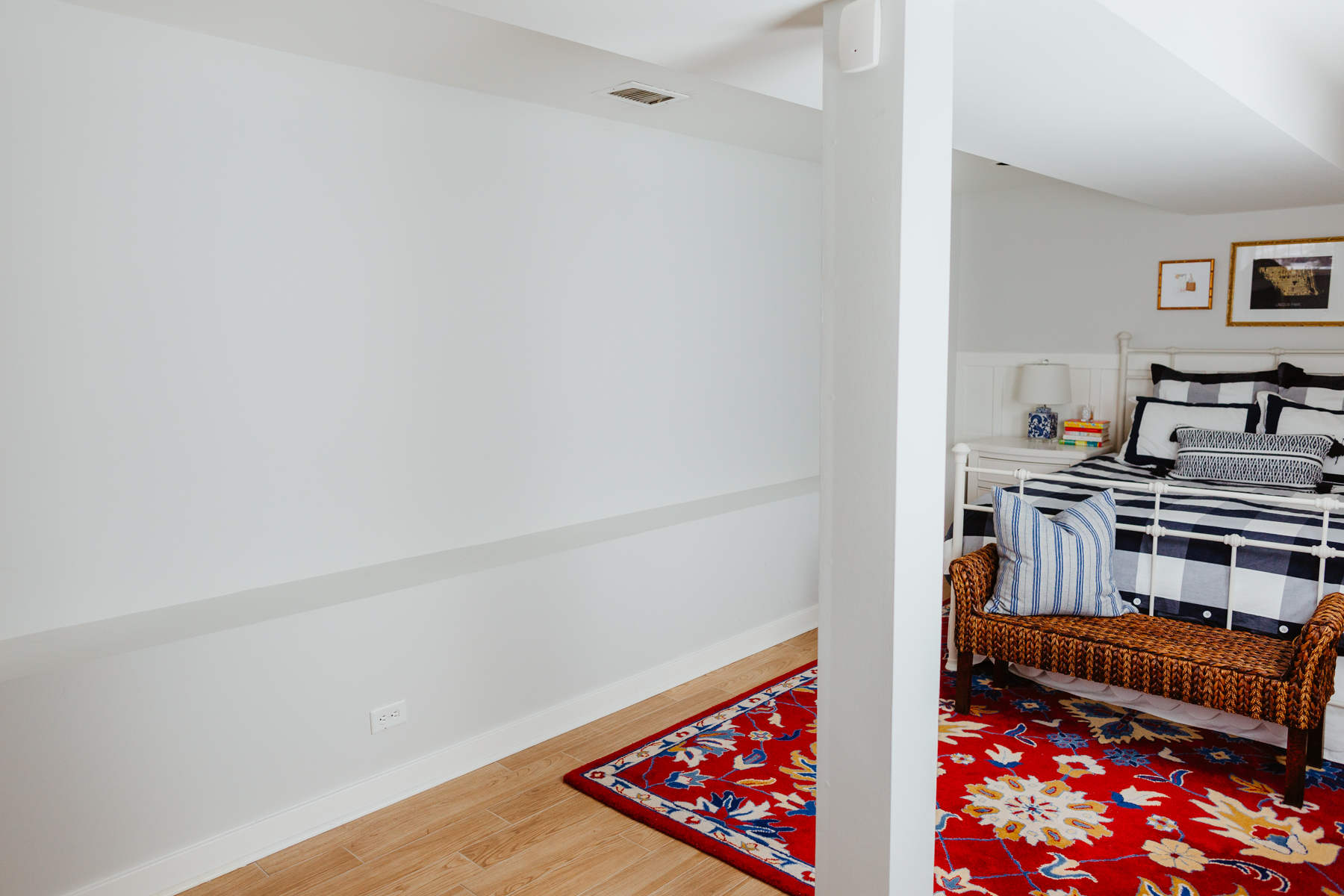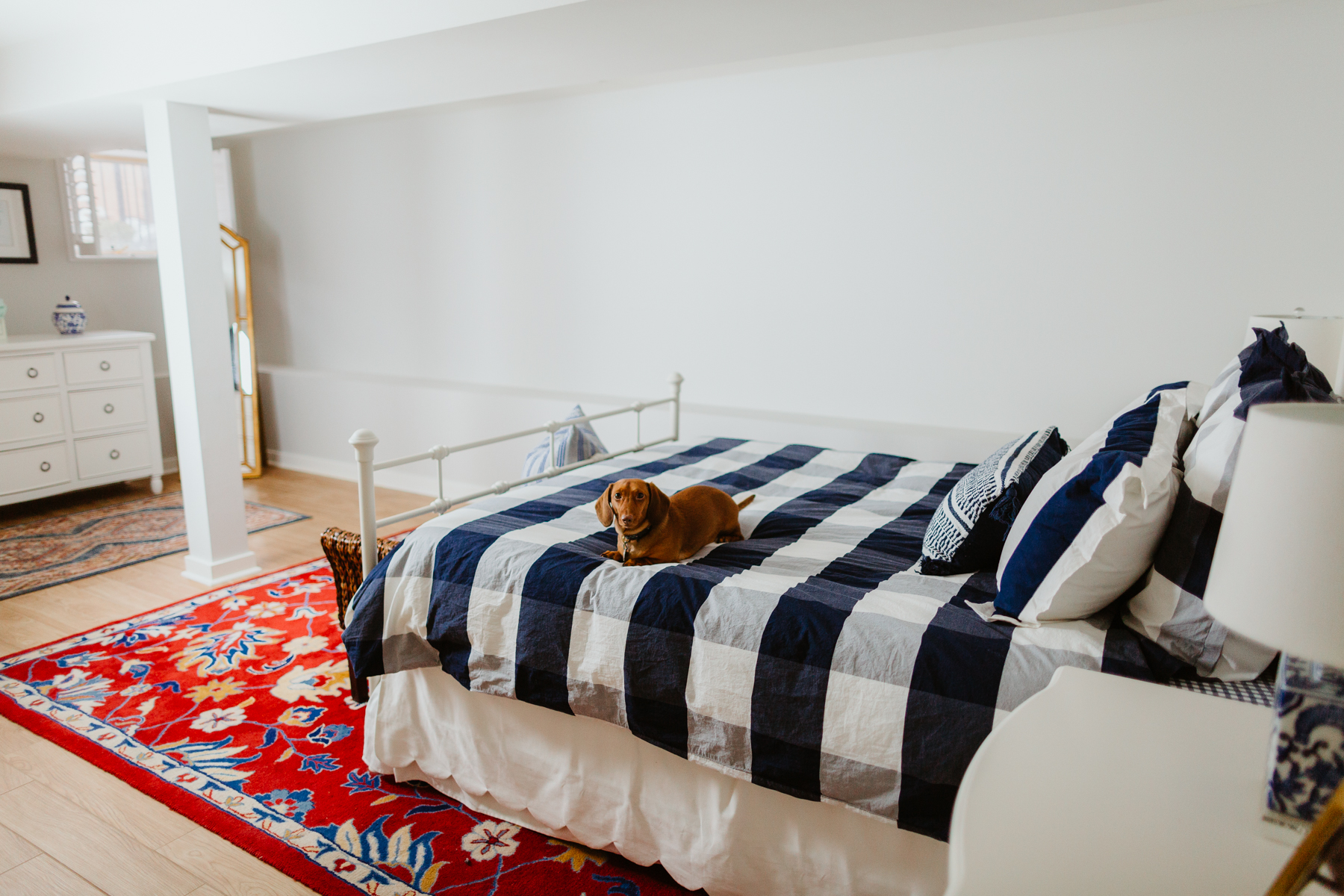 The long "half bench" wall problem
See what I'm talking about?
Oh, hi Noodle.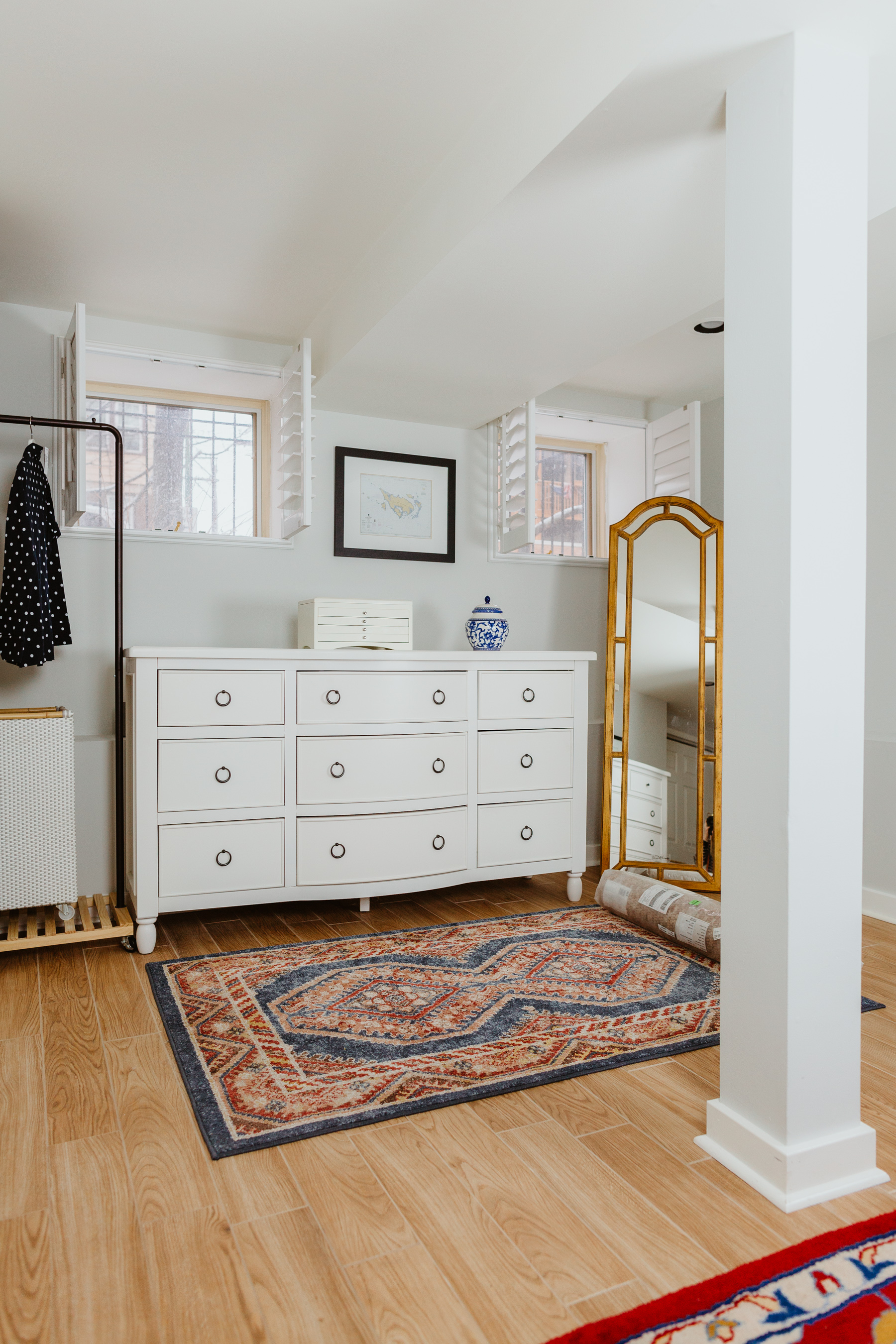 Busy and unfinished-looking. Kind of need to keep the clothing rack because I use it to plan/organize blog projects, but wish I could put it somewhere else!
It's fine. Hoping that grasscloth wallpaper will add dimension! LOVE the laundry basket.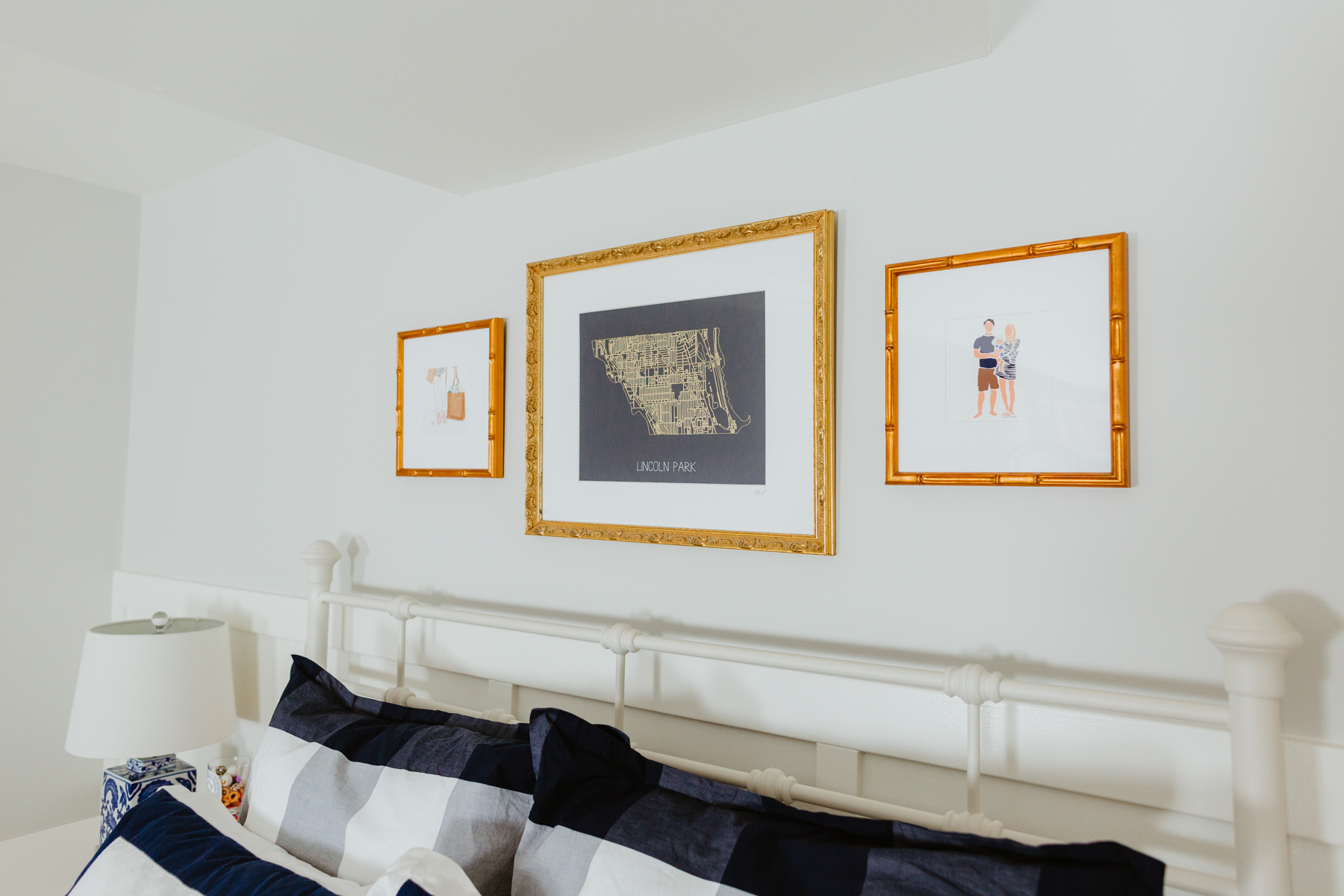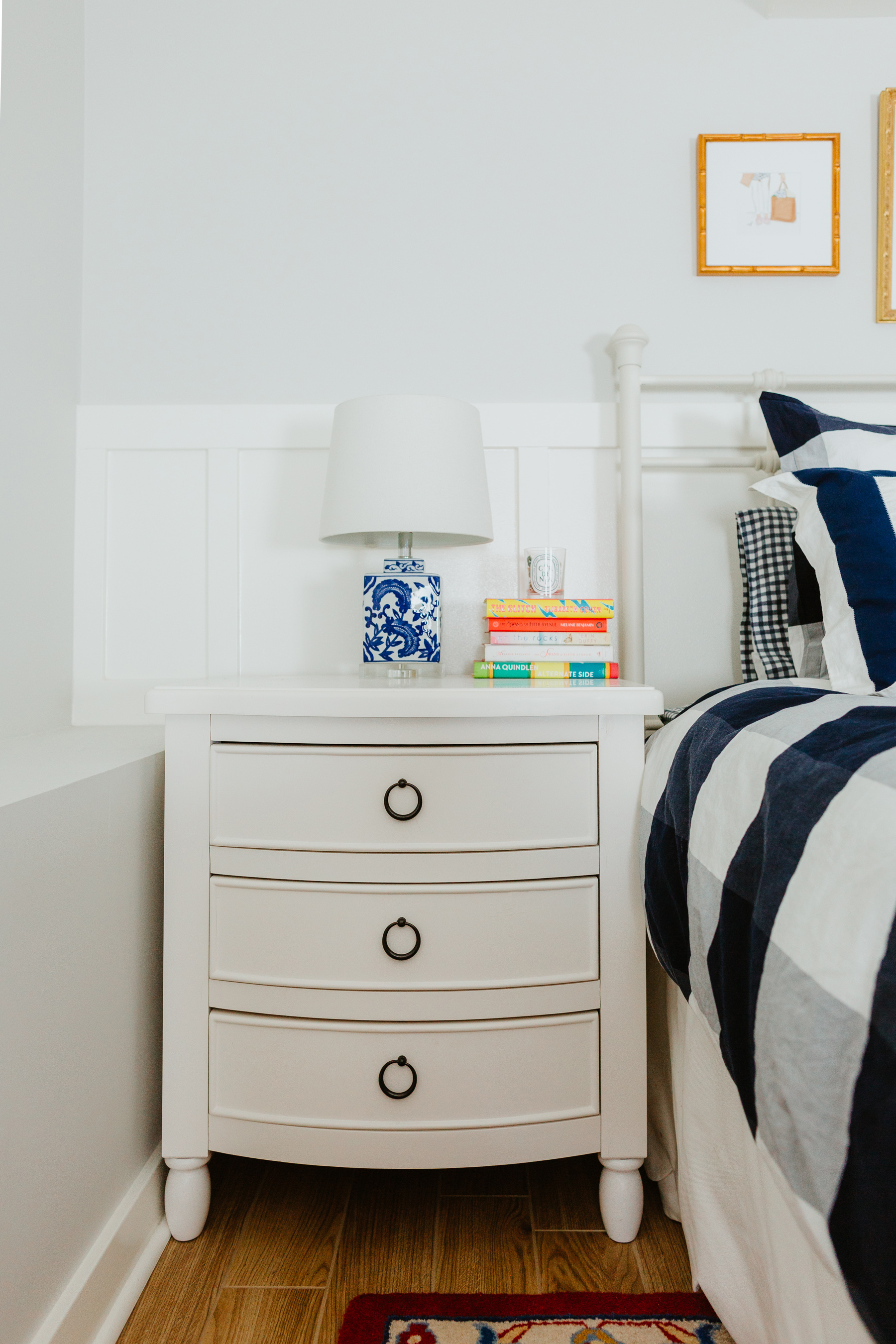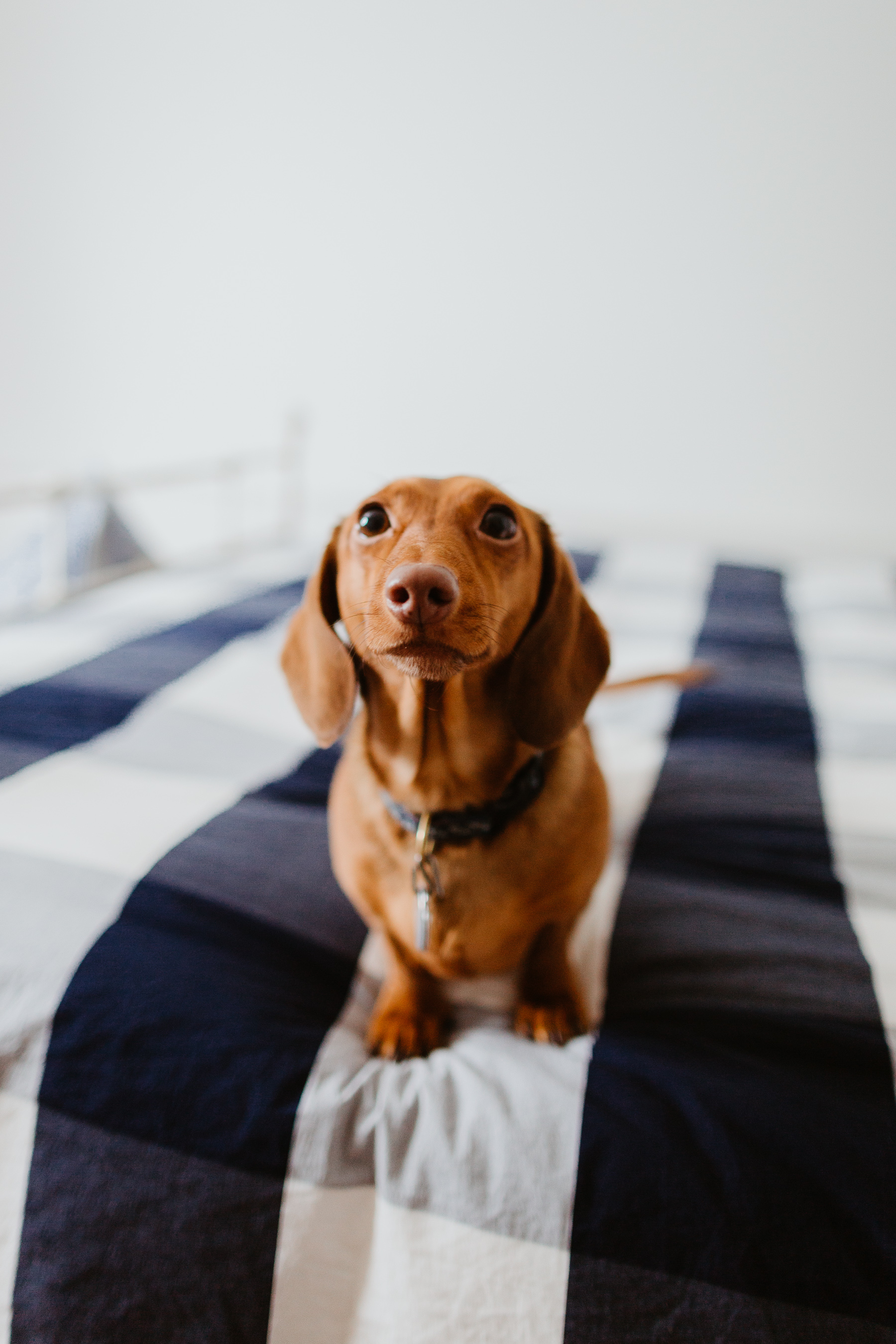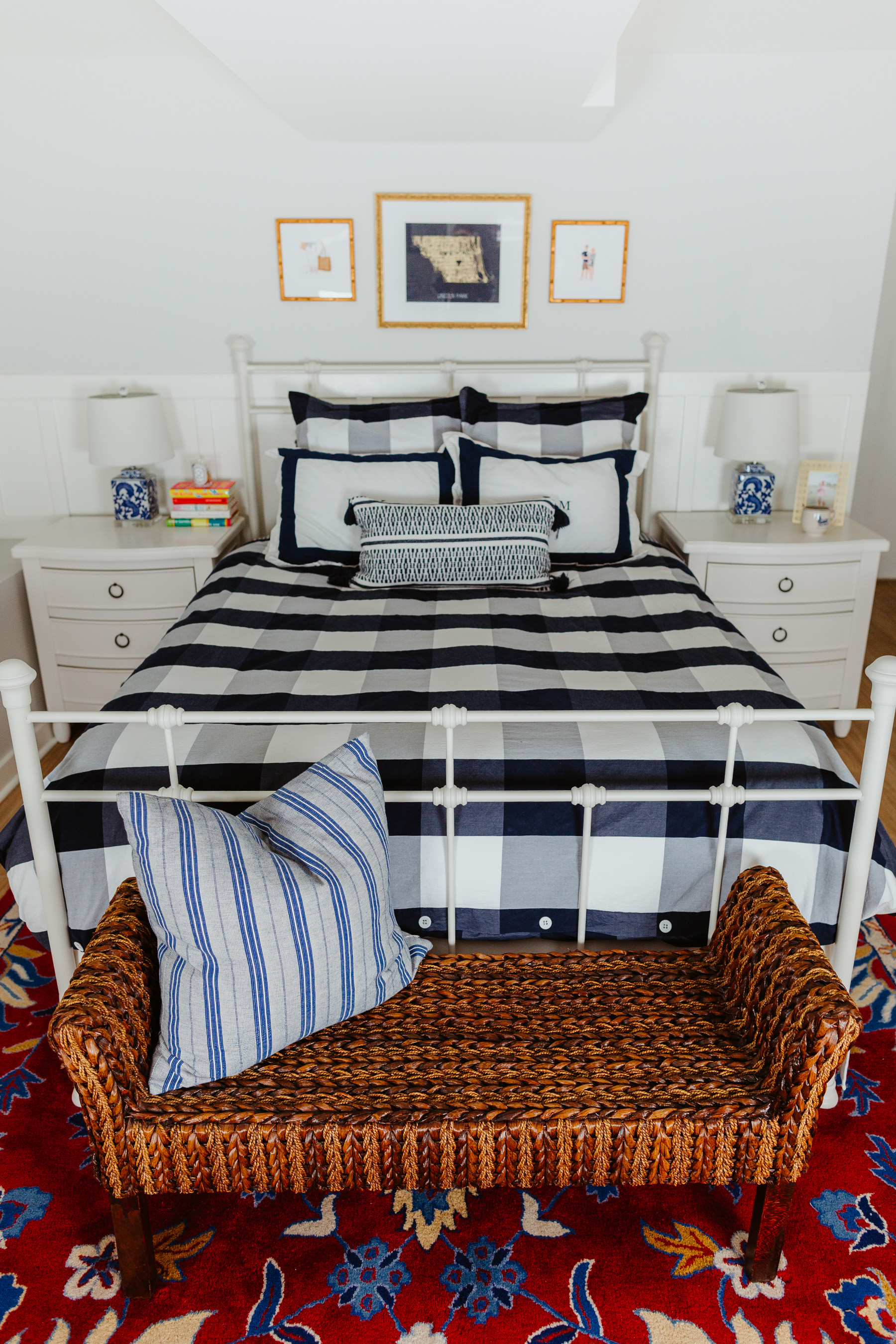 The "decor"
BUSY.
What should we do?! If you have an idea, please let me know in the comment section below. Will be implementing them and circling back with the final reveal in a couple of weeks. Many thanks, Friends!
Shop the room:
White Lakehouse Bed / Nightstands / Mitch's Dresser / Kelly's Dresser / Gingham Duvet Cover, Shams and Sheets / Monogrammed Shams (Similar here) / Red Rug / Blue Rug / Gold Mirror / Woven Bench / Striped Pillow, Accent Pillow and Ginger Jar from HomeGoods / Old Chinoiserie Lamps but love these! / Laundry Baskets / Clothing Rack / Newer Version of my Jewelry Box / Britt Ford Lincoln Park Framed Map / Scalloped Bed Skirt / Tile that looks like wood! / Paint: Benjamin Moore "Gray Owl" diluted by 50 percent & Benjamin Moore "Simply White"
Plans:
Framebridge Frames / The Company Store Bedding Basics / Peel-and-Stick Grasscloth Wallpaper (Also available at Target.) / Jute Area Rug / Indoor/Outdoor Rug / Larger Lamps for Nightstands hopefully from HomeGoods