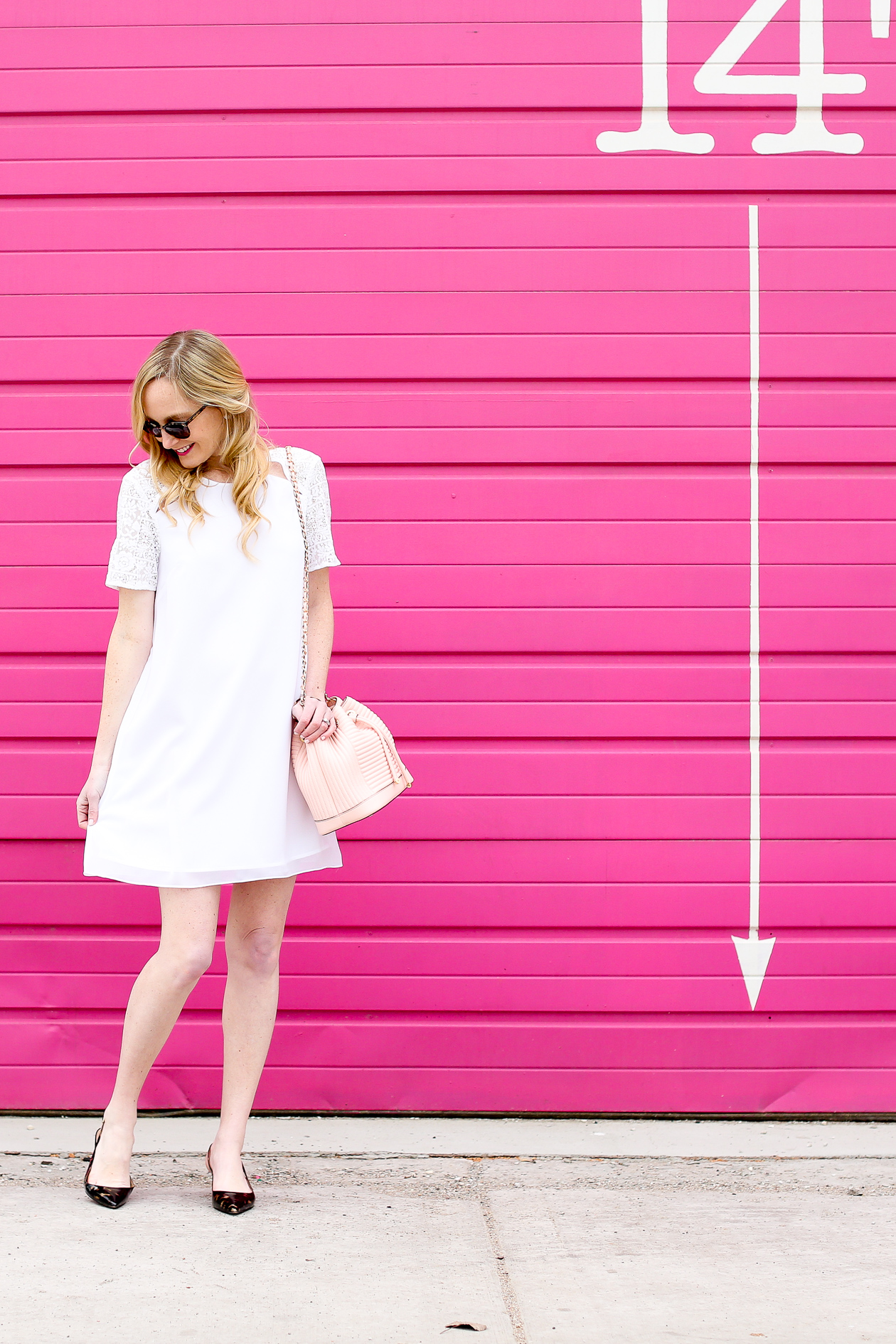 Dress c/o Macy's / Henri Bendel Bag c/o (On sale! See more colors here.) / J.Crew Bracelet (On sale!) / Ann Taylor Singback Pumps c/o (Also love the regular tortoise pumps, which I featured here! Yes. I'm obsessed.) / Similar Sunglasses
A few months ago, my friend Jenn from Style Charade published the most amazing Chicago Street Art Guide. Jenn–incredibly well known for her fun, colorful take on life–has spent countless hours scouring the city for murals, colored walls, and talented artists' work… and goodness. Can we all give the girl a round of applause? Instead of keeping it to herself, she's sharing it with us. With travelers. With Chicagoans. With other bloggers. With families. You have to check it out.
I wish I were more like Jenn. I wish I took the time to really plan out my shoots, and I wish I put more thought into choosing my backdrops instead of shooting whenever I remember and wherever I am when that occurs. ;) Jenn is organized. She's passionate. She researches. She plans. She's like that inspirational photo on Pinterest that you adore but know will just never happen, haha. Truly, though: her hard work shows. Every photo she posts to her wildly popular Instagram account is a work of art in and of itself. And how nice is it that she promotes Chicago's artists and the city's beauty?!
A couple of weeks ago, it was super warm in Chicago, and Mitch and I were going to Coast Sushi Bar in Bucktown. (No worries: cooked sushi for me!) I was wearing a dress I was planning on shooting for a fun collaboration with Macy's, but didn't love the idea of doing it on Damen, where Coast is located. While it was really warm, the trees hadn't bloomed yet, and thus everything looked dead.
Hands in the air if you're a blogger and are currently struggling with this, too! It's finally warm(ish) and you're finally in your springtime clothing, yet the scenery just makes everything appear kind of sad. First World probs, for sure. But you know: the struggle is real.
Anyway. We decided to stop by one of Jenn's walls, located at 1670 N Ada Street, as it's close to Coast and, um, it's hot pink.
HELLO, GORGEOUS. (The wall, that is.)
Shooting took all of 1.5 minutes–because come on: how many different shots can you take in front of the same wall?–but it was so fun! (How could all that hot pink not put me in a good mood?!) While I'm 99.9 percent sure that I'll never be organized enough to shoot my outfits in front of Chicago's beautiful walls on a regular basis, it's a fun thing to do once in a while. If you're a blogger, I highly recommend trying it out… and if you're a regular, sane person, I definitely encourage you to visit some of the walls! ;)
Be on the lookout for two more wall posts in the next week or two. Same versatile dress but styled different ways in front of different murals. Should be fun!
A huge thanks to Jenn for her guide! You killed it, Girl! xoxo
Outfit details:
Dress c/o Macy's / Henri Bendel Bag c/o (On sale! See more colors here.) / J.Crew Bracelet (On sale!) / Ann Taylor Singback Pumps c/o (Also love the regular tortoise pumps, which I featured here! Yes. I'm obsessed.) / Similar Sunglasses