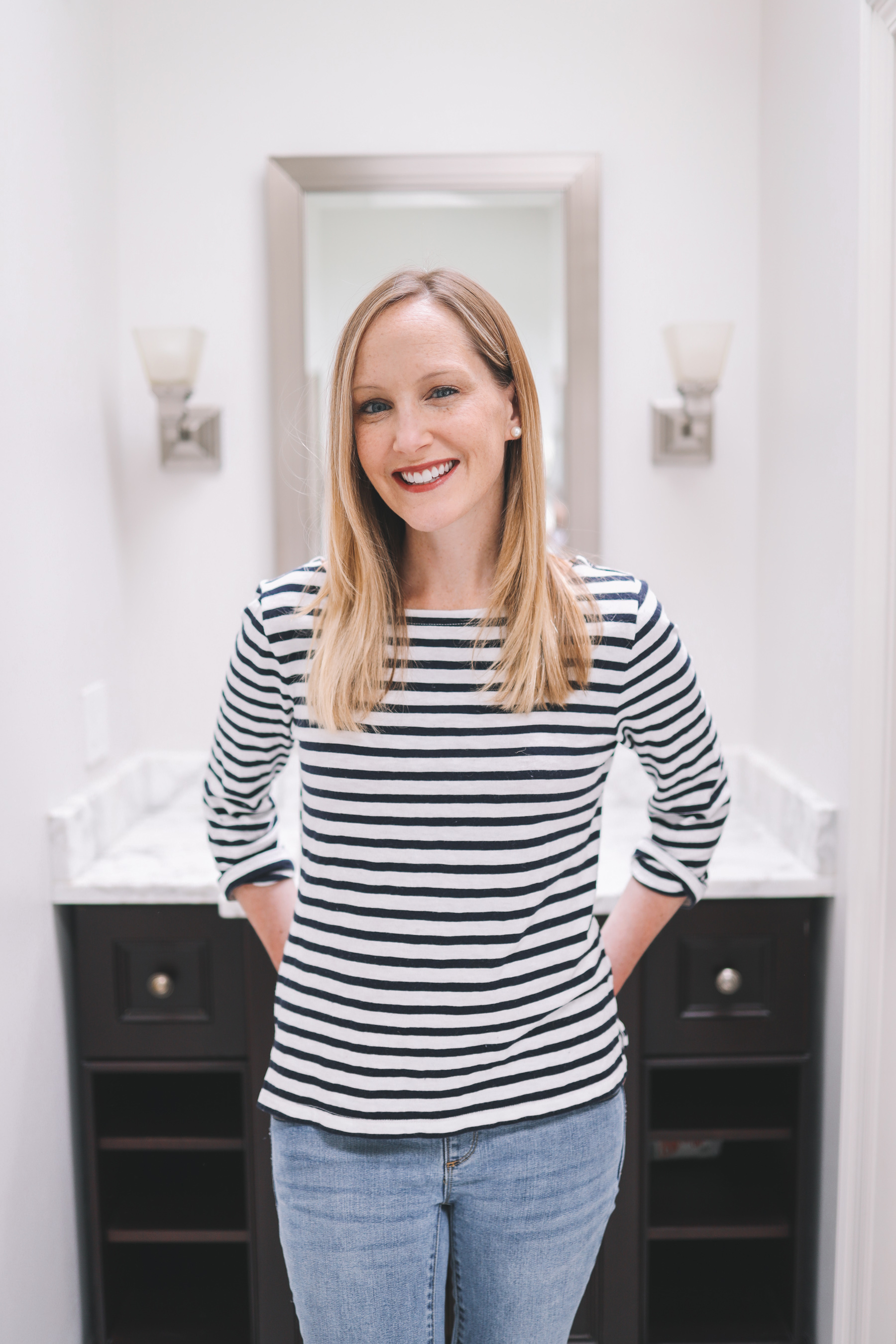 Since middle school, I've been on a quest to hide my freckles. At the time, I thought they made me look younger (not what I wanted in my pre-teen years), and later in life, I ironically felt that they made me look older. But over the last couple of years, I've embraced both my freckles and a more natural appearance in general… and I'm so much happier. While I'm not sure why I started covering my freckles and bleaching/straightening my hair in the first place, I'll tell you this: caked-on makeup and fried locks do not a happy life make–at least for me. 😉 And now that I'm past all that, I no longer focus on my "flaws" or on what I wish I could change… which I think is an overall great thing!
That said, I'm not about to go completely au naturel, haha. I want our new neighbors to like me; not be terrified of me. ;) Kidding, but also serious: I'm a firm believer in using products that accentuate our favorite qualities, instill confidence, and help us love ourselves more. So today, I'm chatting about a few that make me feel like the best version of myself yet don't hide the "real me," if that makes sense. Shine through, freckles! You represent every incredible summer and vacation, and I'm proud of you. You are physical evidence of great times had, and a reminder of my family's heritage. 🍀
Okay! Let's get to it.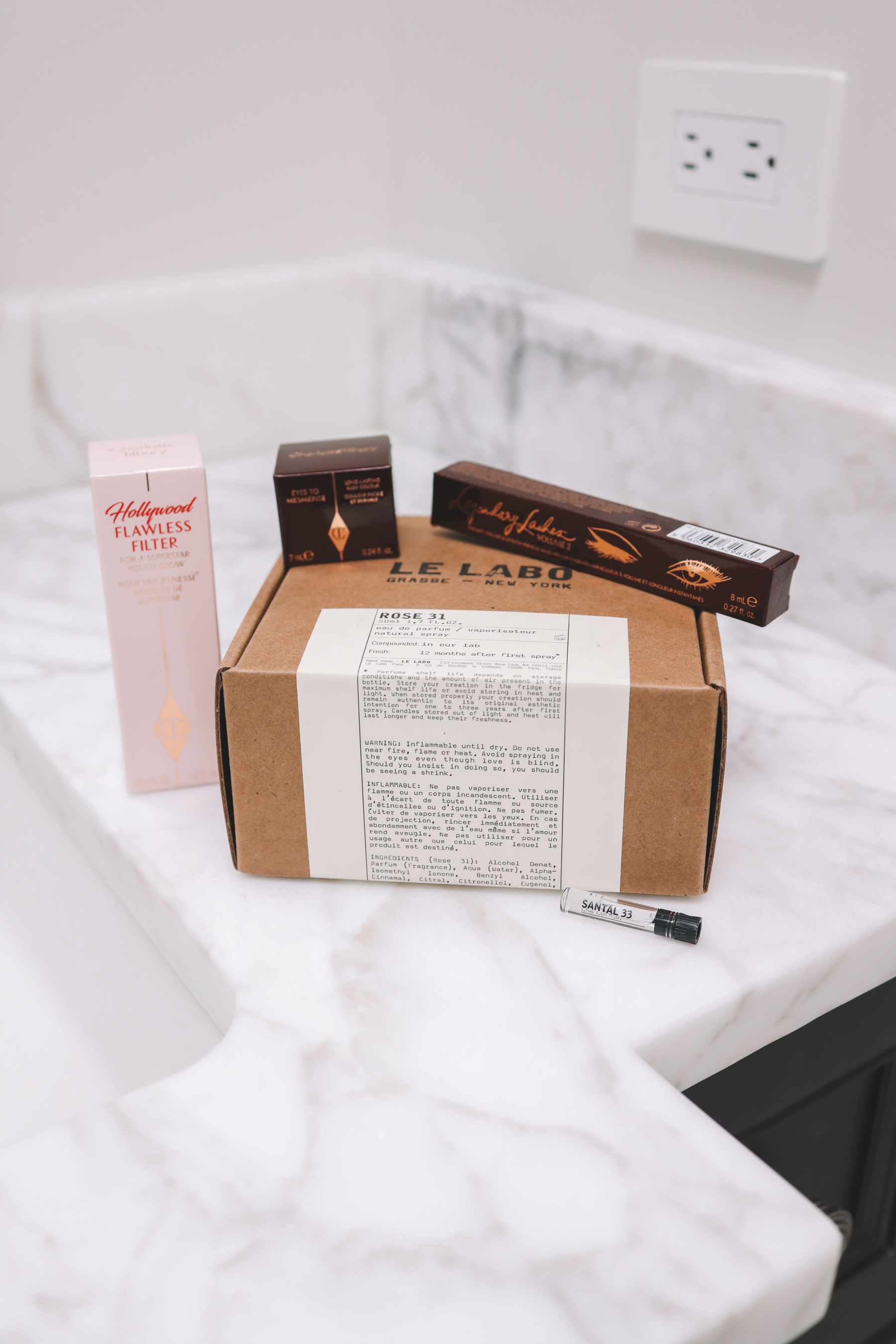 Le Labo Rose 31 Eau de Parfum / Charlotte Tilbury Hollywood Flawless Filter / Charlotte Tilbury Legendary Lashes Volume 2 Mascara / Charlotte Tilbury Eyes to Mesmerise Cream Eyeshadow / Bobbi Brown Luxe Lip Color in "Neutral Rose" /  J.Crew Striped Tee (Similar here.)
Here's everything!
The two brands I've been kind of obsessed with lately are Le Labo and Charlotte Tilbury, which are both available at Nordstrom. (Nordstrom is always up on the beauty trends, which I really appreciate since I'm normally not! I also love that the retailer is a "one stop shop" with a great website that makes it super simple to find new beauty products. I found a bunch of the stuff you see in this post just by browsing the easy-to-navigate brand pages!)
If you remember, I fell in love with Le Labo when we were in Bermuda last year. We stayed with the Hamilton Princess, and there were samples of the shampoo and conditioner in the bathroom. I couldn't BELIEVE the effects of the conditioner. It seriously transformed my hair from frizzy to sleek and manageable while on the beach and with the help of no other products or tools. It's a miracle product; I just can't believe that it exists! I also love how it smells. Originally a "fragrance house," I've always wanted to try one of the Le Labo's perfumes and therefore thought this post was the perfect opportunity to do so!
And then there's Charlotte Tilbury. I first learned about the brand when Jess and I did an event with them at Nordstrom right after Emma was born. It was there that I discovered the most amazing mascara to have ever existed, and I've been a diehard fan of Charlotte Tilbury–and that particular mascara–ever since.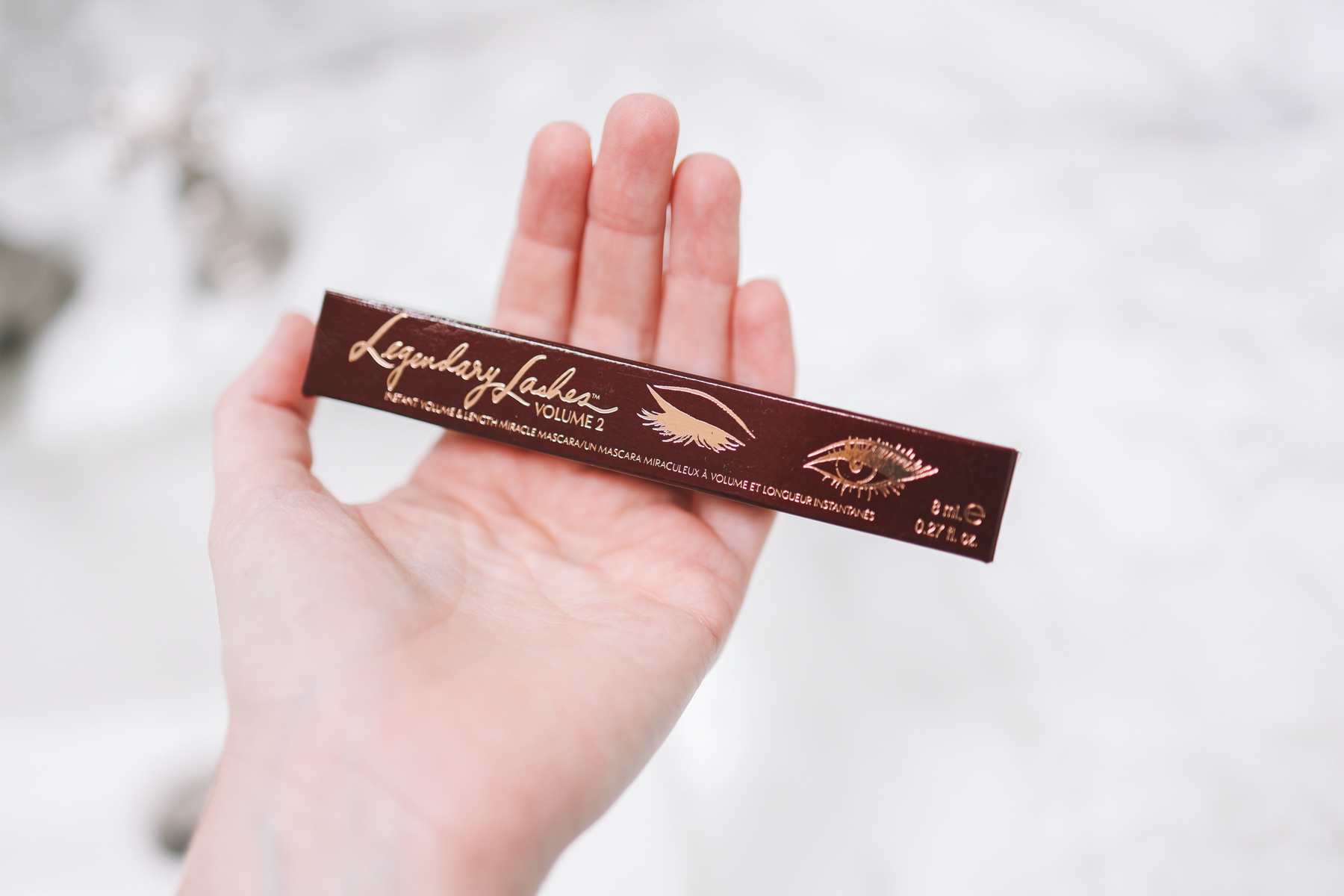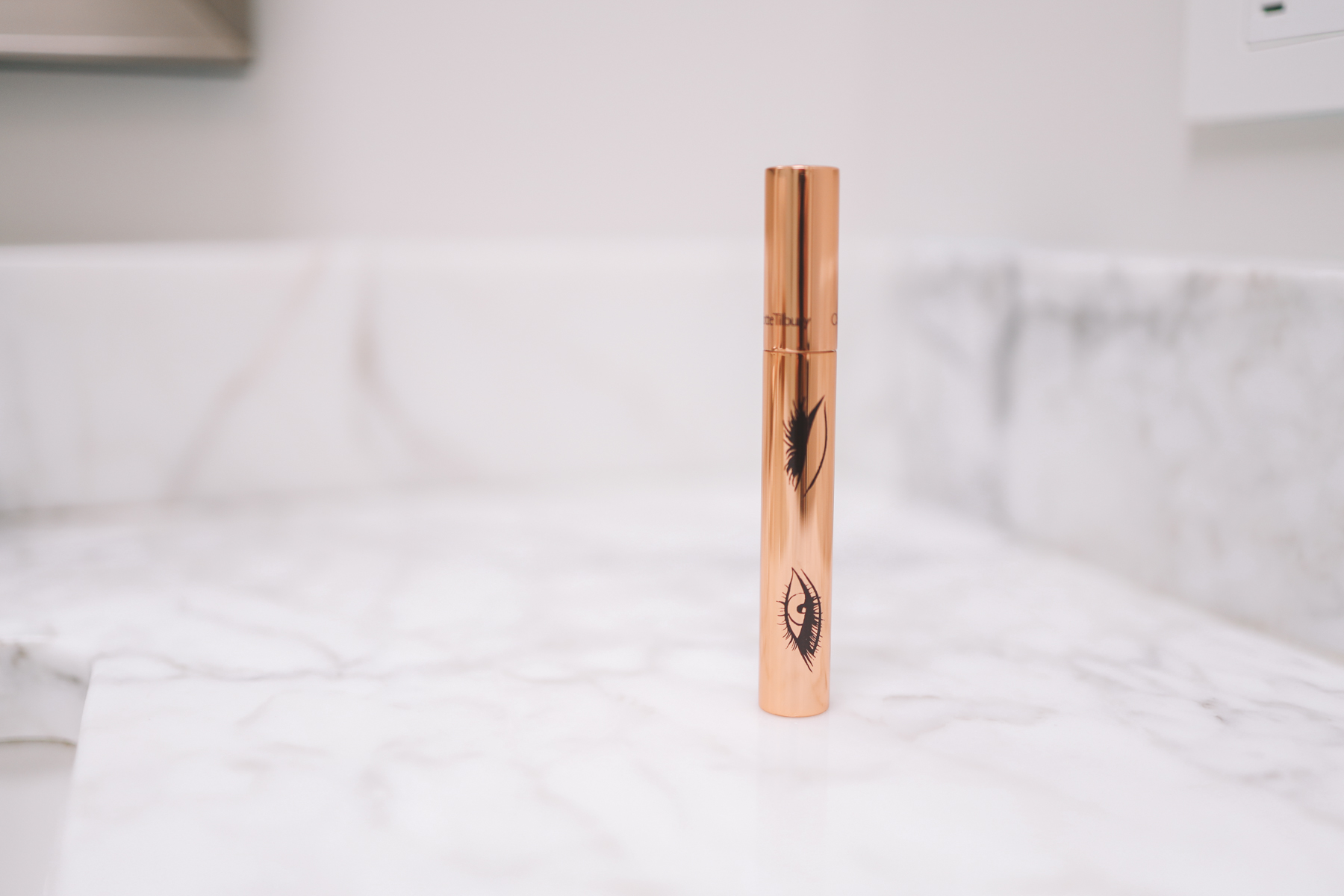 So let's jump right in and start with a review of that mascara! It's the Charlotte Tilbury Legendary Lashes Volume 2 Mascara, and it increases your lash volume by 500 percent. FIVE-HUNDRED PERCENT. Friends do a double take when I'm wearing it. 😜 It's AMAZING. So amazing (and dramatic) that I reserve it for special occasions so I get that #omgwhoareyou effect, haha.
One thing I should mention is that the old formula made me look legitimately insane when I removed it; the black got all over my face, and it took me a solid three to five minutes to get it off. But this newer formula still gives me that same unbelievable volume increase without the hassle. A nice little upgrade. Highly recommend!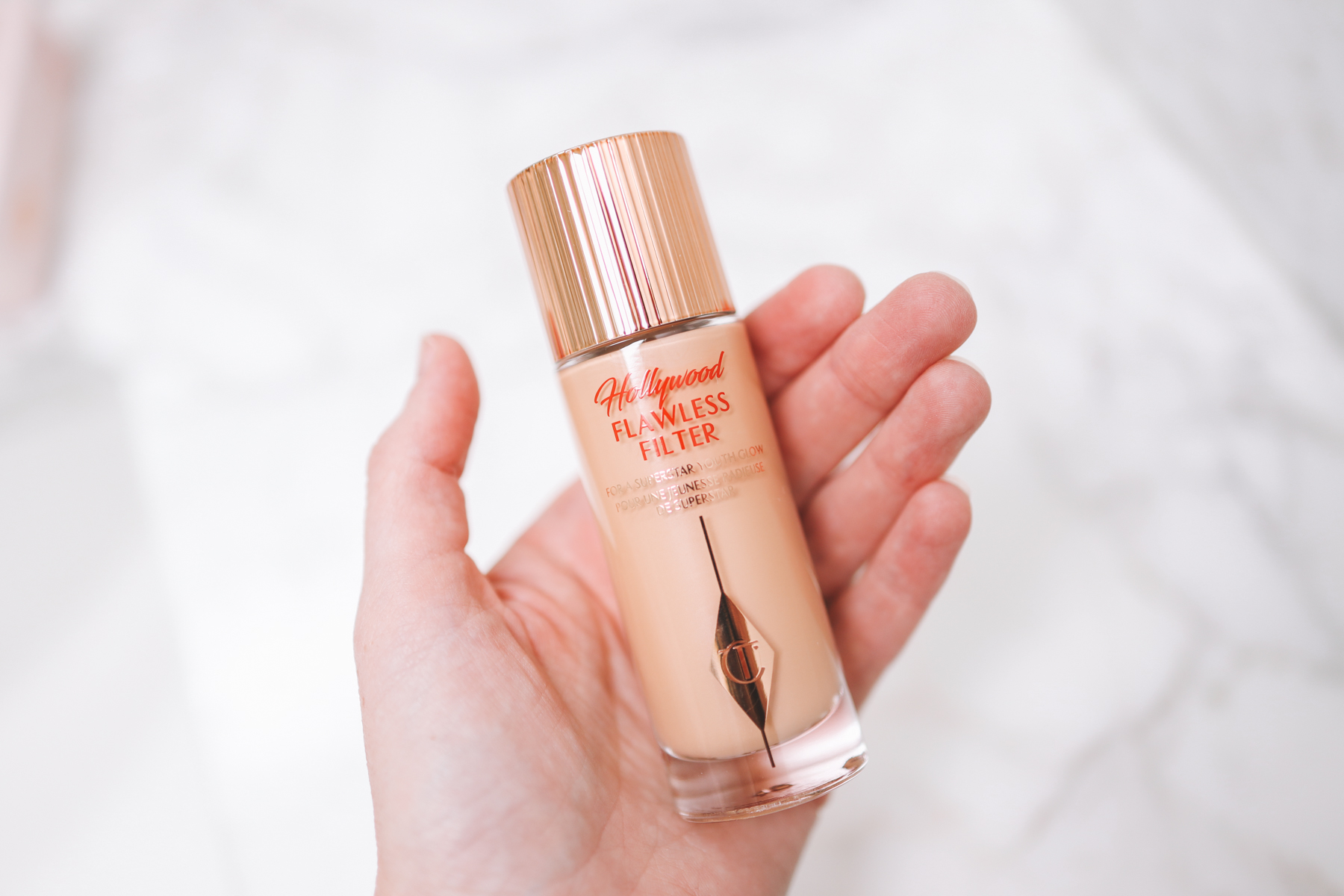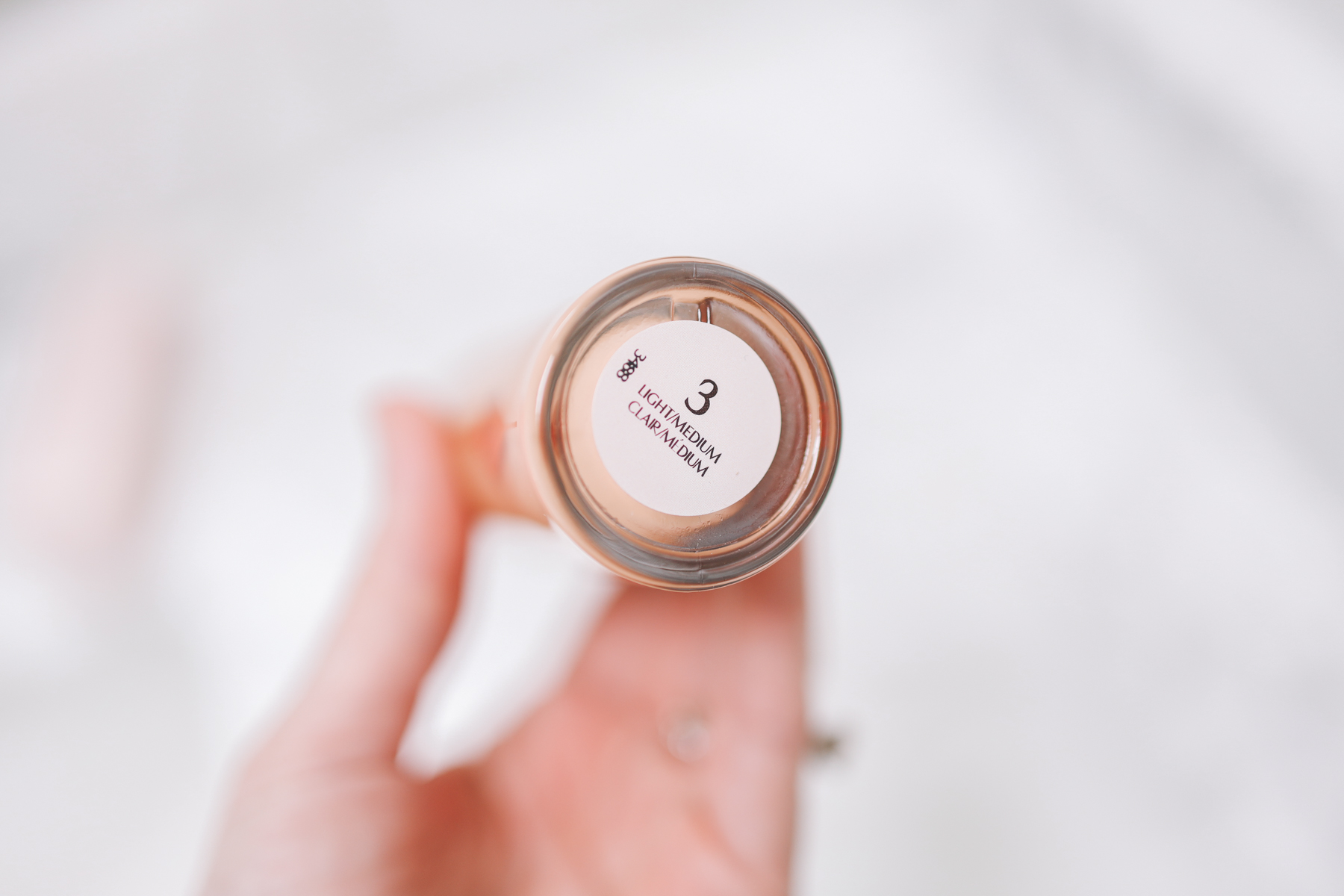 I bought this because my friend Krista was raving about it on her Instagram account. It's a multipurpose product. I wasn't sure exactly what this meant at first, haha, but the best way that I can describe it is that it works as a primer, foundation or highlighter, and it's designed to give you a dewey glow. (You can also blend it with another foundation if you already have one that you like.) What I love most about it, though, is that it improves my skin tone but doesn't cover the freckles. It's not a "mask"; it highlights my skin's best qualities, like I was saying before!
So if you're someone who always feels like her skin looks dry and/or dull by the end of the day, this will help to remedy that. Thus far, I've been very impressed with that aspect of the product. Whereas I normally feel that I need to redo my makeup at night if I'm going out with Mitch, the Hollywood Flawless Filter allows me to go from day to night without re-applying. :) Love time-savers!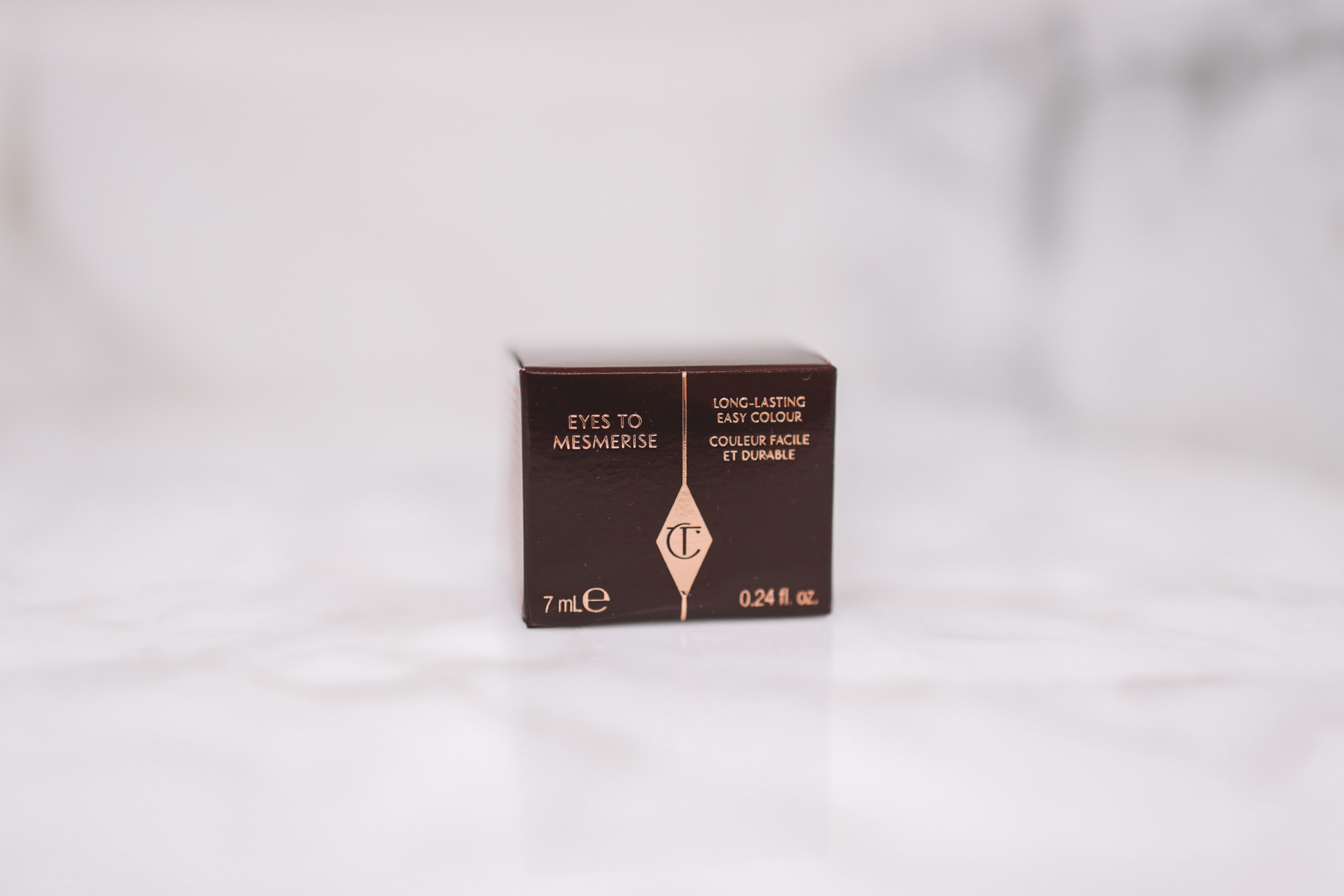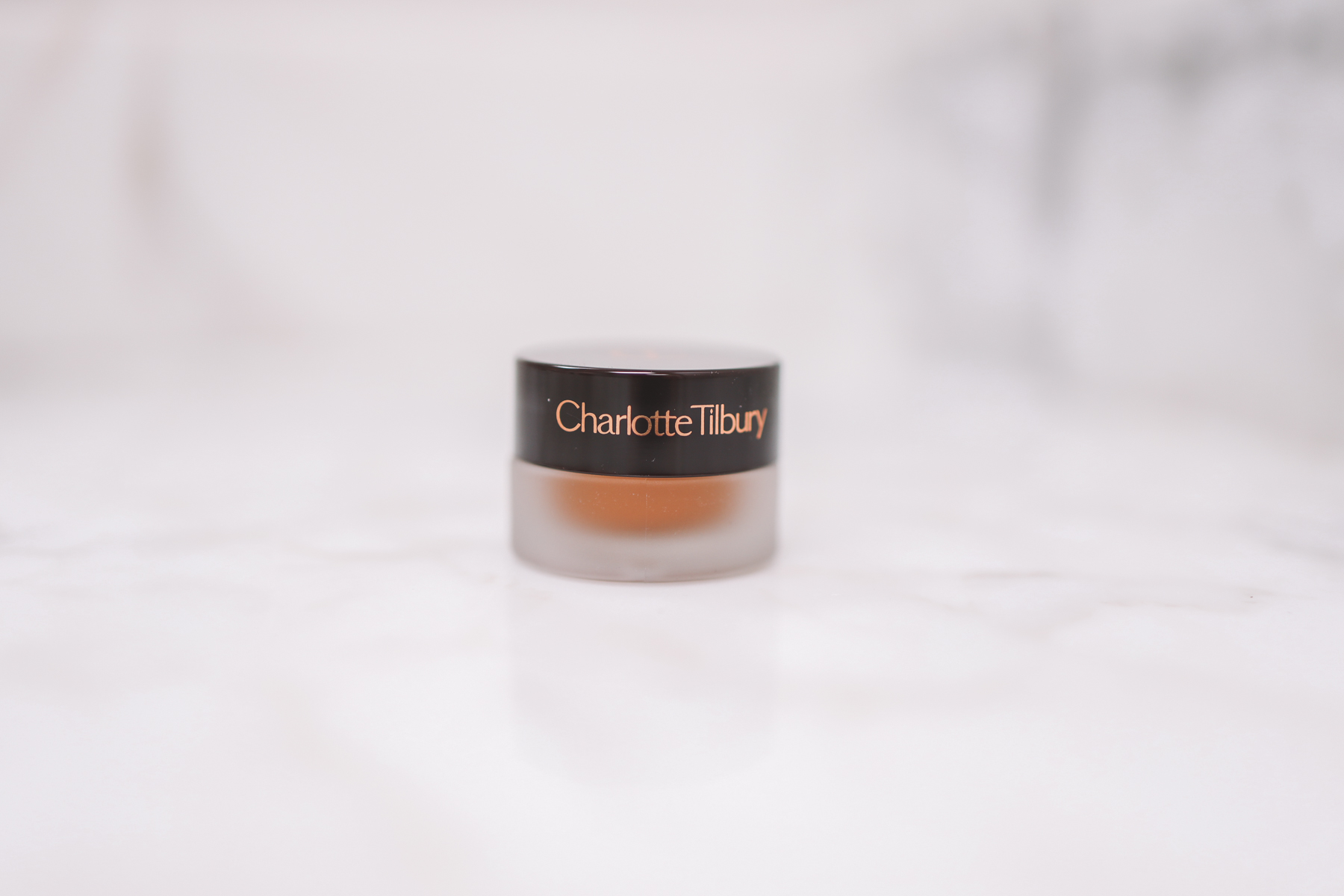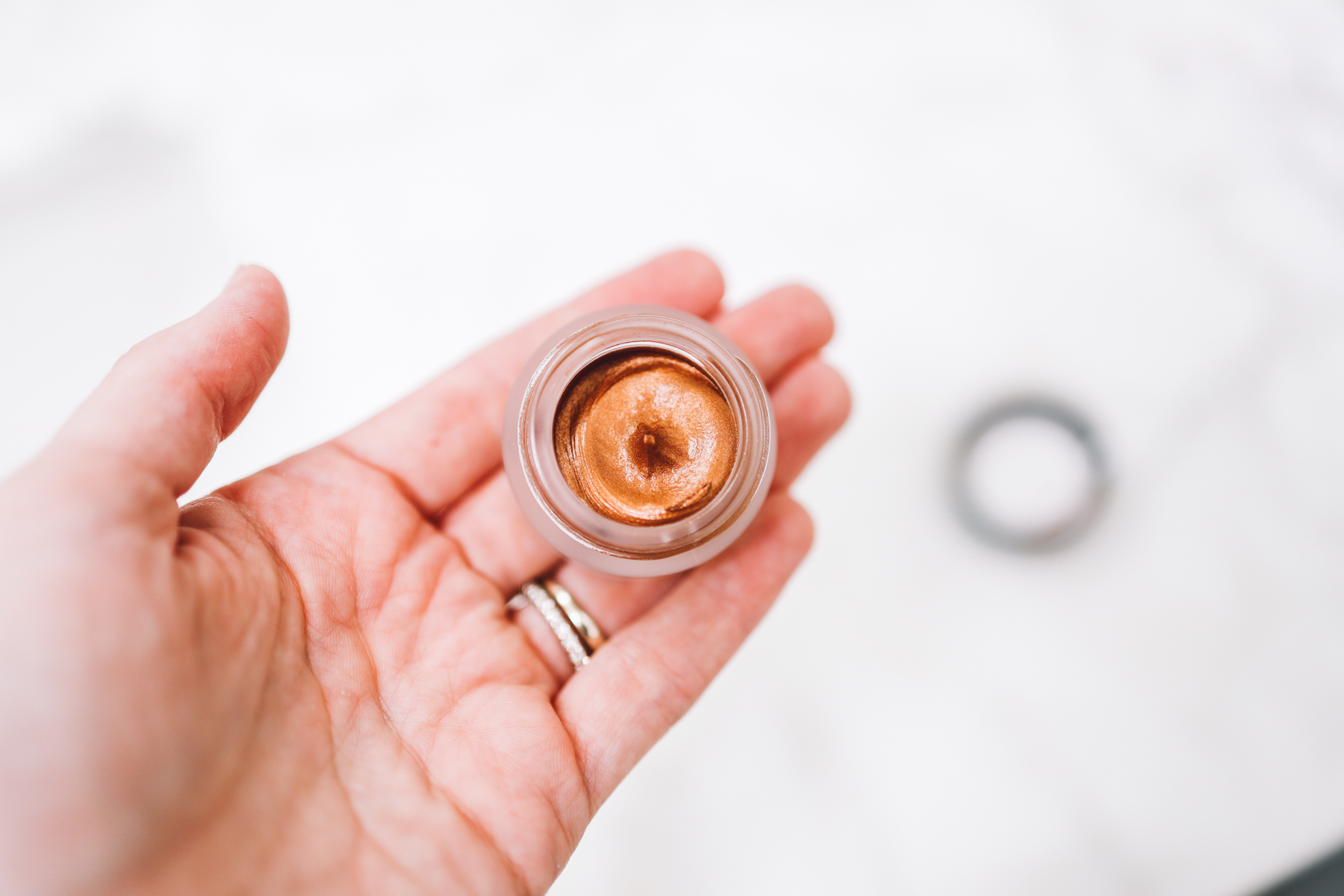 This is my first eyeshadow since I was like 12 and really into that heavy blue look made famous by Mimi from The Drew Carey Show. (Though I still do think that MAYBE light blue eyeshadow, if done subtly and correctly, could be pretty?! Jess, however, says "hard pass" on blue unless it's a bold, dark blue–like a "smokey eye look." Direct quote from her: "I cannot think of one example where light blue eyeshadow ever looked good." 😂 She really knows what she's talking about, soooo I guess that's the end of that, haha!)
But yeah: the Charlotte Tilbury creamy eyeshadow provides a much more mature look. I think the product works extraordinarily well, and is pretty easy to apply with a little brush. (I use a very small amount, and just brush it around the top lid and around the outside corners of my eyes.) To be honest, though, I'm not sure that I love it for my skin tone. Instead of the gold, perhaps "Champagne Diamonds" to brighten my eyes up? I need all the help I can get right now with the four to five hours of sleep I'm getting on the reg!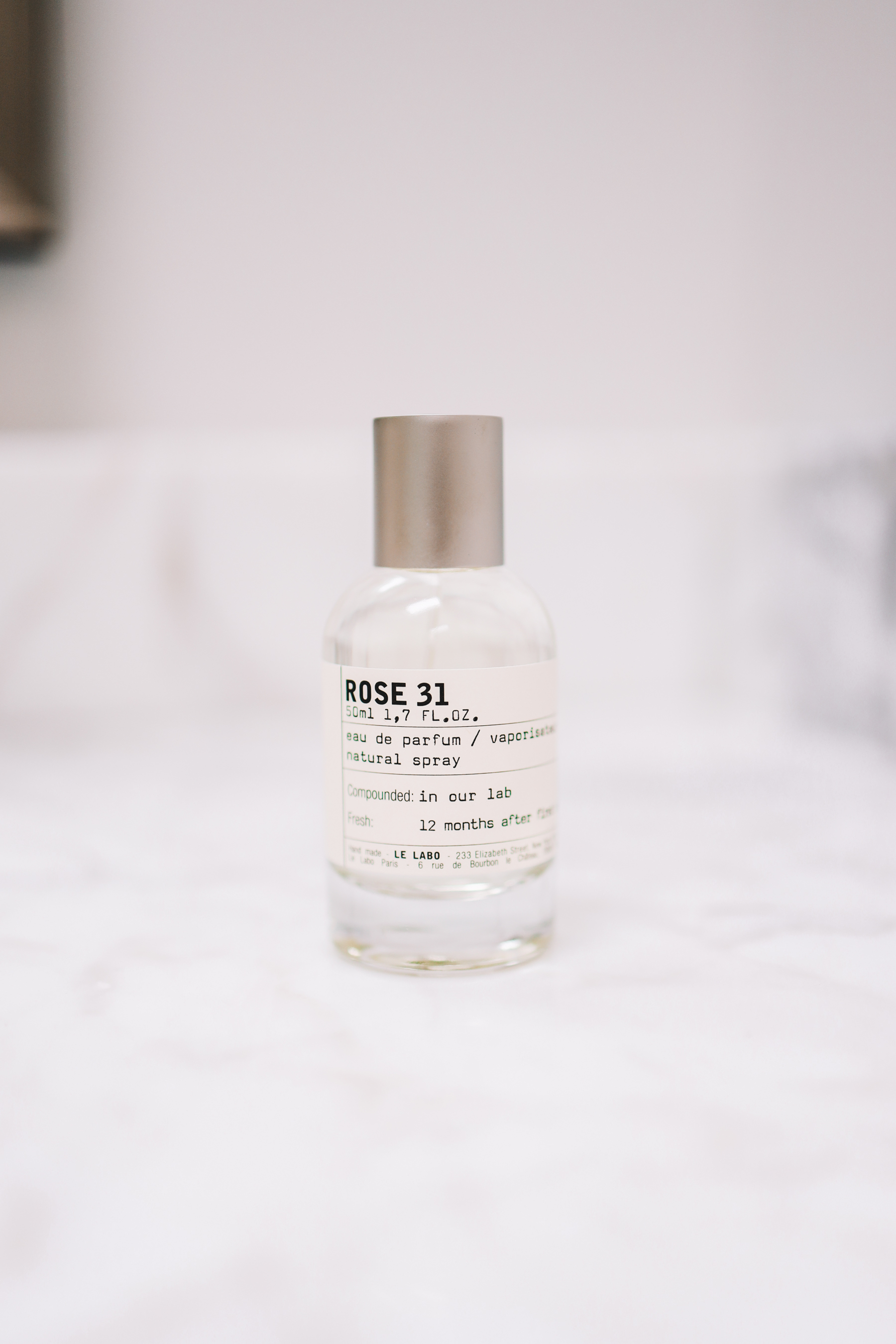 "Rose 31" is the scent of the conditioner I was talking about before. I've tried a lot of perfumes over the years, but have yet to find a "signature scent," as they say. I think this is it for me, though! I love it. And coincidentally, my hairdresser wears a Le Labo scent, too, and is equally obsessed.
I don't know what it is, but Le Labo carries the BEST perfumes. My favorite is Rose 31 (which can be worn by both women and men) but I received a sample of Santal 33 and truly loved that, too. Oh! I should mention that a great way to save on the scent is by going with the hand and body lotion. Same great smell but far less expensive!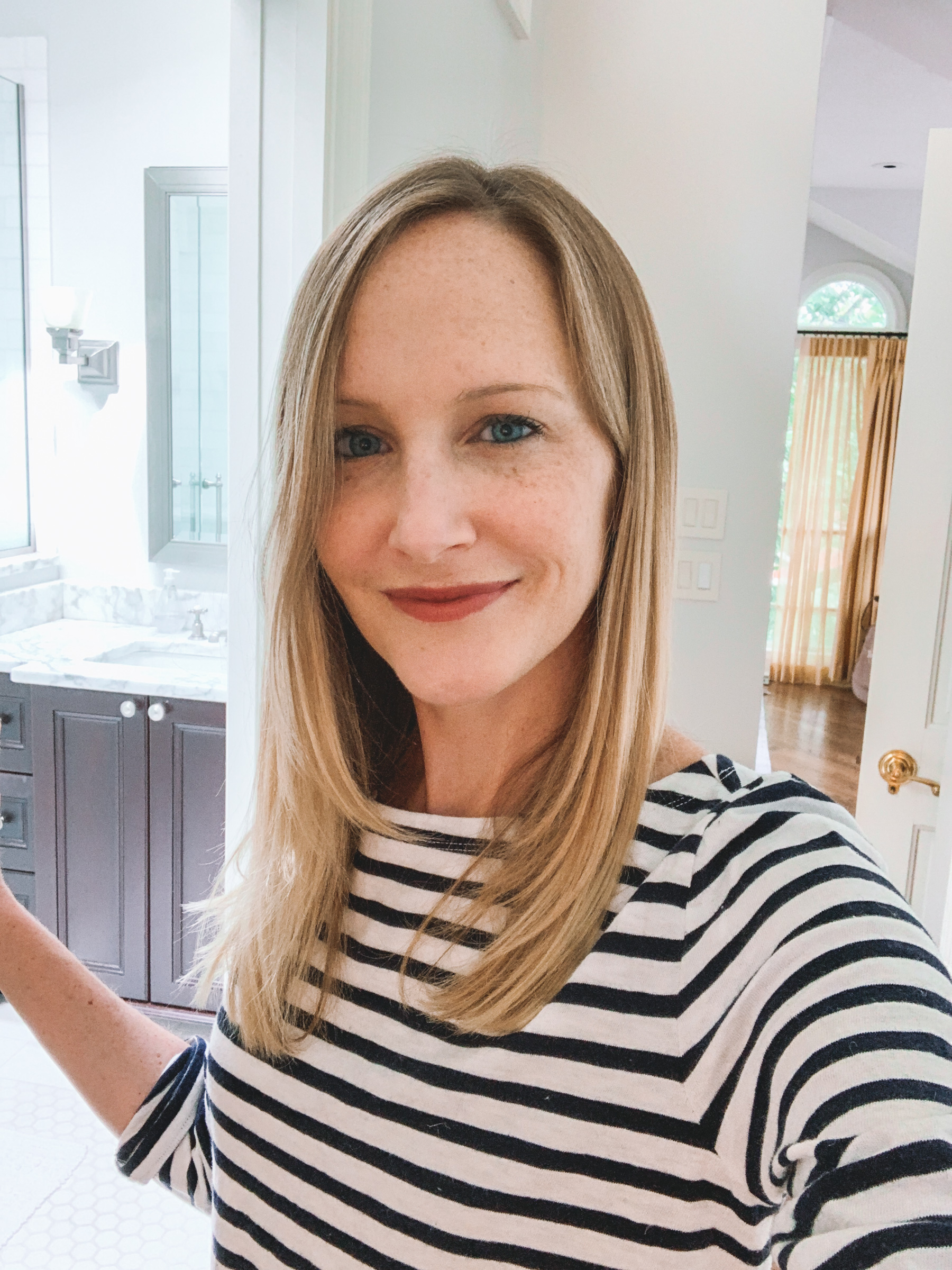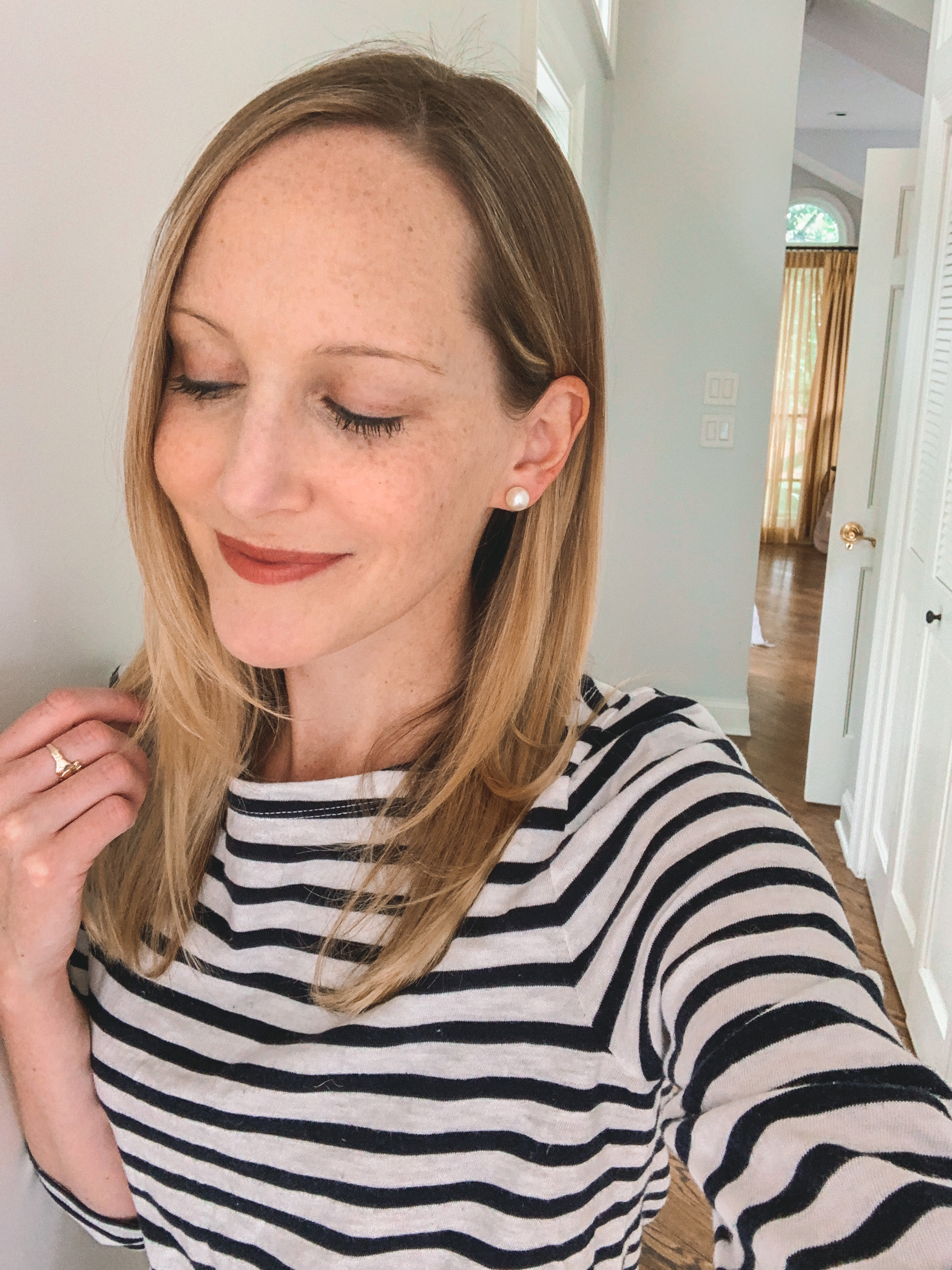 Here's the final result, taken with an iPhone so you can really see those freckles. ;) Like I said, I love that everything accentuates my favorite qualities and makes me feel like the best version of myself–without hiding the "real me." ☺️ I now love my freckles. What do you love about yourself?!
Nordstrom beauty products I'd like to try next:
Have any miracle products you'd recommend?! Would love to hear!

Shop the post:
Le Labo Rose 31 Eau de Parfum / Charlotte Tilbury Hollywood Flawless Filter / Charlotte Tilbury Legendary Lashes Volume 2 Mascara / Charlotte Tilbury Eyes to Mesmerise Cream Eyeshadow / Bobbi Brown Luxe Lip Color in "Neutral Rose" /  J.Crew Striped Tee (Similar here.)
This post was sponsored by Nordstrom, but all opinions are my own. As always, thank you so, so much for supporting the partnerships that keep Kelly in the City up and running!