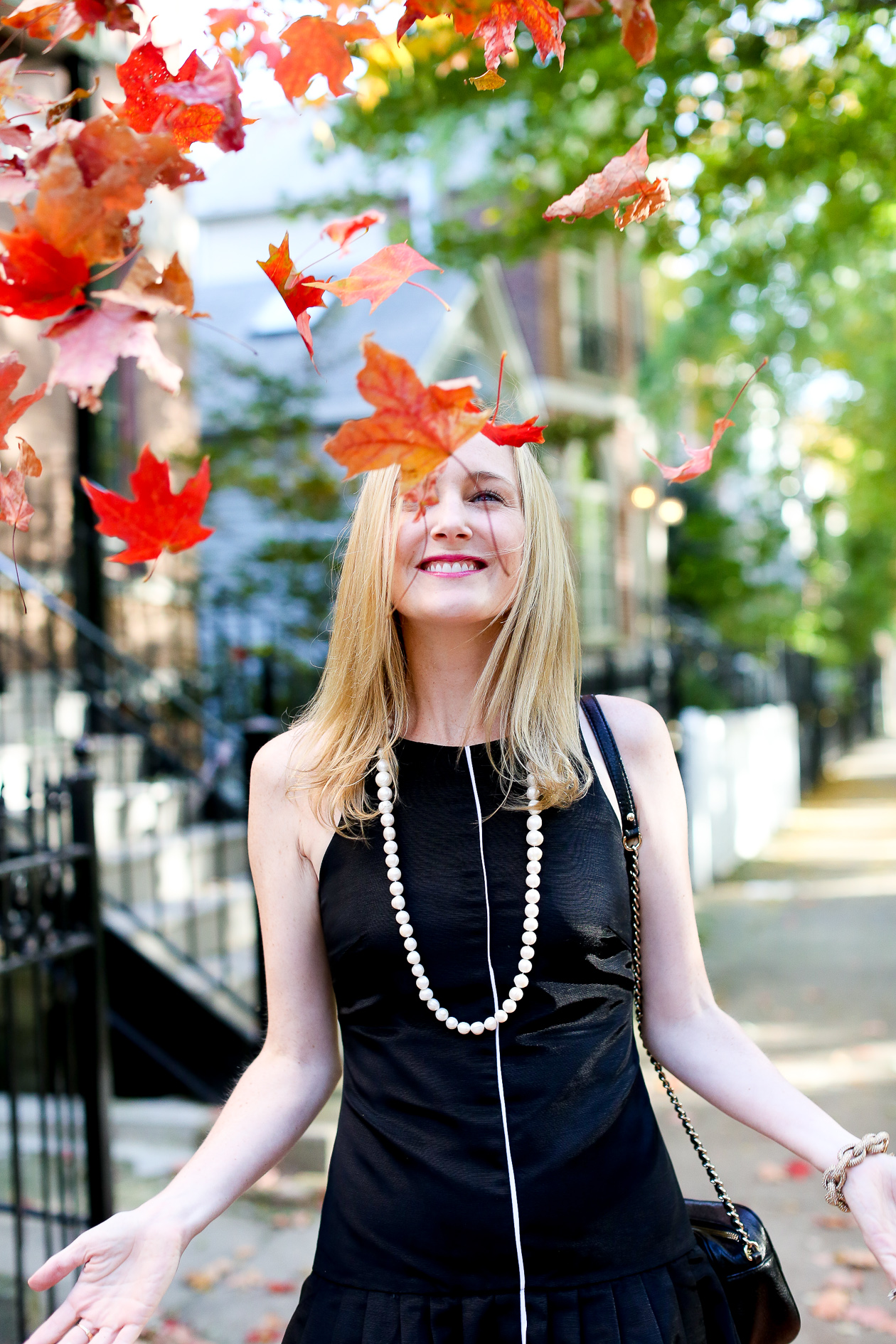 Camilyn Beth Dress c/o / Ralph Lauren Pumps (Old, similar here, here, here and here) / Kate Spade Bag (Old, similar here, here, here and here) / J.Crew Bracelet (Also love this one and this one!) / Hazel & Marie Pearl Necklace c/o / Moon and Lola Earrings c/o
Lately, I've been taking advantage of the insanely warm weather we've been experiencing, and dressing up whenever the opportunity presents itself. Last week, Mitch and I attended a pairing event for The Macallan Rare Cask Whisky on Halsted Street in Lincoln Park (Mmmm!), and I couldn't help but break out this gorgeous pleated Camilyn Beth Eloise Dress. ;) While I can still get away with bare legs most days, I'm excited about pairing the dress with sheer black tights and booties when the cold eventually hits. I also think a chunky (cropped?) turtleneck sweater over it would make for a pretty cute outfit! And isn't it perfect for holiday parties, too?!
Anyway, three things to celebrate today:
1. My brother, Danny, just booked a flight to Chicago! He's currently in graduate school in Pennsylvania, and our oh-so-different zip codes prevent us from seeing each other as often as we'd like. (Though we spent some REALLY great weeks on the Jersey Shore together this past summer.) But he arrives next Friday, and I'm so excited. Danny is undoubtedly the funniest person I know (with Shaheen coming in at a close second, haha), and I'm in stitches every time I'm with him. This'll be his first time visiting us in Chicago, so I'm trying my best to come up with a fun "itinerary." Any suggestions, Chicagoans? :)
Also: My other brother, Patrick, got Christmas off! Patrick's an emergency room doctor in Philly, and he has a very rough schedule, as he's in his second year of residency. We thought there was no shot he'd get the holiday off, but he miraculously did… which means another 15-person (or more) Christmas in Vermont with the cousins. Eeeee!
2. We're making progress in the basement! Okay– work hasn't actually commenced yet. But after two months of meetings and estimates and consultations and research, we finally made some really important decisions, and signed a contract. So exciting! Needless to say, Mitch and I can't wait to have our bedroom and bathroom back. (And sleep in the same bed again, haha.)
3. I found Noodle's Halloween costume today! (What's the point of having a dachshund if you can't dress her up in a hilarious outfit every October 31st, #amiright? Jokes.) While it wasn't the one I had my heart set on–turns out you have to make that one, and there's no way I can teach myself to sew in a week–it's pretty stinkin' cute. So be sure to tune back in on Friday or Saturday for a very special Halloween update!
Also, I owe you guys my how-to post on the gallery wall. Don't let me forget about that. ;)
Onward to what I hope will be a productive day!