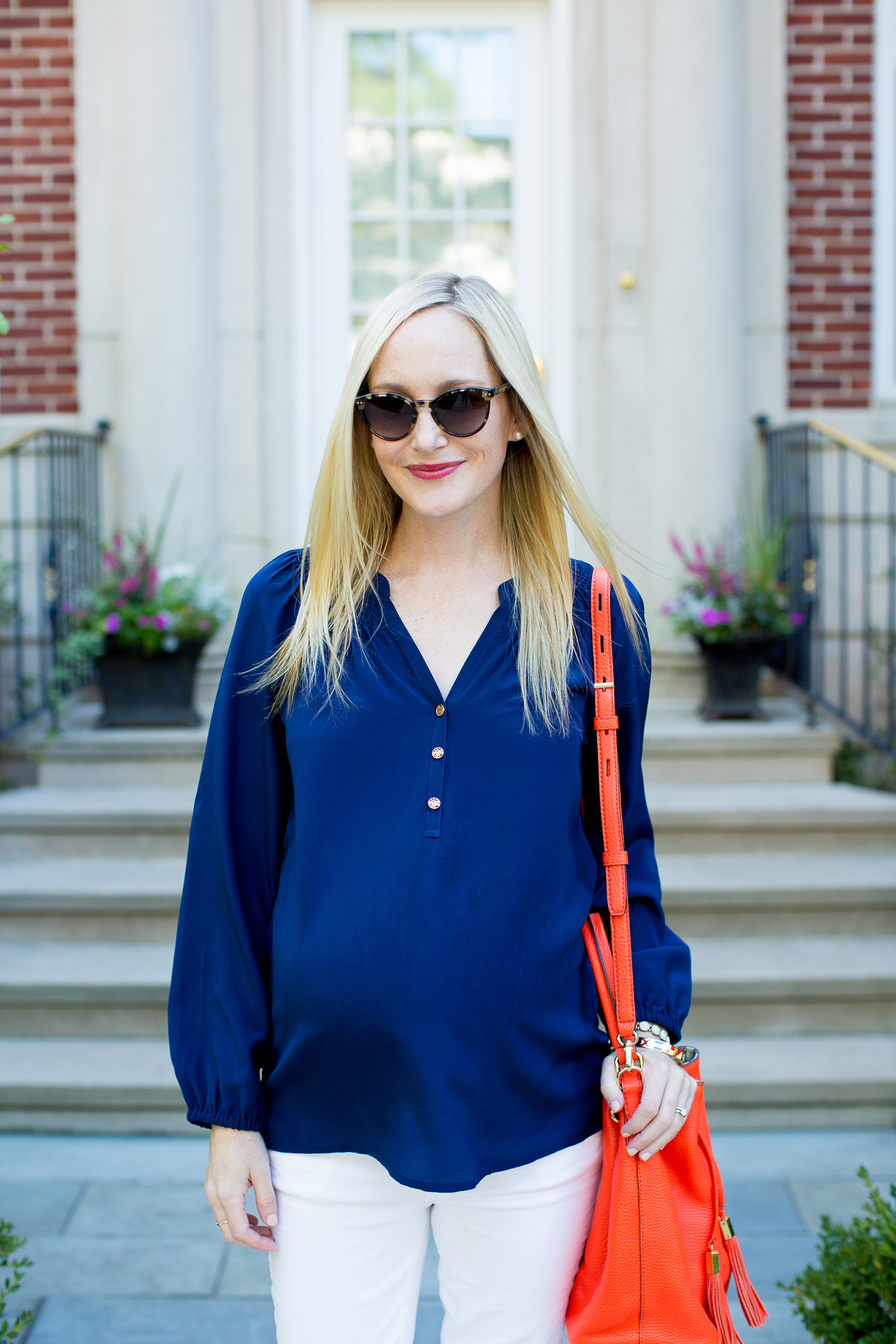 Henri Bendel Bucket Bag c/o (On sale! Love this one, too!) / Lilly Pulitzer Elsa Top (Free gifts with any purchase today and tomorrow at Lilly! Also, I find that the solids run a little larger than the prints in Elsas. I'm wearing a size small here, which–I admit–is a little too tight right now. ;) But I normally wear a size XS in Elsas, so I'd recommend sizing down in solids!) / Paige Jeans (On sale! Maternity version here) / Similar Sunglasses / C.Wonder Bracelet (Old, similar here) / Similar Crystal Bracelet / Moon and Lola Pearl Earrings c/o / Jack Rogers Wedges c/o (On major sale!)

I'm back! As you might have noticed, I've recently been taking the weekends off from blogging, or posting really late. Part of me knows it's a good thing: I need the rest, the mental break, and the time to get other (more important) things accomplished. But another part of me is always a little sad about it. Is it weird how much I adore blogging? Probably. I liken it to writing in a journal, though. It's a nice little release; a reprieve from the rest of life. It's also something I have complete and total control over, and something that always appears orderly and thought-out. Blog posts all in a row on the homepage, photos carefully selected, sidebar clean and tidy.
I know: I'm a lunatic. But life's been so busy and hectic and just–well–crazy these past couple of weeks that I've come to realize just how much I need blogging in my life. Which makes me wonder how and if I'll get to keep up with it after the baby arrives. Of course, it goes without saying that the baby comes first, and this site will never, ever take precedence over my family. I also know that Kelly in the City is going to change. But I just hope I'll be able to hop on every so often to talk and reflect and spill my guts. ;) It's a creative outlet I can't imagine being without, and it's the reason I started blogging in the first place.
Anyway, I'm going to be totally unlike 99 percent of the other bloggers out there today, and not post photos of barbecues and fireworks and beach parties. The Fourth of July is my absolute favorite holiday, but I'm three weeks out from my due date, and I'm feeling pretty exhausted. The reality of my situation is that I'm home, in the air conditioning, on the couch, playing catchup and preparing for the baby. (And maybe going out to dinner. ;)) And while I wish so badly I could be celebrating my mom's birthday down the Shore with my family, attending a best friend's annual celebration, or spending time with Mitch's family at the lake house, I know I'm just where I should be. <3
Hope you're having a fabulous holiday weekend, Friends!
Shop the Post:
Henri Bendel Bucket Bag c/o (On sale! Love this one, too!) / Lilly Pulitzer Elsa Top (Free gifts with any purchase today and tomorrow at Lilly! Also, I find that the solids run a little larger than the prints in Elsas. I'm wearing a size small here, which–I admit–is a little too tight right now. ;) But I normally wear a size XS in Elsas, so I'd recommend sizing down in solids!) / Paige Jeans (On sale! Maternity version here) / Similar Sunglasses / C.Wonder Bracelet (Old, similar here) / Similar Crystal Bracelet / Moon and Lola Pearl Earrings c/o / Jack Rogers Wedges c/o (On major sale!)