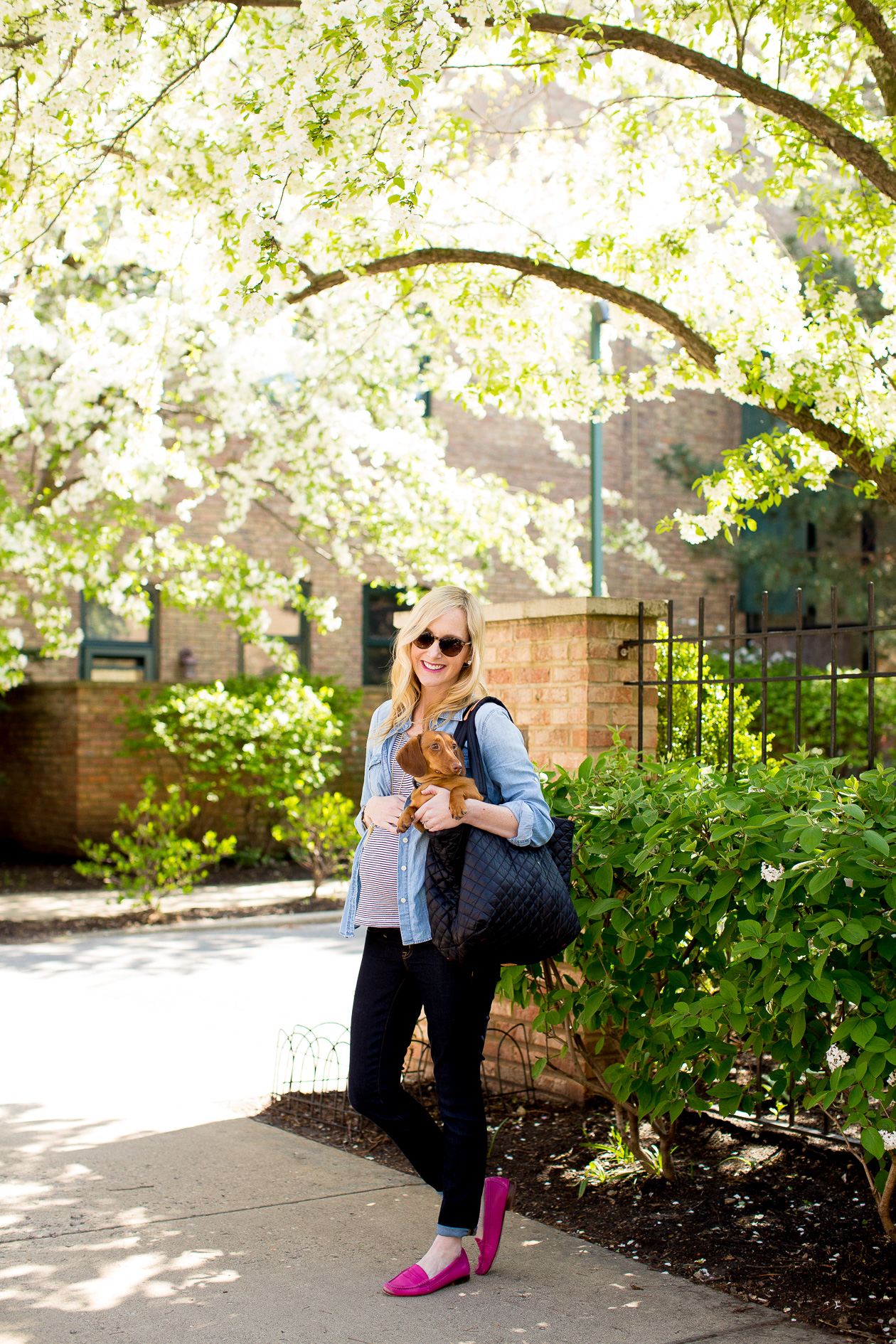 MZ Wallace Tote c/o (Large version here — How cute is the navy?!) / J.Crew Jeans (Maternity version here), Striped Tee (OMG!) and Chambray Shirt / Kendra Scott Necklace c/o / Similar Loafers (Also love these hot pink Sperrys!) / Similar Sunglasses / Miniature Dachshund ;)
Welcome to what a day in the life of Kelly in the City has become. ;) We're workin' with a very limited wardrobe right now, but I have to say: I kind of like it. It's really simplified my life, as I don't have a ton of options to choose from in the morning. I think I said this before, but it's just like having a capsule closet, and it's amazing!
In other news, MY HAIR IS GROWING. Apparently this is something that comes along with being pregnant, but as I've battled with super fine/thin hair for the last few years, this is such a welcomed change. I'm not even wearing my extensions in these photos! Of course, I hear that after you have the baby, it all falls out. But for now, I'm crazy in love with my thicker locks. ;)
And finally, the real point of this post: I'm teaming up with MZ Wallace to give away one of the company's Metro Totes, which I'm obsessed with. I currently use mine as a day-to-day tote, but I'm also planning on using it as my baby bag! I actually purchased the medium navy version a few months ago in anticipation of Baby Larkin (just didn't disclose that information on the blog, as I hadn't yet announced)… and today, I'm sporting the medium black version. If you win, you get to choose ANY color/size!
But let's back up for a moment, and talk about why the Metro Tote is my favorite everyday tote ever. First of all, it's squishy, meaning that it can fit anywhere and you don't have to worry about it getting dented or damaged. It also folds up really well, and takes up very little space in a suitcase. It doubles as a pillow, too. (So soft!) And it's LIGHT. One of my biggest pregnancy struggles right now is that my back is killing me, but the Metro Tote is so light that I hardly notice it! Finally, it's padded, making it perfect for transporting my laptop and camera to the nearby coffee shop… and it has a bunch of pockets for organizational purposes. :) Oh, and it's adorable.
Sizing: Most people I know own the large version of the bag, but I went with the medium because I'm rather petite and the large looked a little overwhelming on me. I made the same decision with my Louis Vuitton tote! The MZ Wallace medium is still big enough to fit my 15-inch Macbook and gigantic DSLR camera, but if you're looking for an overnight bag, the large might be better.
Want to win your own?! There are two ways to enter: comment on this blog post or make sure you're following @mzwallace and @kellyinthecity on Instagram, and tag two friends in this photo or in any other MZ Wallace-related photos that pops up on my feed this week. Easy peasy! Winner will be announced on Sunday, May 15th. Good luck!
Photos by Maya of Charmingly Styled
Shop the post:
MZ Wallace Tote c/o (Large version here — How cute is the navy?!) / J.Crew Jeans (Maternity version here), Striped Tee (OMG!) and Chambray Shirt / Kendra Scott Necklace c/o / Similar Loafers (Also love these hot pink Sperrys!) / Similar Sunglasses / Miniature Dachshund ;)