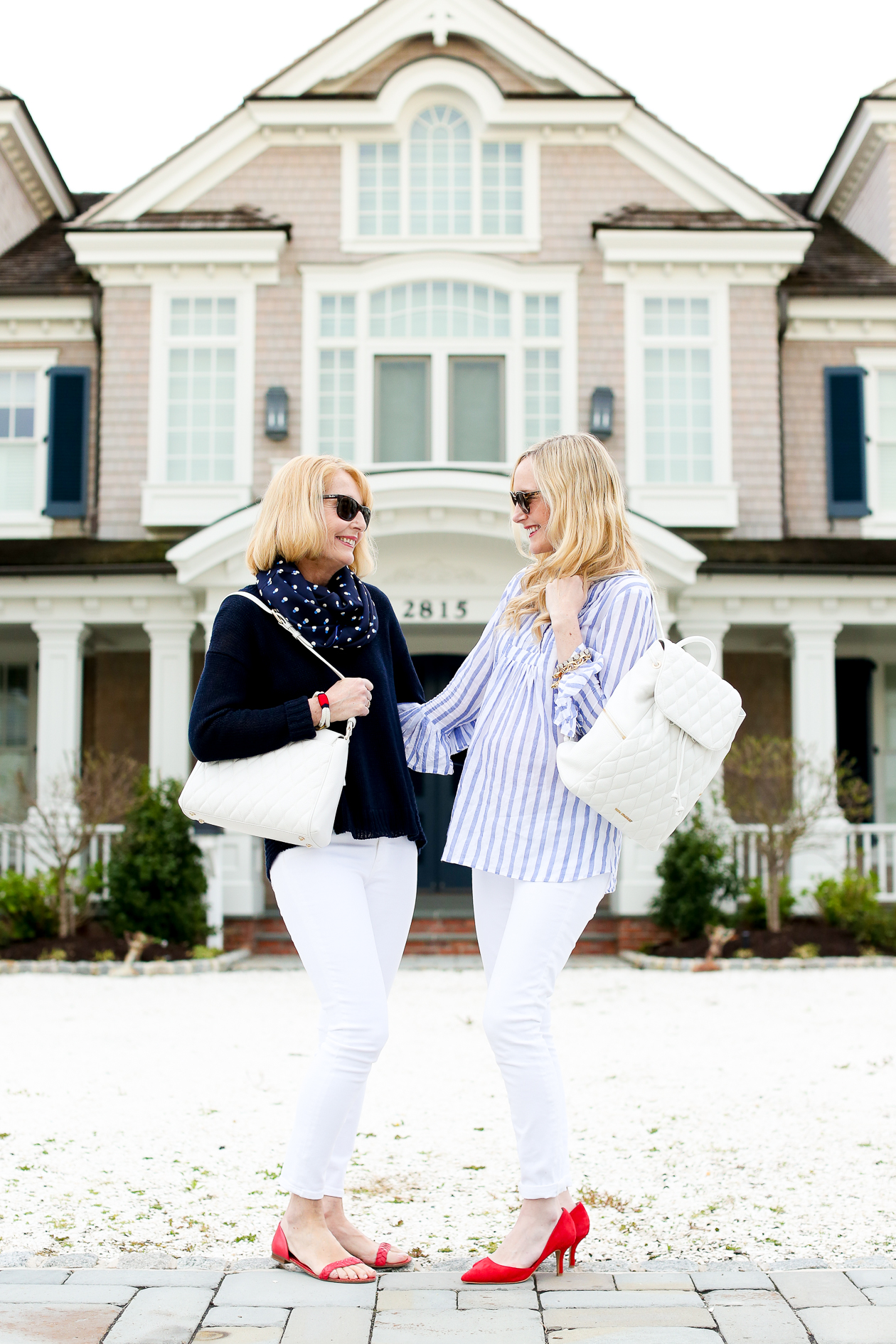 Vera Bradley Quilted Leather Backpack and Cara Convertible Bag c/o / J.Crew Jeans (I'm wearing the maternity version and mom's wearing the regular version!) / Sole Society Pumps c/o (Also available here) / Talbots Sandals (Last season's, but newer versions here, here and here) / On Mom: J.Crew Sweater (We also love this one and this one!) and Scarf (Old, but we LOVE this one!) / Similar Sunglasses / C.Wonder Whale Bracelet (Old, but how close is this?! And shop C.Wonder here) and Unknown Bracelet from Nantucket / Kendra Scott Necklace c/o (Also love this one) / Bell Top c/o / Barbour Jacket (Similar Barbour styles here and here)
A few weeks ago in Ocean City, Mom and I had the pleasure of shooting a little Mother's Day feature for "Inside Stitch," Vera Bradley's blog. (Check it out!) As we're sadly not together today, it was the perfect way to celebrate. :) Right after these photos were taken, we took our adorable new Vera Bradley bags and headed over to The Crab Trap for a night of cocktails and seafood. (Well, juice for me.) Sigh. Take me back to OC!
This is obviously a very special Mother's Day for Mom and me, as come July, she's going to become a grandmother for the first time and I'm going to become a mom for the first time. It's really hard to believe… I mean, wasn't it just yesterday that you and I were painting rock turtles on the back porch and learning how to French braid my American Girl doll's hair? (I had Samantha. Did you have one?! So many memories…)
Mom, I love you so much, and I wish so badly that I was there with you today to celebrate. You truly are the best mother a girl could ever wish for, and I'm so grateful that you're also my best friend. I can't wait for this summer with you! Thank you in advance for coming out to Chicago and showing me how to do EVERYTHING. ;) With any luck, I'll be half the mom you've been to me. Happy Mother's Day, Mom!
And Happy Mother's Day to all the moms out there. ;) Especially Grammie, Grandma, Lisa, Sarah, GiGi, Auntie-M, Aunt Michelle, Aunt Alicia, Aunt Mary, Aunt Teresa, Aunt Cathy, Beth and Emily; all the Kelly in the City moms out there; and all those who are becoming moms or who are trying. (Hugs.) Thank you for all your guidance and love over the years. I feel incredibly blessed and lucky to have such amazing women and role models in my life! <3
Shop the post:
Vera Bradley Quilted Leather Backpack and Cara Convertible Bag c/o / J.Crew Jeans (I'm wearing the maternity version and mom's wearing the regular version!) / Sole Society Pumps c/o (Also available here) / Talbots Sandals (Last season's, but newer versions here, here and here) / On Mom: J.Crew Sweater (We also love this one and this one!) and Scarf (Old, but we LOVE this one!) / Similar Sunglasses / C.Wonder Whale Bracelet (Old, but how close is this?! And shop C.Wonder here) and Unknown Bracelet from Nantucket / Kendra Scott Necklace c/o (Also love this one) / Bell Top c/o / Barbour Jacket (Similar Barbour styles here and here)