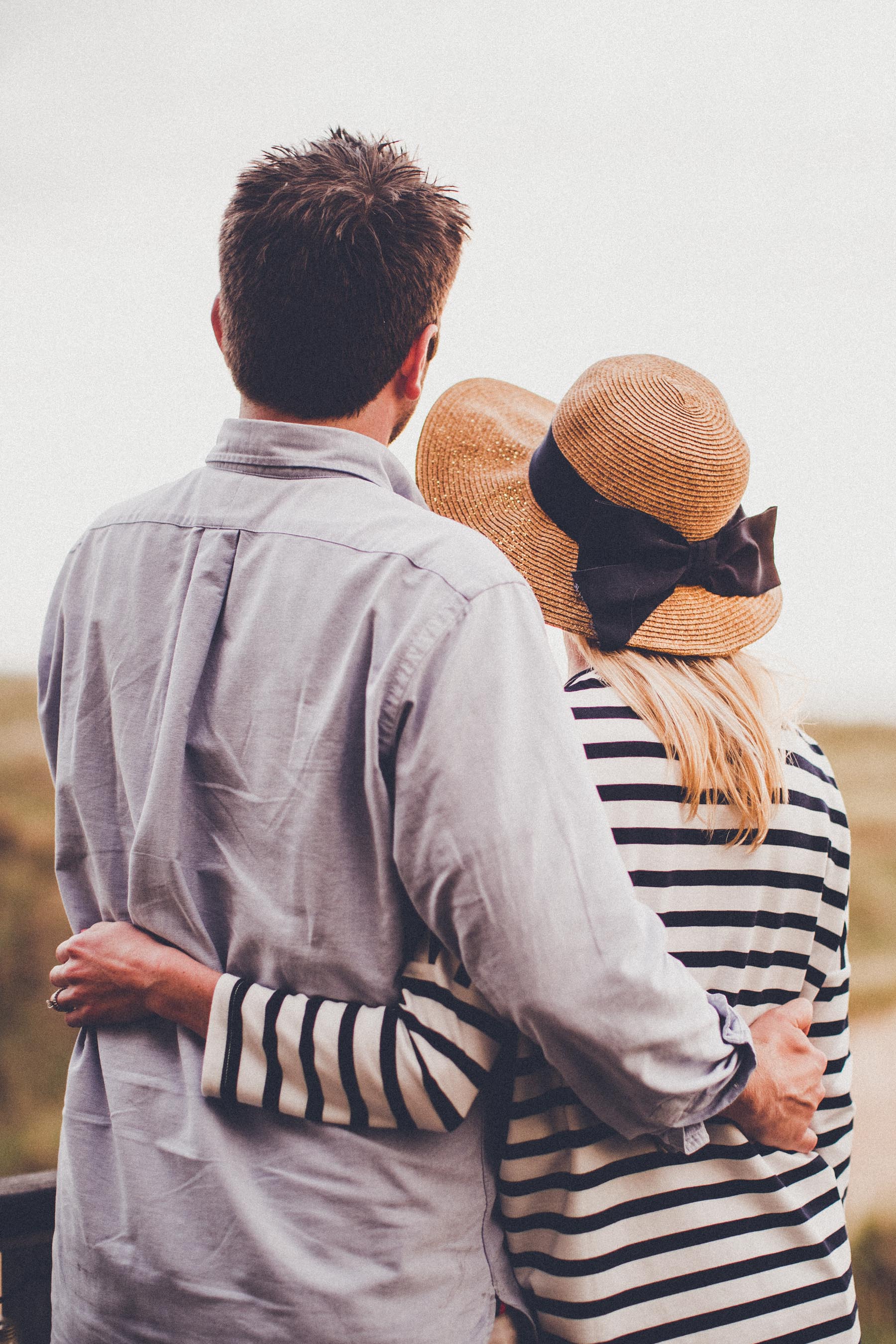 Swing Top (Full review here!) and Bow Hat c/o
I promised I wouldn't dish out the parenting advice in this little weekly motherhood column because I'm learning and I'll always be learning. No one is a parenting expert, and every child is different.
Today, though, Emily and I are sharing what's worked for us personally in terms of maintaining our marriages post Baby. Be sure to read her piece! I've said it countless times and I'll say it again: Emily and Doug are our parenting role models. :) If you're looking for a little guidance, they're our go-to couple!
Anyway, here's the gist of today's post:
Mitch and I have found that marriage doesn't get easier once the cute little baby arrives.
It's slightly weird for me to type that out, as a small part of me secretly thought that parenthood would take marriage to the next level, despite how many horror stories I'd heard about people having kids in order to save failing relationships. But the truth of the matter is that we've needed to put extra effort into "us" over the last year. And we're totes okay with that, because we truly love our chaotic family life. :) Here's what we do, though, to keep things alive:
Take long walks
The Larkins love their walks. Noodle's happy, Emma's happy, and Mitch and I are happy! We spend at least an hour every day walking around Lincoln Park, and we sometimes get a walk in before work, too. While it's definitely "family time," it's also alone time. Mitch and I have some of our best conversations during these walks, while Noodle sniffs and Emma takes in her surroundings and babbles to herself. ;) We also catch each other up on our days!
Go to sleep at the same time
There's so much that needs to be accomplished in a given day, from the demands of running two small businesses and a full-time teaching career to raising our little girl, taking care of Noodle, and maintaining our home. It's easy to fall into a routine of staying up super late to get more accomplished, but we've found that it comes at a price. Climbing into bed together is one of our favorite times of the day, as, again, it allows us to talk. Or even just be together in a calm and serene place.
Reserve family time
For a while, Mitch and I were doing "hand-offs." He'd get home from work and take Emma, and I'd go off to work. We'd only reunite around 9 or 10 p.m., and by then, we were absolutely exhausted. These days, we still do a bit of that. But we recognize how terribly important it is to be together as a family, even if it's just for dinner or bath time or a long walk. Yes, family time involves more than just the two of us, but we're together.
Schedule date nights
On the other hand, we've found that it's also important to get away as a couple every now and then. Once a month, friends watch Emma so we can go out to dinner alone, or my mother-in-law comes up. (And yes: soon, we're going to start using a babysitter.) It's ah-mah-zing. ;) We feel like 20-year-olds and we skip off into the night, and let me tell you: we make the most of those dates! Oy. We feel it the next morning, too. But worth it, haha.
Thank and compliment each other
Thank you for doing the dishes. You look beautiful. I'm amazed by you. Thank you for walking the dog. I was so proud to be your wife/husband tonight. Thank you for doing the laundry. Short sentences, but they mean the world.
Help each other get enough shuteye
Exhaustion is the real deal, and Mitch and I try our hardest to make sure that each person gets a reasonable amount of sleep. We actually have a great thing going on: Mitch is a morning person and I'm a night person, so I handle the late-night wake-ups and feedings, and he's there for Emma in the morning while I sleep or shower. And when one of us is super low on sleep on account of work, the other takes the reigns. It's this little unspoken understanding we have, and I'm so thankful!
Talk
This is included in almost all the other points, but I feel like it deserves the limelight. It's easy to get caught up in the stressors of everyday life and to push our personal needs aside. But we make so many improvements to our lives when we really talk. Chats don't need to be heavy; often they're just about how our days went. But sometimes we talk about our dreams. Our goals. Highlights of the last year. How lucky we are. How far we've come. And these talks keep us going and remind us of what's important.
Laugh
Similarly, we try our best to enjoy life and find the humor in situations. When Emma cracks up during tickle time, we laugh. When there are so many toys scattered about that we can't see the floor, we laugh. And when we're covered in poop, we laugh. (Though sometimes we cry in that situation, too.)
Cheer each other on
Without a doubt, this has been the best year of our lives. But it's also been one of the most challenging. Whenever one of us is feeling a little discouraged (or just plain exhausted), the other is there to lift the person back up and remind him or her that life is wonderful. It's beyond comforting, and it's made us appreciate the lives we've been blessed with.
Say "I love you"
We say it on the reg. I know that many think that saying it often detracts from its meaning, but we were both raised in families that sing it from the rooftops. We say it when we hang up the phone; we say it when someone leaves the house; we say it when we go to sleep; we say it via text; we say it via G-Chat. And I love that. It's a constant reminder that there's this amazing love between us, and that we can take on the world together.
If you're a new (or seasoned!) parent, what do you do to keep your marriage alive?! (And remember to check out Emily's post for more tips!)