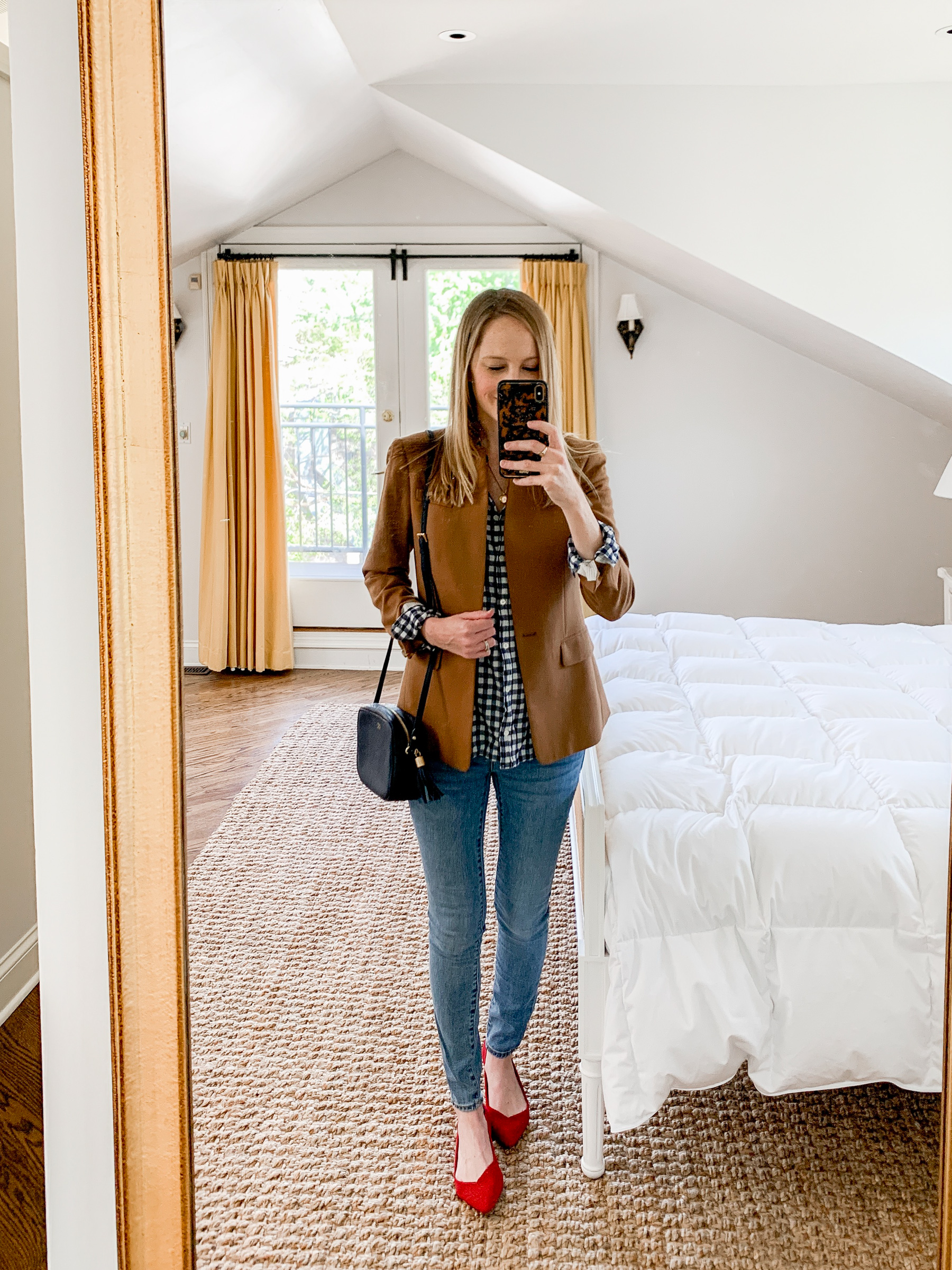 Camel Blazer (Also a big fan of this one and this one.) / Red Rothy's / Gap Maternity Jeans (Current Non-Maternity obsession here.) / Navy Monogrammed Crossbody / Gingham Button-Down (Factory Version here.) / Stampled Initial Necklace / Tortoise Phone Case / Cane Bed / Jute Rug
This is probably the most down-to-earth "fashion" post I've ever done. ;) I'm just starting to get into clothes again–both literally and figuratively–and while I'm pretty limited in terms of wardrobe options because of my belly and the fact that I'm nursing, it's SO nice to be back in some of my favorite stuff! (Also, I do have quite the belly. Promise, haha. I'm just very savvy with the camera angles. 😂) So yeah: these outfits might not be super interesting, but they're very real… and they've been making me feel confident and cute!
A few tips if you're struggling with postpartum outfits:
If you're nursing, embrace the button-down.
I literally wear one every day. After I had Emma, I remember being slightly bummed that I could only wear button-downs, but this time, I'm SO on board. I liken it to how I felt when I was started at a new middle school and had to wear a uniform every day. It was pretty fantastic not to have to think about what to wear every morning! These days, I simply pull out whatever button-down from my closet and style a look around it. It's fun! My favorite button-downs, by the way, are Ralph Lauren's knit oxfords. They're unbelievably soft, and 100-percent what I reach for when they're clean.
Dont give up the maternity pants too quickly.
After I had Lucy, I desperately wanted to ditch mine. I mean, it's all I'd worn for the past nine months! But here's the thing: most women–myself included–can't fit into their non-maternity jeans and pants for a while after giving birth. Why shove myself into my old pants only to be uncomfortable and miserable in them? I have a newfound appreciation for my maternity jeans. They fit better than ever, haha, and they're crazy comfy! The maternity band also helps to hold my belly in. (Looking for a good pair of maternity jeans? My favorite is Old Navy's Rockstar pair.)
Flatter your figure by throwing on slimming blazers and cardigans.
We've had a very cold spring in Chicago, so cardigans and blazers have been a must anyway… but wow! I'm so surprised by how helpful they can be. I suppose it's the line they create down my middle; they provide a slimming silhouette, which is much appreciated! I'm obsessed with J.Crew's Regent Blazer and Sophie Sweater Blazer. (The latter of which runs very large. Go down one to two sizes.)
Make your outfits pop by switching up your handbags and shoes.
It's so easy to just wear the same pair of shoes and carry the same tote every day, especially when you're exhausted and juggling a lot. But I've found that I feel so much better about my look–and therefore myself–when I rotate 'em. Having a shoe rack has made a big difference, as has putting all my bags front and center in my closet so I can see them. I wouldn't say that I switch them out every day, but I make an effort!
Anyway, here's what I've been wearing: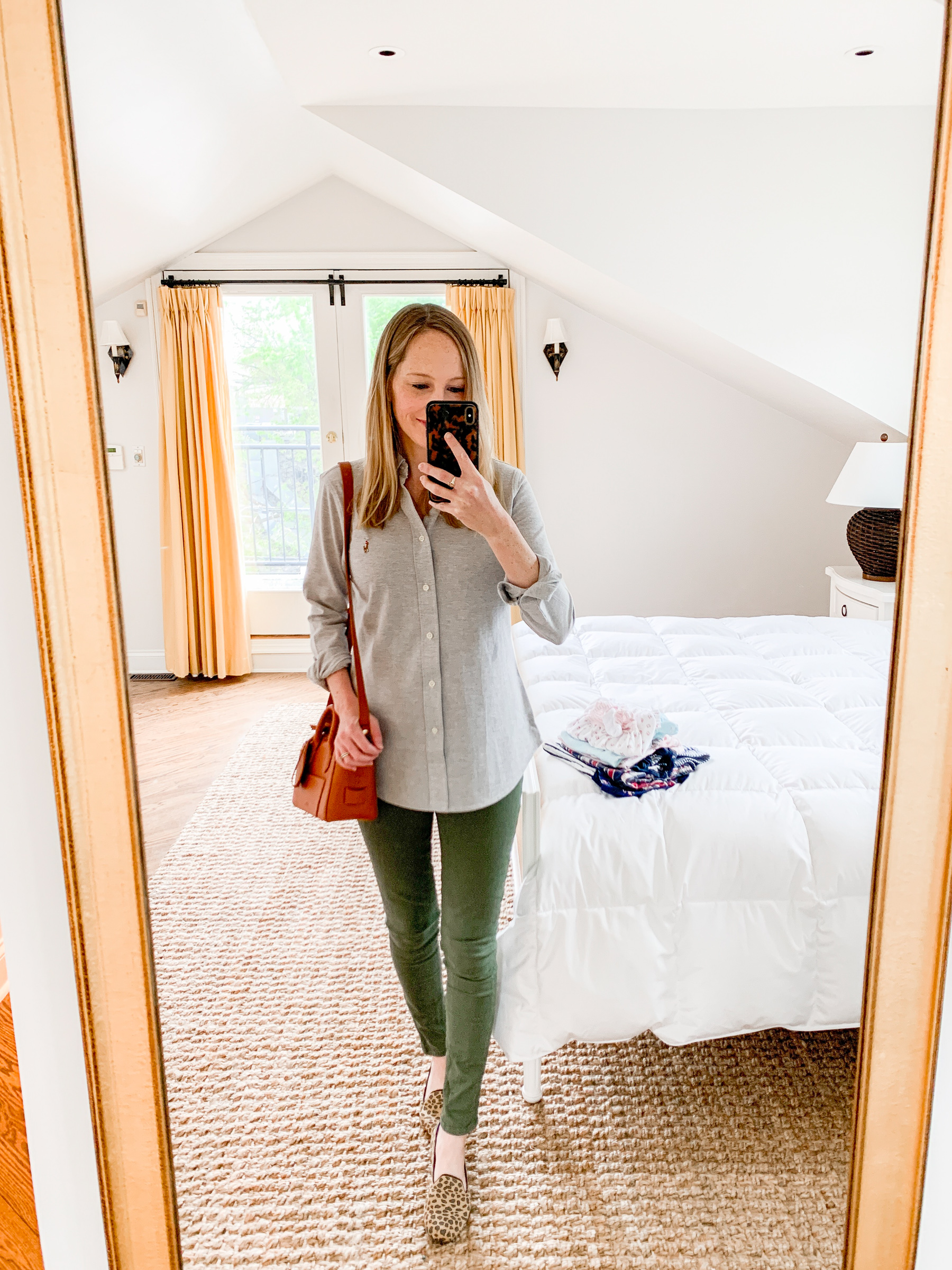 Similar Green Skinny Jeans Here, Here and Here / Leopard Rothy's (Also love this version!) / Ralph Lauren Button-Down (Shop all Knit Oxfords here!) / J.Crew Bag / Stampled Initial Necklace / Tortoise Phone Case / Cane Bed / Jute Rug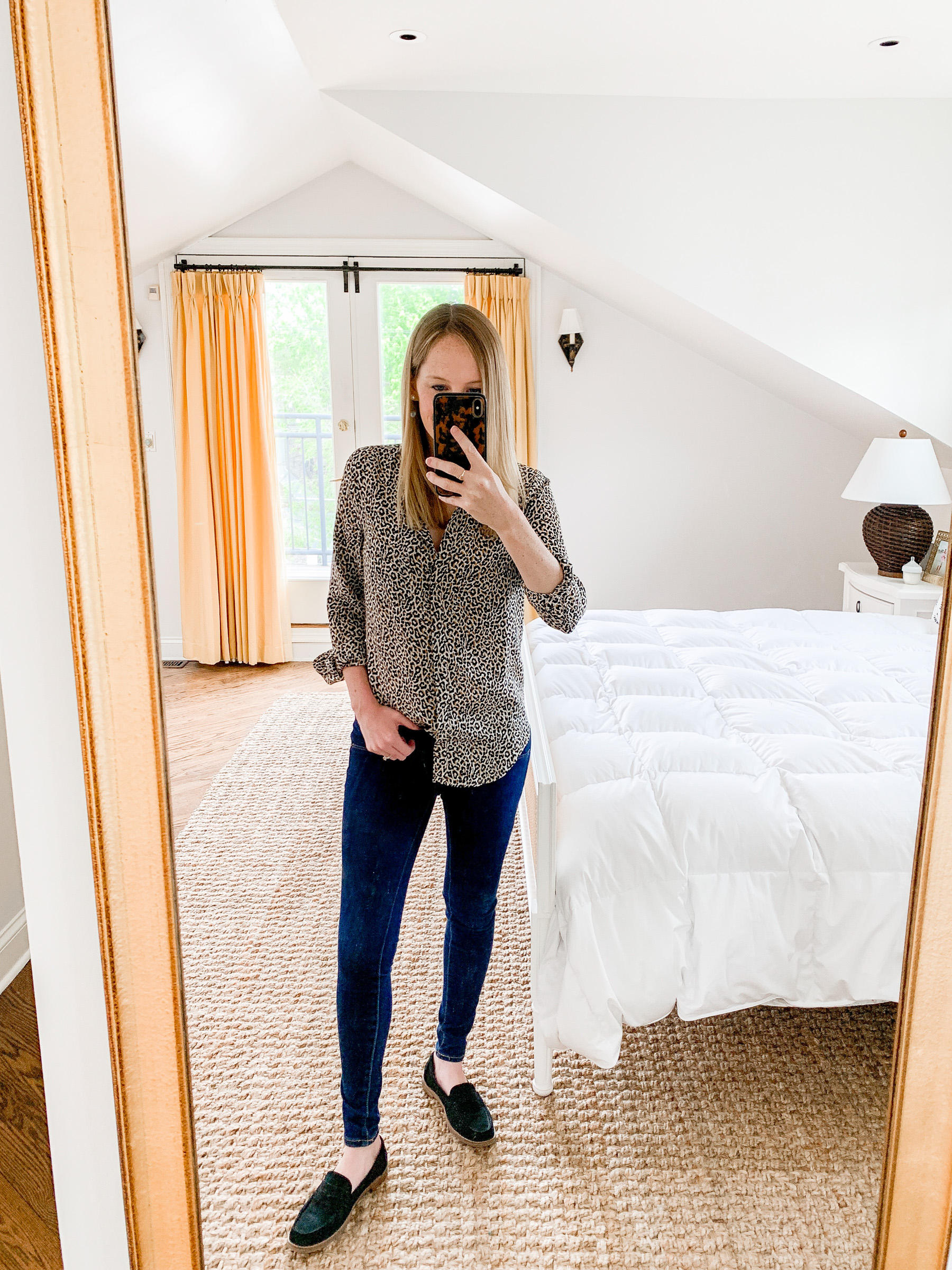 Old Navy Rockstar Jeans (SO GREAT.) / Sperry Loafers (Love them in ALL colors! And have you seen the Liberty London printed ones?!) / Leopard Button-Down (Cotton version here; Other options here; Factory Version Here in a slightly different print that I LOVE.) / Stampled Initial Necklace / Tortoise Phone Case / Cane Bed / Jute Rug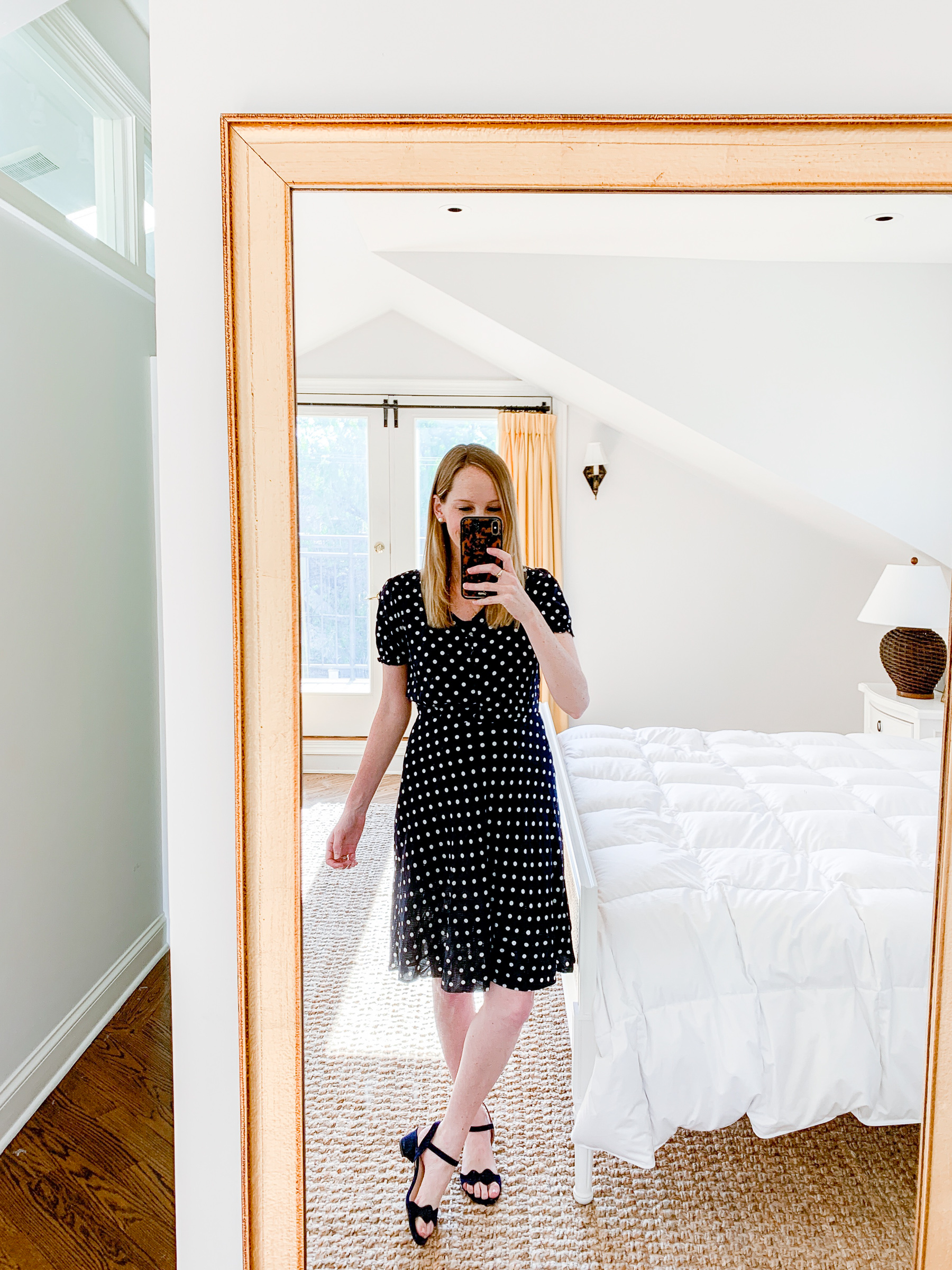 Polka Dot Dress / Patricia Green Navy Scalloped Sandals (SO COMFY. In pink here, in gold here, in black here, in nude here, and in tons of other colors here.) / Stampled Initial Necklace / Tortoise Phone Case / Cane Bed / Jute Rug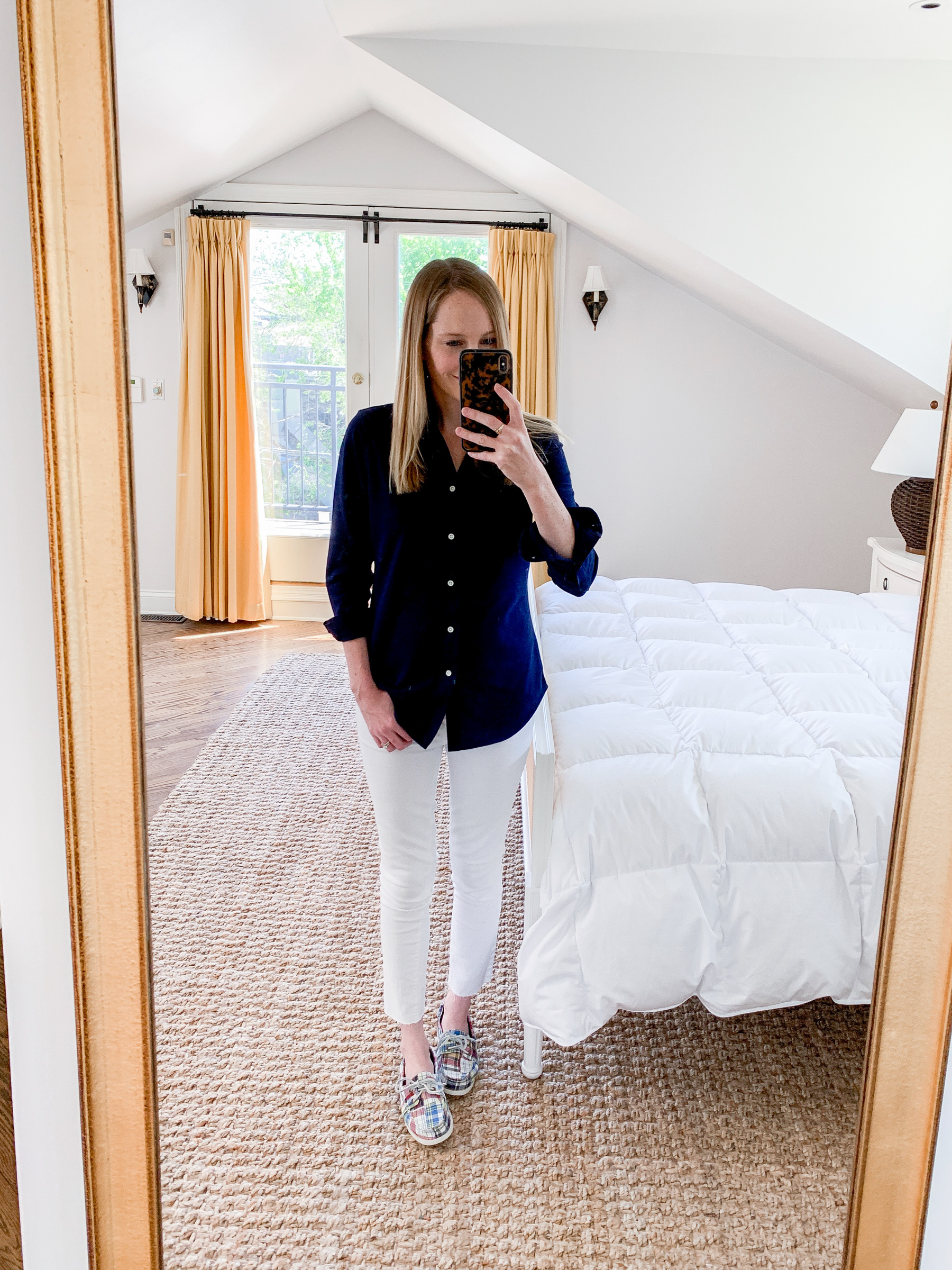 Ralph Lauren Button-Down (Shop all Knit Oxfords here!) / White Jeans (Non-Maternity Here, Here and Here) / Sperry Madras Boat Shoes / Stampled Initial Necklace / Tortoise Phone Case / Cane Bed / Jute Rug
Nantucket Pajamas (In case you're interested, the print is also available in a short-sleeved/shorts set, nightshirt, and full line of bedding.) / Stampled Initial Necklace / Tortoise Phone Case / Cane Bed / Jute Rug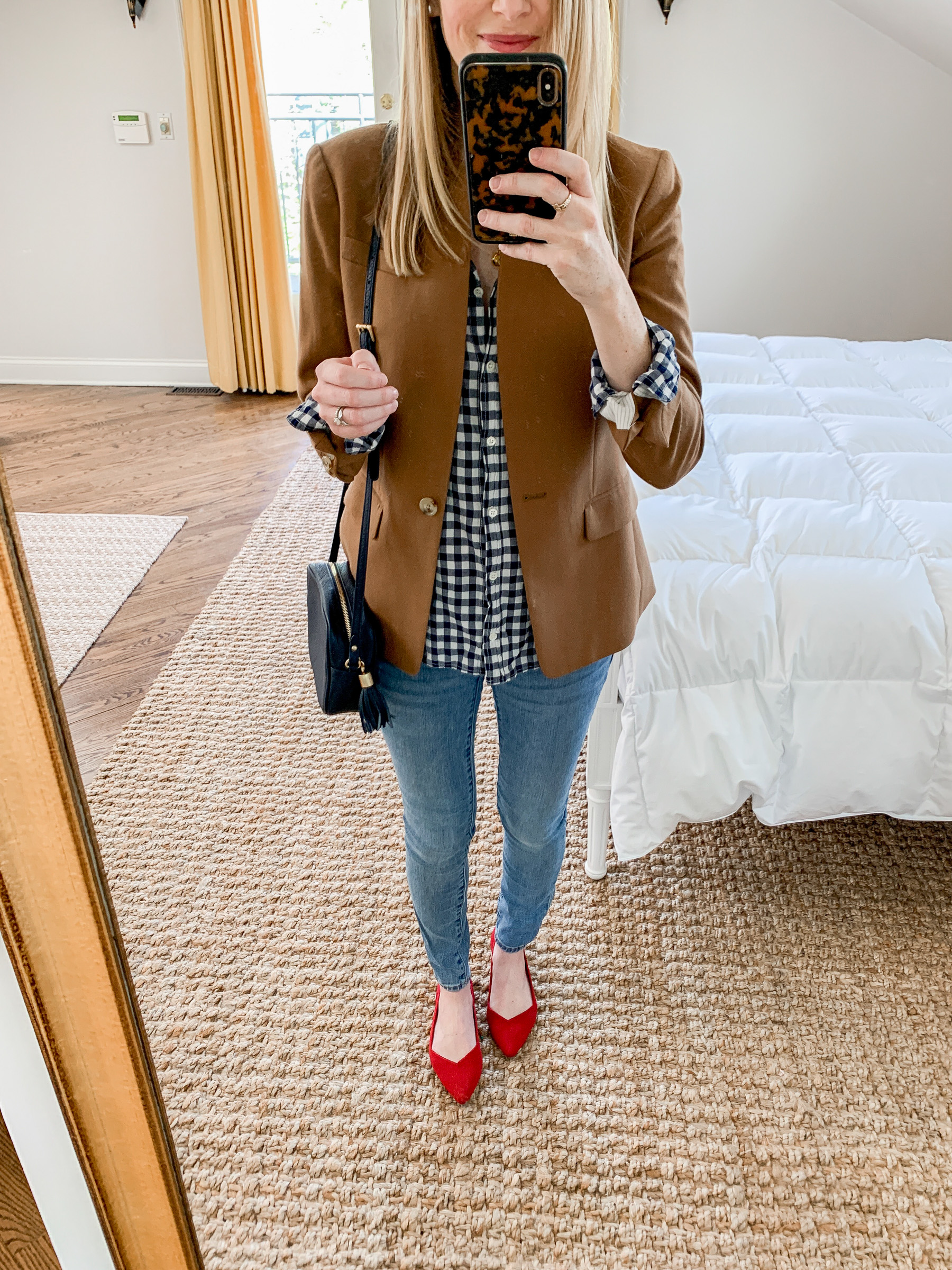 Camel Blazer (Also a big fan of this one and this one.) / Red Rothy's / Gap Maternity Jeans (Current Non-Maternity obsession here.) / Navy Monogrammed Crossbody / Gingham Button-Down (Factory Version here.) / Stampled Initial Necklace / Tortoise Phone Case / Cane Bed / Jute Rug
Ralph Lauren Knit Button-Down (Shop all Knit Oxfords here!) / Maternity Jeans (Non-Maternity Here.) / Woven Loafers (Other amazing options linked here!) / Stampled Initial Necklace / Tortoise Phone Case / Cane Bed / Jute Rug