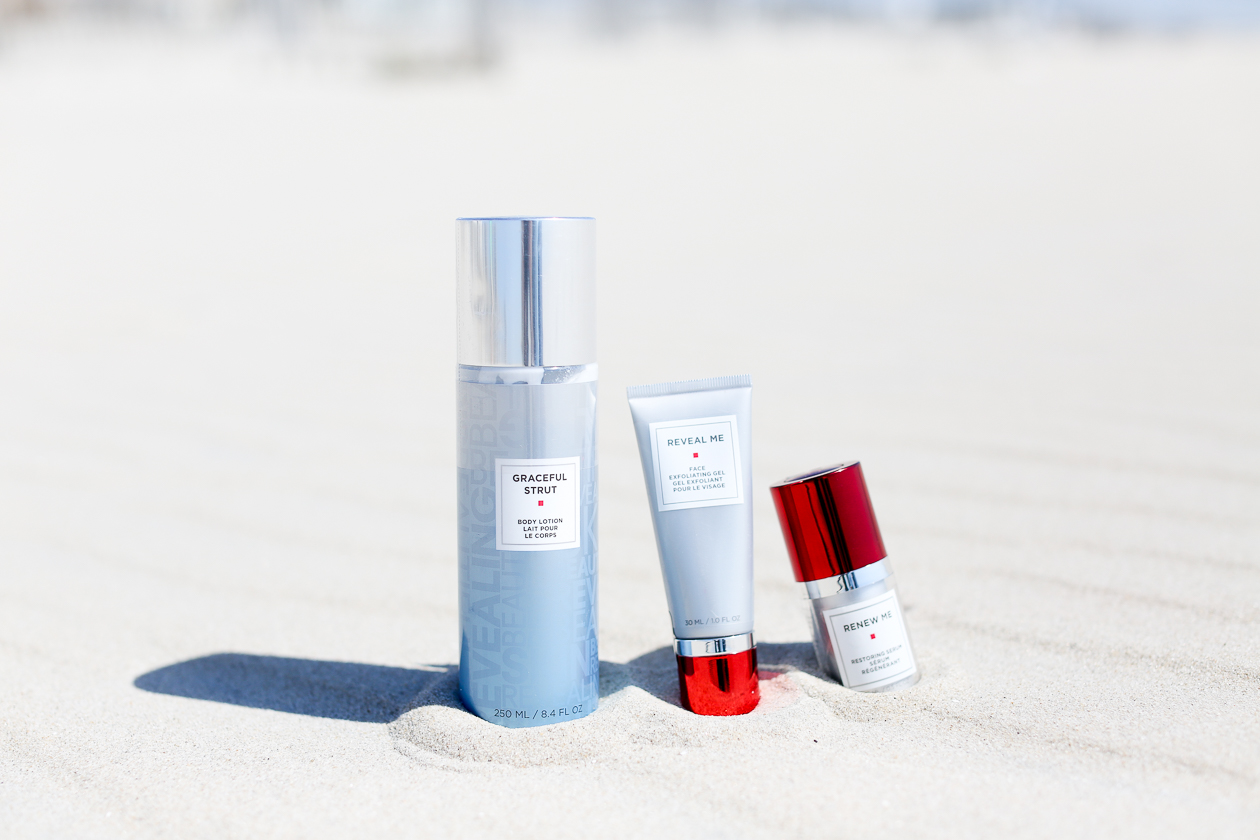 Disclosure: This post was sponsored by European Wax Center® through the company's partnership with POPSUGAR Select. While I was compensated to write a post about European Wax Center, all opinions are my own.
My skin has been a continuous source of frustration for me throughout my pregnancy. Don't get me wrong: it's completely worth it, and I'd put up with skin a zillion times worse for this little baby of ours. But I have to admit: I've been a little embarrassed about it and uncomfortable in it over the last seven months. It's dull and splotchy, and the problem areas just seem to multiply every day. Where's that "pregnancy glow" everyone talks about?!
About a month ago, European Wax Center® reached out and asked whether I'd like to try some of the company's new products. And as I'd seen the the storefronts around Chicago and knew the brand's tagline was "Revealing Beautiful Skin," I thought, why not give the new Strut 365 ™—a comprehensive portfolio of products spanning the bath and body, skincare and brow care categories–a whirl?! I chose three products: Reveal Me Face Exfoliating Gel, Renew Me Restoring Serum, and Graceful Strut Body Lotion.
Reveal Me Face Exfoliating Gel, which is from the "Strut Smoothly" collection, has naturally derived fruit extracts that help to get rid of  dry, dull surface cells and support natural cell turnover. The face exfoliating gel also features European Wax Center®'s COMFORT BLEND™, which calms, nourishes and restores skin. It's gentle enough for everyday use, too, which is great for me, as I'm terrible to adhering to different schedules. In order to keep up with a skin care routine, I need to do the same thing every single day.
Every night, I wash and dry my face and then apply a thin layer of Reveal Me Face Exfoliating Gel. I gently rub in a circular motion until I start to feel the exfoliation, and then I rinse!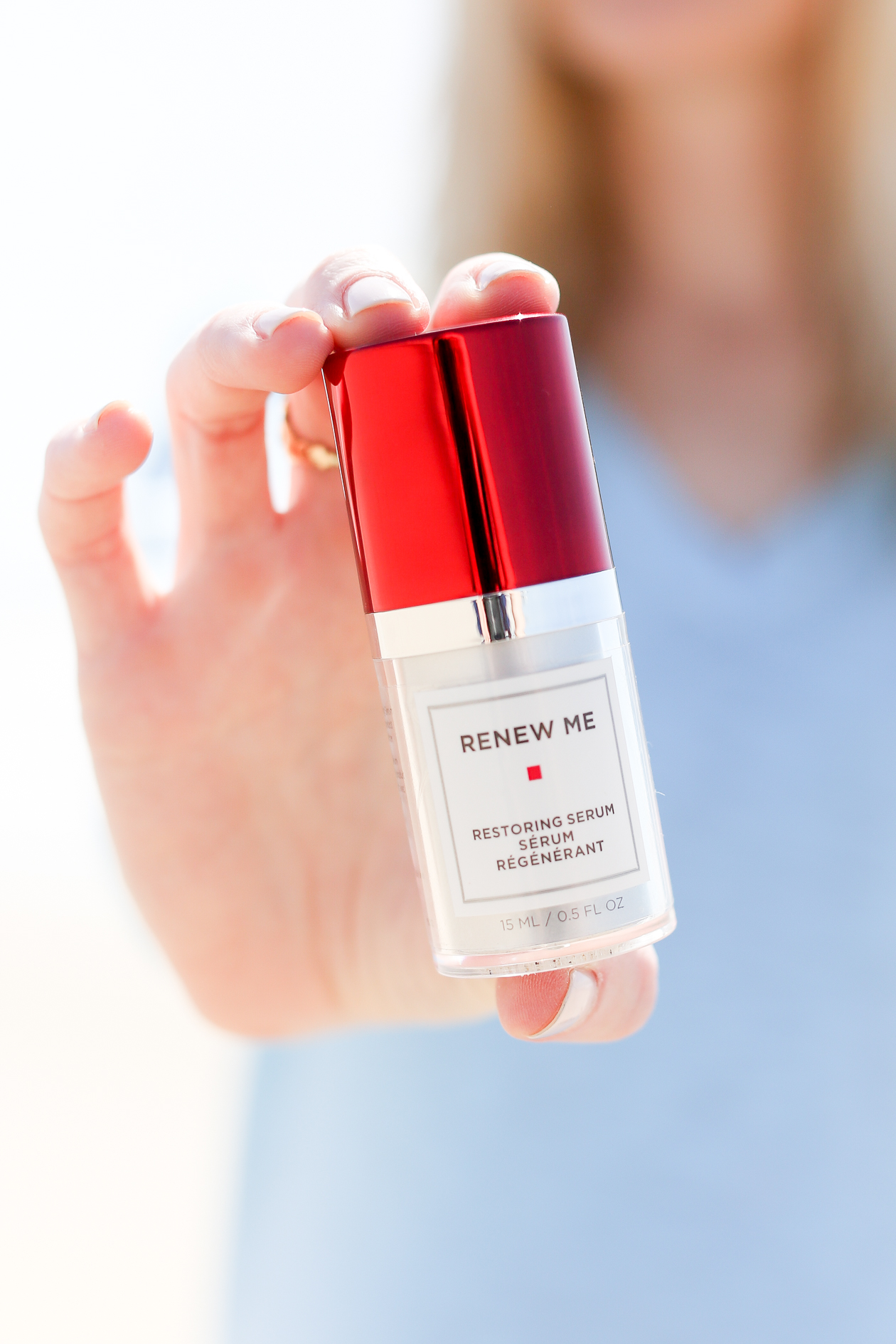 Renew Me Restoring Serum, also from the "Strut Smoothly" collection, is designed to help you start and end your day with fresh-looking skin–something that wasn't happening for me during pregnancy. It has an exclusive, patented emulsion technology that restores and replenishes skin, and it also features a powerful blend of antioxidants that help defend against environmental stress and other skin-aging factors.
For me, using this stuff takes all of five seconds: I simply apply it after washing my face and before moisturizing every morning and night. As it also contains COMFORT BLEND®, it soothes my skins and takes down the redness another notch–something I love. Before, I was washing off all my makeup mid-day and reapplying, as it was the only way I could achieve a somewhat fresh-faced and bright appearance. So much time and work. Now, though, I can totally make it until the end of the day without doing that. Sure, I sometimes need a makeup touchup, but no more starting completely from scratch! :)
Finally, let's talk about Graceful Strut body lotion from the "Strut Lavishly" collection. Moisturizing is SO important during pregnancy, yet I'm constantly "forgetting" to do it because I hate feeling sticky. But the Graceful Strut body lotion is light and delicate. It also smells amazing. Most products smell absolutely disgusting to me these days, haha, but I love Graceful Strut's summery scent. I apply it all over–arms, neck, belly and legs–and I'm much more comfortable throughout the day and night. No more tossing and turning and scratching because of the itchiness!
Interested in trying Reveal Me Face Exfoliating Gel, Renew Me Restoring Serum and Graceful Strut Body Lotion? You can purchase the Strut 365 ™ collection here. :) You can also find European Wax Center® locations here!