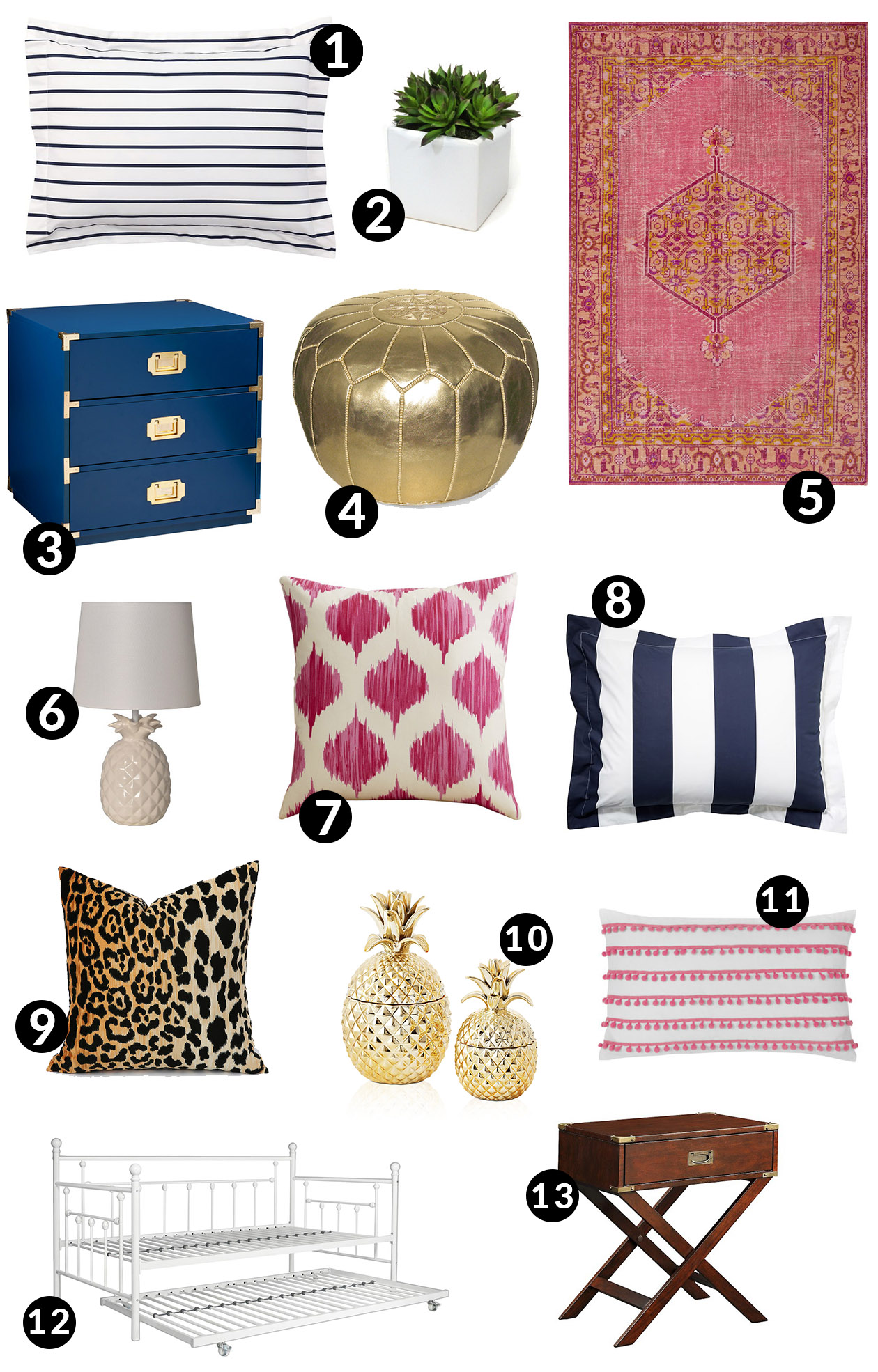 One // Two // Three (Actually going with the white) // Four // Five
Six // Seven // Eight (We have the quilted version) // Nine // Ten
Eleven // Twelve // Thirteen
Surprise, surprise: The nursery/guest room projects have been delayed a week on account of a shipment delay. (Doors and door frames.) There may have been some tears shed over this, haha, but I've fully recovered and I'm focusing on decor to distract myself. ;) The furniture/decor for the nursery has mostly been settled, but the guest room? Woo-ee. Just started thinking about it!
The one thing I'm sure of is that I want the guest room to be super interesting, and kind of in the style of my friends Jess, Shaheen and Blair. It's pretty funny: My Chicago girlfriends have this "Eclectic Bohemian" vibe goin' on in their homes (is that what it's called?), and I'm over here all like, "I only decorate with navy and white stripes!" My friends, thank goodness, are rubbing off on me. ;) I still want the room to be me, but I'm also excited to incorporate some pieces that I might not have gone for a couple of years ago. Love you guys! Thanks for expanding my horizons.
Anyway, we already have the daybed, which we LOVE. (It's a small room, so it allows us to capture more space for everyday use.) We also have the quilts and shams. I recently fell in love with these campaign nightstands in white (15 percent off with code "FOURTHOFJULY"!), and we have this beautiful dresser from MegMade. We're also painting an accent wall (right behind the bed and nightstands) in this awesome green color. (While I originally wanted to go darker, the room itself is dark, so we decided to lighten it up.) And I'd love to do a bunch of gold frames above the bed. But that's it! The rest is fair game.
What do you guys think so far? Too crazy or just the right amount of crazy for a normally very classic girl? I kind of love it so far, but VERY open to opinions/suggestions! Any other products you think would make the room?
Happy Friday! Hope everyone has a fabulous long weekend!