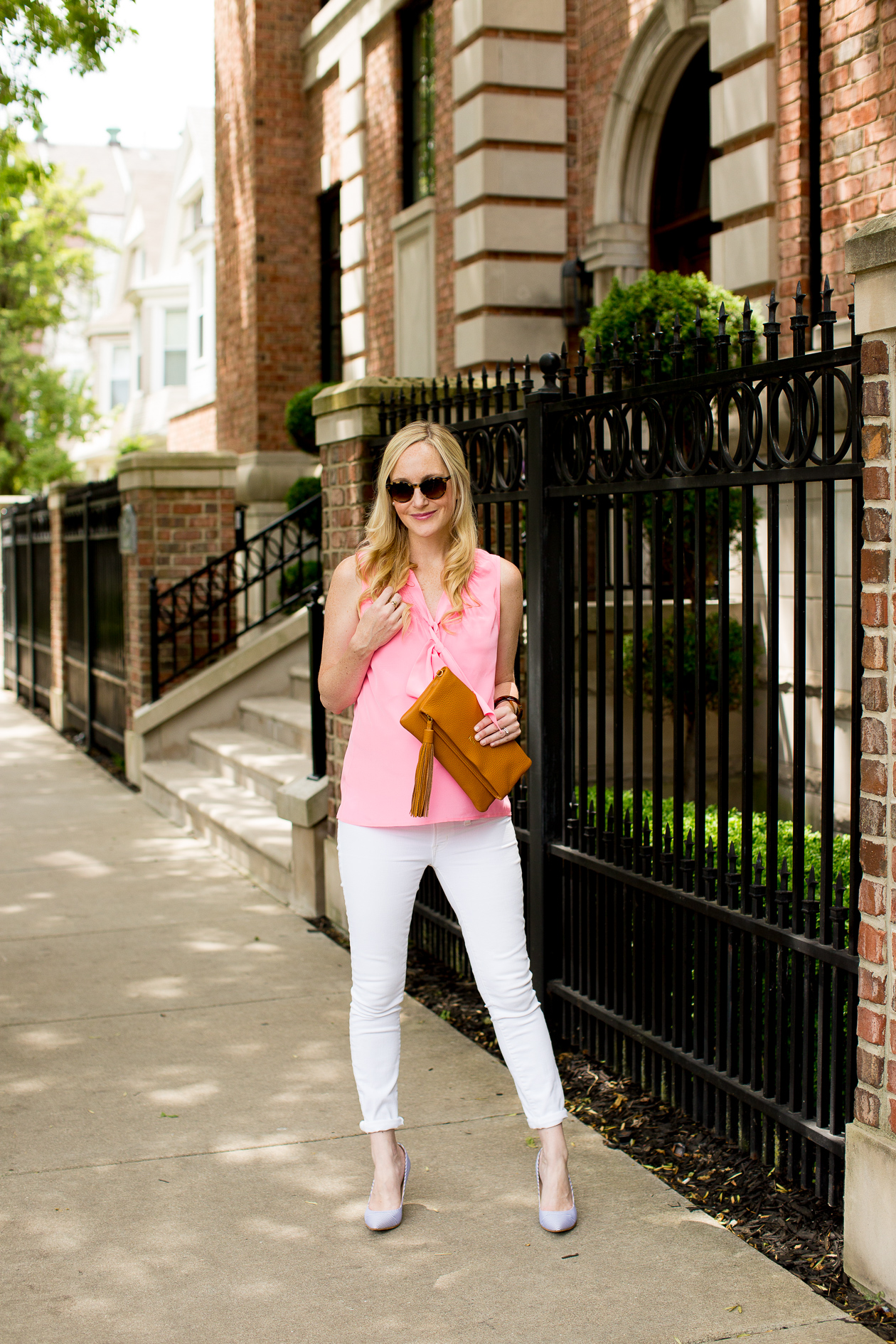 Lilly Pulitzer Top (Borrowed from Auntie-M! Newer tops here.) / J.Crew Jeans (Maternity version here) / Mott 50 Cardigan c/o / Club Monaco Pumps c/o / GiGi New York Clutch c/o / Moon and Lola Bangle and Pearl Earrings c/o / Similar Sunglasses

I'll admit that running the blog has a been a little bit of a challenge this week–which is probably pretty evident to you guys, as I'm just now getting this post up and it's 1 p.m., haha. But our friends Katie and Darren arrived yesterday, and we had SO much catching up to do! :)
The short story is that Katie lived in a Germany for a few years, and last year, returned for the United States for good as she fell in love with a boy from Utah. ;) While they're living in Jersey now, we're at least in the same country! This is their first trip out to Chicago to visit, but we're already planning their next. You know those friends who you can seriously go years without seeing, and then it's like no time has passed at all when you finally do get together? That's Katie. :)
Yesterday, we spent a few hours at the house just catching up, and last night, we grabbed deep dish pizza at Giordanos and then headed to Goose Island Brewery. So much fun! Expect some funny photos in the next "Life, Lately" post!
Anyway, Mitch and I are off to this month's big doctor's appointment, and then we're going to James Taylor with Mike, Tara, Jess and Neal! What a week. :) Catch you tomorrow!
Also: I swear I'm super pregnant. This top is just magically flattering!
Outfit details:
Lilly Pulitzer Top (Borrowed from Auntie-M! Newer tops here.) / J.Crew Jeans (Maternity version here) / Mott 50 Cardigan c/o / Club Monaco Pumps c/o / GiGi New York Clutch c/o / Moon and Lola Bangle and Pearl Earrings c/o / Similar Sunglasses