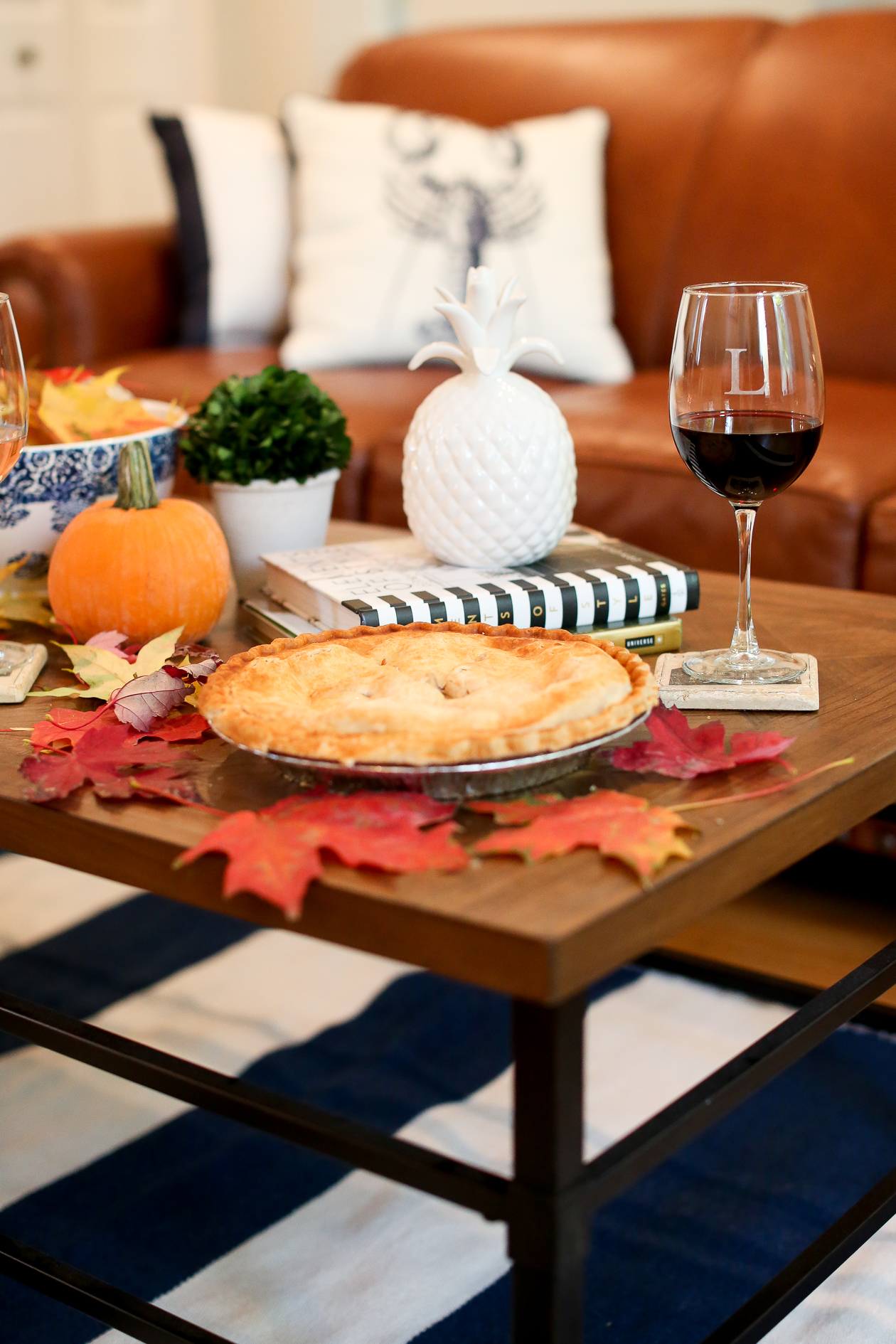 hayneedle Rug, Monogrammed Wine Glasses, Decorative Lighted Pumpkin and Parquet End Table c/o
Other room details:
Leather Couch / Leather Love Seat
One of the best parts of being a homeowner is that Mitch and I now have space to store holiday decorations… which makes me super happy. When I was a kid, my mom went all out for every single holiday, and it made my childhood incredibly special. While there's a ton of work that still needs to be done on the house to get it back to a "livable state" (construction hopefully starting soon), Mitch and I still are putting a big emphasis on holiday decor this year! (Hey–it's the little things, right?)
Similarly, we also love that we're now able to entertain. Back in our tiny apartment, there simply wasn't enough space to have more than a couple of people over. These days, though, things are a bit different!
Anyway, we recently hosted a little fall-themed wine & dessert party for some friends with the help of hayneedle, and I couldn't get over how grown up I felt, haha. Kelly Larkin–the same girl who once nailed sheets over her windows for curtains–was holding a themed party? It was so fun.
Side note: I photographed the room before our guests arrived, as lighting is easier during the day, and I never want to put pressure on our non-blogger friends to be featured on Kelly in the City. It can be a bit unnerving if you aren't used to it! ;) 
To get our entertaining space ready, I picked out a few things from hayneedle:
Monogrammed Wine Glasses: At one point, we had more wine glasses than we knew what to do with. But they were tiny, breakable little things, and we somehow were down to three of 'em about two weeks ago. (Didn't exactly love handing our friends red solo cups full of wine, haha.) Our new wine glasses are large and sturdy, they're dishwasher safe, and they have a gorgeous "L" etched on them. The Larkins are in Love! ;)
Navy Striped Rug: Picking out a rug has been on my to-do list for a while now, as rugs make rooms much more inviting for guests during the colder months. But I was having trouble finding one I loved that was also pet-friendly. This one completely fits the bill, though! It totally looks like wool, but it's actually 100-percent polyester (take that, Noodle!)… and its stripes are a beautiful, rich shade of navy. Even Mitch loves it!
Parquet End Table: Over the last couple of months, I've learned that just as over furnishing can wreck a space, so can under furnishing. Of course, Little Home in the City is a work in progress, but we desperately needed more areas for guests to put their plates and drinks. This end table–in parquet (my favorite!)–has been perfect. It complements the rest of the room, yet it brings an industrial element to it, too.
Lighted Pumpkin: Our first fall-themed decoration! I love that it looks great while plugged in and while not, and that its warm bulbs seem to make the room glow at night. It's so festive, and its twinkle lights definitely make me excited about the upcoming holiday season. :)
Check out hayneedle's Holiday Shop for more seasonal decor ideas, and be sure to visit Porch, a site that links home improvement professionals with homeowners. The company recently launched its "Porch Guarantee," which is a promise that you'll be sent quality professionals who will do quality work. Porch-Guaranteed Professionals have been pre-screened by Porch to meet the company's highest standards so you can feel confident in working with them to complete your next home project. If you're not completely happy, Porch backs the job up to $1,000!
This post was sponsored by hayneedle and Porch, but all opinions are my own. Thank you for supporting the partnerships that keep Kelly in the City up and running!