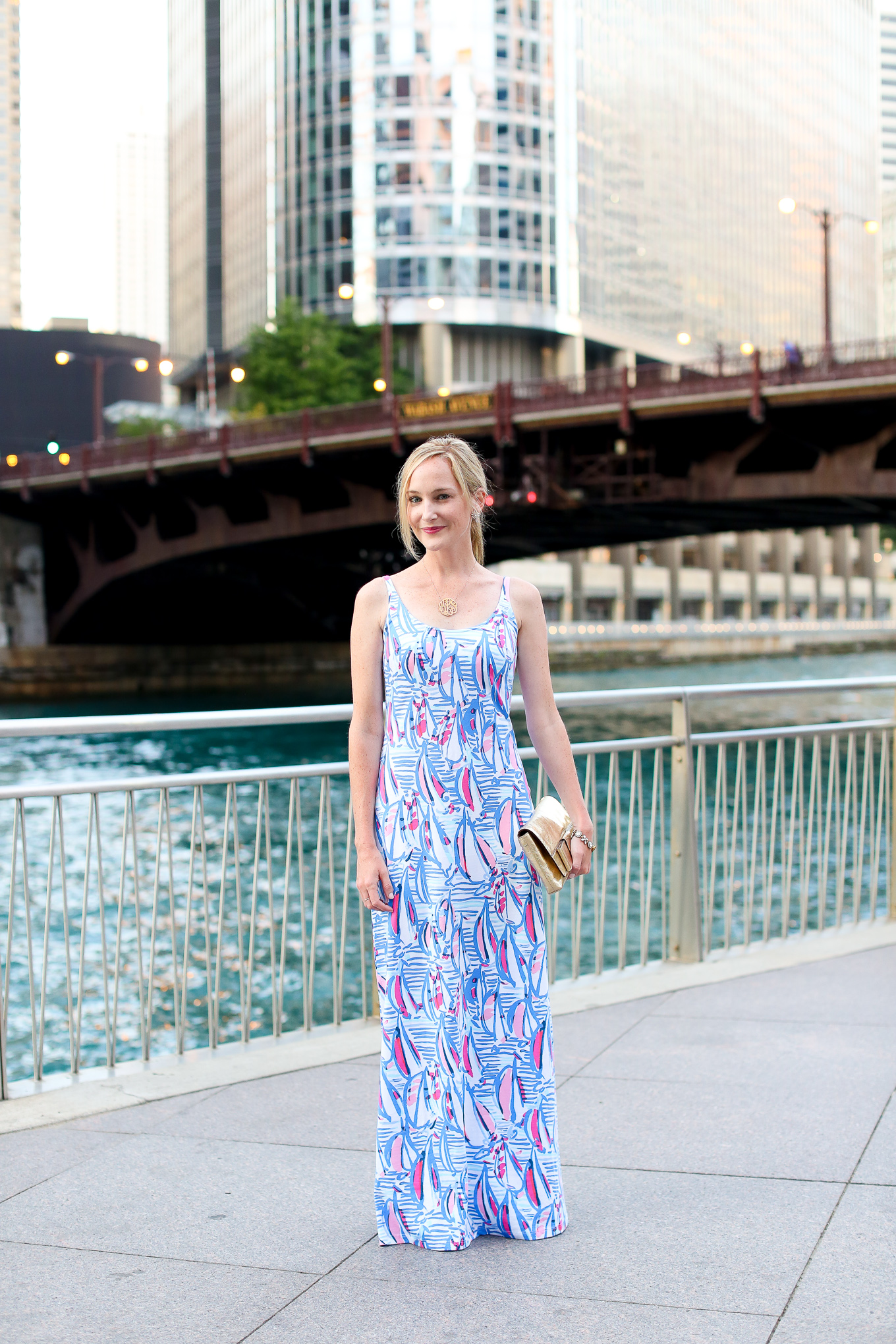 This photo was taken in 2015, but guess what?! Lilly Pulitzer just brought back a bunch of the company's most popular prints… and this one's included!
It's FRIDAY! Even though I somehow managed to keep the blog up and running this week, I don't feel like I was ever really present with it, if that makes sense. ;) Some stuff that occurred in my real life:
My parents and Grammie left: We had SUCH a great visit with them. They were here for four days, and while it was cold and rainy, we had an absolute blast just hanging around the house and grabbing lunch or dinner at nearby restaurants. Dad, of course, worked on the house pretty much the whole time because he always has to be busy and loves tackling home projects… and Mom and Grammie doted on the girls. I've never seen Emma so happy! Here's a little sneak peek of the trip, but I'll post all the pics soon. :)
We saw Vampire Weekend at Northerly Island: SO. MUCH. FUN. We had a little Father's Day celebration at the house with Mitch and my dad on the afternoon of the 16th, and then my parents and Grammie babysat Emma and Lucy so we could go see Vampire Weekend, one of our favorite bands. (My Father's Day gift to Mitch!) We loved it so much and had such a blast that we actually considered trying to go see the show again, but decided against, thinking we'd only be disappointed since that night was pretty much perfection. ;)
Pre-K orientation: On Tuesday, my mother-in-law drove up to watch the girls so we could go to pre-k orientation for Emma. I spoke about this recently on the blog, but Mitch camped out overnight outside our local public elementary school in order to secure a spot for Emma for the 2019-2020 school year. (Long story. I explain here.) Well, SHE GOT IN! I cried, I think Mitch may have cried, Lucy definitely cried, and Emma did a happy dance. Orientation was amazing, too! It was lovely to meet other parents of incoming three-year-old students, and the faculty and teachers seemed incredible. I am so, so excited to become part of the CPS community here in Lincoln Park in September. Emma is READY!
Lucy smiling: My heart melted, and I took a mental snapshot, promising myself to always remember the moment. Have you ever done that before? I remember doing it when I was eight years old while fishing with my grandpa in Ocean City. I told myself I never wanted to forget that day with him. So I focused in on a knot in the wooden dock we were fishing off of, and every week or so, the knot randomly pops into my mind and I think about him and I feels like I'm there again. I hope Lucy's tiny little eyes, nose and smile are forever frozen in my memory, too!
Crown molding/wainscoting/wallpapering in the girls' rooms: I love that our new home doesn't need any major renovations, but I'm currently working with Kira to add a little bit of character to the girls' rooms. We're installing crown molding, wainscoting and wallpaper… and I'm loving everything so far! It's not a huge project but I think it'll make a big difference. :) I can't wait to share more next week!
Living room couch being delivered: We went with this one from Birch Lane, in that indestructible leather (in "Steamboat Chestnut") I love so much. The living room is a LONG way from being finished, but it's really nice to finally have somewhere to sit, haha.
Getting organized: Mitch and I are taking 15 to 30 minutes every day to work on organizing a small part of the house. Because the moving company and our parents unpacked us while we were in the hospital, things have been spread out all over the place, and it feels good to finally be tackling spaces and making them super functional. Yesterday, we did the desk area in the kitchen, which was stuffed to the max in who knows what! Now it's tidy and organized, and we're thrilled!
I visited Serena and Lily in Lincoln Park to design our master bedroom: It was SO much fun. We're working with the team to pick our wallpaper and bedding, and I learned so much while I was there. Will be putting together a blog post about the experience within the next few days and then asking you guys for your opinions about which options you think we should go with! It's going to be hard. Everything is beautiful.
My other best friend from college coming to visit: Two weeks ago, Beth came to visit, and now Tara is here! I don't get to see my Fairfield University friends nearly enough since they both live in Connecticut, but so grateful that their work-related trips are allowing for some quality time. Excited to hang out with Tara and her husband, Mike, tonight at the house!
Phew. On to this week's Recent Finds: