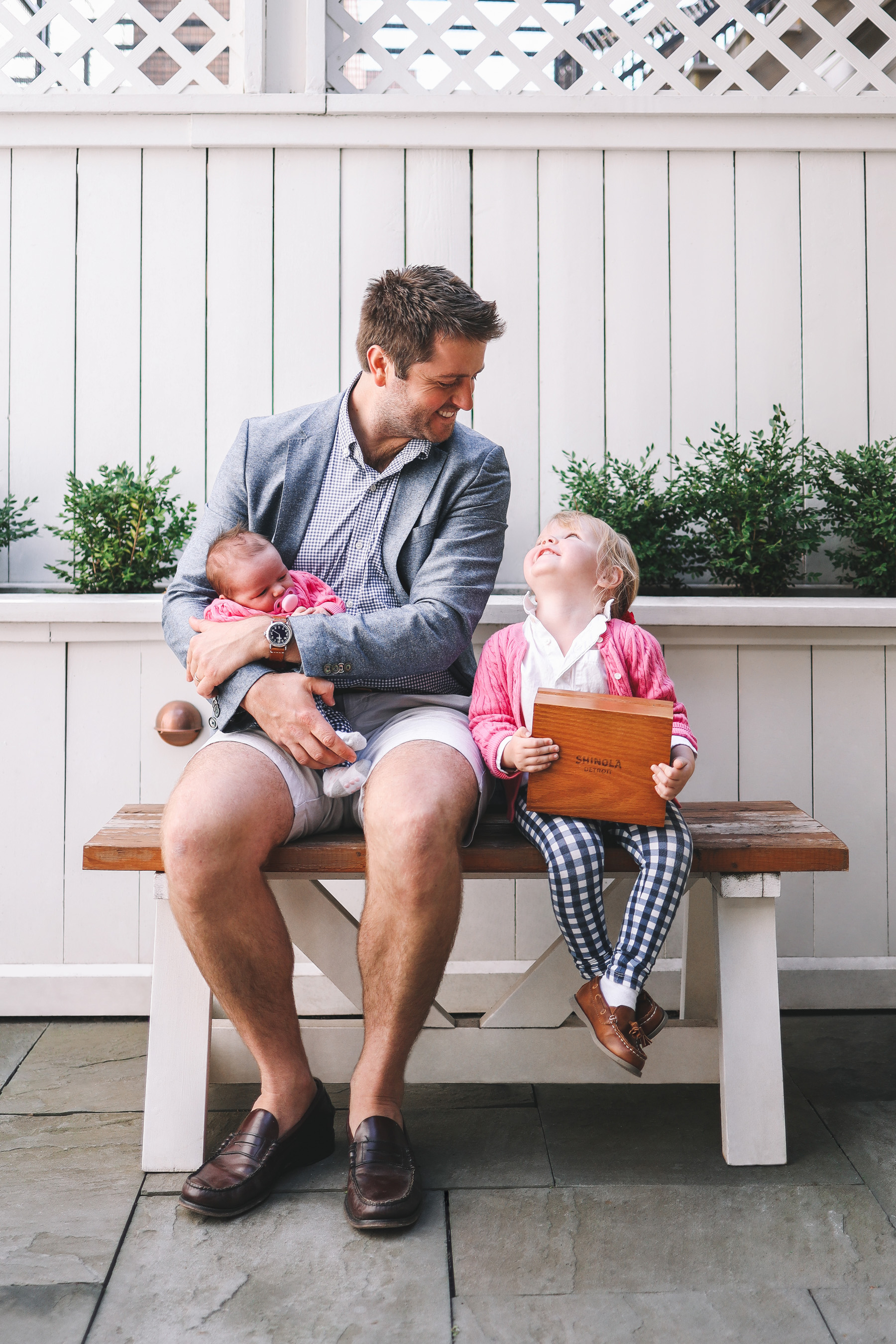 This is the face of a man who, earlier this week, arrived at our local public school–armed with a folding chair and some snacks–at midnight, and spent over 10 hours waiting in line to submit Emma's pre-k application the following morning. (He was behind only one other dad, btw!) Unfortunately, this doesn't 100-percent mean that Emma will get in because preference is given to children who already have siblings in the school and there aren't enough slots to accommodate everyone. But we're very, very hopeful because we want to support Chicago Public Schools and become more involved in our community. (Will update you when we find out!)
Regardless of the outcome, though, I think it's safe to say that Mitch deserves the father of the year award for this! Emma is desperate to go to this school because it's where all her friends will be attending next year, and she's so ready and beyond excited for pre-k. It's just unbelievably touching that Mitch would go to the extreme to try to make it happen for her.
Such. A. Phenomenal. Dad. ❤️
Switching gears a little bit, I don't know if you guys have noticed this, but Mitch makes men's gift guides for Christmas, Valentine's Day and Father's Day… and every time, he includes a Shinola watch. The obsession actually started five years ago when we moved to Chicago and met Jess and Neal. Let's just say that Neal's effortless style had a lasting impression on Mitch, haha. He became determined to "up his game" on the wardrobe front.
He did several closet clean-outs, accumulated a great collection of blazers, invested in some trench coats and topcoats, and even traded in his tattered topsiders for spiffy new penny loafers. The one thing that Mitch couldn't buy for himself, though, was a Shinola watch like Neal's. 😉 He adored Shinola, and had to pop in every time we walked by on Damen in Wicker Park/Bucktown or on Rush in the Gold Coast… but he'd just never been a "treat yoself" kind of guy, and so he walked out empty-handed every time.
When Shinola recently got in touch with me about working on a Father's Day post together, I (understandably) freaked out.
It was almost too good to be true; the perfect gesture and way to thank Mitch for everything he's done for us this year. From orchestrating a move when my super preggo self couldn't help at all and taking over my business/handling all my contracts when Baby #2 arrived early to organizing family trips to brighten our spirits during the winter and sleeping outside the elementary school so his daughter could have a shot at attending, he's simply been a rockstar. And that's only a smattering of the kind of stuff he does on the reg! He's one of the most selfless and caring people I've ever met. I knew the watch was the right token of appreciation.
While coordinating with Neal and surprising Mitch with a watch was my initial plan, we decided that it would probably be even more fun to have him go into the store and have the full shopping and personalization experience. And we were SO right. First of all, the man almost had a heart attack when I told him, and secondly, he looked like a kid in a candy shop once he got in there. It was unbelievably cute.
Before we get to that experience, though, a little bit about Shinola:
Founded in 2011, the company is based in Detroit and specializes in luxury timepieces, bicycles, leather goods, jewelry and audio. The timepieces are assembled in-house in the city's historic Argonaut Building, and they're durable, meant to improve with age, and built to last. Mitch should have his watch, for example, for a lifetime… and I love that!
I also think it's great that Shinola places a lot of importance on personalizing their products, making each one special for its recipient. (My mom personalized a watch for my dad when I was a baby and he still wears it to this day… so it was very meaningful to do the same for Mitch!) Finally, I love the message behind giving a Shinola timepiece to the dad in your life: that the brand's signature quality craftsmanship is equal to the time and thought that you've put into finding the perfect Father's Day gift.
Okay, Friends. Let's go into the store!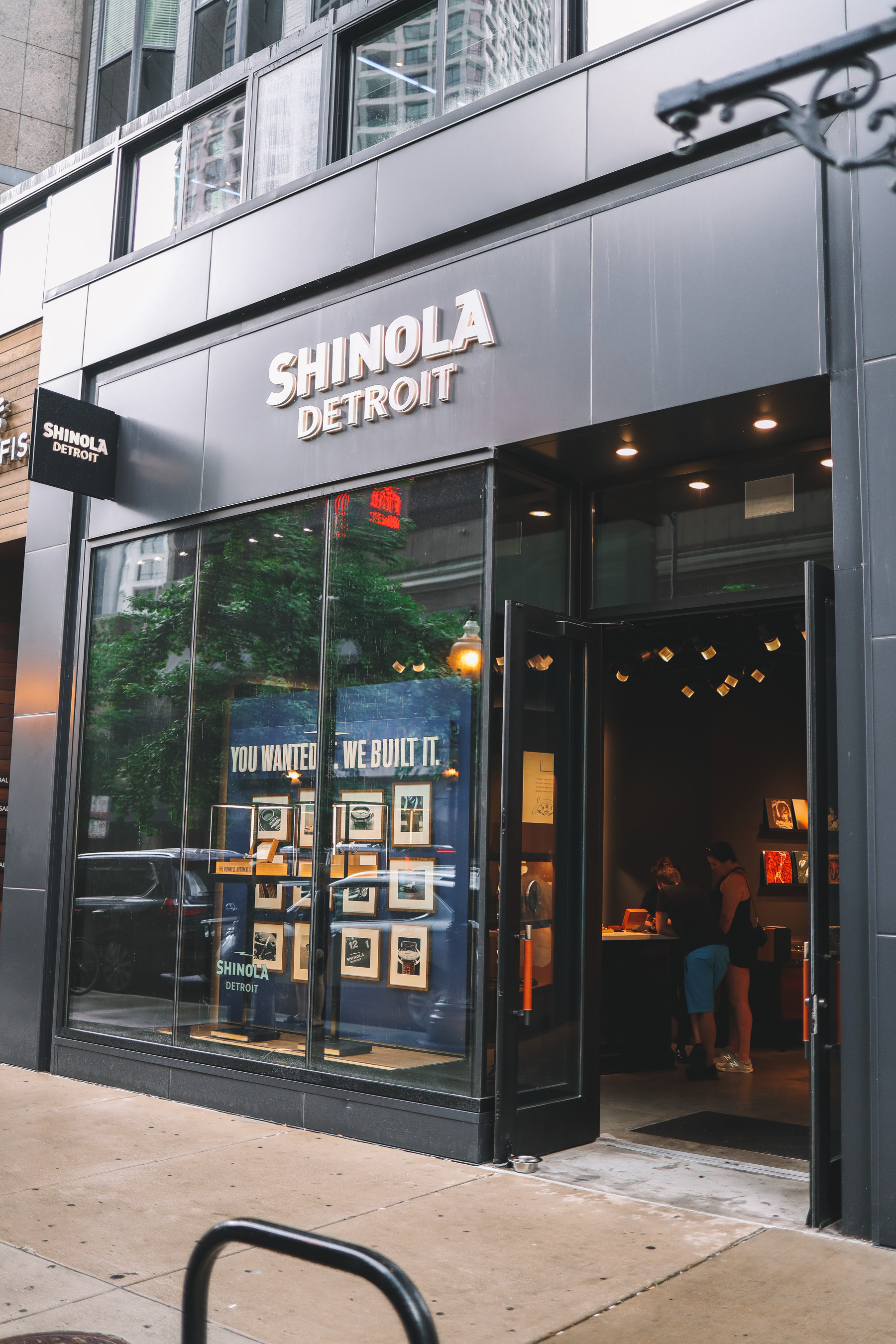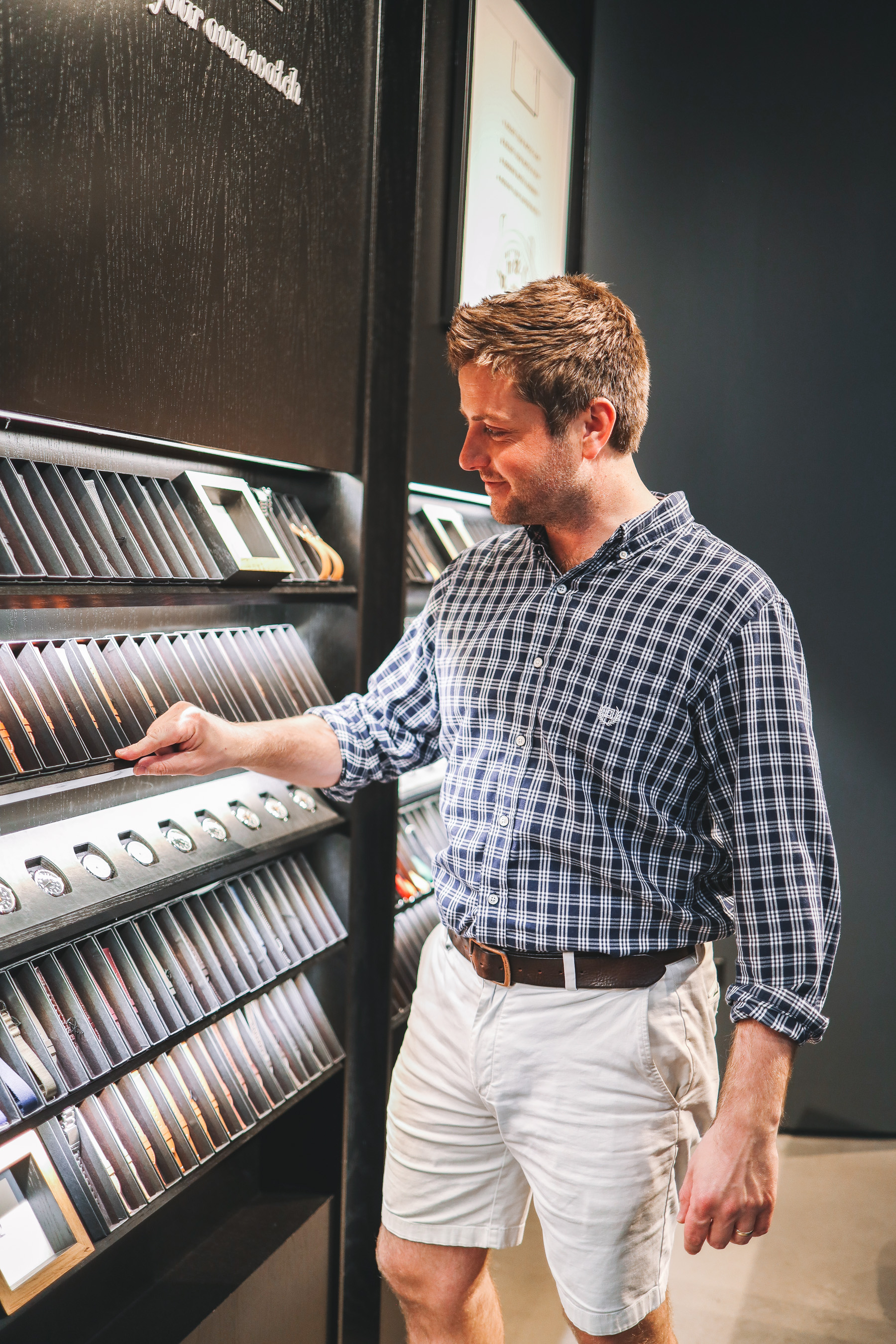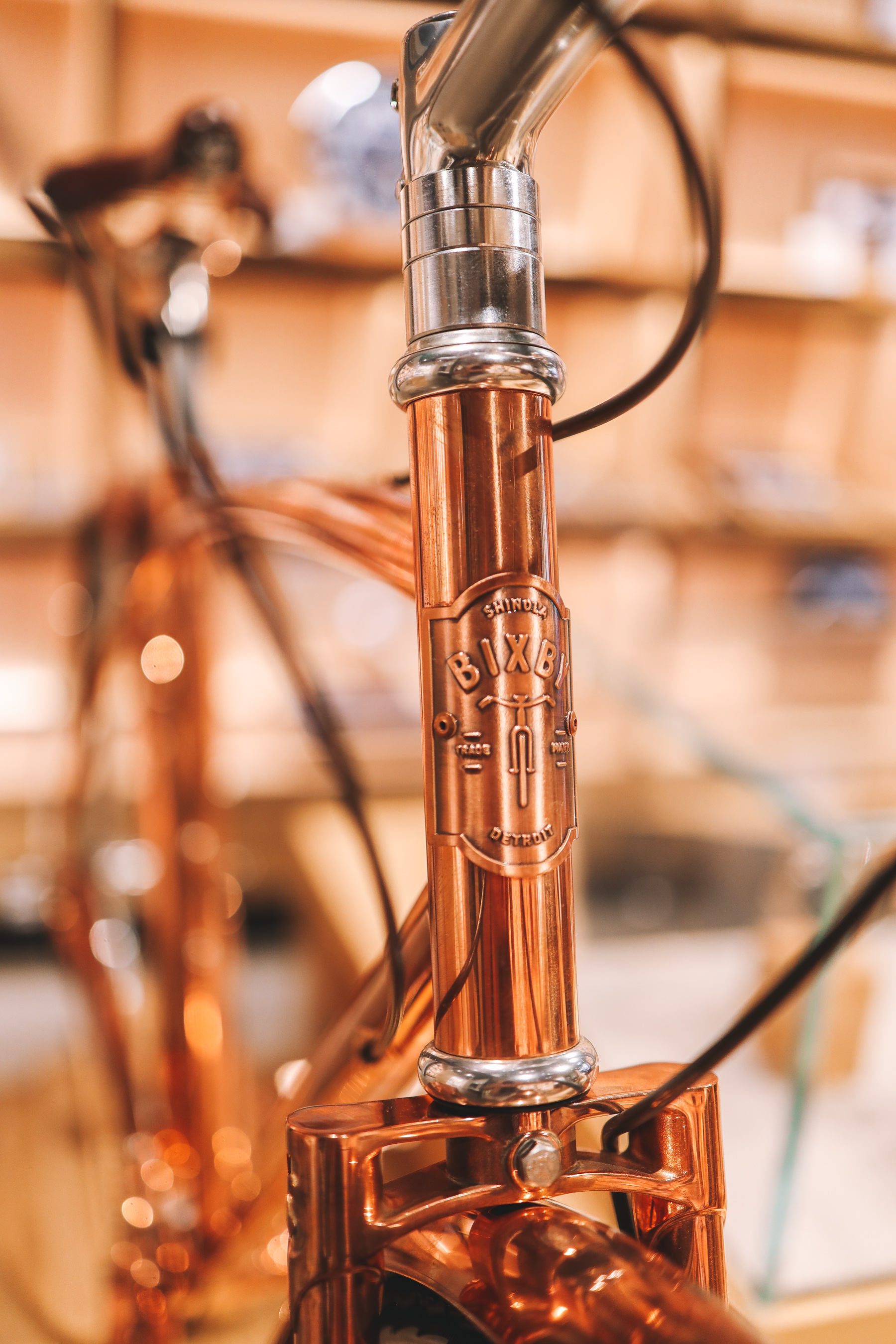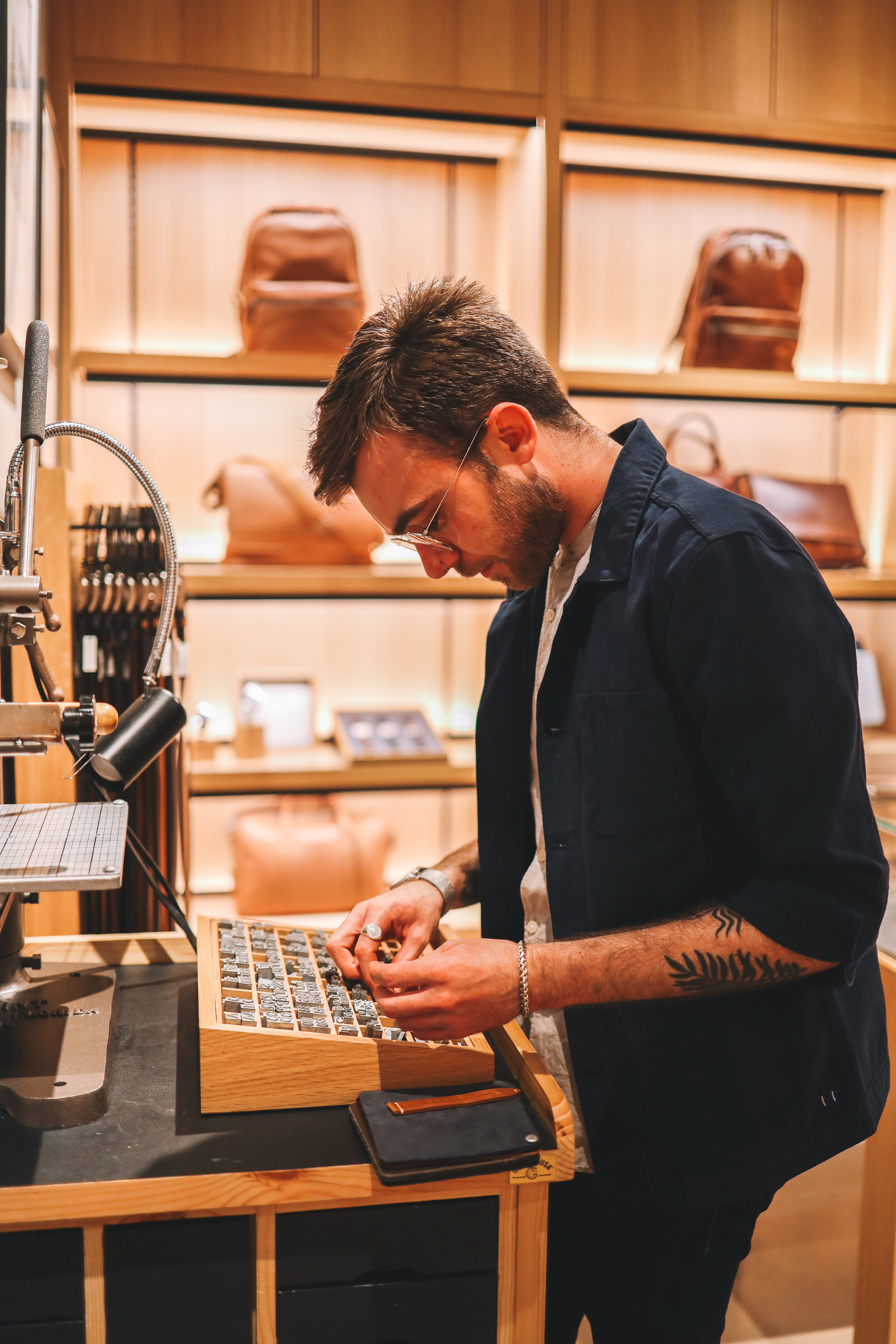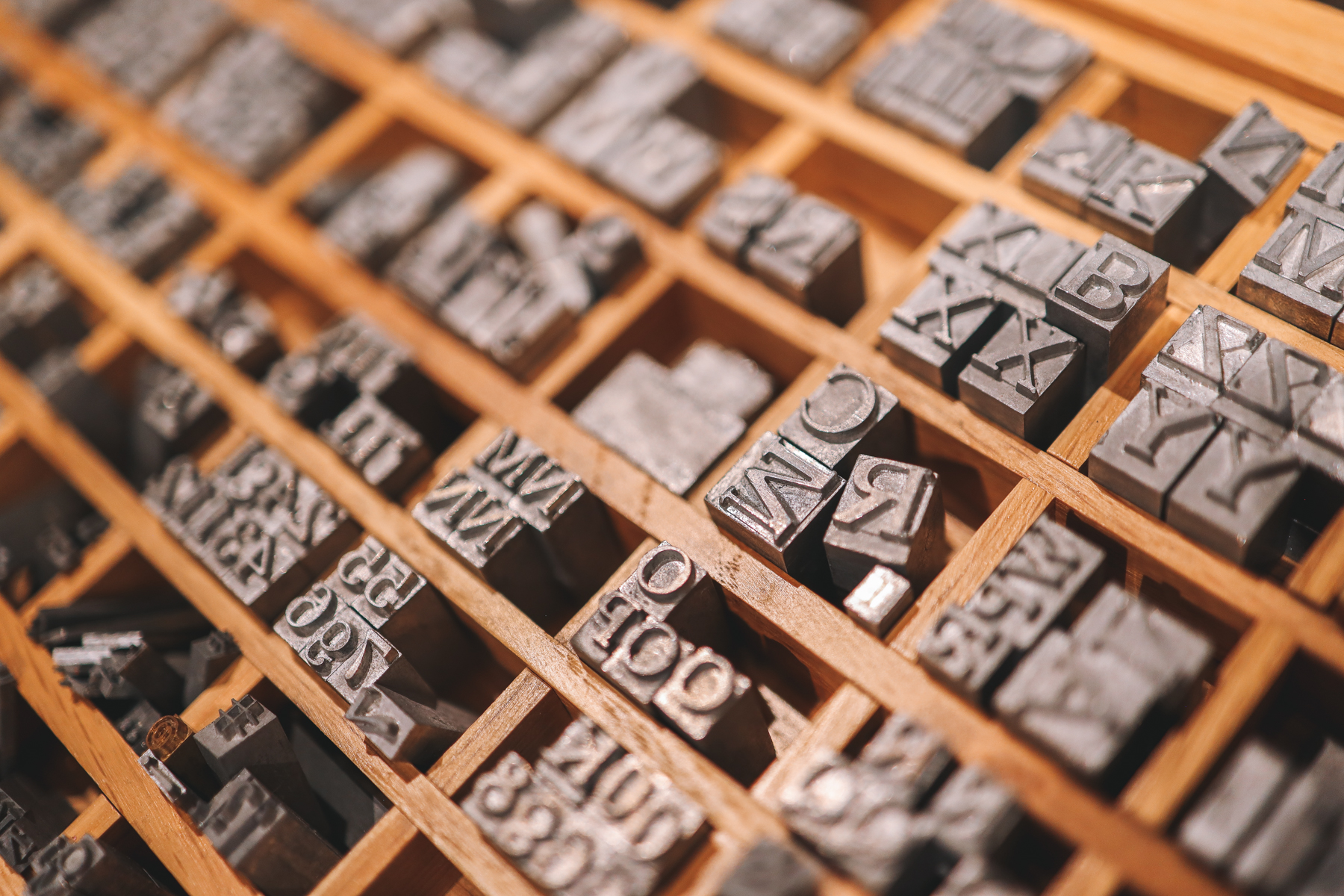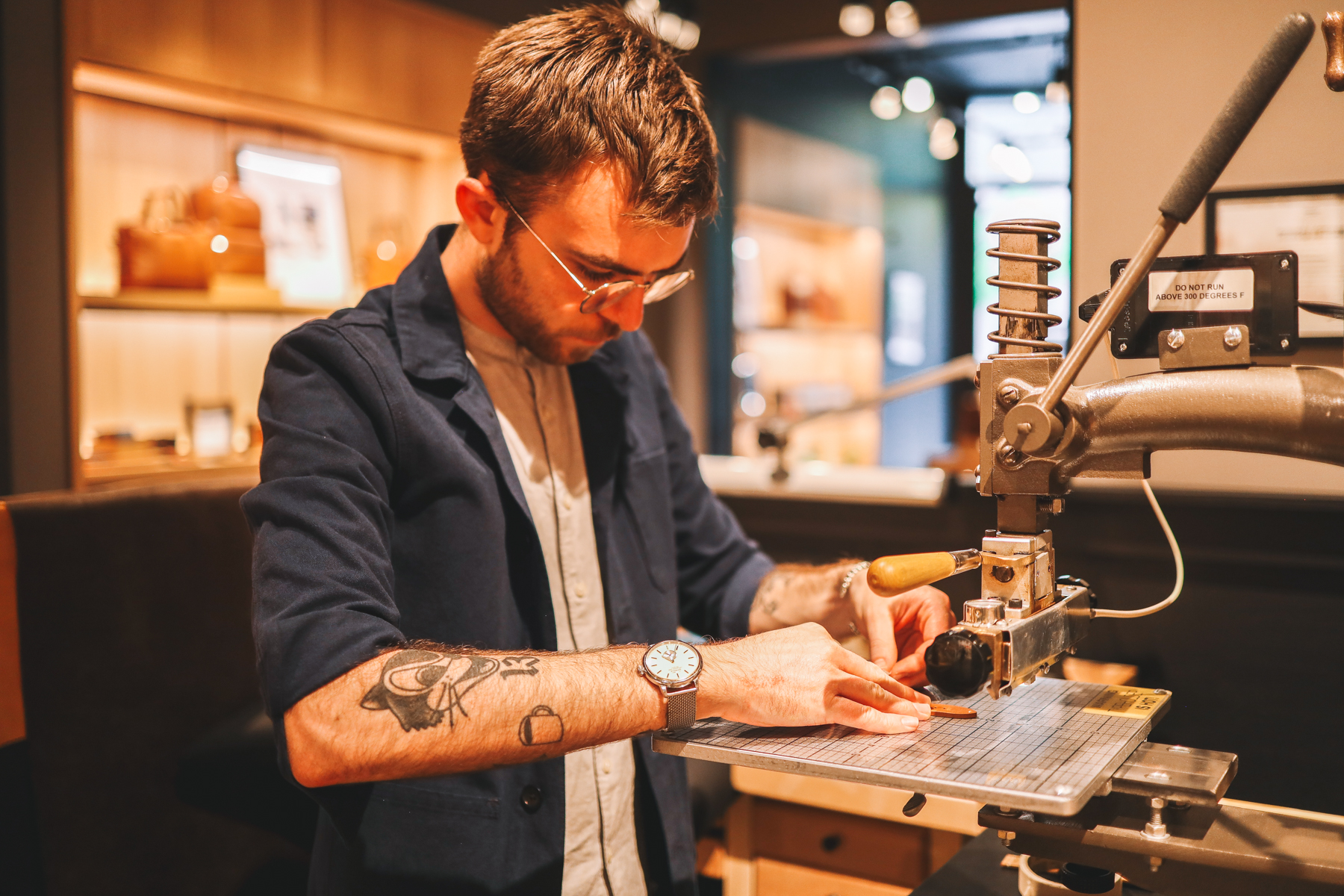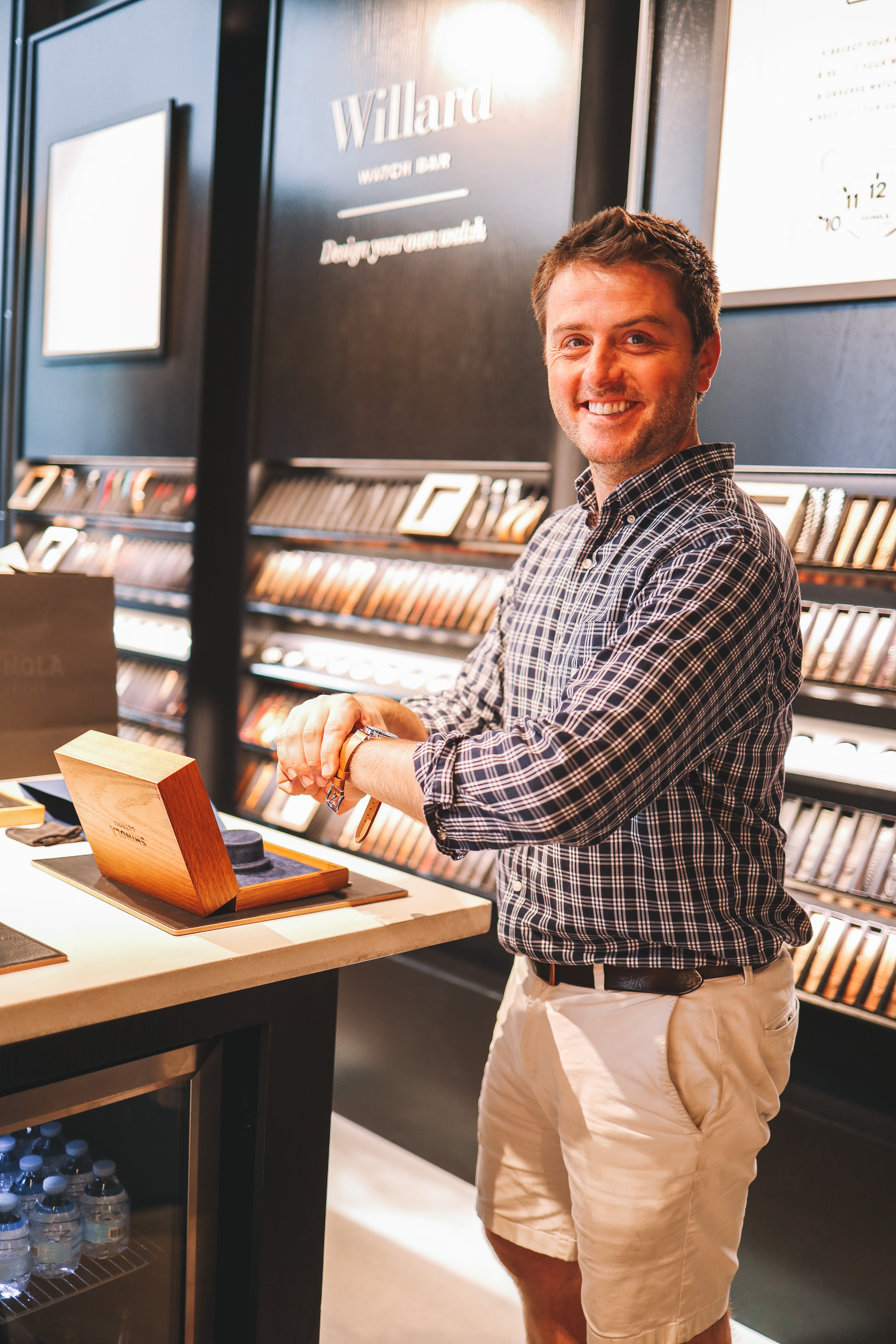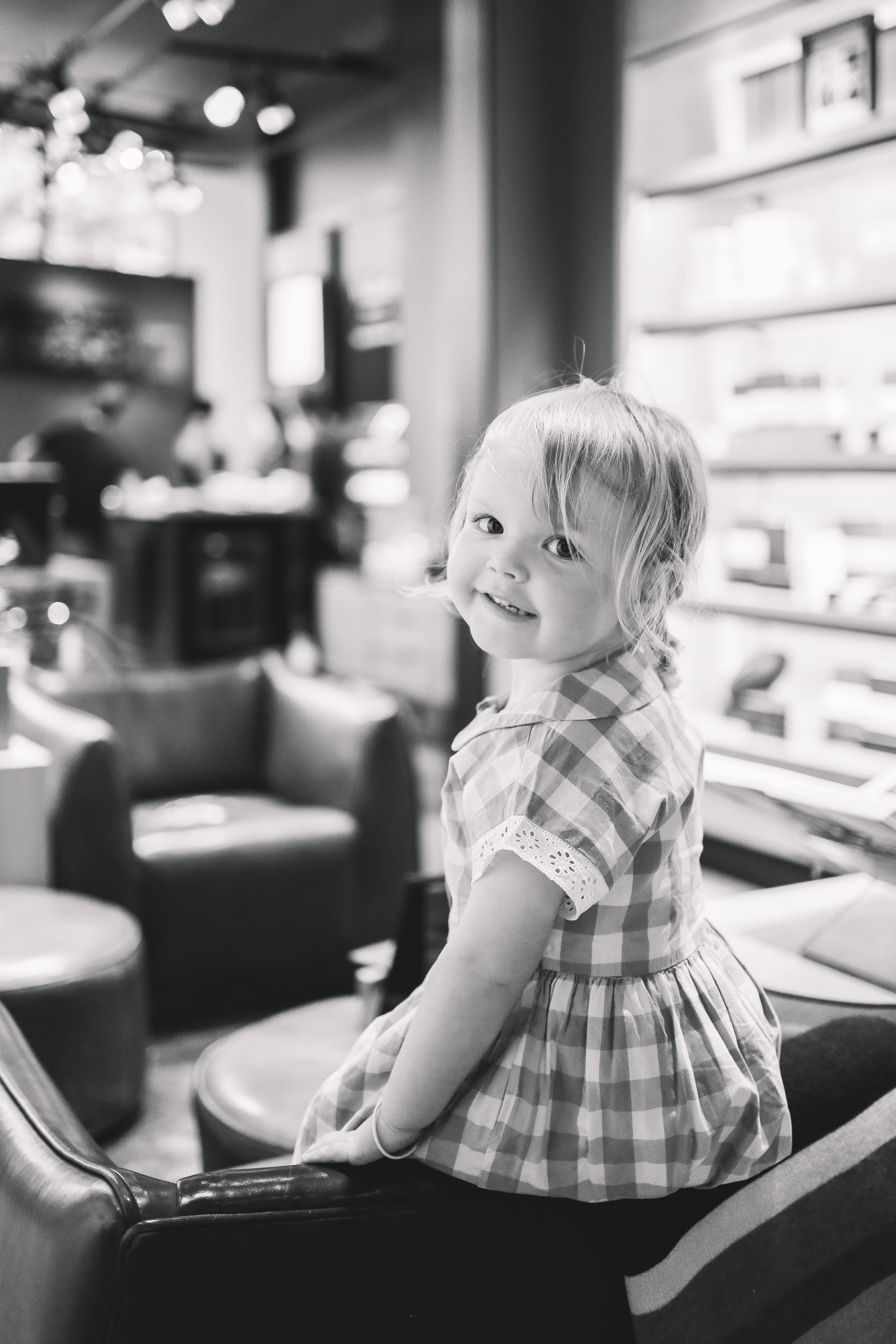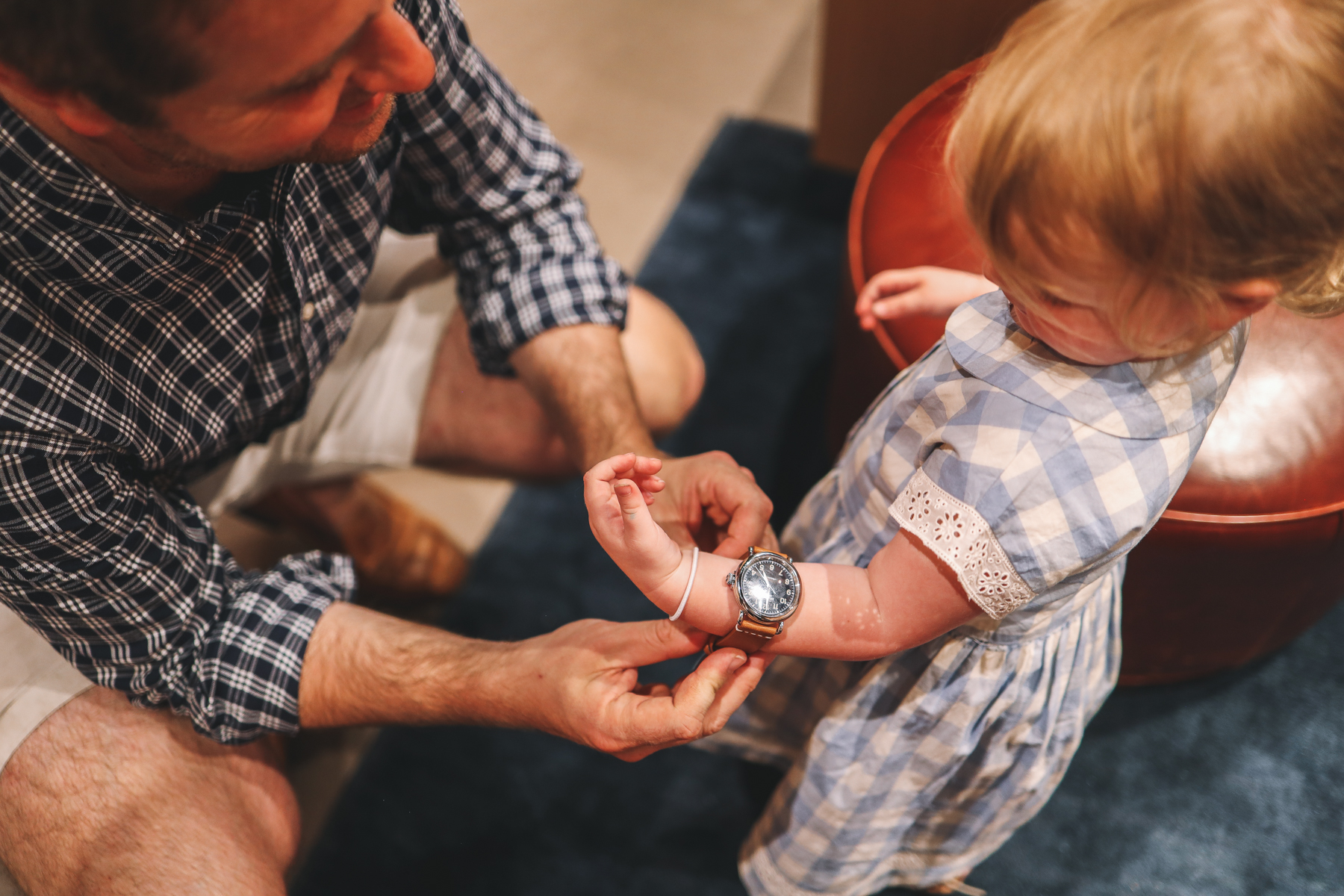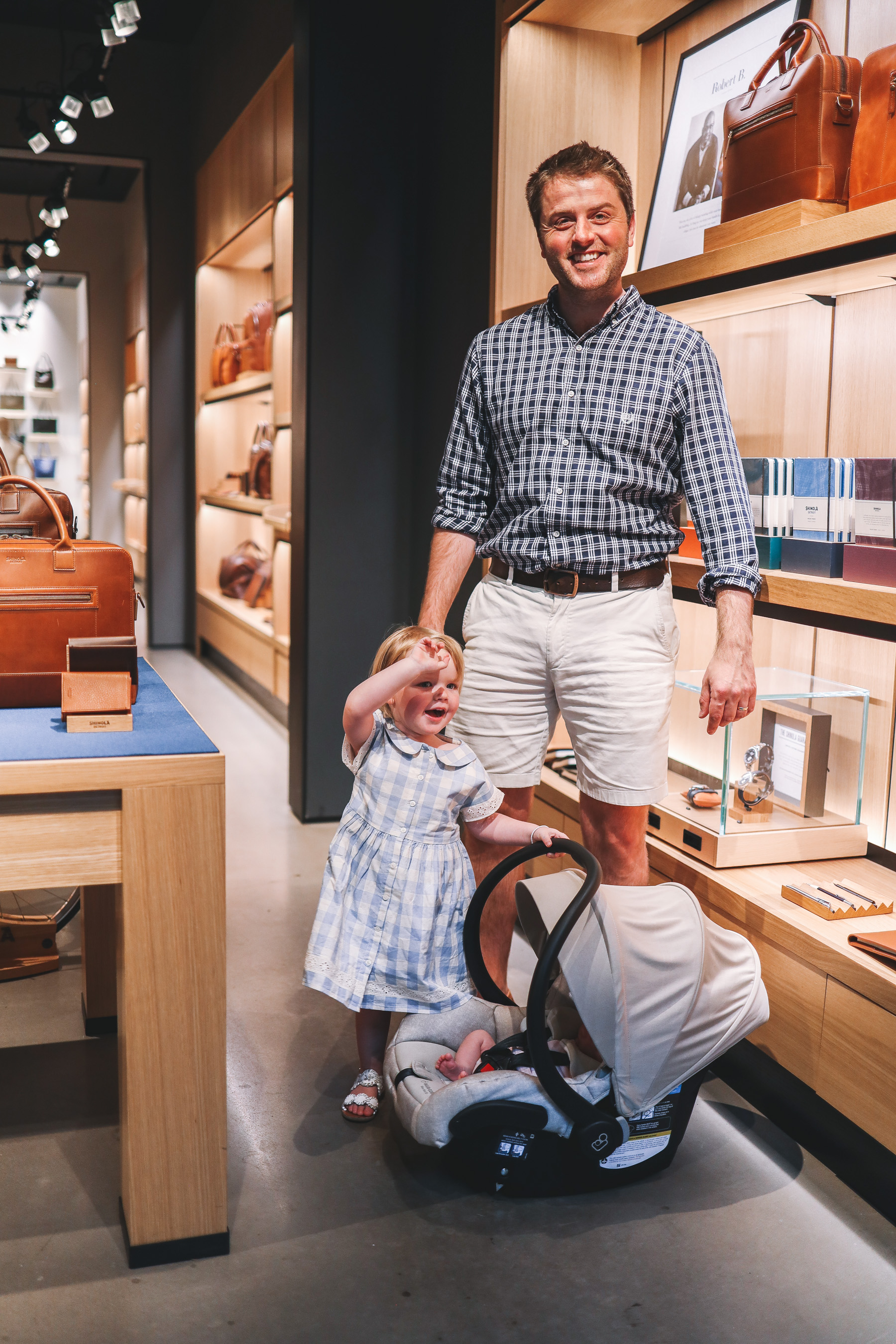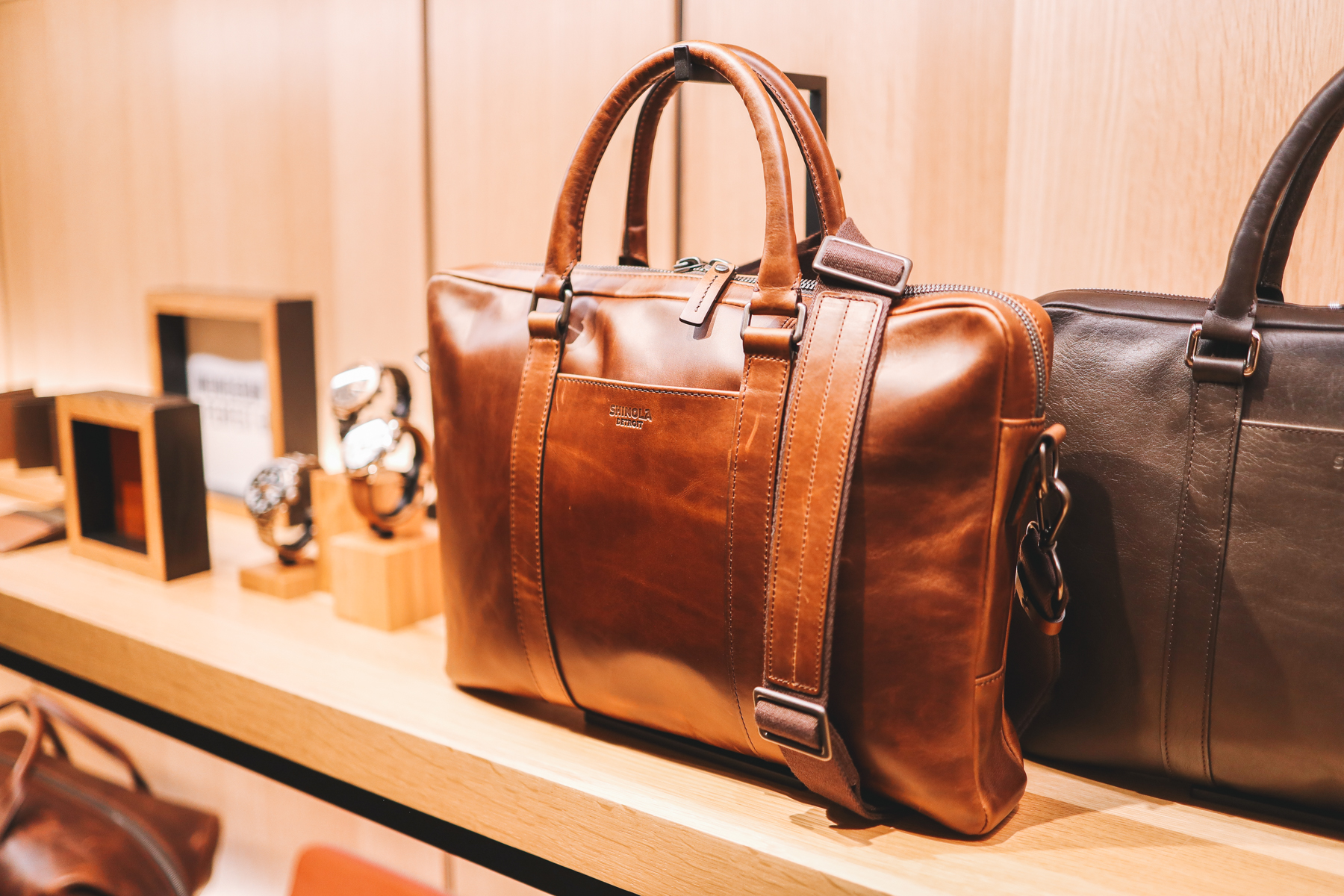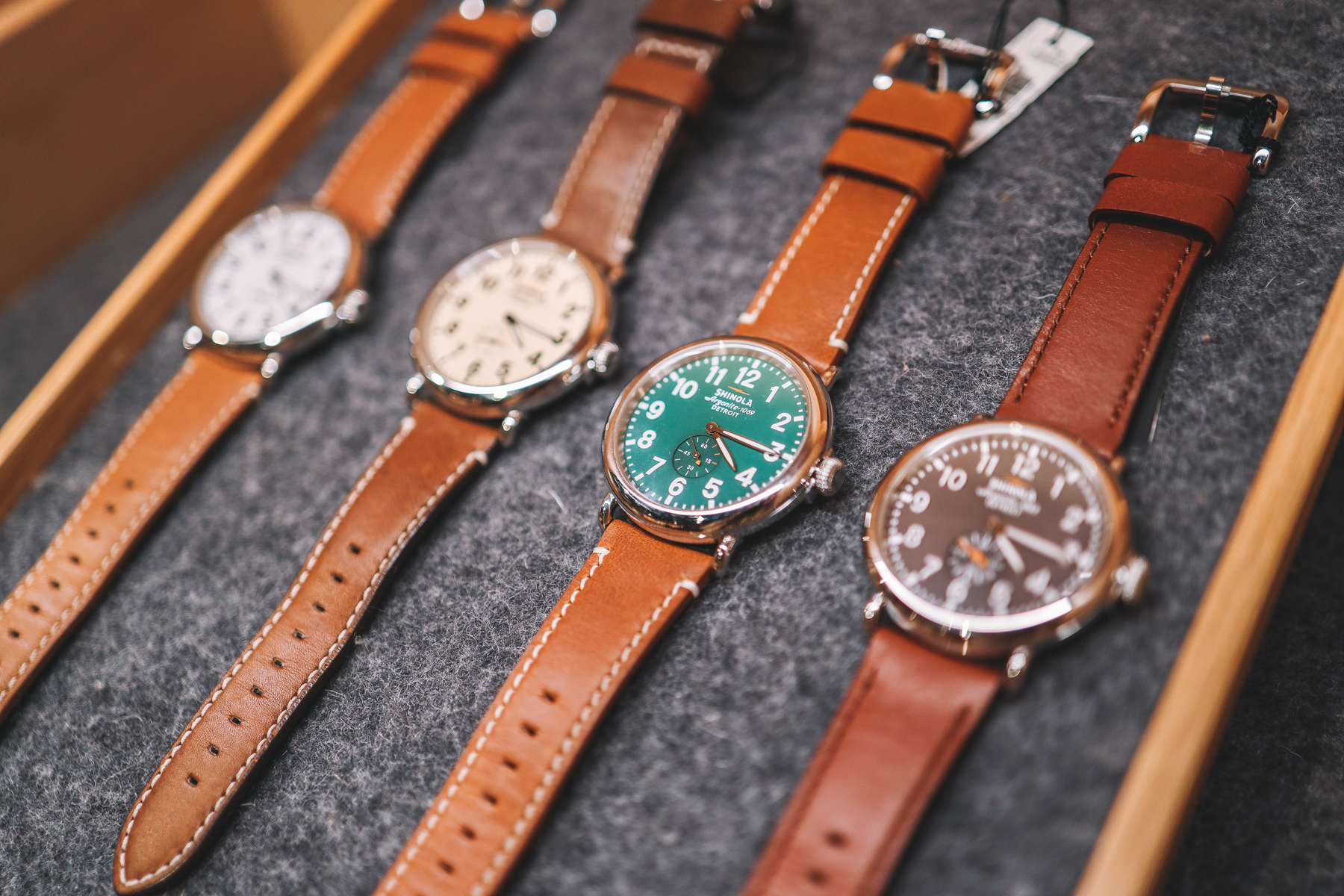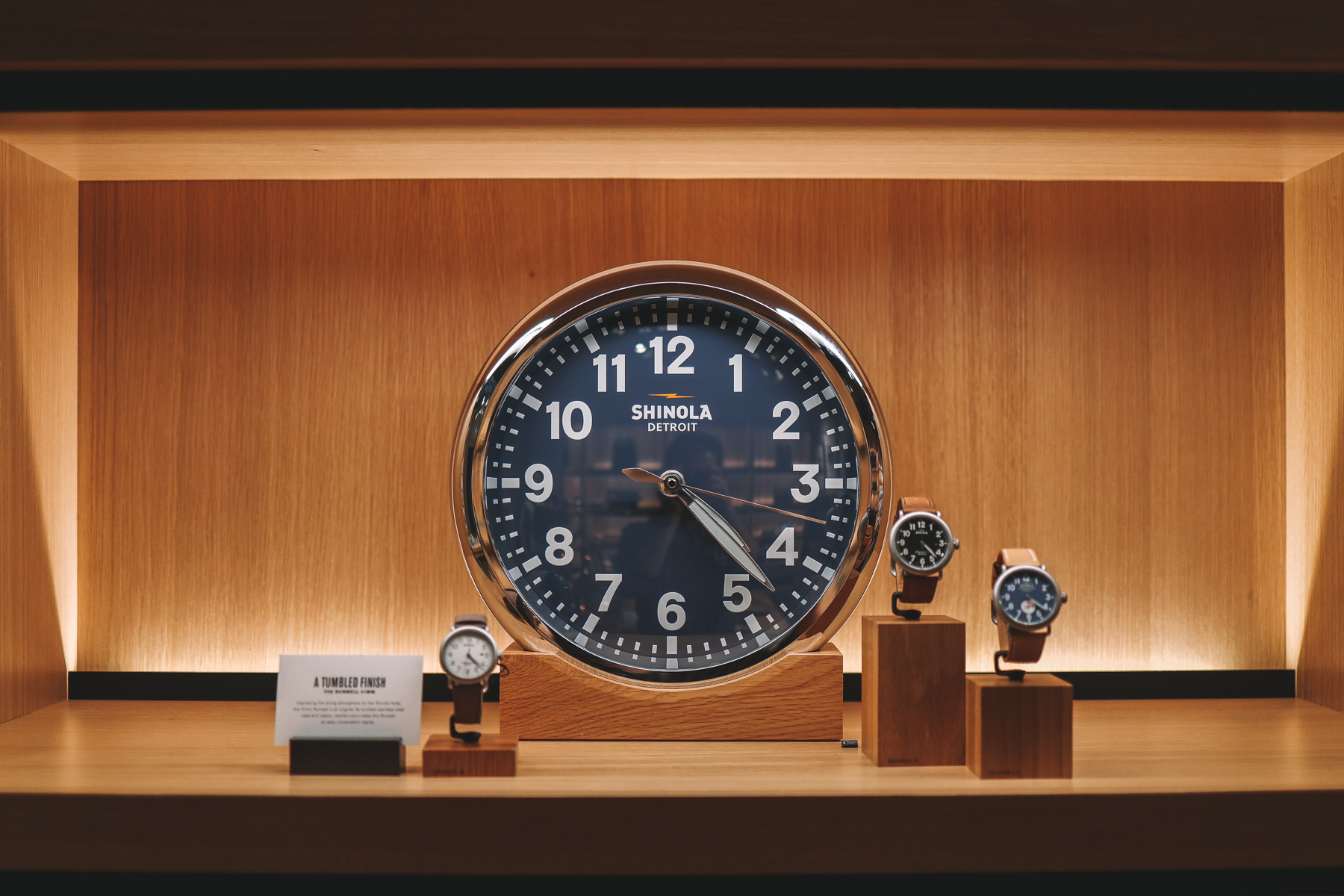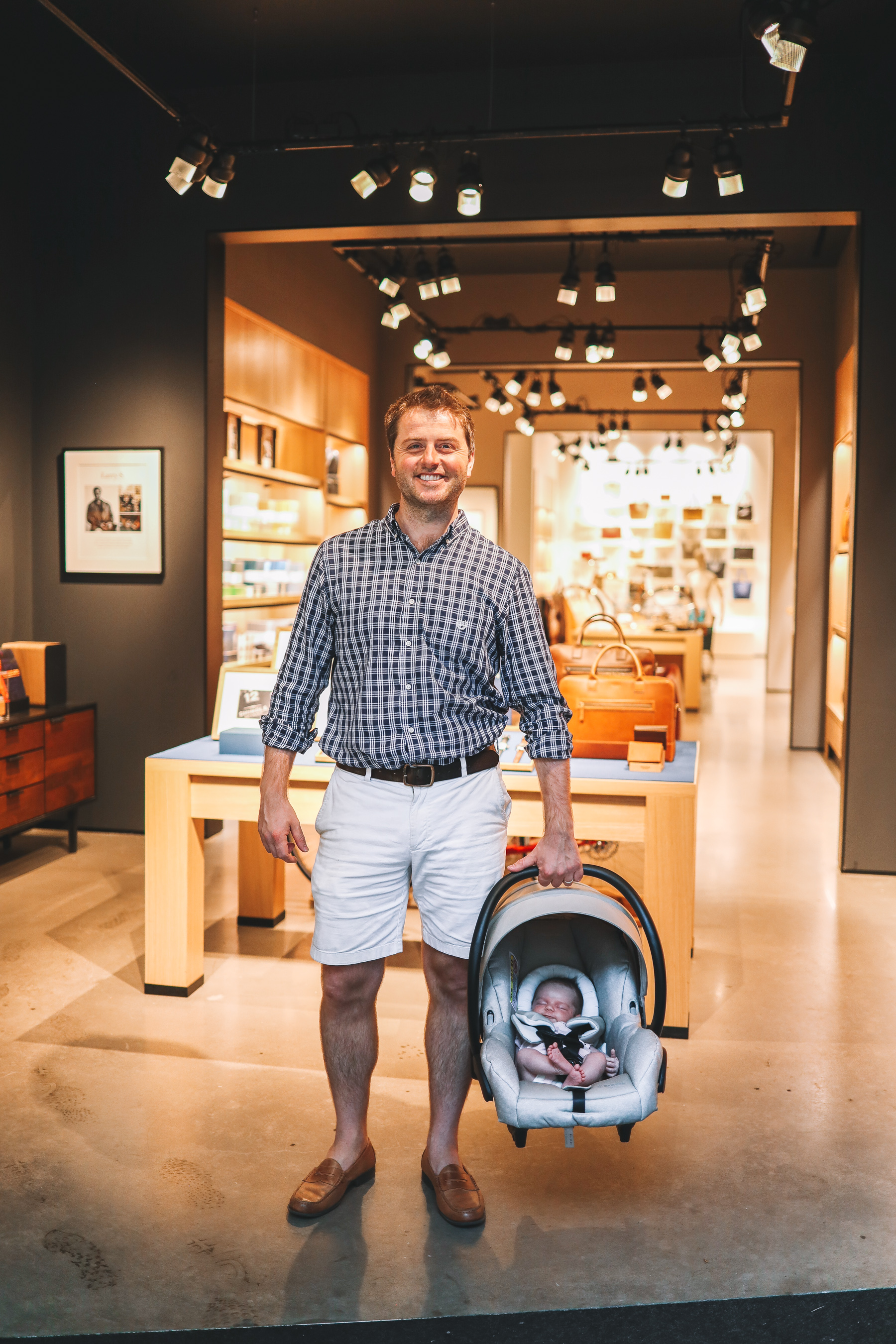 Mitch already knew the watch of his dreams before entering the store–the Runwell Automatic 39.5mm and the 20mm Largo Tan Leather Strap–since he'd discussed it so much with Neal. (And probably because Neal has the same one. 😜 #watchbesties) But he still loved shopping the Rush Street location and exploring all the options just in case.
No joke: we spent at least an hour and a half in there!
The Runwell Automatic took years to create, and it's an evolution of the company's flagship watch, The Runwell. It has microtracking, a richly-printed dial, and an iconic caseback with a window into the inner workings of its workhorse automatic movement. Mitch's watch also features a glossy midnight blue enamel dial, which is gorgeous. "Navy or nothing," in the words of Mackenzie Horan. ;)
Mitch wanted the the 20mm Largo Tan Leather Strap, hand-sewn in the United States and made from premium leather, since it's so classic-looking and better fits his style than the dark cognac strap that comes with the watch. It's exactly what I would have picked out, so that made me happy! He also opted to have it embossed with his initials: "MSL." The embossing is done in-store, which means no waiting weeks and weeks for your gift to arrive. (It also means that if you need a personalized Father's Day gift STAT, you can pull it off!) And the monogram looks so classy. If you scroll down to the bottom of this post, you can see how awesome it turned out!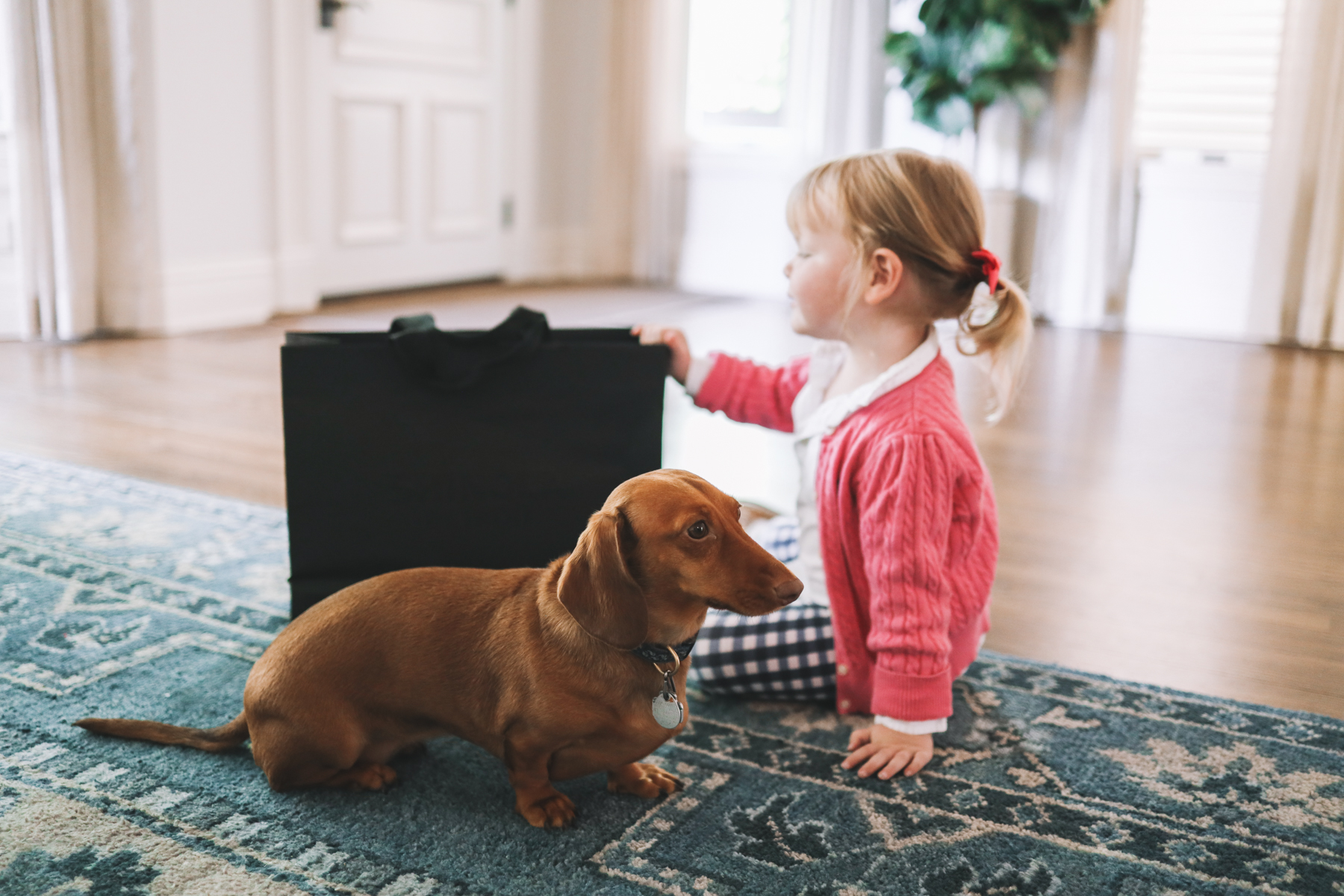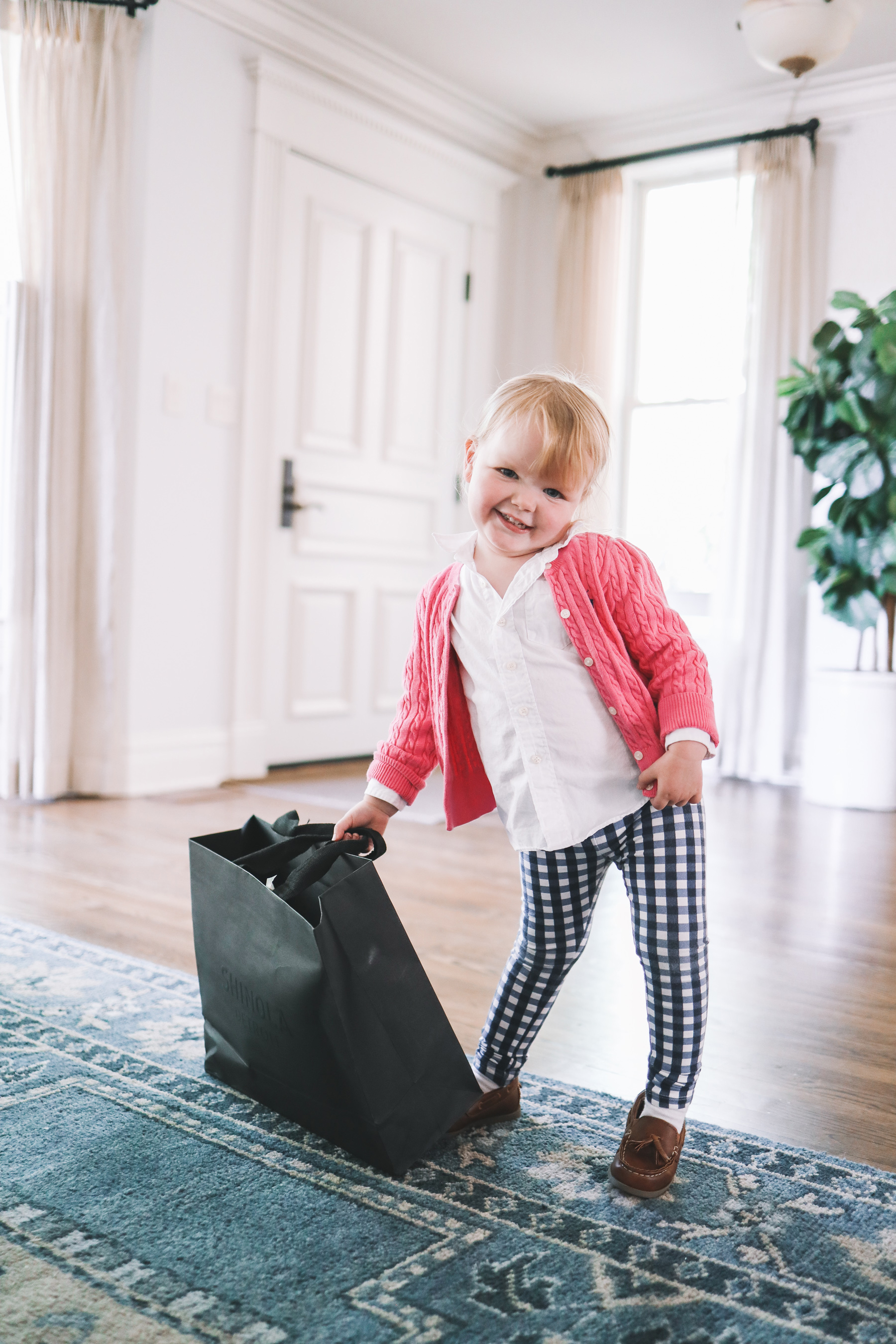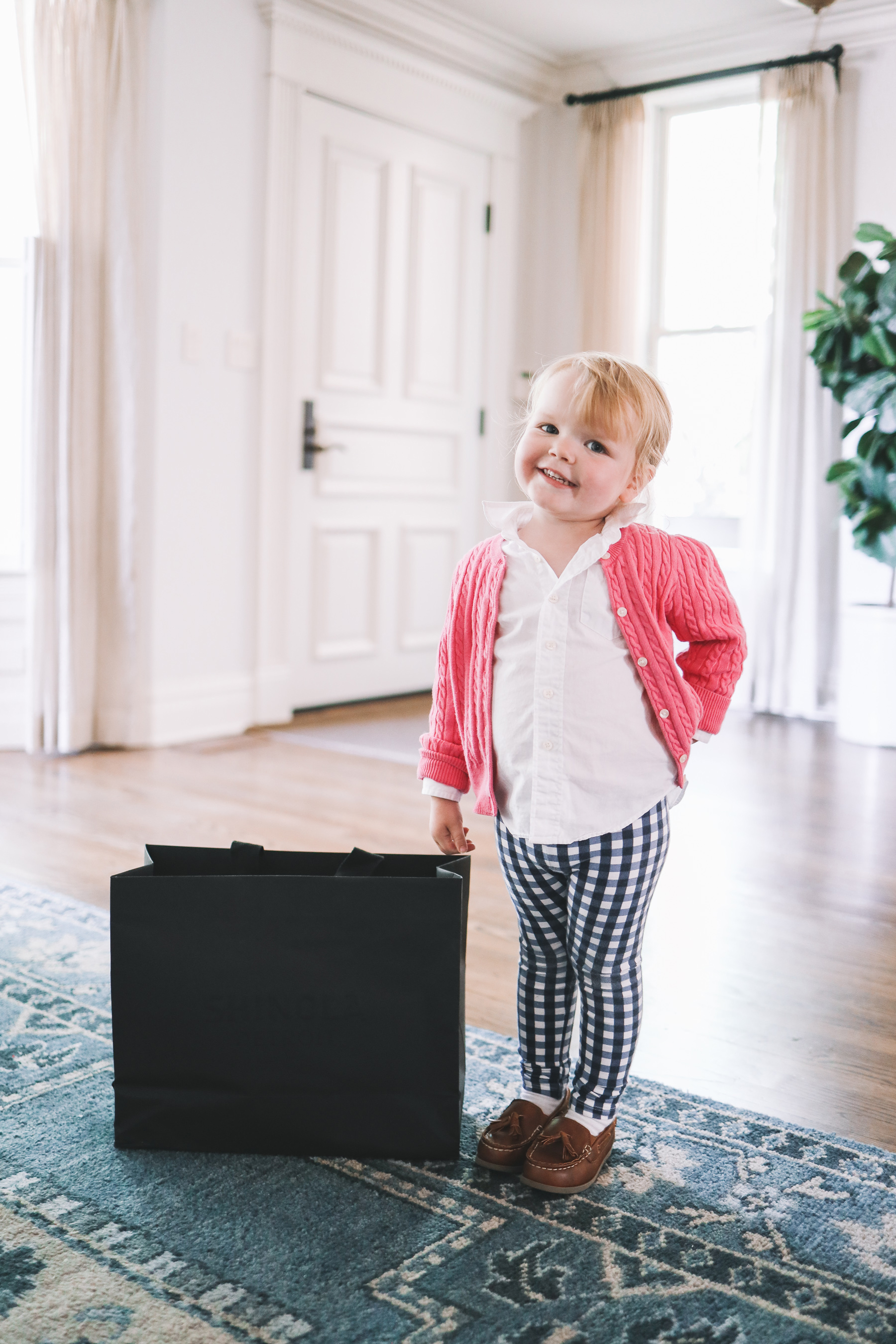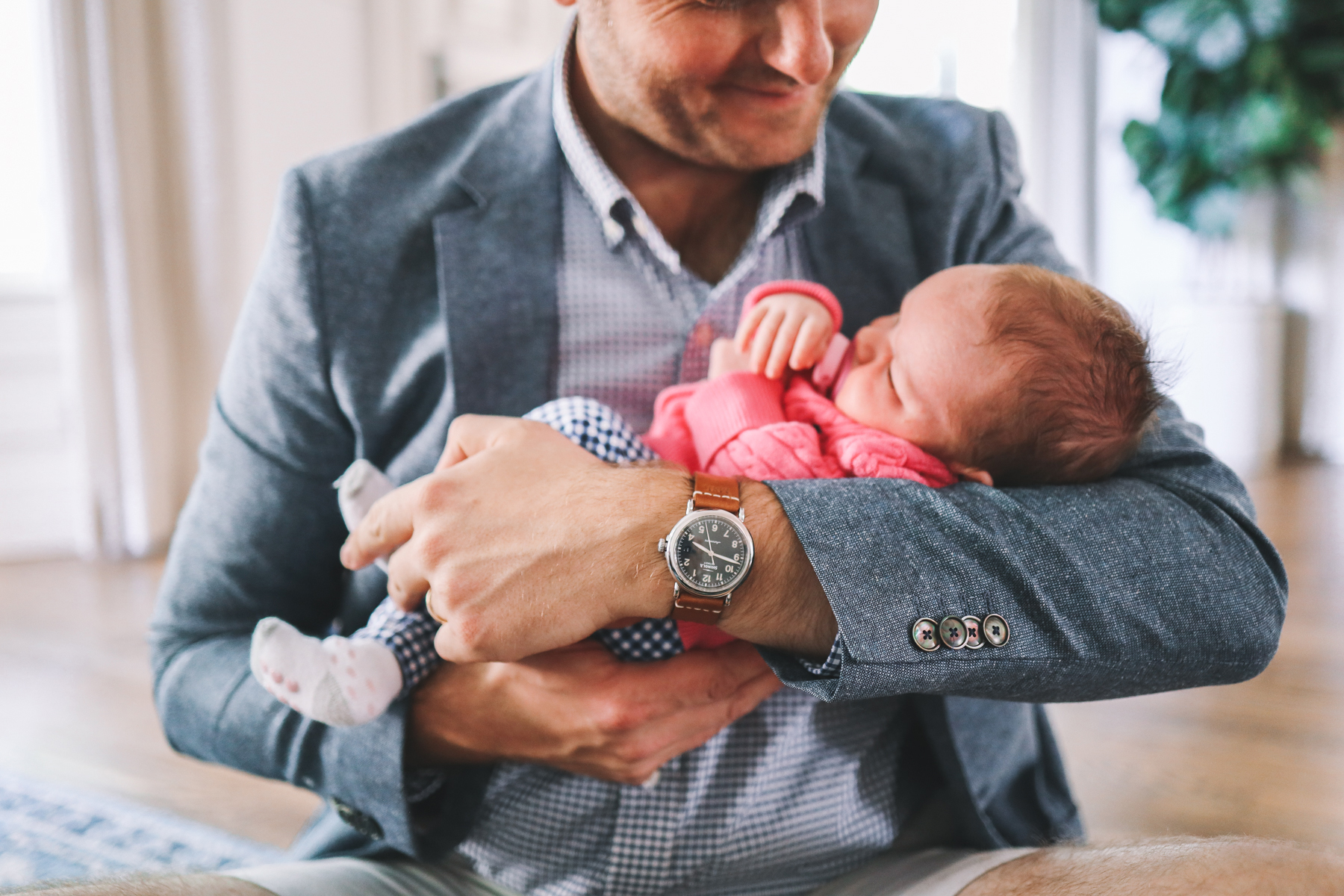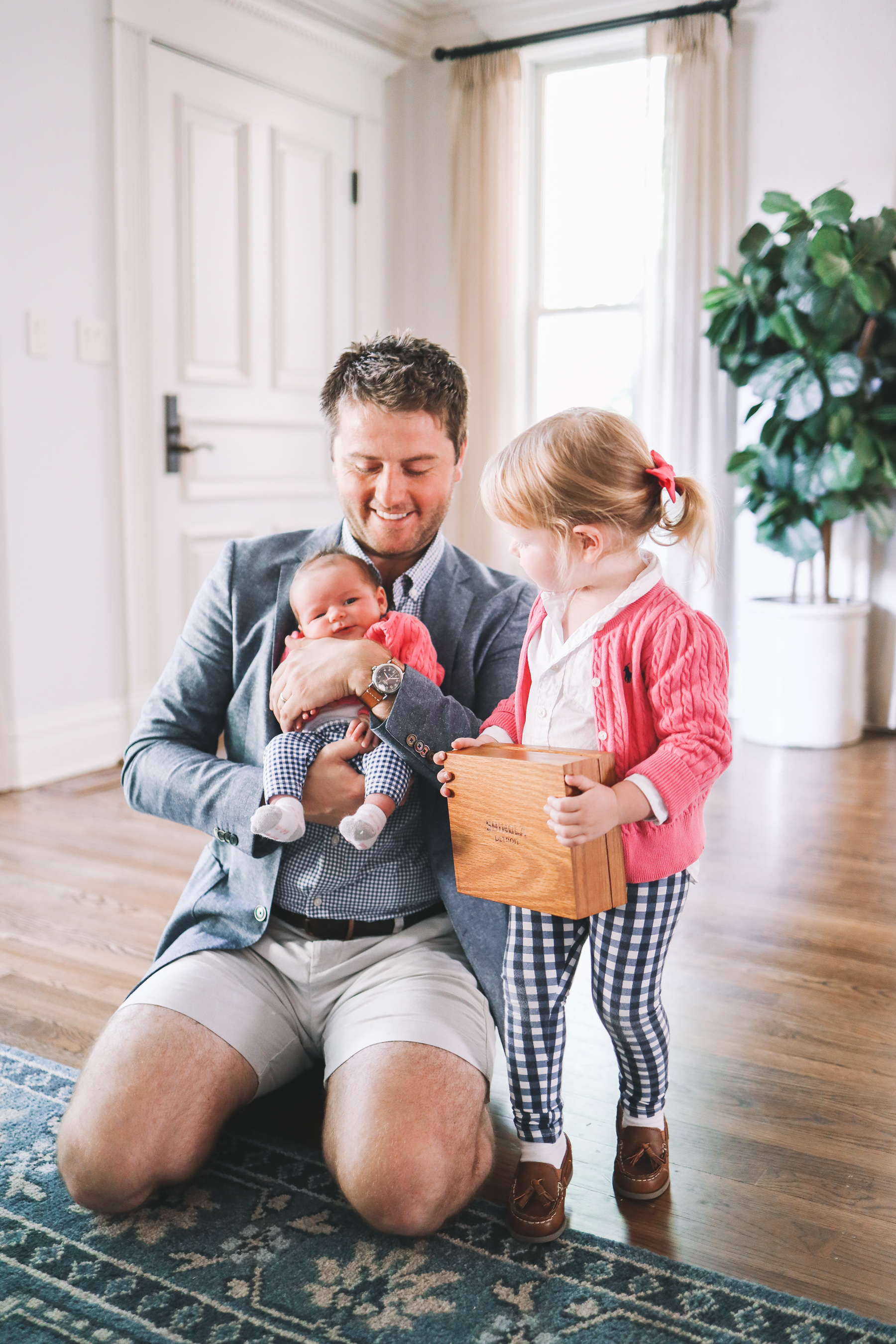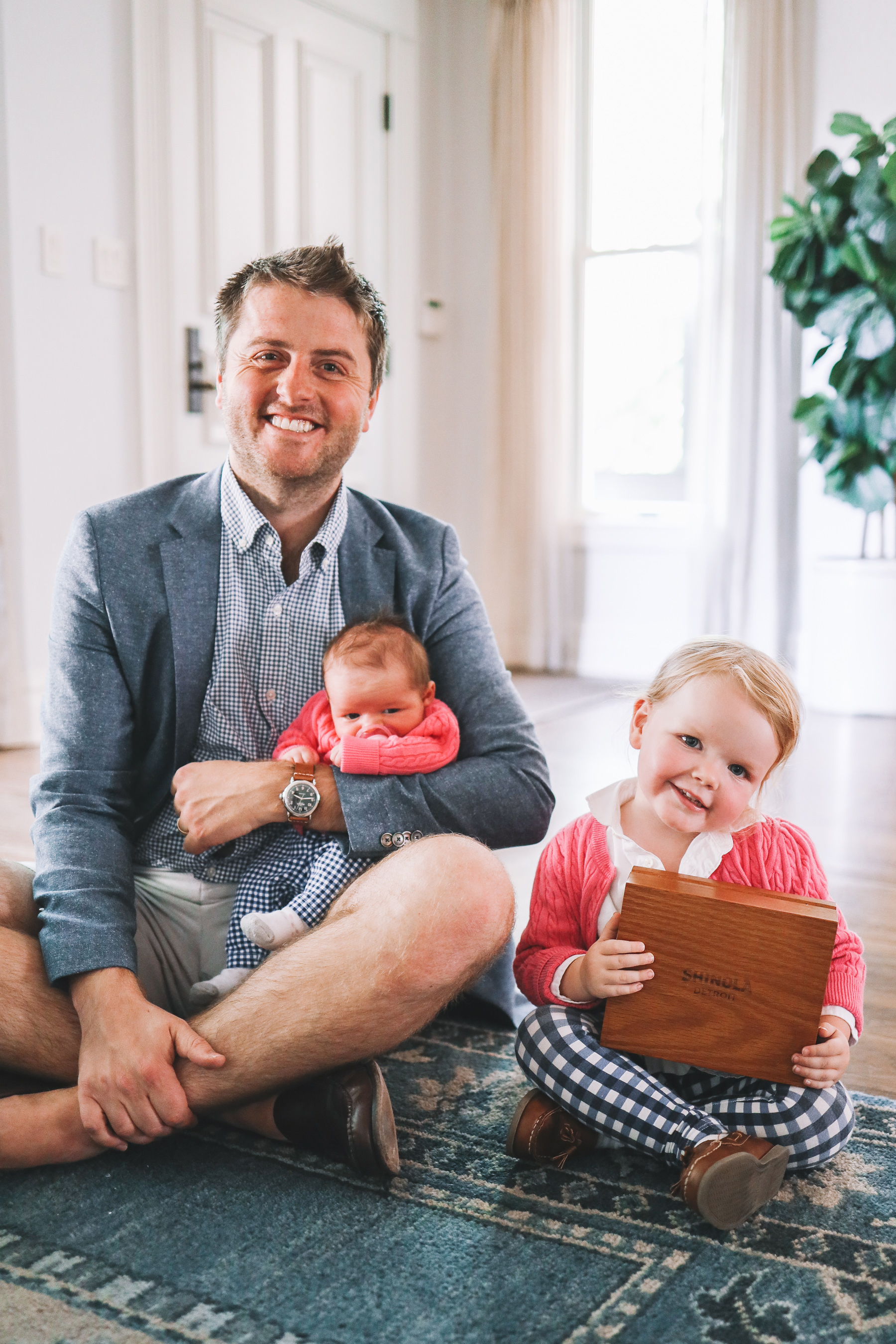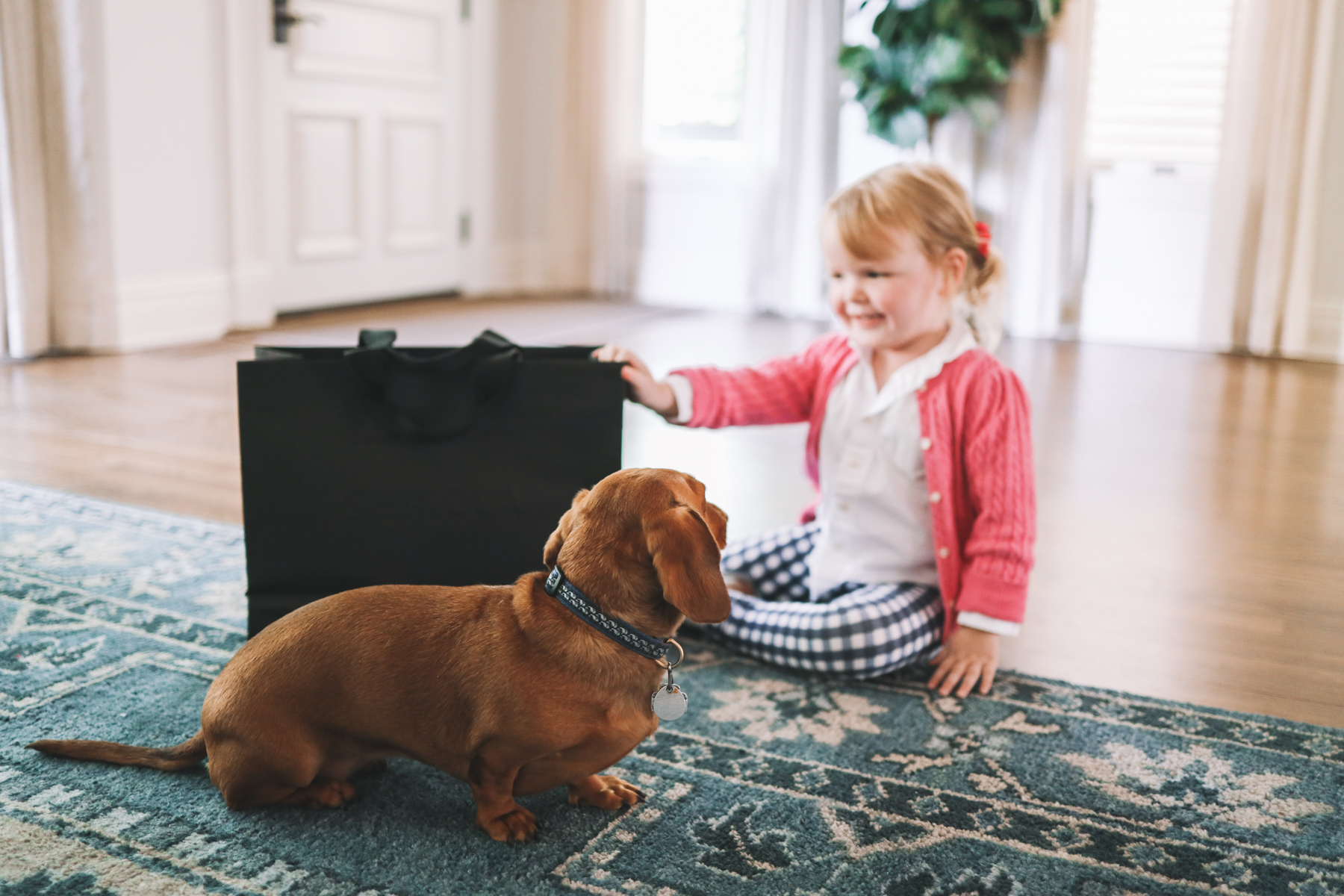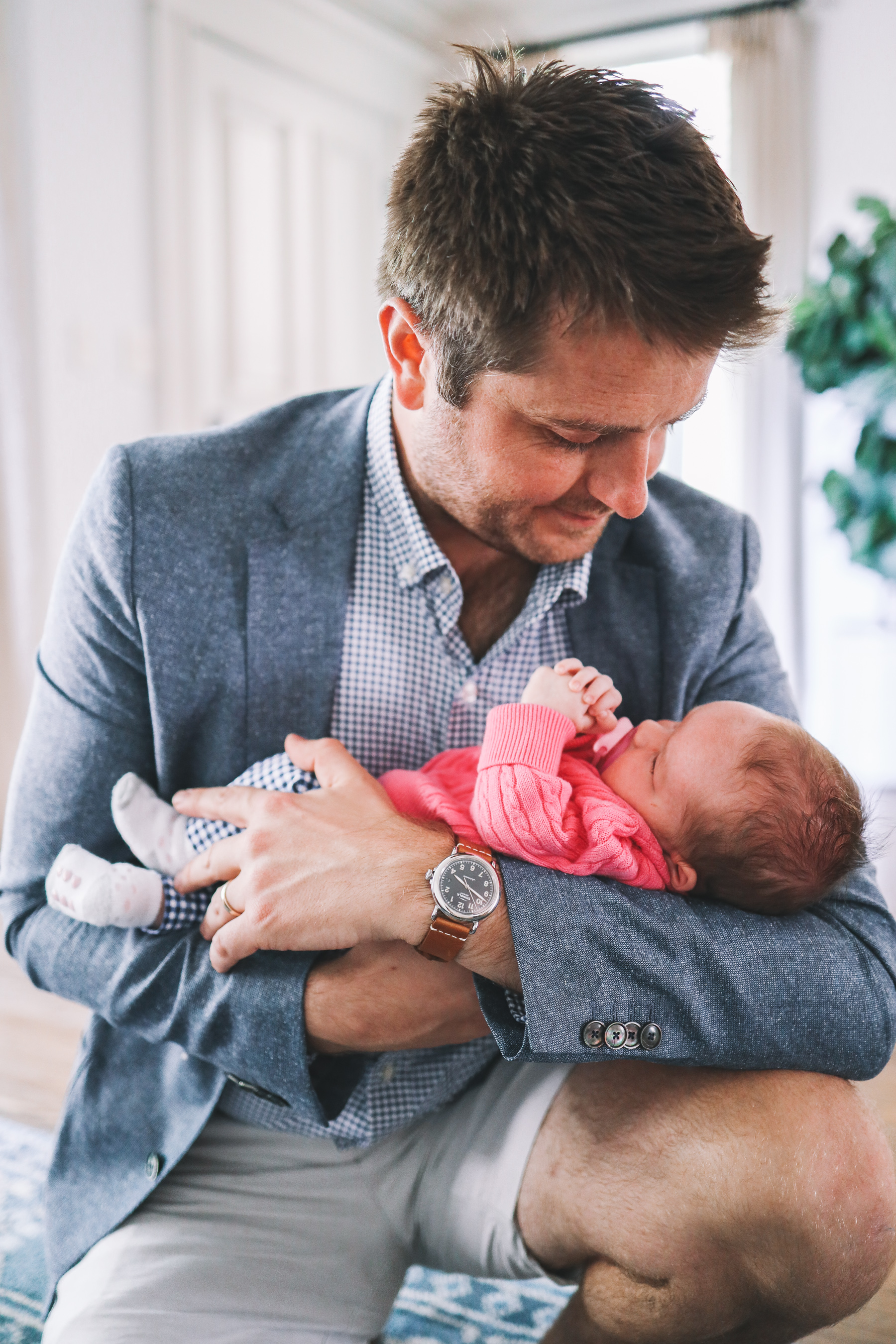 We packaged up the watch, which came in the most beautiful wooden gift box, and then let Emma and Lucy give it to Mitch when we got home. (Note our furniture-less living room, guys. Hoping to have a some seating in the next month or two. 😂) Emma was SO proud and excited to "surprise daddy" with the gift, and she shouted "I love you so much!" when she handed him the bag. *Crying.* And aren't these photos so precious?! I think they're definitely framers; especially the one of Lucy looking into Mitch's eyes!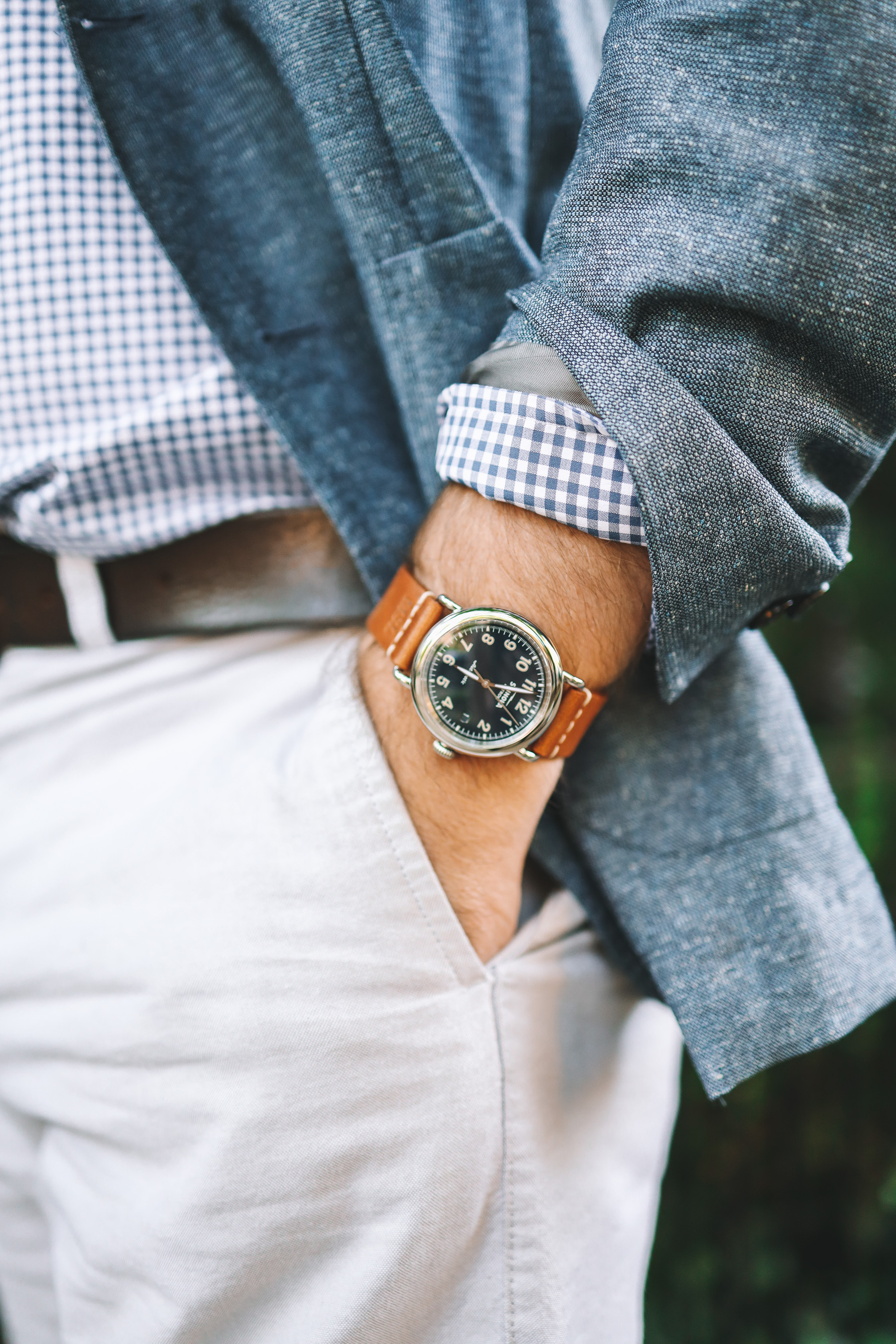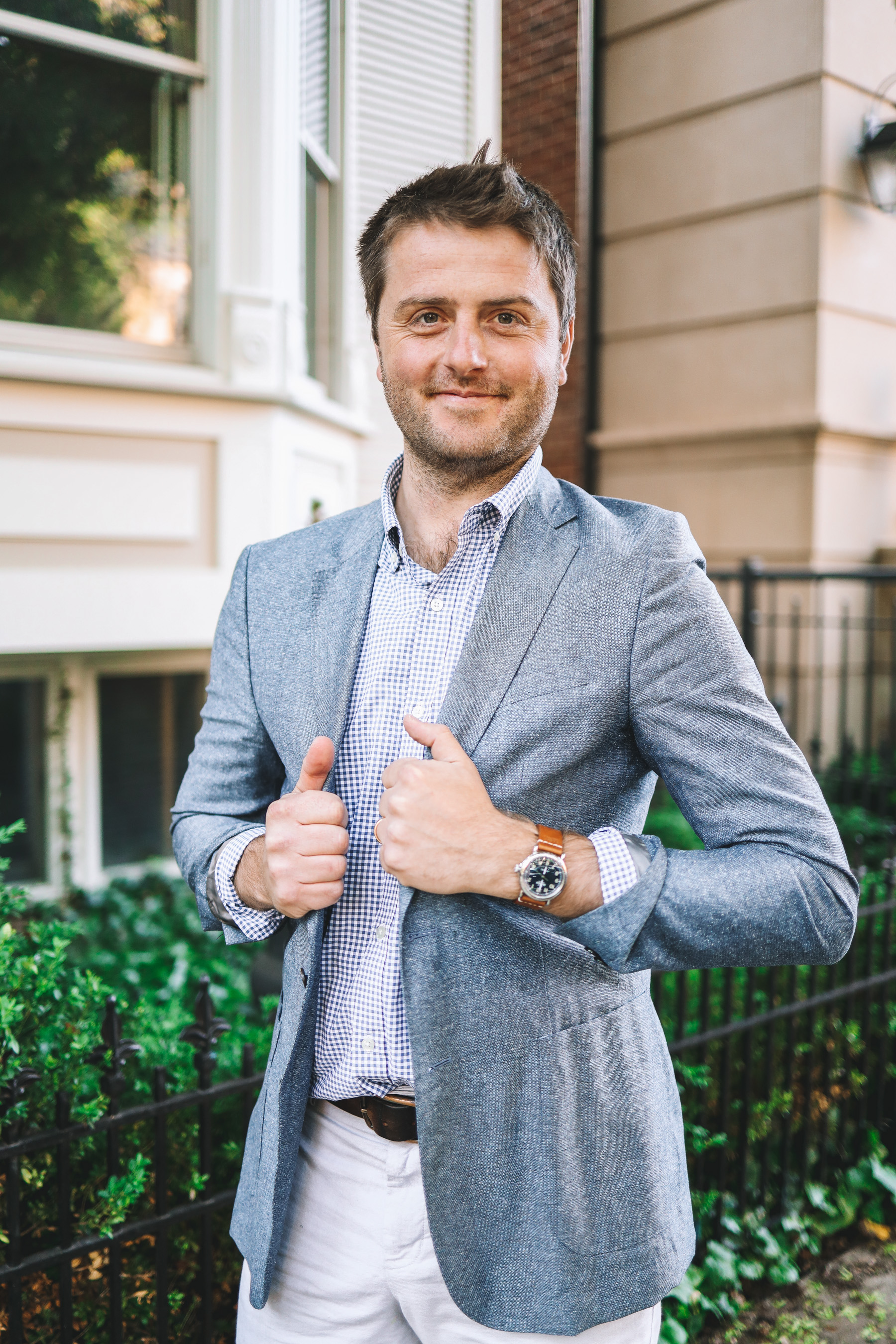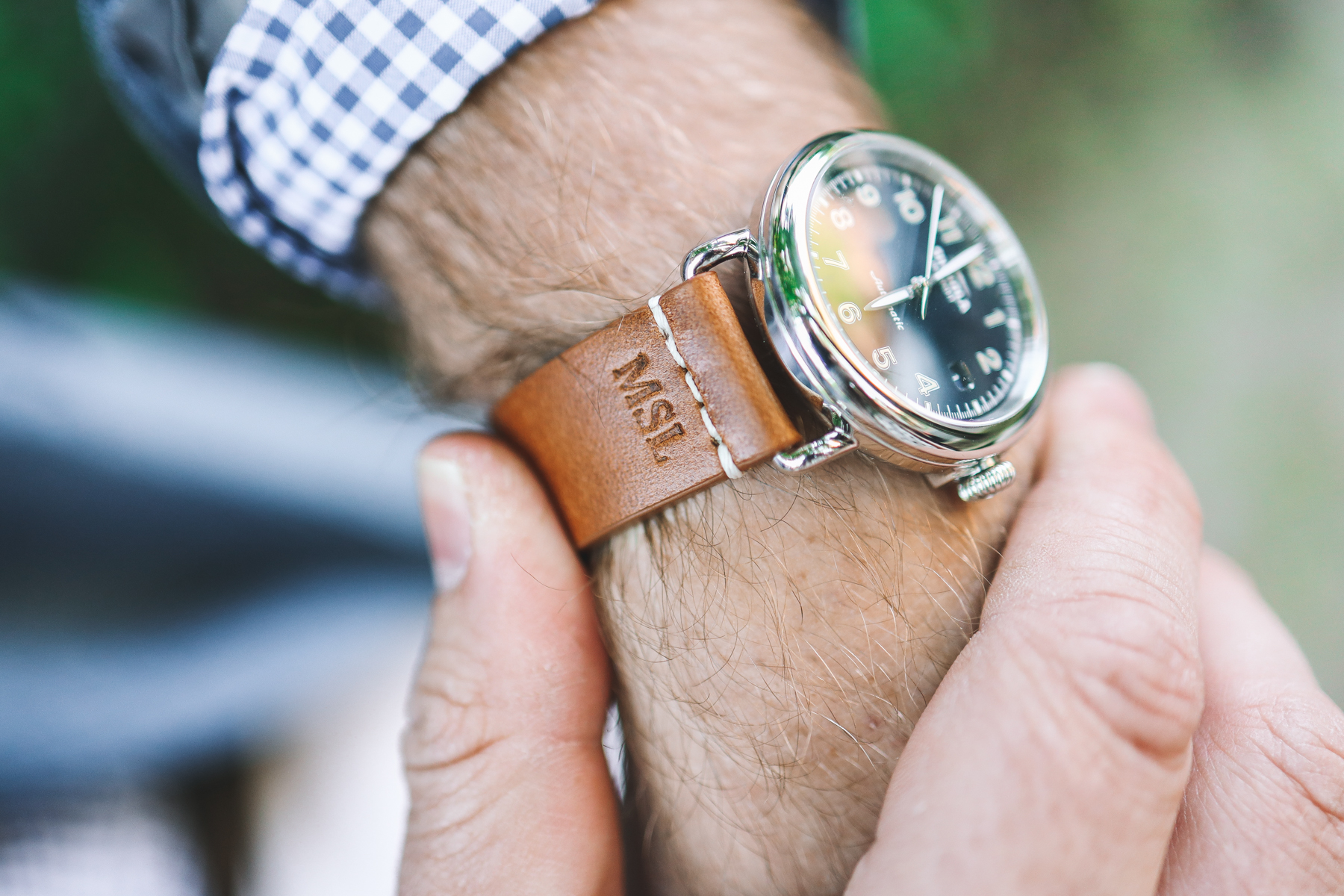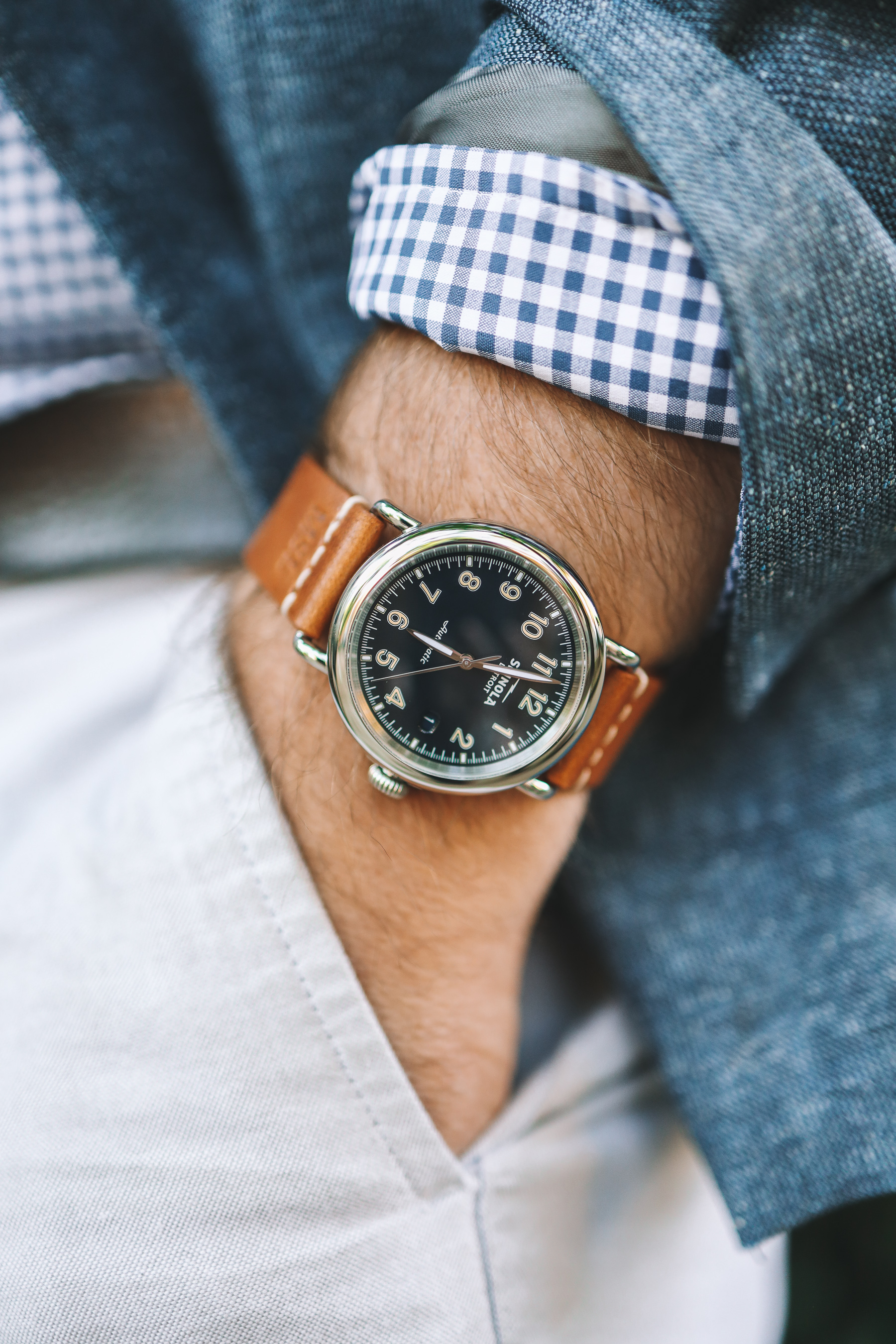 And here's the watch and strap in all their glory.
Mitch, you're so cute. Thank you for camping out so your daughter could have a shot at attending pre-k next year. ;) But more importantly, thank you for being a knight in shining armor for all your girls. We adore you and hope you adore your Shinola!
In collaboration with Shinola but all opinions are my own. As always, thank you so much for supporting the partnerships that keep Kelly in the City up and running!