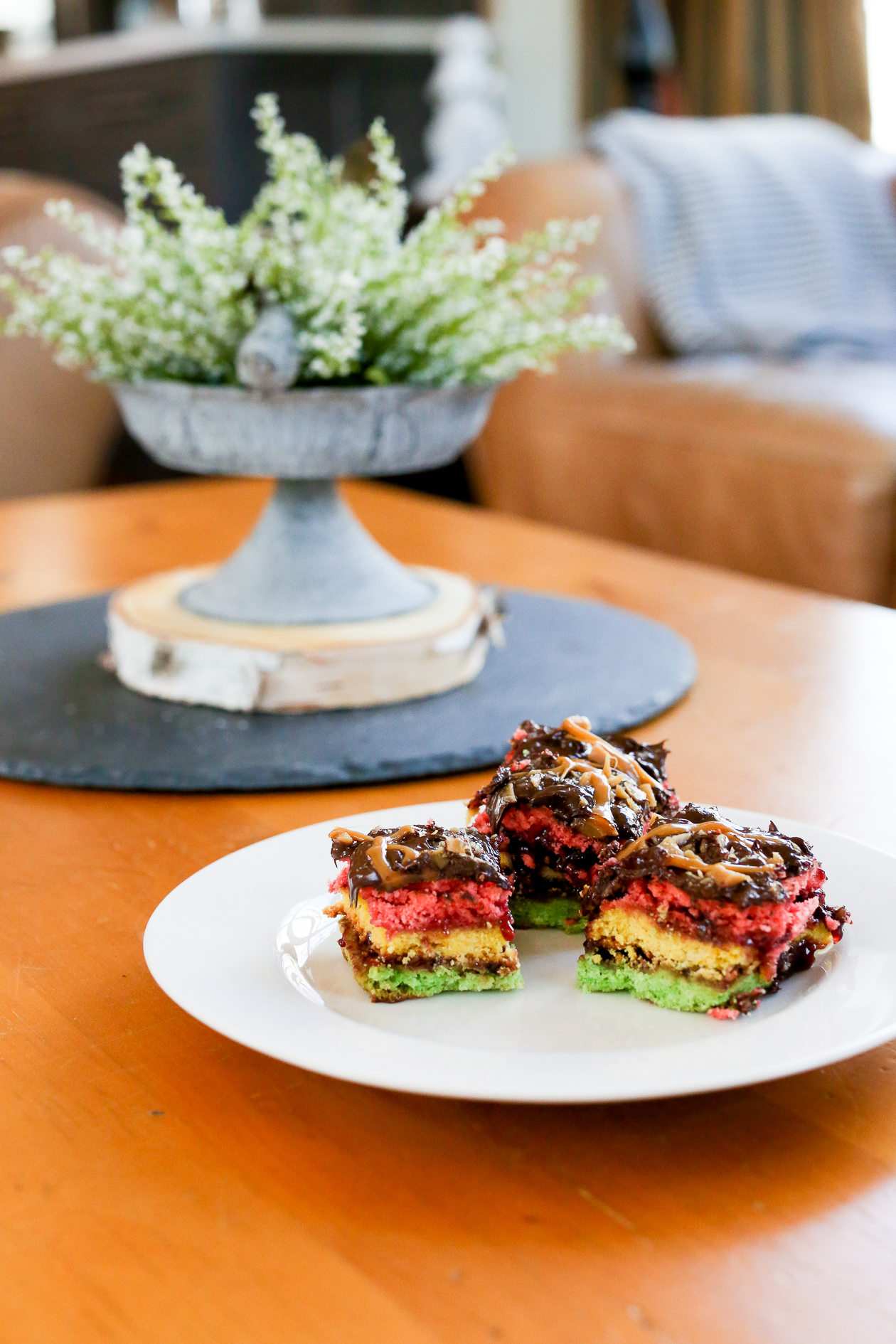 Double post today! Don't miss the the Shopbop Friends & Family Sale. Get more info and shop my faves here!
Until getting pregnant, I wasn't that into food or cooking. A restaurant's atmosphere was far more important to me as the food itself, I was just as happy with a bowl of supermarket mac and cheese as I was with a meal from a Zagat-rated establishment, and I almost never cooked. (Wine, though? Totally different story.) But then second trimester hit, and now I love ALL THE FOOD.
Like, really. Give me all of it.
For me, my newfound appreciation for food is one of the best parts about being pregnant. Granted, I'm definitely packing on the pounds. (Photos are deceiving. I've got the love handles to prove it! #moretolove) But this is so awesome. While there are a few things I kind of can't stand right now, nearly everything tastes phenomenal and I'm starting to enjoy cooking.
Did you just read that, Mom? I know. Miracle.
While I struggle in the kitchen, I'd LOVE to start doing recipe posts once in a while. I mean, what a great hobby for when the baby is sleeping, right?! (I talk like I'm going to have so much time, haha.) So today, I'm teaming up with Werther's Original to celebrate National Caramel Day and bring you my first real recipe post: Rainbow Cookies with a Caramel Topping!
Today, commuters and candy lovers in New York City will have the chance to see Werther's giant, six-foot diameter candy bowl, located near the Times Square subway entrance. Starting at 7 a.m., New Yorkers and visitors are encouraged to BYOB ("bring your own candy bowl") to fill up with sweet treats from Werther's Original. Werther's will be handing out two bags of caramel per person! (Including Werther's Original Caramel Hard Candies, Chewy Caramels, Creamy Filled Caramels and Soft Caramels.) Not in NYC? You can still get in on the experience by guessing the number of candies in the Times Square giant bowl and sharing on Facebook, Instagram or Twitter with the hashtag #ShareYourWerthers for a chance to win exclusive giveaways! :)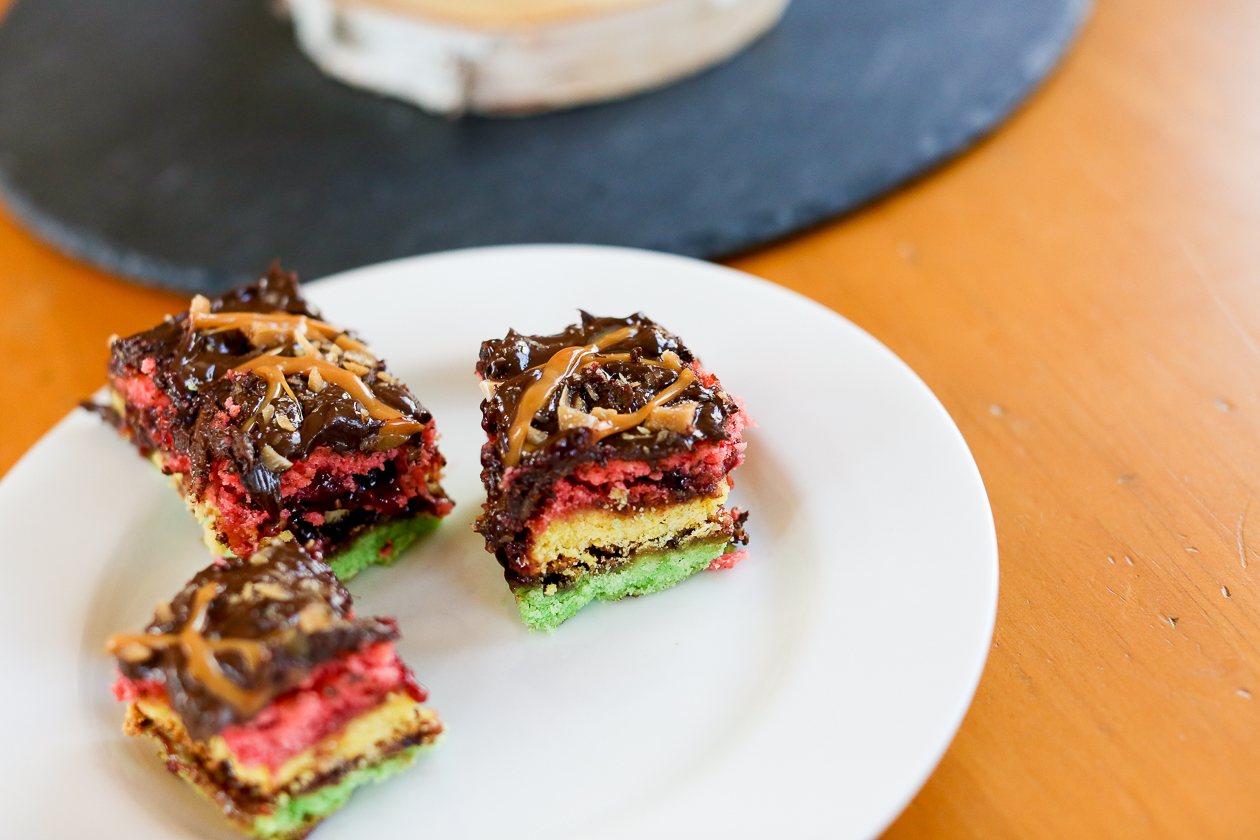 Rainbow cookies have been my absolute favorite dessert since I was a little girl. We had them at every family party growing up, and they've come to symbolize happiness for me. In New York, rainbow cookies are everywhere–my favorite, in case you ever want to try the very best, are from Zaro's Bakery. But just like a good bagel, they're hard to find in Chicago. (Though Mitch always finds a way to get them for my birthday! Awww…)
This past weekend at the Larkin Family Spring Festival, the whole crew got together to make a batch and put our own spin on the traditional recipe. (The cutest part? We made rainbow cookies years ago during my first visit out to Illinois to meet the Larkins!) So, without further ado, here's the easy-to-follow recipe!
Rainbow Cookies Recipe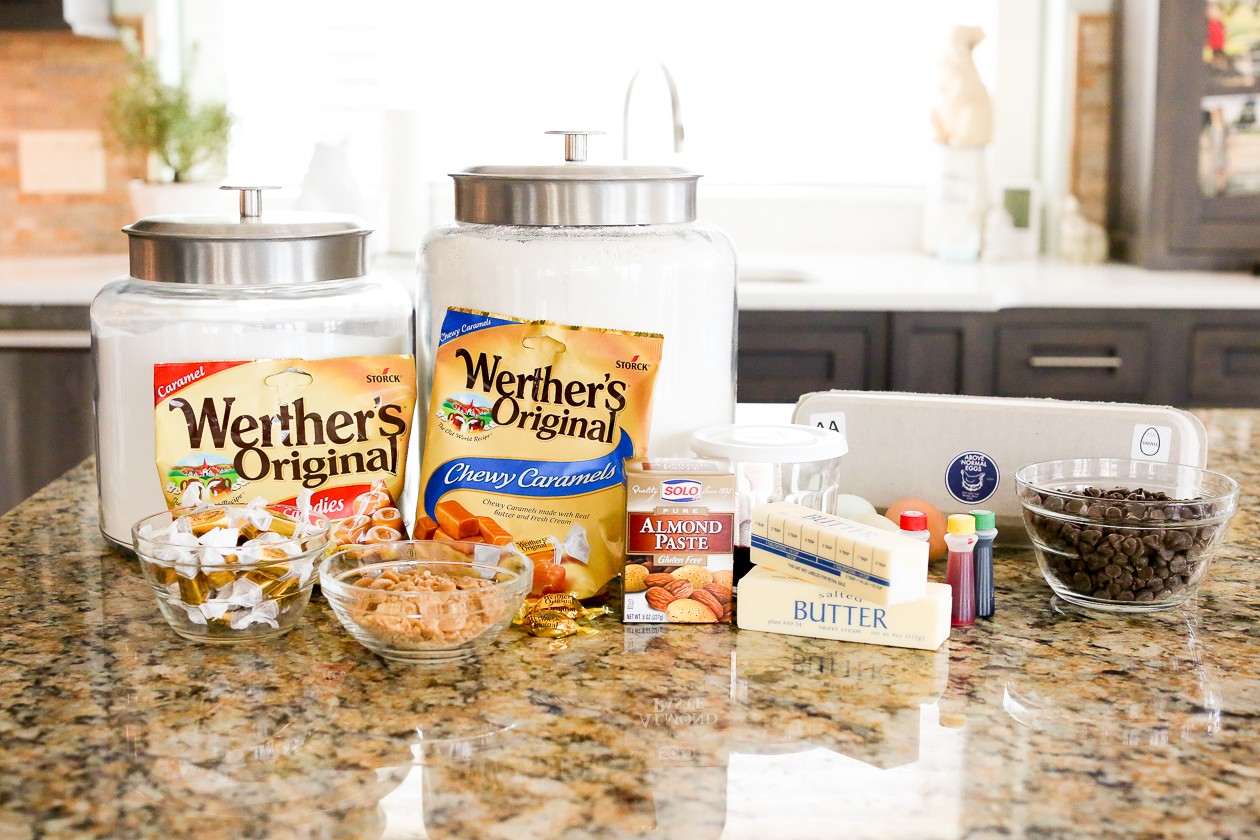 Ingredients:
2 cups all-purpose flour
1 cup sugar
1 cup butter, softened
8 ounces of almond paste
4 eggs, separated (I prefer Above Normal Eggs, which come from my brother-in-law's chicken farm!)
1 bag of Wether's Original Hard Candies (Crushed)
6 ounces of semisweet chocolate chips
Red, green and yellow food coloring
1/4 cup seedless raspberry jam
3 small baking sheets
Steps: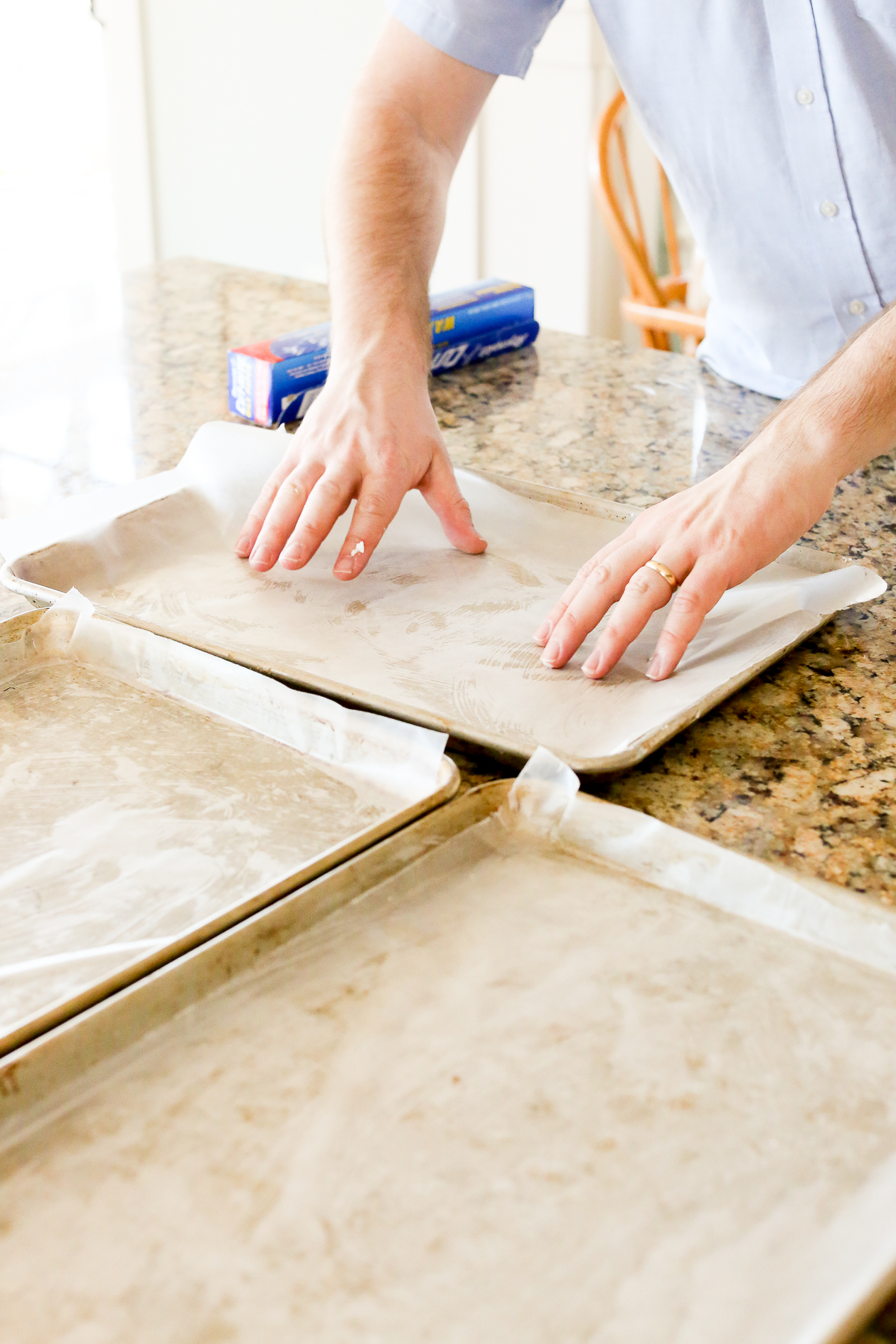 1. Grease the bottoms of three identical pans. We used 9- x 12-inch pans, but you can certainly go smaller. Then line the pans with waxed paper and grease the paper, too.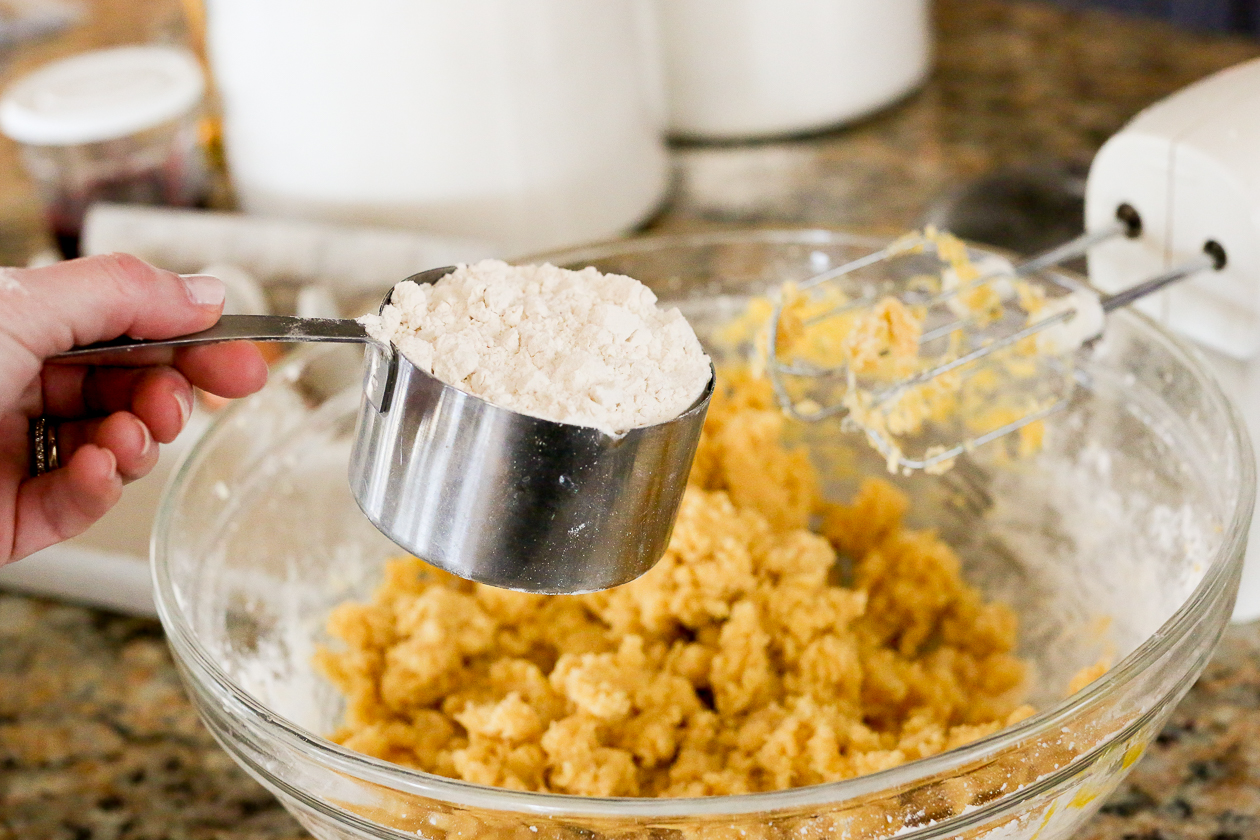 2. Mash the almond paste. Beat with egg yolks, butter and sugar until fluffy, and then stir in the flour one cup at a time. Again, I'm a huge fan of Above Normal Eggs, which come from my brother-in-law's chicken farm. ;)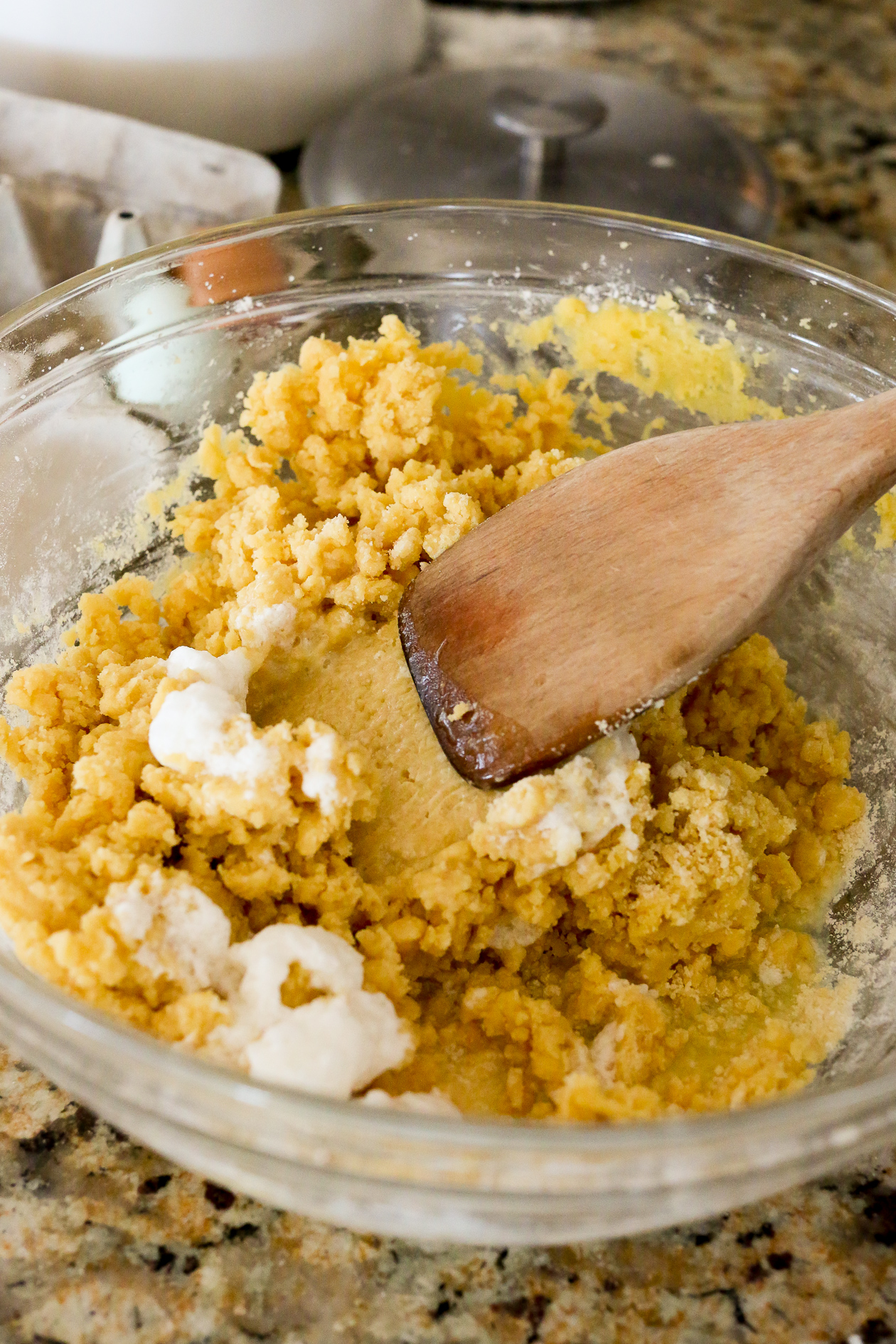 3. In a separate bow, beat the egg whites until you see soft peaks, and then fold into the dough.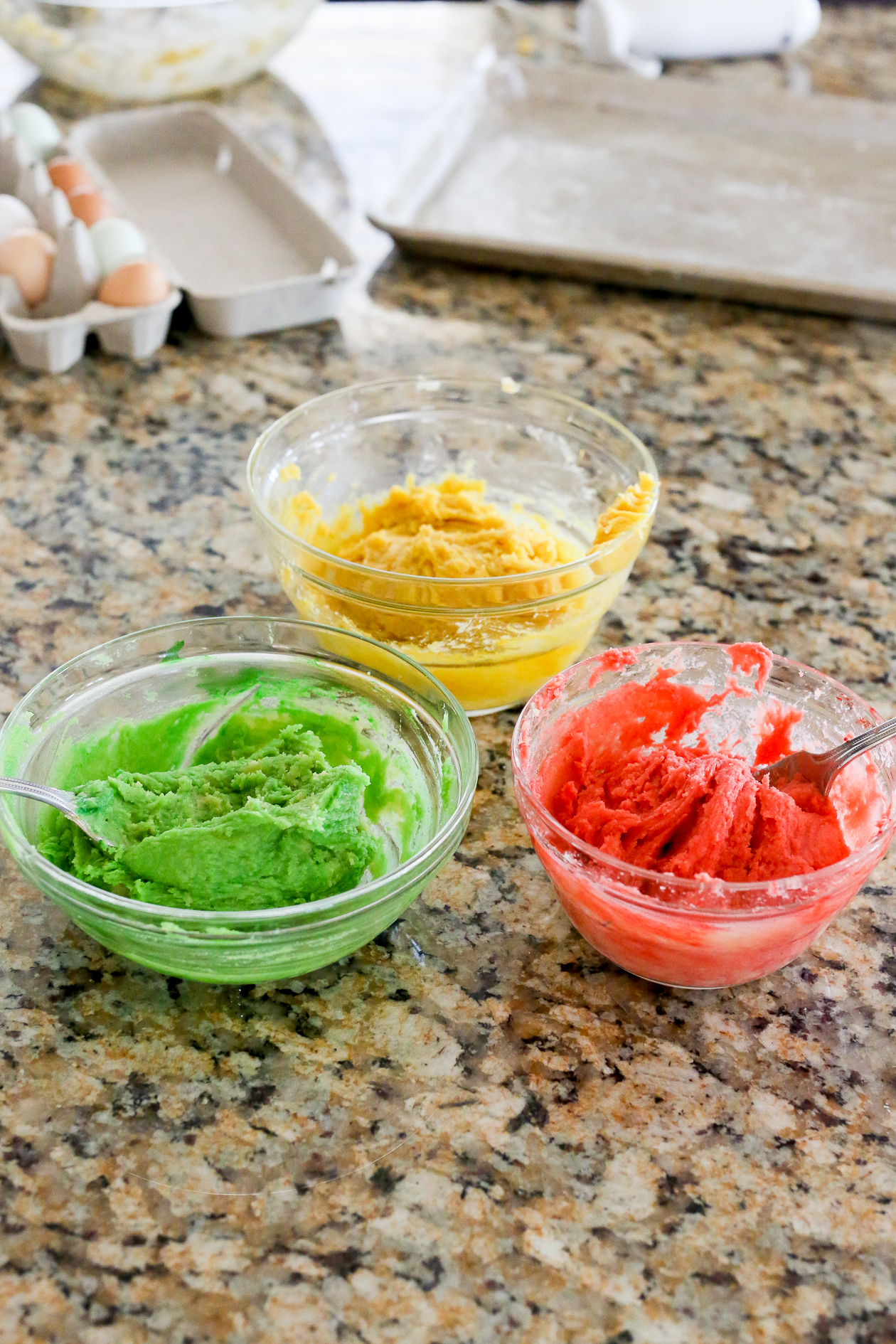 4. Separate the dough into three different bowls and color with food coloring accordingly. You don't need to use the yellow, as the dough should be naturally yellow from the egg yolks, but it doesn't hurt! Once you're done, spread the dough onto the baking sheets and bake for 10 to 12 minutes at 350 degrees.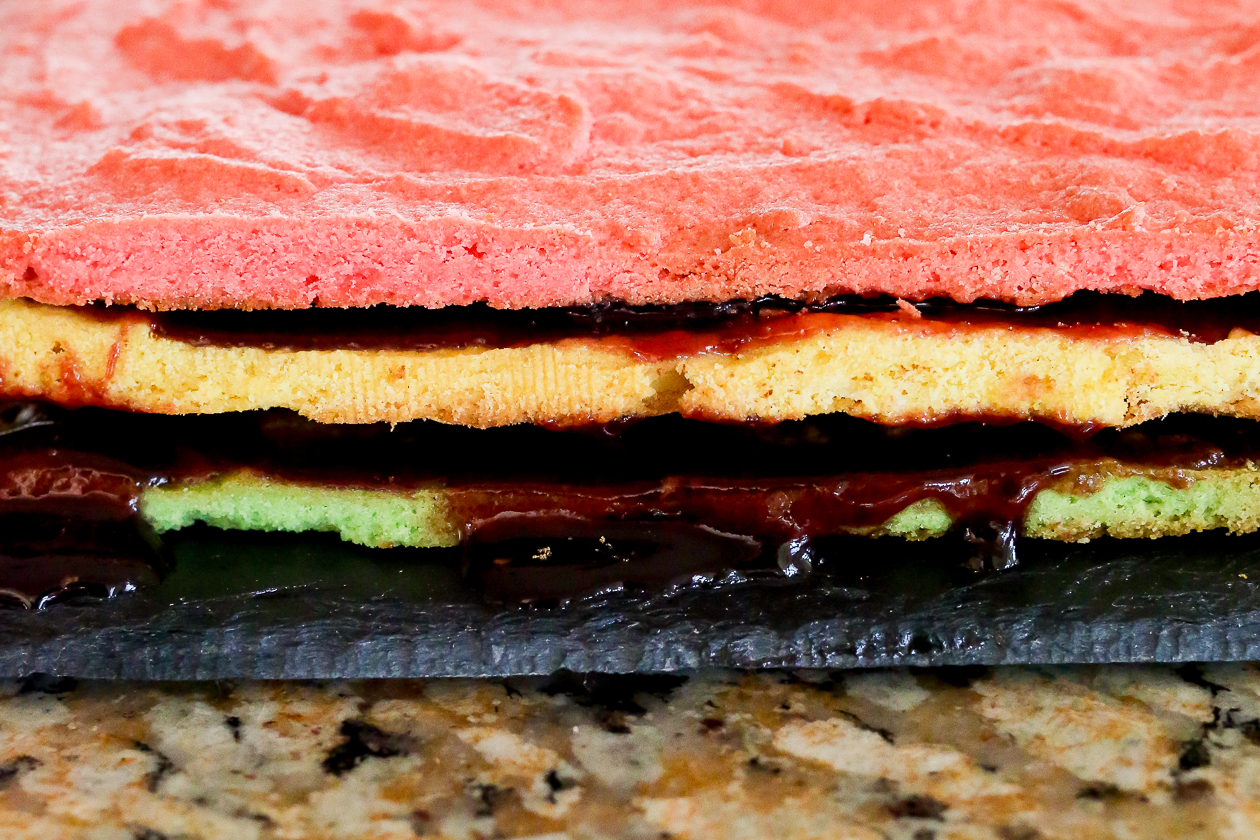 5. Flip the cakes onto cooling racks and remove the waxed paper. Allow the cakes to fully cool. Once the cakes have cooled, lay the green cake on a hard, transportable surface and apply a layer of raspberry jam to its top. Place the yellow layer on top of the green layer and jam, and apply another layer of jam to the top of the yellow layer. Place the pink layer on top. Wrap the cake in plastic wrap and refrigerate for an hour.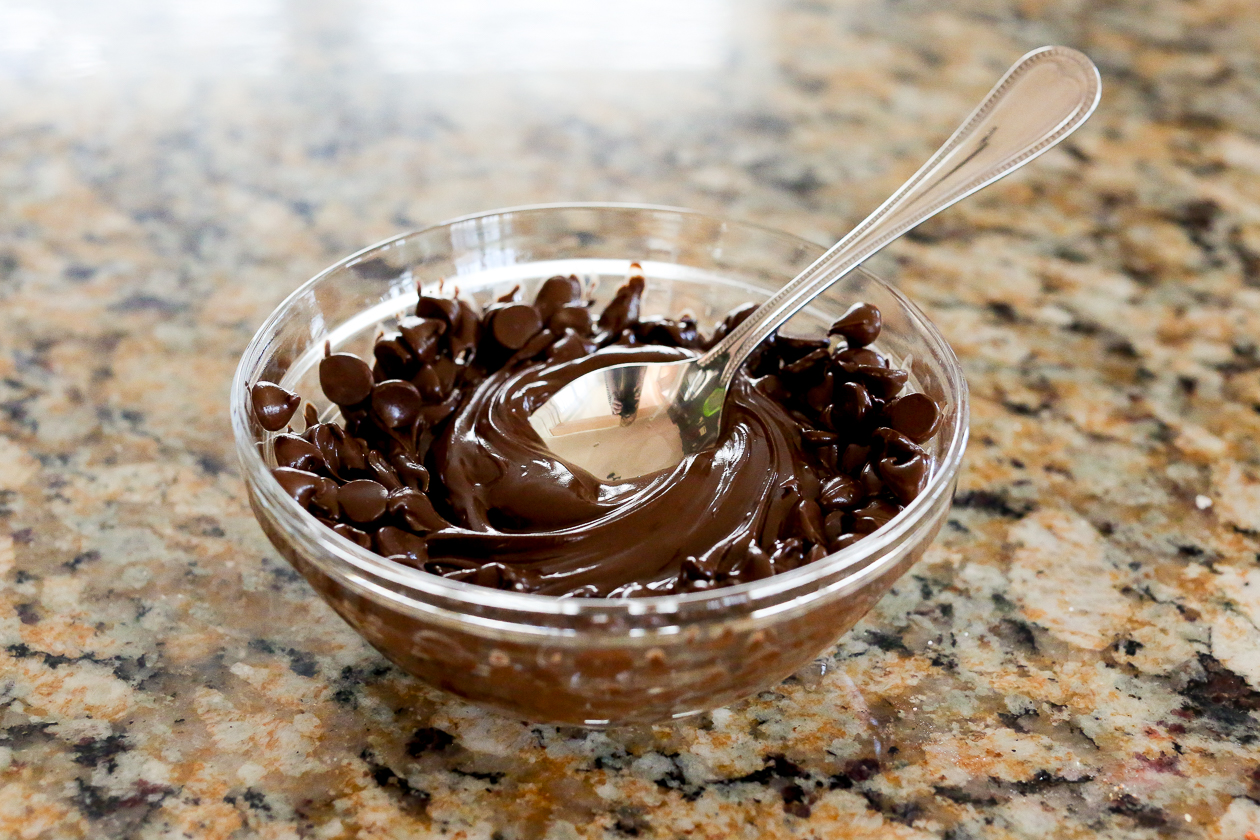 6. Using a VERY sharp knife, cut the edges of the cake so everything is even, and then melt chocolate chips and spread over the cake. (Spreading over the sides is optional!)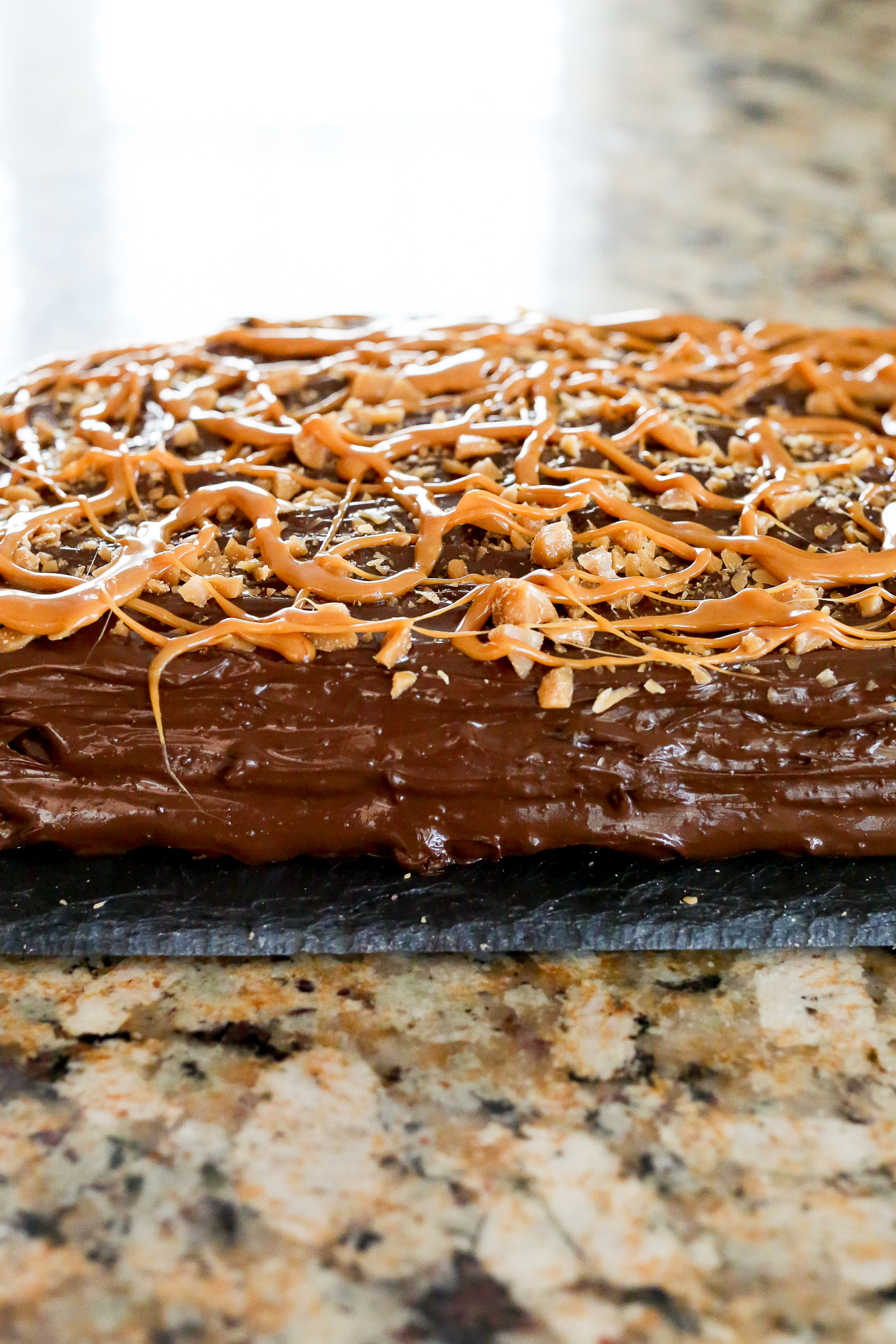 7. Unwrap and melt the Werther's Original Chewy or Soft Caramels and drizzle over the cake. Then sprinkle the Wether's Original Hard Candies on top, and refrigerate the cake for 30 minutes.
(Werther's Original Soft Caramels are the newest addition to Werther's and its softest caramel yet!)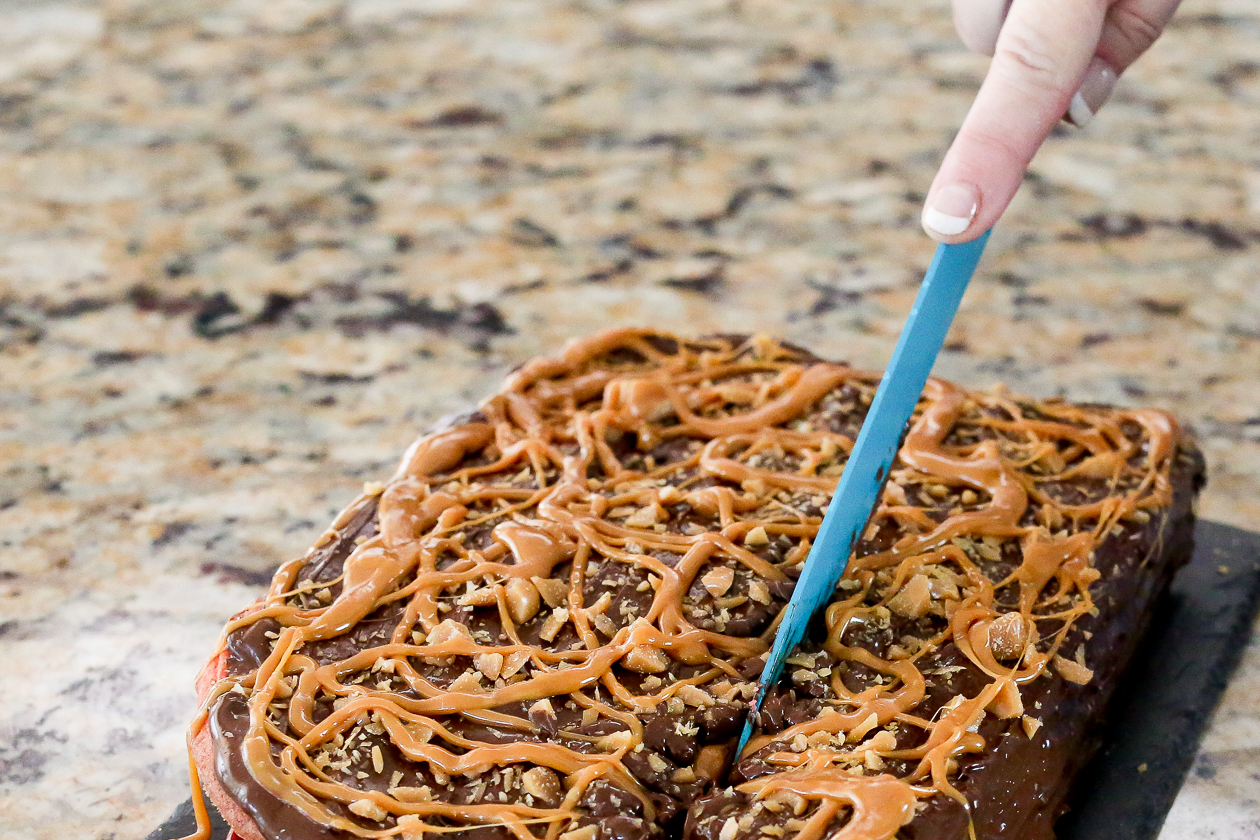 8. Once the cake has cooled, cut the cake into vertical strips and then cut horizontally to make the cookies however wide you'd like them to be. (Be sure to use that super sharp knife!) We made ours about an inch wide and two inches long, but this part is up to you!
Ta-da!
Of course, my rainbow cookies came out looking a little messier than Zaro's. B- for presentation, but A+ for taste. ;)
Thank you to Werther's Original for sponsoring this post. And as always, thank you for supporting the partnerships that keep Kelly in the City up and running!