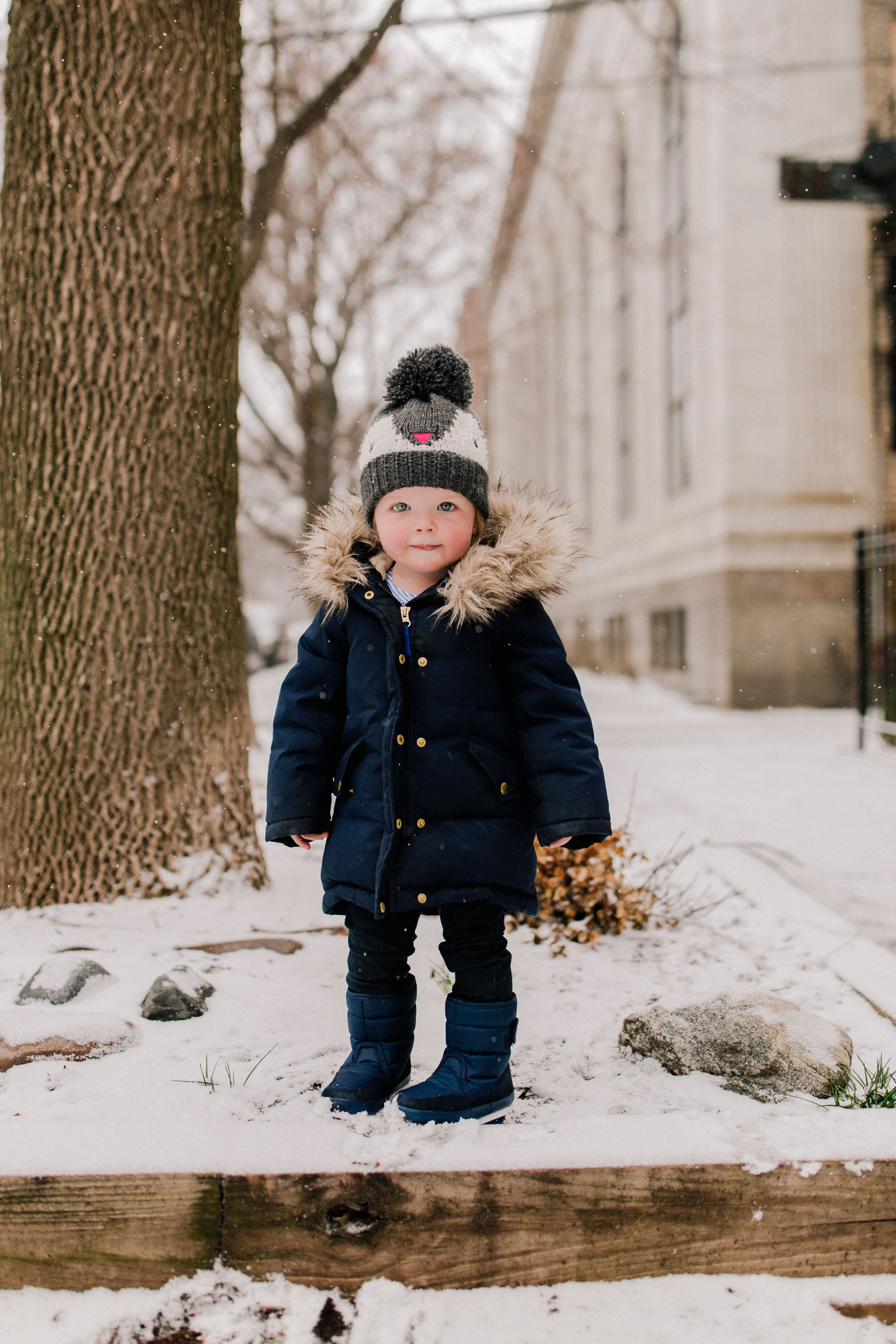 My L.L.Bean Shearling-Lined Boots / Emma's crewcuts Puffer Coat, Hat and Snow Boots (The BEST. But size UP. Emma wears a size 5.5 or 6 and we sized up to a size 10.)
A few things today:
I'm not going to complain to you about the fact that it's snowing in April. ;) Everyone knows it's happening! I will say, however, that Emma adores being outside, and seeing her outside as an almost-two-year-old makes my (freezing) heart happy, haha. A couple of days ago, she was insistent on getting outdoors at 8 a.m., so I grabbed my camera and the two of us took a little stroll around Lincoln Park while the snow fell. Such a fun morning, and one I think I'll always remember. There's just nothing like having your little girl tug on your hand and say, "Mommy, snow?"
I love my husband so much. He's absolutely adorable when he thinks no one is listening/watching. Yesterday, Emma apparently got a little frightened when the dishwasher made a weird sound. And then I heard Mitch say to her, "Oh, don't worry. That's just the neighboring monsters. They're actually okay. They travel a lot for work, so they're never even here."
I know this is such a small thing, but I accidentally washed an entire load of whites with Emma's red shirt, and now everything is pink. I'm somewhat devastated, haha, as I had ALL my (favorite) white jeans in there, and my favorite white sweater, too. Right now, I'm soaking everything in Oxiclean for 24 hours. But then I suppose I'm going to try chlorine-free bleach and color-removing Shout sheets, as so many of you suggested! (Though my guess is the white sweater will be lost, as it has some navy blue in it.) Any other recommendations?
My loafers are back in stock at Zappos. I've been wearing them non-stop on the blog, so I guess you know how much I love them. But they're insanely soft and comfy, and have these cushioned footbeds which make them a dream. I have the blush and brown colors, but I have to admit that I've even considered the black loafers for nights out! They run TTS, and you can also find them at Nordstrom and Shopbop.
I'm in the midst of a major home clean-out! Honestly, it's insane. I donated about half, and then sent the remaining stuff to friends and family as well as to a local consignment store. I'd been trying to sell a lot of it on my own, but I've realized that I'll simply never have the time for that. So I detached myself from all of it, and off it's gone! While I'll admit that our tiny home still feels cluttered–and that there's far more work to be done–it feels good to have an organized closet and live more simply.
And for now, please enjoy my magical morning with Emma. ;)
Shop the post:
My L.L.Bean Shearling-Lined Boots / Emma's crewcuts Puffer Coat, Hat and Snow Boots (The BEST. But size UP. Emma wears a size 5.5 or 6 and we sized up to a size 10.)
SaveSave
SaveSave