If you're looking for how to style wide leg jeans this fall, I'm sharing all of my styling tips and tricks to creating effortless outfits with them, as well as three outfit ideas that you can wear to your next dinner party, the office, or walking around town on the weekend.
Styling Tips & Tricks
How to Wear Wide Leg Jeans
I'll admit it took me a long time to get on board with the wide leg/high-rise jeans look, but I'm now ALL IN. I assumed wide leg jeans would look sloppy, but it's been the opposite! I feel put-together, even when I wear them with sneakers. And I can't get over how flattering the high-rise cut is. Every top looks great tucked into them. Seriously, I can't recommend these jeans enough.
Best Tops to Wear with Wide Leg Jeans
Because of the flared silhouette of these jeans, tops that are either slightly cropped or easy to tuck in look best with wide leg jeans. Longer tops typically look better with skinny jeans or demi-boot jeans. Apart from that, you can't go wrong with wearing any kind of simple sweater, blouse, or T-shirt with wide leg jeans.
Tips for Styling Wide Leg Jeans for Petite Women
Although I'm 5'4″, traditional inseams can also often be too long for me, so over time, I've learned a few tips to troubleshoot this.
If you're petite, the key to styling wide leg jeans is opting for high-waisted cuts and CROPPED lengths. Full-length wide leg jeans make me think of high school, but cropped jeans let a bit of ankle show, or the ankle part of a cute bootie, creating the appearance of a taller frame.
Another great trick is to tuck your top into your high-waisted jeans to help elongate your legs.
And lastly, choosing boots or flats with a chunky heel and a pointed toe also gives a lengthening effect.
How to Style Wide Leg Jeans 3 Ways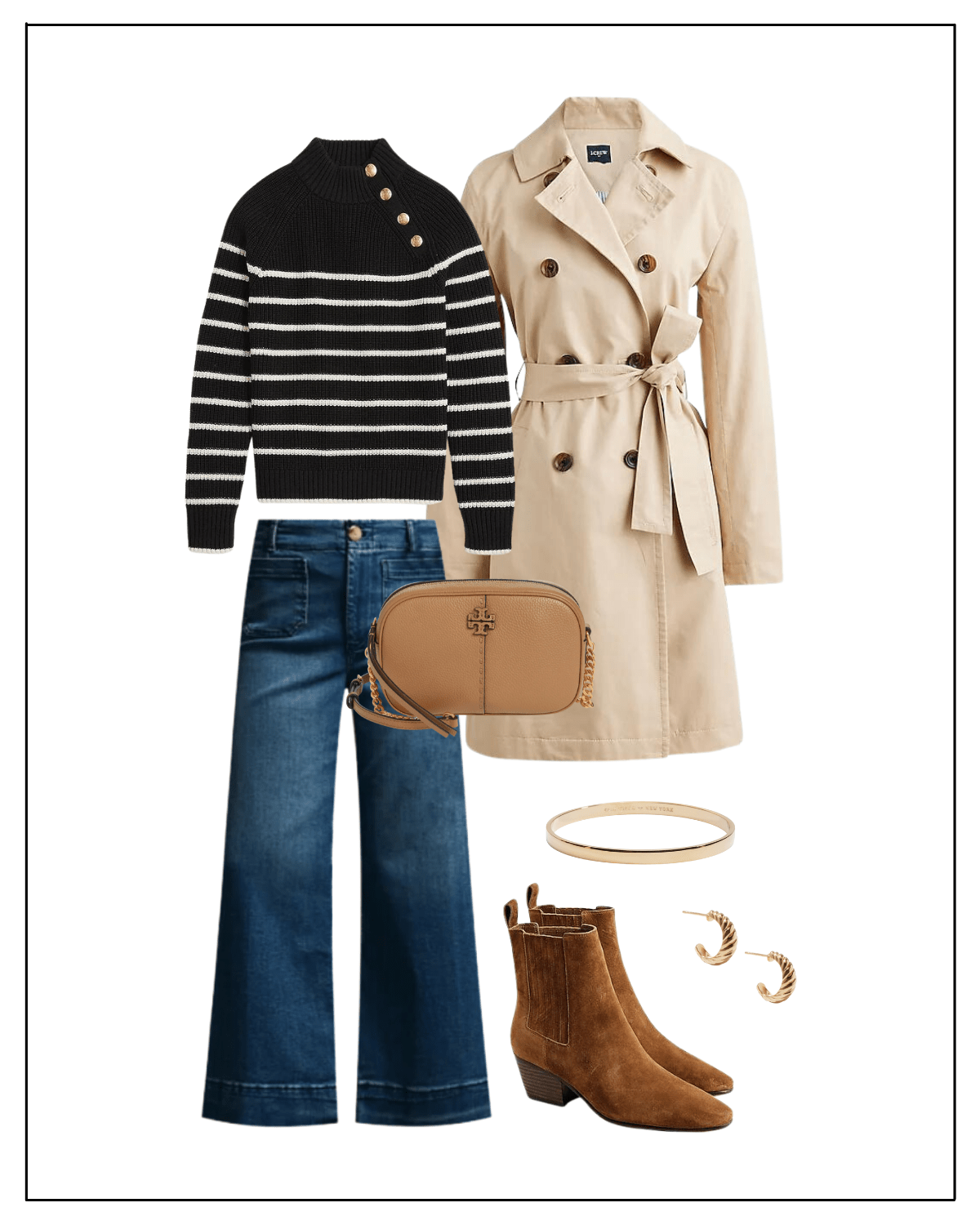 Wide Leg Jeans with a Trench Coat
This fall outfit is a great, comfortable, and polished look you can wear on weekdays to work or on weekends to a dinner with friends. This striped mock-neck sweater is under $55, and this trench coat is under $125, both of which are great versatile staples for fall. French tuck the sweater into the jeans and opt for a pair of sleek pointed toe ankle boots like these suede ones.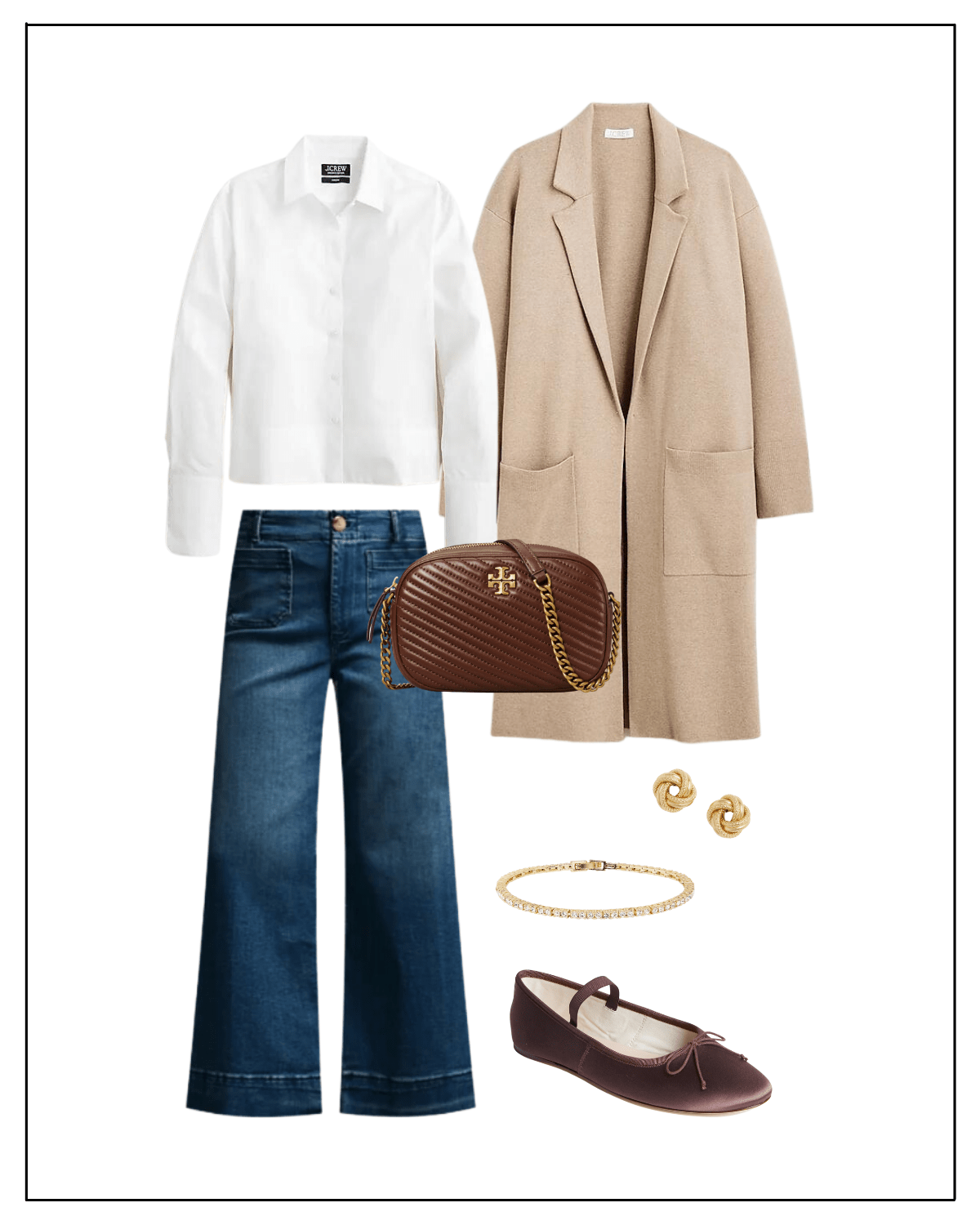 Wide Leg Jeans with a Button Down Shirt
If you're looking for an easy fall workwear outfit idea, this one is for you. This shorter-length button-down shirt is a great example of styling wide leg jeans with a cropped top to elongate your legs. Wearing a blazer with wide leg jeans is also a lovely way to elevate the business casual look. This long sweater blazer is 40% off right now, and I love how it instantly makes any outfit feel polished. I also adore this leather bag and these ballet flats – aren't they so gorgeous for fall?!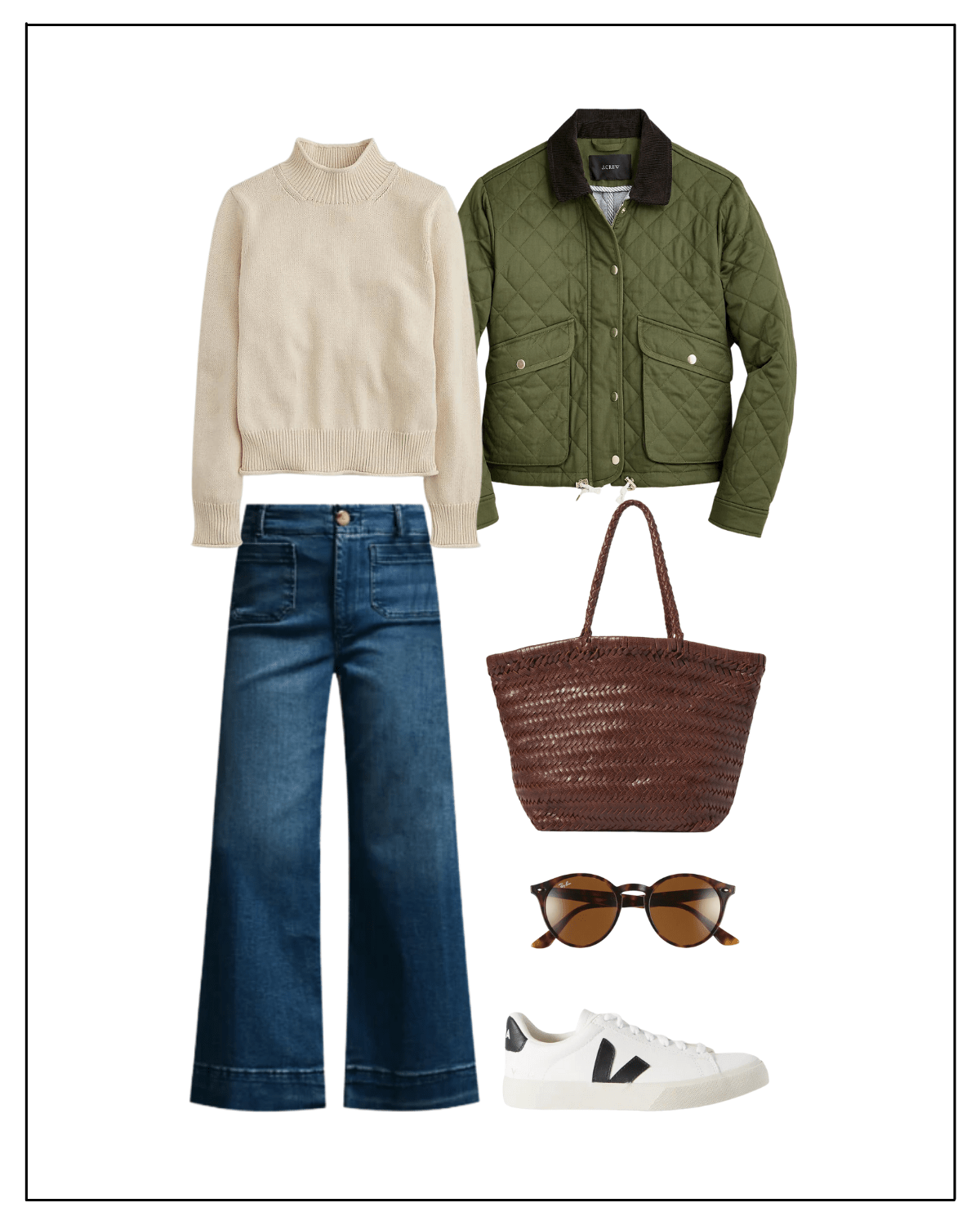 Wide Leg Jeans with a Turtleneck Sweater
For a cozy weekend outfit idea, wear wide leg jeans with a turtleneck sweater and a cropped quilted jacket. This jacket is a wonderful layering piece, and I love the corduroy collar and quilted detail. To keep this outfit more casual, I'd opt to wear my favorite leather sneakers, but it would also look great with ankle boots or flats to elevate this look for dinner or a date night.