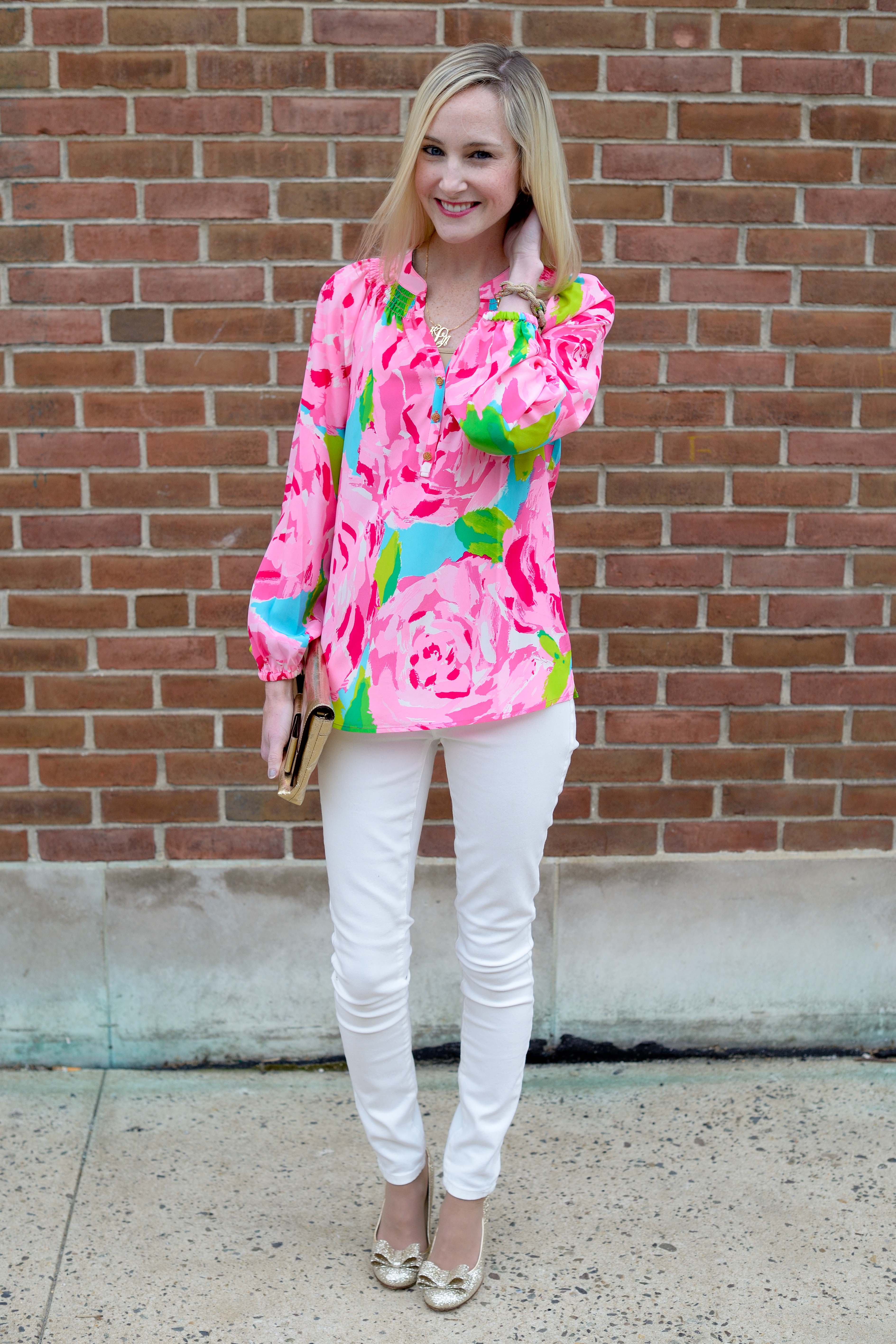 Top: Lilly Pulitzer (Shop the rest of the Elsa Collection here!) / Jeans: Blank NYC* / Monogrammed necklace and bracelet: 9th and Elm (c/o) / Pave bracelet: J.Crew / Clutch: Kate Spade (Old), but loving this one*! / Pumps: Kate Spade (Old), similar here* (and same pump I'm wearing in different colors here, here, here and here) / Watch: Marc Jacobs*, and love it in brown and black! / Lipstick: Clinique* (In "Pudgy Peony") / Earrings: J.Crew
*Use code "STYLE20" to take 20 percent off.
It's majorly difficult to run a style blog when it's constantly raining. You often have to do crazy things, like resort to taking photos indoors–something I despise, even when the venue has floor-to-ceiling windows. (I'm so not toting a DSLR camera and flash around with me all day!) Today, though, the clouds parted, and we were able to take photos in natural light again. It had been a while!
Normally, I wouldn't post the same top two days in a row on the blog. But I did it for a few reasons. First, I did it because I wanted to shoot it again in natural light. (Yesterday's photos were just so blah.) More significantly, though, I wanted to–
Actually, let me warn you before you read on: I'm about to go off on a tangent. ;)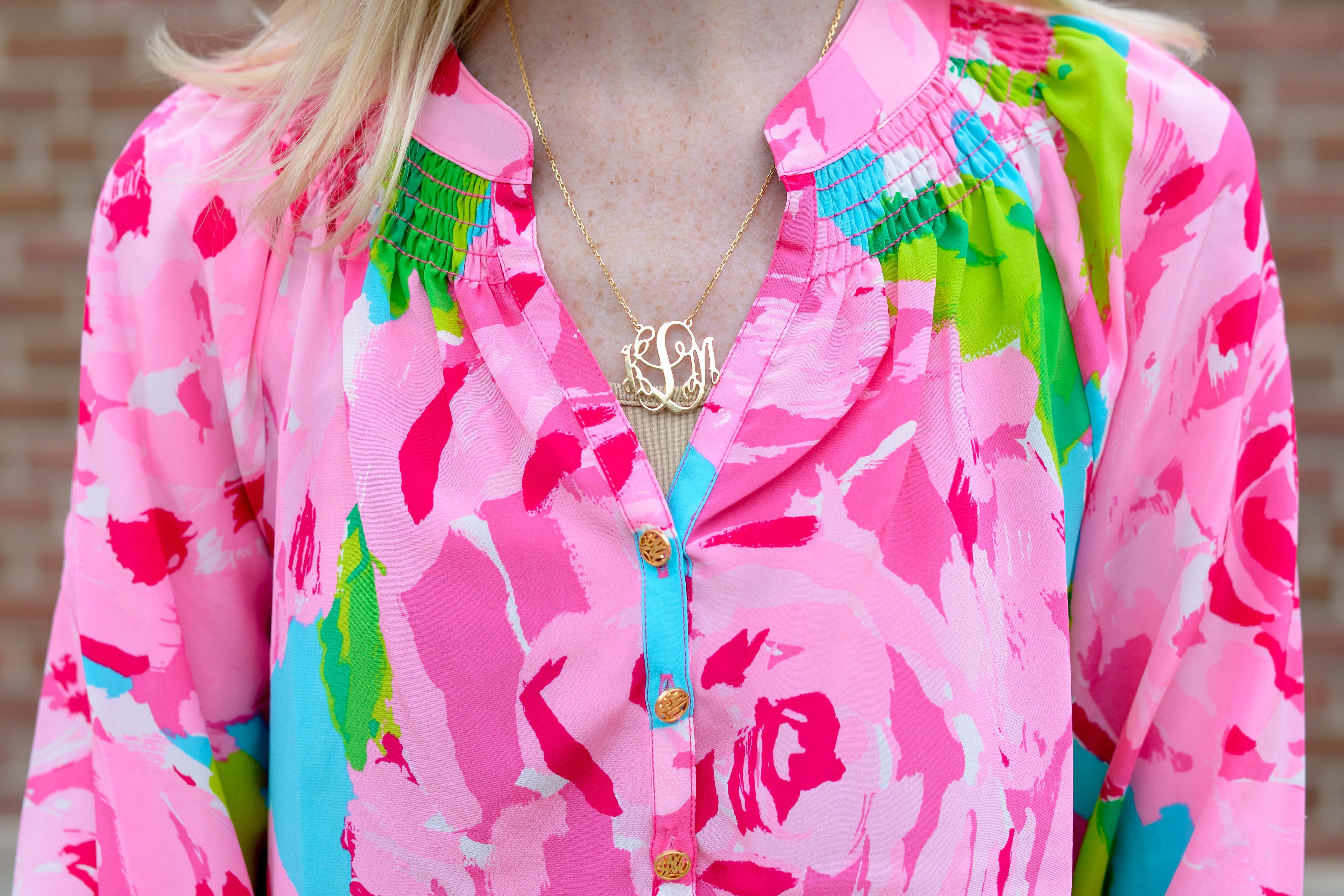 I love this little blog. For me, blogging is like waking up to this big, beautiful blank canvas every morning, and scheming all day long about what I'll paint on it at night. Of course, most of my ideas never come to fruition because I'm just so damn (oops) tired by the end of the day, but still. It's this amazing creative outlet that fills that void I previously had in my life. Even if my posts are almost always rushed. And even if I'm often just talking about shoes and whatnot.
Sometimes, though, I feel like I unintentionally paint pictures of my life that make readers think I have it all together. (Okay. Maybe not recently, haha, but I'm talkin' generally, here.) For the record, I do not have it all together. And you know what? I'll probably never have it all together. But that's okay. I've never been that girl. Maybe I sometimes appear like that girl in photos, but know that for every put-together outfit, there's an outfit unfit for photographs. For example, I'm currently wearing Mitch's sweatpants, Mitch's old high school t-shirt, and Mitch's ski socks. (Sorry, Mitch.) I'm quite the sight.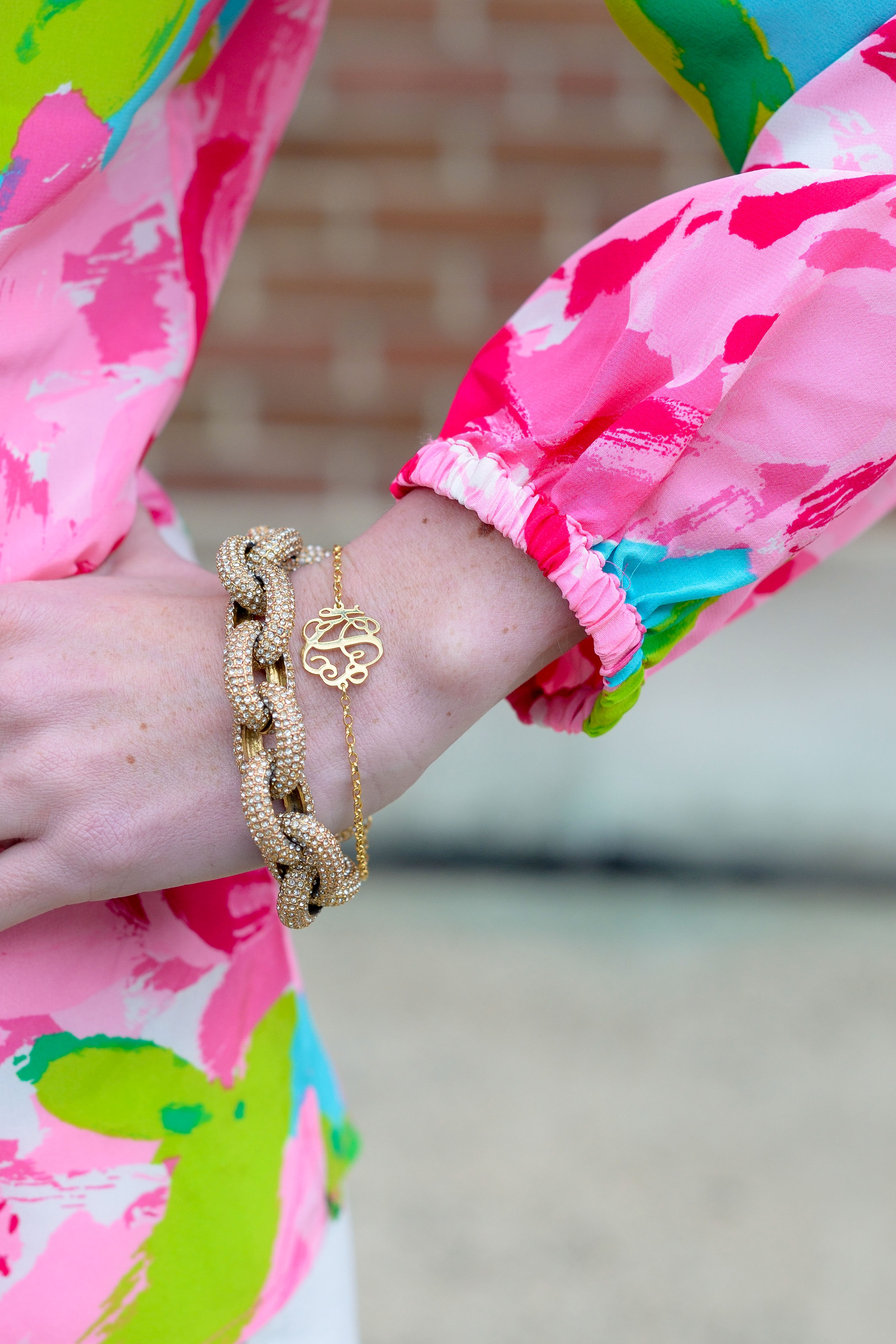 Anyway, it's my hope that my readers know that I'm human. And I hope these "repeat photos" illustrate just that. Who doesn't wear the same piece multiple times throughout the week? Or carry the same bag? Or wear the same shoes? Come on, now. ;) This Lilly Pulitzer Elsa top is currently my favorite article of clothing in my closet, so I wore it to work this week after having just worn it over the weekend. And no one knew! Until just now, of course, when I published this post, haha.
Sweet dreams, Fashionistas! Happy April!