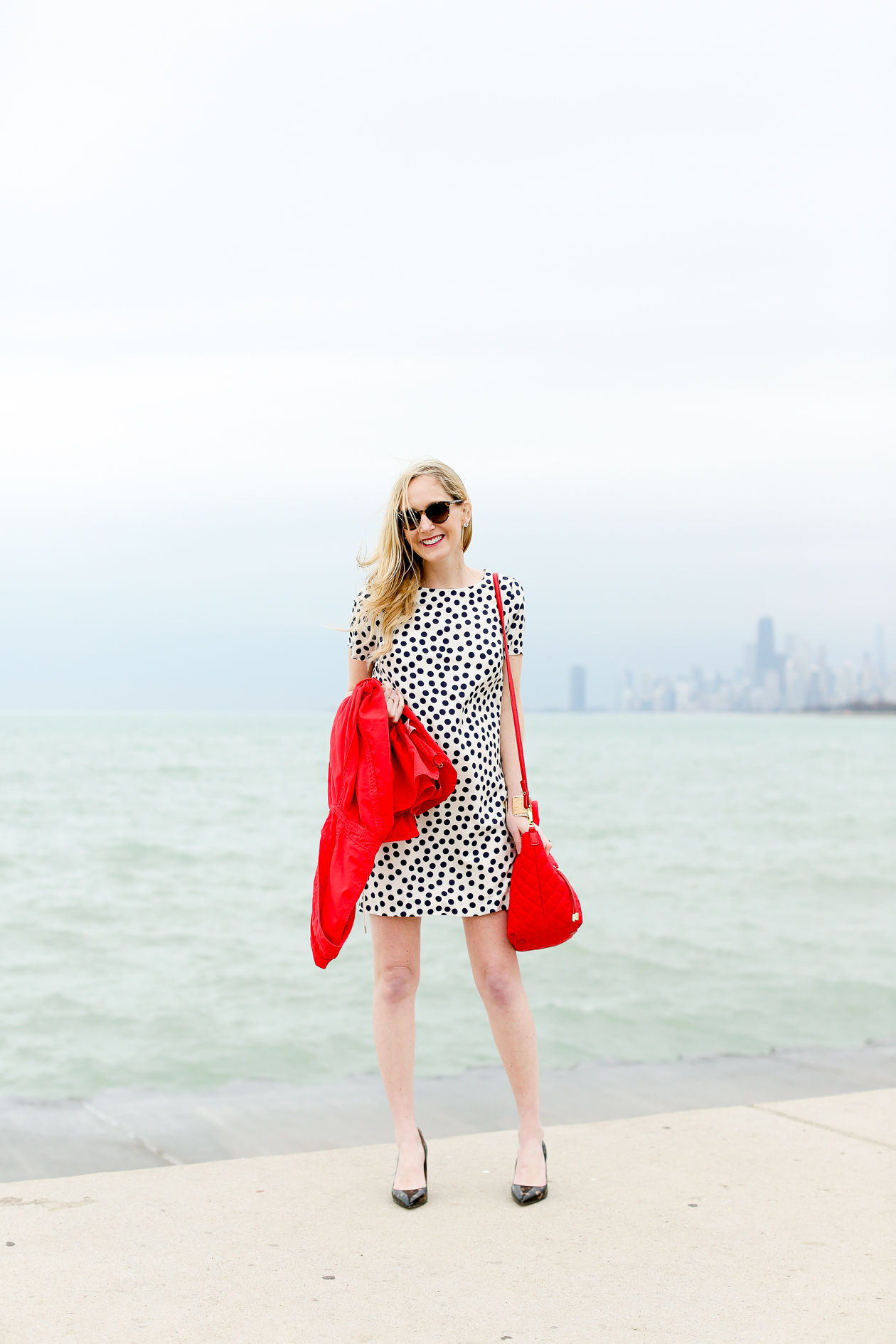 Olivia + Joy Bag and Bracelet c/o Stage Stores / J.Crew Factory Dress (Also love this one! And how about this polka dot number?) / J.Crew Jacket (Also love this one) / Ann Taylor Pumps c/o (Slingback version here) / Similar Sunglasses
As much as I love Lake Michigan, I'm aching to get back to the Jersey Shore… which is happening in less than two weeks! We're spending Mitch's spring break at my parents' home in Ocean City, New Jersey, and I'm taking a REAL vacation. Like, one with an email autoresponder and everything! While life has been really good (and exciting!) lately, Mitch and I have had a lot on our plates, and we're feeling tired. We both feel that slowing down for a week will do wonders for our minds, even if it means pausing construction for a little while.
And, I mean, I kind of need to start slowing down, right?! I'm moving from one life stage to the next, and something needs to give. In many ways, I don't want slow down. I love feeling like I'm killing it on the productivity front, I'm scared that I'll feel less successful if I take on less, and I want to contribute as much as I can to our little family. But in other ways, I really do want–and need–to slow down. Of course, there's the obvious reason: I'm about to become a mother. (Whoa.) But if I'm being honest with myself, I also tend to under-appreciate life's stages because I'm going too fast.
I'll admit that since getting pregnant, I've improved on this front. But I still have quite the way to go. Like, when's the last time I took Noodle on a walk and didn't run through my to-do list a zillion times during it? Silly example, but you get the point. Productivity is relative. Success can be measured in many different ways. And contribution of some things can make more of an impact than contribution of others. "Being present" for all life stages, in my opinion, is so much more important than all of that, anyway. In the words of Ben Taylor (James Taylor's son), I need to "stop trying to guess what's coming up next and look up at the sunset."
(Really, though. Listen to the song. I listen every time I lose focus of what's important. Also, how much does BT sound like his dad?! Crazy.)
For some reason, I always tend to remember what's truly important when I'm out on the water. Everything is clearer, I breathe more easily, I'm able to recognize the need for reprioritization, and I'm happier. It's why you see so many photos taken in this exact spot!
Today, I'm teaming up with Stage Stores (headquartered in Houston, Texas) to showcase a lighthearted, feel-good look. The specialty department store's vision statement is "We give her the style and value she loves for all the stages she's on and all the stages she's in." A reassuring sentiment, right?! Right now, I feel both on a bunch of stages as well as wedged between a couple… and it's nice to know that most women feel this way.
But let's talk about this look for a moment: easy (what I'm all about these days!) yet totally memorable–just the way I aim to live my life. The main focus? The bag. I've long been obsessed with Blair Eadie's red Chanel, but alas. I'm simply not in that life stage right now. Nor will I ever be. ;) While I LOVE the red Chanel, I have some more important things to be allocating funds to, and a purchase like that would leave me feeling WAY too guilty, as I know the thing wouldn't get much use. A statement bag that's also tiny? Yeah, no. Give me a statement bag that can actually fit a pair of emergency flats, a huge wallet, makeup, sunglasses (always helpful when battling hormonal skin probs), cell phone… and snacks. And one that doesn't break the bank!
Enter this adorable Olivia + Joy Bag from Stage Stores. It easily stores all that stuff, yet is a total conservation-starter for a fraction of the cost. It also makes the outfit, and is perfect for the next stage of life. It comes in a larger version as well, and I love this one and this one, too!
Hope you're feeling well rested after the weekend, and I hope you're entering this week with a clear head. Just a reminder: "Stop trying to guess what's coming up next and look up at the sunset." Even if you have to eat a mouthful of hair in the process because it's so windy. ;)
Thanks for the photos, Cutest Photographer Ever. (Also, #matchymatchy)
Outfit Details:
Olivia + Joy Bag and Bracelet c/o Stage Stores / J.Crew Factory Dress (Also love this one! And how about this polka dot number?) / J.Crew Jacket (Also love this one) / Ann Taylor Pumps c/o (Slingback version here)