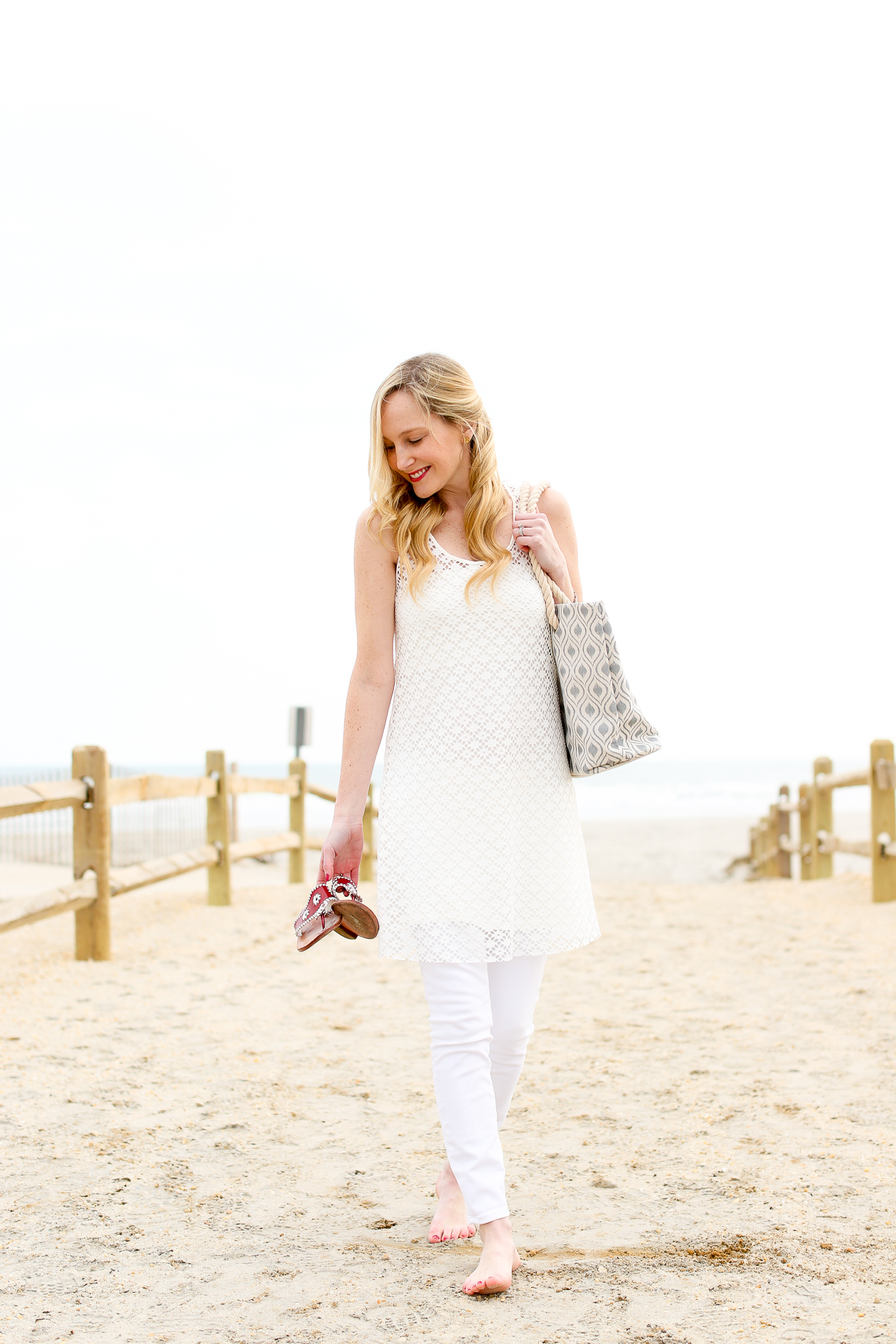 Newport Collection c/o Vacay (When you purchase an entire Vacay collection or any five pieces from the company, you'll receive 20 percent off and a free beach bag. You can also use the promo code "KELLY10%" to take an additional 10 percent off a purchase of a full collection or five-piece purchase. Free beach bag still included! Code is valid today through 4/30.) / Jack Rogers (Borrowed from Mom!) / Tory Burch Earrings (Also love these!) / Similar Bracelet / J.Crew Jeans
AH! Right now, I'm on my way to Dallas for a blogging conference with Blair, Shaheen and Jenn. I'll be honest with you: I'm a little nervous about how it's going to go, as I get tired really easily these days. But I bailed last year because of nerves, too… and ended up kicking myself over it. Not sure whether I'll be able to keep up with everything this year, but I'm excited nonetheless! Here's to learning and becoming a better blogger. :) Be sure to follow along on Instagram!
Anyway, this is my last look from Vacay, out of a potential 13. (You can see my first look here, my second here, and my third here!) If you missed my last few of posts on the company, Vacay is a San Francisco-based clothing brand redefining the art of women's travel wear. With each collection's five pieces (specifically designed to take you from day to night), you can create 12 to 15 adorable outfits, making packing much easier than it normally is. All you have to do is bring along a couple of staples–your favorite pair of shorts and your favorite pair of jeans–and you have 12 to 15 outfits that easily fit in a carry-on.
These photos were taken in Ocean City last month when I was home visiting my parents, and I only packed Vacay's Newport Collection for the trip. It truly made everything so seamless! In today's post, I'm wearing the Newport Textured Dress along with my favorite pair of white jeans. But I could also wear without the jeans as a dress, or remove the slip and wear it as a coverup. Three outfits in one!
Oh, and these pics were snapped by Dad back when I was still trying to hide the bump. Dad, you're amazing. Thanks for taking 200 photos so a few would work. ;) Love you so much, and can't wait to see you next week!
Outfit Details:
Newport Collection c/o Vacay (When you purchase an entire Vacay collection or any five pieces from the company, you'll receive 20 percent off and a free beach bag. You can also use the promo code "KELLY10%" to take an additional 10 percent off a purchase of a full collection or five-piece purchase. Free beach bag still included! Code is valid today through 4/30.) / Jack Rogers (Borrowed from Mom!) / Tory Burch Earrings (Also love these!) / Similar Bracelet / J.Crew Jeans