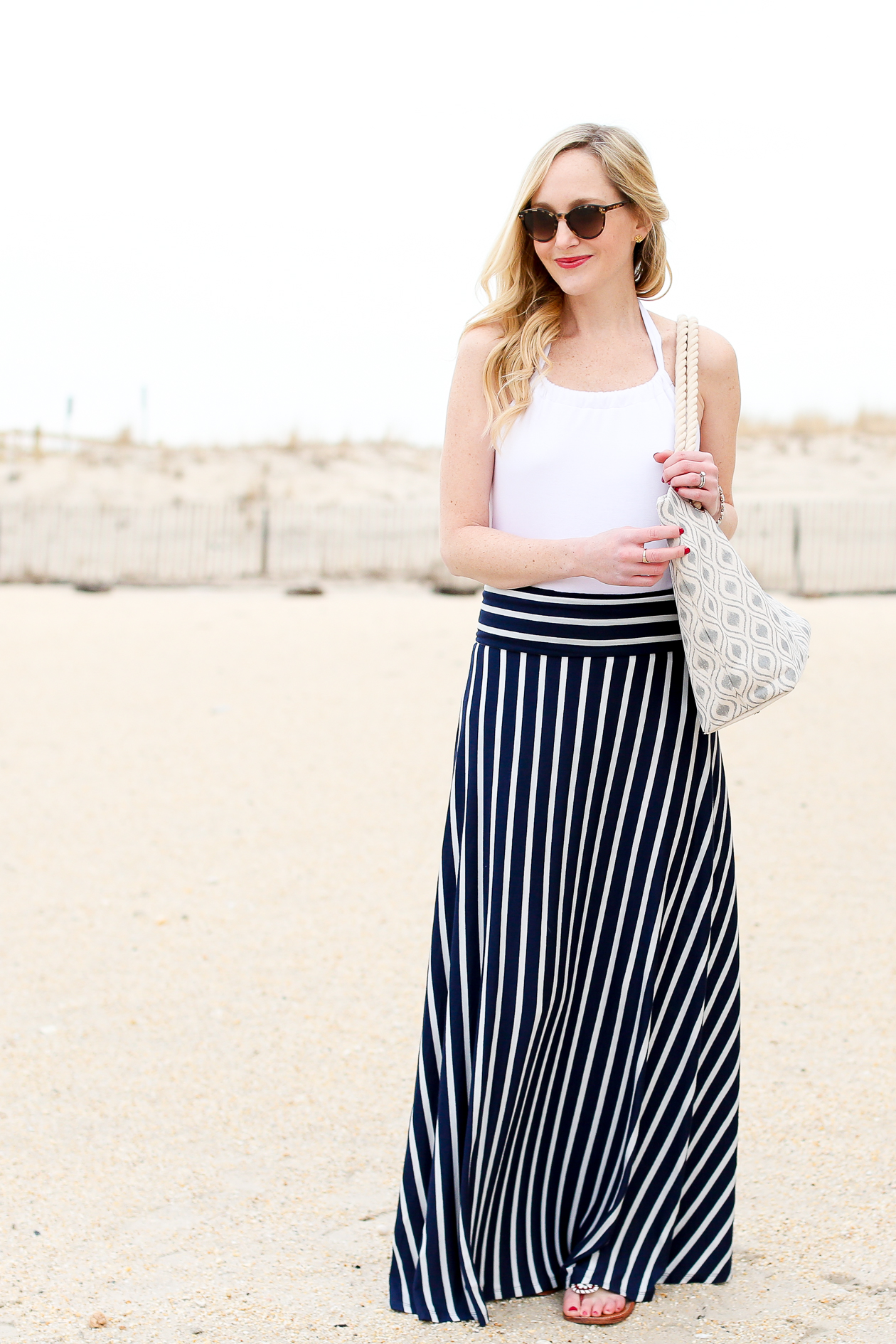 Newport Collection c/o Vacay (When you purchase an entire Vacay collection or any five pieces from the company, you'll receive 20 percent off and a free beach bag. You can also use the promo code "KELLY10%" to take an additional 10 percent off a purchase of a full collection or five-piece purchase. Free beach bag still included!) / Jack Rogers / Tory Burch Earrings (Also love these!) / Similar Bracelet
I can't even tell you how over-the-moon excited I am to be in Ocean City. My parents and I have been spending a ton of quality time together, which has been so nice. We've been getting the house ready for the upcoming season, going out to eat, and taking some wonderful walks on the beach. (Scroll to the bottom of this post to see a pic of Dixie, my neighbors' adorable golden retriever that we ran into when these photos were snapped!) Our time outside has been magical, too. It's been a while since I got a good dose of Vitamin D, (or Vitamin Sea, for that matter!), but temps have been in the 60s down here, allowing me to shed some layers and dig my toes into the sand. Truly, this is my favorite place in the world, and I'm never happier or more relaxed than when I'm here. Especially when it's warm.
Mitch and I are planning a big trip out to OC late next month, and I'm already counting down the days. The one problem is that the Chicago Teachers Union might strike soon, which would mean we'd likely lose his spring break to make up the "lost days." I'd be devastated if our trip had to be cancelled, but I'm holding out hope that things are settled before it comes to that!
Anyway, I'm back today with my second Vacay look, out of a potential 13. (Though I'm only featuring four in total, haha.) As I talked about in yesterday's post, Vacay is a San Francisco-based clothing brand redefining the art of women's travel wear. With each collection's five pieces (specifically designed to take you from day to night), you can create 12 to 15 adorable outfits, making packing a breeze. All you have to do is bring along a couple of staples–your favorite pair of shorts and your favorite pair of jeans–and boom: 12 to 15 outfits that easily fit in a carry-on.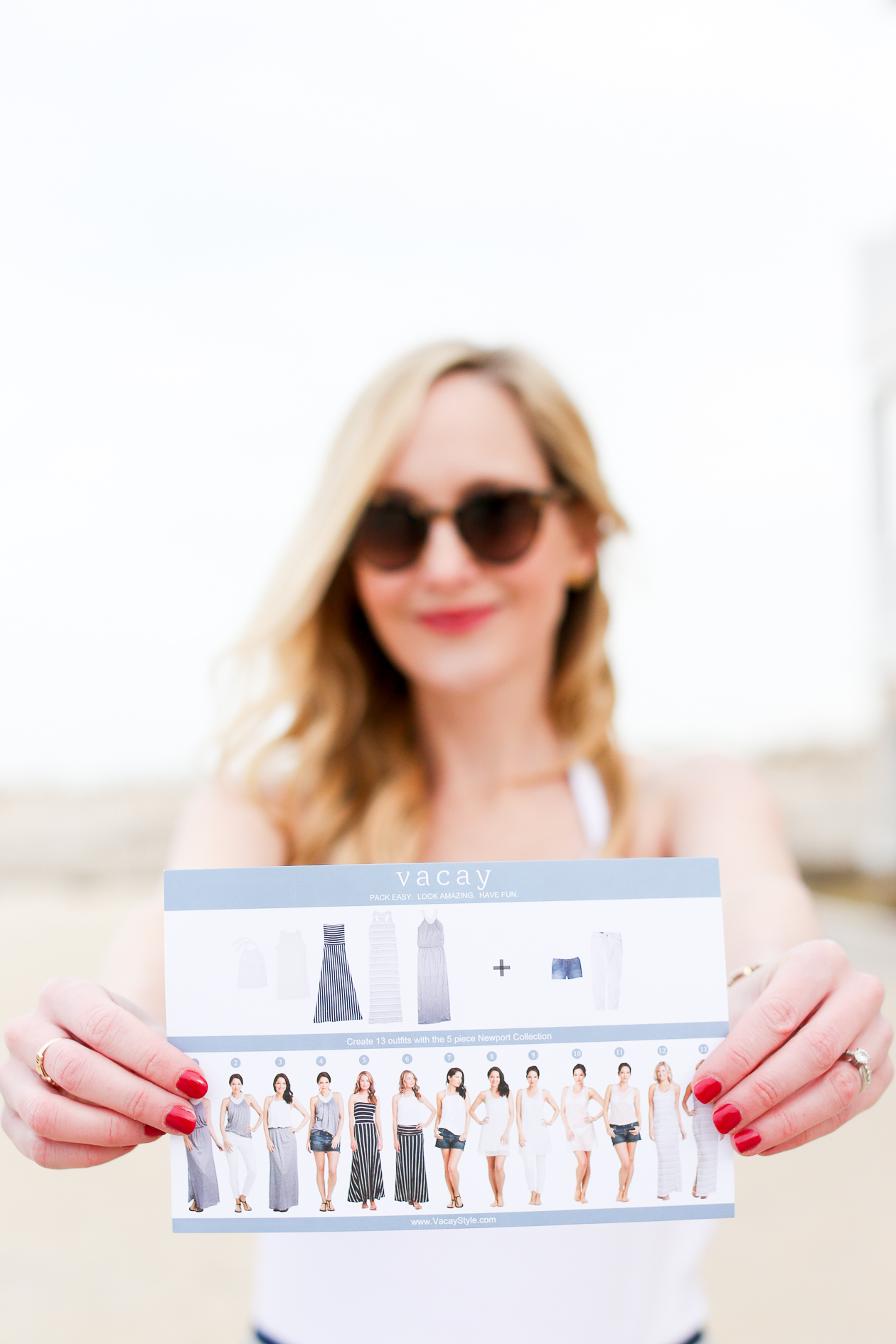 Here, I'm wearing the Newport Convertible Dress from the Newport Collection. While "Number Five" shows it worn as the dress, I went with "Number Six," and simply folded down the top part to wear it as a skirt, and paired it with the Newport Halter Top. Love those versatile navy stripes, and love that the outfit is stylish yet super comfy. The skirt and top and beyond soft, and they seriously feel like I'm slipping on pajamas!
Speaking of pajamas, I've been doing a whole lot of relaxing, and as a result, work has fallen to the wayside. I know that I'll be returning to quite a few work-related disasters when I return to Chicago, but right now I just don't seem to care, haha. You've been forewarned, though: I'm sure to be a mess late this week/early next week.
Off to hang a gallery wall! ;)
Again, a big thanks goes out to Dad for these photos as well as yesterday's! Hey… want to do this again tomorrow? ;) Love you!
Disclosure: This post was sponsored by Vacay, but all opinions are my own. As always, thank you so much for supporting the partnerships that keep Kelly in the City up and running!