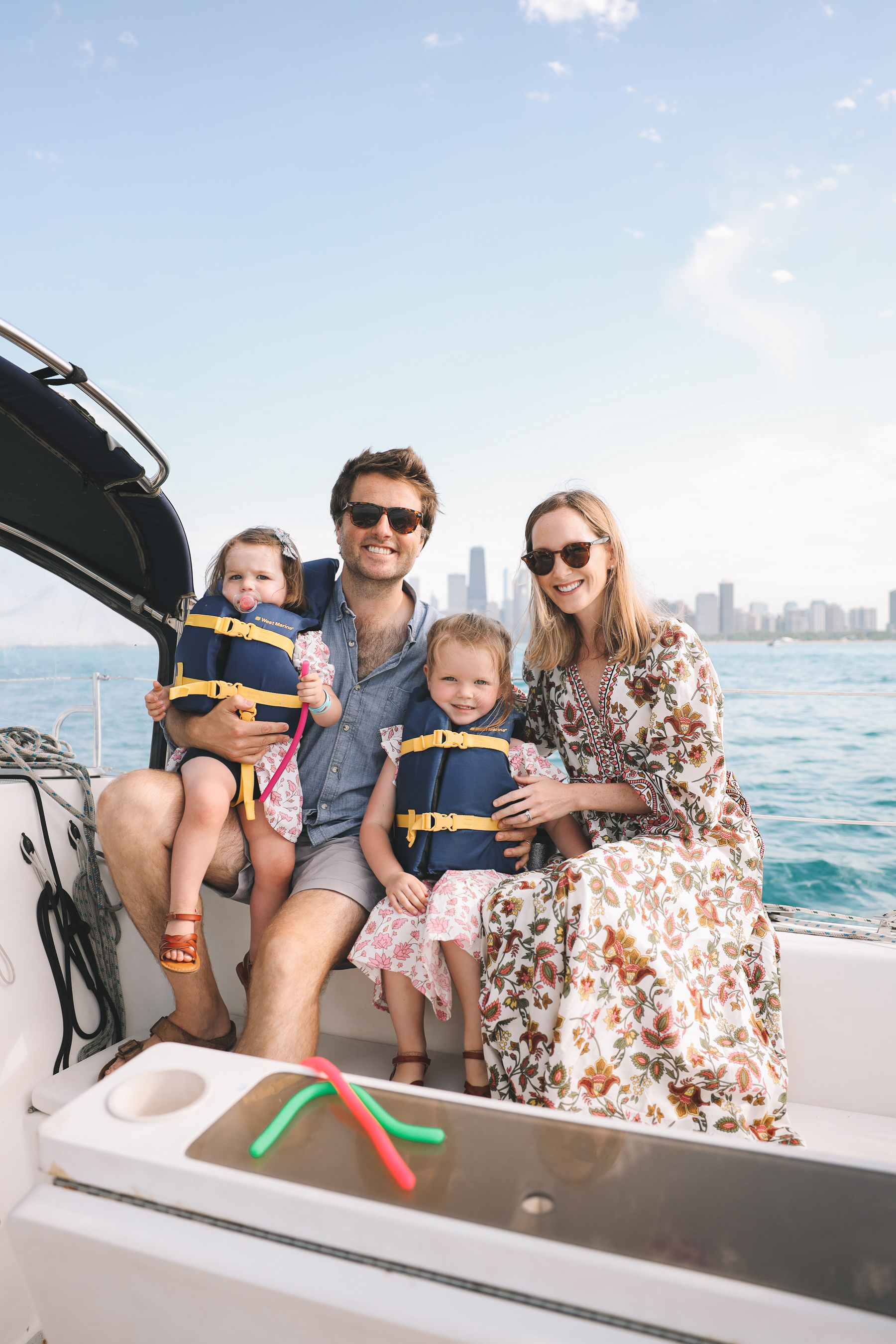 Floral Maxi Dress / Sunglasses / Girls' Dresses / Girls' Sandals / Mitch's Shorts / Mitch's Sandals / Mitch's Chambray Shirt (Similar) / Mitch's Sunglasses
Mitch here!
I like to think of myself as a guy who enjoys sailing. I have a Nantucket sweatshirt. I wear boat shoes often. I love the color navy. But up until recently, I'd never actually been sailing. 😜
We changed that, though!
If you take a moment to think about it, Lake Michigan is absolutely terrifying. It has 1,200 cubic miles of water! It doesn't even make sense. It's freakin' 923 feet deep! When a drop of water enters the lake, it typically stays there for 100 years. Just let that sink in for a moment. Even crazier is that Lake Michigan and Lake Huron are apparently considered to be one super huge lake with a surface area of over 45,000 square miles. It's literally the largest lake in the world and it's just sitting there all wavy and stuff. It's nuts.
As a result, Chicago is—somewhat surprisingly for a giant city in the midwest—an incredible boating city. Thanks to cold winters and invasive mussels limiting algae in the lake, the water glows an aqua marine blue color reminiscent of the Caribbean. Chicago has 22 miles of pristine coastline with 10 distinct harbors full of all different kinds of boats. And that's not to mention the Chicago River is right there, too. It courses through the city offering up incredible views and experiences as well!
(I like Chicago.)
Anyway, we were so excited when Discover Boating recently invited us to book a sailing excursion with Chicago Sailboat Charters. (Hello, once-in-a-lifetime opportunity! We were incredibly grateful.)
The booking process was easy and it was fun to learn about the different styles of boats and experiences available. Doing anything with young kids is tough, so we planned for an early evening trip. (We could eat dinner on the boat and still get the kids in bed on time! We also avoided sunburns. Poor Lucy, though. My wife really went wild with the zinc. 😆)
Our captain met us on shore and helped us get everyone safely aboard. He took care of everything, and was funny and helpful in describing exactly how a sailboat works. Before the trip, I'd assumed that sailboats were sort of pushed along by the wind—not considering the fact that sailboats sometimes need to sail against the wind. In fact, sails work by creating a sort of wing that causes wind to move faster on the outside of the sail and slower on the inside. The faster-moving air results in higher pressure than the slower-moving air, resulting in a lift force that pulls the boat along. It's the sailor's job to manipulate the sails and rudder to position the keel and hull in a way that makes to boat go where you want it to go.
The boat launched from Belmont Harbour, which is one of our favorite places in the city. It was fun to see the harbor from the boat instead of our usual view. (Gawking at the boats from the harbor.) We pulled out into the sparkling clear water, and it was amazing how quickly the sounds and hustle of the city fell away into the tranquility of the lake. Sailing is apparently quiet and peaceful, and it was surprising to look down and realize just how fast we were moving.
The girls loved watching the captain pull the ropes and change the sails. He really put on a show as it seemed like he was battling some less-than-ideal sailing conditions. He brought us from Belmont Harbor toward Oak Street Beach taking care to avoid the Play Pen and get us back in time to get the girls to bed. We loved the experience and hope to get back on the water later this summer. The Chicago coastline has much to offer and we can't wait to explore it all!
How to get out on the water in Chicago:
Mitch. OUT!
Shop the post:
Floral Maxi Dress / Sunglasses / Girls' Dresses / Girls' Sandals / Mitch's Shorts / Mitch's Sandals / Mitch's Chambray Shirt (Similar) / Mitch's Sunglasses