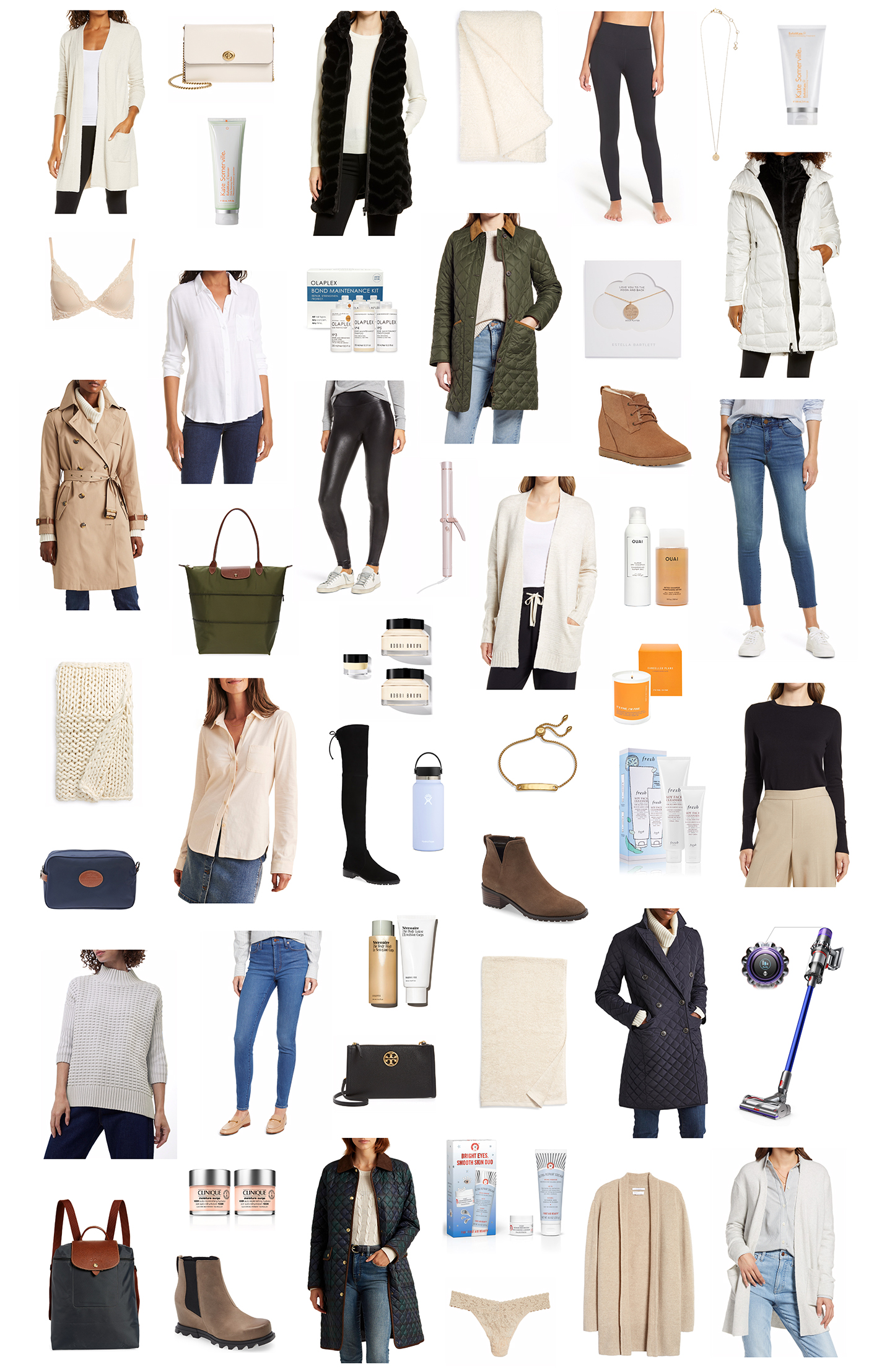 Today is the first day of Public Access to the Nordstrom Anniversary Sale!
What sets the Nordstrom Anniversary Sale apart from other sales is that the included products are either new for fall 2021 or they're classics that brands carry and bring back year after year. This year, the sale ends on August 9th at 3 a.m. ET/12 a.m. PT, and that's when you'll see prices go back up.
A final thought: This a great time to save on casual and comfortable everyday staples, but it's just a sale. No need to panic or get swept up in the frenzy. This will not be the last great deal, and don't shop just because it seems like everyone else is shopping. When you're checking out, ask yourself, "What would I really like for the upcoming year?" And then stick to that. And if now's not the right time to shop, remember that the sale happens every summer! There will always be another opportunity.
Anyway, below are my favorites from the sale. Here are the Larkin Family's favorites for men and kids, too.
Spanx Faux Leather Leggings: Every girl needs a pair of these! They're spectacular. Ridiculously comfy—they feel like pajamas. Don't be afraid to size up. I would say that my true size in leggings is a small, and while the size size small feels great, the mediums feel even better. Frankly the larges are fine, too! They're just so super stretchy that you kind of can't mess up. (The other option, btw, is the Commando Faux Leather Leggings. These are equally as comfy but definitely warmer.)
Barefoot Dreams CozyChic Cardigan: Favorite cardigan of all time because of how wonderfully soft and cozy it is. I have it in the cream and black colors. Worth every penny! I go with my normal size. (If this one sells out, there are several other Barefoot Dreams options here.)
Olaplex Set: Have you read my post on my love for Olaplex? Turned my hair from straw to silk! In the post, you'll also find my best tips and favorite products for restoring dry, brittle and over-processed thin hair.
Natori Feathers Bra and Matching Briefs: BEST BRAS IN THE WORLD. This is seriously now the only bra I ever wear, besides one bra from CUUP. (Though I will say that that bra is very sheer, and I can only wear it under thick sweaters and sweatshirts.) But yeah. The Natori Feathers is both astonishingly comfortable and beautiful, and I own four. I went up one size from a 34A to a 34B, as recommended. Fits great! (I only buy during the Nordstrom Anniversary Sale, btw, because the savings are so fantastic.)
Rails Hunter Button-Up Shirt: Yes, it's pricey, but it's remained in my closet for the longest time because of how beautifully it drapes, how crazily soft it is, and how cozy yet lightweight it is. Highly recommend! It's really as good as people say, and if you're looking for one white button-up to own, this is a great contender. (Sizing: I would recommend going up one size.)
Zella Live-In High Waist Leggings: If you're a fan of the magical Align Leggings but understandably don't want to drop an arm and a leg on them, try these! They're really good. Really pull you in. I would go up one size.
Barefoot Dreams CozyChic Blanket: This is #1 on my list this year. I've heard it's magical, and I've always wanted one for our bed. I think I might go for it. Really, I'm just buying the blanket for the nighttime routine I want: In bed by 10 p.m., read for a half hour, lights out by 10:30. (HAHAHA. It's just not my personality.)
Fresh Soy Cleanser Set: Huge fan of this face wash. I keep the pump version in the shower, but the deal on the Nordstrom set is obviously better, haha. Anyway, this face wash is very good for those of us with sensitive skin. (My other favorite, which I use at night, is Kate Somerville DeliKate, which you can also find at Sephora.)
Hydro Flask Water Bottle with Straw Cap: Okay, this thing changed my life. Before it, I really struggled with drinking enough water every day. It's just not… enjoyable? And I don't think to do it?! I realize how ridiculous that sounds. 😆 But when I bought the Hydro Flask Water Bottle with Straw Cap, all of that changed. Knowing that I only had to drink two of 'em every day to get enough water made it feel doable… and the STRAW! Made it less of a chore, somehow. (DON'T get the water bottle without the straw. Makes a big difference!) So yeah. Get this thing. Can't really describe why it works but it does… and you'll be happier, I promise. I don't leave the house without it!
Madewell Skinny Jeans: Madewell makes my all-time favorite jeans. I've tried a lot of designers over the years, and Madewell knocks 'em all out of the park, in my opinion. And doesn't hurt that the brand is way more affordable than most! If you haven't tried them yet, now's the time to do so. I also highly recommend Madewell's Roadtripper line, designed to be so comfy that you'd want to wear them on a road trip. Like, over your leggings.
Nécessaire Body Wash and Body Lotion Set: I partnered with this company a while back, and have been hooked on their products ever since. Everything just smells so good. I love showering in the morning because it wakes me up and gets me going… but they're speedy, as I don't have a ton of time. Showering at night with Nécessaire products is so lovely, though.
Madewell Kent Cardigan: I don't own this one, but it's a bestseller year after year!
Blondo Waterproof Bootie: These are GREAT. Sure, those of who live up north have waterproof winter boots. But what about waterproof nice boots?! Game-changer. Chicago winters often start early and end late, so these come in handy when I want to look nice but also don't want wet feet from slushy snow or chilly rainstorms. Super comfy, too! I go up a half size in Blondo so I can wear thicker socks.
Hank Panky Thong: I can't believe I'm publicly declaring my love for a thong on the internet, but here we are. This one is the best. Moving on.
Longchamp Le Pliage Expandable Tote: Yay! Love seeing this return to the sale every year. Huge fan of Longchamp, and even bigger fan of its expandable tote. For obvious reasons. Love the Khaki color!
Bobbi Brown Face Base: Another beauty product I couldn't live without. It's a moisturizer and primer in ONE. And it works so well! If you're someone who suffers from your makeup sliding off your face in the first half of the day, get this. And in case it sells out, you can also find it via Nordstrom and Sephora.
Kate Somerville ExfoliKate Cleanser: I'd say that Kate Somerville is my #1 skincare brand. It's expensive… but wow. The results are incredible. And I just wait for sales like these! This cleanser is what I use when my skin is acting up or breaking out. It works extraordinarily well.
Kate Somerville ExfoliKate Intensive Exfoliating Treatment: And this is my #1 skincare product. It's wild. So it's a physical and chemical exfoliator. You use it once or twice a week, and leave it on for no more than two minutes… and POOF. Your skin is ridiculously soft. It also prevents breakouts. A little goes a long way and this bottle will last about a year. My holy grail!
Longchamp Le Pliage Canvas Backpack: I own and love this! Obviously the same look as the traditional tote, but gives you the functionality of being hands-free. Great for moms. Or anyone who needs use of both hands. ;)
Longchamp Le Pliage Toiletry Bag: So cute, right?! As travel has picked up, I've been inspired to up my game in that department. This would be perfect!
T3 Curling Iron: Definitely the best curling iron I've ever used/owned. (I know pretty much only use the Dyson Airwrap, but when my hair is already dry or Emma wants her hair done, I use this!)
Coach Crossbody: I love Coach turnlock pieces. They're timeless, and most of them almost look vintage! Really love this one.
French Connection Popcorn Sweater: My French Connection sweaters are some of my favorite in my "collection." They're just so beautifully designed, extraordinarily comfortable/soft, and trendy yet classic-looking at the same time.
OUAI Detox Shampoo: This is the clarifying shampoo I use. I only use it once per week, so again: this is a product that gets you a lot of bang for your buck. But using a clarifying shampoo is highly recommended in order to protect against product buildup and environmental factors. Sounds like nonsense, but I really can't believe how much cleaner and lighter my hair feels after using. (Note: After I use this, I immediately use my beloved Pantene Rescue Shots. The results are NUTS!)
North Face Acropolis Down Parka: My aunt swears by this jacket. I've been off North Face for a while now—I guess I'm scarred from high school and college—but I love the look of this one! Also loved hearing that it's super warm and can even keep a Chicagoan in February warm. :) UGH. Let's never go back to February in Chicago, okay?!
Nordstrom Cashmere Cardigan: Grab this one if it's in your size! Nordstrom cashmere is of the highest quality, and the cut and color of this one is beautiful.
Kate Spade Mini Initial Necklace: Do you have kids?! If so, you need to buy one for each child's name, and then combine. Way more affordable than the other options out there! (Wearing their initials also makes them so happy. Emma is thrilled whenever I wear mine!)
Ralph Lauren Blackwatch Plaid Quilted Coat: #60daysofplaid vibes, guys. (Not sure if I'm doing it this year, though. Even just the thought of Christmas exhausts me right now, haha.)
Monica Vinader Bracelet: This is the best gift because you can engrave anything you want on it! Click on "see locations" under "DETAILS AND CARE," and they'll pop up. Simply bring it into one of those stores, and they'll have it done for you—usually same day!
Halogen Crewneck Sweater: A great basic. Get one in white and black, and the outfit possibilities are endless. Simplicity, simplicity.
Faherty Knit Button-Up Shirt: Doesn't this look awesome?! It's a traditional-looking button-up shirt, but features a soft knit. I feel like this blog should be called "Kelly in the City wearing Wrinkle-Free Clothing and Soft Knits." Because let's face it. That's what this whole thing has really become.
Via Spiga Faux Fur Vest: HEAVENLY. Love both the cream and the black.
First Aid Beauty Ultra Repair Cream: I use this when my skin is ridiculously dry and needs some TLC. Works like a charm every time; I wake up in the morning and things are repaired.
"Love You to the Moon and Back" Necklace: Emma and I say this to each other all the time, and I was thinking about getting her this necklace to give her when she goes off to "Camp Gammy" in August. I'm going to miss her so much.
It's Fine, I'm Fine Candle: I believe this has already sold out because everyone and her mother adored it. Makes sense.
Dyson Cordless Vacuum: SAME. Keep an eye on it, though. Because this is the best vacuum to have ever existed. (Though if you're in the market for the second best vacuum, get this Hoover one! You can get extra batteries so when it runs out, you just pop a new one in and can finish the job. Can't do that with a Dyson!)
Ralph Lauren Quilted Jacket: There's just something so preppy about this. Love it in the Houndstooth.
Nordstrom Bath Towel and Hand Towel: Recently painted our bathroom and it now has more of a neutral vibe vs. the previous blue-and-white one. Was thinking that these towels would be nice in the beige!
Stuart Weitzman Over-the-Knee Boots: Ever wanted to own these beauties?! (The OG, and how I manage to wear dresses in the cold in Chicago!) This is the best price you'll find. Super comfy. I went up a half size.
Nordstrom Chunky Knit Throw Blanket: The prettiest! Looks amazing draped over a bed or couch/chair. Really adds to the coziness of a room in fall and winter!
Whit & Wisdom Ab Solution Skinny Jeans: These are phenomenal! I bought them last year and was blown away as to how flattering, soft and comfy they were. Can't beat the price, either. I believe they were my top denim pick from last year's sale!
Ralph Lauren Trench Coat: Do you see the leather detailing on the wrists?!
Ugg Wedge Booties: Really cute, right?! Like most people, I wore Uggs in college… then swore them off… and then came back later in life. And I'm never going back. This wedge version—available in camel AND black—look like I could wear them "out" too without feeling dressed down.
Clinique Moisture Surge: This is another awesome product for extremely dry skin! I primarily use this in the winter, but it helps put some life back into my face. I put it on at night and sleep with it on, kind of like a mask.
Ralph Lauren Quilted Double Breasted Coat: The style of a wool coat with the warmth of a puffer. Here for it.
Barbour Quilted Jacket: And then this one is just so sharp with the collar. The perfect fall jacket. Love the green, too.
Sorel Joan of Arctic Wedge Booties: I own these and adore them. They're rugged yet give me some height and make me feel less blah when everything is gray and cold. They look great with Cali jeans, btw.
Caslon Open-Front Cardigan: Another cardigan option!
Tory Burch Crossbody Bag: There are a bunch of Tory Burch options this sale, but this is my fave.