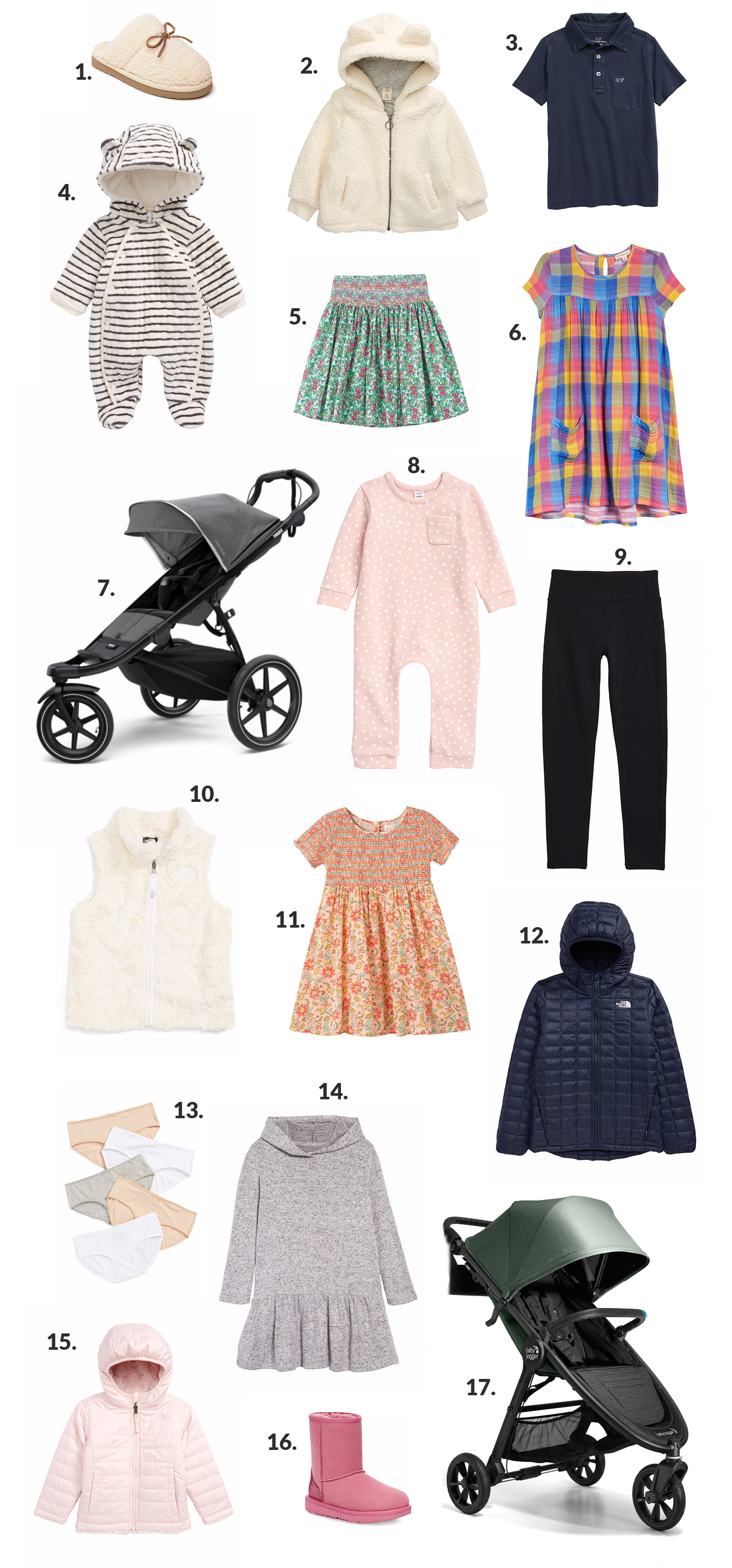 As promised, I'm popping back on to share my favorite kids' finds from The Nordstrom Anniversary Sale.
Note: What sets the Nordstrom Anniversary Sale apart from other sales is that the included products are either new for fall 2021 or they're classics that brands carry and bring back year after year. At the moment, the sale is in its Early Access phase. That means that shoppers must be cardholders, and they're "let in" on various dates depending on how much they spend at Nordstrom throughout the year. If you're not a cardholder, though, have no fear! The sale will be open to the public on Wednesday, July 28th. The sale ends on August 9th at 3 a.m. ET/12 a.m. PT, and that's when you'll see prices go back up.
1. Bow Slippers: Emma is so into slippers. She wears them every morning when she comes down to the kitchen, and it's the cutest thing.
2. Fleece Bear Hoodie: The girls have similar bear hoodies, and they always get a lot of "awwwwwws" when they wear them around town, haha. They're so cozy, too!
3. Vineyard Vines Navy Polo: Another boy find! Look, I'm doing it!
4. Striped Bunting: Oh how I miss bunting days! These things are awesome. First, they're adorable. Second, the booties are attached so you don't have to worry about baby kicking his/her shoes off. Third, they're adorable. Fourth, they're adorable.
5. Floral Skirt: I want to get Emma into skirts this year, as it allows for more outfit combinations. Maybe this will be the first!
6. Plaid Dress: The girls had similar dresses from the sale a couple of years ago, and I loved them!
7. Thule Urban Glide Stroller: A few friends have this and LOVE it for jogging. I so wished I went jogging. I mean, I should. I really should. Ugh now I feel guilty. Moving on…
8. Newborn Romper: You can never have enough!
9. Kids' Zella High-Wait Live-In Leggings: Okay, we don't personally own these kiddie leggings, but I love the adult version so they HAVE to be great! I'm a big fan of investing in high-quality leggings for Emma so that they last longer and can be potentially be passed down to Lucy. Our favorite pair is probably Athleta Girl's Chit Chat Legging, but we only buy when they're on sale!
10. North Face Fur Vest: Let me tell you something. Little girls' outfits look one zillion times cuter in the fall and winter when you pair a fur vest over them. They also add a whole lot of warmth under jackets and coats!
11. Floral Smocked Dress: Love smocking for the girls, love smocking for me. (Did you see all of J.Crew's new dresses, btw?!)
12. Navy North Face Quilted Jacket: I tend not to cover boys' clothing very much here, and I'm sorry about that! This one looks like a great find, though. ;) Or for a blue-loving girl!
13. Undies: WHERE HAVE ALL THE UNDIES GONEEEEE? (Sung to the tune of "Where Have All The Cowboys Gone?" by Paula Cole, of course.) But seriously. They go into the washer/dryer and don't come out. Our house is haunted.
14. Cozy Hooded Dress: Why doesn't this come in women's sizes? Oh wait, it does. You're welcome!
15. Pink Little Girls' North Face Quilted Jacket, Big Kids' Version and Baby Version: This is a fall/early winter jacket, though many people say that it works through winter, too, even in very chilly locations! Every kid needs a super warm but not-too-bulky jacket that they don't complain about. ;)
16. Pink Uggs: A MUST, especially if you live in my neck of the woods or somewhere else arctic. We really love the waterproof version, but the pink pair is so cute!
17. Baby Jogger City Mini GT2 Stroller: If you're no stranger to this blog, then you know how much I adore the Baby Jogger City Mini GT2 Stroller. It will forever be my favorite stroller because of its awesome suspension and all-terrain wheels, which help me navigate bumpy city streets; its easy fold and lighter weight; its narrow profile which allows me to get through store and restaurant doors with ease; and its inventive design that makes for better naps. (Back almost fully reclines, and the footrest pops up!) It's also AFFORDABLE compared to all the other designer strollers. $$$ doesn't necessarily = the best. Because THIS is the best! 😉