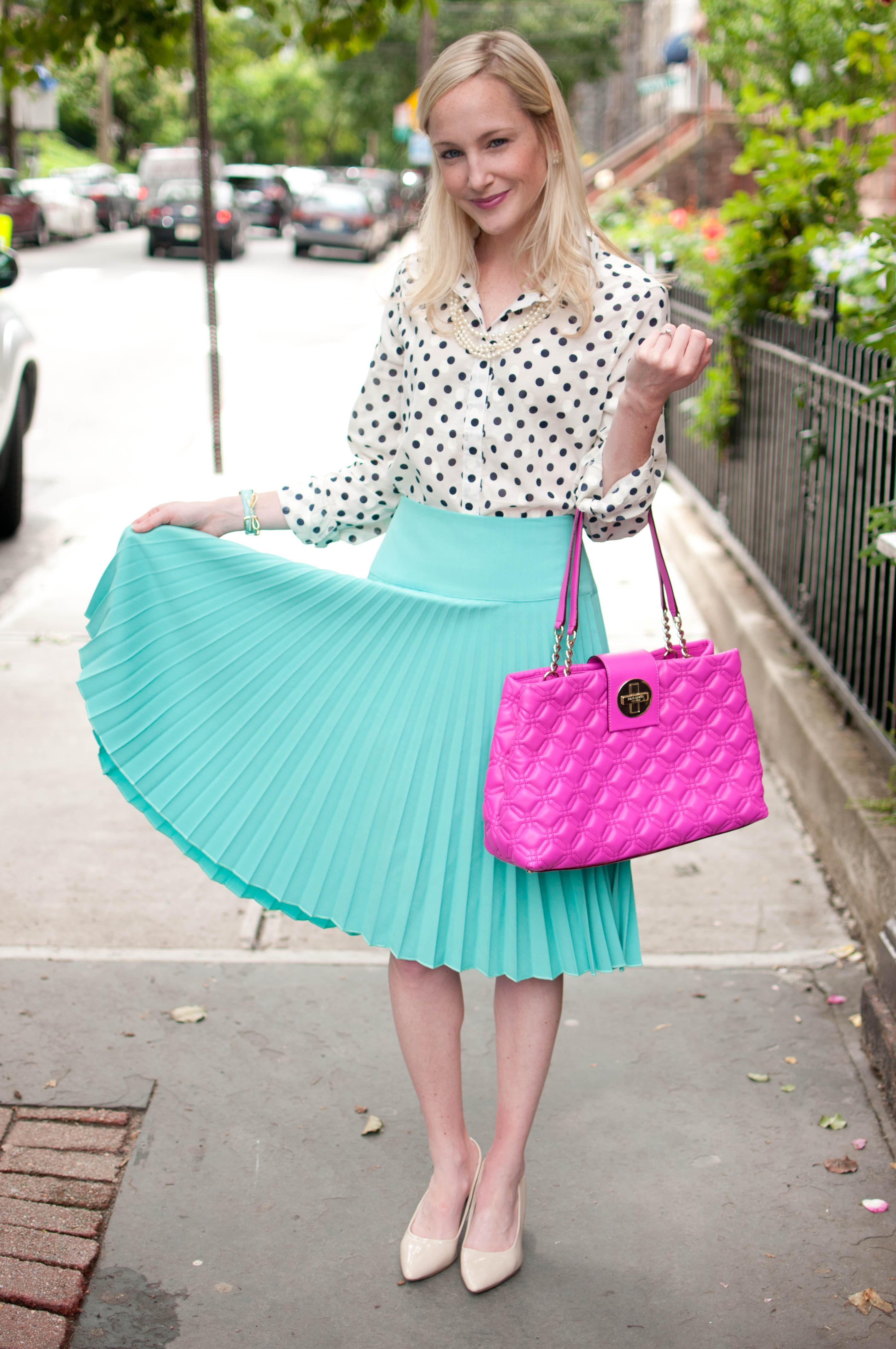 Happy weekend! Before I go on a rant about last night's weather (you've been warned), let's talk about a Florence Adams giveaway that'll be running for the next week on Kellyinthecity.com! I'm pretty pumped.
Skirt: Florence Adams (Don't forget to enter the giveaway above!) / Polka dot shirt: J.Crew Factory / Bag: Kate Spade, similar here* / Earrings: Kate Spade (Old), similar here (And same exact pair here? Though I question their authenticity ;)) / Watch: Kate Spade, also loving the snakeskin, black, black quilted, white, and peach versions!* / Pumps: Kenneth Cole, similar here by Franco Sarto, here by Madden Girl (Save!), here by Cole Haan (Splurge, but so worth it. Super comfortable, and comfort matters!), here again by Cole Haan (More affordable and just as comfortable!) and here AGAIN by Cole Haan (Even better price, and again… So comfortable! Can you tell I love Cole Haan shoes?) / Bracelet: Kate Spade (Sold out), similar here and lovin' the pink version!* / Necklace: J.Crew (Old), similar here (Take 25 percent off with code "SUMMER") and here (On sale!)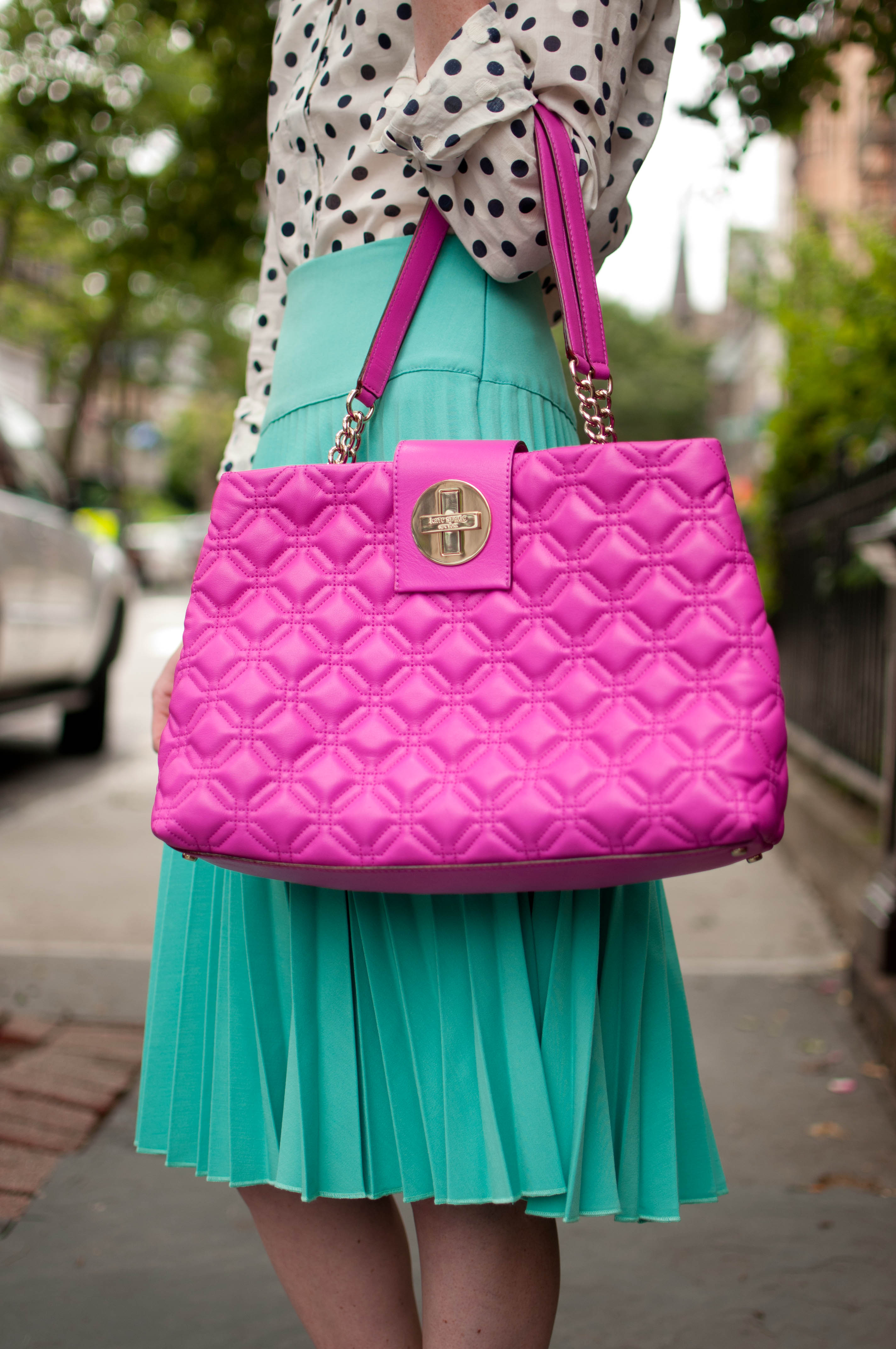 I first found Florence Adams, a family-run boutique in Kansas, through the store's fashion blog, Flossie. (Both the business and blog are named after the owners' grandmother. How adorable is that? You can read more about Florence Adams' story here.) As I've been a Flossie fan for a while now, it seemed that the only next logical step was to team up!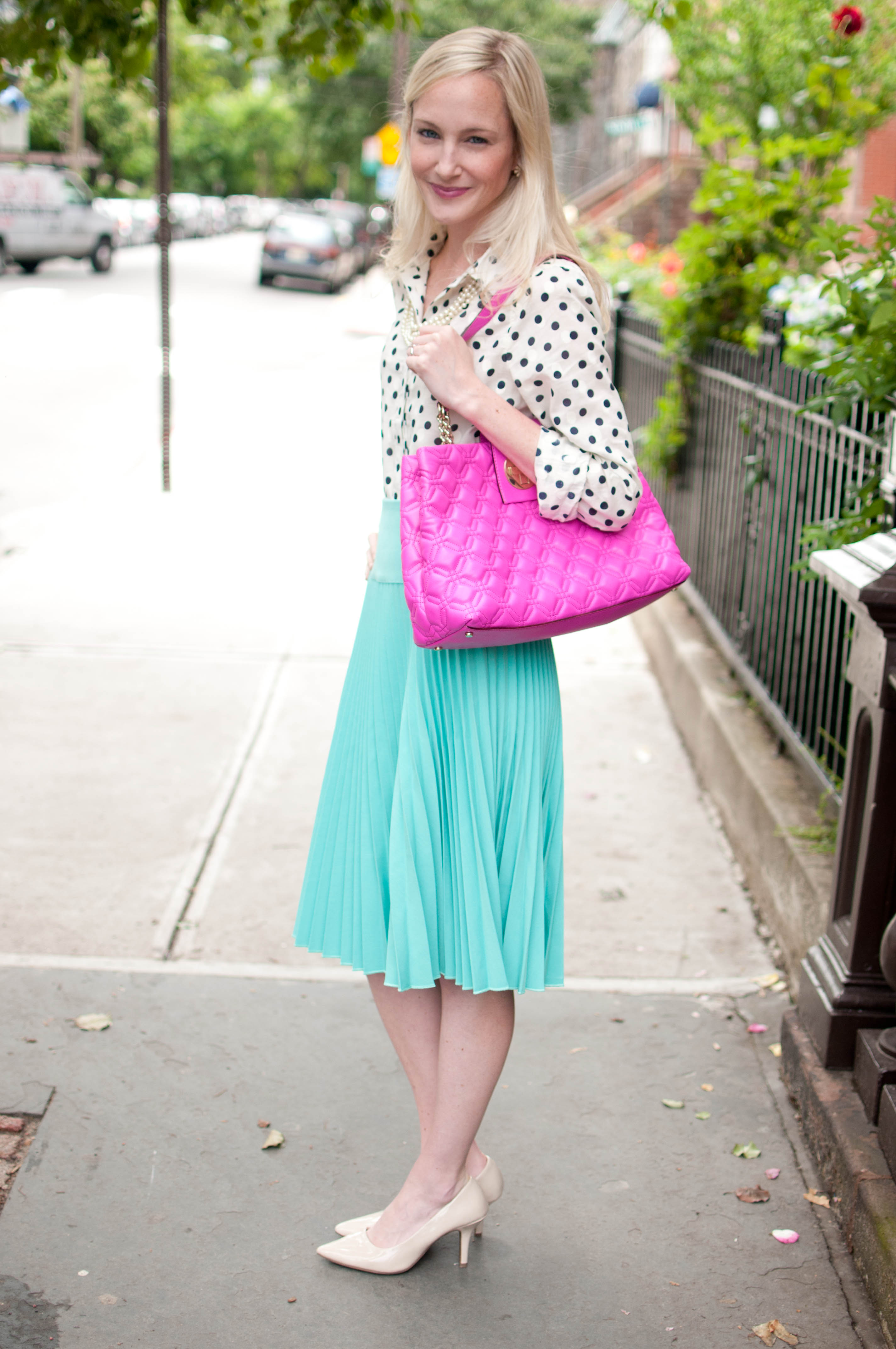 In today's post, I'm wearing one of Florence Adams' signature pleated skirts. (Also available in coral, yellow and fuchsia!) I'm such a fan. Sometimes I want to feel ultra girly, and this skirt does just that for me. I love its beautiful pleats, fun swing factor, and modest length. Love this skirt, too? Enter the giveaway below a chance to own your very own! (It's easy! All you need to do is "like" Florence Adams on Facebook, and comment on this post about what you'd do with a $25 gift card to the store.)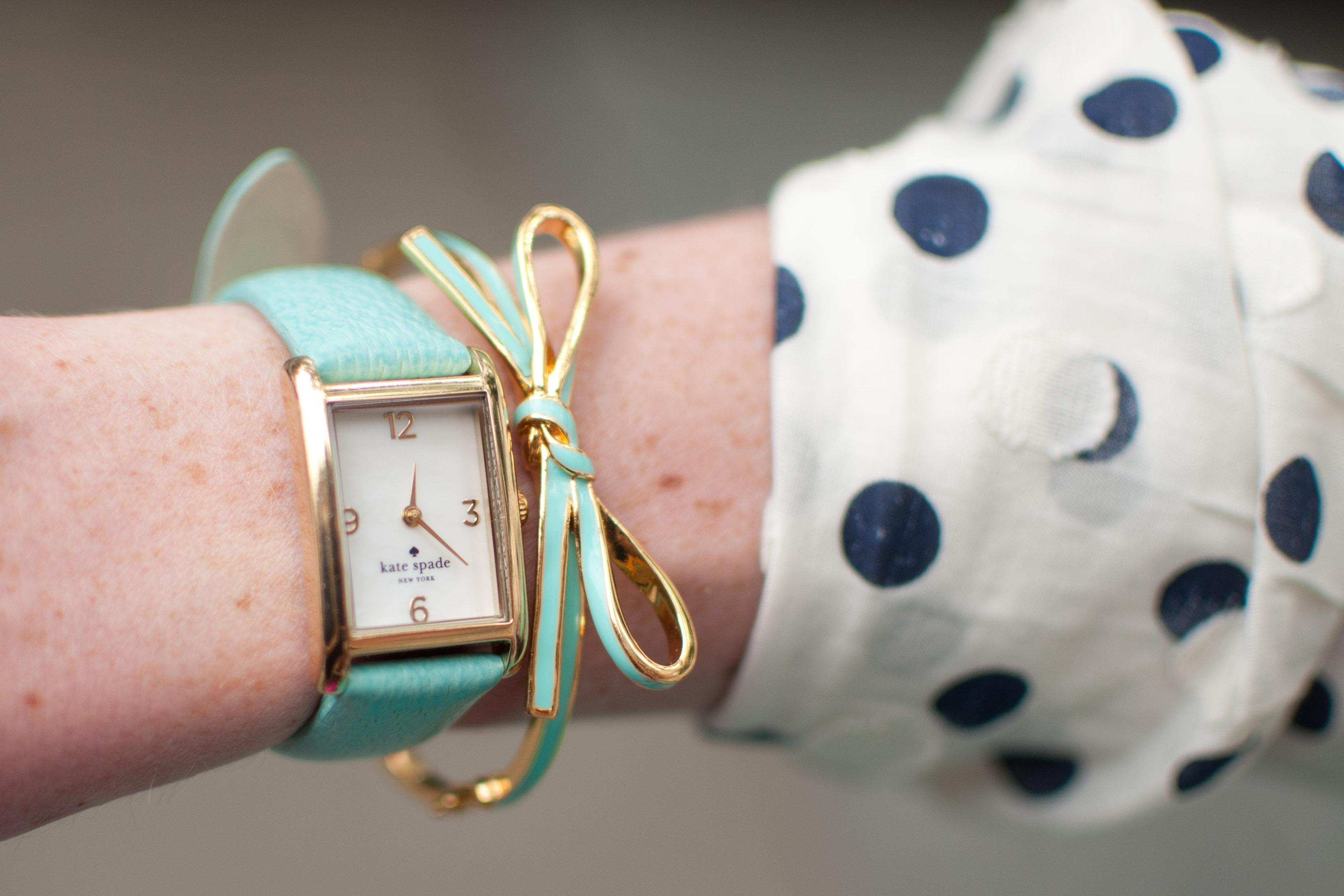 …And now for the rant.
Hope everyone survived the ridiculous monsoon that hit New York City yesterday. Oh. My. Goodness. Really? I'm sorry, but inclement weather on a Friday is just not okay. We get through an entire week of work–stuck indoors, mind you–only to get drenched on the best night of the week?! Thanks a lot, Post-Topical Storm Andrea!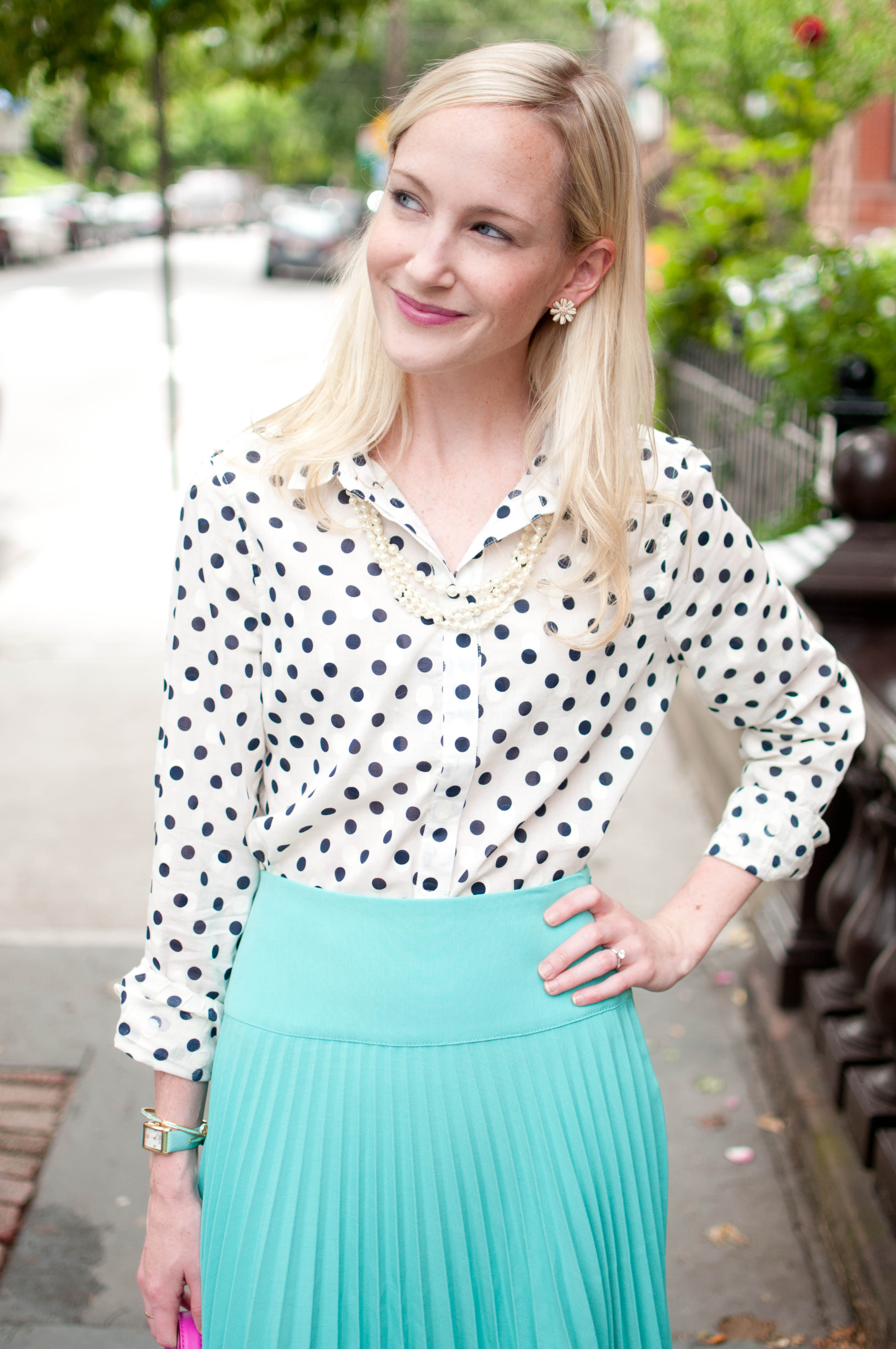 I really have nothing to complain about, though. Poor Mitch took his kiddos on a field trip, and was soaked the entire day because of it. In New York City, field trips require lots of walking and quite a few subway rides/transfers. It's not an easy task–especially in the rain! He's such a trooper.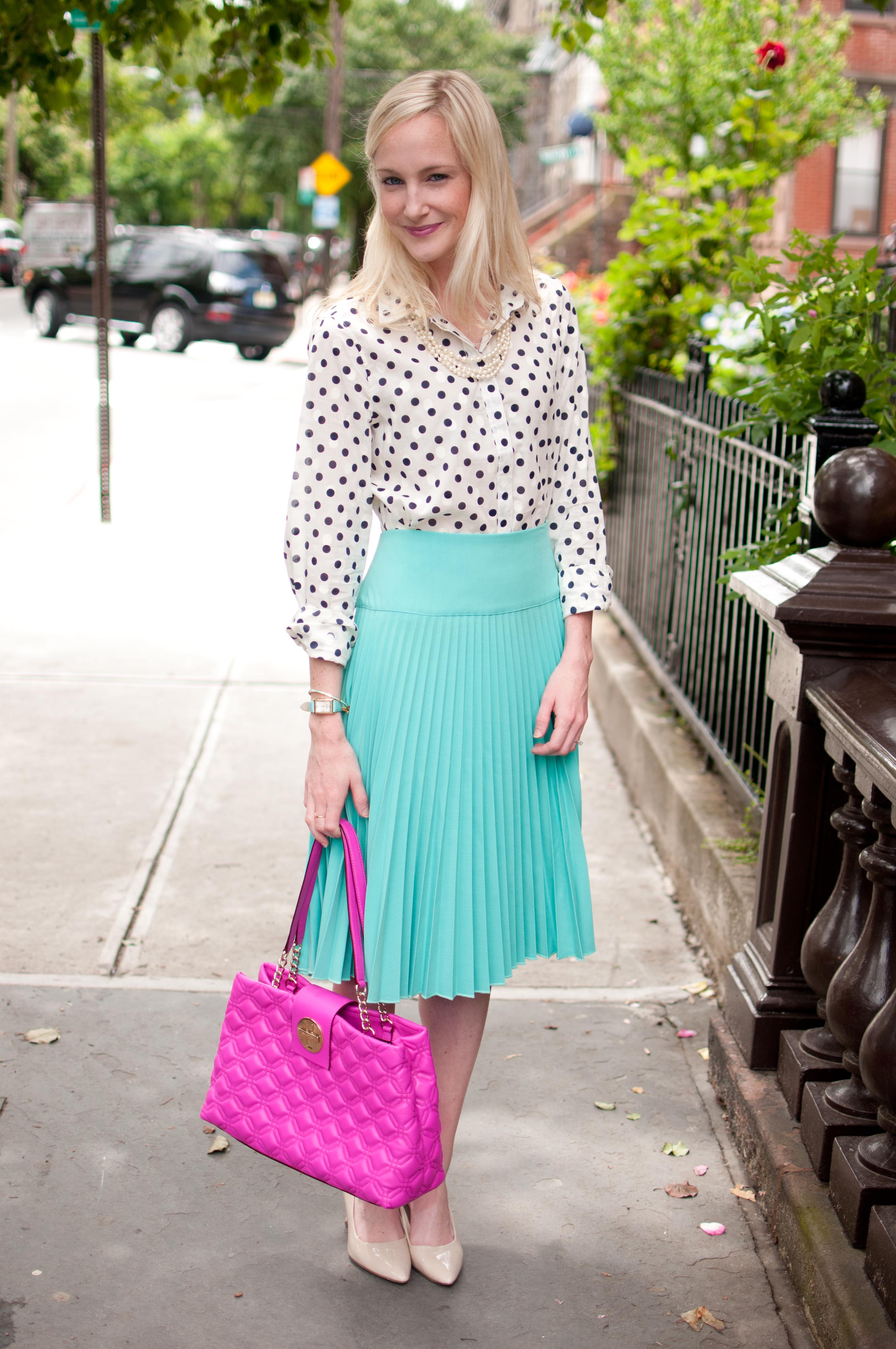 After school, we headed to the Upper East Side to meet Erica and Shawn for happy hour at the Third Avenue Ale House on (quite surprisingly) Third Avenue between 92nd and 93rd. Things were fabulous–we talked, we laughed, we reminisced–until about 6:30 when the rain started coming down in sheets. We clearly put very little thought into this decision, but we thought it would be a great idea to mosey on over to Jackson Hole (my favorite burger joint in NYC) on Madison between 90th and 91st. Now, normally, this is a very short walk. (Note the map below.) It should take no more than five minutes. Welp, it destroyed us. We all looked as if we'd been pushed into swimming pools. To make matters worse, the restaurant was CLOSED. Like, closed permanently. Newspaper up in the windows and everything.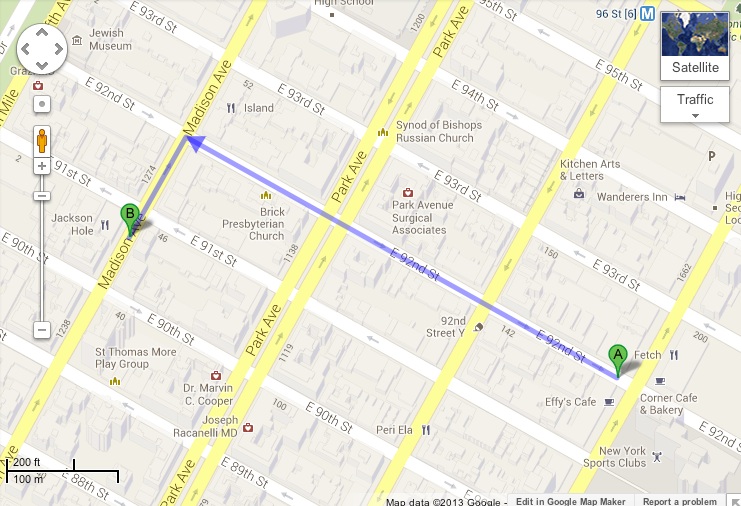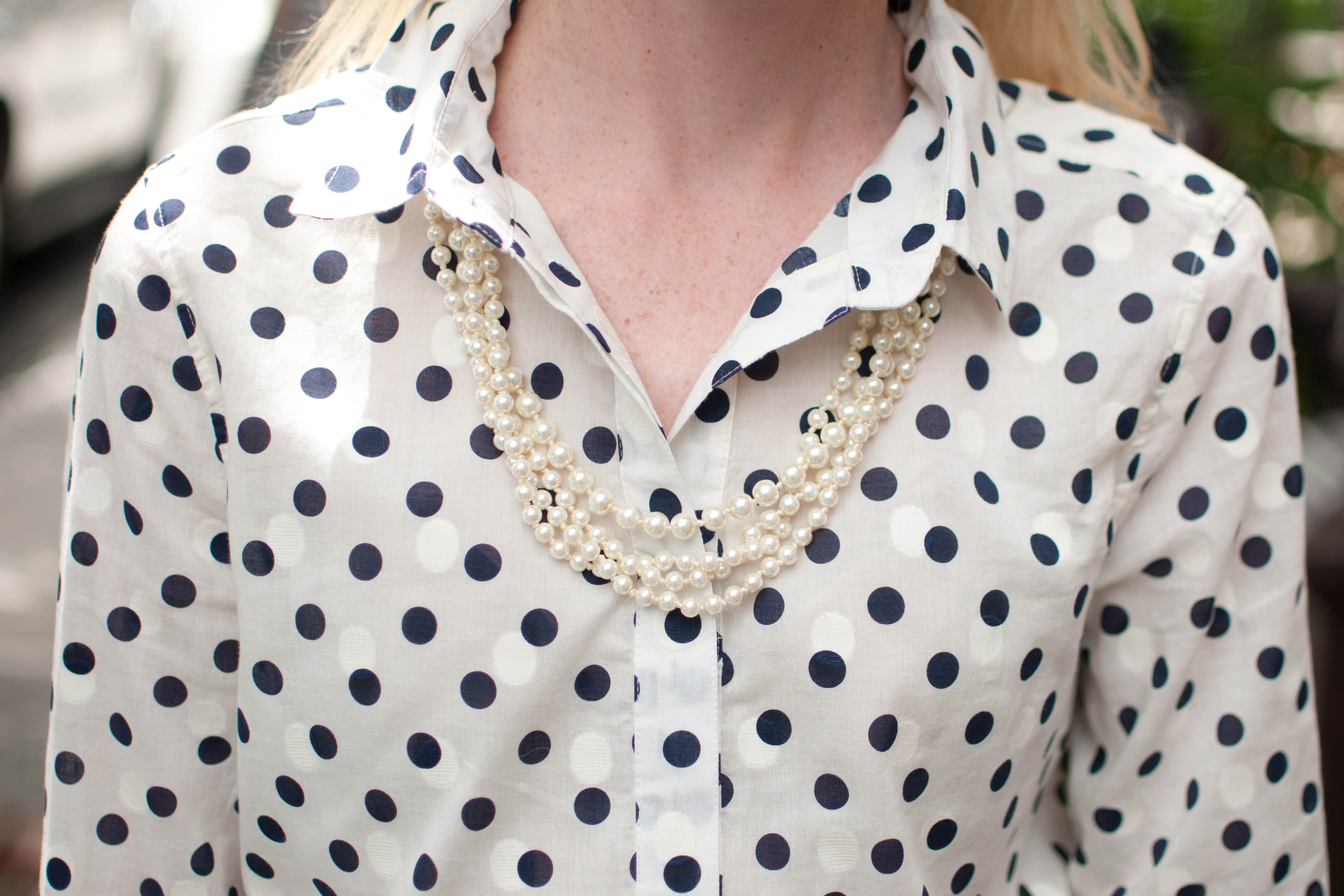 Soaked and hungry, we did what any self-respecting New Yorker would do: battle for a cab. When we finally waved one down (#miracle), we hopped in and told the driver to take us to (cough, cough) Pizzeria Uno on 86th Street. It was my fault. But you know what? It was fan-tas-tic. I love a good New York City slice, but I also love deep dish pizza with a passion. And Mitch, Shawn and Erica–all being from the Midwest–didn't even laugh very much when I proposed the idea. Well, okay. They chuckled. But it's not like they pointed and laughed. They understand my love for deep dish. 
And what a love it is. You really can't get it in New York City. There are a few places that serve it, but it's just not the real thing! Every time we visit Chicago, though, we get it. (I always end up nauseous from eating too much, but it's totes worth it.) 
When we'd finally outstayed our welcome at Pizzeria Uno, we booked it to the subway and traveled underground like (wet) moles all the way home. We dried off and happily fell asleep, bellies full. ;)
Next up… Nantucket!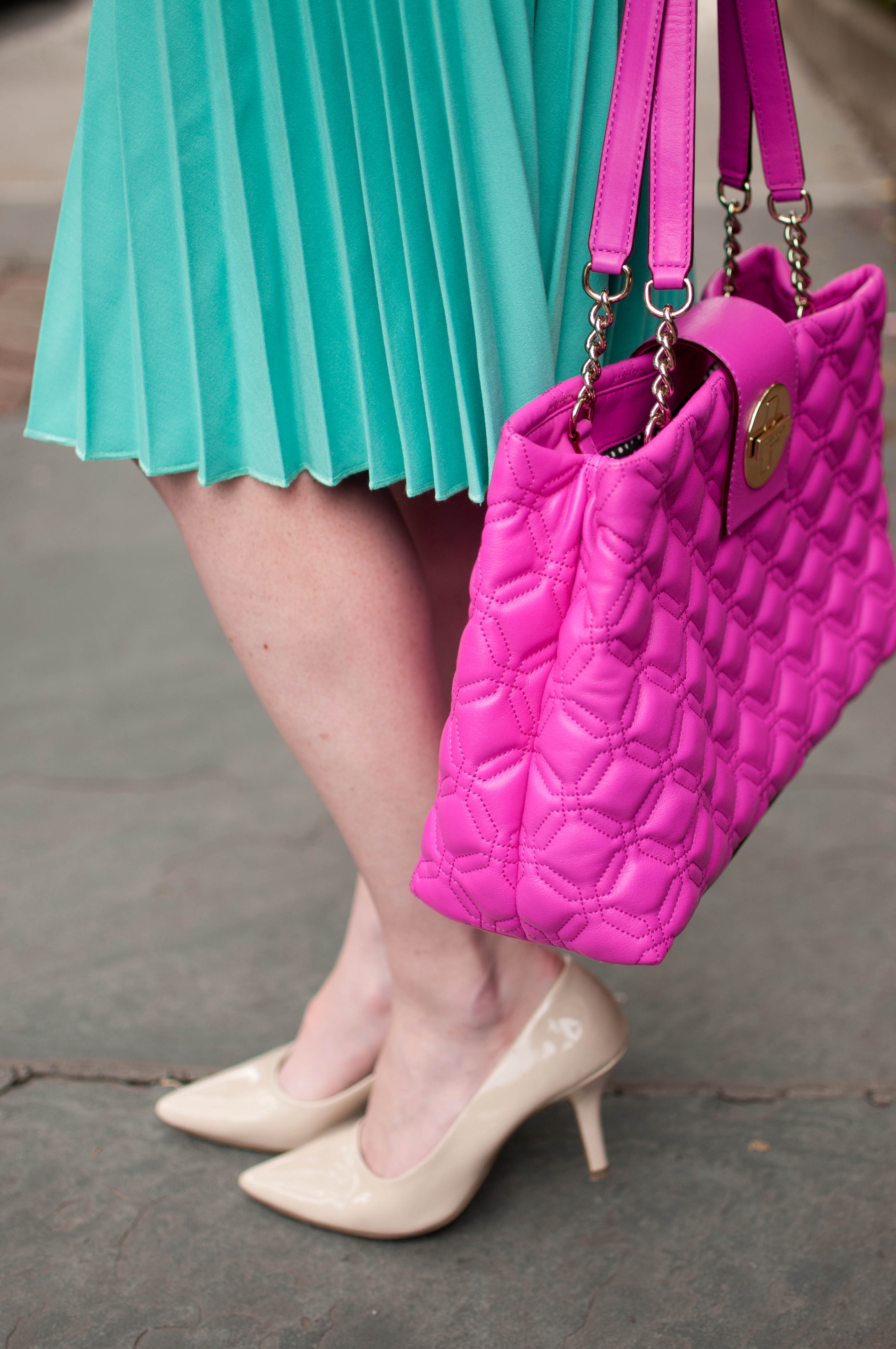 *Take 20 percent off with code "JUNEFRIENDS"