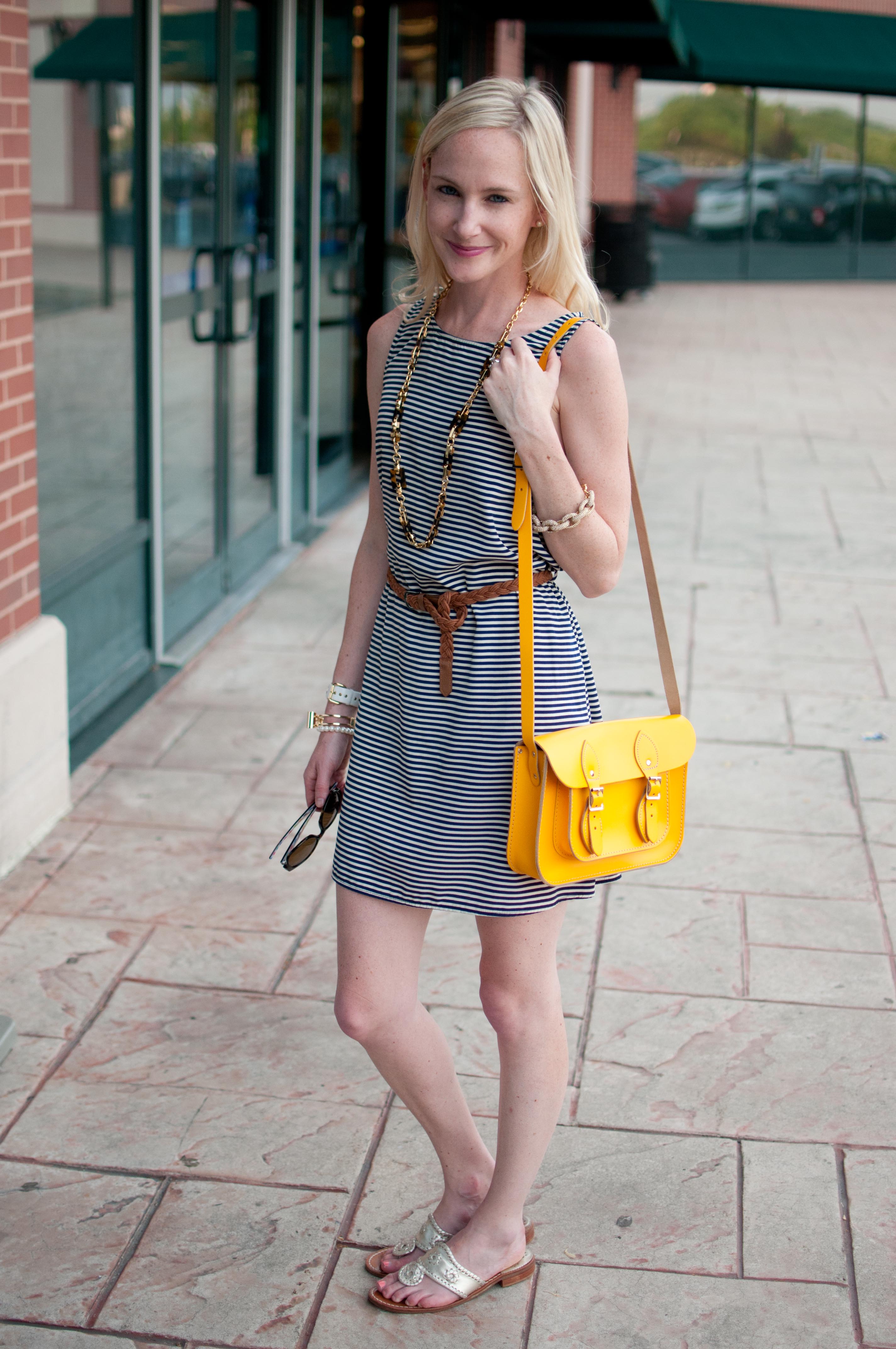 Ladies. I have some joyous news to share:
A) School's out for the summer.
Dress: Everly, similar here* / Necklace: C.Wonder (Sold out online but available in stores on sale), similar here in shorter version (On sale!), and here in the gold shorter version. Also available in the bracelet version (On sale! And one of my favs), lighter bracelet version and gold bracelet version / Belt: NYC boutique, similar here* / Sandals: Jack Rogers, also loving the cork version, and hello?! The copper version?! What a steal! / Bag: The Leather Satchel Co., c/o Trinity Place Department Store, similar satchels here / Earrings: J.Crew*, more affordable version here / Bracelets: J.Crew*, also available in the colored version*, and check out the pave link sandals*! (Swoon!); Old Navy, similar here and here (in glitz); Forever 21, but I'm coveting this one by Kate (Typical) / Watch: Marc Jacobs, also loving the teal, brown, rose gold, black, and multi-colored versions! / Blazer: J.Crew* / Sunnies: Kate Spade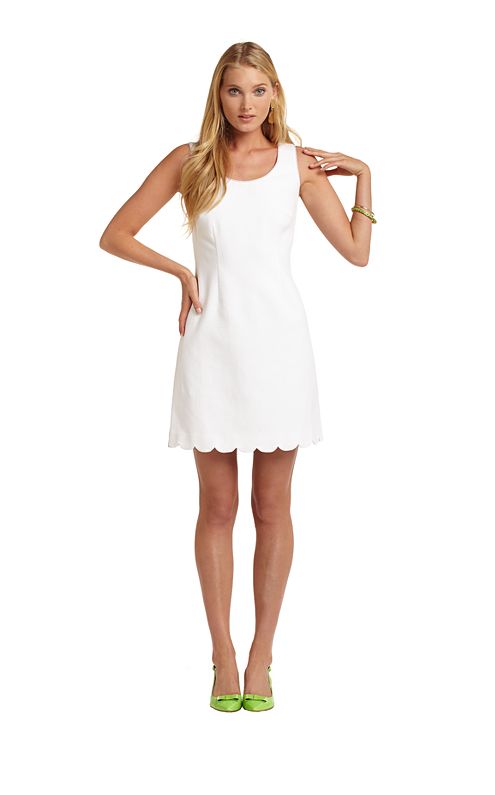 B) I found that Lilly Pulitzer dress I'd been searching for! (For the brunch after our wedding!) HUZZAH!
Oh. My. Goodness. I am thrilled. A while back, I completely fell in love with the Nina dress in Resort White. Actually, love might be an understatement. ;) I knew I wanted to wear it to the brunch that Mitch's parents are holding the day after the wedding. But I have this rule that I never buy something without a coupon code or it being on major sale. So I waited. And waited. And waited. And then it sold out in my size.
Devastation. Haha. This is the problem with being a miniature person. There must be either zillions of us or not enough of us, because my size always seems to be missing from the racks. Erg. Oh well.
Anyway. I went to a bunch of Lilly stores. I called around to other stores. I stalked eBay for a month or two. No luck. So I gave up.
And then. I went to the Lilly store in Manhattan the other day, and they found it for me. Best customer service ever. I have no idea where the thing is coming from, but it's being shipped to me! They're actually sending two sizes, just in case. I'm thrilled! Overjoyed. Dancing in the streets. (I was weirdly obsessed with this dress, if you hadn't noticed. ;))
Happiness.
Oh, yeah. School's out for the summer, too! Which is amazing! Tomorrow morning, Mitch and I are headed off to San Francisco, Lake Tahoe and Napa! We have some sightseeing to do, a wedding to attend, and some wine to drink. ;) This is going to be one amazing summer.
N.B. — While I'm gone, my posts will be automated, so my apologies if it takes me a little while to respond. (But I love hearing from you! You guys are fabulous!)
Dress: Everly, similar here* / Necklace: C.Wonder (Sold out online but available in stores on sale), similar here in shorter version (On sale!), and here in the gold shorter version. Also available in the bracelet version (On sale! And one of my favs), lighter bracelet version and gold bracelet version / Belt: NYC boutique, similar here* / Sandals: Jack Rogers, also loving the cork version, and hello?! The copper version?! What a steal! / Bag: The Leather Satchel Co., c/o Trinity Place Department Store, similar satchels here / Earrings: J.Crew*, more affordable version here / Bracelets: J.Crew*, also available in the colored version*, and check out the pave link sandals*! (Swoon!); Old Navy, similar here and here (in glitz); Forever 21, but I'm coveting this one by Kate (Typical) / Watch: Marc Jacobs, also loving the teal, brown, rose gold, black, and multi-colored versions! / Blazer: J.Crew* / Sunnies: Kate Spade 
*Take an additional 25 percent off with code "LOVEJCREW"