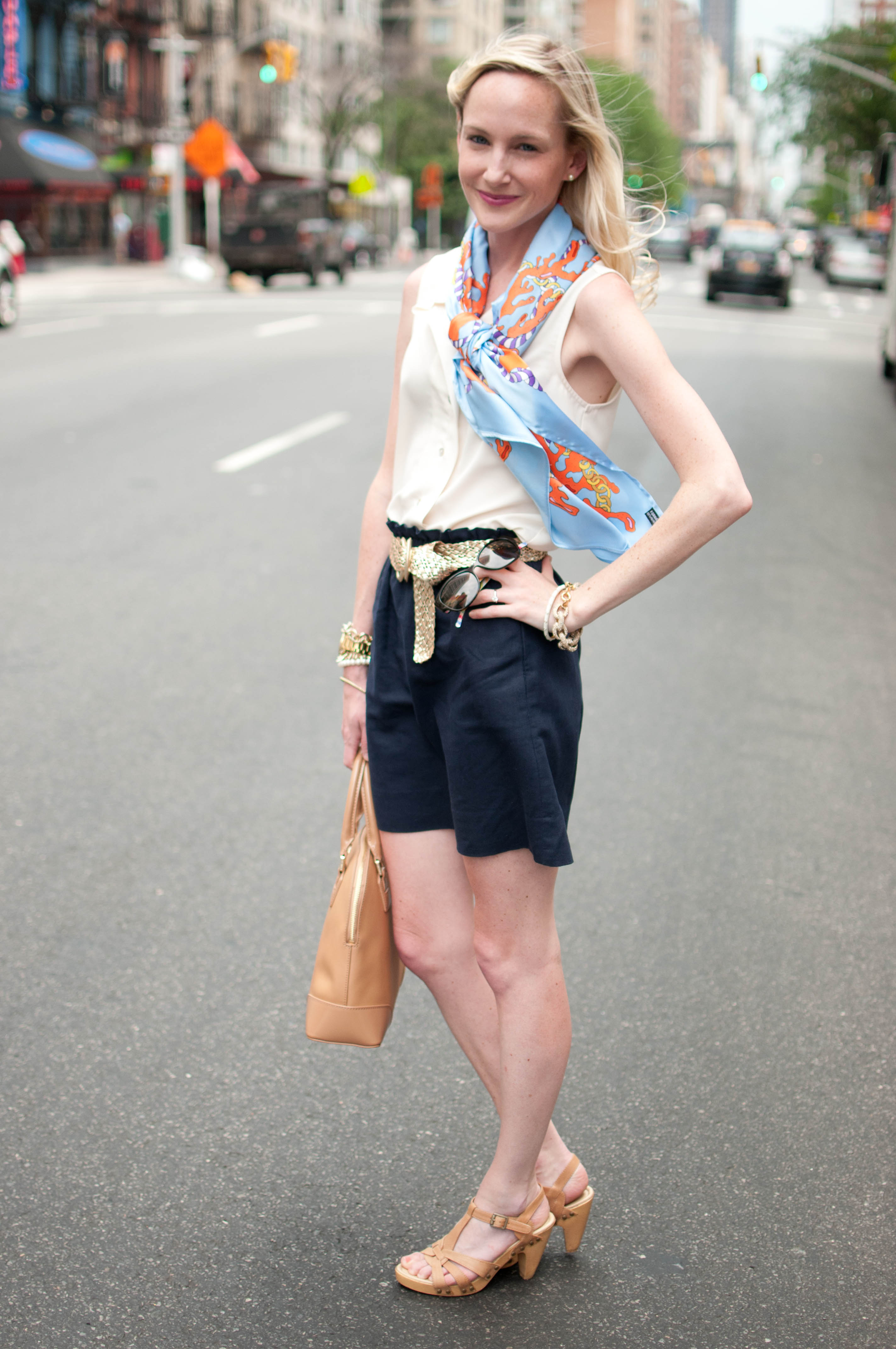 Recently, one of my favorite bloggers, Julia of Lemon Stripes, opened her very own online store. Livin' the dream, right?! I'm so incredibly impressed with her and her new venture. Today, I'm wearing one of her adorable products: the Coral Reef Scarf.

Scarf: c/o Lemon Stripes Store / Skirt: J.Crew Factory, similar here and here… and other colors available here / Bag: Tory Burch (It's back!), available in the larger version, navy and black! Perfect for the summer! / Sandals: DSW (Sold out), but really loving these! (Crazy about wooden heels. Sorry about having them on repeat! It's hot in New York City! Record highs!) / Earrings: J.Crew*, more affordable version here  / Watch: Michael Kors / Bracelets (left hand): J.Crew*, also available in the colored version*, and check out the pave link sandals*! (Swoon!), and J.Crew (Old), similar here (In lots of colors! Loving how delicate it is.) / Bracelets (right hand): J.Crew Factory; C.Wonder; Forever 21, similar here by Kate (which I'm dying for!); and Stella & Dot / Belt: J.Crew (Old), similar here / Top: H&M, similar here and here / Sunnies: Kate Spade / Necklace: J.Crew* (Sold out), similar here*
Part of the reason I love Julia's blog and store so much is that visiting them–which I do every day–makes me happy. Her cheery disposition shines through in her writing, outfits, blog design, and product selection. Even the recipes she posts are accompanied by colorful photos of the food! While Julia is real (she's the first to admit when she's having a rough day), she seems to seek out happiness–something I find admirable and commendable. Life just seems a bit sweeter through her eyes.
Anyway, check out her store. I know you'll love it. ;) And make sure to scroll down to the end of this post to see my favorites!
Scarf: c/o Lemon Stripes Store / Skirt: J.Crew Factory, similar here and here… and other colors available here / Bag: Tory Burch (It's back!), available in the larger version, navy and black! Perfect for the summer! / Sandals: DSW (Sold out), but really loving these! (Crazy about wooden heels. Sorry about having them on repeat! It's hot in New York City! Record highs!) / Earrings: J.Crew*, more affordable version here  / Watch: Michael Kors / Bracelets (left hand): J.Crew*, also available in the colored version*, and check out the pave link sandals*! (Swoon!), and J.Crew (Old), similar here (In lots of colors! Loving how delicate it is.) / Bracelets (right hand): J.Crew Factory; C.Wonder; Forever 21, similar here by Kate (which I'm dying for!); and Stella & Dot / Belt: J.Crew (Old), similar here / Top: H&M, similar here and here / Sunnies: Kate Spade / Necklace: J.Crew* (Sold out), similar here*
*Take 25 percent off with code "LOVEJCREW"