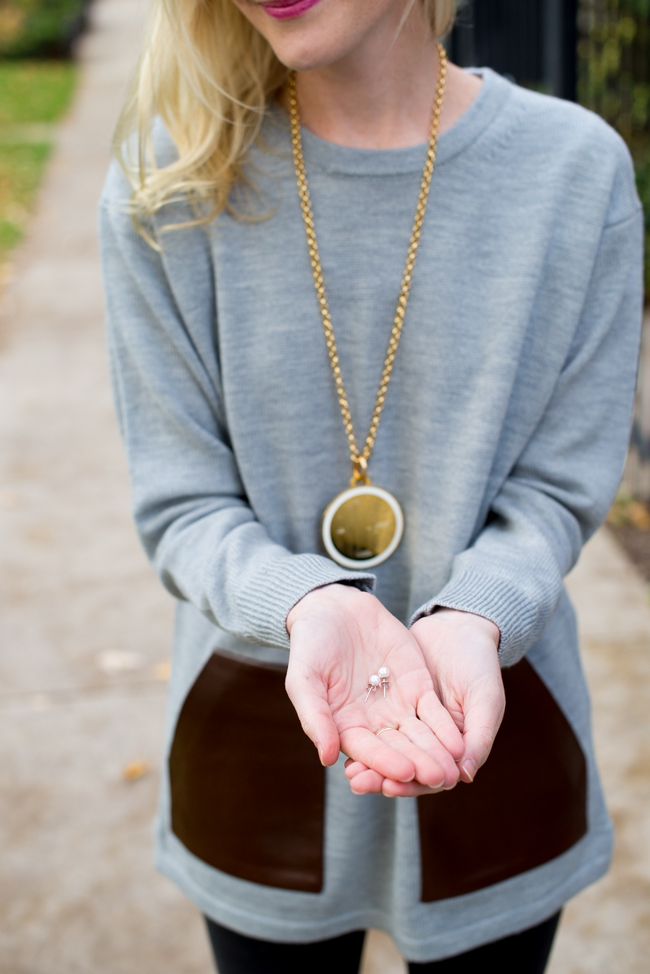 Berricle Pearl Earrings (c/o) / Kate Spade Sunnies (Old, newer styles here) / DUO Riding Boots (c/o) / Henri Bendel Tote (c/o) / J.Crew Pocket Sweater (Different colors here, similar style here) / Legwear Loft Faux Leather Leggings (c/o) / Cinco Powell Tag and Chain (c/o) / Daniel Wellington Watch (c/o)
I'm sure I've mentioned this before, but large, dangly earrings freak me out. I love how they look on other people, and I'm constantly admiring them in stores and online. But they're not for me. I'm terrified that they'll stretch out my already large holes, or that I'll end up with split earlobes. (It happened to a family member when I was younger, and she had to have them stitched up… so I guess her experience traumatized me!)
But there's nothing more classic than a pair of pearl studs, right? A couple of weeks ago, I lost mine–and I was devastated, haha. Berricle, an online jewelry retailer, came to the rescue, though, and sent me this beautiful replacement. They're made of nickel-free sterling silver, and feature round, cream-colored freshwater pearls. I love how lightweight they are, and that they don't pull. I haven't even been taking them off for bed! The $39.99 price tag is pretty great as well. (Right now, you can use code "FF25" to take an additional 25 percent off!) Thank you, Berricle!
Oh! And be sure to enter Berricle's "Fall into Glam" Sweepstakes, which is running through the end of November. You could win a $300 gift card to the store! (And four runners-up will get a $50 credit.) Good luck!
Thanks for taking my photos, Jess!