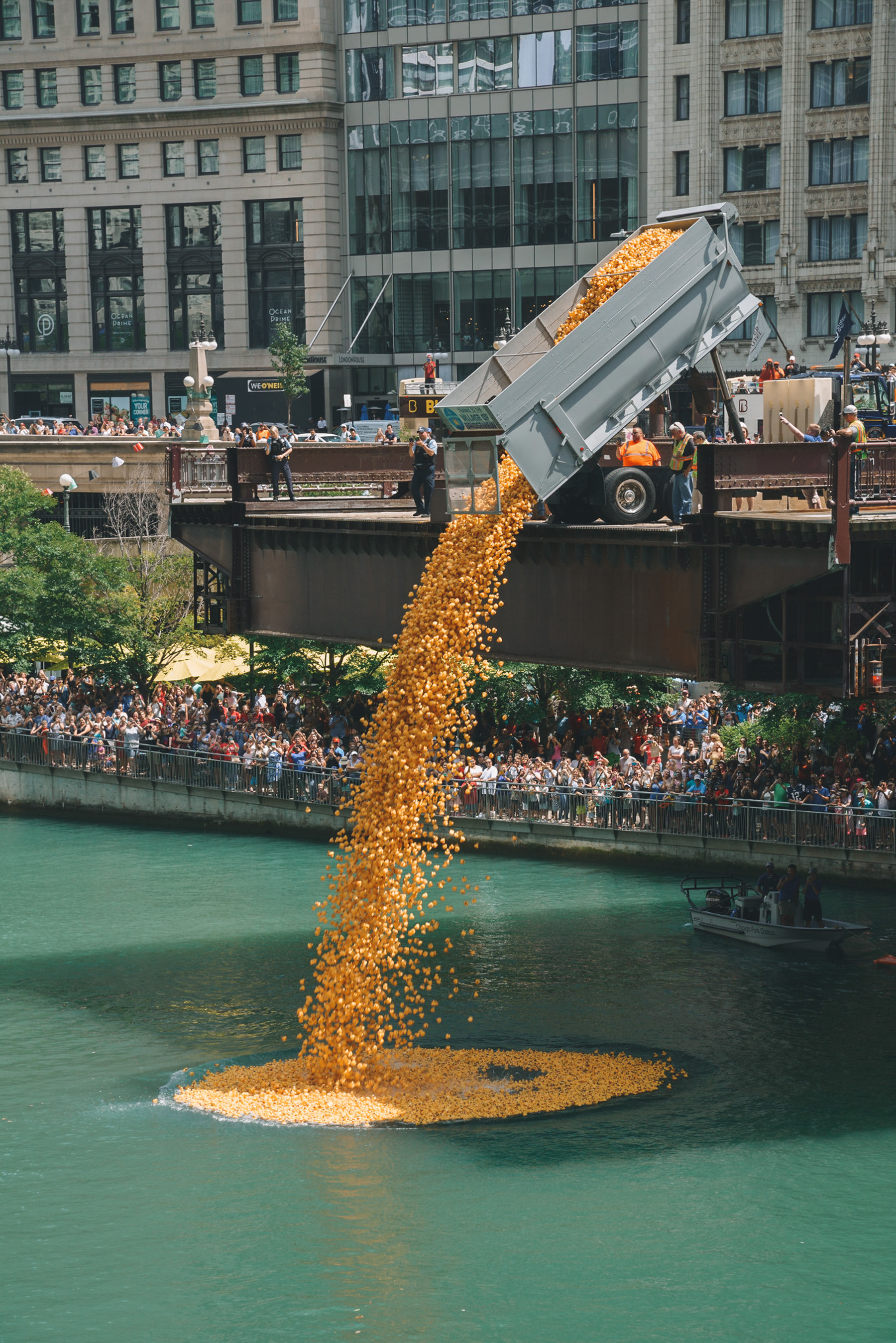 Mitch here!
Now that Chicago has fully re-opened, it's time to talk about my favorite activity of the summer: The Ducky Derby!
The 16th Annual Chicago Ducky Derby will take place on August 5th, which means that there's plenty of time left to adopt a duck.
The Ducky Derby is the Special Olympics Illinois' signature fundraising event, during which supporters adopt rubber ducks. The (fake) ducks are then dumped via dump tuck off the Wabash Bridge into the Chicago River where they race to the finish line. (And yes, no duck is left behind! Nets catch them, so there is no worry about pollution. The ducks are then re-used, again and again, in different cities around the country.)
This year, winners of the race will be awarded fabulous prizes such as a 2021 Chevy Trailblazer, an all-inclusive trip to Mexico, a Chicago Day Getaway, $2,000 cash, and a bunch of other stuff!
Most importantly, though, proceeds benefit the more than 23,000 adult athletes and 13,000 young athletes of Special Olympics Illinois—and they need our support! Special Olympics programs help athletes' physical fitness, motor skills, self-confidence and social skills. The Special Olympics isn't just about sports; it also provides health education, leadership and personal development opportunities to participants. Your support is greatly appreciated!
Adopt a duck for as little as $5 at ChicagoDuckyDerby.com, and don't forget to come enjoy the festivities in person on August 5th at both Pioneer Court and the Wabash Bridge.
Incredibly, the Chicago Ducky Derby has sold out for three years in a row now, and last year's virtual event sold over 73,000 ducks! It's really something wonderful to see all those tens of thousands of rubber ducks being dumped into the river while being surrounded by the tens of thousands of people who are there supporting such a worthy cause.
On a personal level, the Special Olympics is an important organization for me. I volunteered with the Special Olympics and then worked as a coach in college—and the experience changed my trajectory. After seeing the impact that the Special Olympics had on the athletes, I altered my life plan and decided to become a teacher so I could work with high-needs children.
Thank you all for your support. Adopt a duck here, and hope to see you at the Ducky Derby!
Mitch. OUT!