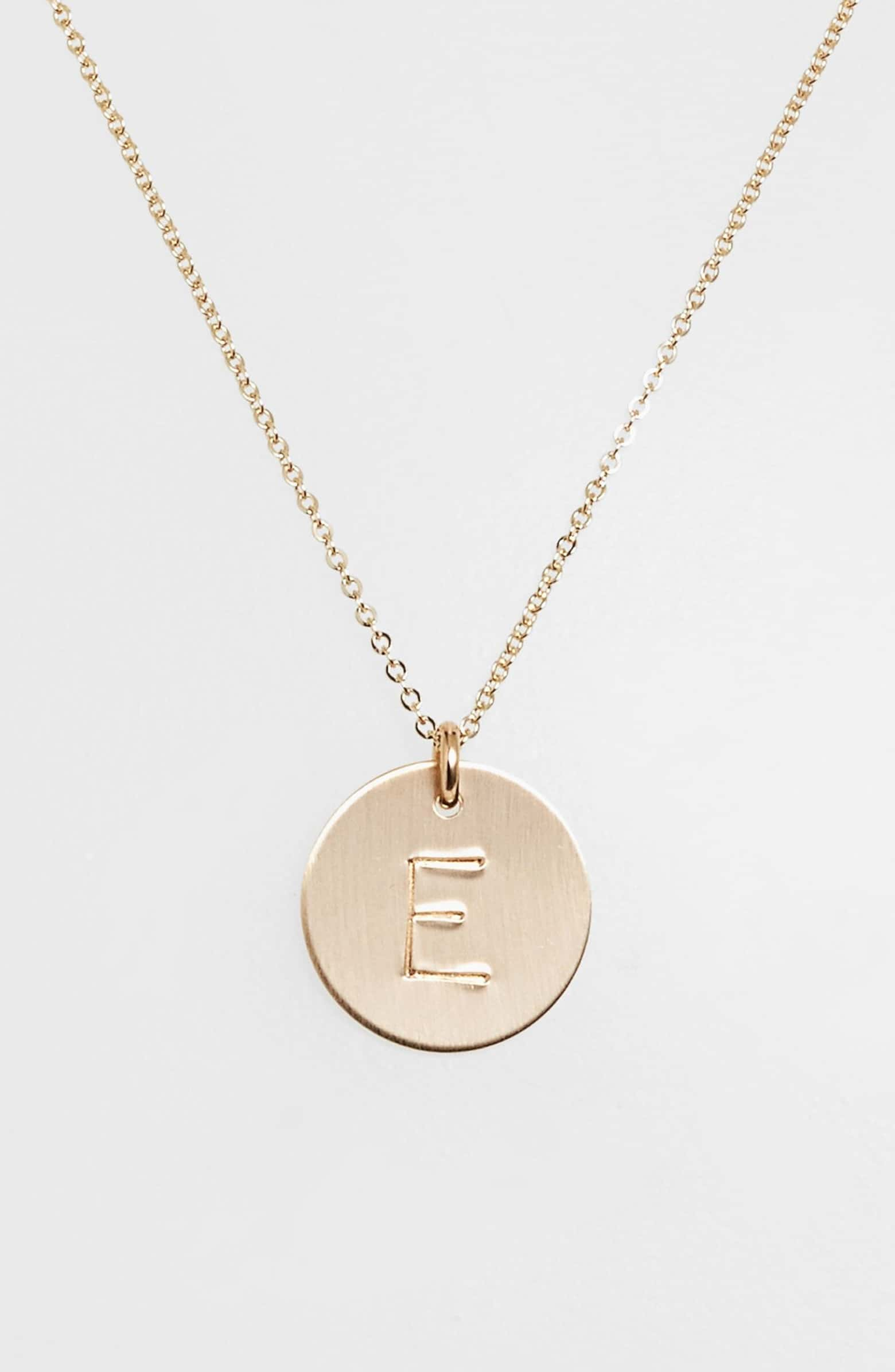 A cute story:
Jess and I had matching initial necklaces (with our respective initials) for years, and I kind of thought of them as friendship necklaces, even though Neal had totally given her the necklace as a gift at some point. 😂 We wore them every day, and it was lovely to not have to think about jewelry in the morning; they really did go with everything! When Emma was born, though, I stopped wearing mine regularly because I felt like it should have an "E" on it.
But a couple of weeks ago, Jess' sister, who works for the brand Nashelle, sent me this gold-filled, hand-stamped initial necklace from Nordstrom with the "E." I know. I totally teared up when I opened it, and I haven't taken it off since. It's just so meaningful. ❤️ It obviously represents my little girl, but it also makes me think of Jess and her family. Both the Keys and the Loftus crews, which have melded together over these last few years. It's very special.
Nashelle began in Bend, Oregon, where the Keys Family is from. It's run by a team of 17, and between them, they have 20+ children, many of whom are side-by-side with their mothers on a daily basis. When you support Nashelle, you can feel good about empowering women to pursue careers and be moms at the same time! And for every product that the company sells, 10 plates of food are donated through the brand's "Fashion Feeding Hunger" initiative… which is just plain wonderful.

While this classic necklace is definitely my favorite (and only $50!), you have to check out the rest of the line, all of which is affordable and makes for great gifts. See above!
And now for the fun part. To enter to win Nashelle's gold-filled initial necklace, simply sign up for the Kelly in the City newsletter through the form below. (Trying something new today!) In a week, I'll pick one Kelly in the City subscriber from my mailing list, and she'll receive her prize. You can sign up for daily post updates or weekly blog posts… or both! Really doesn't matter; your name will show up once in the list of entrants I'll be selecting from either way. And if you're already a subscriber, you don't need to do anything! You'll be entered to win automatically. Note: Absolutely nothing will be done with your information, which will always remain private and protected. Promise. :)
Good luck, Friends!
Enter to win by signing up for the Kelly in the City newsletter: