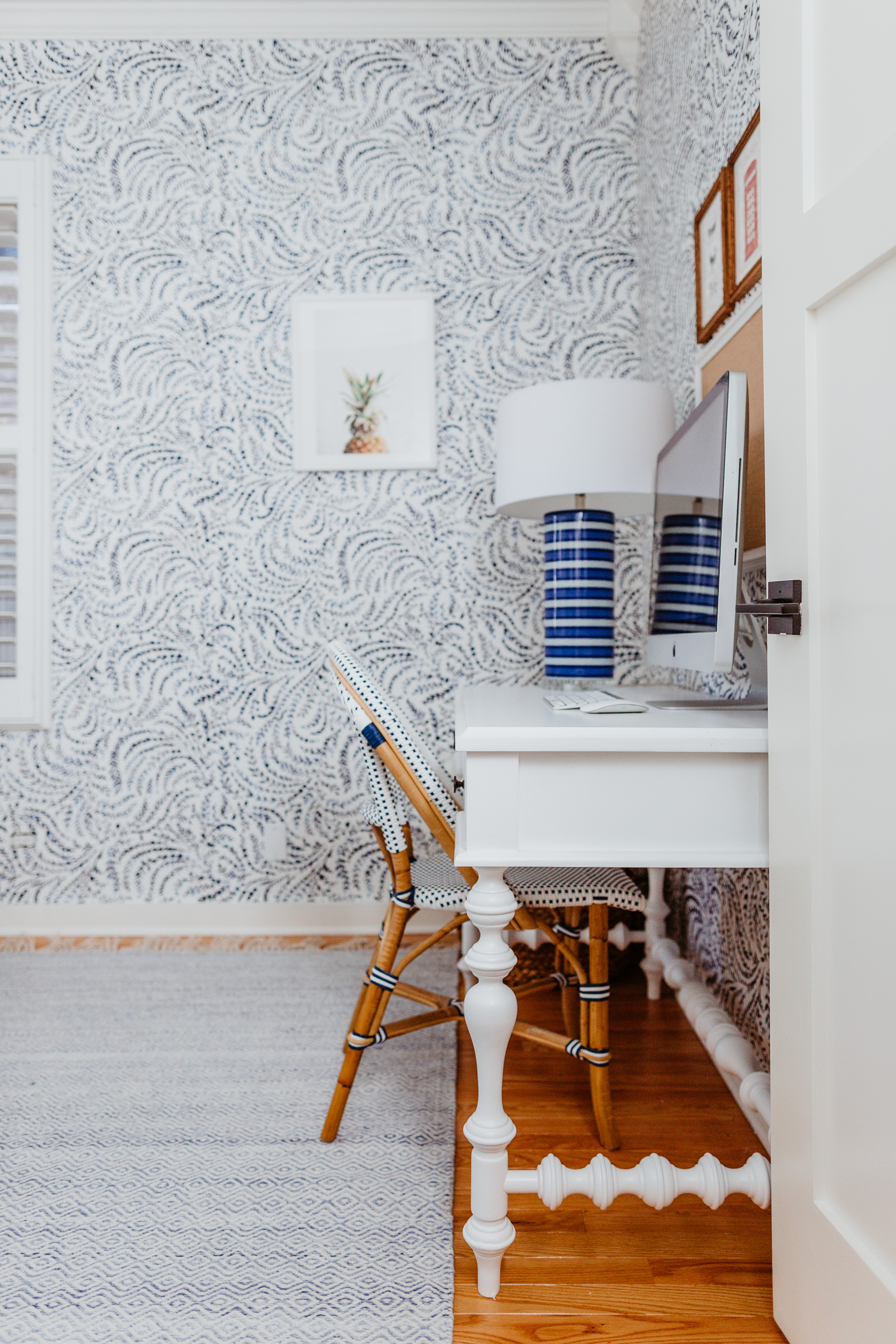 Serena & Lily, my absolute favorite home brand, is currently offering 20 percent off EVERYTHING with code "INSPO" now through March 25th during its "Spring Design Event." This never really happens, so it's a great time to invest in some dream products. S&L is admittedly pricey, but in my experience, worth it. The stuff that we own has held up incredibly well, and I know that we'll have all of it forever. I also know that when we finally find our new home, much of it will be outfitted in the brand! (Btw: our current guest room/home office–almost completely done in Serena & Lily–is definitely my favorite room in our house! It's just so peaceful and inspiring.)
Anyway, here are my top 20 picks from the big sale!
 Serena & Lily Sale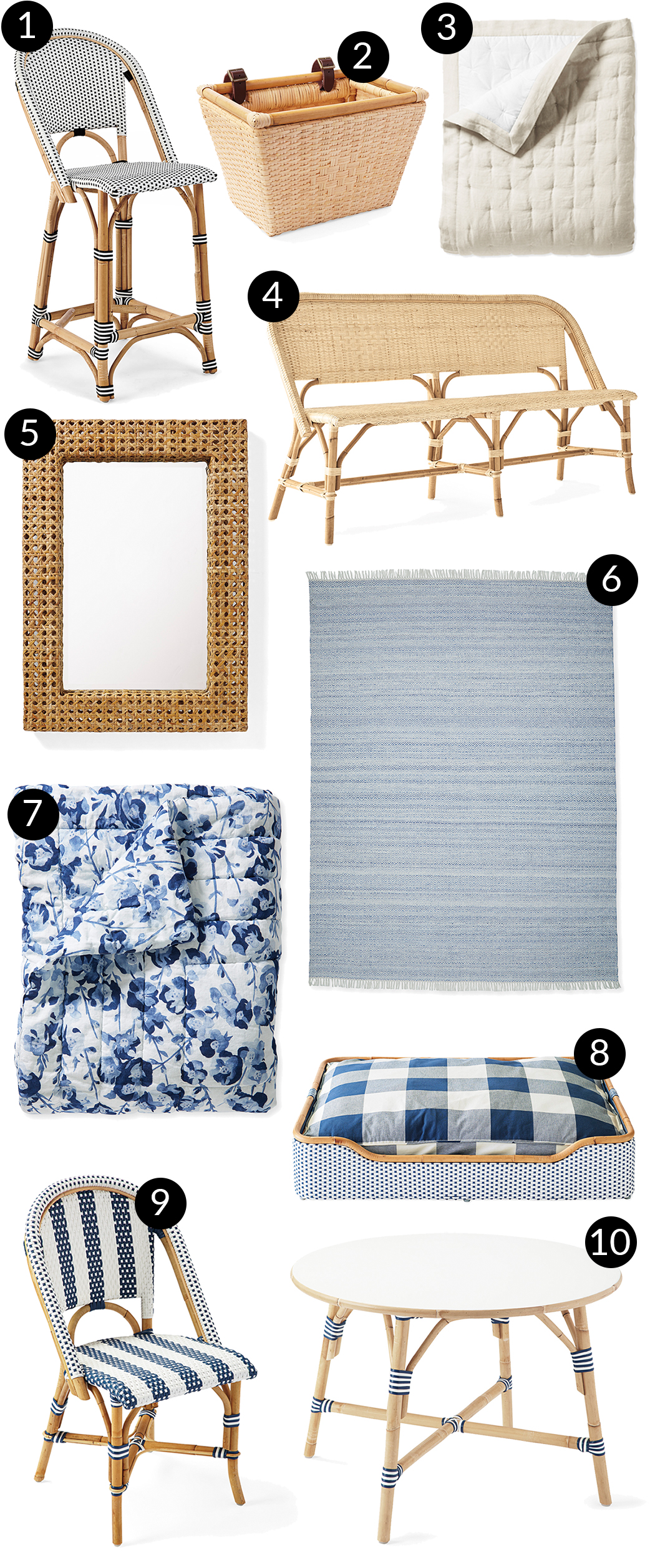 One / Two / Three / Four / Five / Six / Seven / Eight / Nine / Ten

One day, when we have a kitchen island, these will be our stools. I'm so in love! I really think they'll be my first purchase upon closing, haha!
Wouldn't this look just darling on a cruiser bike? I'm definitely considering it for mine!
These are the quilts we have in our guest bedroom/home office. I clearly have obsessive issues with the color blue, but I love how these balance all of that out.
LOVE. Dream is to have a hallway so I can put this in it.
I can't believe I missed this when we were designing our home office! It's perfect.
The rug we own. (See it here.) It's actually an indoor/outdoor rug, perfect for toddlers and dachshunds with peeing problems, as you can HOSE IT OFF. Yet somehow it's crazy soft?! I don't understand it. It's a magic rug.
The prettiest comforter I've ever laid eyes on.
Noodle will have this one day. ;)
Emma's table and chairs! I get SO many questions about them, and I can truly say that they're the most well-made children's furniture product we own. We use these all day, and they have not a single sign of wear. While yes, they're an investment, they're front and center in our living room since we don't have a playroom. It was important to me to have something that aesthetically worked well with our space and didn't look like rainbow vomit, and this fit the bill. :) Huge fan!

Eleven / Twelve / Thirteen / Fourteen / Fifteen / Sixteen / Seventeen / Eighteen / Nineteen / Twenty

This is my favorite bed right now. We don't own it, but I just think it would add so much texture to our master bedroom. Also, I struggle with always going for white and blues, but I'm trying to integrate more neutral tones and natural textures so every room doesn't end up looking the same. Isn't it lovely?!
GORGEOUS.
We have two of these chairs in our home and I love them! One is in the office, and the other serves as an accent chair for our dining room table. Because they're indestructible and you can wipe them down, Emma sits in it for every meal, which is awesome. And while no, they're not as comfortable as cushioned chairs, I'm currently 32 weeks pregnant and sit in one for multiple hours without complaint every day! Highly recommended.
Dream dresser.
This rug is stunning. Love that border.
Scalloped sheets. I mean…
These were the quilts I originally got for our guest room/home office, but they ended up being a bit too much with the wallpaper. Would love to one day use them in a room with grasscloth wallpaper, though!
Same print as the comforter. Would LOVE to do another room in this wallpaper!
This was our first experience with wallpaper, and I can't believe how much of a difference in made in the room. We hired someone to install it, and it came out perfectly. Before the wallpaper, the room was fine, but nothing to write home about. (Very small, very dark.) Now, though, it's a showstopper in our home, and it's truly my favorite room in the house! So much brighter and actually feels bigger somehow! If you're nervous about going the wallpaper route, don't be. Just go with one of Serena & Lily's wallpaper options, and you can't go wrong.
I'm legitimately sad that I already invested money into another bed skirt for our master bedroom, haha. This is perfection!