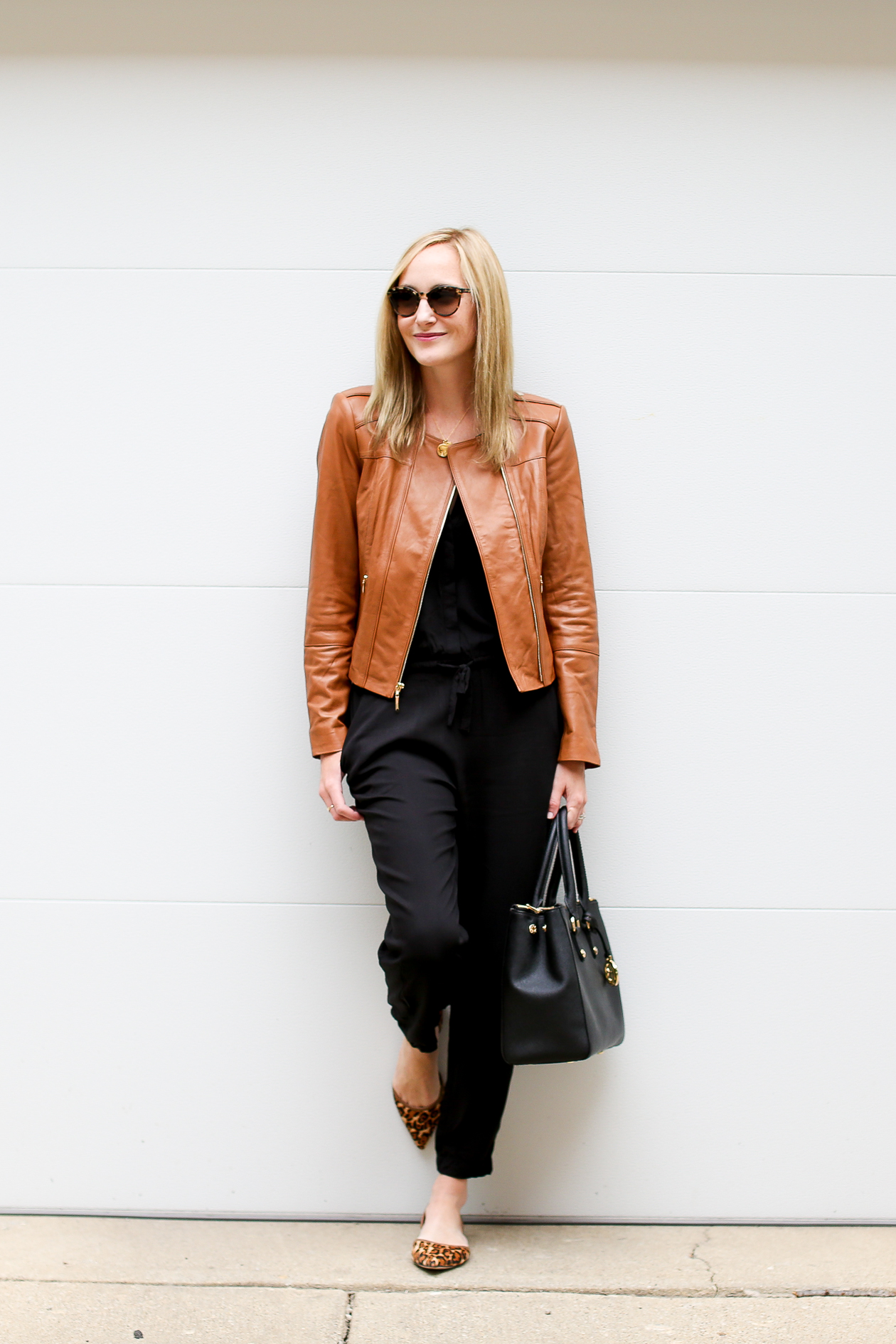 White House Black Market Leather Jacket and Leopard Flats c/o / Kate Spade Sunglasses (Old, similar here and here) / LOFT Jumpsuit c/o (Similar here, here and here) / Henri Bendel Satchel c/o (More affordable options here and here — Monogrammable!) / Jet Set Candy Necklace c/o
The Tory Burch Sale is ON! Use code "FALLEVENT" to take 30 percent off your order. Time to buy those boots!

I know, I know. This isn't a typical "Kelly" look. But every so often, I just want to dress city, because it's quick, and it makes going from day to night is super easy. Flashback to my most recent trip back to NYC: Outfit One // Two // Three // Four & Video!
My black Henri Bendel is always my go-to bag for days when I'm running around Chicago like crazy because it's a bit dressier and can hold a LOT… and, as you know, I can't get enough of this LOFT jumpsuit, haha. COMFIEST THING EVER.
And the leather jacket?! It's my first, and I'm in love. I wasn't sure whether I'd be able to "pull it off," but let's be serious: to pull something off, all you have to do is put it on! It's been great for nights out, when a Barbour looks just a little out of place. ;)
In other news:
Let's wish Shaheen a VERY happy birthday. Girlfriend is one of my favorite people ever, and if you're not following her blog already, you should! Hope you and Peeta have a great weekend celebrating! ;)
OUR COUCHES ARRIVED YESTERDAY. I seriously think that they're the best purchase Mitch and I have ever made, with the exception of our home, of course. I can't wait to share pics!
My iMac is dying. WHAT?! Hence the tardy blog posts as of late. Anyone have any tips for reviving a 2010 iMac with "spinning wheel of death" problems? And why is everything breaking at once?!
I'm driving home tomorrow! While I'm not looking forward to the 14-hour drive, I'm ridiculously excited to hang out with my parents and hopefully see my best girlfriends from high school, Rebecca and Mary.
THE TORY BURCH SALE IS ON! Take 30 percent off your order with code "FALLEVENT." Woo!
Over and out!