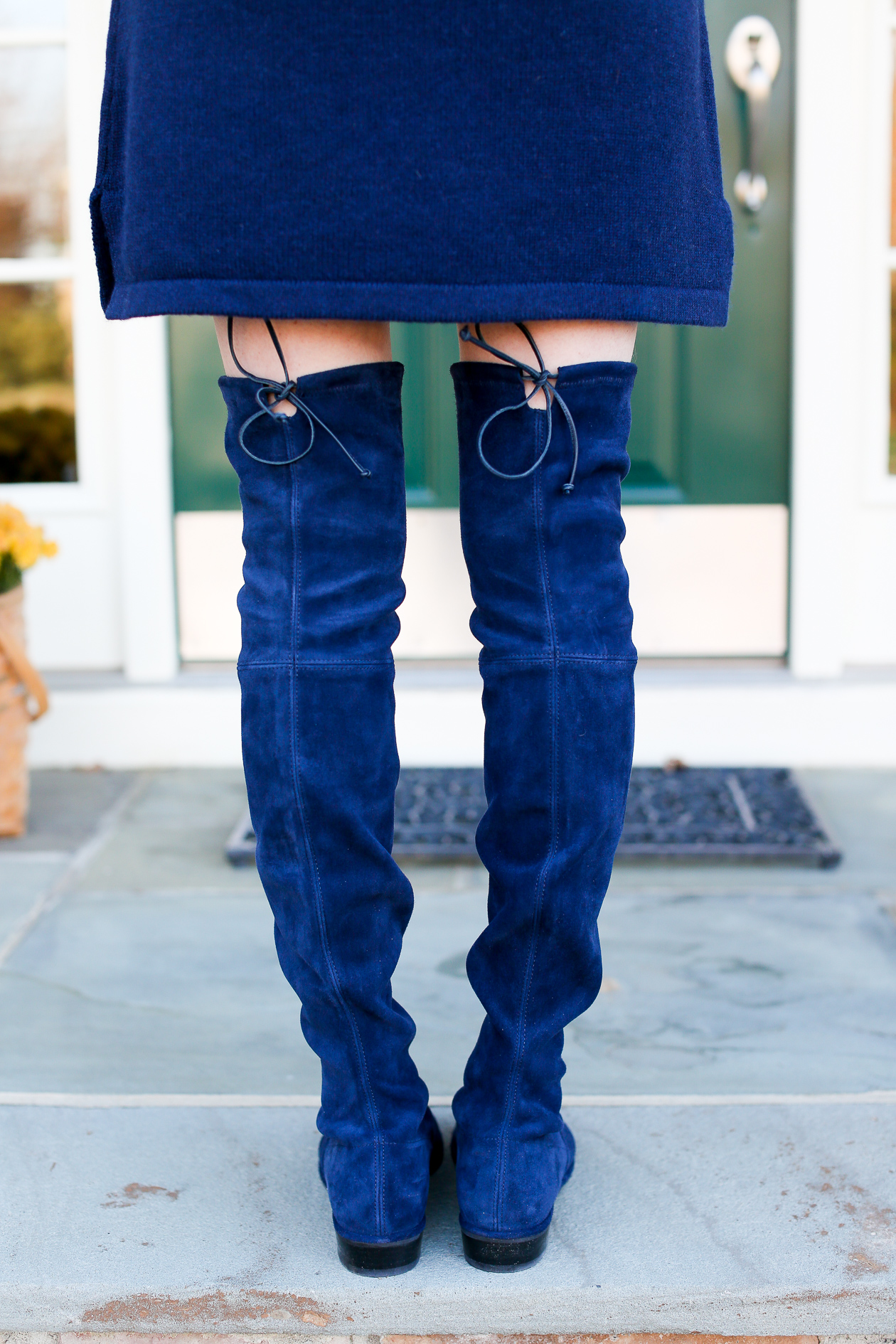 Stuart Weitzman Lowland Boots in Navy c/o Zappos / Old Pearl Bracelet, but adore this one from Kendra Scott, and this one from Kenneth Jay Lane / And loving this these adorable sweater dresses: one, two and three! / Old Kate Spade necklace, but how cute is this one for the holidays?!
Truth: I squealed when these arrived in the mail last week. My girlfriends Blair and Shaheen have them in black and gray, and I've been swooning over them for what seems like forever at this point. ;) And let me tell you: they're just as magical as you've probably heard!
Let's start with the color.
As much as I love the classic black, I wear way more navy than black. And because I thought that the boots only came in blacks and neutrals, I kind of thought they were out of the question for me. I actually didn't even know they came in navy until I spotted them on Zappos' site while doing some early Christmas shopping. But I'm so happy they do, and I'm crazy about the navy color! It's rich without being "too much," and the boots go with the vast majority of my fall and winter wardrobe.
And then there's the fit.
They're so comfortable. I wore them for the entirety of Thanksgiving, during which I was on my feet all day. (More on Thanksgiving later, but you can see some decor photos from my family's celebration below!) And I experienced ZERO pain. That's really saying something for me, too, because most shoes hurt me. I was also pretty nervous that the boots would slide down on my legs, but the ties in the back allow for tightening… and not once did they slide. :)
And the warmth…
I get in major outfit ruts during the colder months, since I'd much prefer to dress in jeans and flannels than suffer in dresses and skirts. I mean, Chicago winters are the real deal, haha. But the Lowland boots, when paired with dresses and skirts, seriously make me feel like I'm wearing pants. So cozy and soft!
Need sizing advice?
While I read my fair share of reviews that urged me to go down a half size, I found that the Stuart Weitzman Lowland Boots run true to size. (And Blair and Shaheen agree!) I ordered both a 7 and 7.5, and went with the 7.5, which is my usual size. My feet don't slide around when I only wear stockings, and they aren't squished when I wear socks, either.
Wondering where to buy?
Zappos! Shipping and returns are free, and Zappos is celebrating Cyber Weekend with complimentary one-business-day shipping. Details at the top of the site!