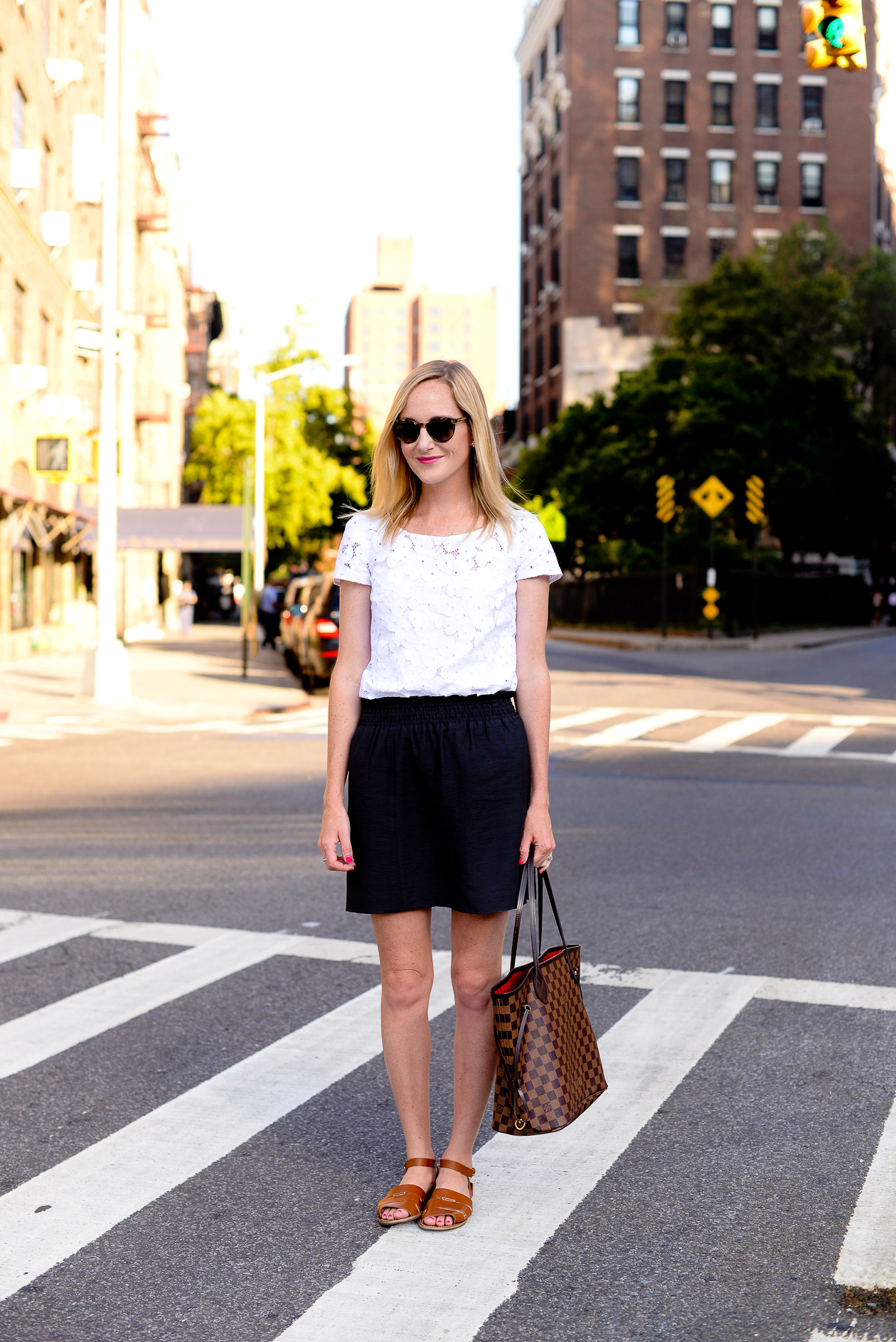 J.Crew City Mini Skirt (Old, similar here) / Tommy Bahama Sandals c/o / Kate Spade Sunglasses (Old, similar here) and Earrings / Louis Vuitton Tote (Buy here) / Helen Ficalora Necklace c/o / Lilly Pulitzer Top (Old, similar here, here and here)
Let the black-and-white outfits continue! Boring, yes. But SO MUCH EASIER!
These photos were taken after meeting my dad at P.J. Clarke's on the Hudson and Blue Smoke in Battery Park City–which really brought me back to Father/Daughter Dinner Nights. :) Later, we met old friends–Darby, Jason, Jeremy, Mandi, George and Gregg–for sushi and drinks in the West Village. It was such a great night, filled with old stories, new stories and lots of laughter… and the perfect way to end our stay in New York.
Every time I'm back in the city, I worry about how I'll handle it. Whether I'll feel twinges of sadness as I walk down familiar streets and visit old stomping grounds, and whether my heart will hurt as I watch the skyline fade into the distance. But it seems that with every visit, it gets easier. And I enjoy my time more and more.
Six months ago, our trips to New York were ridiculously bittersweet, and feelings of homesickness dominated. Isn't it easy to elect to only remember the awesome things about particular times in our lives and forget that they came with their fair share of difficulties?
Now, though, we're in such a better place. We love our lives in Chicago, from our careers and our friends to the house and the city itself. And somehow, all of this helps us both appreciate the New York chapter for all that it was, and appreciate the Chicago chapter for all that it is.
This time, I truly think I got sad for about 30 seconds on two occasions: once on my first day while at Le Bain (but come on–how could this view not make me desperately miss NYC?!), and once while wandering the streets of Alphabet City one morning. (But I blame Tompkins Square Bagels for playing Ryan Adams, haha. Side note: HAVE YOU GUYS SEEN THIS?! There are a bunch of previews on his Instagram account! #dying)
The rest of the trip–the other hundreds of thousands of seconds–were phenomenal. Mitch and I did it up, and while I seriously think it's going to take us a solid week in Ocean City to recover, I'm so glad we've both arrived at this point.
I'll see you in September, New York.