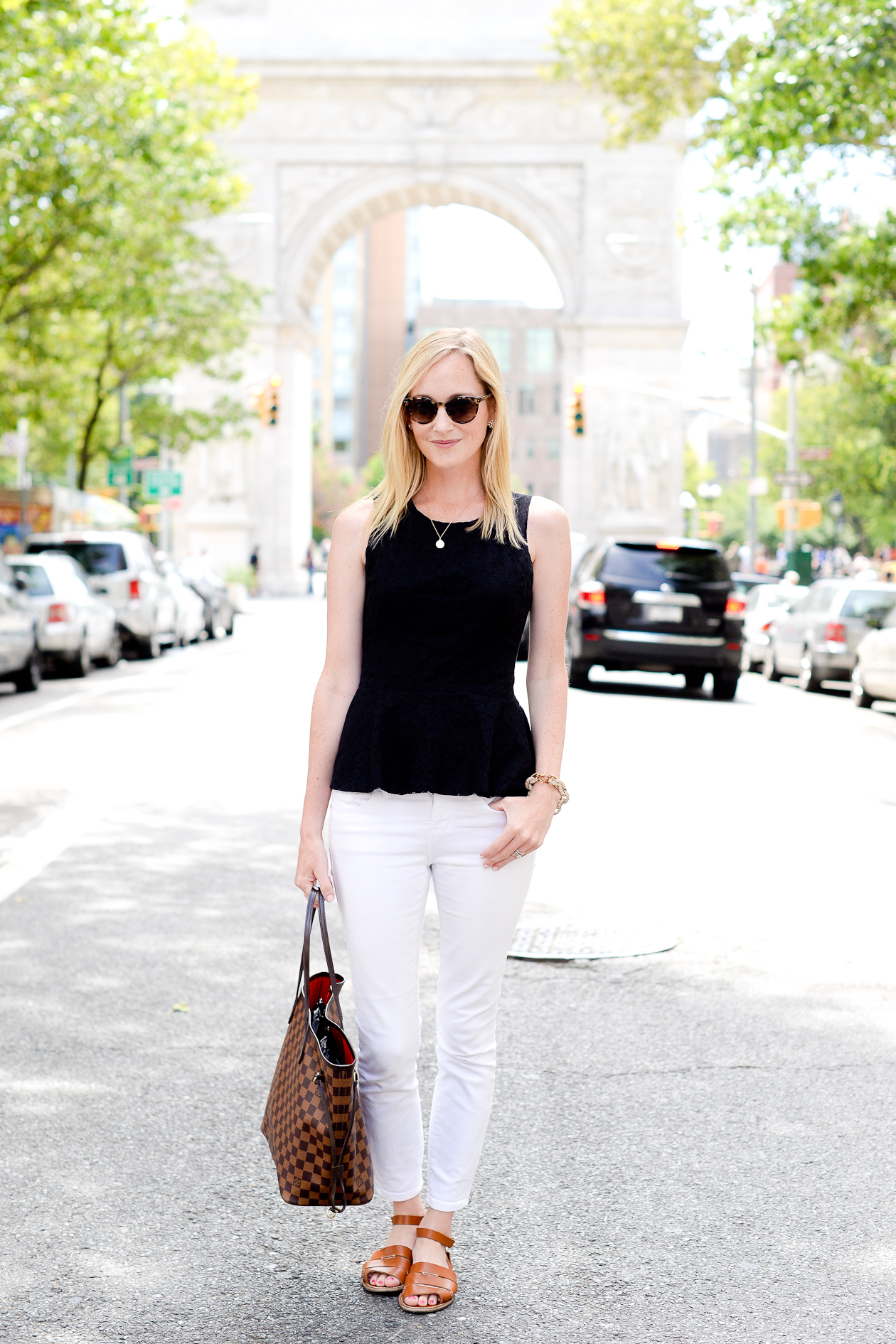 Britt Ryan Top c/o (Love this one and this one, too!) / Madewell Jeans (Old, similar here) / Tommy Bahama Sandals c/o / Kate Spade Sunglasses (Old, similar here) and Earrings / Louis Vuitton Tote (Buy here) / Helen Ficalora Necklace c/o / J.Crew Bracelet
Alert, alert! These green Hunters are on sale for $99. Get 'em before they sell out, and be sure to read my Guide for Buying Hunter Boots!
Something I'm over: being burdened by an all-too-heavy suitcase.
It happens to me every time I travel. And when I say "it happens to me," what I really mean is "I do it to myself." ;) But it's such a bummer. When my bag is bursting at its seams, it's difficult to stay organized and next to impossible to transport the thing. UGH. Granted, I'm a weakling. And my suitcase does have wheels. But the struggle is real.
My main problem is that I hate planning outfits in advance. I'm definitely a decide-what-to-wear-in-the-morning girl, and not someone who lays out her clothing the night before. Which is why packing for long trips is torture for me. Up until now, my philosophy has always been "pack as many favorites as possible while still being able to zipper." Not exactly ideal.
For my current trip to New York, I decided to go with a color scheme (black and white) and a few limitations: one necklace, one pair of earrings, two bracelets, two pairs of shoes, and two bags.
On the clothing front, I've relied heavily on white jeans, a black skirt, a white lace tee, and a black romper. For jewelry, it's been a pair of statement earrings, a crystal bracelet and a simpler one, and my Helen Ficalora necklace. On the shoe front, I brought these sandals (surprise, surprise) and these wedges. And for bags, I brought a neutral tote and a white leather clutch.
While my new approach to packing might make for a few semi-repetitive blog posts, it's made things SO much easier, as everything goes with everything. And it all fit in my carry-on–and took only 15 minutes to select. (#miracle)
Do you guys have any clutch packing tips?! Would LOVE to hear them! I still need to whittle down my toiletries bag, and I'm looking for a solution for keeping clean clothing separate from dirty!